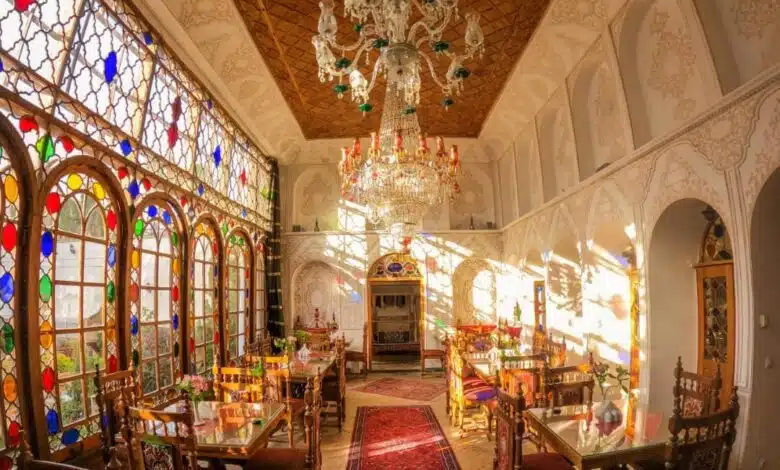 Visiting Iran gives you the chance to discover and experience a rich culture through art, architecture, food and people. It's also a unique opportunity to stay a few nights in exceptional places, such as historical houses and palaces. One of Iran's finest hotels is Ghasr Monshi Palace, a traveler's dream, located in the heart of Isfahan. During your stay in "half of the world', Isfahan's nickname, do not miss visiting this beautiful boutique hotel, its restaurant and its hammam.
A palace in the heart of the old Isfahan
There are many beautiful traditional hotels in Iran, but rare are those which can match the stunning design and architecture with the perfection of a high-quality service that is expected in such places. Ghasr Monshi Palace is one of these rare gems. It's not without a reason that it is number 1 in Isfahan on TripAdvisor and was awarded second among the best "small hotels" in the Middle East.
Located in the historical center of Isfahan, this boutique hotel opened in 2016 after bluffing renovation work on its historical building. To find Ghasr Monshi, just leave Naqshe Jahan Square and lose yourself in the small alleys of Hassan Abad Bazaar for about 10 minutes. Passing the Hassanabad Gate, you've entered one of the oldest parts of Isfahan, long time ago a small village at the gate of the city.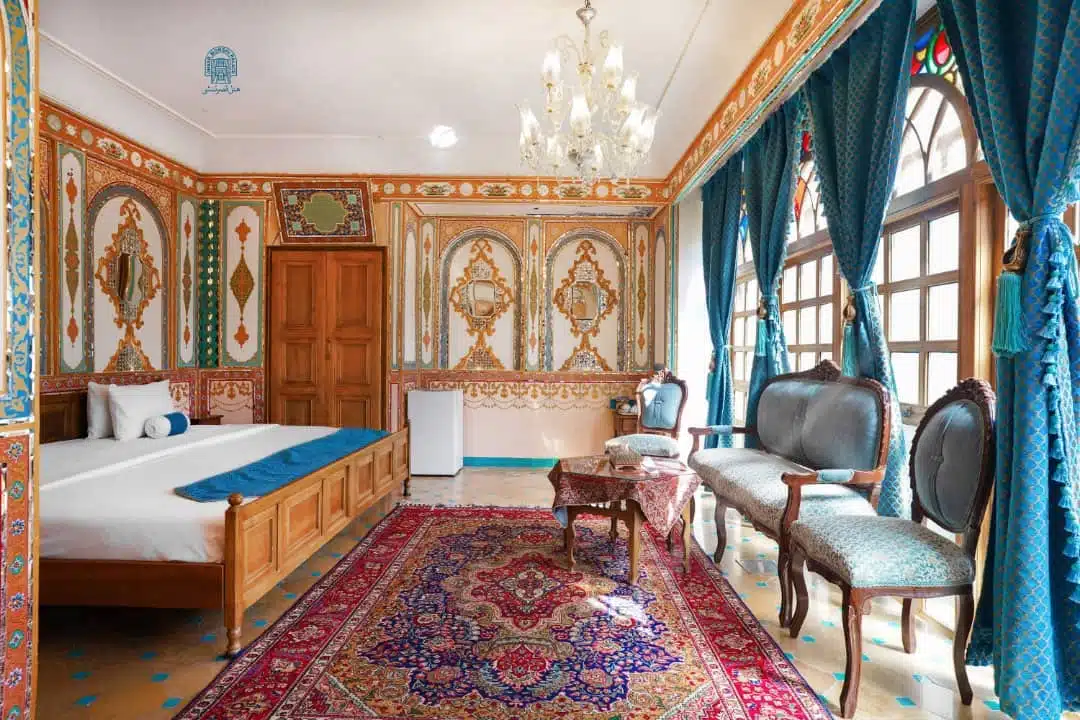 A house built for Shah Abbas's daughter
It's here that in the early 1820s, Mirza Razi Monshi started to build a palace for his wife, Havva Beygom, the daughter of the Safavid king Shah Abbas I. The couple later built many places in the neighborhood, from cafes, to bathhouse, and mosque, that took the name of "Ghasr Monshi neighborhood" ("ghasr" meaning "palace" in Persian).
With the fall of the Safavid dynasty in the late 18th century, the palace continued to be embellished under the Qajar dynasty, adding many architectural features such as the "haft dari" (a seven-door grand window) that you can admire in the "Shahneshin Hall". The palace then became one of the few houses of Fath-Ali Shah in Isfahan, the second Qajar king.
Many rich merchants, rulers, and important visitors stayed in Ghasr Monshi Palace during the Qajar era. They would occupy one of the luxurious rooms that are now appreciated by tourists, such as the gorgeous Mirror Room decorated with delicate mirror-work.
Book Ghasr Monshi Hotel with OrientTrips
Stunning renovation work
The palace then became the property of an important cleric, Agha Najafi, and got progressively abandoned and damaged. In 2005, when the building was bought with the intention of making a boutique hotel, only 20 to 30 % of the original building remained. Eight years of renovations were necessary for Ghasr Monshi to open as a boutique hotel in 2016.
Besides the beautiful rooms and suites, one of the most beautiful places that display exceptional renovation work is the "Shahneshin Hall", or King's Hall. It now serves as a dining room for serving breakfast to the hotel's guests and meals to the restaurant's clients. The Shahneshin Hall is a typical feature of rich Persian houses that was used to receive guests and it features beautiful plaster-work, mirror-work, paintings, and colored windows.
Feeling like a king in Ghasr Monshi's rooms
Interestingly, because of the limit fixed by being in the perimeter of the UNESCO World Heritage Site, it was not possible to build in height. The new owners of Ghasr Monshi Palace thus decided to make the building on the traditional architectural form of a "godal baghche", which can be translated to a "sunken garden". They dug the ground to create a level below, with added rooms, an elevator, and a beautiful traditional bathhouse. The rooms in the lower level benefit from smart natural protection both from the heat and from the cold temperatures. All the rooms are located around the central court, with gardens on each level.
As a hotel, Ghasr Monshi offers a variety of rooms, from double/twin, to triple, quadruple and suites. The most iconic rooms are the Mirror Room, which displays the authentic atmosphere of a luxurious Persian house, the 72 meters Delneshin Suite, and the VIP rooms Safavid and Asfhariyeh, this latter having a stone bathtub.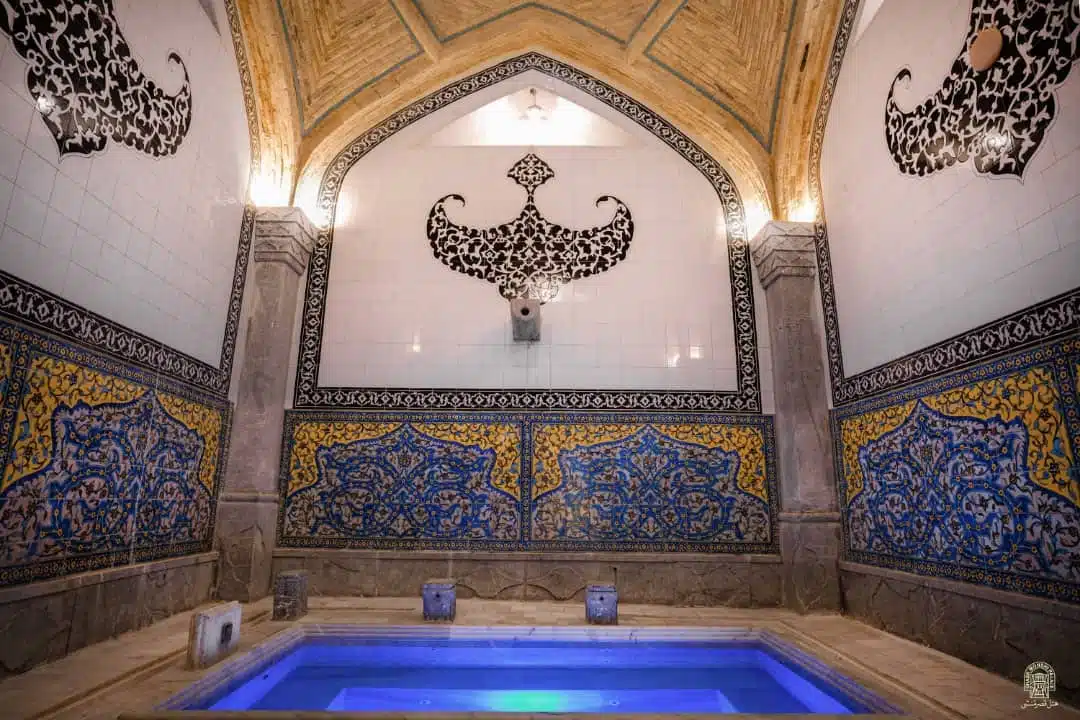 Ghasr Monshi Traditional Hammam
One of Ghasr Monshi's highlights is its traditional bathhouse, or hammam, located on the lower level over 140 square meters. Recently opened, it is a beautiful combination of brickwork, tiles, high ceilings, and fountains that will transport you to ancient Persia.
Book Ghasr Monshi Hotel with OrientTrips
Indeed, bathhouses were an important tradition in Iran, in the past. Unfortunately, most of them have been transformed into museums, and there is almost no traditional hammam left in Iran, where you can have such an experience.
Taste Ghasr Monshi's atmosphere for a few hours
If you do not have the opportunity to spend one night in Ghasr Monshi Palace, you can still appreciate the unique atmosphere of this boutique hotel over a meal or a coffee. If you're a morning person, start your day by booking a breakfast at Ghasr Monshi, where you can appreciate a rich and tasty buffet breakfast. For lunch or dinner, Ghasr Monshi also has a restaurant open to all visitors, that serves delicious traditional Persian food, as well as a coffee shop accessible all day.