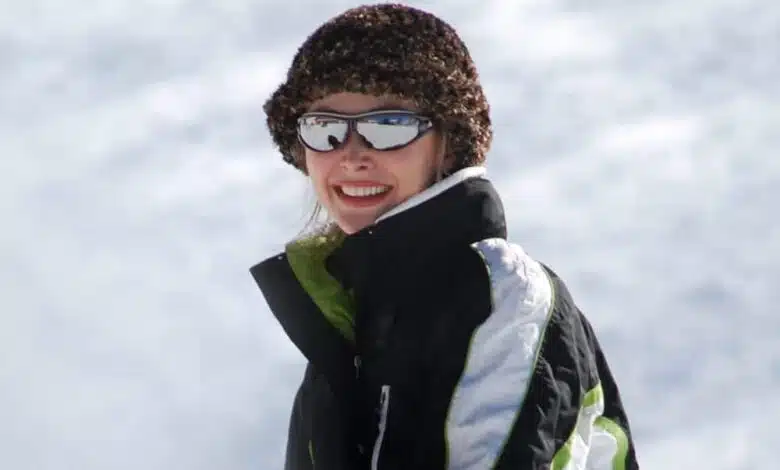 Tehran's key ski spots lie in the Alborz mountains.
Resorts cater to all skill levels.
Tehran ski locations run from late fall to mid-spring.
Dizin and Shemshak attract global skiers.
Tochal and Dizin feature night skiing.
Tochal and Dizin have high-end amenities like fast lifts.
Resorts such as Abali are close to Tehran for day trips.
Darbandsar often hosts global ski contests.
As winter approaches, the slopes beckon. If you're a winter sports enthusiast looking for an exhilarating skiing experience, Tehran offers some of the most remarkable ski resorts in Iran. Conveniently situated at the foothills of the majestic Alborz mountain range, Tehran serves as a gateway to world-class skiing destinations.
Among the must-visit resorts are Dizin International Ski Resort, Tochal Ski Resort, Shemshak International Ski Resort, Darbandsar Ski Resort, and Abali Ski Resort.
Each of these resorts operates on a 24-hour schedule during the winter months, providing ample opportunities to carve fresh powder. Though some resorts extend their season into mid-spring, the peak time to hit the slopes spans from late autumn to the end of winter. Whether you're a novice looking to find your footing or a seasoned veteran seeking new challenges, Tehran's array of ski resorts offers something for everyone.
1. Abali Ski Resort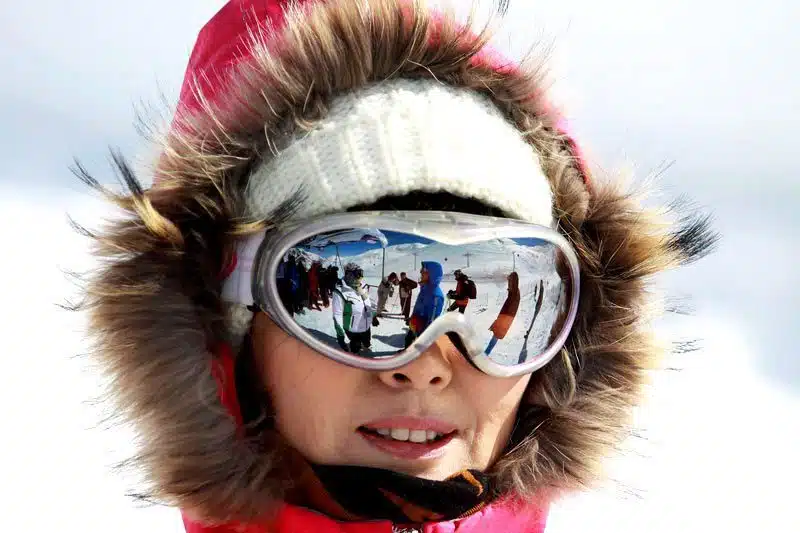 The Abali Ski Resort holds the distinction of being Tehran's oldest ski resort, and it was the first in the region to feature ski lift equipment. Situated 75 km east of Tehran, this venerable resort is part of the Abali district and can be reached easily via Haraz Road.
Abali sets itself apart with a diverse array of amenities, which make it a favorite among both local and international visitors. The resort boasts five distinct ski runs, therapeutic hot water springs, the culturally significant Imamzadeh Shrine, and consistent, pleasant weather all year round. Its wide-ranging offerings have helped Abali garner more public attention compared to other ski resorts in the area.
When it comes to ski infrastructure, Abali is well-equipped. The resort features 1 cable car, 5 button lifts (also known as drag lifts), 1 chair lift, and 3 t-bar lifts. The resort's layout is divided into three separate areas: the NIOC (National Iranian Oil Company) ski piste, private pistes, and the Physical Education Organization piste.
Elevation varies from 2,400 meters to 2,650 meters above sea level, offering a decent range for skiers and snowboarders of all skill levels. For those who want to relax and refuel, the resort hosts 6 restaurants and 1 hotel. Given its easy accessibility, Abali usually attracts larger crowds compared to other skiing destinations in Tehran.
If you're interested in experiencing the history and culture of skiing in Iran, Abali is a must-visit destination. To plan your journey, SURFIRAN offers a variety of tours, and customized itineraries are also available for those with specific needs. For other travel requirements like visa services, hotel bookings, and travel insurance, you can visit OrientTrips for comprehensive solutions.
– Read more about Abali Ski Resort
2. Darbandsar Ski Resort
The Darbandsar Ski Resort, established in 1982, is the latest addition to Tehran's winter sports scene. Created through a partnership between retired professional skiers and enthusiasts, this private venture is situated in Darbandsar Village, approximately 60 km northeast of Tehran.
In terms of amenities, the resort is well-equipped with 2 chair lifts and 3 button lifts, catering to skiers of all levels. The resort spans elevations from 2,600 meters to 3,050 meters, providing varied terrains for skiers to explore. During the ski season, which runs from mid-December to mid-April, the resort draws a significant crowd of winter sports aficionados.
Not just a winter destination, Darbandsar also offers summer skiing opportunities. Located in the Roudbar-e Ghasran area, known for its diverse climate and unique landscape, the resort features a valley called 'Taltangeh' that allows for summer skiing in July. The seasonal ski competitions contribute to the year-round enthusiasm for the sport.
Gaining international attention, Darbandsar Ski Resort has hosted several International League Championships since 2008, following its accreditation by the International Ski Federation (FIS). These events have attracted some of the globe's top skiers. If you're looking to hit the slopes at a more contemporary venue, Darbandsar comes highly recommended.
– Read more about Darbandsar Ski Resort
3. Dizin Ski Resort
Dizin is not only the most significant ski resort in Iran, but also is the most reputable and prestigious ski resort in the whole Middle East.
Located north of Tehran Dizin is the first ski resort in Iran to be recognized by FIS as an International Ski Resort for holding international tournaments.
This recognition of Dizin is achieved due to various qualities and facilities, including technical mandates such as ski slope, length of the ski trails, venue of the tournaments and the amenities.
Ski-boarding is allowed at Dizin, unlike some other ski resorts, and this brings about more skiers and ski boarders to this resort.
Dizin is 123 km north of Tehran via Chalous Road and 71 km via Shemshak Road. There are 4 cable cars, 2 chair lifts, 9 button lifts (dish téléskis) and 1 t-bar lift (hammer lift) installed at this resort. The lowest altitude of this resort is 2650m and the highest is 3600m.
Dizin is open to patrons from late November to the end of April.
Thanks to the area developments, this ski resort complex includes 2 hotels, 19 chalets, and 6 restaurants. Dizin's recreational and professional activities are not limited only to the winter sports. The grass ski trails were established at Dizin in 1993 in coordination with the IFS and skiing experts. Ever since, grass skiing has become a favorite summer sport in this area.
If you are a professional skier and would like to have the experience of skiing at an upbeat resort, do not miss Dizin; it suits your needs best!
– Read more about Dizin Ski Resort
4. Tochal Ski Resort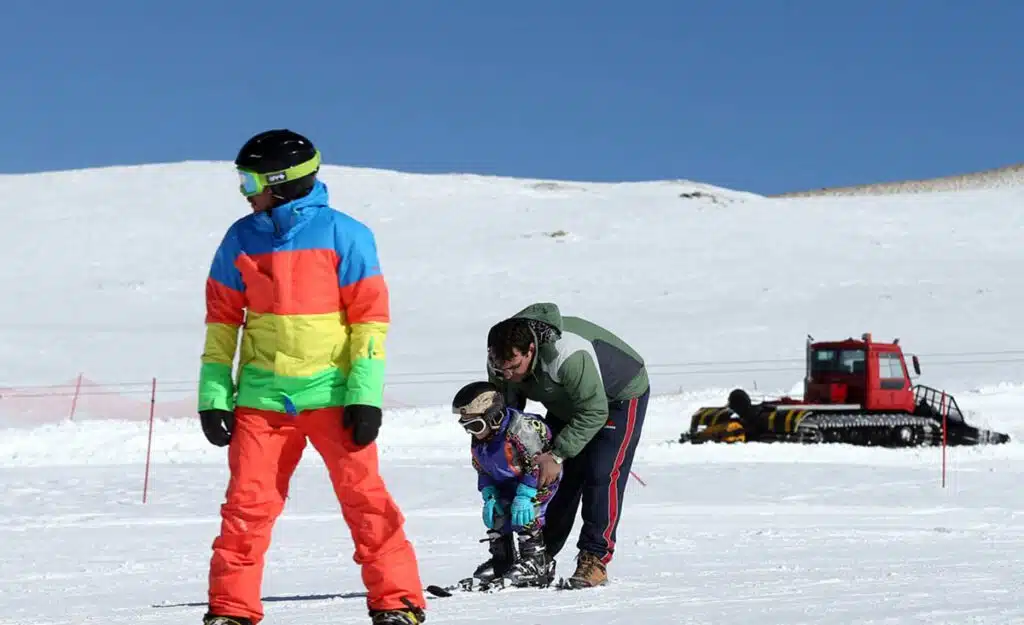 Skiers and mountain climbers in Tehran who used to love to see the Tochal Mountain covered in snow in winters, always dreamed to be able to ski or climb the nearest peak to Tehran.
Their dream came true in 1976 by establishing the cable cars company in this year and running the first cable car to the Tochal peak of 3944 m. This event made it possible for skier to ski in the northern mountains of Tehran at any time and only within 5 kilometers from Tajrish Square.
The Tochal Ski Resort was planned to be one of the largest resorts of the world; however, due to the problems caused by the Iran-Iraq war only two pistes were launched, one at 2935 m and the other on the Tochal peak. However, only the ski piste on the peak is active now.
Despite the unfinished project, the Tochal cable cars project was so unique at that time. The area behind the peak and 12 lift chairs that were supposed to connect Tochal to Dizin were planned to be built. Such facilities could have provided skiers 7 month of skiing at the largest ski area in Iran.
Currently Tochal 7th station, with2 chair lifts and 1 button lift, is open to winter sport lovers from November to the end of May. The resort host one hotel and two restaurants.
Tochal was also recognized as 'International Ski Resort' by IFS, and several International snowboarding competitions have been held here.
Tochal ski resort is quite unique: situated between two valleys, far from the hustle and bustle of the city you could consider it one of the most peaceful, tranquil, and popular ski resorts! Spending a night at Tochal resort hotel is so extraordinary that deserves experiencing and enjoying for at least once. At night, when the trail lights are turned on, an amazing panorama catches your eyes; one that takes your breath away! Staying at this hotel gives you the unique advantage of quick access to lifts, so… no waiting in queues for you!
– Read more about Tochal Ski Resort
5. Khor Ski Resort
Khor ski resort, with the altitude of 2800 m to 3000 m, is located in the Alborz province, near Amir Kabir Dam (Karaj Dam) adjacent to Khor historical village.
In order to reach this ski resort, 23 kilometers from Karaj on the Karaj-Chalous Road, you should take the Khavar Pay exit before the entrance of Amir Kabir Dam facilities. Pass the two villages of Arangeh and Jey and you'll arrive at the resort.
This resort was constructed before 1979, and was renovated after the Iran-Iraq War. It started operating again in 2009 after some changes in the management .The resort has two 1850 m and 350 m trails with a capacity of serving 1300 skiers per day.
Khor is now operational and open to public throughout the week. The resort has one button lift at the moment. This resort is one of Karaj's tourist attractions and welcomes you and your family during the winter to make fun and happy memories.
6. Shemshak Ski resort
Shemshak ski resort is located in 57 km northeast of Tehran in the village of Shemshak. It was first opened in 1958 and has 2 chari lifts, 3 button lifts (dish téléskis) and 2 t-bar lifts (hammer téléskis).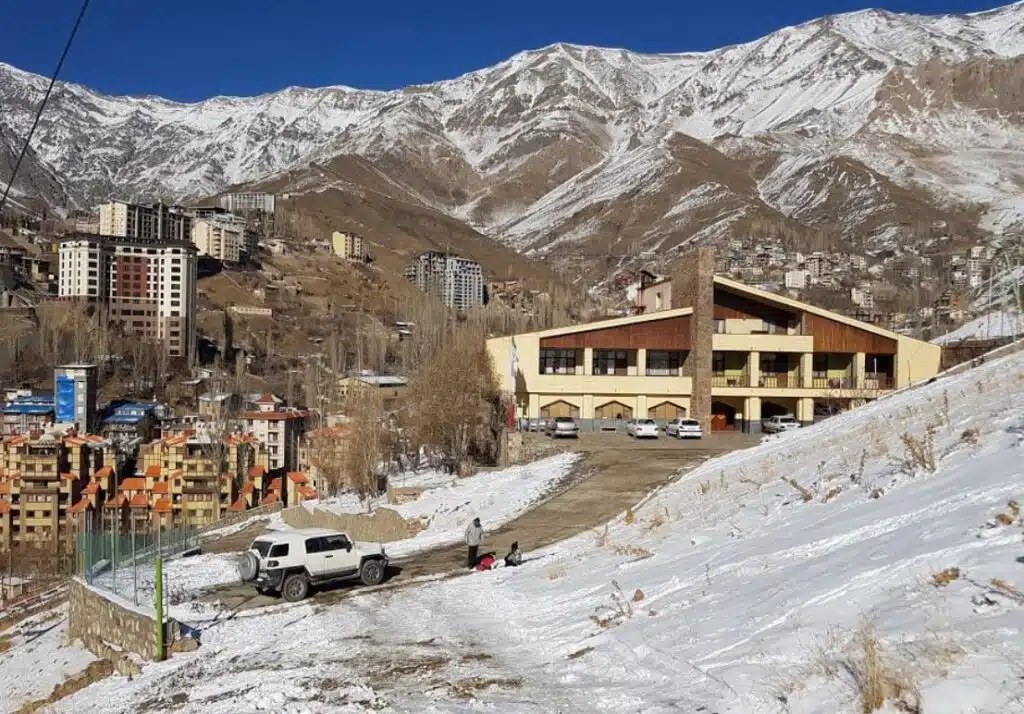 Following some changes in its slope and trails in August 1996, Shemshak achieved the 'International' title from FIS after Dizin ski resort.
Shemshak Ski Resort resort includes 2 hotels and 4 restaurants, and is open to athletes and nature lovers during the winter. The highest and lowest altitudes of this resort is 3050 m and 2550 m, respectively.
The ski season at Shemshak is variably between late November and early April. It is also an excellent getaway for leisure and sports during the summer. The pleasant weather of this area, combined with its proximity to Tehran attracts plenty of domestic and foreign tourists to visit it and spend time there.
Additionally, the ski runs are open after the dark, known as "the night piste". Yellow projection lights glittering all over the snow creates a spectacular landscape that makes Shemshak the only skiable resort at night in Iran.