Destinations
Tehran
Tehran Grand Bazaar: The Pulse of Persian Trade
Exploring Tehran's Grand Bazaar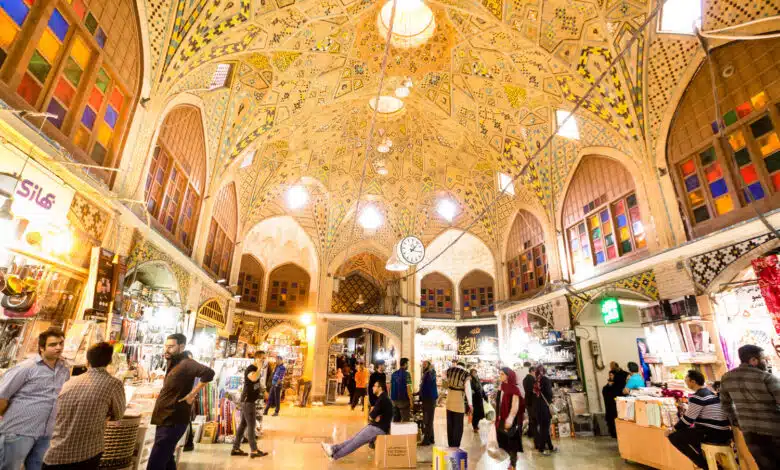 The Tehran Grand Bazaar stands as one of the most amazing and oldest markets in Iran, pulsating with life at the heart of the capital's trade and culture. Retaining its traditional and beautiful architecture, the bazaar invites you to wander its alleys and passageways, introducing you to a world of handmade crafts, magnificent fabrics, dazzling jewelry, and a variety of spices.
But Tehran's bazaar is more than just a shopping center; it's a space to experience the authentic Iranian spirit and connect with the country's historical and cultural identity. In this article on SURFIRAN, we aim to familiarize you with the attractions and hidden secrets of this market, opening a new window to a deeper understanding of Iranian culture and history.
The History of Tehran's Grand Bazaar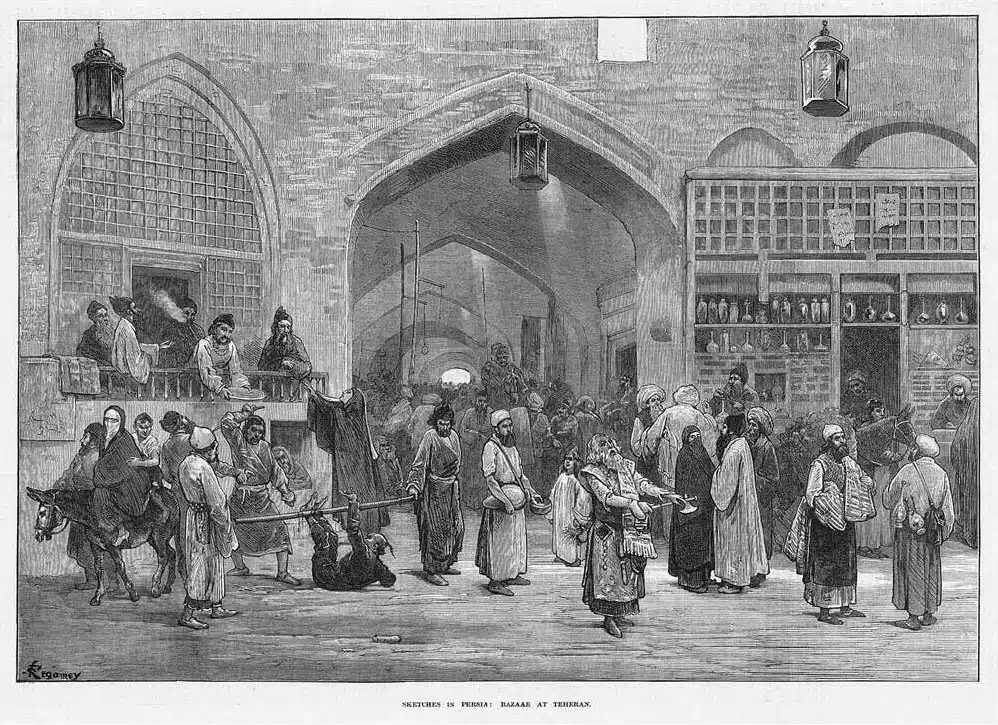 The construction of the Tehran Bazaar dates back to the Qajar era, though there's debate about the exact timeline. Some attribute its foundation to Naser al-Din Shah, while others link it to Shah Tahmasb of the Safavid dynasty. It appears that the bazaar was initially open-air during the Safavid period and later roofed under Naser al-Din Shah.
Additionally, the Bazaar Bein-al-Haramein was built during the reign of Mohammad Shah Qajar, and the shoemakers' market and Amir Bazaar during Naser al-Din Shah's era. In the Pahlavi period, with the advent of modernity and the construction of smaller markets, the traditional structure and role of the bazaar in cultural and social matters slightly declined.
The bazaar played a significant role in cultural, political, and social changes during the Qajar and Pahlavi eras. The bazaaris (market vendors) prominently supported the Constitutional Revolution, standing against the government and aligning with the people.
Location of Tehran's Grand Bazaar
Located in District 12, Tehran's Grand Bazaar, one of the largest in Iran, spans over a square kilometer. It is bordered by 15 Khordad Street to the north and south, and by Mostafa Khomeini Street and Khayam Street to the east and west. Key intersections near the bazaar include Molavi Crossroad, Mohammadieh Square, and Cyrus Crossroad.
For easy access, refer to the map below:
Working Hours of Tehran's Grand Bazaar
Visiting Hours: From Saturday to Wednesday, Tehran's Grand Bazaar opens its doors from 8:30 AM to 5 PM. The external shops of the bazaar stay open until 8 PM.
On Thursdays, the internal shops close earlier, at 2 PM, while the external shops remain open until 5 PM.
The bazaar is closed on Fridays and public holidays, although some surrounding passages may be open. Early mornings, when the bazaar is less crowded, are an ideal time for a visit.
Shopping Guide in Tehran's Grand Bazaar
In the Tehran Grand Bazaar, one of the main shopping centers in Tehran, you can find almost anything you desire. Given its vast size, locating specific shops can be challenging. Therefore, each section of the bazaar specializes in a particular type of goods, simplifying your shopping experience. A list is available to guide you to the right part of the bazaar for your specific needs.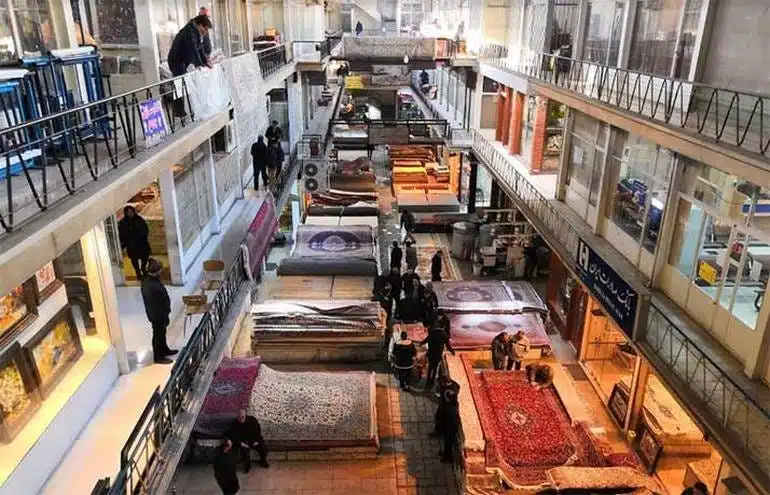 For purchasing nuts and dried fruits, head to the Chaharsooq Bazaar. One of the oldest sections of Tehran's Grand Bazaar, Chaharsooq, known for its national heritage architecture, was built in 1185 AH. Located near the Jameh Mosque on 15 Khordad Street, it features a low ceiling with beautiful and numerous plaster decorations.
Women's clothing items like shawls, scarves, gloves, hats, etc., can be found in the Jafari Bazaar.
The Goldsmiths' Bazaar is the perfect place for buying gold and jewelry, offering lower crafting fees compared to other gold shops.
Hajeb-ol-Dowleh Bazaar is ideal for affordable household appliances. The Timcheh Hajeb-ol-Dowleh, near Jameh Mosque, boasts stunning architecture. Built by Haj Ali Khan Hajeb-ol-Dowleh during the reign of Naser al-Din Shah Qajar, it was listed as a national heritage site in 1356 AH.
High-quality beauty and cosmetic products are available in Marvi Alley.
Meshir Serai is the hub for bags, backpacks, and suitcases. Keep in mind that most shops here are wholesalers, but you are likely to make retail purchases as well.
Stationery supplies can be sourced from the Bein-al-Haramein Bazaar. Also known as the stationery bazaar, you can find pens, fountain pens, notebooks, colored pencils, and other essential stationery items at much more reasonable prices than elsewhere in the city.
Dining at Tehran's Grand Bazaar
When planning a shopping or sightseeing trip to the Tehran Grand Bazaar, it's wise to allocate a good amount of time. Naturally, this means you'll need to refuel and relax. Fortunately, the bazaar is home to numerous restaurants serving a variety of Iranian dishes. Let's explore some of the most renowned eateries in the bazaar, known for their quality food.
Muslim Restaurant of Tehran's Grand Bazaar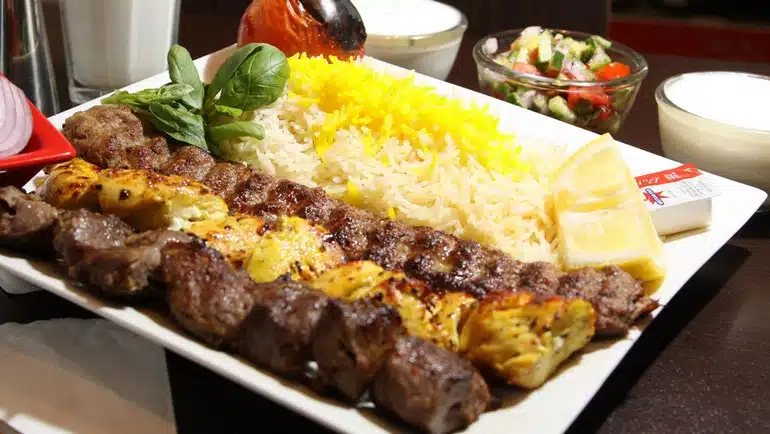 Located at the corner of Sabze Meydan and Haji Rahim Khan Alley in the main area of the bazaar, Muslim Restaurant has a history of about two decades. Famous among the bazaar's clientele, it's particularly known for its chelo kebab and tahchin. The long queue around noon is a testament to its quality offerings. Muslim Restaurant is open from 11 AM to 6 PM.
Sharaf ol-Islami Restaurant of Tehran's Grand Bazaar
This nostalgic, traditional restaurant started in 1317 AH (1938 AD), situated behind the Imam Mosque in Saray Ardibehesht. Sharaf ol-Islami is recommended for its tahchin, shishlik, baqali polo with shank, and zereshk polo. The restaurant, renowned for its high-quality dishes, welcomes guests from 11:30 AM to 4 PM.
Ghoddoos Restaurant of Tehran's Bazaar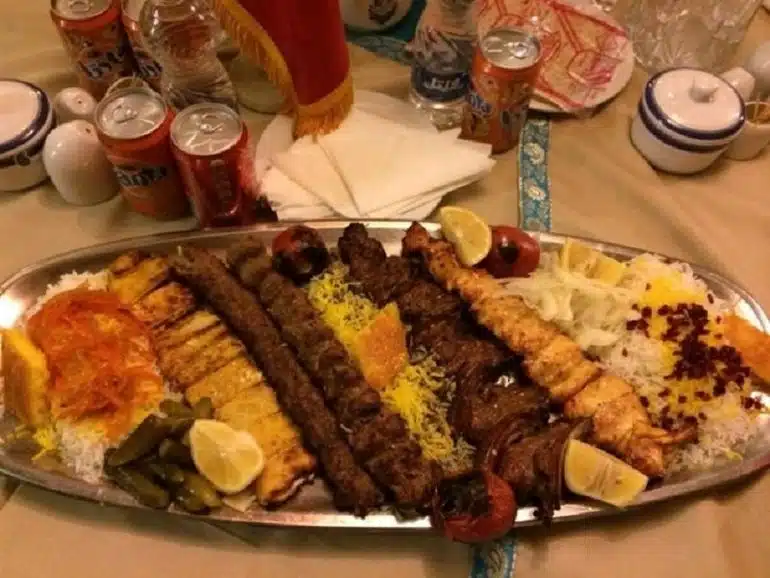 Located in the carpet sellers' lane, Ghoddoos is famed for its kebabs made from local meat and butter. Don't miss trying their saffron tahchin.
Shamsiri Restaurant of Tehran's Grand Bazaar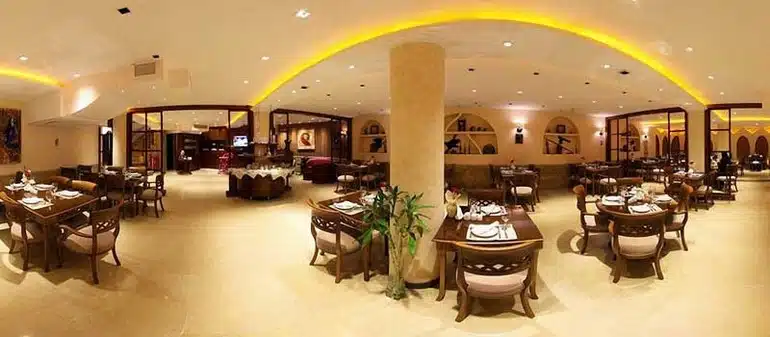 Like the Muslim Restaurant, Shamsiri is located in Sabze Meydan, southeastern side. Founded by Haj Mohammad Hassan Shamsiri, who passed away years ago, this restaurant is famous for its chelo kebabs. The complimentary salad bar with a good variety of salads is a highlight, and the special local doogh (yogurt drink) is a must-try. Shamsiri welcomes customers from 11 AM to 11:30 PM.
Naeb Restaurant of Tehran's Grand Bazaar
For those seeking one of the oldest restaurants in the bazaar, Naeb, with a history of over 130 years, is a top choice. The main branch is located in the Saahafha Bazaar. Naeb's chelo kebabs are popular among locals and vendors alike. Other branches of Naeb Restaurant were established later in different parts of Tehran.
Attractions Near Tehran's Grand Bazaar
Besides shopping, the area around Tehran's Grand Bazaar boasts numerous attractions worth exploring.
Park-e Shahr
Close to the bazaar, you can visit Tehran's oldest park, Shahr Park. Spanning about 25 hectares and featuring eight entrances, this park is one of the beauties surrounding the bazaar.
Golestan Palace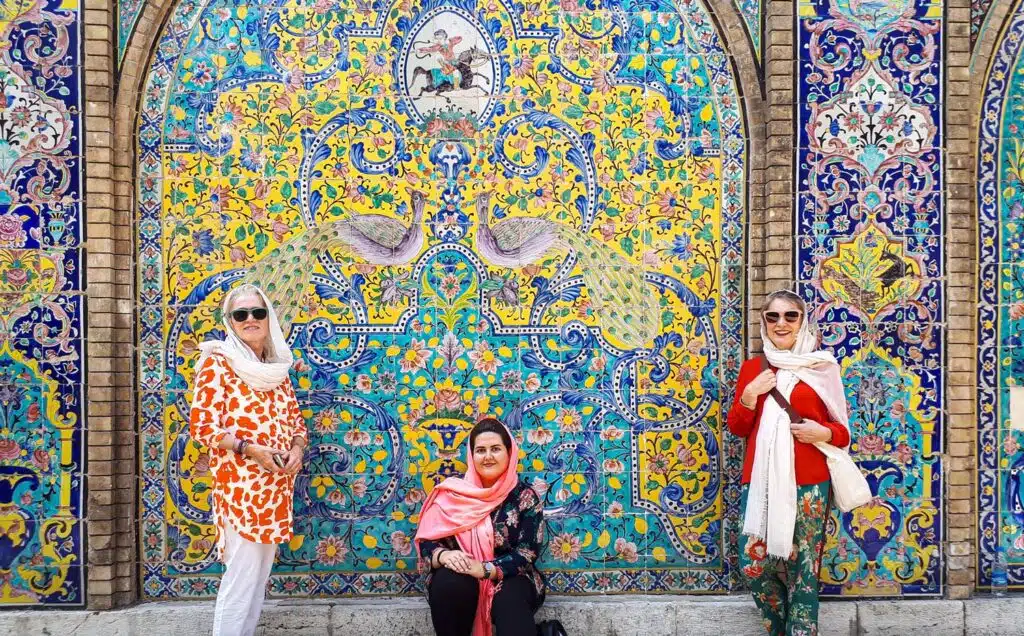 With a history of about 400 years, Golestan Palace is a must-visit near the bazaar. If you're planning to visit Tehran's Grand Bazaar, a stop at Golestan Palace is highly recommended.
Moghaddam Museum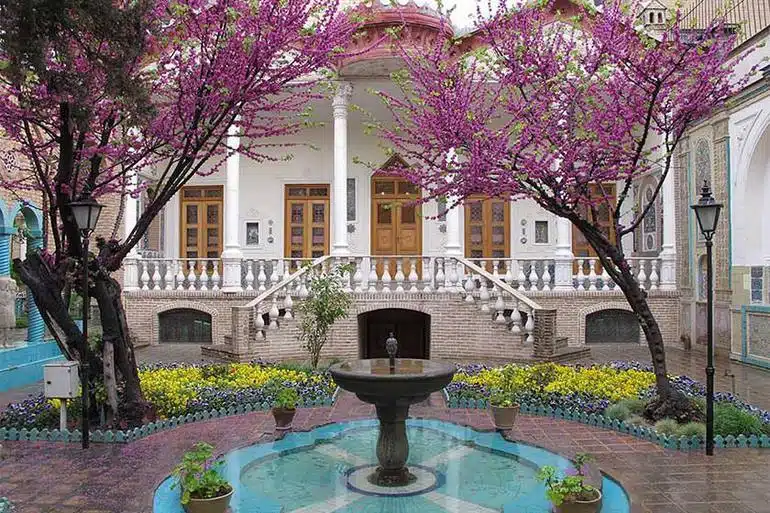 Located near Hassanabad Square, a route leading to the bazaar, Moghaddam Museum is one of Tehran's historic houses. Its beautiful architecture and unique artifacts make it one of the most popular attractions near the bazaar. The museum was once a luxurious Qajar era house belonging to Mohammad Taqi Khan Ehtesab al-Molk.
Chaharsooq Bazaar
The Grand and Small Chaharsooq connect the various parts of Tehran's bazaars. Built during the Zand and Qajar periods, the Grand Chaharsooq is one of the oldest structures in Tehran's Grand Bazaar, known for its exquisite plasterwork and architectural value. It was registered as a national heritage site of Iran in 1356.
Imamzadeh Zaid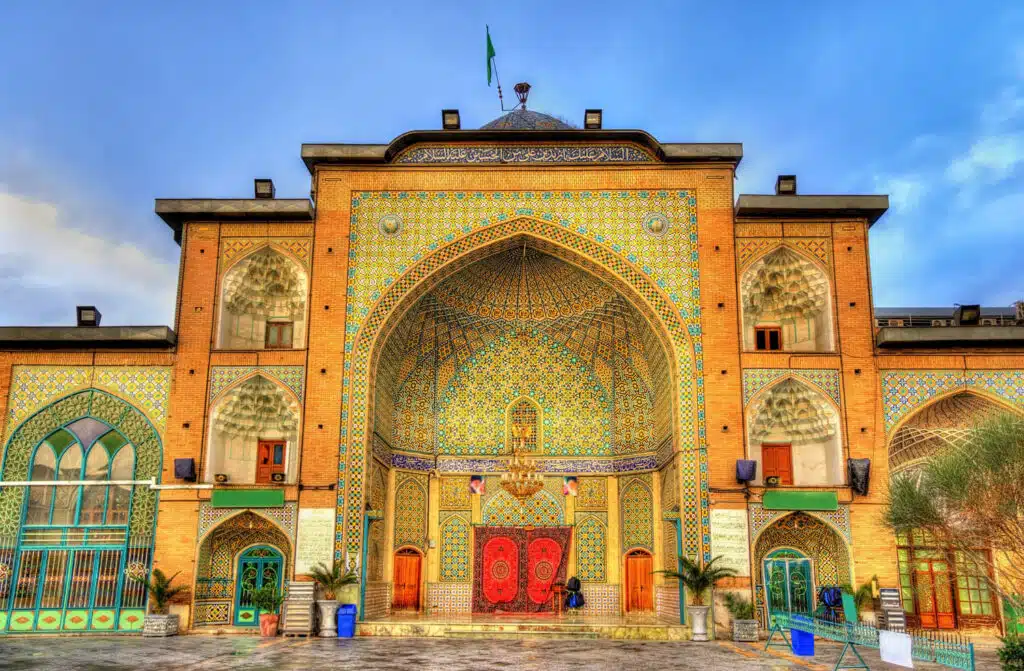 Imamzadeh Zaid, the tomb of a descendant of Imam Zain-ul-Abedin, was built during the Safavid era. Located at the southern end of the Bazaar Bazzazan, it was registered as a national heritage site of Iran in 1315.
Tomb of Lotf Ali Khan Zand
Adjacent to Imamzadeh Zaid lies the tomb of Lotf Ali Khan Zand, the last ruler of the Zand dynasty, defeated and killed by Agha Mohammad Khan Qajar. This event marked the end of the Zand dynasty.
Imam Mosque
Formerly known as Shah Mosque, Imam Khomeini Mosque is the second oldest mosque in Tehran, with about 2 centuries of history. It was registered as a national heritage site of Iran in 1363. Construction began around 1212 or 1224, and in 1307, Naser al-Din Shah Qajar ordered the construction of two minarets flanking the mosque's dome.
Jameh Mosque of Tehran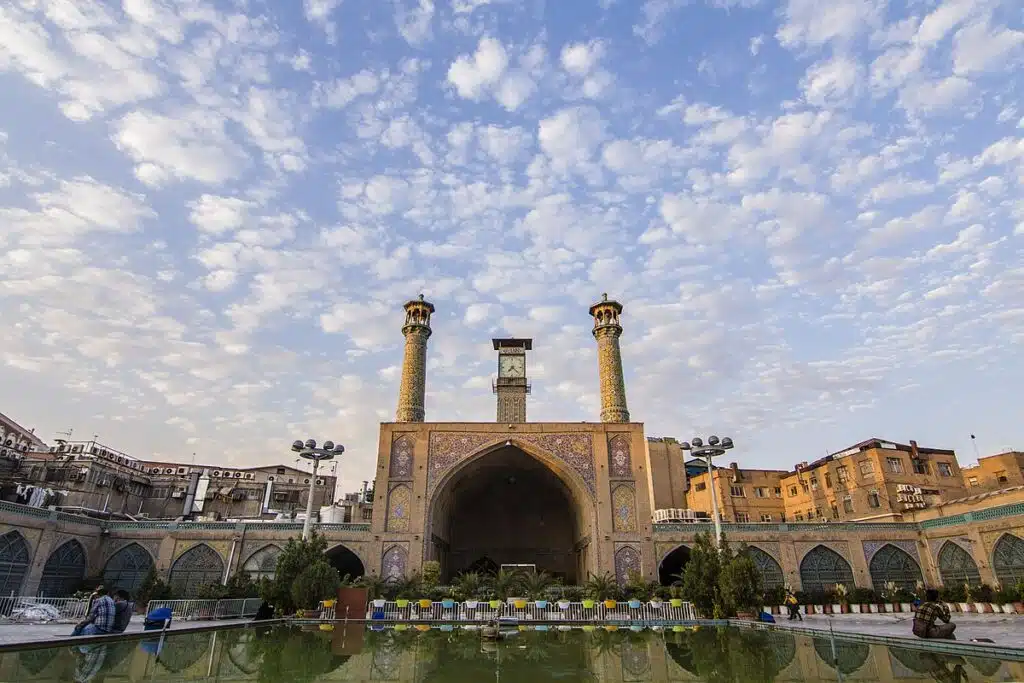 The oldest mosque in Tehran, Jameh Mosque's oldest prayer hall dates back over a thousand years. Covering about 4500 square meters, with a built area of approximately 20,000 square meters and a courtyard of around 900 square meters, it includes a pond, a water house, and seven prayer halls, each functioning as a separate mosque within the complex.
Known as Atiq Mosque, it is located on the south side of 15 Khordad Street, near Pamnar Street. The main entrance aligns with this route, and the west entrance is accessible from 15 Khordad Street and Jameh Mosque Alley. Registered as a national heritage site in 1375, it can be accessed from the northeast through the Ironsmiths' Bazaar and the southeast through the School and Box Makers' Bazaar.
Navigating to Tehran's Grand Bazaar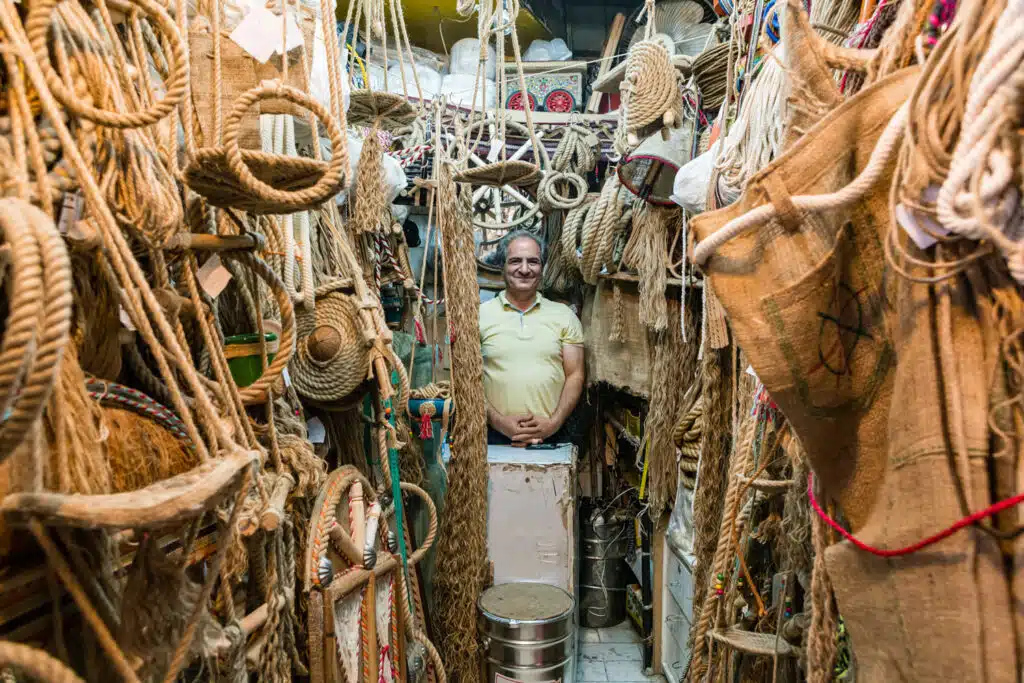 Despite Tehran's vast expanse, there are efficient transport systems and access routes to most parts of the city. The Tehran Grand Bazaar is no exception, with several ways to reach it. Here, we explore methods to get to the Grand Bazaar without a personal vehicle.
Access via Metro
To reach the bazaar using the metro, board Line 1 or transfer to it from other lines. Get off at the 15 Khordad Station. From there, a short walk will lead you directly to the Grand Bazaar.
Access via Taxi
Wherever you are in Tehran, if you make your way to Azadi or Sadeghieh, you can easily take a taxi directly to the bazaar. For your return trip, taxis serving the Azadi and Sadeghieh routes are readily available.
Access via BRT (Bus Rapid Transit)
If BRT is more convenient, use the Tajrish-Rah Ahan line to get to the bazaar. Disembark at the Moneirieh or Imam Khomeini stations, and from there, a short walk or a quick taxi or bus ride will get you to 15 Khordad Street.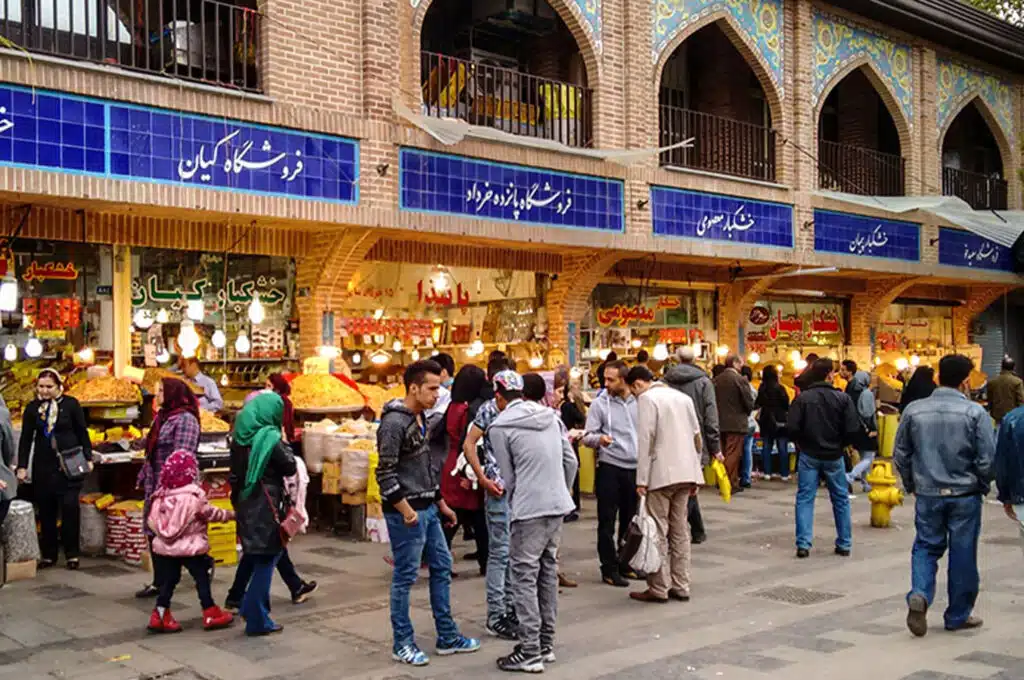 Shopping Passages in Tehran's Grand Bazaar
Reza Passage
Reza Passage, also known as Kuwaiti Passage, is a large shopping center on 15 Khordad Street, close to the Grand Bazaar. Built in 2001, it covers 10,000 square meters over five floors with about 600 commercial units. You can find a variety of clothing, bags and shoes, jewelry, sports equipment, household goods, and beauty and hygiene products. The majority of items are women's fashion, making it an ideal shopping spot for ladies to find trendy items at reasonable prices.
Chaharsooq Passage
Located in the Grand Bazaar on the coppersmiths' street, Chaharsooq Passage is one of the 82 markets and shopping centers in Tehran's Grand Bazaar. It enjoys a strategic location with easy access to landmarks like the Almas Hall and Shams-ol-Emareh. Nearby attractions include Sharaf al-Islam Restaurant, Hakim Hashemi Passage, and the tomb of Lotf Ali Khan Zand.
Conclusion
In this article from SURFIRAN, you've become acquainted with the Grand Bazaar and all its sections, understanding how to access it. We've also informed you about hotel reservations near the Grand Bazaar.
Finally, we invite you to share any interesting experiences you've had in the various sections of Tehran's traditional market in the comments section. Your stories can enlighten us and other readers of the Tehran Bazaar article on SURFIRAN.