Posts
https://surfiran.com/wp-content/uploads/2018/07/Travel-with-kids-to-Iran-02.jpg
998
1500
Fereshteh Sabetian
https://surfiran.com/wp-content/uploads/2020/01/Logo-2020-3.png
Fereshteh Sabetian
2018-07-14 06:39:35
2020-04-20 17:44:52
Traveling to Iran with Kids (Part one: Preparation)
https://surfiran.com/wp-content/uploads/2017/11/The-travelers-voice-Opinions-about-the-SURFIRAN-experience.jpg
720
1280
SURFIRAN
https://surfiran.com/wp-content/uploads/2020/01/Logo-2020-3.png
SURFIRAN
2017-11-10 08:20:09
2020-01-30 11:26:16
The travelers' voice: Opinions about the SURFIRAN experience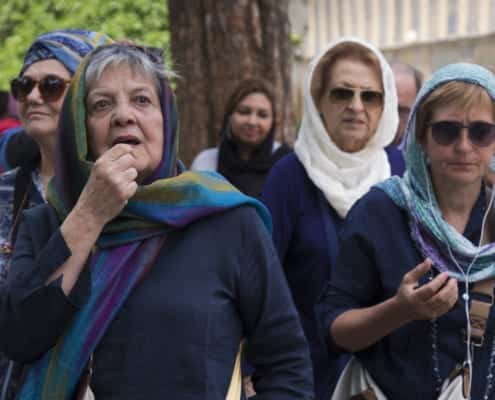 https://surfiran.com/wp-content/uploads/2016/02/Italian-tourists-in-Iran-02-14.jpg
3456
5184
SURFIRAN
https://surfiran.com/wp-content/uploads/2020/01/Logo-2020-3.png
SURFIRAN
2016-02-23 15:15:10
2020-01-30 11:26:18
Travelling to Iran as a solo woman: An experience
Most people are able to travel independently within Iran, without any guide or official guidance whatsoever. US and Canadian citizens, however, need to have their itinerary and tour group approved beforehand, which will require an officially sanctioned guide. However, as part of the itinerary it is possibly to include free days, which if approved, will allow for free travel.
https://surfiran.com/wp-content/uploads/2016/02/iran-tour.jpg
547
1000
Tim Dobson
https://surfiran.com/wp-content/uploads/2020/01/Logo-2020-3.png
Tim Dobson
2016-02-15 21:26:27
2020-01-30 11:26:18
Can I travel to Iran independently? Do I need an Iranian guide?
Women's travel in Iran - Line Pernille is a Danish girl and recently visited Iran in a one month adventure tour. in her youtube channel she is saying: Summarized down to a short movie it is hard to portray how great travelling in Iran was for me.
https://surfiran.com/wp-content/uploads/2016/02/Iran-a-one-month-adventur-surfiran.jpg
1067
1500
SURFIRAN
https://surfiran.com/wp-content/uploads/2020/01/Logo-2020-3.png
SURFIRAN
2016-02-14 12:38:09
2020-10-15 09:39:35
Women's travel in Persia – Line's Adventure in Iran