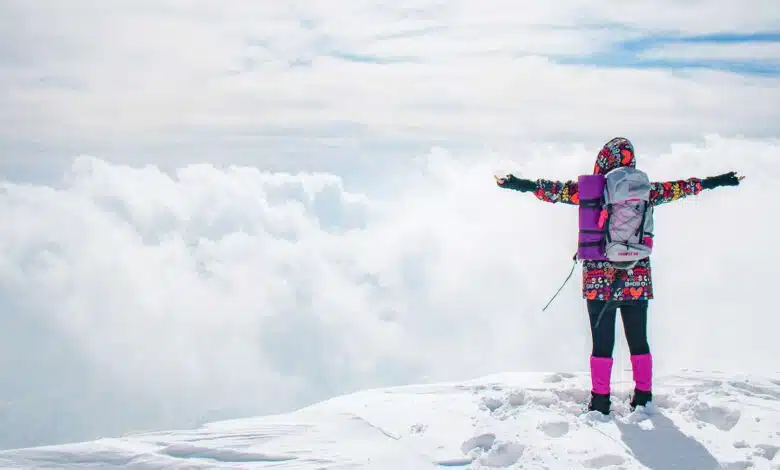 For the residents of Tehran, the go-to destination for weekend leisure and holidays is none other than the Tochal Ski Resort. Tochal is a heavenly retreat offering a diverse range of recreational activities, and it stands as one of Iran's well-equipped recreational and welfare centers. Tochal has consistently surprised its visitors with a myriad of activities suitable for all ages, creating unforgettable moments for travelers.
Reaching the Summit of Tochal Ski Resort
Utilizing the Tochal Ski Resort telecabin, you can ascend to the peak and savor the pristine mountain air while gazing upon Tehran. Tochal boasts various thrilling activities such as paintball, zip-lining, escape rooms, and more. Just hearing their names fills anyone with excitement, let alone experiencing them firsthand. For adventurous leisure in Tochal, let SURFIRAN travel magazine be your guide.
Exploring Tochal's Heights
Tochal is a peak located in the northern part of Tehran, nestled within the city's outskirts. Rising to an elevation of 3,962 meters, it ranks among Tehran's highest points, offering breathtaking panoramic views of the city below. This mountain features several hiking trails for outdoor enthusiasts and simultaneously houses the largest sports and recreational complex in the country.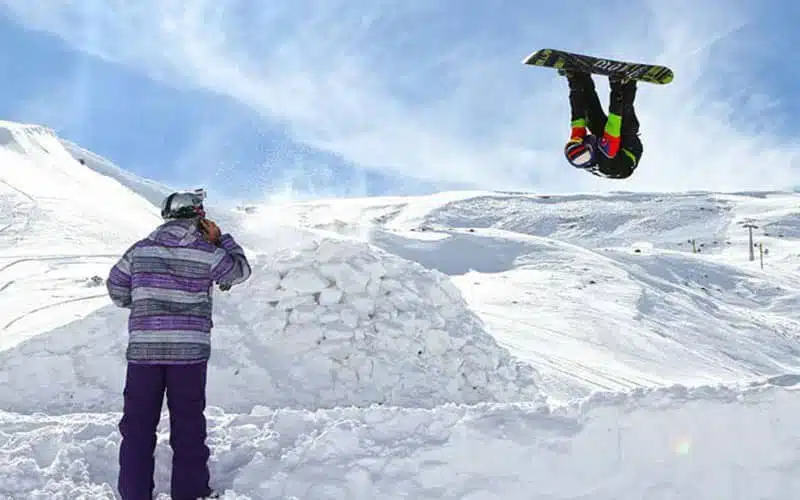 Getting to Tochal
To reach the entrance of Tochal Ski Resort, start by taking the Shahid Chamran Highway, then head onto Yemen Street, continuing until you reach Valenjak Street. From there, you'll need to proceed on foot to enter the Tochal region.
Address: Tehran, Shahid Chamran Highway, Yemen Street, End of Valenjak Street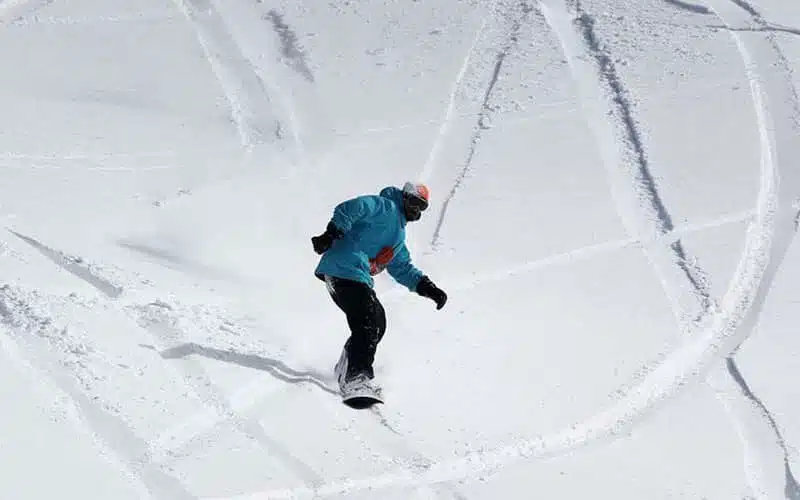 Accessing Tochal by Public Transportation
If you opt for public transportation in Tehran to reach Tochal, board bus line 221 (Valenjak Square – Shahid Afshar Terminal), disembark at the seventeenth bus stop, and walk the remainder of the way. If you prefer not to walk, you can take a passing taxi to the entrance of Tochal Ski Resort.
Accessing Tochal Resort by Metro
For those choosing the metro to reach Tochal, simply board Line 1 of the Tehran Metro and disembark at Tajrish Station. Then, take a taxi from Tajrish Square to Valenjak.
Accessing Tochal Ski Resort by Personal Vehicle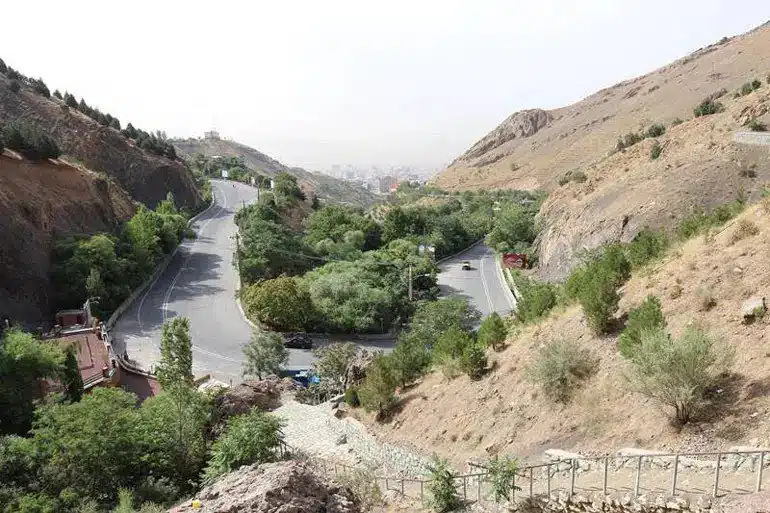 If you're driving to Tochal in your own car, start by entering the Shahid Chamran Highway, then head onto Yemen Street, and continue until you reach Valenjak Street. At the end of Valenjak Street, you can park your car in the Tochal Ski Resort parking area and proceed to explore the Tochal region.
Best Times to Visit Tochal Resort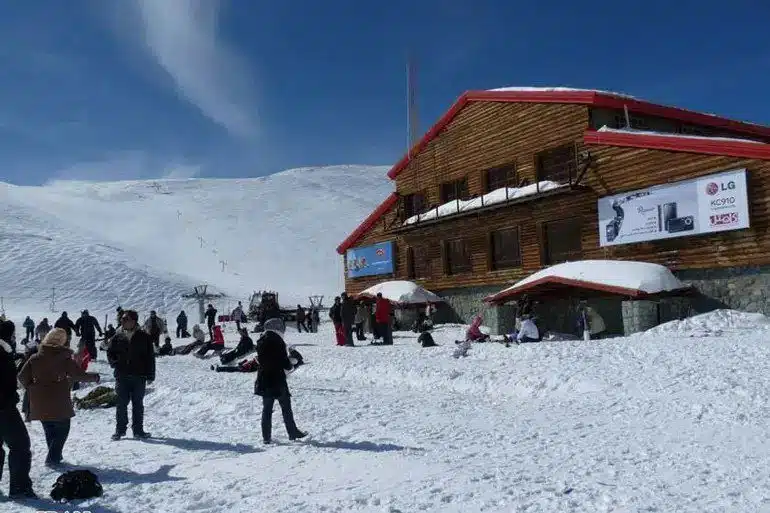 Tochal resort, located in the mountainous region of Tehran, enjoys mostly moderate and cool weather. The best time to explore Tochal is during the spring, summer, and early autumn seasons. During these periods, Tochal offers cool yet sunny weather, free from snow and cold. However, keep in mind that Tochal can get quite crowded during these months, especially on holidays and weekends.
Exploring Tochal Resort in Spring, Summer, and Early Autumn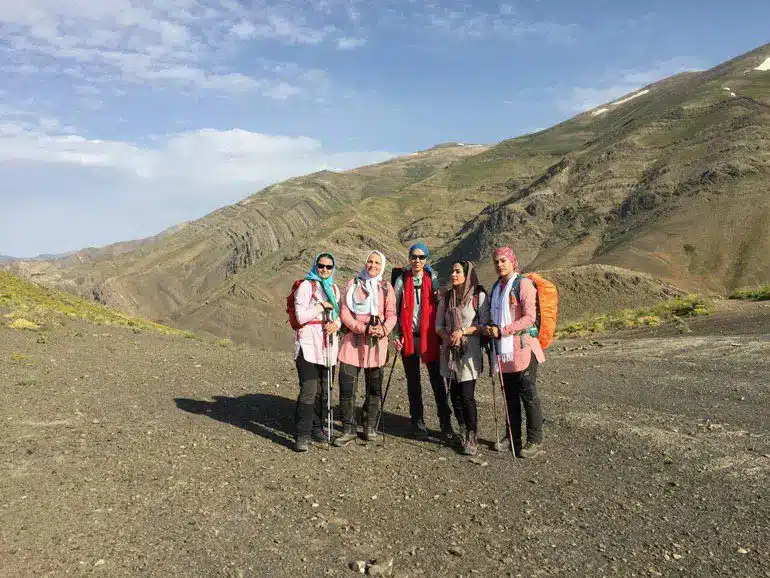 Spring, summer, and early autumn are ideal times to visit Tochal. The weather is pleasantly cool with plenty of sunshine, making it perfect for outdoor activities. During this time, you can enjoy the various attractions at Tochal without the inconvenience of snow and ice. However, be prepared for larger crowds, particularly on weekends and holidays.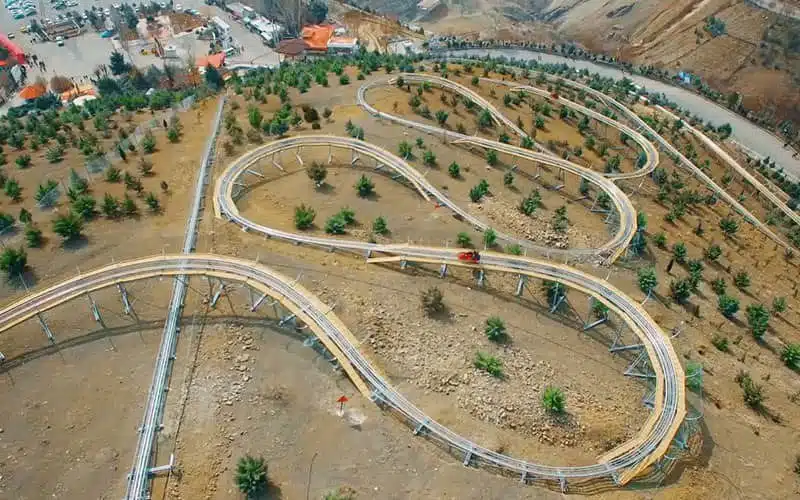 Tochal in Winter
Tochal in winter presents a different kind of beauty but requires more careful planning. The weather in winter is extremely cold, and most hiking trails become snow-covered. If you're interested in winter sports like skiing or snowboarding, then winter is the right season to visit Tochal. However, ensure you have the necessary mountaineering or skiing equipment, safety gear, and warm clothing.
Tochal's Diverse Recreational Activities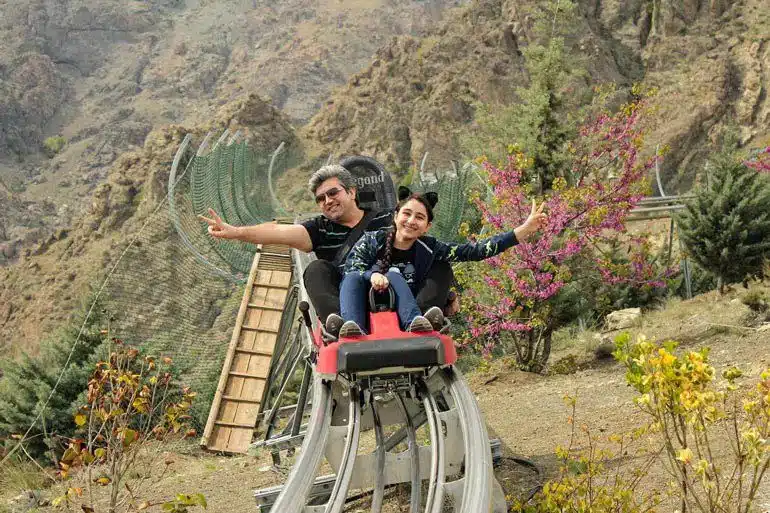 Tochal can rightfully claim the title of Iran's most recreational destination. It offers a wide range of thrilling activities, making it an exceptional destination for both adventure seekers and those looking for relaxation. At Tochal, you can experience the excitement of paintball, cable cars, the Telecabin, tennis, Cube Club, and more. It's the perfect place for a full day of enjoyment with family and friends.
Here, you can become acquainted with all the sports and recreational activities available at Tochal:
Paintball in Tochal Resort
After you hop onto the paintball field in Tochal, you won't be able to contain your excitement. Paintball enthusiasts can only enjoy the longest paintball field in Iran in this region. This paintball field stretches for 1420 meters and holds certification from one of the most reputable European inspection and standards companies, TUV Germany.
With Tochal's Telecabin, you can enjoy a ride through both the earth and the sky for over 30 minutes. The Tochal Telecabin is considered one of the best rooftop recreations in Tehran. Riding these metallic cabins will invigorate your spirit, and the breathtaking views of Tochal's natural beauty will bring you peace.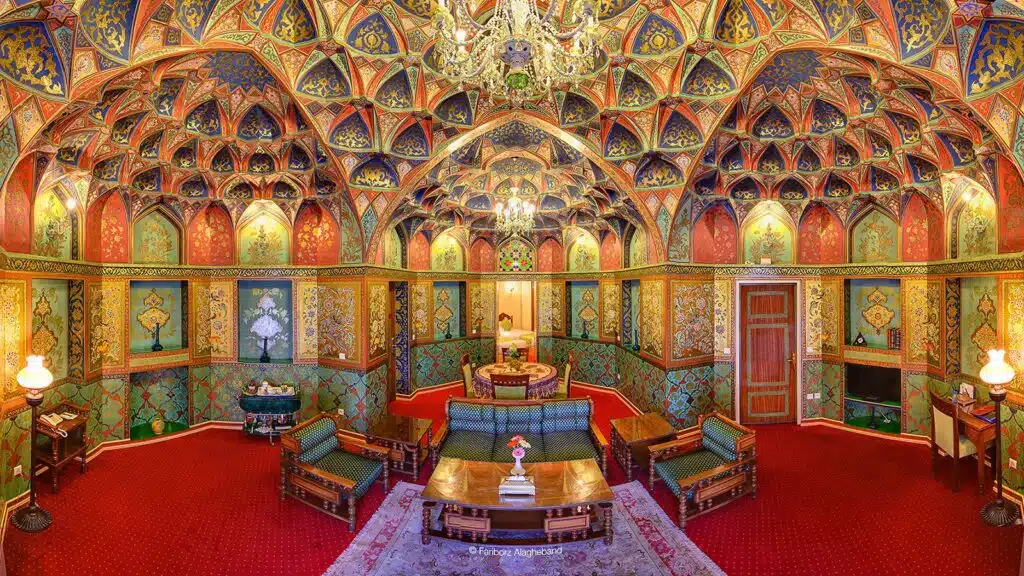 Tochal Resort Telecabin Stations
The Tochal Telecabin line spans approximately 7500 meters and includes seven stations at different elevations. The first station is at an altitude of 2000 meters above sea level, and the second station is at 2300 meters. The fifth station is at 3000 meters, and the seventh station reaches an elevation of 3700 meters above sea level.
Tochal Resort Ski Slope
Located beneath Tehran's ears, one of Iran's highest ski slopes offers Tehranis the chance to witness snow and enjoy skiing. This ski slope is situated at the seventh station of the Telecabin and provides services to Iranian and foreign skiers. Due to its significant elevation, it is considered Iran's first snow-catching slope.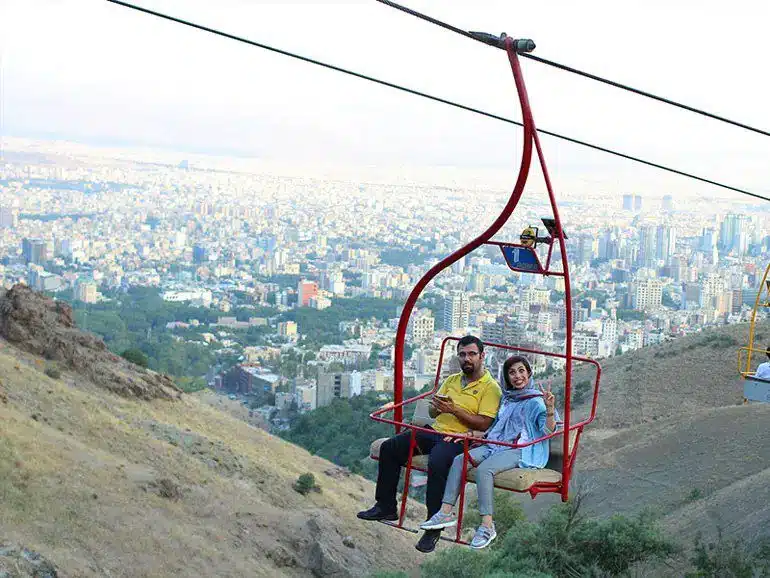 Hours of Operation for Tochal Facilities
We recommend checking the opening hours and the status of Tochal's facilities before your visit, as they are subject to capacity limitations, weather conditions, and technical equipment requirements. You can confirm by calling the Tochal complex at +982122418000.
Hiking and Mountaineering in Tochal Resort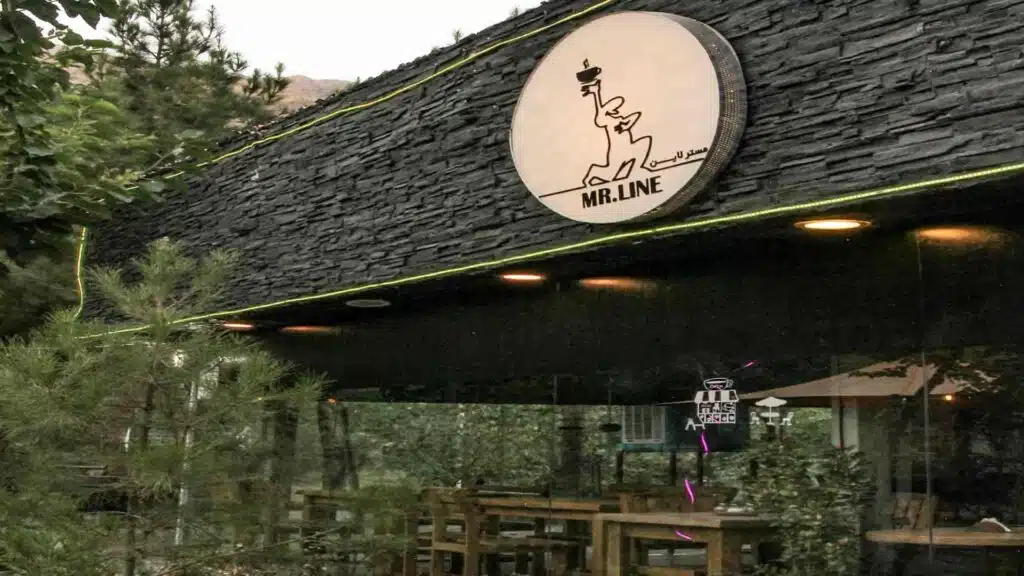 If you aspire to mountaineer in snowy mountains near Tehran, there's no better place than Tochal Ski Resort. With an elevation of 3596 meters, it stands as the tallest peak in the capital. At the end of the mountaineering path, there is a shelter for resting, welcoming tourists. Don't forget to bring appropriate mountaineering gear to avoid any unexpected challenges during your journey.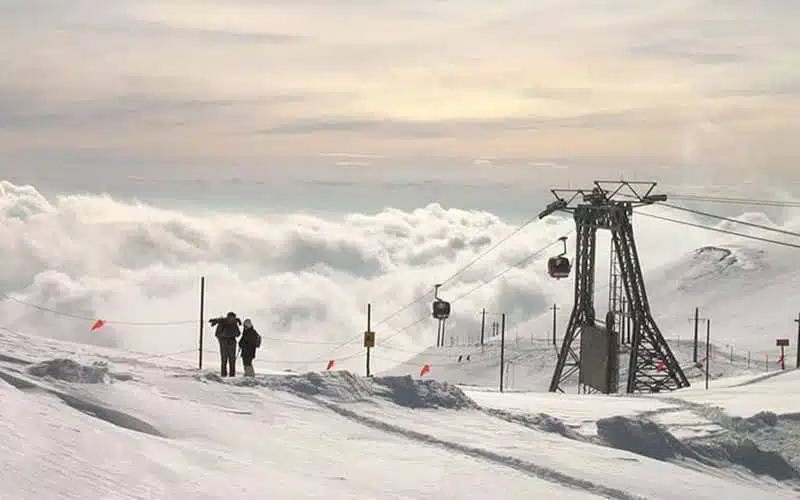 Hiking Routes to Mount Tochal
Darband, Shirpala Refuge, Janpah Amiriseyed Siah Sang, and the Summit (The most common and crowded access route).
Jamshidieh Park, Kolakchal Refuge, Peyazchal Valley, and the Loozan Peyazchal Summit (The most common route from the eastern front).
Darband, Asun Valley, Fifth Telecabin Station, Seventh Station, and the Summit.
Velenjak (near Tehran), Fifth Telecabin Station, Seventh Telecabin Station, and the Summit (The most common route from the western front).
Golabdarreh, Kolakchal Refuge, Peyazchal Valley, and Loozan Peyazchal Summit.
Darband, Asun Valley, Oros Grave, Janpah Amiriseyed Siah Sang, and the Summit.
Shahrak-e Bam Tehranbuali, Chen-e Kolagh Summit, Doshakh Summit, Pelangchal Summit, Seventh Telecabin Station (The most challenging route from the western front).
Darkuh, Pelangchal Refuge, Fifth Telecabin Station, Seventh Telecabin Station, and the Summit.
Darband, Ousun Valley, Janpanah-e Aspidkamar, Seventh Telecabin Station, and the Summit (The oldest access route).
Niloufar Park, Shahabad Summit, Kolakchal Summit, and Loozan Peyazchal Summit.
Farh-zad, Yoonjehzaar, Doshakh Summit, Pelangchal Summit, Seventh Telecabin Station, and the Summit.
Darabad, Darabad Summit, Darabad Ridge, and Loozan Peyazchal Summit (The most challenging route from the eastern front).
Tochal Ski Resort Telecabin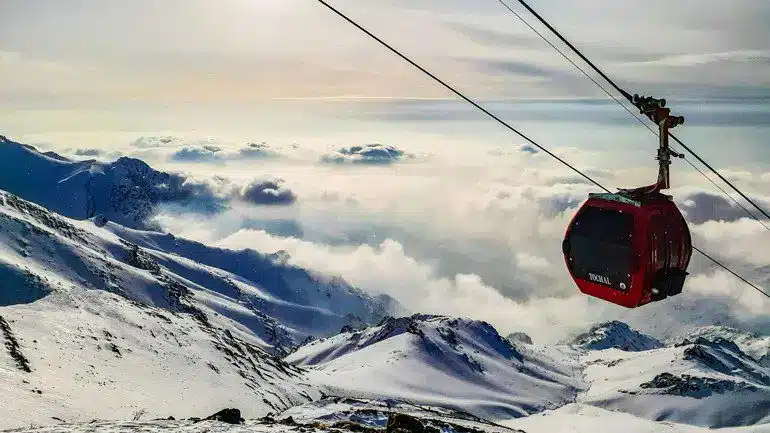 Tochal Telecabin, also known as Tochal Telecabin, is one of the most popular attractions in this area. Unless it's winter, you'll hardly find empty seats on Tochal Telecabin. The journey of Tochal Telecabin takes you from the first station of the telecabin to the Cheshmeh restaurant, offering you a breathtaking view of Tehran. You need to board Tochal Telecabin to enjoy the beauty of Tehran with a pristine landscape.
Snowmobiling at Tochal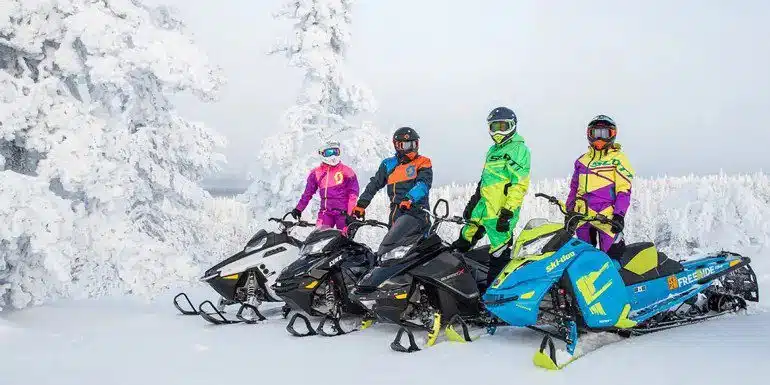 Snowmobiling is one of the best activities in Tochal, Tehran. Sit on snowmobiles and rev up the engines, racing across the snowy landscape to get your adrenaline pumping. Snowmobiling offers an adventurous experience on a challenging route that covers a distance of about half a kilometer. Snowmobiling is available as long as Tochal has a snowy landscape. Operating hours are from 8 AM to 2 PM during the snowy season, and it's free for children under 7 years old.
Tochal Resort Zip Line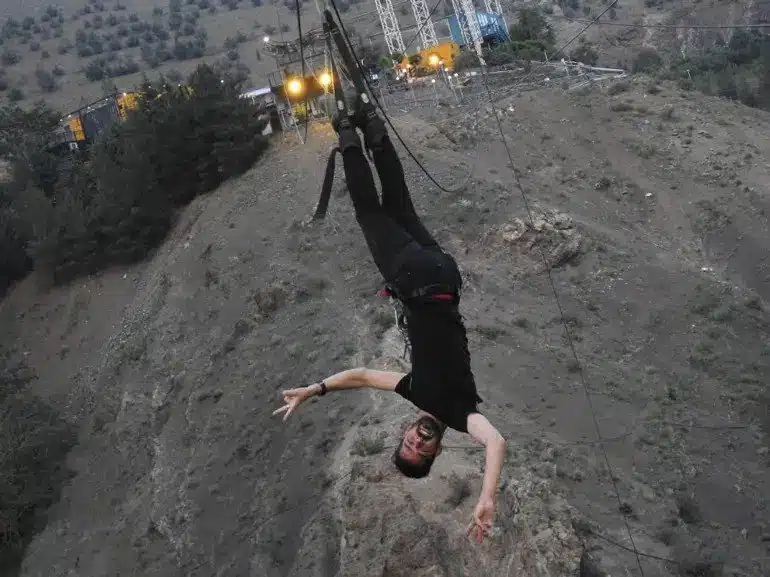 Tochal, Tehran, offers the thrill of zip-lining with the opening of Iran's largest zip line. This attraction was introduced to make sure no one misses the experience of soaring high above Tochal's valleys. The zip line is one of the most popular and exhilarating activities at Tochal. Tochal Zip Line is located in Boustaneh No. 2 on the Salamati Road. There's no doubt that the fear is worth a flight of 60 meters in height and 200 meters in length.
Tochal Café and Billiards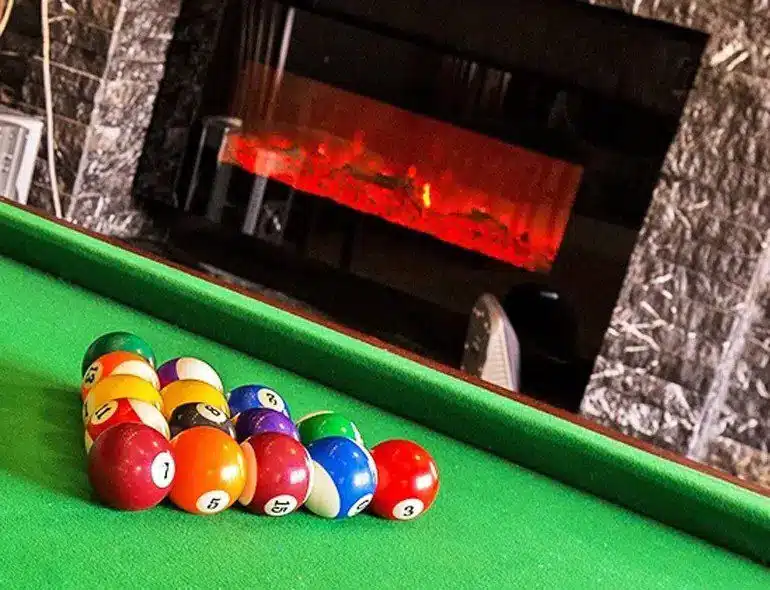 You can experience group activities at Tochal with a game of billiards. Gather around the green tables, grab the colorful billiard balls, and enjoy a thrilling game with the ambiance of Tochal. This café is one of the youth-friendly hangout spots in the rooftop of Tehran and can get quite crowded. After a game of billiards, play a lively game of foosball with your friends.
Salamati Garden
Start your morning with a walk in Salamati Garden at Tochal. This garden offers suitable sports and recreational facilities to ensure that visitors don't get tired too quickly. With beautiful lighting, Salamati Garden attracts the attention of onlookers. After strolling through the garden, you'll reach the area of the waterfall and cave, accessible through stone stairs.
Tennis Club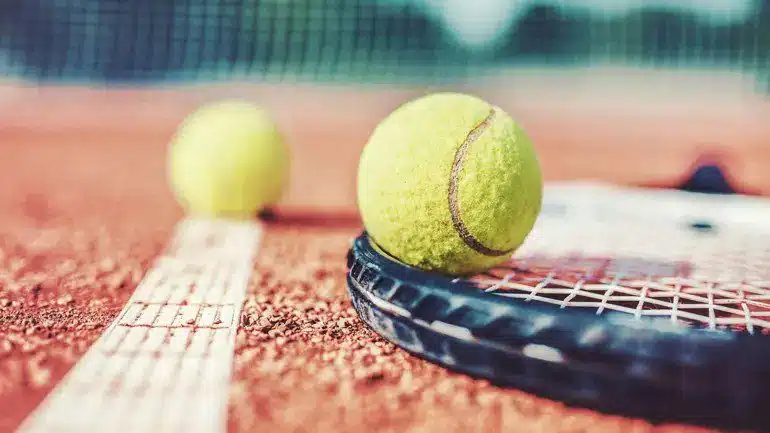 If we've dubbed Tochal Tehran the best recreational complex, rest assured we haven't said enough. There are so many recreational games available at Tochal that you can't experience them all in one visit. If you're into tennis, head to the tennis club and register to play.
The academy also has a shop where you can purchase tennis equipment, allowing you to enjoy the fresh and clean air of Tochal while you serve up some rounds of tennis.
Open to both men and women.
Features 6 clay courts and a locker room.
Offers private or group lessons.
Operating hours vary, and you can inquire about them in advance.
Archery Club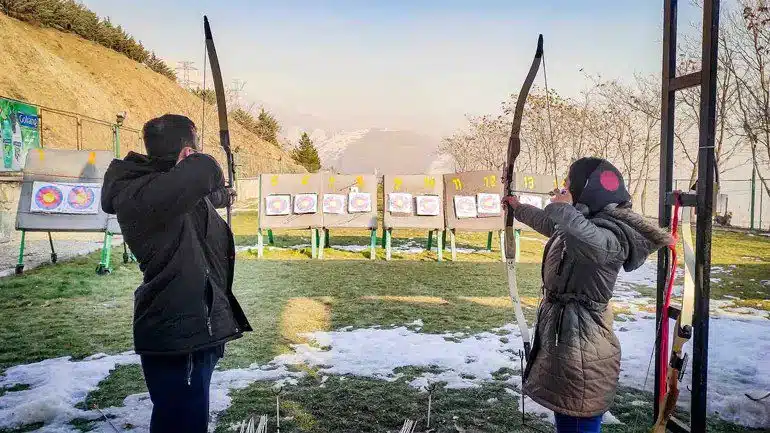 You can test your targeting skills at the archery club with the archery range at Tochal Tehran's recreational complex. The archery club is located on the Salamati Road, opposite Salamati Garden 1. This sport is considered one of the healthiest games that you can play with children. If you want to challenge yourself with your marksmanship, they also host recreational and professional archery competitions that you can participate in.
The archery club is not limited to archery alone; you can also enjoy activities like axe throwing and dart throwing to showcase your skills to other participants.
Operating hours for the archery club: Daily from 9 AM to 1 PM.
Open to all age groups, both men and women.
Recreational Facilities at Tochal Tehran
Tochal Tehran is not just a local attraction but a complete package in Iran. From its cable car stations to its cafes, it sets a high standard for quality. Along the way, you'll find snack stalls and food stalls to ensure that visitors are well taken care of.
Some of the recreational facilities at Tochal include restrooms, parking, electronic ticket booths, ATMs in various sections, and a children's playground.
Restaurants in Tochal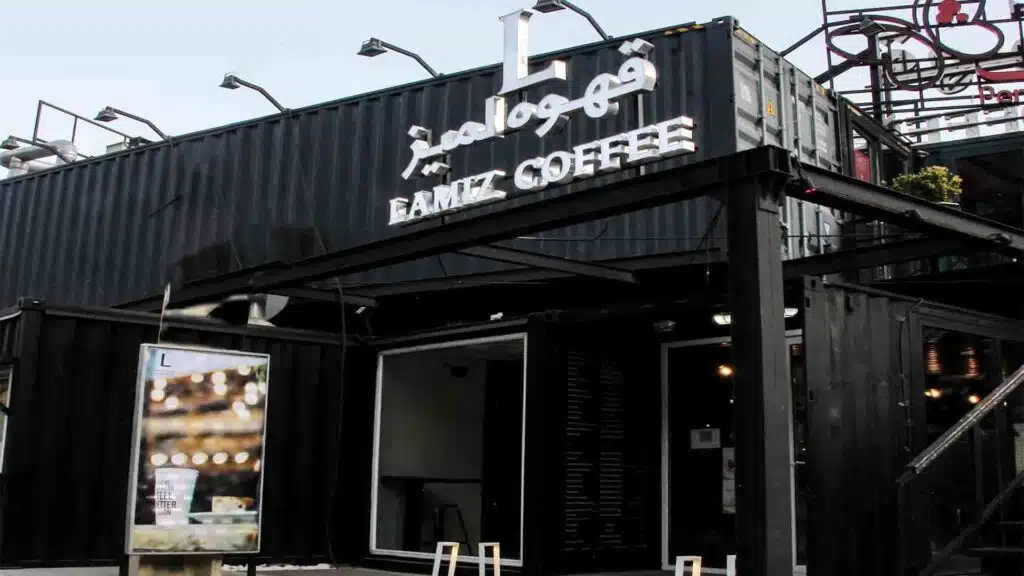 Enjoy a great meal with a variety of delicious food options available at the restaurants and food courts within the complex. Tochal is packed with restaurants and cafes that can make your day enjoyable. Some of the famous ones include:
Cafe Lemiz: Located on Salamati Road.
Cafe Viuna: At the first telecabin station.
Bato Serves (Potato fries): First telecabin station.
Mister Line: Cafe and restaurant in Boustaneh 1 on Salamati Road.
Burgerland: On Salamati Road.
Liberté Ice Cream: At the first telecabin station.
Bologna's: With two branches, one on Salamati Road and the other at the first telecabin station.
Tochal Restaurant: The restaurant at Tochal Hotel, located at the seventh telecabin station.
Tochal Hotel in Tochal Ski Resort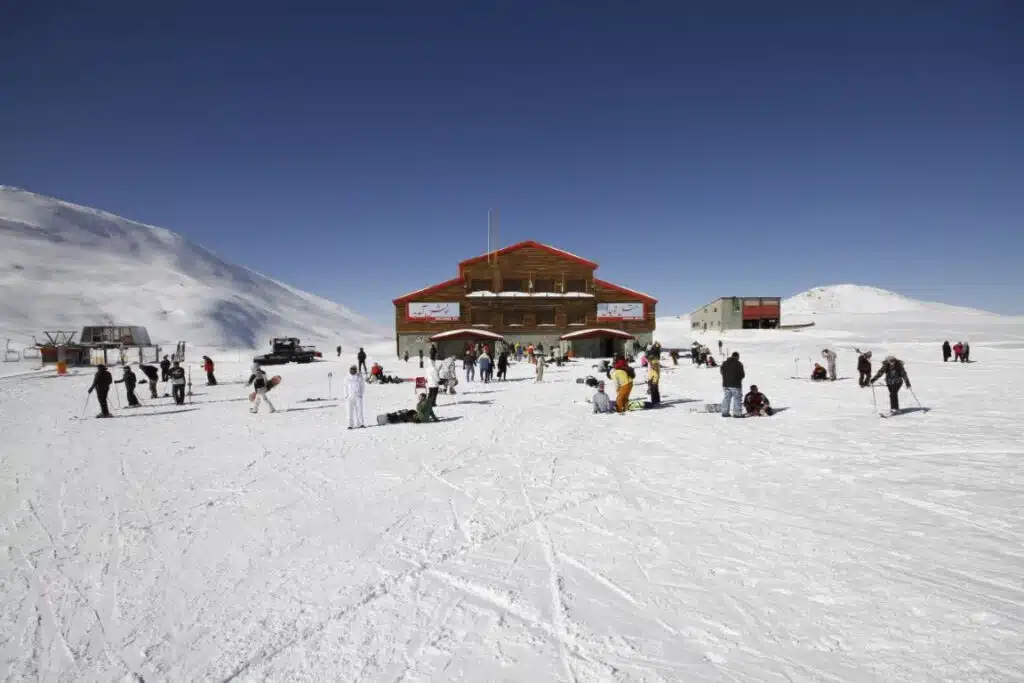 Tochal Ski Resort Hotel is a two-story building with 30 accommodation units built in 2001. This three-star hotel offers various amenities for tourists, including high-speed internet, quality heating and cooling systems, breakfast service, a restaurant, and more. The hotel's location at the seventh station of Tochal, at an elevation of 3,545 meters above sea level, makes it a convenient option for those heading to Tochal's ski slopes, which are usually snow-covered for most of the year.
For hotel reservations, you can visit the via OrientTrips fully online.
Parking at Tochal:
If you plan to visit Tochal with your personal vehicle, you don't need to worry about parking. Tochal's parking lot is located at the beginning of the road to Bam Tehran and has ample capacity to accommodate visitors. You can leave your car at the parking lot with peace of mind and spend as much time as you like in the Tochal recreational sports complex.
Contact Information for Tochal Recreational and Sports Complex:
Address: Tehran, Chamran Expressway, the end of Valanjak Street, Tochal Recreational and Sports Complex.
Customer service: 2720
Sales: +982122418000
Ski School No. 1: +982122418000
OrientTrips Hotels
Book Yazd Hotels Online
Other Hotels Near Tochal
After a day of exploring Tochal, comfortable lodging is essential. If you're a traveler, we recommend booking one of the hotels near Tochal before entering the area. You can wake up in the morning and open your eyes to the beautiful world of Tochal. Only at the Tochal Hotel can you experience such a dreamy view.
Here are some of the notable hotels in the vicinity:
Parsian Azadi Hotel Tehran
Ousun Hotel Darband
Azadi Tehran Hotel
Parsian Evin Hotel Tehran