Ardabil
Destinations
Ardabil Travel Guide
Ardabil: Unveiling Nature's Splendor and Cultural Riches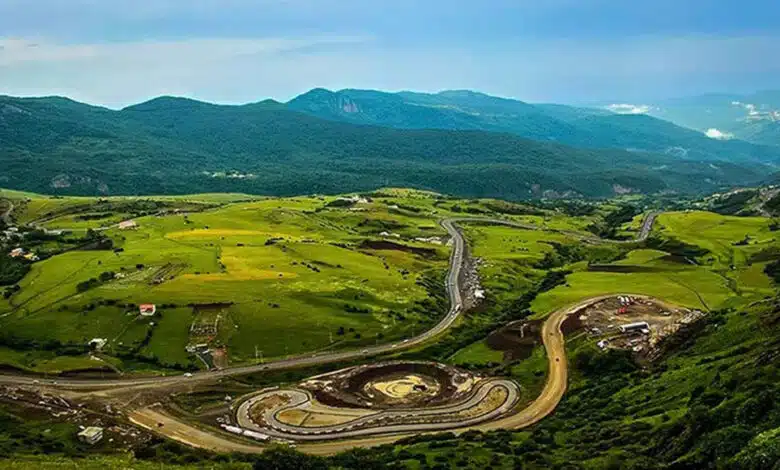 Travelingabil, a city with pristine nature nestled among the lush and beautiful Sabalan and Baghrud mountains, is one of the best recommendations among tourist destinations in Iran. The historical city of Ardabil, with its ancient civilization dating back 5000 years and its remnants scattered throughout the city, has enjoyed great economic prosperity in the past due to its location on the Silk Road. Ardabil, with its mesmerizing attractions, ranging from natural wonders to historical sites and notable museums, is an excellent choice for an adventurous journey. In this article from SURFIRAN Travel Magazine, we will guide you through your trip to Ardabil. Stay tuned!
A Brief Introduction to Ardabil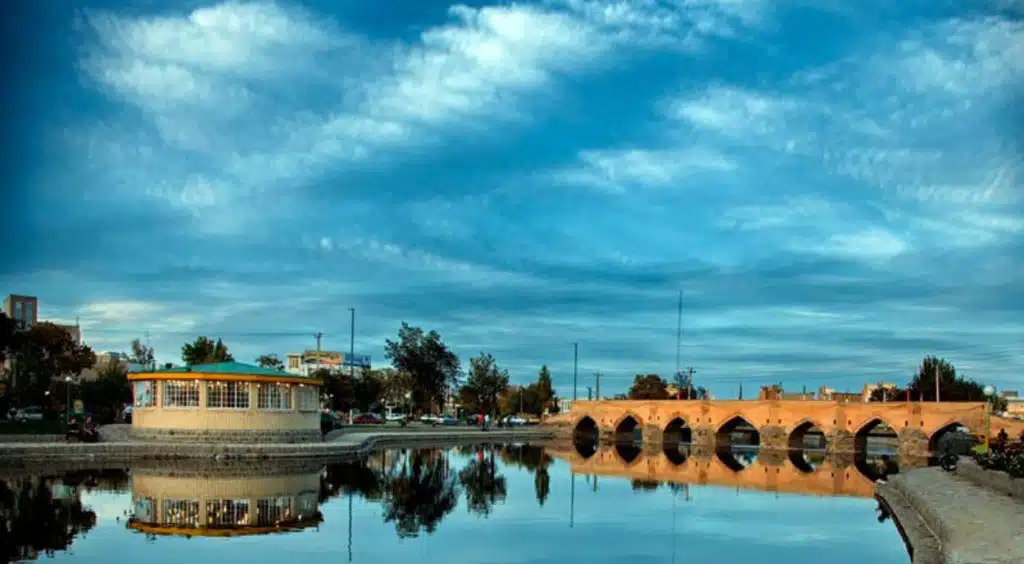 Ardabil, formerly known as Artawil or Arduwil, which means "holy city" in the Avestan language, is located in northwestern Iran. Interestingly, the people of Talesh still refer to Ardabil by its ancient name, Arduwil. Ardabil was also known by other names such as Daralarshad, Daralmulk, Daralarfan, and Daralamana.
Given its elevation of over 1500 meters above sea level, Ardabil has a cold and humid climate. Ardabil province has 12 counties, with the city of Ardabil located in its center, and its people speak the sweet Azerbaijani Turkish language. To the west of the flatland where Ardabil is situated lies the dormant Sabalan volcano, rising to an altitude of 4000 meters.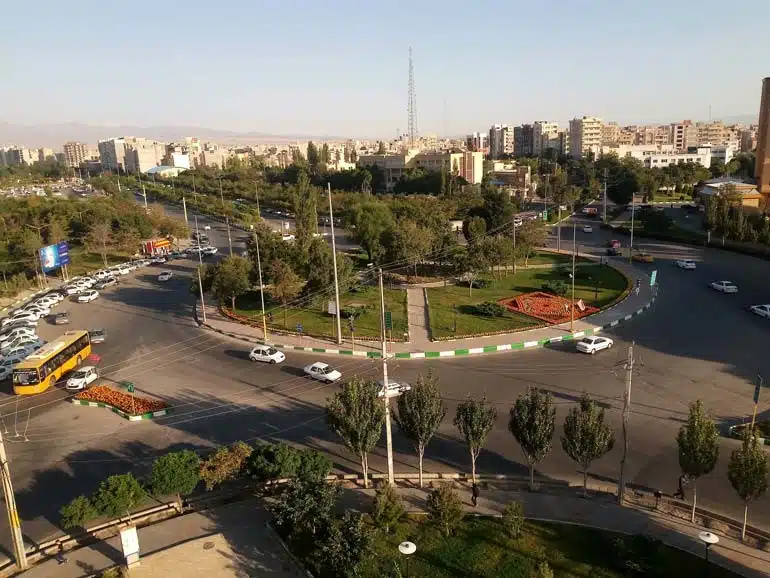 There are also numerous hot springs found around Ardabil. Don't forget to experience their therapeutic properties during your trip. Ardabil province is bordered by the Republic of Azerbaijan to the north, East Azerbaijan to the west, and shares sister city relationships with Erzurum and Konya in Turkey, as well as Saratov in Russia. Ardabil is also adjacent to Gilan province to the east and Zanjan province to the south within the country.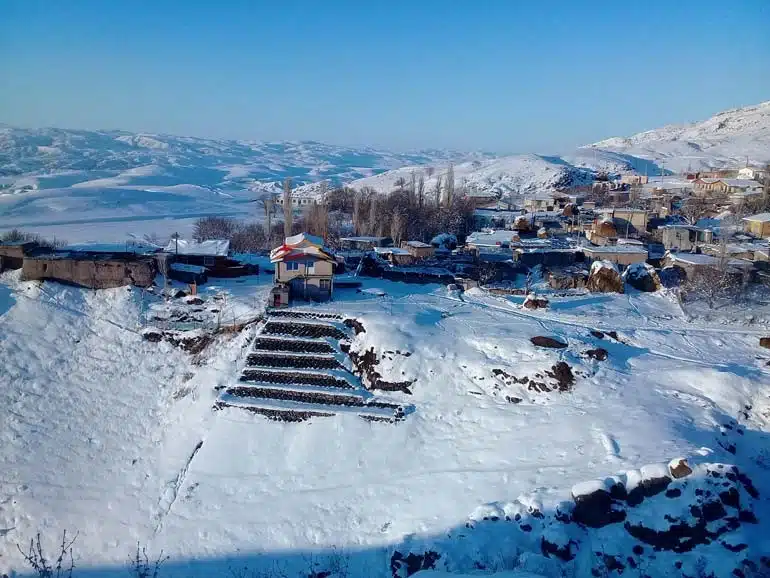 What Are the Climate Conditions in Ardabil Like?
Climate conditions are one of the important factors to consider when traveling to Ardabil. Due to two-thirds of the city being mountainous and its proximity to the coastal areas of Astara and its plains, this region has a mountainous and humid climate, which is accompanied by temperature fluctuations and significant rainfall.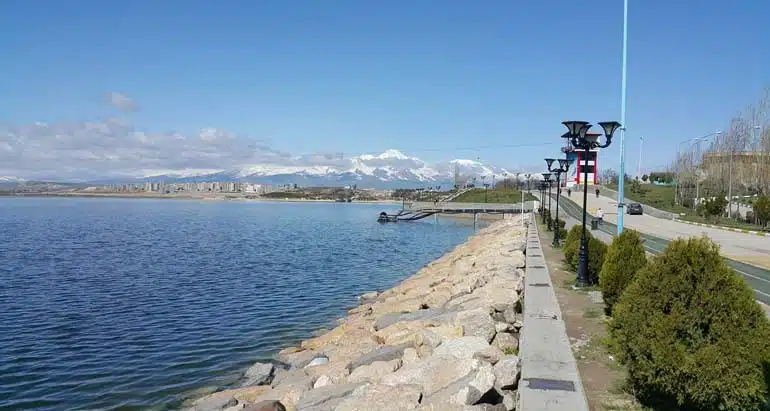 The city experiences cold winters and mild summers, with the winter season, accompanied by snow and rain, lasting for 5 to 8 months of the year. The average temperature in Ardabil is 7 degrees Celsius, and the annual average temperature remains below 6 degrees Celsius. Therefore, be sure to pack enough warm clothing for your trip, as even summer nights can be chilly.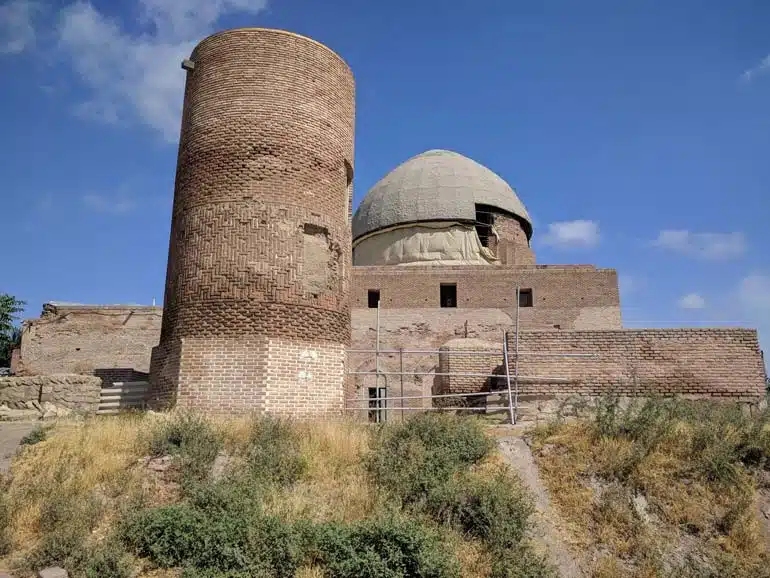 Which Season is Best for Traveling to Ardabil?
Every season in Ardabil has its own unique attractions. For those who want to spend their summer vacation in a moderate and cool climate, a trip to this city during summer is highly recommended. In general, the best time to travel for those who want to experience moderate weather conditions in Ardabil is late spring and summer.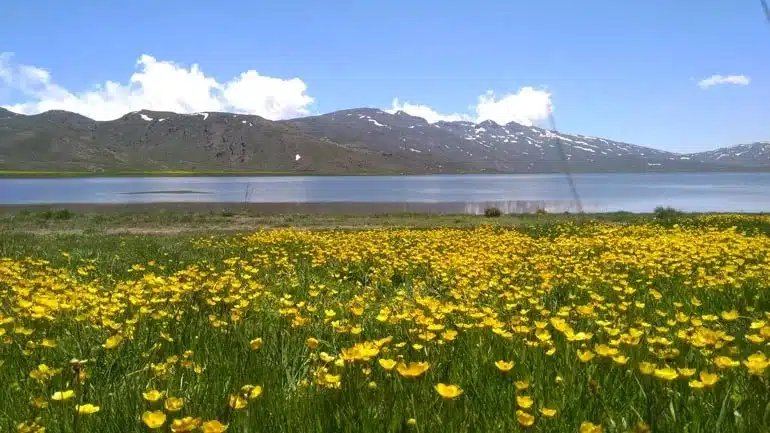 Early spring and autumn also have favorable weather conditions. If you intend to enjoy winter activities such as skiing on the Alvares Mountains, you can choose the winter season for your trip. However, it is important to have the appropriate equipment for the cold climate during this time of the year. Additionally, during the first two months of spring, you can still enjoy winter activities and remain safe from winter frost. Late spring and early summer are also ideal for swimming in the hot springs and enjoying walks along the beautiful shores of Lake Sabalan.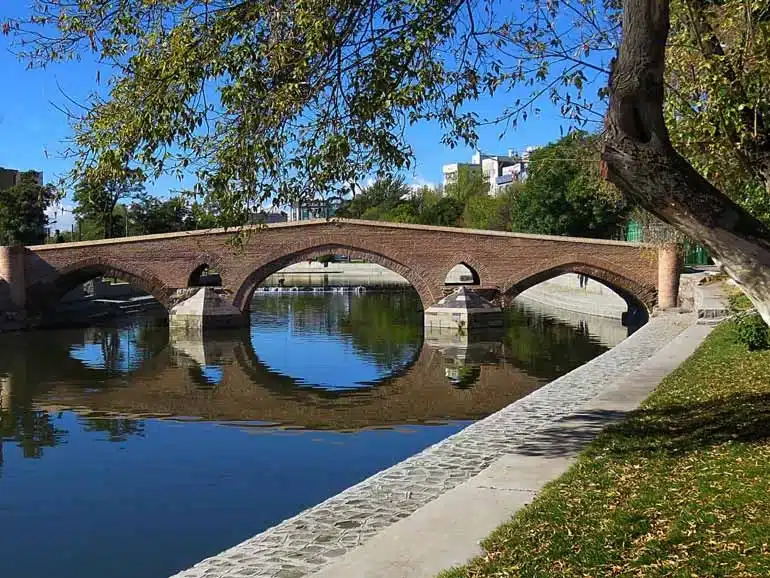 Top Places of Interest and Tourist Attractions in Ardabil
Ardabil, with its geographical location, unique climate, and rich historical heritage, offers a wide range of attractions that may not all be possible to explore on a short trip. From mountains, lakes, historical houses, caravanserais, mausoleums, bridges, and more, the list of nature-based activities and historical landmarks in this city is extensive. In this section, we will mention some of these attractions.
Sheikh Safi al-Din Ardabili Shrine and Mausoleum Complex
One of the most important and awe-inspiring historical sites in Iran is the Sheikh Safi al-Din Ardabili Shrine. It is the burial place of Sheikh Safi al-Din Ardabili, a prominent mystic of the 13th century, and was later transformed into his mausoleum. The complex also houses the tombs of Shah Ismail I, the founder of the Safavid dynasty, and the martyrs of the Chaldoran and Shervan wars.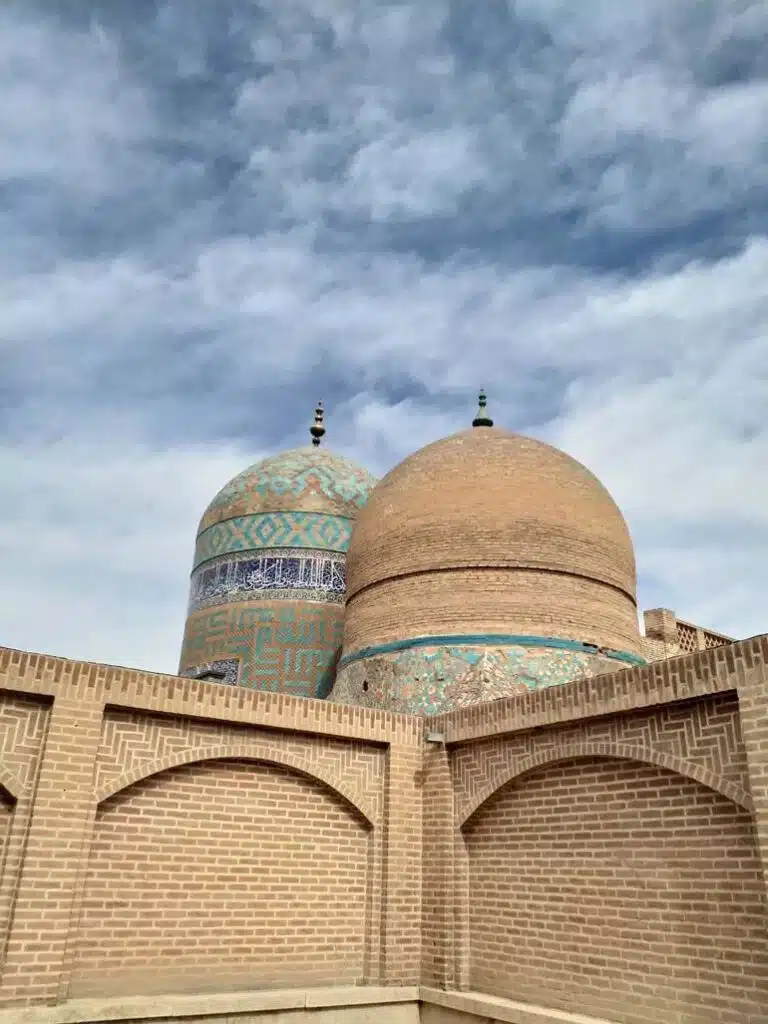 This historical site showcases the traditional and exquisite Iranian architectural artistry, including intricate tilework, silver and goldsmithing, exceptional wood carving, exquisite plasterwork, and calligraphy by renowned artists of the Safavid era. Visit this magnificent historical masterpiece, which was one of the most important places during the Safavid period, for an impressive experience. Please note that you will need to purchase a ticket to enter this beautiful complex.
Address: Sheikh Safi Street, Alighapoo Square, Sheikh Safi al-Din Ardabili Shrine
Visiting hours: First 6 months of the year from 8:00 to 20:30, Last 6 months of the year from 8:00 to 17:30
Jameh Mosque of Ardabil
The Jameh Mosque of Ardabil is one of the most important and oldest historical sites in Ardabil, dating back to the Seljuk era. Its architectural structure and design are distinct from other contemporary buildings, adding to its value. This mosque, located next to a military fire temple from the Ashkanian period, suffered significant damage during the Mongol invasion but was later rebuilt. Today, only a few parts of the mosque remain, but it is still recommended to visit due to its unique architecture.
Address: Pir Shamseddin Neighborhood, Ayatollah Madani Boulevard
Heyran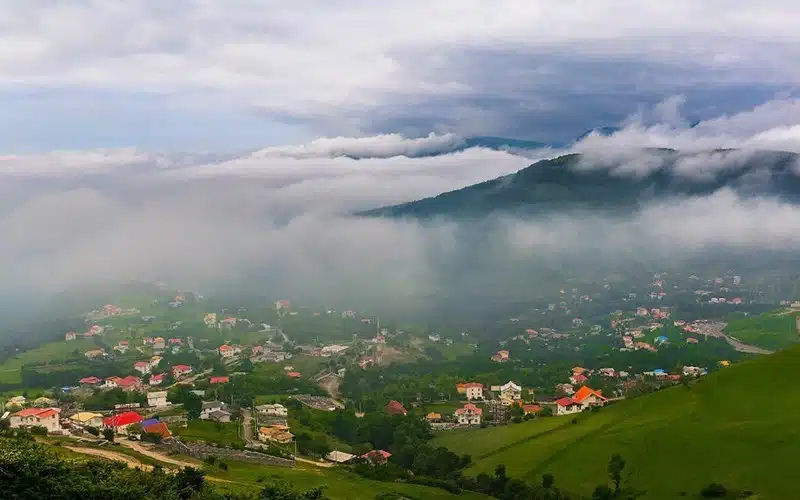 Imagine a road with lush green mountains on one side and dense forests on the other, adorned with beautiful shades of orange, yellow, and red during autumn. During your trip to Ardabil, you can experience all this beauty by visiting the mesmerizing Hiran Gorge on your way from Astara. Enjoy the delightful taste of charcoal tea and delicious yogurt soup in roadside restaurants amidst a misty atmosphere or take a cable car ride and admire all the beauty from above.
Address: Astara to Ardabil road, 5 kilometers from Astara city
Shourabil and Neor Lakes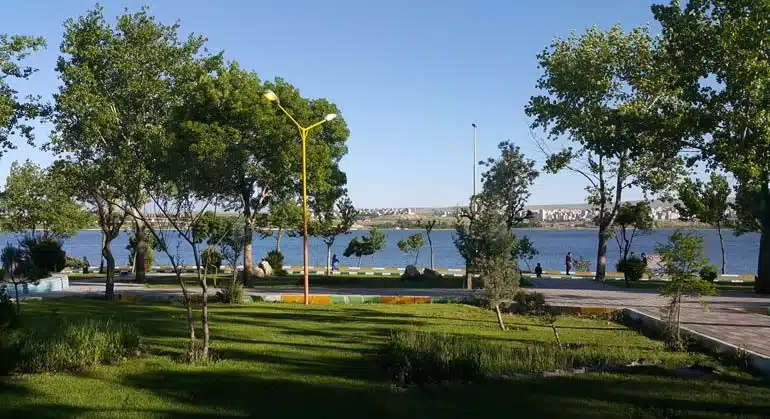 Shourabil and Neor Lakes are among the best options for thrilling nature excursions in the Ardabil region. Shourabil Lake was initially a saltwater lake which later became suitable for fish farming after adding freshwater. This lake, located on Daneshgah Street, is the only urban lake in Iran.
Shourabil Lake offers a captivating range of recreational activities such as boating, cycling, and various amenities including cafes and restaurants in the middle of the lake. The beautiful Neor Lake nestled amidst the Bagram Mountains is another great destination for camping and enjoying the breathtaking nature, where you can also indulge in activities like fishing and horseback riding.
Shourabil Lake Address: Ardabil, Milad Highway, Daneshgah Street
Neor Lake Address: Located 40 kilometers southeast of the Gilan-Ardabil border, in the southeastern part of Ardabil
Yeri City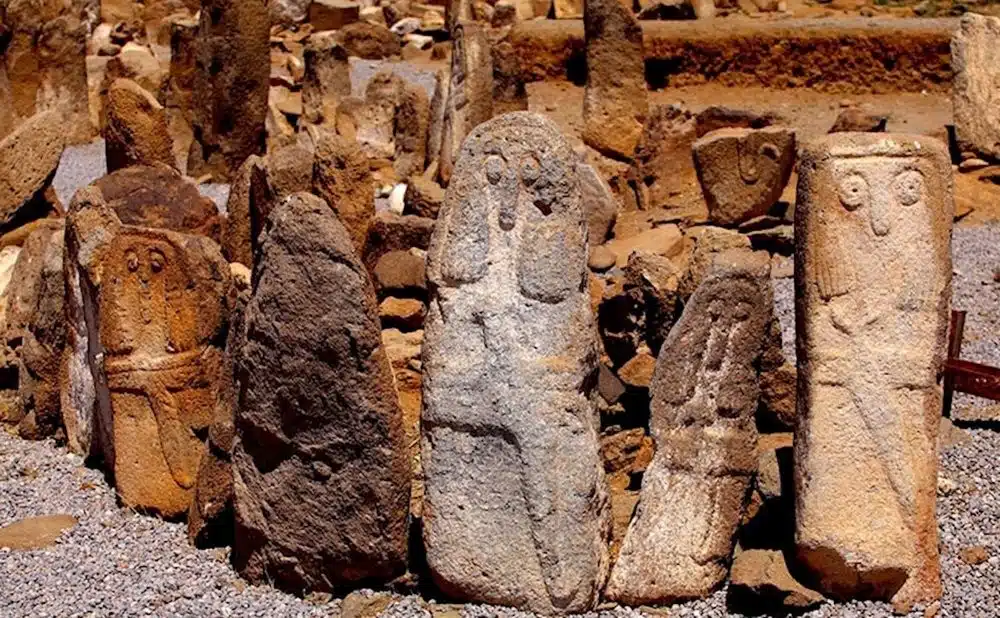 If you want to visit a city with a history of several thousand years, head to Yeri City during your trip to Ardabil. This ancient city consists of three sections: the temple, the military fortress, and a hill called Gusha Tappeh. The site features around 300 erected stones in various sizes and shapes resembling peculiar human-like figures dating back 8000 years before Christ.
Address: 31 kilometers east of Meshginshahr and 65 kilometers northwest of Ardabil, Pir Azmian Village
Alvares Ski Resort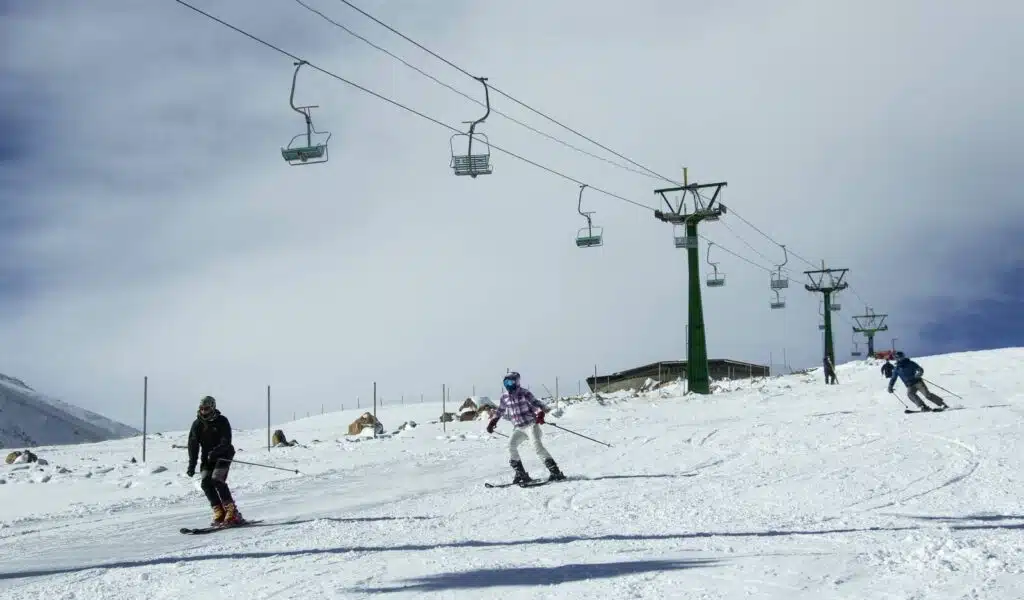 In your trip to Ardabil, you can enjoy skiing on snow for nine months of the year. Alvares Ski Resort in the village of Alvares, located at the foothills of Mount Sabalan, is another attraction in Ardabil that, along with thrilling activities like skiing, will mesmerize you with its springs and beautiful waterfalls.
Address: 12 kilometers from the Alvares village.
Ardabil's Hot Springs
One of Ardabil's famous features is its abundance of hot springs. These springs are known for their therapeutic properties, and many people travel to Ardabil specifically to experience them! Due to the prevalence of these springs in Ardabil, there are numerous spa complexes that have made it easy and enjoyable for travelers to use these springs. Some of these springs and complexes include:
Gavmish Goli Hot Spring: Located in the city of Sar'eyn on Danesh Street.
Qarah Soo Hot Spring: Situated in the city of Sar'eyn on Vali Asr Street.
Qahve Sooyi Spa Complex: Located in the city of Sar'eyn on Taleghani Street.
Sabalan Spa Complex: Found in Sar'eyn on Danesh Street.
Iranian Spa Complex: Located at the entrance to the city of Sar'eyn.
Ardabil also has many other attractions such as beautiful historic bridges, ancient caravanserais, and interesting museums that will add joy to your visit.
What are the transportation options to Ardabil?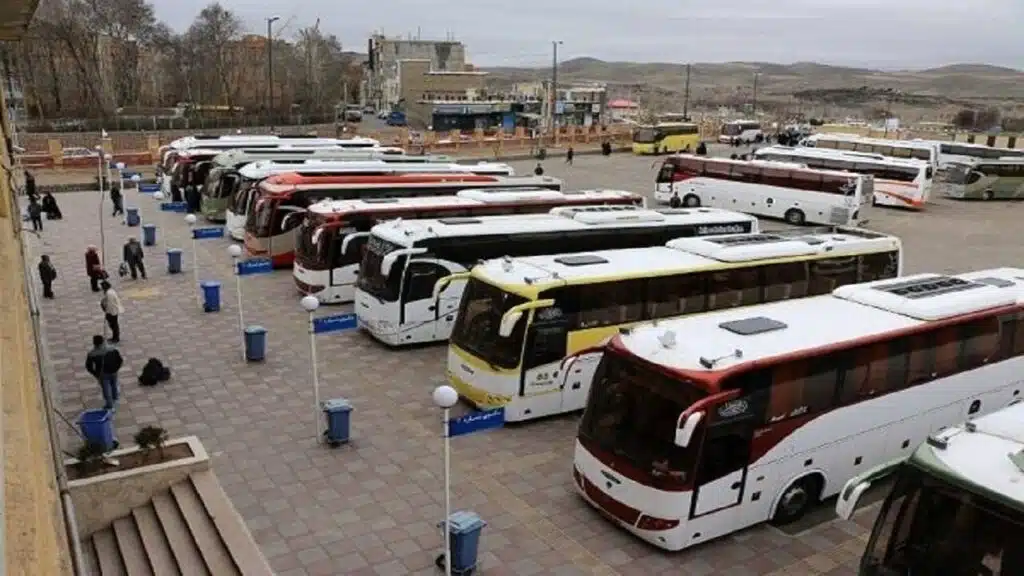 You can choose from various transportation options for your journey to Ardabil. Ardabil does not have an active train station, so for land travel, you can either use your private car or take a bus. The land routes that lead to Ardabil by car include:
An 8-hour route from Tehran via Qazvin and Rasht to Ardabil.
A 7-hour route from Tehran via Qazvin and Zanjan to Ardabil.
A 5-hour route from Urmia via Tabriz and Sarab to Ardabil.
An 11-hour route from Isfahan via Saveh and Zanjan to Ardabil.
A 19-hour route from Mashhad via Sari and Rasht to Ardabil.
A 9-hour route from Kermanshah via Zanjan to Ardabil.
Generally, the best routes for travel to Ardabil from northern regions of the country are via Rasht, from southern regions via Tehran, and from eastern regions via Zanjan. Ardabil has a large passenger terminal that provides access to all parts of Ardabil province. Ardabil also has an international airport called Ardabil International Airport, which operates daily flights to and from Tehran, Mashhad, and other domestic and international destinations.
The northern routes offer very scenic and pleasant views, and you can even enjoy your time in the beautiful northern cities during your journey to Ardabil. The route passing through Zanjan is shorter but somewhat drier. You should consider what matters most to you: a shorter travel time or enjoying the journey?
What is public transportation like in Ardabil?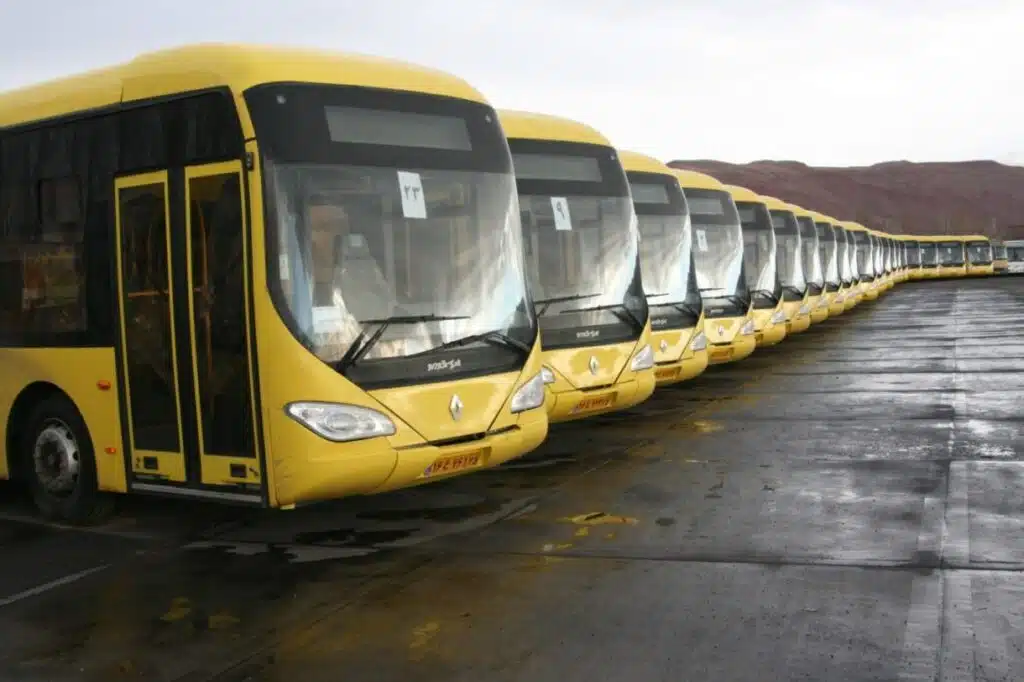 For public transportation within Ardabil, there are shared taxis, regular yellow taxis, and online ride-sharing services available. In many areas of the city, there are bus stops, and the routes of most of these buses lead to the city center, including the Bazaar, Sar Cheshmeh Square, and Shariati Square. In all parts of the city and at the terminal and airport entrances, regular yellow taxis and shared taxis are available for quick and convenient transportation within the city. You can use the bus to travel within the city to save on transportation costs.
Where are the best places to stay in Ardabil?
When traveling to Ardabil, you don't need to worry about accommodation. This city offers a variety of lodgings, including hotels, hostels, and eco-lodges in urban and historical areas or amidst Ardabil's beautiful nature. In this section, we'll mention some suitable places for accommodation in Ardabil to ensure your peace of mind when choosing a place to stay during your trip.
Sabalan Ardabil Hotel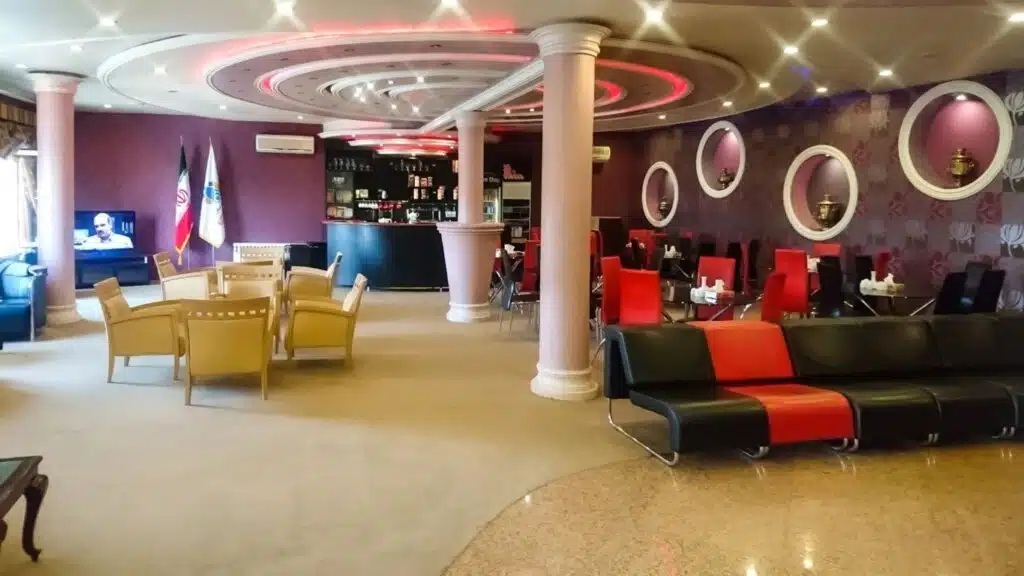 One of the most famous hotels in Ardabil is the three-star Sabalan Hotel, located at the intersection of Imam Khomeini Square and Sheikh Safi Street. This hotel is in the city center and close to attractions like Sheikh Safi's shrine and many other attractions in Ardabil, such as Fandoglu Forest and Shorabil Lake.
Ardabil Hotels
The three-star Darya Hotel is located in the city center and close to many historical attractions and commercial centers. The hotel is conveniently located near the airport at Meydan Basij, Shahid Ataee Street.
Ideal Accommodation in Ardabil
This guesthouse is located in the city center, at the intersection of Pir Abdolmalek. Nearby, you can find the Sarcheshmeh Bridge, Fandoghloo Forest, Arshadi Shurabil House, and the historical Shah Abbas Restaurant. It also has easy access to commercial centers and the airport.
Neghin and Mahdi Hotels in Ardebil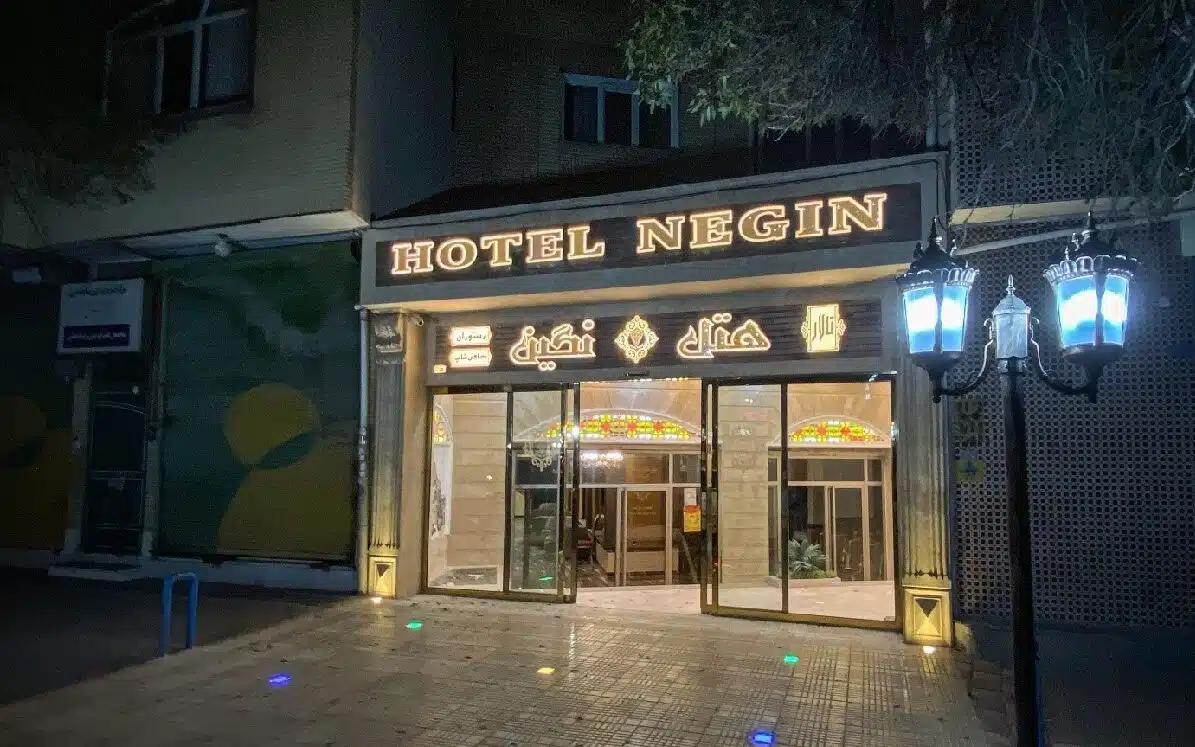 Neghin and Mahdi, two two-star hotels, are among the affordable and suitable accommodation options in Ardebil. Neghin Hotel is located on 30-Metri Street, and Mahdi Hotel is located on B'asat Street.
Dornah Mashgin Shahr Eco Lodge
If you want to choose a beautiful and peaceful place surrounded by nature and the beautiful mountains of Sabalan for your stay in Ardebil, Dornah Mashgin Shahr Eco Lodge is the perfect choice. This eco-lodge offers sufficient facilities for a camping experience and is reasonably priced.
Kosar Tourist Complex and Shurabil Hotel in Ardabil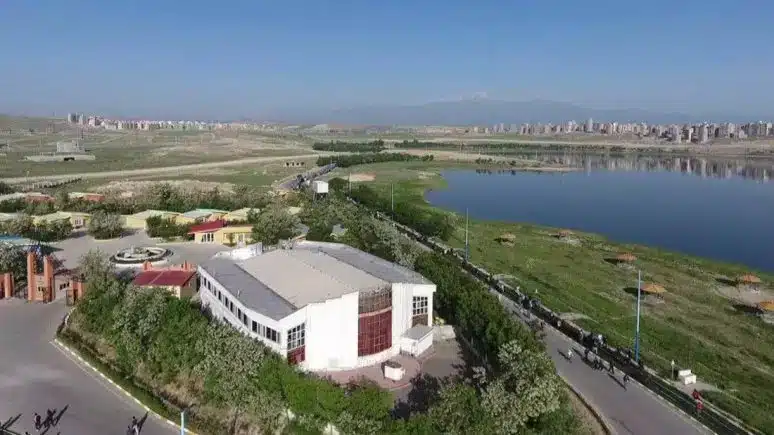 If you prefer a place away from the urban area with a beautiful view of nature, these two locations near Lake Shurabil are excellent options. They also provide easy access to the airport.
5 Famous and Traditional Foods of Ardabil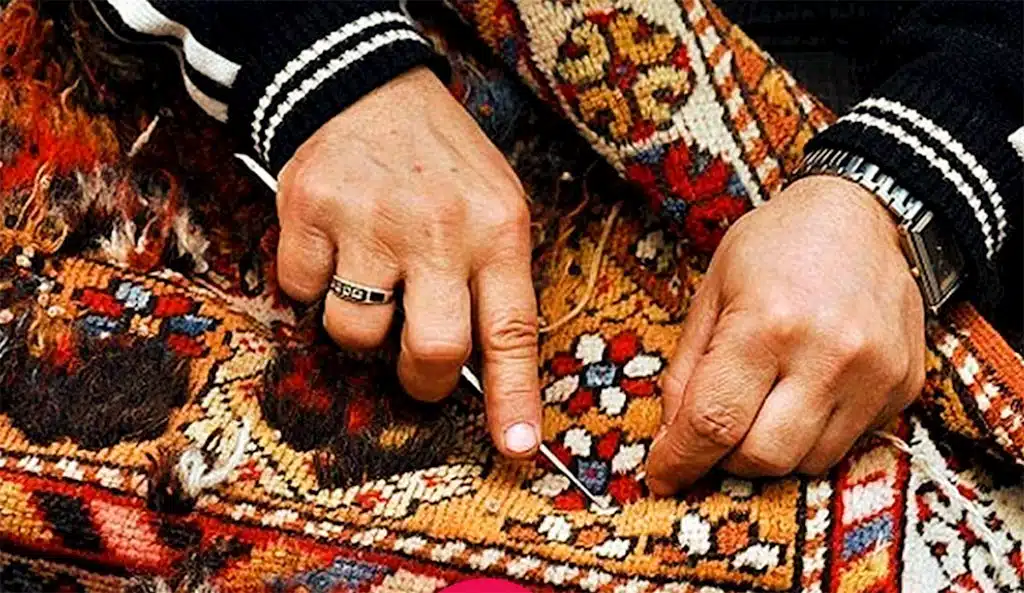 With its long history, Ardabil offers a variety of delicious and unique local dishes that can be found on the tables and menus of its restaurants. Here are some of these traditional dishes:
Pichagh Ghimeh: Known as Badam stew, suitable for diabetic or hypertensive patients.
Chighirtmay-e Morgh: A tasty dish similar to omelette, made with chicken, fried onions, and eggs.
Kheingel: Small boiled dough pieces mixed with ground meat, onions, aromatic herbs, garlic, and tomato paste.
Kebab Kashe'i: A delicious and popular dish consisting of mixed minced kebab, chicken, liver, and sausages in a bowl.
Ash-e Meveh: A soup composed of high-nutrient dried fruits, suitable for the digestive system.
5 Famous Restaurants in Ardabil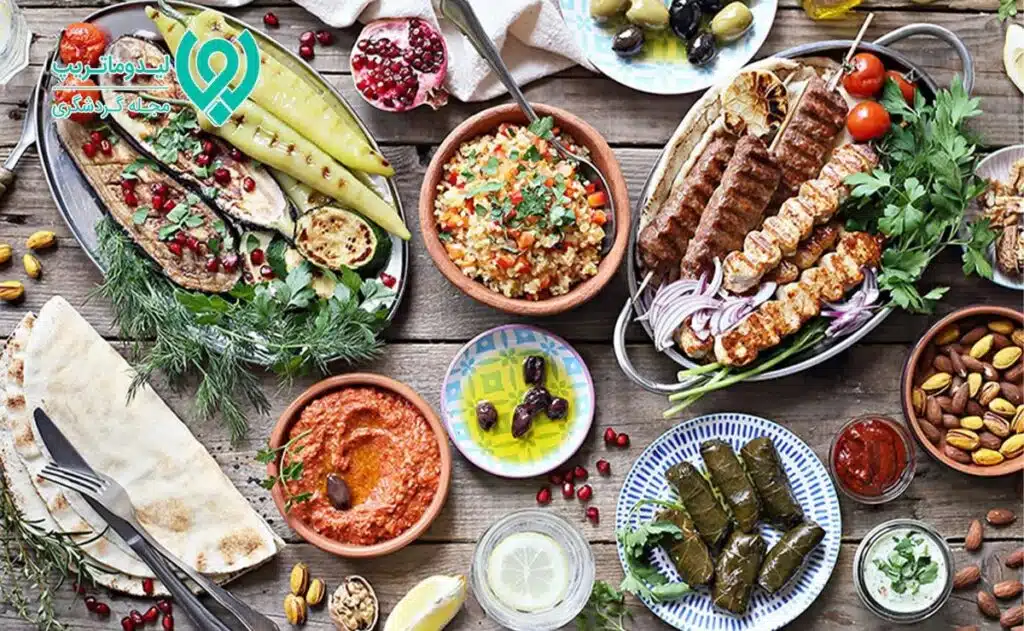 One of the most enjoyable parts of any trip is visiting the best and most beautiful restaurants in a city. To indulge in the delicious and mouth-watering local cuisine of Ardebil, let us introduce you to some of the finest restaurants in Ardebil:
Cafe Bagh Restaurant: Offers traditional cuisine and is located by Lake Shurabil.
Tantuni Persis Restaurant: Located on Hafez Street, it serves delicious Turkish kebabs.
Haj Ghorban Kebabi: Situated at Sadi Street, Bagramish intersection, it offers fresh and tasty kebabs.
Ziafat Restaurant: Located on Imam Khomeini Street, next to Enghelab Cinema, it serves not only a variety of kebabs but also local Ardebil dishes.
Beautiful Khan-e Sadeghi Restaurant: A historical house from the Qajar period located in the Ouchdakan neighborhood.
How much does it cost to travel to Ardabil?
Some expenses to consider when traveling to Ardebil include:
Transportation expenses, which vary depending on whether you travel by private car, bus, or airplane.
Accommodation costs, including room rates and amenities such as cleaning and meals.
Entertainment expenses and dining out.
Shopping expenses for personal items and souvenirs.
It is important to note that the cost for each category mentioned above may vary depending on your travel style and circumstances.
Best Shopping Centers and Local Markets in Ardabil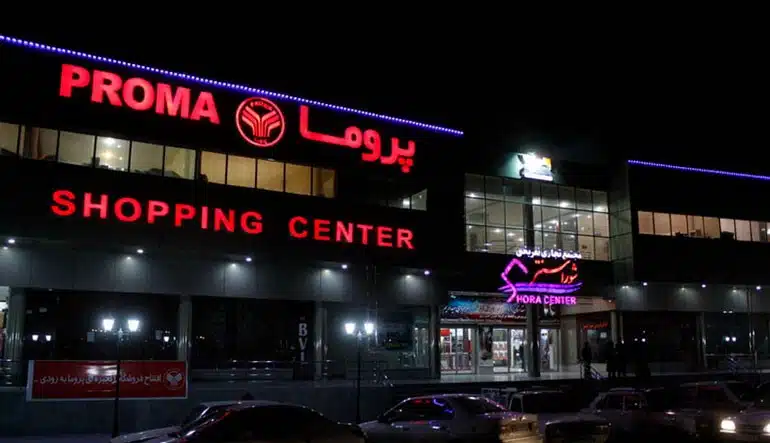 Shopping is one of the most enjoyable activities during any trip. To make the most of your trip to Ardebil and explore its local products, here are some of the best shopping centers and markets in Ardebil:
Shora Center: This modern complex offers excellent facilities and products from famous brands. It is located on Ataee Street and is open from 10 am to 11 pm.
Shah Ismail Khattai Shopping Center: This luxurious and modern complex, located in front of Sheikh Safi's mausoleum, offers clothing, jewelry, and handicrafts. It also provides parking and a restaurant.
Almas City Shopping Center: Situated on Shariati Square, this center offers various products such as mobile phones, computers, and accessories. It also has fast-food restaurants and an amusement park.
Sadaf Shopping Center: This two-story complex specializes in electronic devices such as mobile phones and accessories. It is located on Imam Square.
Ardebil Historical Market: Besides being one of the city's most valuable historical attractions, it is the best place to buy local and traditional products in Ardebil.
Customs, Traditions, and Festivals in Ardabil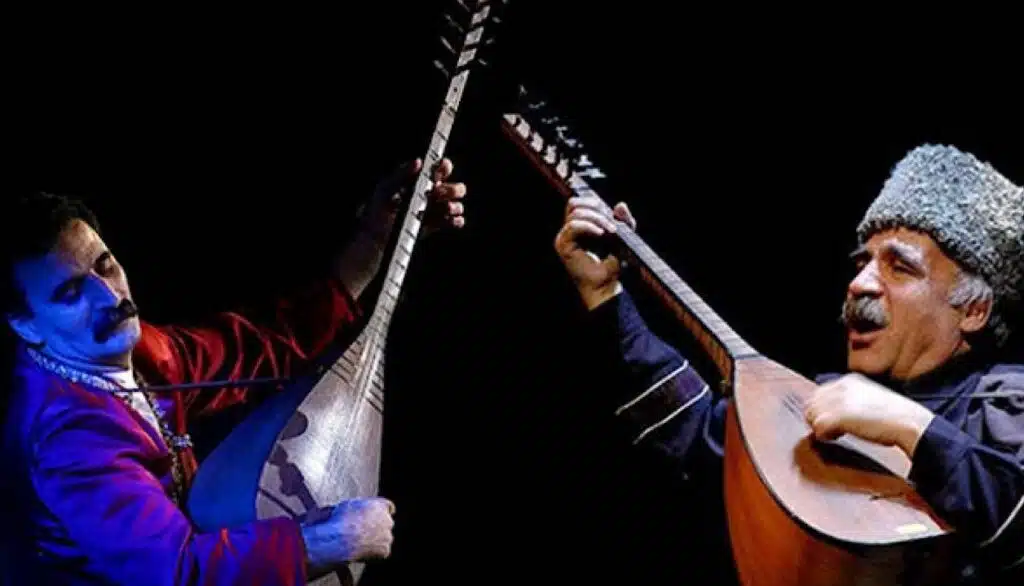 Ardebil hosts various interesting and abundant festivals that you might encounter during your trip:
Traditional Food Festival: Held in late summer.
Winter Festival called "Bidar Festival": It consists of 16 sports events.
Handicrafts Festivals held in spring and summer.
Allaah Lama Festival: A gratitude celebration during the wheat harvesting season.
Honey Festival: Showcasing local fruit and honey.
Additionally, Ardabil's people observe special traditions during the month of Muharram, such as "Tashtgari" and candle lighting. Their mourning ceremonies, conducted in the Turkish language, are grand and unique. Another notable tradition is the lively celebration of the New Year, Norouz, which brings joy and excitement to the city. Customs include Taktchi wandering in the streets with traditional dolls, distributing new year gifts, the celebration of "Sor Bazi" on Charshanbe Suri, and "Eyl Seké Seyjé" to wish each other a prosperous year.
Ardabil Souvenirs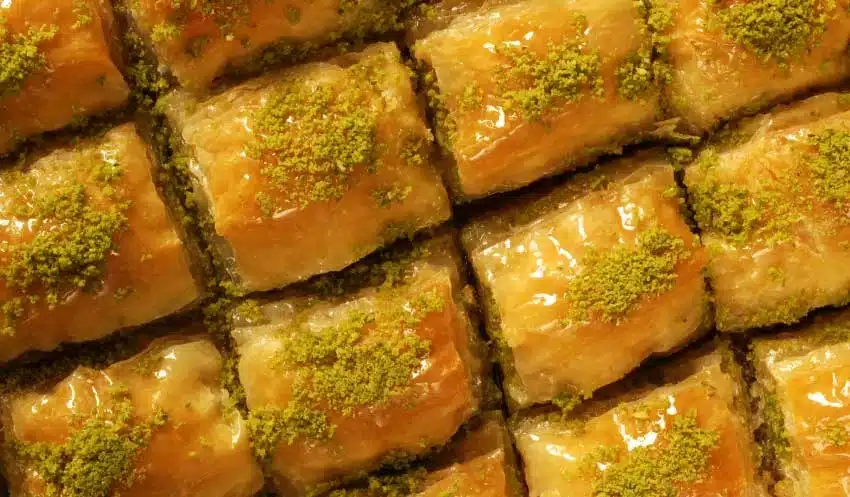 Ardabil offers a variety of delicious food items and high-quality handicrafts that make perfect souvenirs. Some popular choices include:
High-quality honey products from the vast fields of Poneh, Avishan, and Gon.
Local sweets such as Agh Halva or white halva, Ghara Halva or black halva, and Zangebili Halva.
Tasty Baklava, prepared in a unique way in Ardebil.
Sunflower seeds, as Ardebil has extensive cultivation of sunflowers.
Beautiful handicrafts like rugs, jajims, felt, and copper utensils.