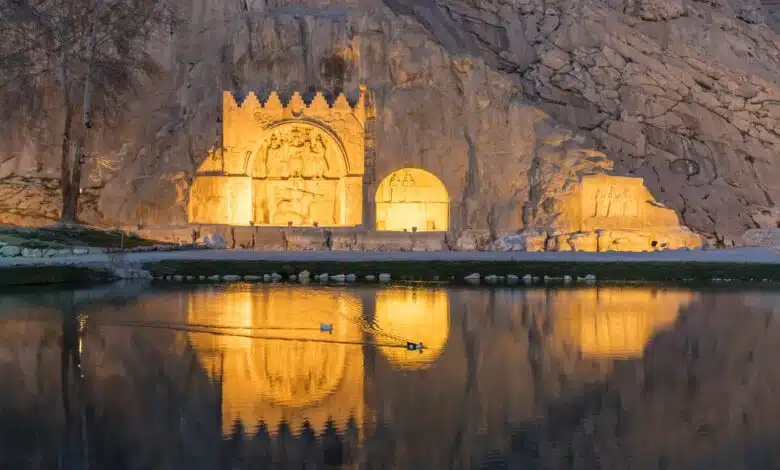 Brimming with historical landmarks, mesmerizing nature, and a vibrant culture, Kermanshah stands out as one of Iran's premier travel destinations. Join us in this post as we delve into SURFIRAN's travel guide to Kermanshah.
From exploring historical attractions like Bisotun and Taq-e Bostan to reveling in the scenic beauty at Sarab-e Niloufar and Hashilan Wetland, a journey to Kermanshah is sure to create unforgettable memories. Additionally, the local culture, customs, and the heartwarming hospitality of Kermanshah's gracious inhabitants will craft a unique experience for you and your companions. In this travel guide to Kermanshah, you'll get acquainted with its notable sites, climate, best travel times, and the local culture.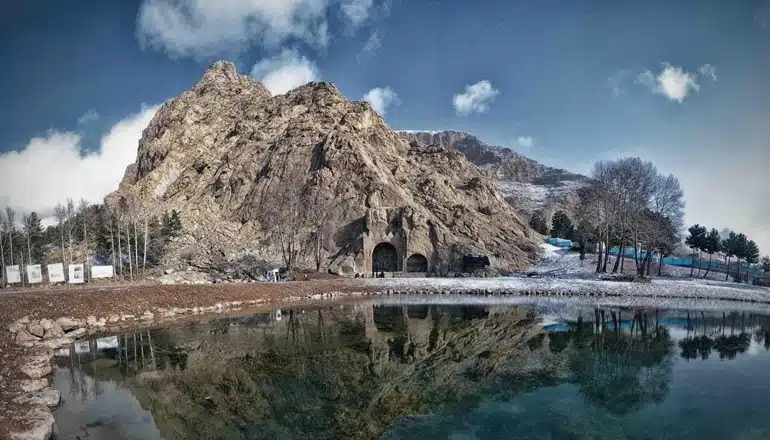 Kermanshah Province is a mountainous region located between the Iranian plateau and the Mesopotamian plain. It's dominated by mountains, peaks, and elevations of the Zagros Mountain Range. Parallel ranges of the Zagros Mountains span the province, interspersed with elevated mountain plains and key Zagros passes.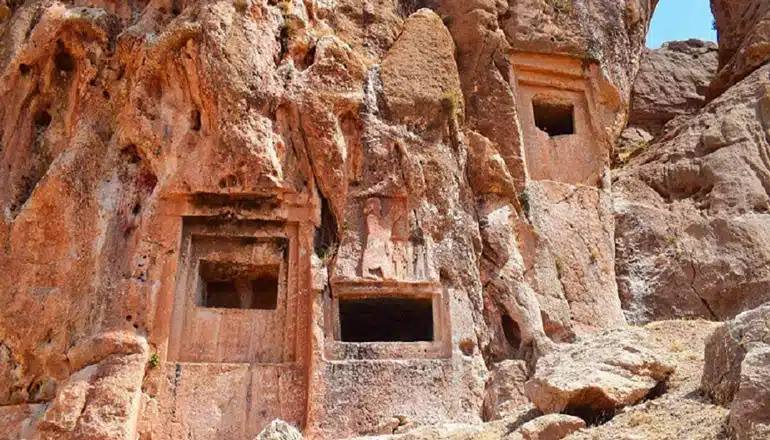 The province boasts a diverse climate with four distinct seasons. However, in general terms, it can be divided into two climate zones: the warm region (which includes the western parts of the province covering cities such as Qasr-e Shirin, Sarpol-e Zahab, Gilan-e Gharb, Soomar, Naft Shahr, and the southern part of Kermanshah city) and the cold region (covering the rest of the province).
Best Time to Travel to Kermanshah
The best time to visit Kermanshah, from a weather perspective, is from early June to early September. During these months, Kermanshah enjoys an average temperature of around 24 degrees Celsius, which is considered pleasant.
| Month | Weather Condition | Tourism Crowd | Recommendation |
| --- | --- | --- | --- |
| January | Cold | Low | Moderate |
| February | Cold | Low | Moderate |
| March | Cool | Moderate | Recommended |
| April | Mild | Moderate | Highly Recommended |
| May | Warm | High | Highly Recommended |
| June | Warm | High | Recommended |
| July | Hot | Moderate | Moderate |
| August | Hot | Moderate | Moderate |
| September | Mild | Moderate | Highly Recommended |
| October | Mild | Low | Highly Recommended |
| November | Cool | Low | Recommended |
| December | Cold | Low | Moderate |
Monthly Guide to the Best Time to Visit Kermanshah
However, on some days, temperatures can reach as high as 35 degrees Celsius, which is the highest it can go. The average minimum temperature in Kermanshah during these months is approximately 14 degrees Celsius. If you plan to travel to Kermanshah in the spring, June is the ideal time because the weather gradually becomes warmer.
It's advisable to avoid traveling to this city during the winter months, as Kermanshah experiences cold and frosty winters. The average temperature in the coldest months, from early January to early February, ranges from about 1.3 to 2.7 degrees Celsius, with the average minimum and maximum temperatures being approximately 3.5 and 7.5 degrees Celsius, respectively.
How to Get to Kermanshah
To travel to Kermanshah, you have several options, including land and air travel, which involve trains, buses, airplanes, and private vehicles. Each of these options has its advantages, disadvantages, and cost considerations, so carefully review them to make the best decision for your journey.
Traveling to Kermanshah by Air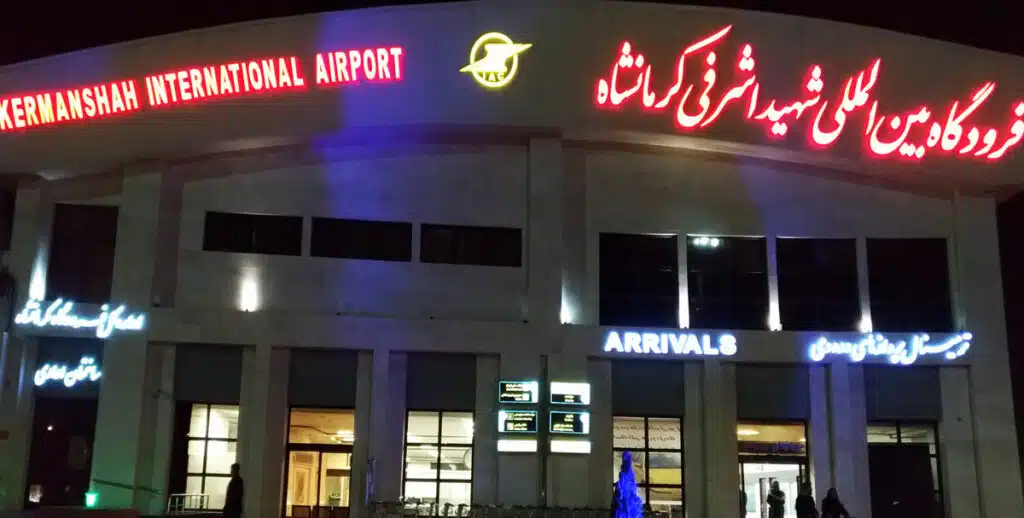 Kermanshah is served by the Ashrafi Esfahani International Airport, which is the primary airport for the western region of Iran. This airport is located near Imam Khomeini Square (Airport Square) in the city. It offers convenient access to Kermanshah for domestic and international travelers.
Kermanshah International Airport on Google Maps
Kermanshah By Train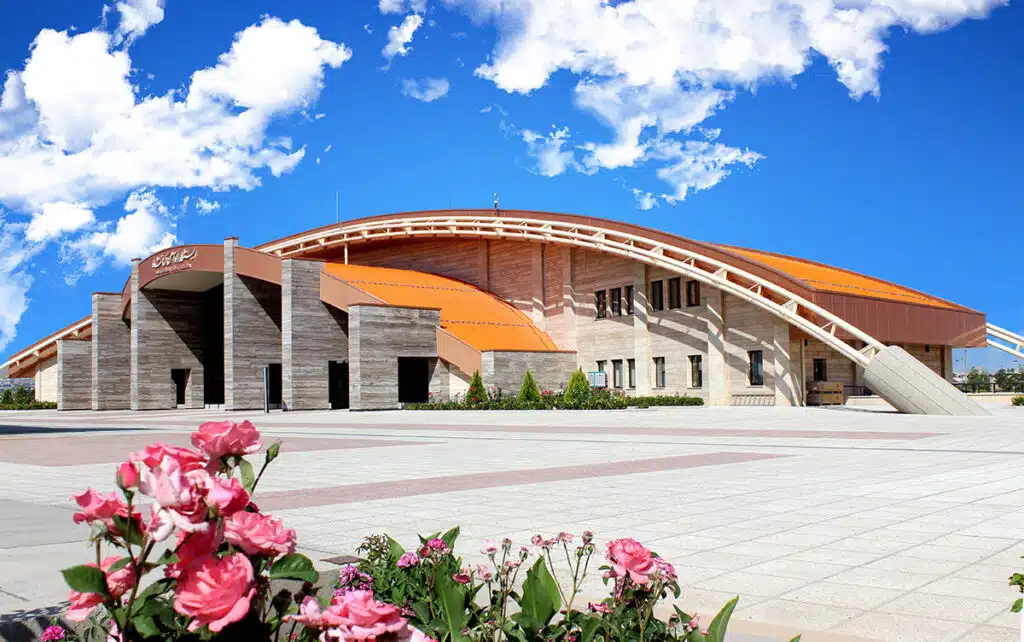 The railway system in Kermanshah is in its early stages and has not yet been fully inaugurated. The nearest railway station to Kermanshah is the Malayer Railway Station.
Traveling to Kermanshah by Private Vehicle
Depending on your starting point, there are five main routes to enter Kermanshah by road:
The most common route from all directions (except the south of Iran, Kurdistan, and the Azerbaijan region) is the Keshvari Highway, located on the eastern side of Kermanshah. After passing through Hamedan Province, it ultimately leads to Imam Khomeini Square (Airport Square) in Kermanshah.
Another route is for travelers coming from the south of Iran. After passing through Ilam Province, it reaches the city of Islamabad Gharb and splits into two branches. The western branch goes to Qasr-e Shirin and from there to Iraq, while the eastern branch continues via the Karbala Road Highway towards Kermanshah city, ultimately reaching Azadegan Square in Kermanshah.
The third route for reaching Kermanshah passes through Kurdistan Province and the city of Sanandaj. This is a common route for travelers coming from the northwest of Iran.
The fourth entry route to the province is from the southeast and is suitable for travelers coming from Lorestan, Kohgiluyeh and Boyer-Ahmad, Isfahan, Chaharmahal and Bakhtiari, and Fars provinces. This route passes through Lorestan Province and the city of Khorramabad, reaching the city of Harsin in Kermanshah Province. From there, it connects to the main eastern route of the province, leading to Imam Khomeini Square in Kermanshah.
The fifth route is suitable for travelers coming from Iraq, Kurdistan, or Syria. This route enters Kermanshah through the Khosravi Border Crossing and leads to Qasr-e Shirin. From there, it continues through the Karbala Road Highway to Azadegan Square in Kermanshah.
Traveling to Kermanshah by Bus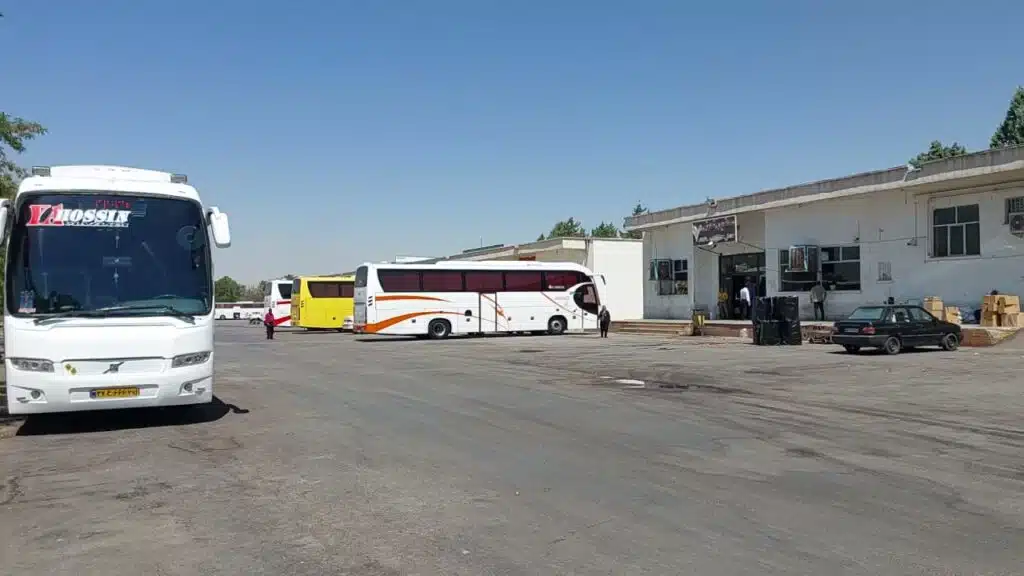 The Shahid Kaviani Terminal, located in the eastern part of the city, serves as the main entry point for bus travelers coming from Tehran and other eastern destinations.
The Karbala Road Terminal, located in the western part of the city, serves as the entry point for travelers coming from Baghdad and Erbil in Iraq.
When planning your journey to Kermanshah, consider the most convenient mode of transportation based on your starting point and preferences.
Shahid Kaviyani Bus Terminal On Google Maps
Accommodation in Kermanshah
Choosing the right place to stay is undoubtedly one of the most important considerations when planning your trip. Depending on your budget and the attractions you intend to visit, you can select your accommodation in Kermanshah.
The city offers a range of hotels, from two to five stars, scattered throughout different parts of town, so you can make reservations in advance based on your needs.
During the Nowruz holidays, schools across the city are also considered for accommodating travelers, and in some parks and green spaces, you'll be allowed to set up and use camping tents.
Parsian Kermanshah Five-Star Hotel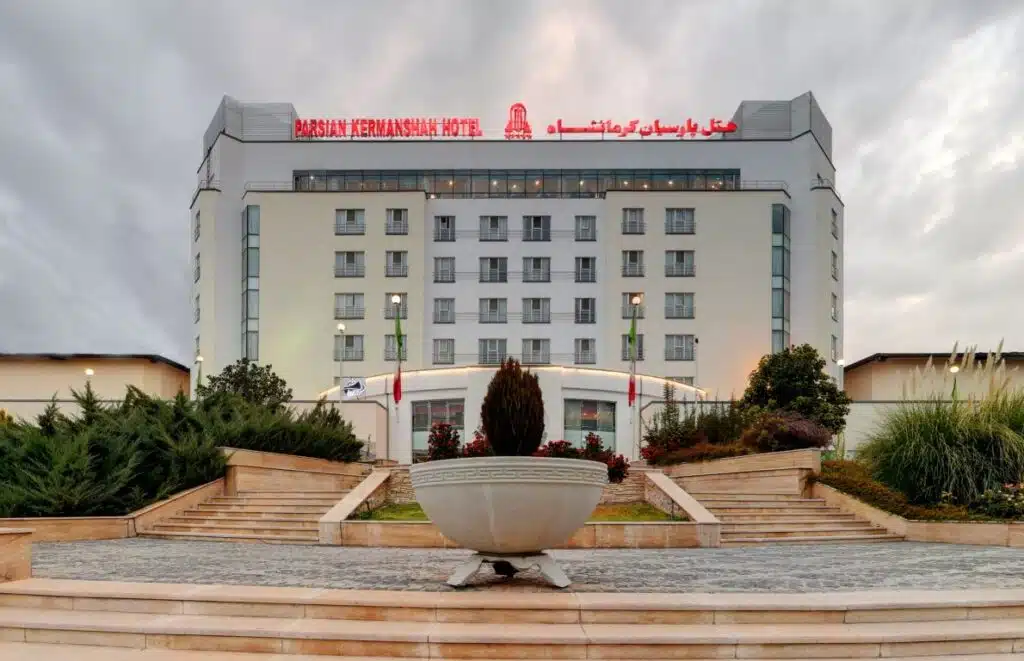 If budget constraints are not an issue, the Parsian Five-Star Hotel can be an exceptional choice for you. This hotel offers excellent amenities, including a swimming pool, fitness center, café, and restaurant. Besides the mentioned facilities, there are several other reasons to choose this hotel for your Nowruz holidays. It's just a five-minute drive from the airport, a 10-minute drive to Kermanshah's traditional bazaar, and close to the historical and recreational areas of Taq-e Bostan and the Mountain Park. In smooth traffic, it's a 15-minute drive by car.
Parsian Kermanshah Hotel on Google Maps
Jamshid Four-Star Hotel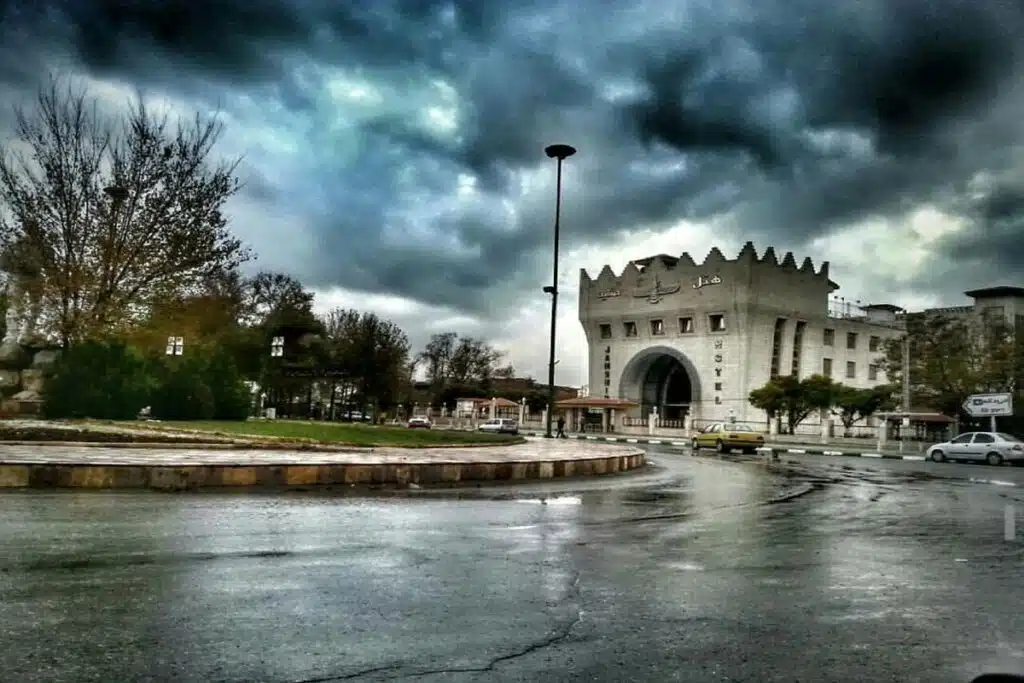 Located at the end of Taq-e Bostan Boulevard, Jamshid Hotel is a good choice in terms of easy and quick access to Taq-e Bostan and the Mountain Park. Keep in mind that your distance from the city center and Kermanshah's bazaar will be around 30 to 40 minutes by car.
Jamshid Kermanshah Hotel on Google Maps
Sina Two-Star Hotel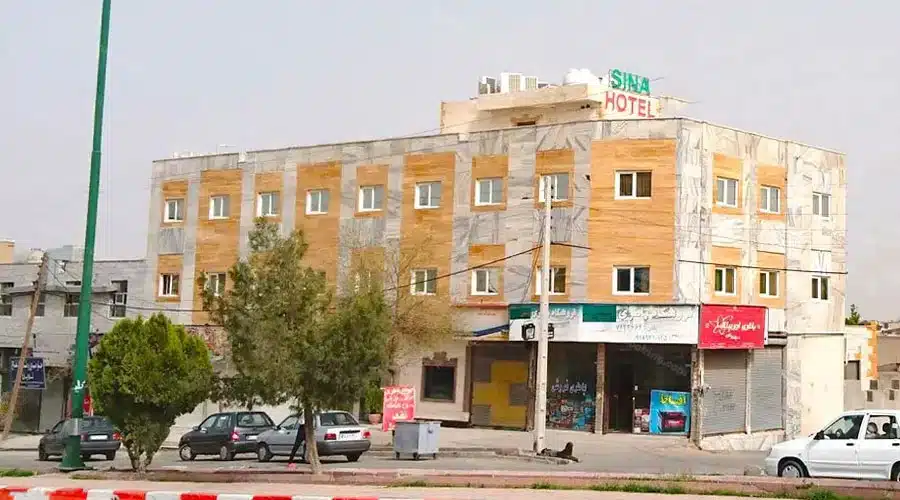 Located in the western part of the city, Sina Hotel offers the most budget-friendly rates among Kermanshah's hotels. The hotel is approximately a 30-minute drive from the airport.
Sina Hotel Kermanshah on Google Maps
Public Transportation in Kermanshah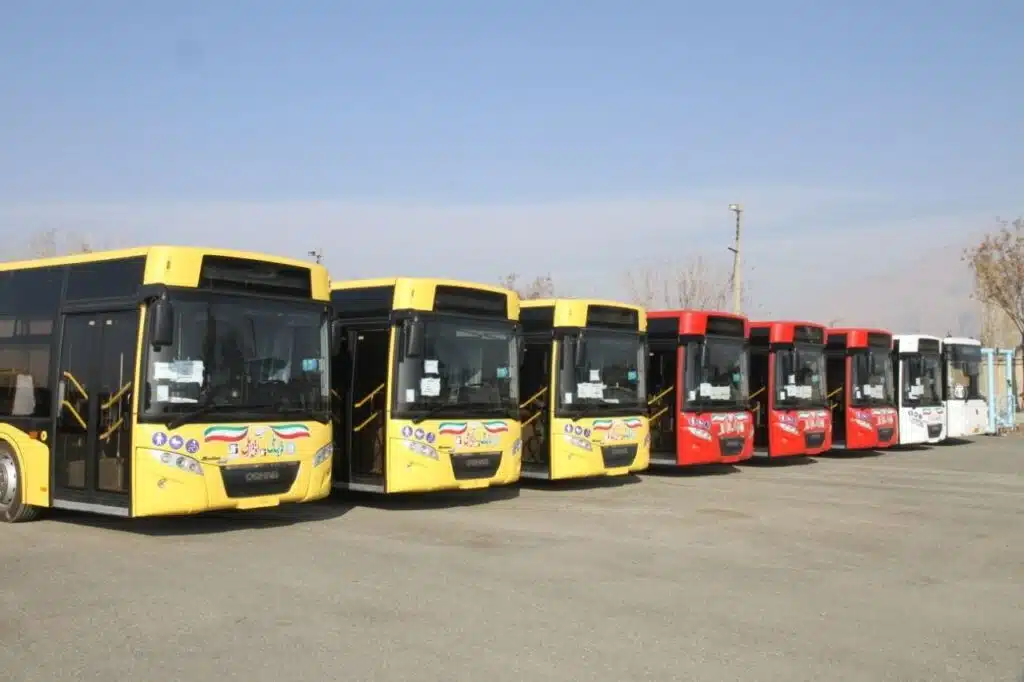 The city of Kermanshah has short distances, making it easy to get around by bus and taxi. Additionally, Kermanshah has a wireless taxi service system with the number 1881, always ready to provide services to travelers and tourists.
Kermanshah, a province and city in western Iran, is a cultural haven that captivates tourists both local and international. A treasure trove of historical, recreational, and natural attractions, Kermanshah annually pulls a significant number of visitors into its embrace. While it's hard to cover all the remarkable spots in one article, here are some must-visit sites that you should definitely include in your itinerary. Whether you're on a group tour or enjoying a tailor-made tour with SURFIRAN, you can easily incorporate these sites into your journey.
The Historic and Natural Ensemble of Bisotun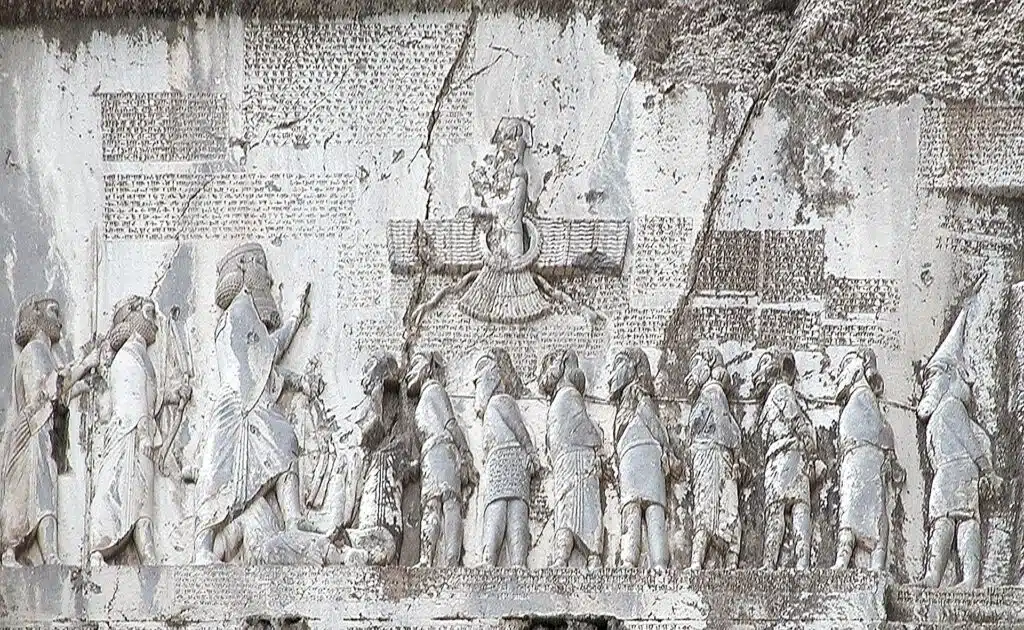 Situated 30 kilometers northeast of Kermanshah and southwest of the town of Bisotun, this site is a remarkable amalgamation of history, culture, and nature. The sanctity of Mount Bisotun, along with its strategic location along important historical routes like the Silk Road, has drawn kings and rulers over millennia.
The area boasts 28 registered national monuments and more than 150 identified historical works. One of the most celebrated is the inscription by Darius I, which has also been listed on the UNESCO World Heritage list since 2006. Also, the statue of Hercules and other relics like Farhad Tarash, various inscriptions, Bisotun spring, and Khosrow Bridge add to the list of attractions.
For religious pilgrims, the Imamzadeh Baqer, attributed to Imam Kazem, offers a serene spiritual experience. If you're looking for a place to stay, the Safavid caravanserai has been converted into Laleh Bisotun Hotel, a cozy four-iwan structure perfect for travelers.
• Address: Bisotun, Kermanshah Province, Iran
• View Historic and Natural Ensemble of Bisotun on Google Maps
Tagh Bostan and Koohestan Park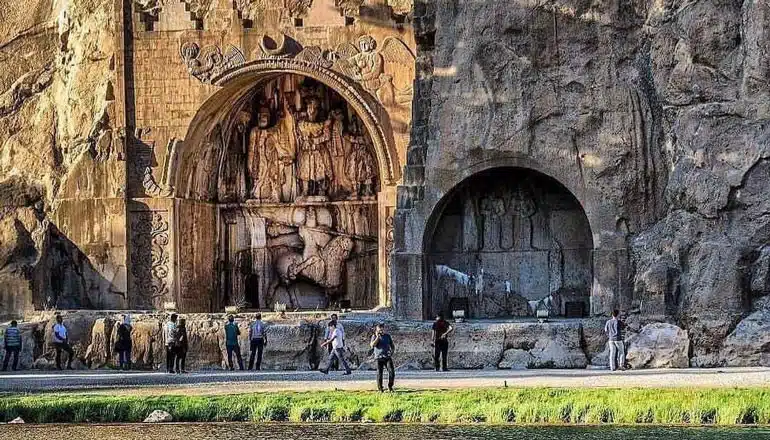 Located in the northwestern part of Kermanshah city, Tagh Bostan is an ensemble of rock reliefs and inscriptions dating back to the Sassanian era. It includes two main arches and several inscriptions, marking it an invaluable work of art and history. A museum within the vicinity offers additional insights into this ancient site.
What makes Tagh Bostan even more captivating is its proximity to nature. Nestled against a mountain and spring, the area has been a recreational hotspot since ancient times. You can walk towards Koohestan Park, which is very close by, and soak in the awe-inspiring beauty of a path surrounded by towering, ancient trees. Local belief holds that a tree in this area is more than 600 years old!
Don't forget to visit one of the traditional eateries or restaurants in the area to taste the famous Kermanshahi "Dandeh Kebab." As you ascend Koohestan Park, you can marvel at the panoramic views of Kermanshah city, especially mesmerizing at night.
• Address: Tagh Bostan, Kermanshah, Iran
• View Tagh Bostan on Google Maps
Do-Ashkaft Cave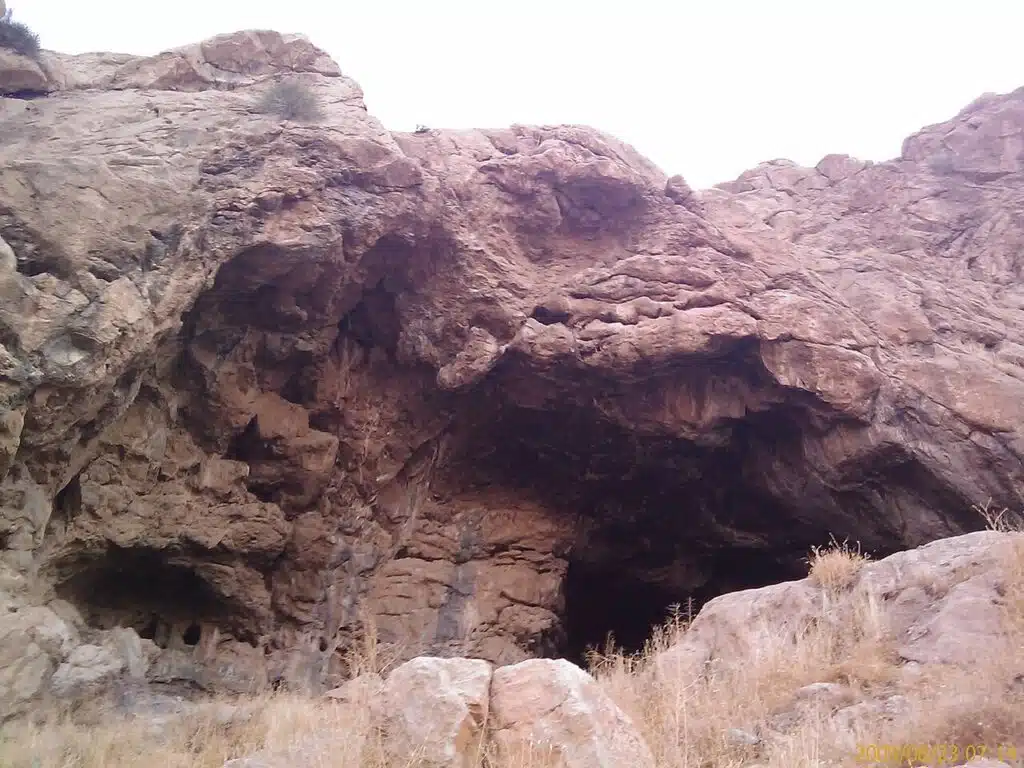 If mountain climbing and panoramic vistas are your things, Do-Ashkaft Cave is a must-visit. Situated in the northern part of Kermanshah, at the foothills of Mount Miyouleh, this cave offers a breathtaking view overlooking the mountainous park. What makes it more fascinating is its historical relevance as the oldest evidence of human settlement in Kermanshah.
Elevation: About 1600 meters above sea level
Unique Features: Consists of two adjacent caves, located about 300 meters above the plain.
Address: Kermanshah, Iran
View Do-Ashkaft Cave on Google Maps
Anahita Temple of Kangavar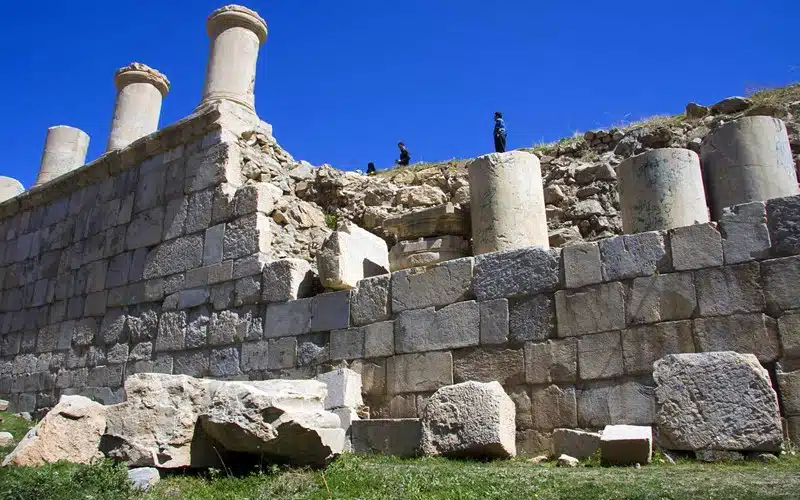 A monumental historical site, the Anahita Temple dates back to the Parthian and Sassanian eras. Perched on a rock overlooking the Kangavar Plain, it was dedicated to Anahita, the goddess of water, abundance, beauty, and fertility.
Location: On the route from Hamedan to Kermanshah
Unique Features: One of the largest stone buildings in Iran
Address: Kangavar, Iran
View Anahita Temple on Google Maps
Sarab-e Niloufar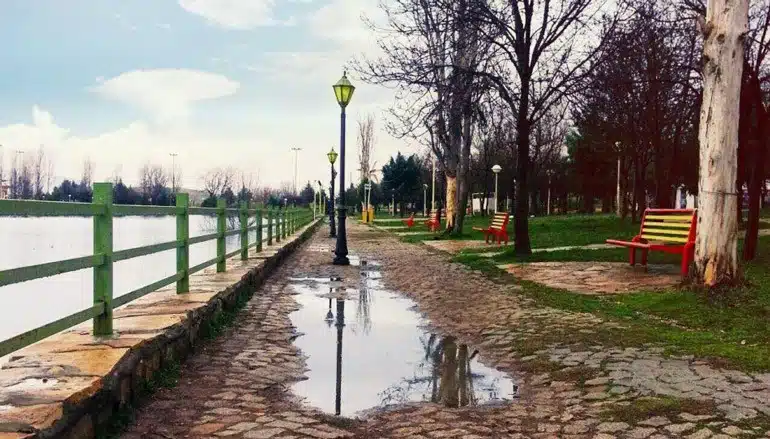 If tranquility is what you're after, Sarab-e Niloufar, located 30 km northwest of Kermanshah, is the ideal spot for you. The small lake, teeming with blue water lilies, offers spectacular sights, especially in the warm seasons. Don't forget to indulge in some boat riding or even fishing!
Unique Features: A picturesque lake filled with blue water lilies, various amenities for tourists, and opportunities for boating and fishing.
Address: 30 km northwest of Kermanshah, Iran
View Sarab-e Niloufar on Google Maps
Quri Qaleh Cave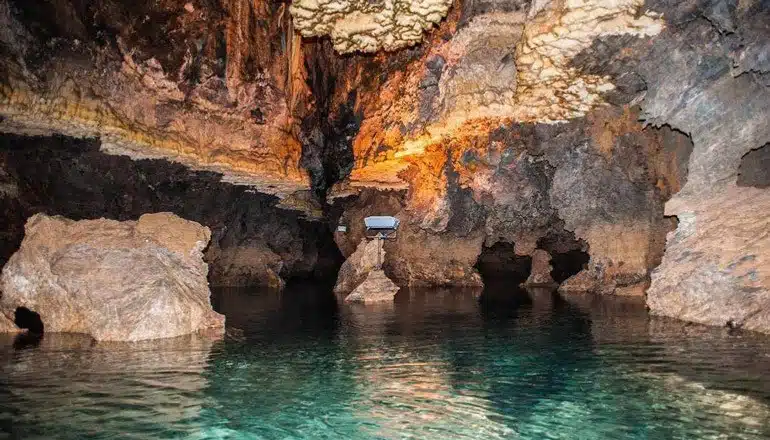 Positioned about 87 km from Kermanshah and 25 km from the city of Ravansar, the Quri Qaleh Cave is an awe-inspiring subterranean marvel. With a length of 12 km, it's the largest water cave in the Middle East. The cave's interior temperature remains constant, ranging between 7 to 11 degrees Celsius, throughout the year.
Unique Features: Several beautiful chambers and is listed as one of the seven natural wonders of the world.
Address: Near Ravansar, Iran
View Quri Qaleh Cave on Google Maps
Plan Your Visit: For a hassle-free trip, consider booking a tailor-made tour or join one of the group tours
Tekyeh Moaven Al-Molk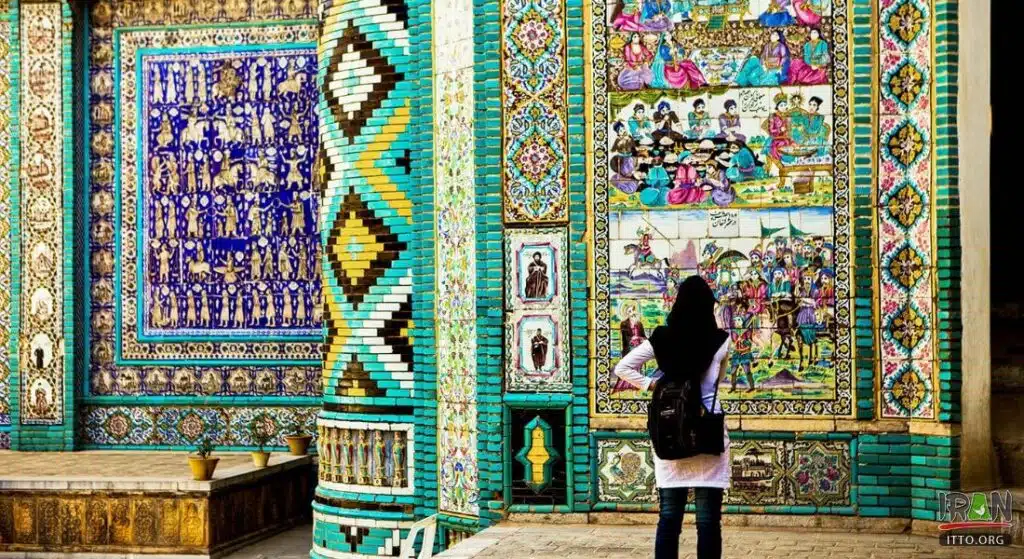 In the heart of the ancient city of Kermanshah, you'll find Tekyeh Moaven Al-Molk, a historical edifice dating back to the Qajar era. Located in the old Abshouran neighborhood on Haddad Adel Street, the unique selling point of this gem is its unparalleled tilework. The intricate and semi-relief tiles, adorned with beautiful patterns and all-natural colors, are considered peerless worldwide.
The complex comprises three main parts: Hosseiniyeh, Abbasiyeh, and Zeinabiyeh, each with its own entrance. Notably, the Abbasiyeh section hosts the Ethnographic Museum of Kermanshah. This museum was established in May 1990 and covers an area of 200 square meters, featuring 29 showcases filled with ancient artifacts, handicrafts, and clothing that reflect the cultural and social themes of the region. Also, the Abbasiyeh section houses a separate museum for clothing and jewelry.
Address: Kermanshah, Iran
Kermanshah's Traditional Bazaar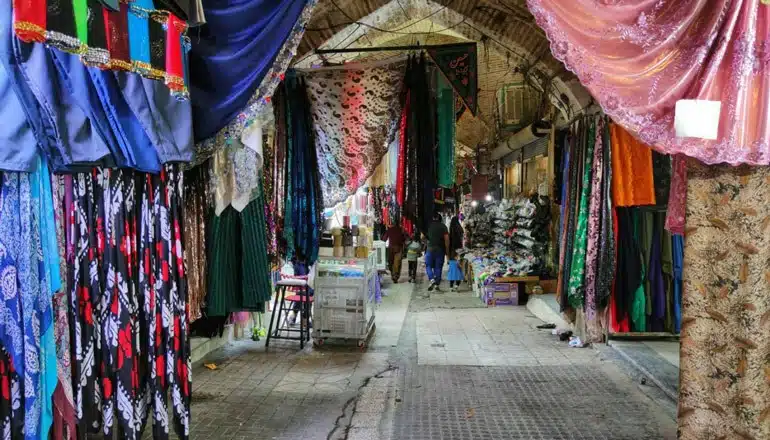 The covered Traditional Bazaar of Kermanshah is one of the city's shopping hubs and among Iran's largest roofed bazaars. This sprawling marketplace is now divided into four sections due to the crossing of main city roads, offering a myriad of stalls and shops that are a major tourist attraction. Here, you can purchase local clothing, souvenirs, and Kermanshah's special handicrafts.
Address: Kermanshah, Iran
Kermanshah Souvenirs
Food Souvenirs
Among the culinary treasures of Kermanshah are unique sweets like Bizhi, rice bread, sugar bread, date bread, and Kermanshahi oil cake (Kak).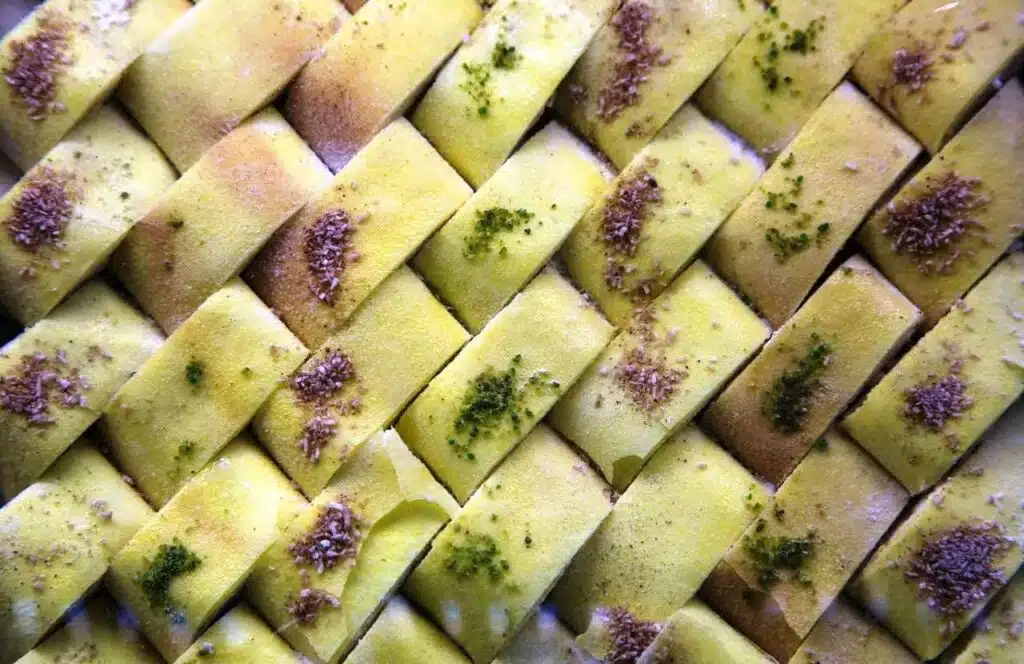 These can be easily found at the Traditional Bazaar in the rice-bread bakeries section. Moreover, Kermanshah is famous for its animal-based oils that can be used to infuse an exceptional aroma and taste to your meals.
Handicrafts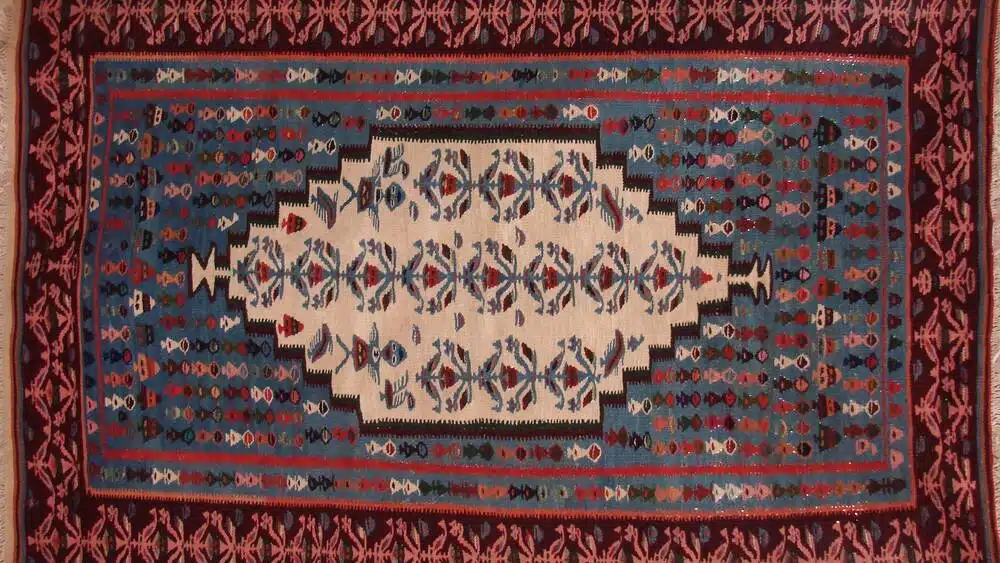 When it comes to handicrafts, Kermanshah boasts a wide variety. Prominent among these are carpets and rugs, kilims, colorful Giyehs, Jajims, Moje, jewelry, and leather artifacts. Depending on your taste, these handicrafts can serve as precious mementos or gifts for your loved ones.
Kermanshah's Culinary Traditions
Kermanshah, a city steeped in history, is not just about ancient monuments and grand bazaars; it's a food lover's paradise as well. In this culturally rich city, traditional meals are an integral part of the local experience, and there are plenty of options to tantalize your taste buds.
Dandeh-Kebab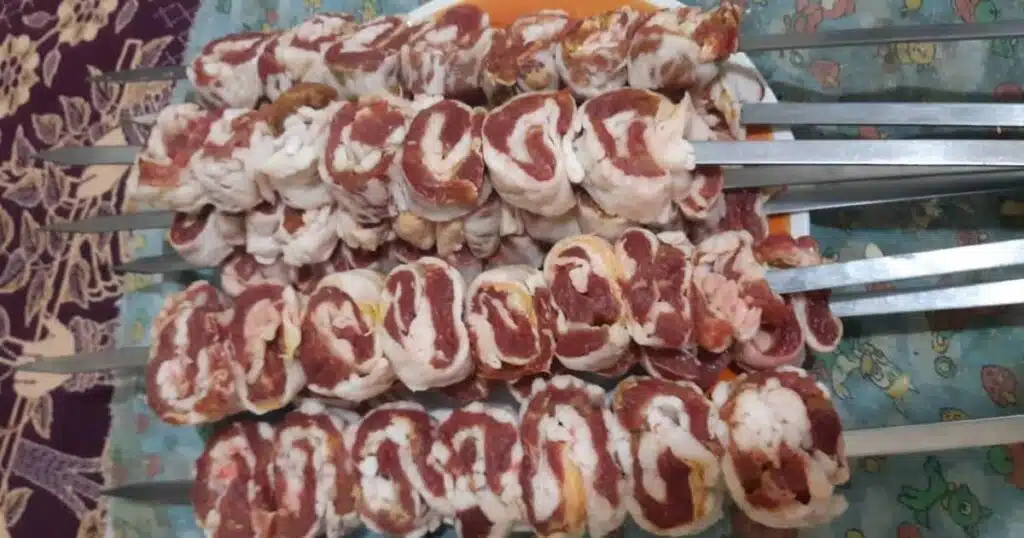 If you're eager to try some authentic Kermanshahi cuisine, make your way to Heidari Restaurant or Jamshid Restaurant located in Taq-Bostan. They serve the delectable Dandeh-Kebab, which is a local favorite. The skewered meat is seasoned to perfection and is a must-try when visiting Kermanshah.
Khoresht Khalal-e Badam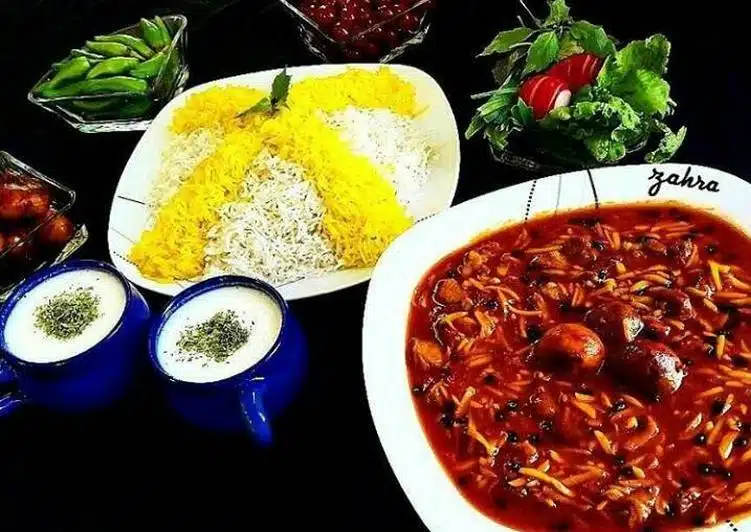 Another gem in Kermanshah's culinary treasure chest is Khoresht Khalal-e Badam. This tantalizing stew consists of meat, almond slivers, and black barberries, all served over a bed of fluffy rice. One of the best places to try this dish is at Arg Restaurant in the Arg shopping complex located in Mosaddeq Square (the city center).
Ash-e Abbas-Ali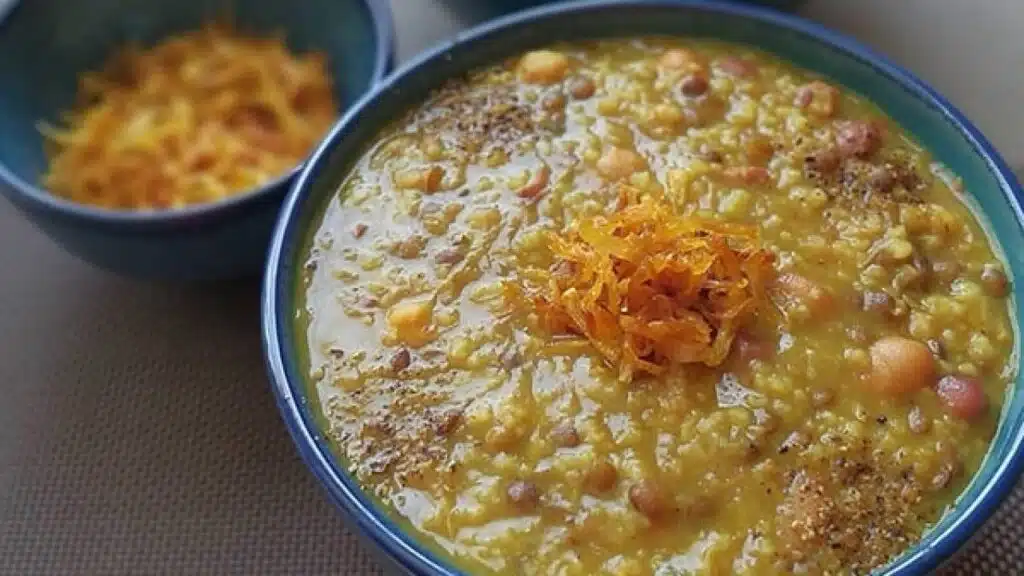 Your culinary adventure in Kermanshah would be incomplete without trying Ash-e Abbas-Ali. This traditional local soup is not just tasty but also extremely nutritious. Several small restaurants in the city center offer this comforting dish, making it easily accessible for tourists.
Plan Your Trip: For convenient travel arrangements including hotels, insurance, and more, check out OrientTrips.
• Address: Sahneh, Kermanshah, Iran
• View Sahneh Springs on Google Maps
To make your trip hassle-free, consider booking hotels and flights through OrientTrips.