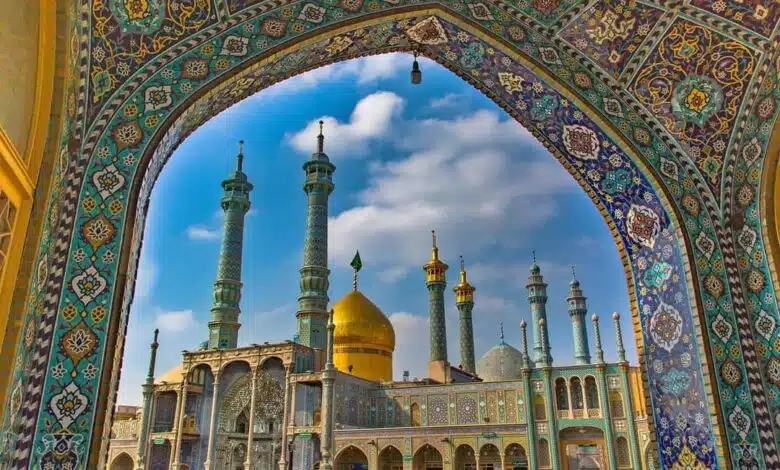 Qom is one of the most important religious cities in Iran. Every year, many domestic and foreign tourists travel to this city. Although the city is considered one of the historical regions of the country due to the presence of structures and remains from historical times, it is most famously known for the shrine of Hazrat Masoumeh, which is a pilgrimage site for Shiites.
This city, located on one of the main transportation highways of the country, has a significant communicative importance and serves as a link between the central provinces of Iran and Tehran. The best way to travel to this city is by using a personal car, buses, or taxis.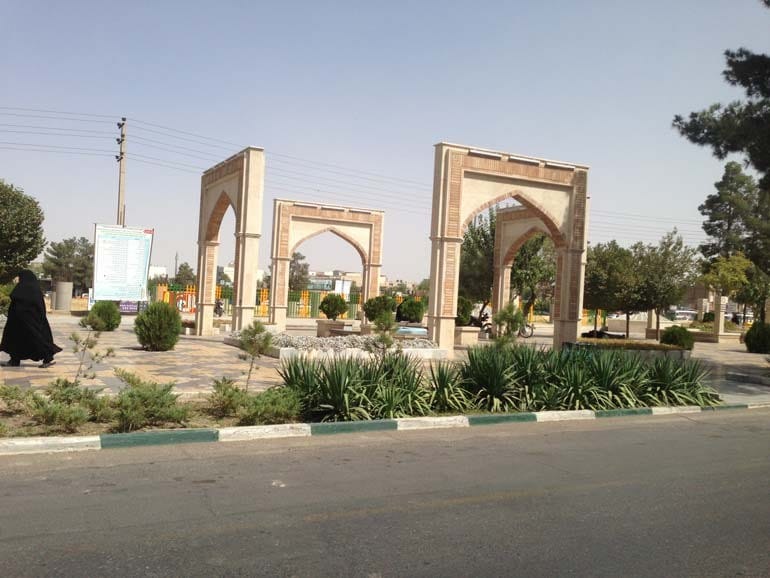 The Weather of Qom
Qom has an arid climate, with hot summers and mild winters. The temperature can soar to as high as 40°C (104°F) during the peak of summer, while winters can get as chilly as 0°C (32°F). Though the weather tends to be on the drier side, this city experiences occasional rainfall, especially during the winter months.
Summer (June to August): Summers in Qom are hot and dry. Daytime temperatures often exceed 35°C (95°F), and it's not uncommon for temperatures to reach 40°C (104°F) or higher on particularly hot days. Nights are cooler but still warm.
Winter (December to February): Winters are cold, with temperatures often dropping below freezing at night. Daytime temperatures are usually in the 10°C to 15°C (50°F to 59°F) range. Snowfall is rare but can occur.
The Best Time to Travel to Qom
The best time to visit Qom, considering the weather, is during the spring (March to May) and autumn (September to November). During these periods, the temperatures are moderate, and the chances of rainfall are slightly higher, making the weather more pleasant.
In conclusion, if you're planning a trip to Qom, it's essential to be prepared for its desert climate. Ensure you have appropriate clothing for the season and stay hydrated, especially during the hot summer months.
| Month | Average High (°C) | Average Low (°C) | Precipitation (mm) | Notes |
| --- | --- | --- | --- | --- |
| January | 10 | -1 | 15 | Cold nights |
| February | 13 | 1 | 12 | Gradually warming |
| March | 18 | 6 | 15 | Spring begins |
| April | 24 | 10 | 10 | Pleasant temperatures |
| May | 30 | 15 | 5 | Warming up |
| June | 36 | 20 | 2 | Hot days |
| July | 38 | 23 | 1 | Peak of summer |
| August | 37 | 22 | 1 | Slightly cooler nights |
| September | 33 | 18 | 2 | Beginning of autumn |
| October | 27 | 12 | 5 | Cooler days |
| November | 18 | 6 | 10 | Chill begins |
| December | 12 | 2 | 15 | Cold days and colder nights |
Monthly Weather Overview for Qom: Average Temperatures and Precipitation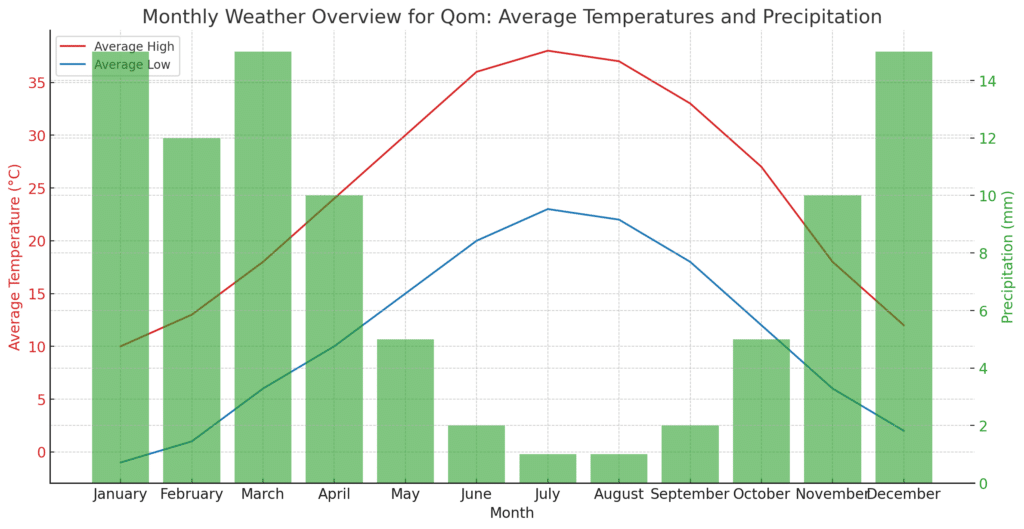 How is Transportation in Qom?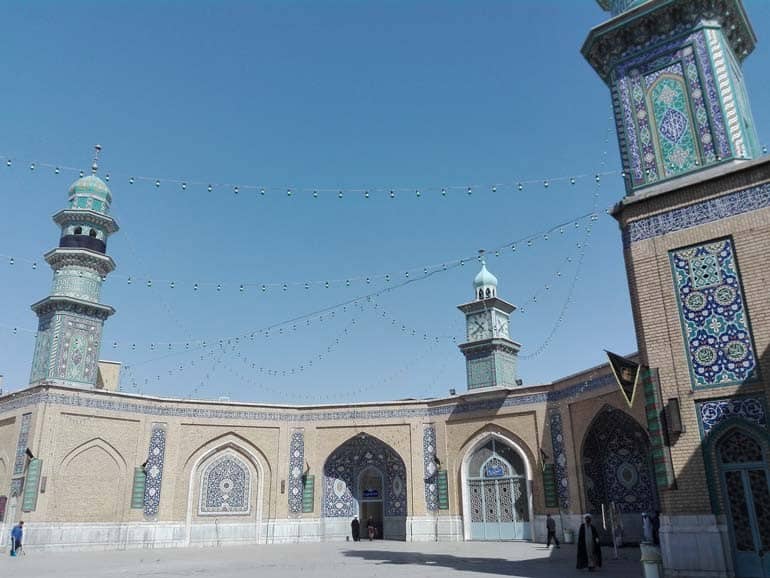 Qom is well-connected by a robust public transportation network, which includes buses, taxis, and even a subway system under construction. Local buses are the cheapest mode of transportation, but for a more convenient and comfortable experience, taxis are readily available.
Quick Tip: If you're a foreign traveler, you may want to consider getting a Tourist Card to simplify your travel payments within the city.
Travel Restrictions to Qom
As a religious hub, Qom has certain restrictions, particularly when it comes to dress code. Women are expected to wear a chador when entering religious sites. While Iran does have general guidelines for modest dressing for tourists, it's especially stringent in Qom.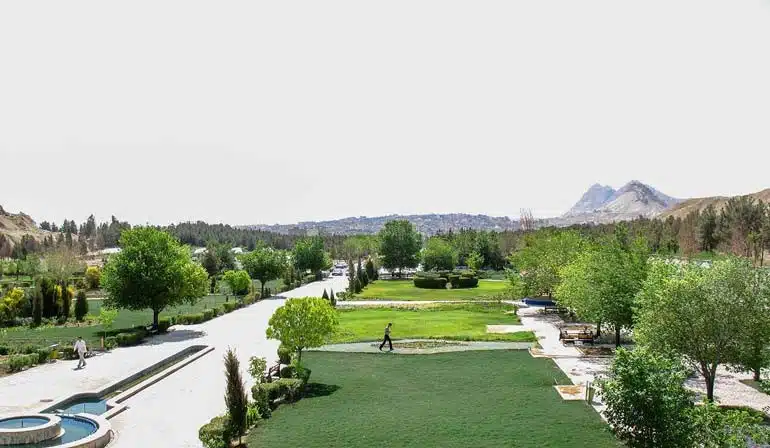 Access Routes to Qom
Getting to Qom is fairly straightforward. Located approximately 125 km south of Tehran, the city is easily accessible via road and rail. The Tehran-Qom Freeway is one of the most convenient routes for those traveling by car or bus. Trains also operate frequently between Tehran and Qom, offering another comfortable travel option.
Plan Your Route: Make your journey stress-free by booking your train or bus tickets through OrientTrips.
Get Around Qom
Public Transportation of Qom
Our first recommendation for navigating Qom is to take advantage of the city's excellent public bus system. Not only is it economical, but the bus stops are also well-marked, making it easy for you to reach your desired destinations. One word of caution: the traffic in Qom can get quite heavy. Thankfully, public transport can help you bypass the congestion, and you won't have to worry about the city's traffic restriction zones either.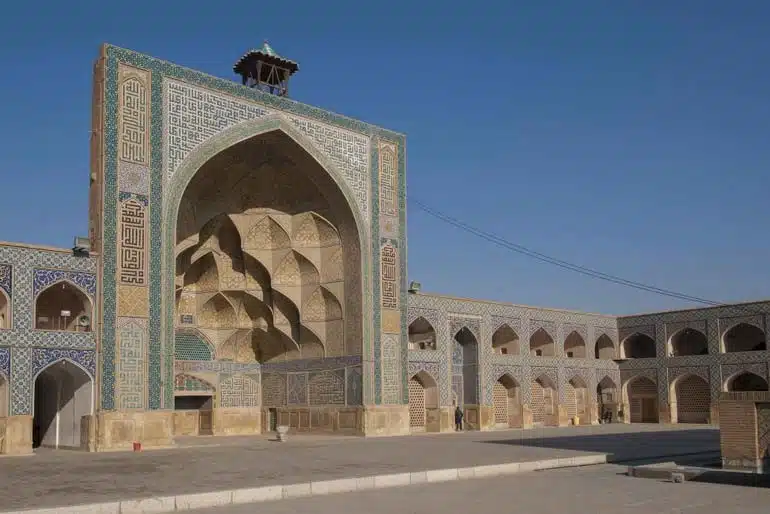 Qom Taxis
Taxis in Qom are slightly more expensive compared to other modes of transportation, yet they remain a better alternative to driving a personal vehicle. The city boasts an extensive taxi network, including women-only taxis, online taxis, radio taxis, private taxis, and minivan taxis. Here are some of the popular taxi routes you can take:
Bonyad Boulevard
Karimi Boulevard
Motahhari Street
Cultural Town
Atlas Street
Atlas First
Sheikh Abad
Khazeni Street
Valiasr Boulevard
Samieh Street
Rajaei Boulevard
Zaaer Boulevard
Lavasani Pardisan
Shahidan Eqlimi Street
Eqlimi Seventh
Rouhani Boulevard
Rouhani 45th
Yadegar Imam Boulevard
Shahed East
Navigating the Streets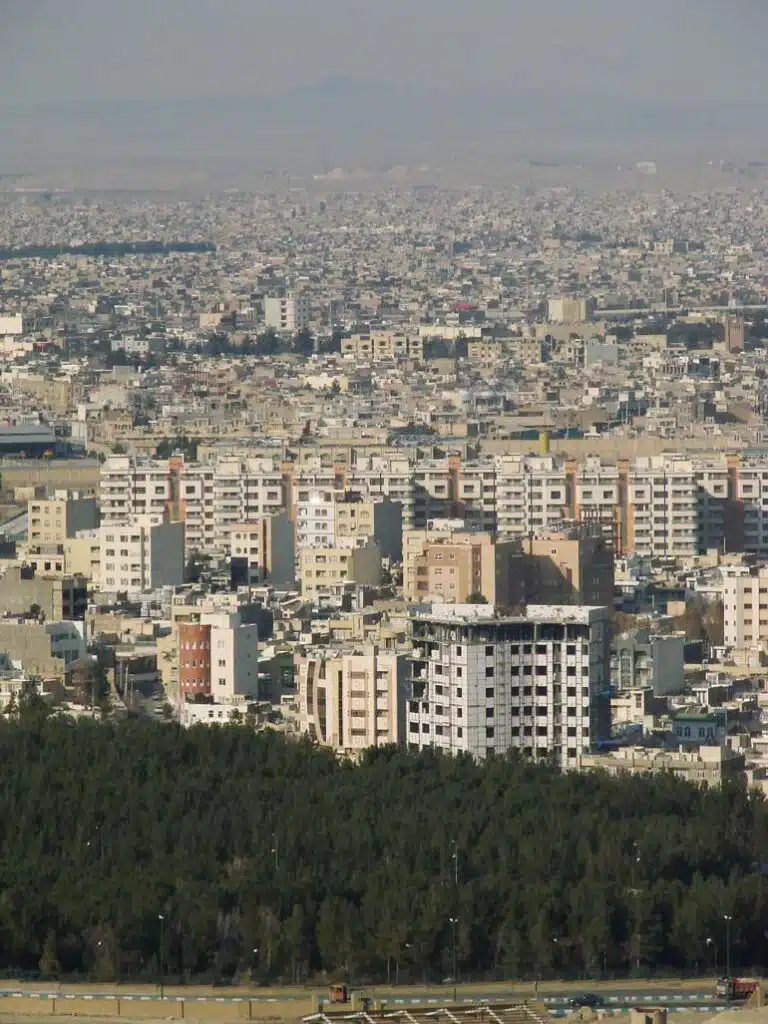 Ever asked for directions in a foreign city, only to be led astray? Often, this is due to discrepancies between local and official street names. In Qom, We'll help you stay on the right track by introducing you to the key routes with both their local and official names:
Charmendon Street (official name: Enghelab Street)
Shasdeli Street (official name: 15th Khordad Street)
Bajak Street (official name: 19th Dey Street)
Yakhchal Qazi Square (official name: Ruhollah Square)
Historic Neighborhoods: The Soul of Qom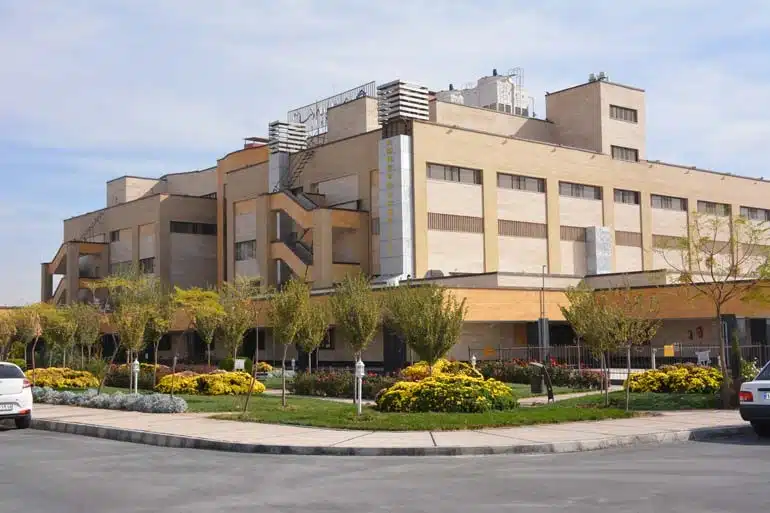 Several neighborhoods in Qom have retained their historic names and charm. Sangband, Seydan, and Eshq Ali are some of the most important districts in the city. These neighborhoods offer a deep dive into the rich culture and history of Qom.
The Heart of the City: Mottahari Square
Mottahari Square acts as the city's main artery, bearing most of its traffic burden. It's an essential point of reference for anyone navigating the city.
Travel from Qom to Nearby Cities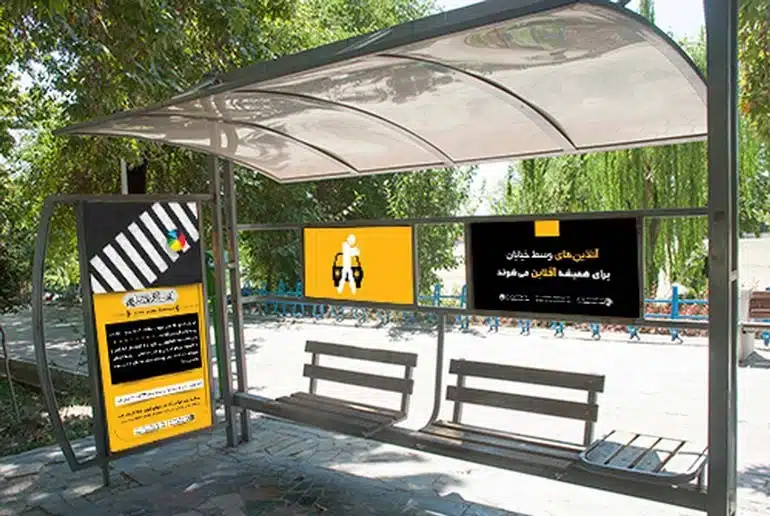 Once in Qom, you can easily extend your travel itinerary to visit nearby cities. Kashan, famous for its historic houses and Persian gardens, is just a 2-hour drive away. Another great option is Isfahan, renowned for its Islamic architecture and beautiful bridges; it's about a 3-hour drive from Qom.
Travel Essentials: Make your intercity travel a breeze by booking transportation and accommodations through OrientTrips.
Sightseeing Places in Qom
Qom isn't just a spiritual destination; it also offers a variety of sightseeing opportunities that showcase its rich history and culture.
Hazrat Masumeh Shrine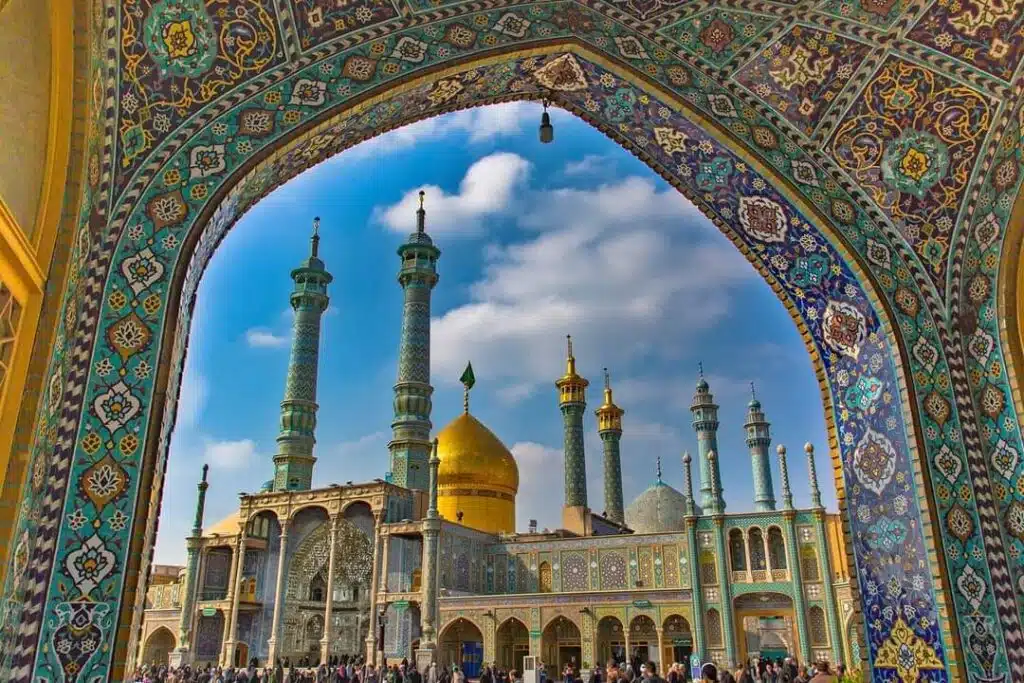 This sacred shrine is the heart of the city. The intricate architecture and stunning tilework make it a feast for the eyes as well as the soul.
Address: Hazrat Masumeh Shrine, Qom, Iran
View Hazrat Masumeh Shrine on Google Maps
Jamkaran Mosque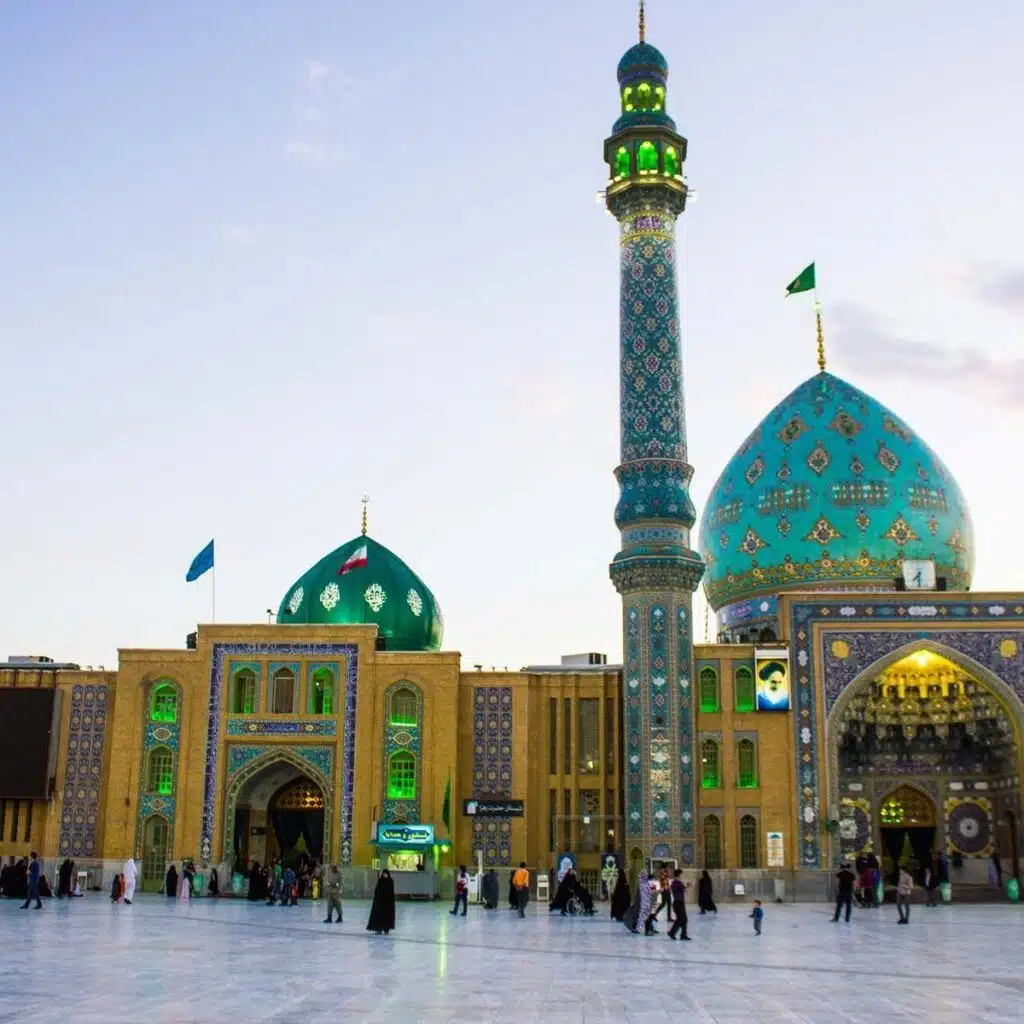 This mosque is believed to be directly connected to the Mahdi, the Hidden Imam in Shia Islam. It's an architecturally beautiful structure and a significant pilgrimage site.
Address: Jamkaran Mosque, Qom, Iran
View Jamkaran Mosque on Google Maps
Qom Salt Lake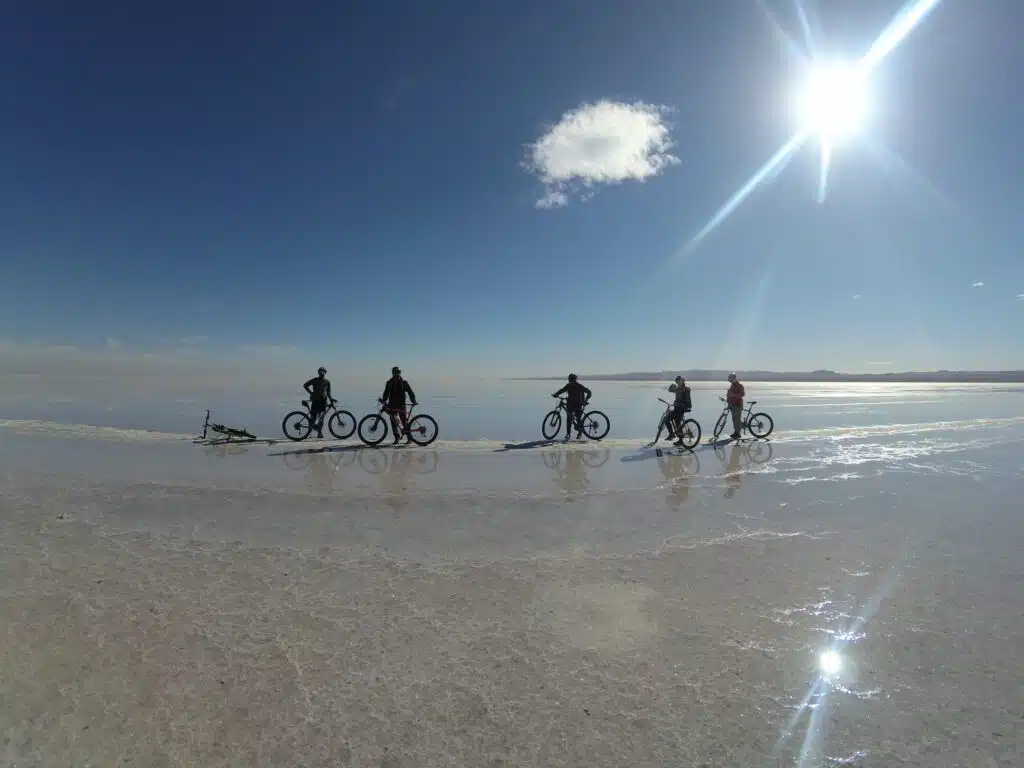 If you're interested in natural attractions, the Qom Salt Lake is a must-visit. The stark landscape is both haunting and beautiful, providing excellent photo opportunities.
Address: Qom Salt Lake, Qom Province, Iran
View Qom Salt Lake on Google Maps
Explore More: For an in-depth experience of these attractions and more, check out SURFIRAN's tailor-made tours.
Markets and Shopping Centers in Qom
When it comes to shopping, Qom has a range of options that blend the traditional with the modern. From ancient bazaars echoing with centuries of trade to modern malls offering the latest in fashion, the city has it all.
Qom Bazaar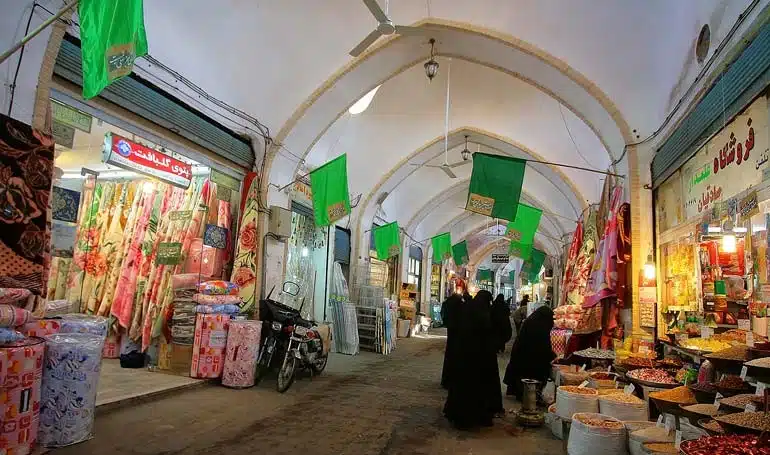 This traditional market is your go-to destination for local crafts, particularly religious artifacts and textiles. The maze-like corridors are filled with the aroma of spices and local food items.
Address: Qom Bazaar, Qom, Iran
View Qom Bazaar on Google Maps
Asr-e Jadid Shopping Complex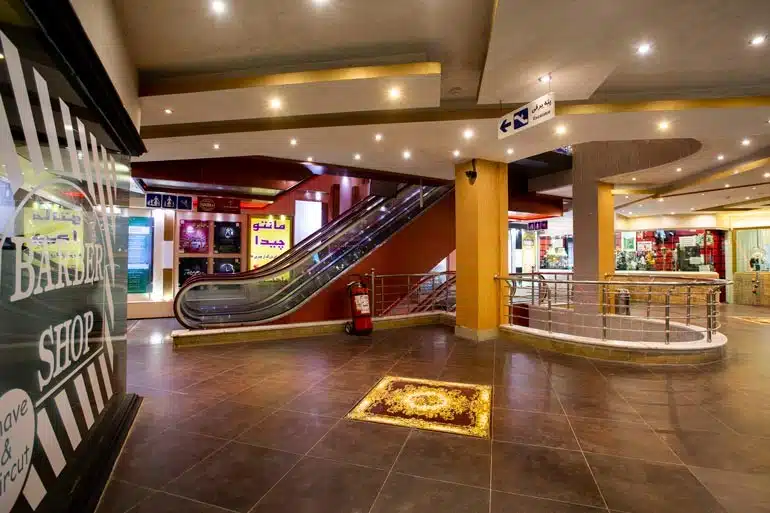 This shopping complex is built over 11 floors, and each floor is dedicated to a specific category. For instance, one floor is exclusively for gold, another only for clothing, another for household items, and so on. The complex also has a food court and an amusement park.
Souvenirs on the Trip to Qom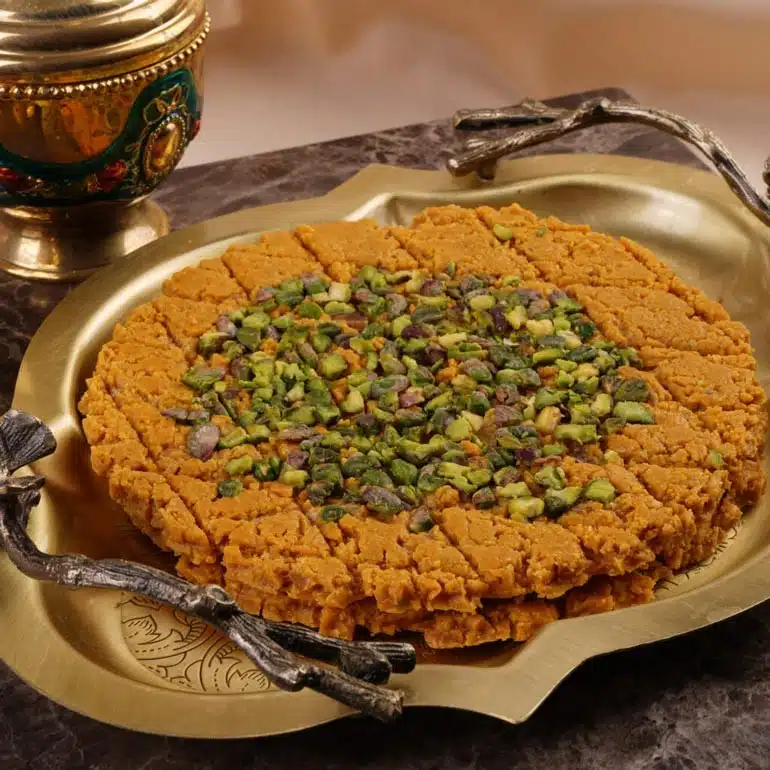 Qom is famous for its religious artifacts like prayer beads, rings engraved with religious verses, and beautiful calligraphy. Don't forget to pick up a box of Sohan, a traditional saffron brittle toffee, as a tasty keepsake.
Culture of Qom People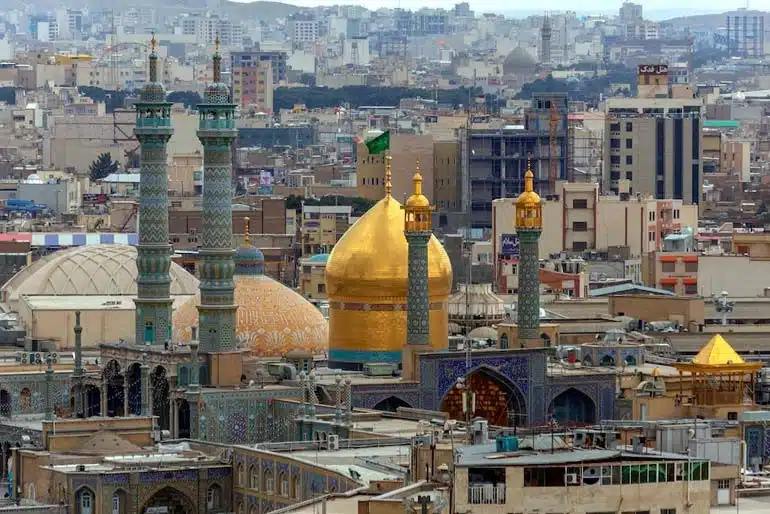 The culture of Qom is deeply tied to its religious significance. The city thrives on a strong sense of community and spirituality. Locals are generally conservative and highly respectful of their traditions and religious practices. A visit here provides deep insight into the Shia Islamic traditions and Iranian religious culture.
Local and Traditional Dishes of Qom
When visiting Qom, you're not just experiencing its rich culture and attractions but also its delightful local and traditional cuisine. Rest assured, some of the most delicious local dishes are crafted right here in this city, some with hundreds of years of history. These dishes offer an unforgettable medley of flavors and aromas that you'll surely fall in love with. Below are some of the most popular ones:
Abgoosht-e Havij Barge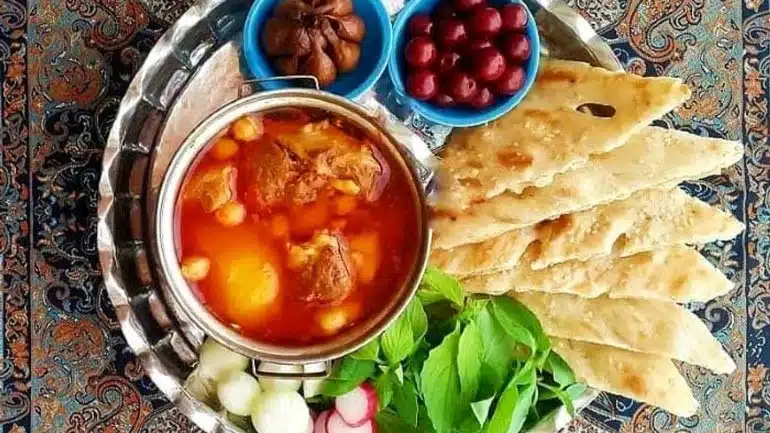 You'll come across many traditional stews during your visit to Qom, but Abgoosht-e Havij Barge stands out as one of the most popular and beloved ones. This dish is made from thinly cut carrots, red beans, red meat, onion, salt, turmeric, and dried mint.
The aroma of fried dried mint and onions combines perfectly with the mutton, creating an irresistible flavor. If you find yourself in Qom, do not miss out on trying this dish. You'll surely become a fan.
Ash-e Qonbieh
How can one visit Qom and not taste Ash-e Qonbieh? Also known as Ash-e Kalambsor or Ash-e Qanbid, this delightful soup is a must-try, especially during the holy month of Ramadan. It's prepared with legumes such as chickpeas, beans, lentils, onions, special cabbage from the Qom province, local greens, turmeric, and black pepper.
This particular cabbage is native to Qom and offers an extraordinary flavor. The pleasant aroma and spicy taste of the Ash will leave you craving for more.
Dampokhtak-e Qomi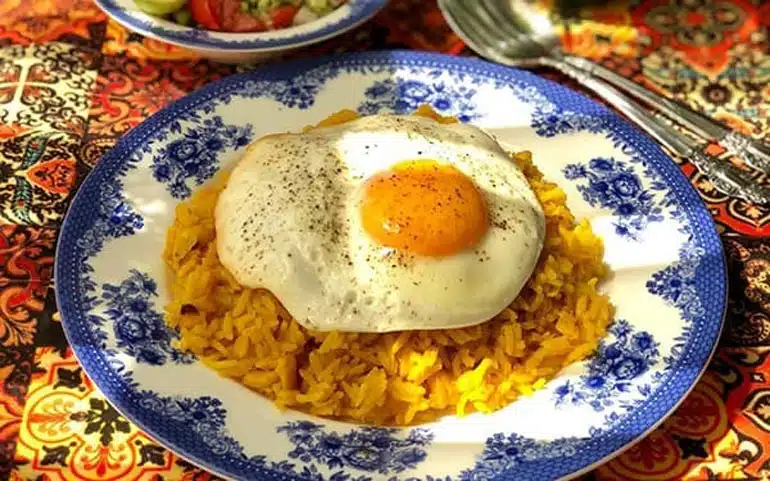 You may have had Dampokhtak many times before, but once you try it the Qom way, you'll forget all other recipes. Dampokhtak-e Qomi is a staple traditional dish in Qom and is typically served with pickled garlic (Torshi-e Liteh), fresh herbs, and yogurt.
Koofteh Qomi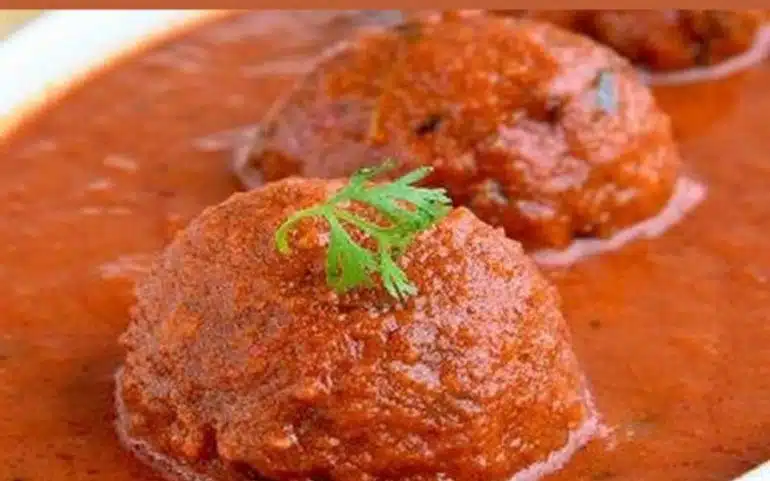 Even a mere glance at the picture of this dish is enough to make you hungry, let alone the enticing aroma of tarragon and parsley that permeates it. Koofteh is made in most Iranian cities, but the recipe for Koofteh Qomi is something else entirely.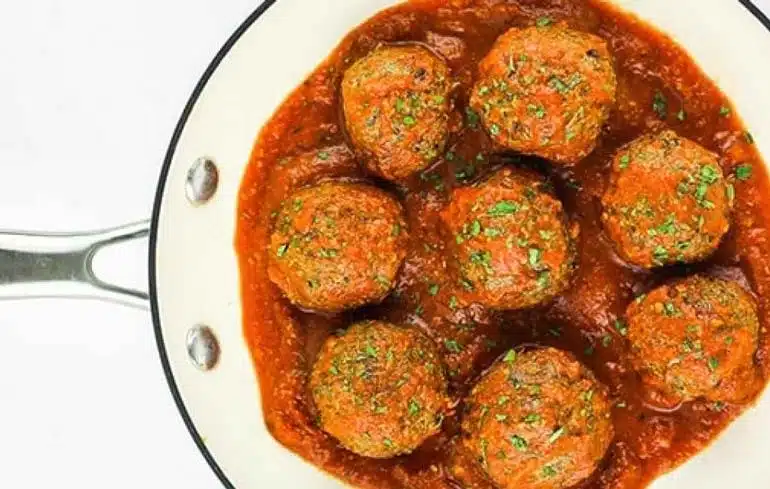 Koofteh Qomi is a delectable meatball dish that combines ground meat with aromatic herbs like tarragon and parsley, as well as rice and split peas. The mixture is then shaped into large balls and cooked in a sumptuous tomato-based sauce. What sets Koofteh Qomi apart is the rich blend of flavors and the particular herbs native to the Qom region, making it an unforgettable dining experience.
Where Should We Stay When Traveling to Qom?
The city of Qom offers a range of accommodation options catering to different preferences and budgets. Whether you prefer the quiet charm of boutique hotels or the grandeur of luxury accommodations, there's something for everyone.
Safavi Hotel
Close to the Hazrat Masumeh Shrine, this hotel offers modern amenities with the added convenience of a prime location.
Address: Safavi Hotel, Qom, Iran
Qom International Hotel
For those who seek more upscale accommodation, Qom International Hotel offers a luxurious stay complete with all the modern amenities you would expect.
Address: Qom International Hotel, Qom
Accommodation Tip: Secure your stay in advance for the best deals by booking your hotels through OrientTrips.
Wrap-Up
Qom is a city that offers more than just spiritual solace; it is a treasure trove of cultural, historical, and culinary experiences waiting to be explored. To make the most of your trip to this unique city, be sure to check out the wide variety of group and tailor-made tours offered by SURFIRAN.
For a more comprehensive and detailed understanding of Qom and other fascinating destinations in Iran, you can dive into the insightful articles featured on SURFIRAN Journal and OrientTrips Magazine.