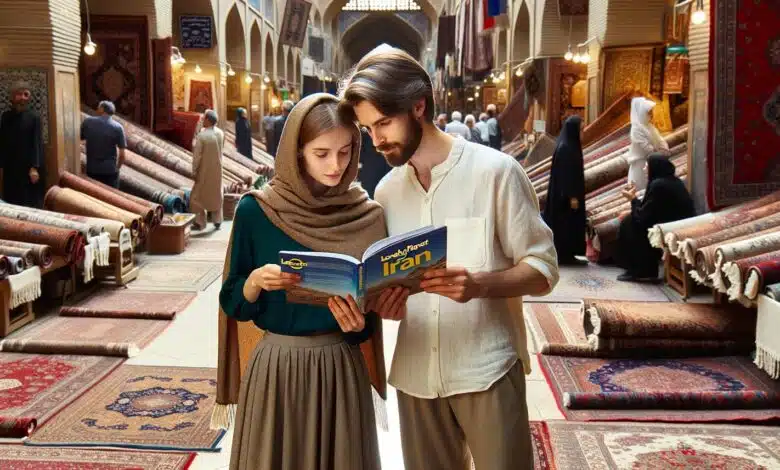 Tabriz, the capital of East Azerbaijan province, is Iran's fourth-largest city and a major center of culture, commerce, and industry. Located in the northwest of the country, Tabriz has a rich history dating back over 3,000 years. It was once the capital of several Iranian dynasties, including the Safavids, and its many historical monuments and sites reflect its diverse heritage.
Tabriz is also a vibrant and cosmopolitan city, with a population of over 1.5 million people. It is home to a diverse mix of ethnic and religious groups, including Azeris, Persians, Kurds, and Armenians. This diversity is reflected in the city's culture, cuisine, and architecture.
Where is Tabriz?
Tabriz is the third-largest metropolis in Iran and the capital of East Azerbaijan province. It stands as the most prominent city in the Azerbaijan region. This captivating city is known as the major hub for economic, commercial, political, administrative, communicative, cultural, industrial, and military activities in the Azerbaijan region.
Geographically, Tabriz is located in the northwest of Iran, covering an area of 45,491 square kilometers, which makes up about 2.8% of the country's total area.
Distance Between Tabriz and Other Major Cities:
Tehran to Tabriz: Approximately 620 kilometers (about seven hours of average-speed driving)
Isfahan to Tabriz: Approximately 1038 kilometers
Rasht to Tabriz: Approximately 481 kilometers
Mashhad to Tabriz: Approximately 1548 kilometers
Shiraz to Tabriz: Approximately 1519 kilometers
General Information About Tabriz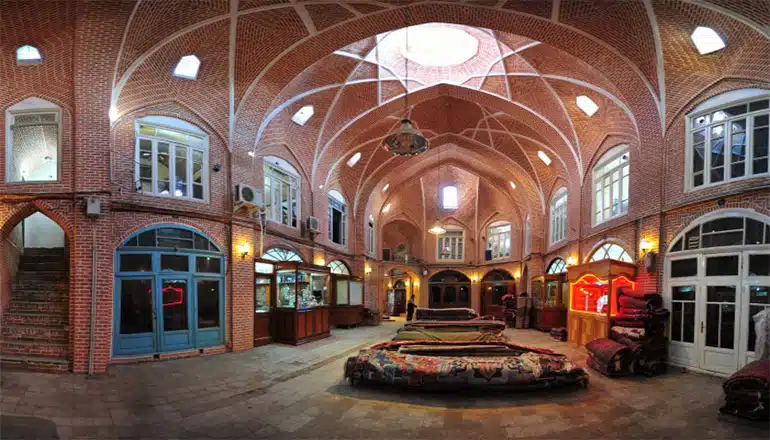 Before traveling to any city, including Tabriz, it's beneficial to have a general understanding of things like the climate and local language. Here's a brief overview:
Tabriz City Map
Having a map of Tabriz is the first step for your journey. Although nowadays, you can easily access city maps on Google Maps, it's always handy to have a physical or downloaded map for reference.
Climate of Tabriz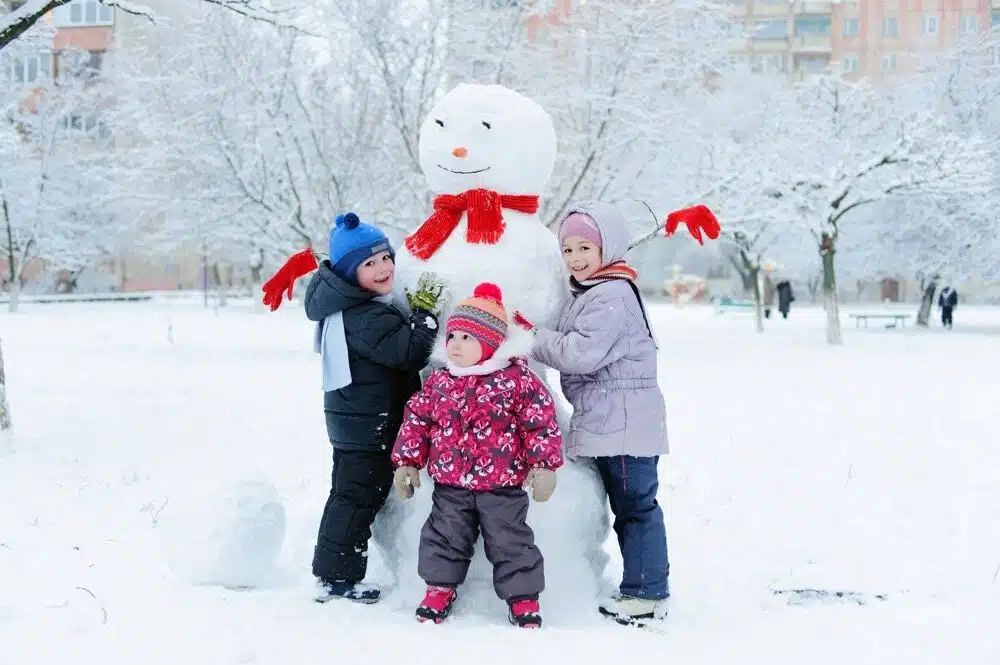 Tabriz is surrounded by mountainous regions from the north, south, and east, and by flat plains and desert areas of the Tabriz plain and salt marshes from the west. This unique geographical setting makes Tabriz a mountainous-desert region. Due to its topography, Tabriz is considered one of the coldest cities in Iran, boasting a cold and dry mountainous climate.
Best Time to Visit Tabriz
Many travelers wish to enjoy a comfortable journey at the least possible expense. Interestingly, the most cost-effective time to visit Tabriz is during the autumn and winter seasons. Due to its cold climate in these seasons, the number of trips tends to be at a minimum. This reduced influx leads to a noticeable drop in the rates for tour packages, flight tickets, train and bus fares, and accommodation expenses. To combat this lull, many airlines and hotels in Tabriz often offer remarkable discounts to travelers.
However, if budget isn't your primary concern and you're looking for ideal weather conditions, summer (from July to early September) is the best time. Tabriz boasts a mild and cool climate during the summers, making it a top tourist destination. Notably, during holidays and special days, due to a surge in the number of travelers, make sure to book your plane, train, or bus tickets and hotel stays in advance through the website OrientTrips at www.OrientTrips.com.
| Month | Avg. High (°C) | Avg. Low (°C) | Precipitation (mm) | Description |
| --- | --- | --- | --- | --- |
| January | 4 | -4 | 30 | Cold with some snow, chilly nights. |
| February | 5 | -3 | 34 | Cold with possible snow. |
| March | 11 | 1 | 50 | Cool, with increasing rain. |
| April | 18 | 7 | 60 | Mild with rainy days. |
| May | 24 | 11 | 38 | Pleasantly warm with less rain. |
| June | 30 | 16 | 8 | Warm, mostly dry, ideal for outdoor activities. |
| July | 34 | 19 | 5 | Hot and dry, great for sightseeing. |
| August | 33 | 18 | 5 | Hot and dry, long days of sunshine. |
| September | 29 | 13 | 6 | Warm with cool nights, less crowded. |
| October | 21 | 8 | 30 | Mild weather, changing leaves. |
| November | 13 | 2 | 30 | Cool, with early snow possible. |
| December | 6 | -3 | 27 | Cold, occasional snowfall. |
Discover the Perfect Time to Explore Tabriz: A Monthly Climate Guide for the Informed Traveler.
Tourist Attractions of Tabriz
Tabriz boasts an abundance of tourist attractions, and while we can't cover them all in one place, here are two of the city's most prominent landmarks:
Tabriz Historic Bazaar Complex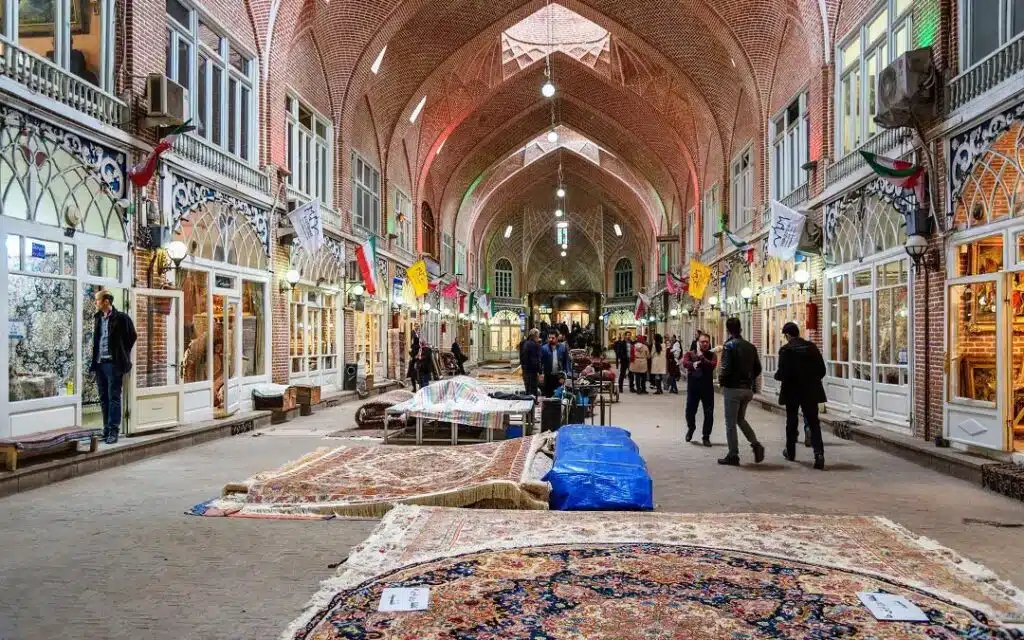 This ancient market, spanning over one square kilometer, is the world's largest covered bazaar. The Tabriz Bazaar is recognized as a UNESCO World Heritage site, given its historical significance. This market complex contains several caravanserais, mosques, and schools built with brick facades and beautiful domes, captivating the eyes of every visitor.
During the era of the Silk Road, the Tabriz Bazaar held high commercial significance, and its business thrived during the Safavid dynasty. The ancient market was severely damaged in an earthquake in 1193 AH lunar (1779 AD). Still, it was rebuilt under the command of the then-governor of Tabriz, Najaf Qoli Khan Donboli. What adds to the charm of this historic market is the ongoing traditional trade and businesses of Tabriz residents, with market activities helping to preserve the authentic art and culture of its inhabitants.
Constitution House of Tabriz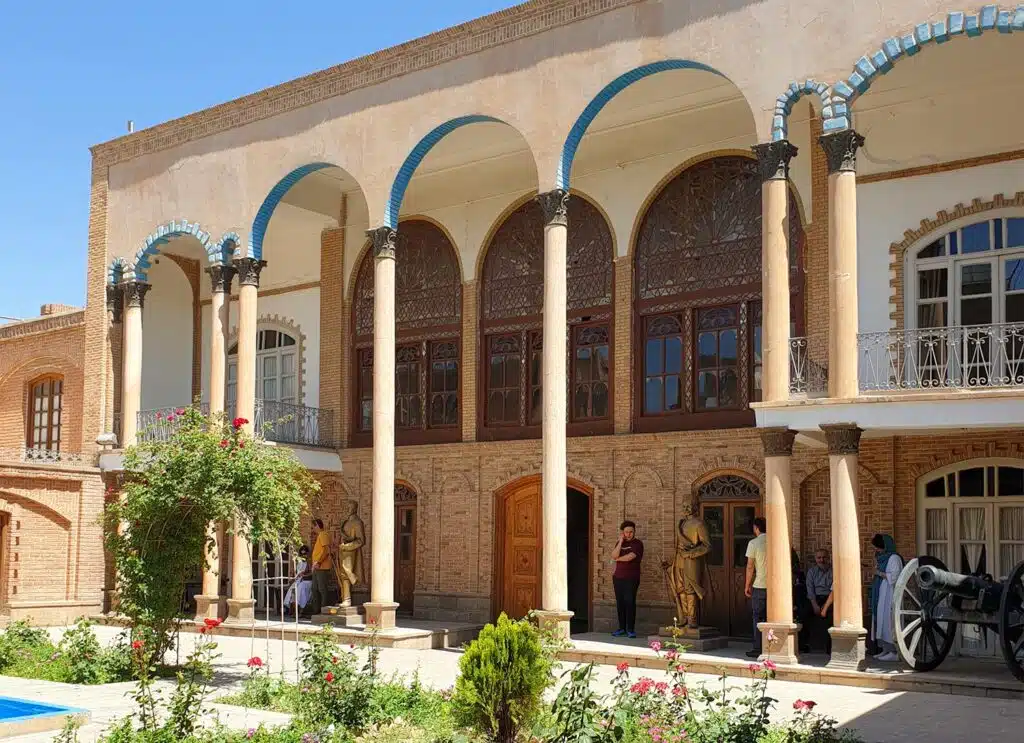 Situated in one of the old neighborhoods of the city, this historical edifice was registered on the list of Iran's National Monuments in 1975. This mansion belonged to Haj Mehdi Koozekonani and was built in the architectural style of the Qajar era. The Constitution House Museum showcases valuable items, including the waist gun of Sattar Khan, a prominent figure in the Constitutional Revolution, and various historical documents. Every year, many tourists visit the Constitution House Museum of Tabriz to delve into its rich history.
Address of the Constitution House in Tabriz: Tabriz, Shahid Motahari Street, opposite the Jame Mosque.
Discovering Tabriz's Historical Wonders
Tabriz, the crown jewel of Iran's historical cities, is home to an array of ancient landmarks that will surely captivate any history aficionado. Here's a concise guide to some of its most notable historical attractions:
Kabood Mosque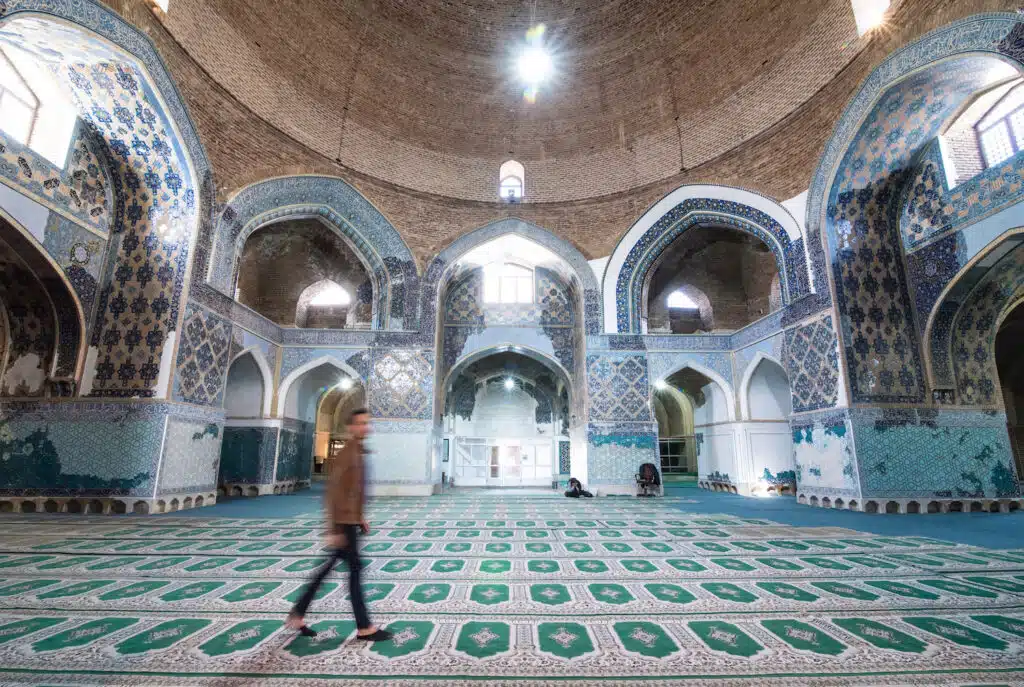 The Kabood Mosque is among the standout attractions of Tabriz. This magnificent edifice was commissioned in the 9th century Hijri lunar by Abu Muzaffar Jahan Shah of the Qaraqoyunlu dynasty, upon the insistence of his daughter, Salehe. Like Tabriz's grand bazaar, the mosque was severely damaged during the earthquake in 1193 Hijri lunar. Over the past five decades, parts of it have been restored. Yet, despite its scars, the mosque's beauty remains untouched. The remaining tiles and calligraphy, handcrafted by ancient artisans, make it an unparalleled architectural marvel. Location: Imam Khomeini Street, Tabriz.
Jameh Mosque
The Jameh Mosque is another historical gem in Tabriz, dating from the Seljuk era to the Qajar period. This mosque is a vivid showcase of the peak of artistry and architecture of the artisans of yesteryears. Its exquisite tile work and intricate floral designs are its hallmark. Like many other historical structures in Tabriz, the Jameh Mosque suffered damage due to earthquakes but has since been refurbished. It was registered as a national Iranian monument in 1310. Location: Shahid Motahhari Street, at the end of Tabriz Bazaar.
Maqbarat-o-Sho'ara (Sorkhab Cemetery)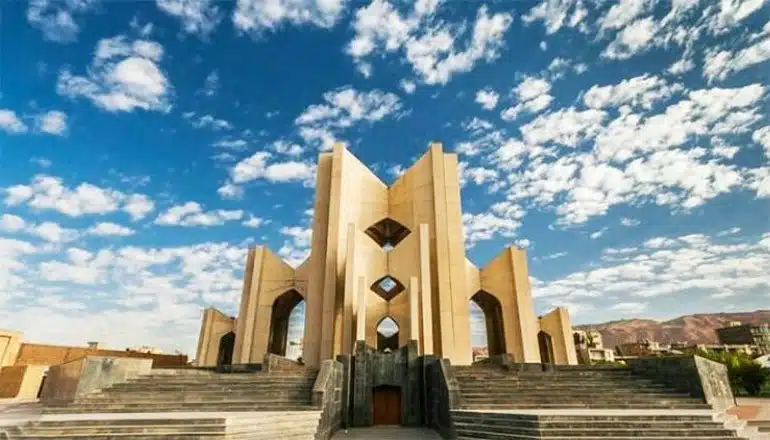 Tracing its origins to before the 8th century Hijri lunar, this ancient cemetery had been abandoned after sustaining earthquake damage until approximately 1350. An architectural competition was later held for its redesign, which was won by Gholamreza Farzanmehr. Today, its unique design stands as a significant symbol of Tabriz. Over 400 renowned individuals, primarily poets, rest here. Among the most prominent are Hakim Asadi Tusi and Seyyed Mohammad Hossein Behjat Tabrizi, famously known as Shahriar. This cemetery is a must-visit, especially for literature enthusiasts. Location: Sheshgelan District, Soghol-e-Islam Street, intersection of Aref, Tekiyeh Heydar.
Arg-e-Alishah (Tabriz Citadel)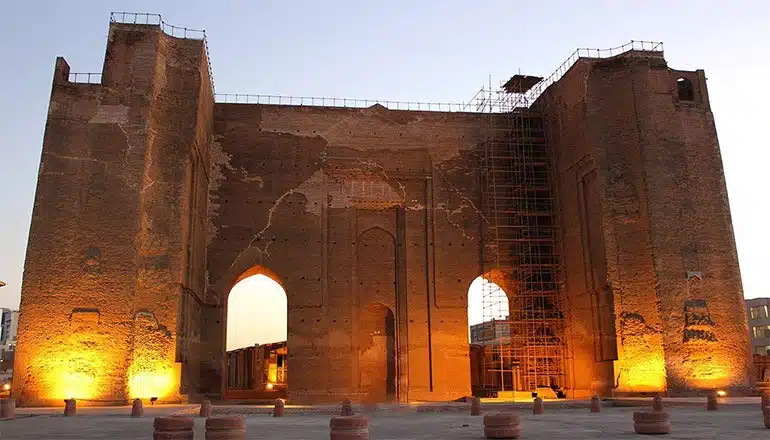 The primary structure of the Arg-e-Alishah dates back to the 8th century AD, during the Ilkhanate era. Originally intended as a mosque, construction halted mid-way after the roof collapsed, leading to the demise of Alishah. During the war between Iran and Russia under the Qajar rule (1804-1824 AD), a military wall was erected around the Arg. Registered as a national Iranian monument in 1310, today only the southern wall of the Arg remains. Location: South side of Imam Khomeini and Ferdowsi Street intersection, near Sa'at Square, Tabriz.
Religious Attractions of Tabriz
Venture into the spiritual side of Tabriz as we unveil its religious wonders. Here are some of the most compelling religious sites in this historic city:
Mosque of Sahib al-Amr (Shah Tahmasp Mosque)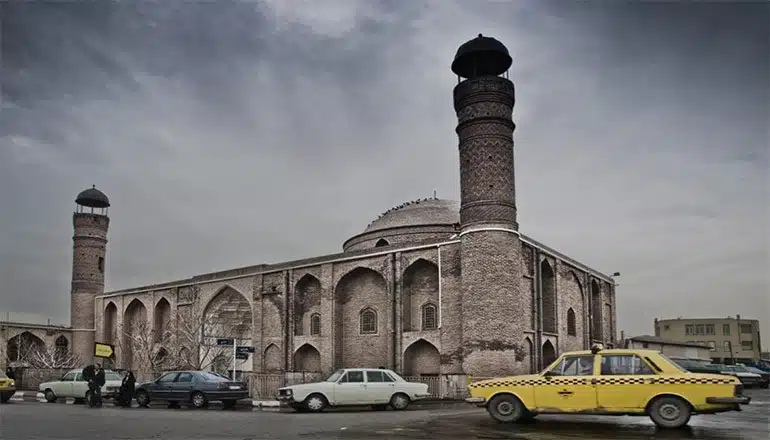 Commissioned by Shah Tahmasp, the first of the Safavid dynasty, the Mosque of Sahib al-Amr originally featured one dome and two tall minarets. However, in 1405, it was demolished on the orders of Sultan Murad IV of the Ottomans. After the calamity, it was reconstructed under Shah Sultan Hussein Safavi, spearheaded by the then minister of Azerbaijan, Mirza Mohammad Ibrahim. This ancient mosque earned its rightful spot on the list of Iran's national monuments in 1380. Location: Tabriz, end of Darayi Street, Sahib al-Amr Square.
Imamzadeh Seyyed Hamzeh Tabriz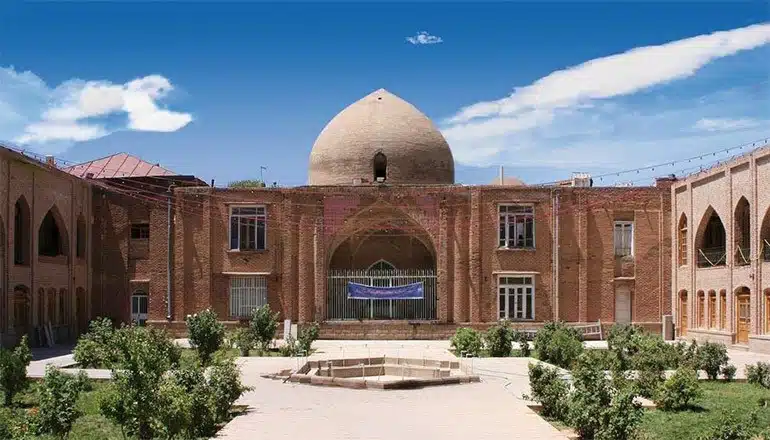 The mausoleum of Imamzadeh Seyyed Hamzeh dates back to the lunar year 714. It was initially constructed by his son, Seyyed Hussein, following Seyyed Hamzeh's demise. The southern part of its courtyard holds the tomb, while the eastern and northern sections serve as educational spaces for religious students. Visitors are often captivated by the mirrored artwork and the calligraphy inscribed in Nasta'liq script within the shrine. Location: Tabriz, Sarkhab neighborhood, intersection of Seqat al-Islam Street and Seyyed Hamzeh Bazaar.
Saint Mary Church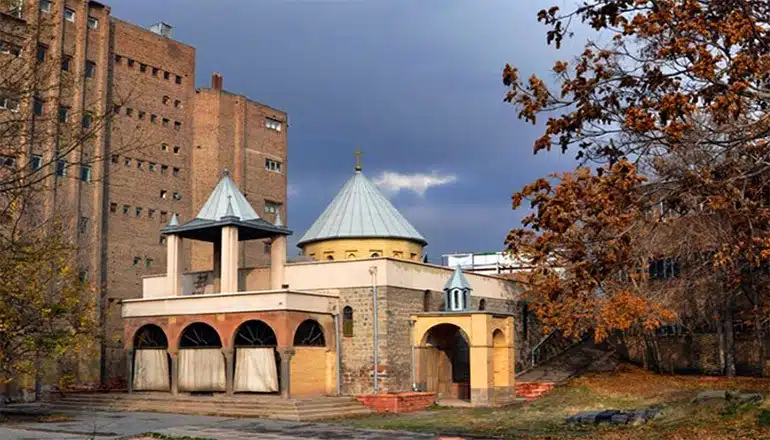 Recognized as the largest and oldest church in Tabriz, the Saint Mary Church stands in the Dikbashi area near the Namaz Square (formerly Cyrus the Great Square). Today, it serves as the ceremonial hub for Christian national and religious events. Historically, its primary structure is believed to have been established between the years 879 to 979 AD, with architectural cues pointing to the Ilkhanate Mongol era. Post the earthquake in 1158 AD, the church underwent reconstruction, drawing inspiration from Safavid architectural styles. Location: Tabriz, end of Shariati Street (North Shahnaz), corner of Namaz Square.
Natural Attractions of Tabriz
A visit to Tabriz is incomplete without immersing oneself in its natural beauty. Let's introduce you to some of the breathtaking natural spots the city offers:
Kandovan Village of Tabriz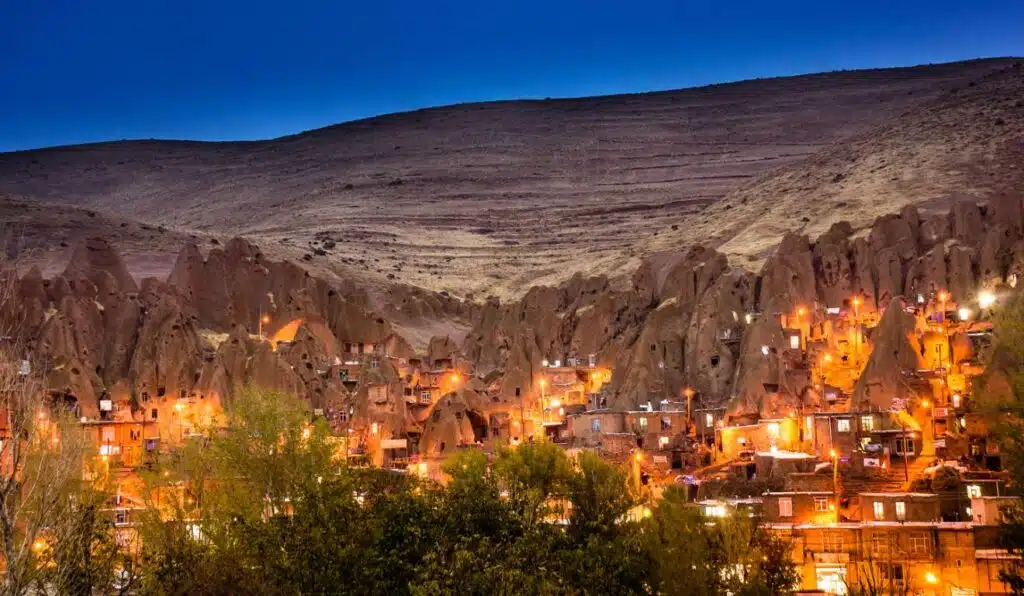 Situated 50 kilometers from Tabriz is Kandovan, an astonishing attraction with a history spanning over a thousand years. Celebrated for its unique architectural style, the village was listed as an Iranian national monument in 1376. Kandovan is one of the world's three rock villages and the sole rocky region housing nearly 120 families residing in its bee-hive-like rock structures. This village stands out as a living example of rock architecture, teeming with life. Location: East Azerbaijan Province, Osku County.
El Goli (Shah Goli)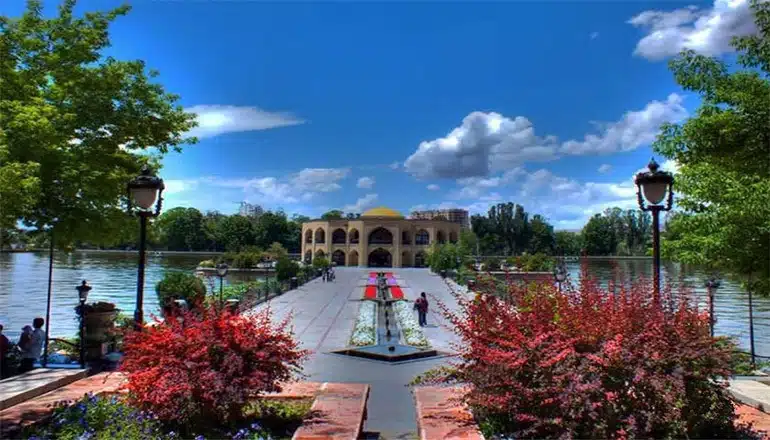 Historical Park Shah Goli Park is among Tabriz's most popular attractions. The El Goli Mansion was constructed during the Aq Qoyunlu era and served as the principal water reserve, irrigating gardens in the eastern regions up to Tehran Gate and Topli Bagh. Under the Safavid reign, the park expanded and was later handed over to the Tabriz municipality as a public leisure spot during the Pahlavi regime. Interestingly, the word "Gol" in the Turkish language means something akin to "river". The park boasts a vast lake, 12 meters deep, offering boat rides. In 1378, the majestic garden and mansion of Shah Goli were added to the list of national historical monuments. Location: Tabriz, Southern Tabriz Bypass Highway, El Goli Metro Station.
The Museums of Tabriz
Tabriz, often heralded as the city of firsts, is no stranger to the pioneering spirit. Museums in Tabriz follow suit, with many of them established as the foremost in their domains. These repositories not only shelter a treasure trove of precious artifacts but also have intriguing tales to share. For anyone attempting a comprehensive guide to Tabriz, it's imperative to spotlight the diverse museums of this city and the invaluable pieces they safeguard.
Here, we introduce you to some of the most renowned museums of Tabriz. However, it's worth noting that the city's attractions don't just end with the ones listed below. You can also explore the Natural History Museum of Tabriz, the Master Behzooni Museum, the Master Shahriar Museum, the Stamp Museum, the Armenian Museum, the Tabriz Pottery House, and many more.
Tabriz Sound Museum
The Sound Museum in Tabriz stands out as one of the city's most captivating destinations. Inaugurated in 2018, it holds the distinction of being the country's first specialized sound museum. Nestled within the historic "Amir Parviz's House" from the Qajar era, the museum in itself is an architectural marvel. Now, imagine this historical edifice combined with displays of musical instruments from Iran and around the world—it's akin to stepping into a magical realm of melodious music.
This museum is segmented into various sections such as a library, restoration workshop, auditory instruments hall, stringed instruments, wind instruments, bowed string instruments, percussion instruments, keyboard instruments, drums and gongs section, bells section, and an audio and photo archive of musicians, musicologists, and singers.
Address: Tabriz, Tarbiat Street, Korbasi Alley, No. 73.
Azerbaijan Museum of Tabriz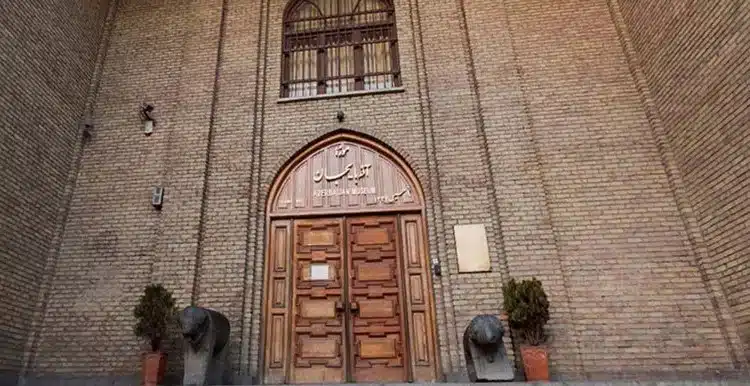 The Azerbaijan Museum in Tabriz, following the National Museum of Iran, stands as the country's second preeminent archaeological museum. It's undoubtedly one of the quintessential sites to visit in Tabriz. This museum offers a holistic collection that spans artifacts from pre-Islamic times, post-Islamic relics, historical coins and seals, stone carvings, and the sculptural artworks of Tabriz's artist, Ehad Hosseini. Always welcoming a slew of both domestic and international tourists, this museum is a haven for those eager to delve deeper into ancient times and Iran's history.
Address: Tabriz, Imam Street, next to the Kabud Mosque.
Iron Age Museum, Tabriz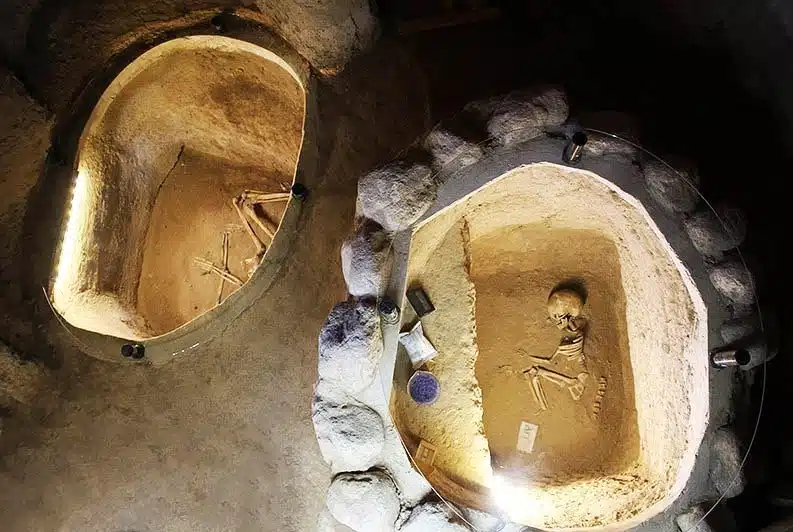 The Iron Age Museum in Tabriz stands out as one of the city's most exceptional destinations. Holding the title of Iran's first open-air museum, this place dates back a staggering 3,500 years. What makes it even more intriguing is that it's a burial site of people who lived during the Iron Age. These graves were uncovered in 1997 during an excavation in one of Tabriz's regions, revealing a deep-rooted history that captivates all who visit. Admittedly, the setting might feel a tad eerie, with its 38 graves. However, their profound archaeological significance has earned them a spot on the country's national heritage list.
Address: Tabriz, Khaqani Street, Roshanai Street, next to Kabud Parking.
Bazaar and Professions Museum, Tabriz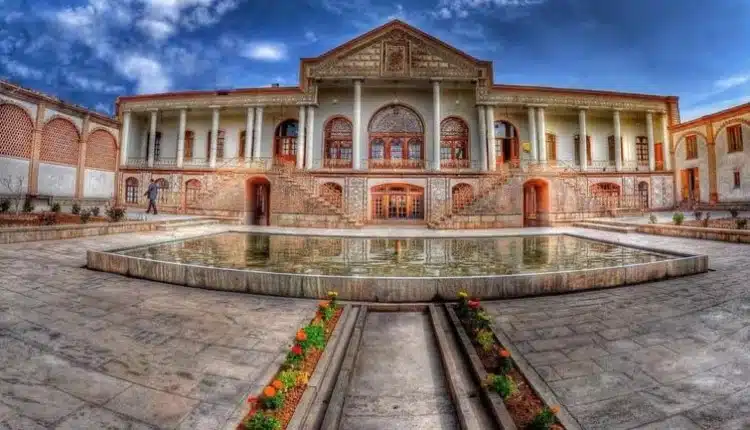 Among the array of museums in Tabriz, the Bazaar and Professions Museum presents a truly unique experience. As the first specialized bazaar museum, inaugurated in 2017, it showcases all the essential items used by various tradespeople of Tabriz's market. Here, visitors can closely observe tools and paraphernalia used by professions such as a bazari, telegraph office, exchange shop, pharmacy, and more. The museum beautifully replicates the ambiance of an old bazaar with its 12 diverse stalls, inviting you on a journey through the winding alleys of Tabriz's ancient market.
Address: Tabriz, end of the Grand Bazaar, Azadi Street, Ayneh-sazan Street.
City Hall Museum, Tabriz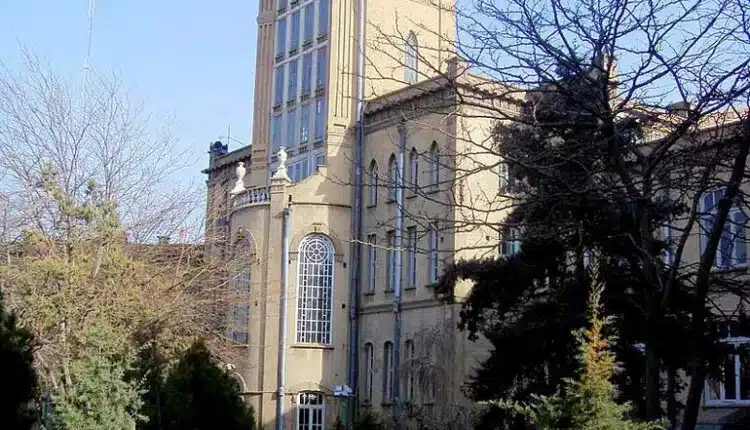 The City Hall Museum in Tabriz claims the distinction of being the country's first municipality building to be established in a historic edifice. It's undeniably one of Tabriz's must-visit attractions, housing a plethora of invaluable artifacts. The museum consists of various sections including galleries for vintage cameras, Sacred Defense, carpets, Tabriz shoes, sound, wisdom, printing technology, municipal documents, calligraphy, and contemporary arts.
Address: Tabriz, Imam Khomeini Street, Saat Square, Municipality Building.
Cartoon Museum, Tabriz
The Cartoon Museum, also known as the Caricature Museum of Tabriz, holds the honor of being the fifth cartoon museum globally and the only one in Iran. Proudly showcasing the world's most extensive archive of original cartoon artworks, it offers a stunning collection from the globe's top cartoonists. Within its walls, you'll find cartoon sculptures, galleries displaying global cartoon artworks, a permanent exhibition of artists' creations, a complete archive, a library, and the Eastern Azerbaijan cartoonists' association office.
Address: Tabriz, Golestan Garden, Art House.
Historic Houses of Tabriz
Historic houses are profoundly different from ordinary ones. Over time, hundreds of people with diverse stories have inhabited these houses. Observing remnants of their lives is like taking a breath in the past – it's captivating and thrilling. Tabriz ranks second when it comes to the abundance of historic houses. By saying "second," we mean that over 600 historic homes have been identified in Tabriz, and discoveries continue. In this section of our comprehensive guide to Tabriz, we'll introduce you to a few notable historic houses and attractions.
House of Shahriar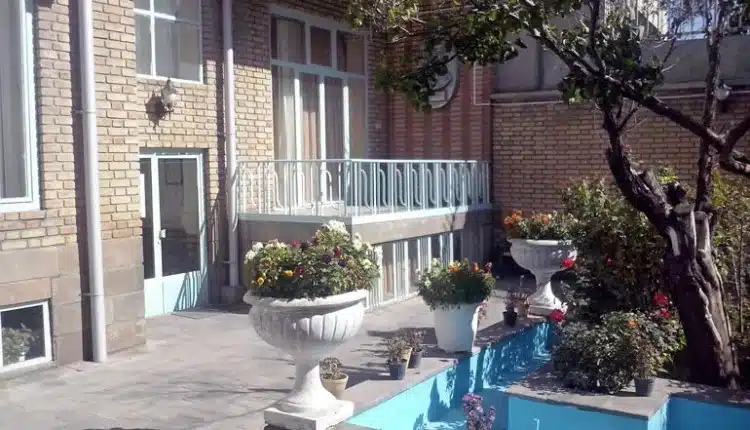 The house of Shahriar is among the prominent historic sites in Tabriz. This was the residence of Shahriar, the acclaimed poet known for "Heydar Babaya Salam," a masterpiece in Azerbaijani Turkish literature. The Tabriz municipality purchased the house in 1987, and all of Shahriar's belongings, manuscripts, books, and memorabilia are now on display for the public. For those keen on gaining a deeper understanding of this significant poet, visiting the House of Master Shahriar is a golden opportunity.
Address: Tabriz, Artesh Street, Maqsoodiye Neighborhood
House of Parvin E'tesami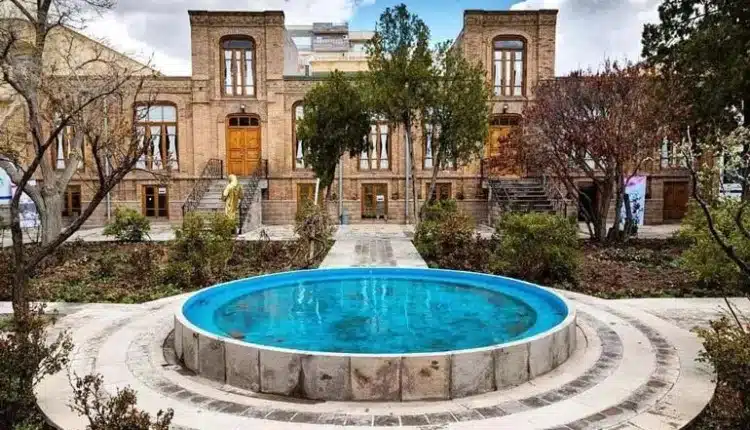 Parvin E'tesami, a celebrated contemporary poet, was born in Tabriz. The two-story building where she lived until the age of seven has been preserved and stands as one of Tabriz's historic houses open to all. Constructed in the early Pahlavi era, its unique architecture is registered as a national monument of Iran.
Address: Tabriz, Abbasi Street, next to Aqamir Mosque, Sawojbolaghi Alley, No. 6
Laleh House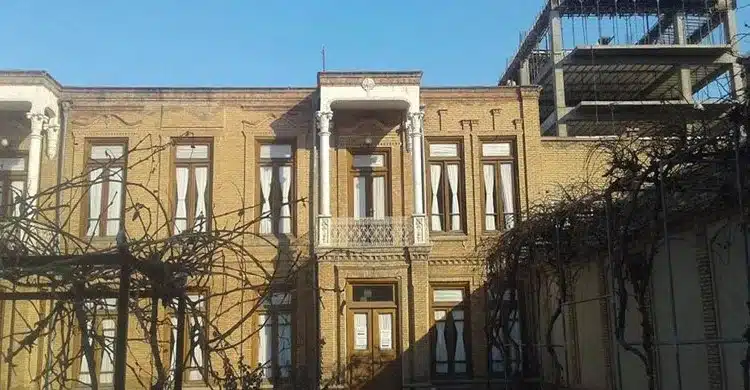 The Laleh House in Tabriz dates back to the Pahlavi period and belonged to one of the founders of museums in Iran. This beautiful two-story historic structure boasts exquisite plasterwork. The courtyard is adorned with tulip designs, making the Laleh House a picturesque site in Tabriz. The vibrant red and yellow colors of the tulips, set against the backdrop of history, is truly enchanting.
Address: Tabriz, South Artesh Street, Sadr Alley
Hariri House in Tabriz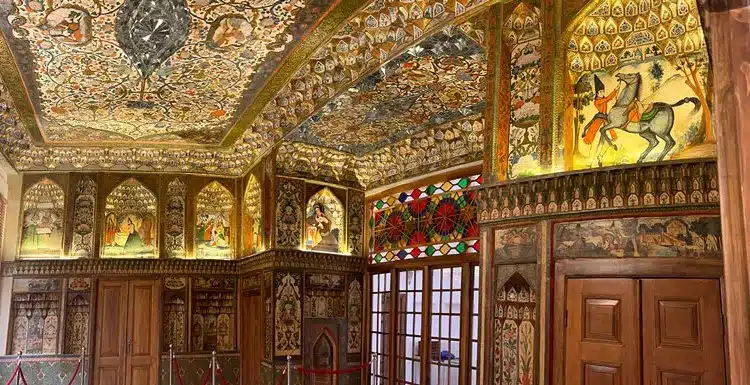 The Hariri House can be described as the most beautiful historic house in Tabriz. Hailing from the Qajar period, it comprises an inner courtyard, an outer courtyard, and two house blocks. The entire house is adorned with wall paintings typical of the Qajar era. When visiting the Hariri House in Tabriz, the colorful frescoes narrate historical tales, offering an experience that might be unparalleled for many.
Address: Tabriz, Tarbiat Street, Nourhashemi Alley, No. 123
Behnam House in Tabriz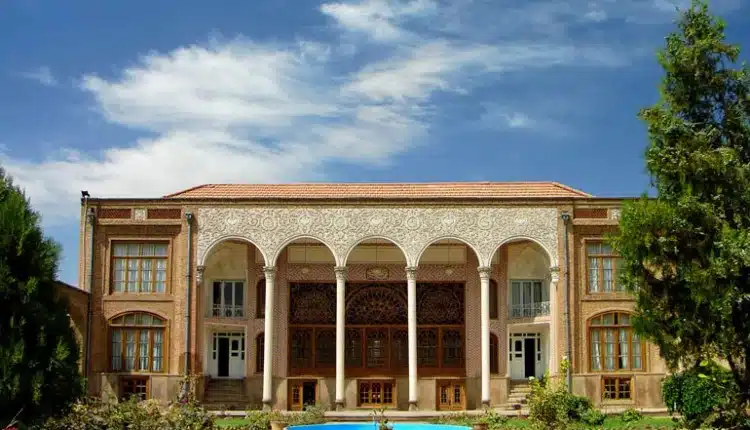 Among the oldest historic houses in Tabriz, the Behnam House has an intriguing tale to tell. Its construction dates back to the late Zand dynasty, encapsulating beautiful architectural features. This historic building underwent renovation during the reign of Naser al-Din Shah in the Qajar architectural style. In 1997, it was added to Iran's national heritage list.
Address: Tabriz, Saat Square, Maqsoodiye Neighborhood
A Guide to Tabriz City
If you're considering traveling to a city with which you're unfamiliar, lacking knowledge about its shopping centers, restaurants, coffee shops, and public transportation can certainly detract from your experience. In this article, we provide you with essential information to guide you through Tabriz during your journey.
Top Restaurants in Tabriz
The restaurants in Tabriz are renowned for their traditional cuisine. In this section of the Tabriz city guide, we will introduce you to some of the most famous restaurants in the area.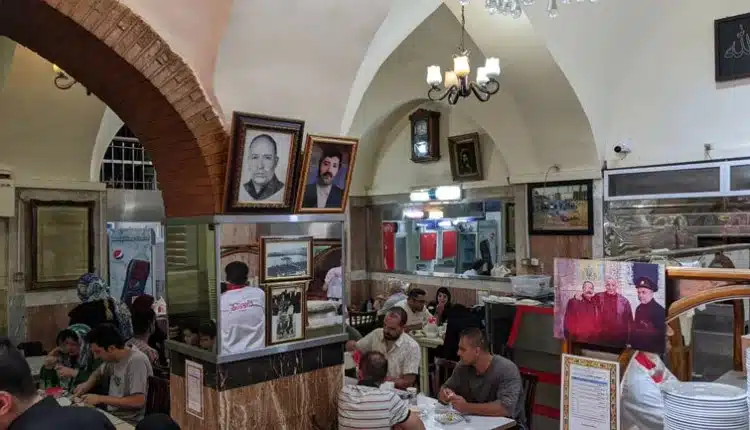 Haj Ali Restaurant
Haj Ali Chelokababi, with a 100-year history, is one of the finest restaurants in Tabriz. At Haj Ali, the kebabs served are top-tier, so much so that they are the talk of the town among locals. Besides offering delicious dishes at reasonable prices, this restaurant also serves complimentary beverages and soup. Address: Tabriz, Golkar Boulevard, Estad Shariyar Highway.
Ana Traditional Restaurant and Garden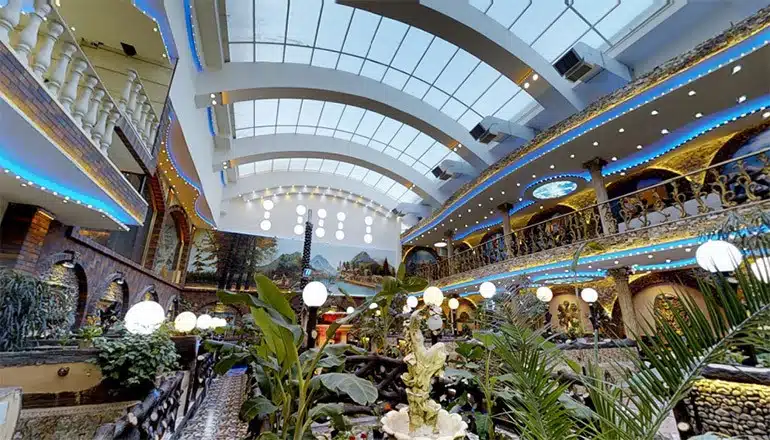 Another famed establishment in Tabriz is the Ana Traditional Restaurant and Garden. The menu is diverse, ensuring that visitors won't be disappointed. The garden spans an impressive 30,000 square meters in the Sardroud area, boasting beauty and lush greenery that captivates anyone who visits. Address: Tabriz-Adarshahr Road, Sardroud Beltway.
Gazmakh Restaurant of Tabriz
Gazmakh is a notable restaurant in Tabriz known for its quality and delectable dishes. All dishes are artistically presented. The interior ambiance is tranquil, and one of its famous dishes is the pan kebab. Interestingly, the term "Gazmakh" in Turkish means "crispy rice crust". Address: Tabriz, Vali Asr Alley, end of Shariati Northern Street, north side of Baharestan Square, at the beginning of Moghaddam 10-meter street.
Fast Foods in Tabriz
If you're into fast food and are looking for a good spot in Tabriz, this section is for you.
Gostaresh Fast Food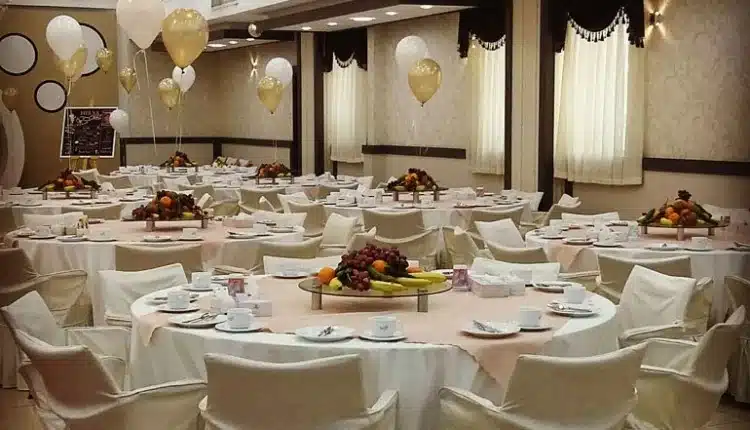 This fast-food venue offers a variety of sandwiches, hamburgers, cheeseburgers, fried chicken, steaks, pizzas, and a range of salads. With its modern architecture and chic decor, Gostaresh Fast Food is a unique choice for tourists visiting Tabriz. Address: Tabriz, Abrasan Crossroad, next to Gostaresh Hotel.
Toka Fast Food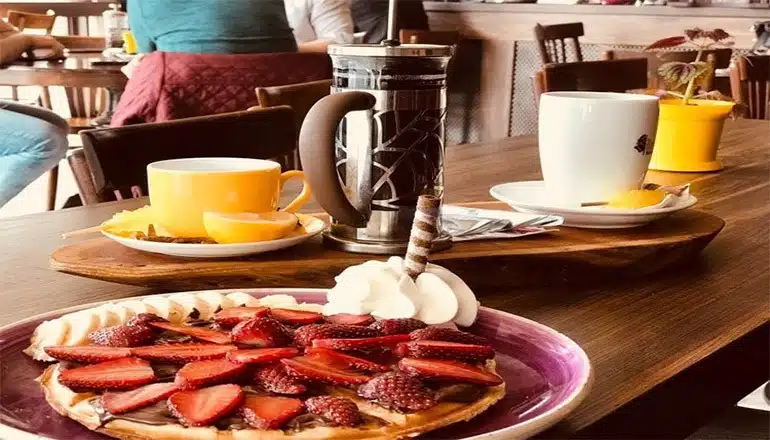 At Toka Fast Food, you can find various sandwiches, pizzas, soups, and salads made from the finest ingredients while adhering to health protocols. They also serve a variety of hot and cold beverages, including tea, coffee, and juices. Address: Cafe Restaurant Toka: Tabriz, Vali Asr, Karimkhan Street, opposite Azarab Complex.
Tabriz's Coffee Shops
The pleasure of sipping tea or coffee while having a friendly chat is one of the joys of traveling. If you decide to visit a café in Tabriz, here are some top choices for you:
Café Jazveh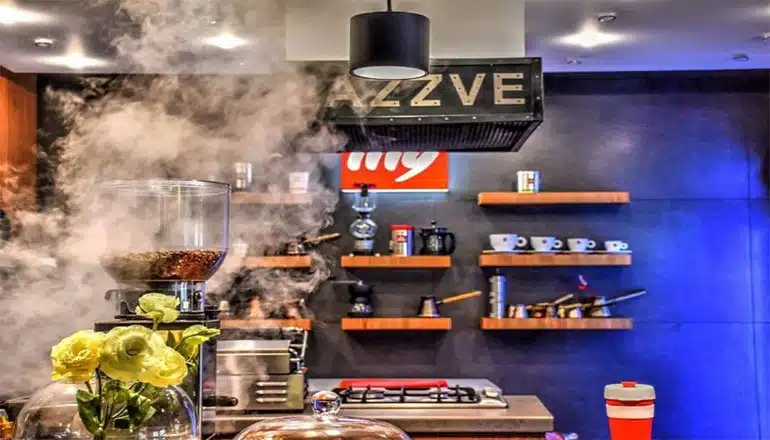 This café is among the small but bustling coffee shops of Tabriz. Café Jazveh also offers takeaway services. According to those who've tasted its offerings, the coffee here provides a genuine flavor experience. Address: Shariati Street South, opposite Valaman Street, beginning of Baron Avak Street.
Café Pam Filia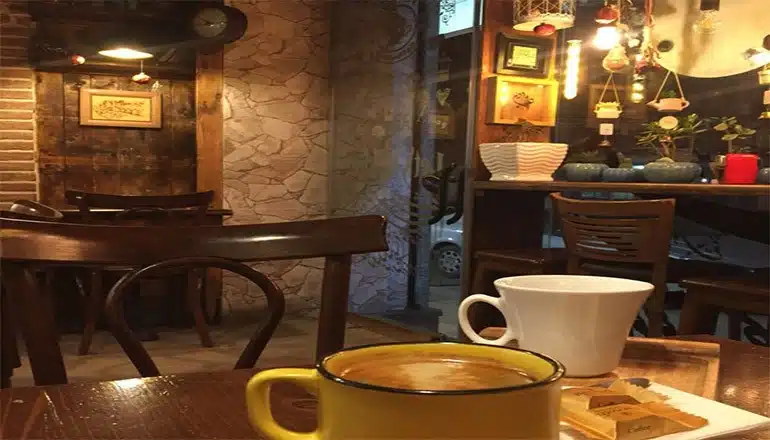 Located in one of the oldest streets of Tabriz (at the end of Shariati Street South), Café Pam Filia boasts a cozy, traditional setting. Here, along with your coffee, you can enjoy concoctions and borage flower tea that promise a delightful ambiance. Address: Tabriz, Shariati Street, just north of Pastor intersection.
Café Roz in Tabriz
Popular choices at Café Roz include coffee, natural fruit juices, waffles, and shakes. With its glass decor and Polish chairs, the café provides a calm environment, making it one of the well-known cafes in Tabriz. Address: Beginning of Il Goli Road, Elahi Parast, near the 24-meter junction.
Dohe Chi Coffee House (Esfrafil)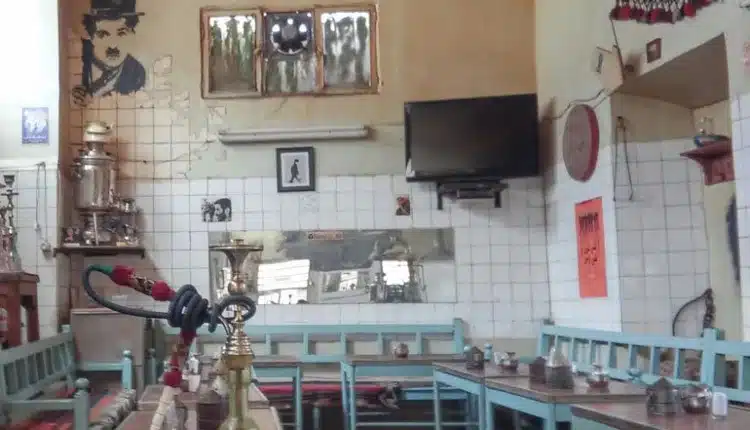 One of the oldest coffee houses in Tabriz is Dohe Chi, previously known as Esfrafil. Many locals still refer to it by the name of its former owner, Esfrafil. If you're looking for a warm and homey atmosphere, definitely give Dohe Chi a visit and savor its tea and coffee in a serene setting. Address: Tabriz, Seyed Ibrahim Street, Dohe Chi Bazaar.
Parks in Tabriz
Exploring Tabriz isn't limited to just a few spots. If you wish, you can include some of the city's best parks in your travel itinerary.
Tabriz Grand Park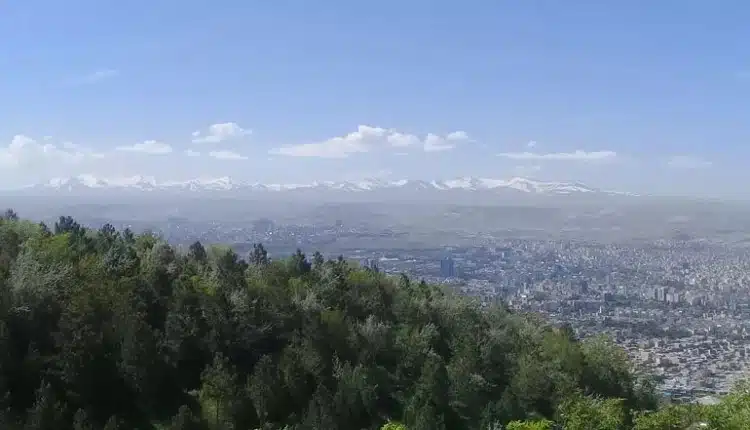 This park, one of the largest in Iran and the Middle East, spans over 800 hectares in the northwest region of Tabriz. Currently, the first phase is open to the public, with the second phase under construction. The flowing waters of the Mehran and Talkhe rivers enhance its natural beauty. The park, now a primary tourist destination, houses a five-star hotel and a plant station. Address: Tabriz, north of Azarbaijan Boulevard.
Baghlarbaghi Park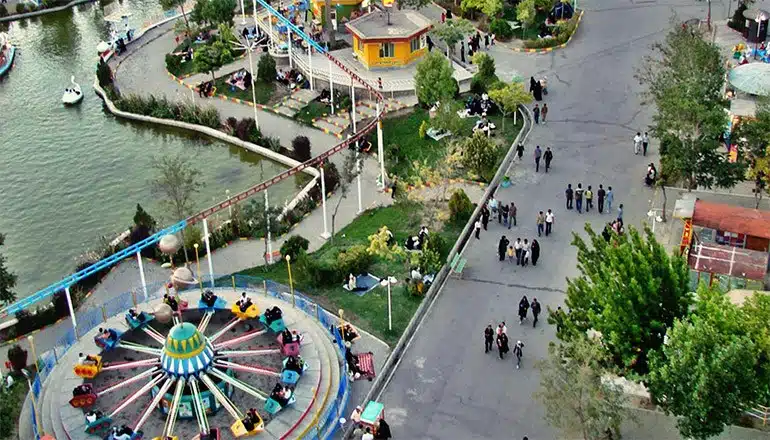 Established post the Islamic Revolution, this park spans 20 hectares. Divided into an amusement park, zoo, green space, and a restaurant, it's home to the largest amusement park in Tabriz, featuring numerous exciting attractions. Address: Tabriz, Estad Shariar Boulevard, north entrance of Vali Asr alley, near Vali Asr Park.
Vali Asr Park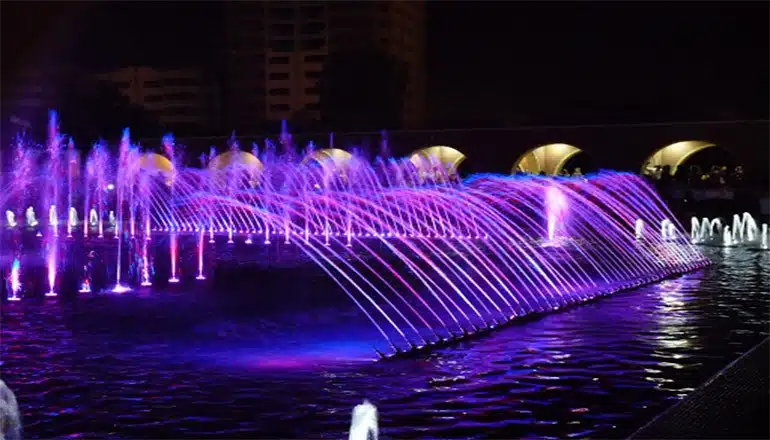 Known to many as the "Musical Park of Tabriz", Vali Asr Park is among the city's most beautiful green spaces, located near Baghlarbaghi Park. Its unique architecture, multiple ponds, and waterways enhance its beauty. Another attraction here is a large swimming pool in the heart of the park, adorned with fountains and colorful lighting. Address: Tabriz, Vali Asr Alley, next to Baghlarbaghi Recreational Complex.
Public Transportation in Tabriz
To explore the must-see attractions of Tabriz and meander through its charming alleyways, it's highly recommended to utilize the city's public transportation system. Historically, the public transportation system in Tabriz has been a pioneer in adopting new methods, positioning the city favorably in this aspect today.
City Taxis in Tabriz
Like many major cities, city taxis are the primary choice of public transportation in Tabriz. These taxis can be identified by their yellow color and a signboard indicating "Taxi Tabriz." Using a taxi is a convenient way to reach Tabriz's tourist attractions. Taxis are easily accessible at the airport, railway stations, and bus terminals. Some even have specific signages, like those indicating "Terminal Taxi."
If you find yourself in a location without access to the traditional yellow taxis, don't fret. With the simple installation of specific ride-hailing apps, you can comfortably get to your destination without any hassle.
Bus Services in Tabriz
Unified bus companies operate in most Iranian cities. In Tabriz, opting for a bus is a cost-effective transportation method, offering the opportunity to travel to almost all parts of the city at a minimal cost. Buses in Tabriz are categorized into two types: the rapid buses (BRT) and regular route buses.
The BRT buses operate on four main city routes: from Railway Square to Basij Square, from Aabresan Intersection to Shariati Intersection, from Railway Square to Cable Bridge, and from Azerbaijan Square to Nader Intersection. The fare for both bus types varies, and payment for transportation is exclusively done using bus cards.
Tabriz Metro
Considering the heavy traffic in large cities, using the metro is often considered the most efficient mode of transportation. The ambitious Tabriz Metro project is currently underway, with plans to complete it in five distinct lines. Some of these metro lines have been completed, while others are still under construction. For detailed schedules and timings of the metro trains, one can visit the official website of the Tabriz urban and suburban train organization.
Tabriz Shopping Centers
Traveling to Tabriz is incomplete without visiting some of its most renowned shopping centers. In this section, we will introduce you to a few of them.
Laleh Park of Tabriz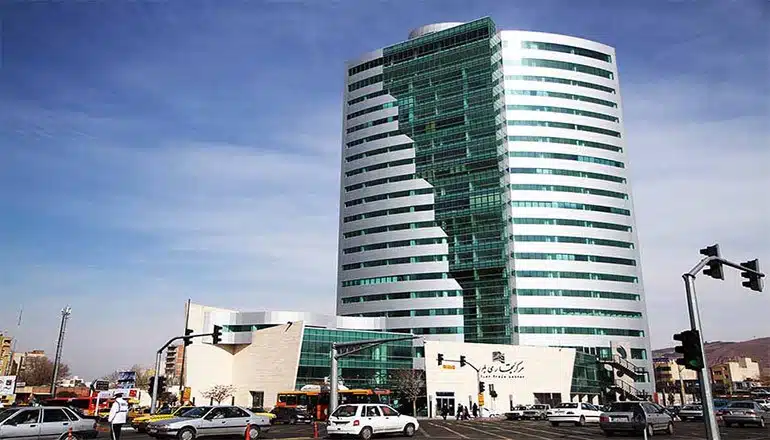 Among the most famous and luxurious shopping centers in Tabriz is the Laleh Park Commercial Complex. This complex spans across six floors and hosts 120 shops that sell some of the world's most recognized brands. Laleh Park can be considered an ideal commercial center, comprising both the shopping complex and a five-star hotel named Kaya Laleh Park.
Some of the unique amenities of Laleh Park include entertainment facilities, a cinema, an amusement park, restaurants, and a hypermarket. Additionally, Laleh Park offers a three-story parking facility that can accommodate 1,500 vehicles, making it an exceptional destination for tourists seeking leisure and shopping.
Address of Laleh Park Tabriz: Tabriz, Shahid Fahmideh Square, Laleh Park Commercial Complex
Javaher Tower of Tabriz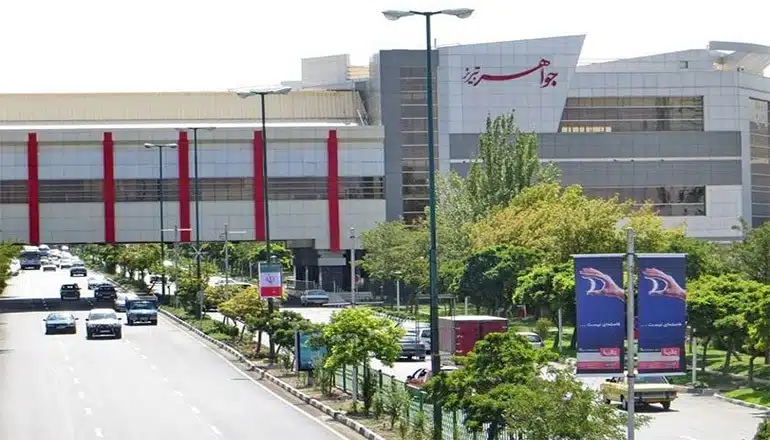 The Javaher Tower shopping center in Tabriz is built across 25 floors dedicated to commercial and office use. Within the tower, three floors encompass 130 shopping units. In this upscale shopping center, you can find products ranging from clothing, bags, shoes, cosmetics, and jewelry.
The Javaher Tower also features 112 office units, 4 conference and reception halls, and on the top floor, a revolving restaurant and a food court offering stunning views for customers and tourists.
Address of Javaher Tower Tabriz: Tabriz, Abrasan, University Roundabout
Setareh Baran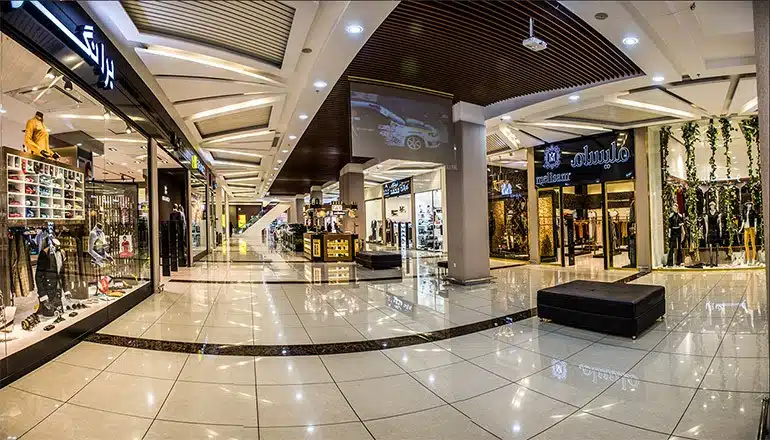 Setareh Baran is among the best shopping and entertainment centers in Tabriz. With 90 commercial units spread over three floors—basement, ground, and first—it offers a range of clothing brands. A highlight of this complex is an entire floor dedicated to mothers and children, aptly named the "Mothers and Children's Paradise."
This floor features numerous shops selling children's clothing, newborn essentials, and child-care products. Amenities such as an indoor amusement park, studio, beauty salon, and birthday celebration hall are also available. Additionally, the complex has a hypermarket, food court, and a cinema complex with four theaters.
Address of Setareh Baran Shopping Center: Tabriz, Jihad Square (Halfway Point), opposite the Oil Company
Tabriz Airport
The Tabriz Airport holds immense significance due to its unique location in the region. The Shahid Madani International Airport in Tabriz stands out as one of the most active airports in the country, accommodating numerous international flights. For convenience, taxis are readily available outside the airport gate 24/7. If you're familiar with the layout of Tabriz, you can opt to use the local buses for transportation.
Travel Guide to Tabriz
Before setting off on your journey to Tabriz, it's essential to familiarize yourself with some pivotal travel guide points. With knowledge of the best travel times to Tabriz and choosing the most suitable travel method – be it by plane, train, bus, or personal car – you can ensure a serene, worry-free trip.
Traveling to Tabriz by Plane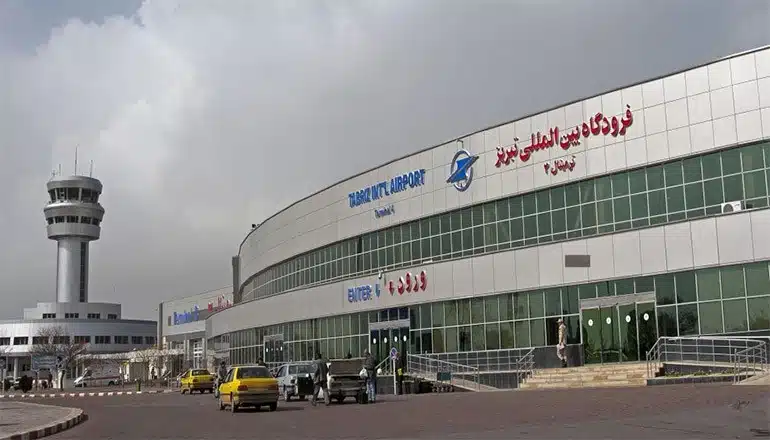 Air travel stands as the quickest, most comfortable, yet priciest mode of transportation. For instance, if you're traveling from southern cities to Tabriz, relying on road transport might take days, which might not be appealing to many. In contrast, airplanes ensure you reach your destination in the shortest time without any fatigue.
Tabriz Airport
mphasizing its significance, Tabriz Airport due to its strategic position, is crucial to the region. The Shahid Madani International Airport in Tabriz is among the country's busiest airports, facilitating a considerable number of international flights. Airport taxis are available round the clock, stationed right outside the airport gate, ready to serve passengers. For those familiar with Tabriz's layout, buses are also a viable transportation option.
Traveling to Tabriz by Train Traveling by train has always been one of the safest and most popular modes of transportation. The advantages of train travel include the affordability of the ticket price compared to flying, comfort, and the opportunity to observe the scenic landscapes along the way. Train journeys often attract a large number of travelers. Therefore, it's a wise decision not to delay booking your train ticket until the last minute. Instead, confidently reserve your ticket through OrientTrips at www.OrientTrips.com.
Traveling to Tabriz by Bus
Opting for a bus is the most economical but lengthier method of reaching Tabriz. The convenience of bus travel lies in its availability, with several buses serving most major cities on any given day. However, if your aim is to get to Tabriz in a shorter span of time, choosing an airplane or train would be a better option.
Traveling to Tabriz by Personal Car
If you're journeying to Tabriz by personal car, you'll have the dual advantage of reaching your destination while also enjoying the sights of various towns along the route. If it's your first trip to Tabriz, it's recommended to familiarize yourself with the routes before you commence your journey. And should you face any issues along the way, don't hesitate to seek assistance from the local residents.
Best Hotels in Tabriz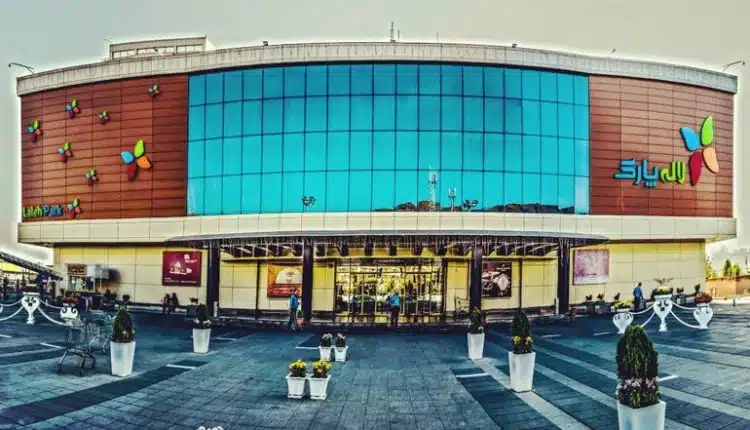 There are numerous hotels in Tabriz, each offering a variety of services and amenities. Before booking a hotel for your trip to Tabriz, let's introduce you to some of the best ones:
Laleh Park Hotel, Tabriz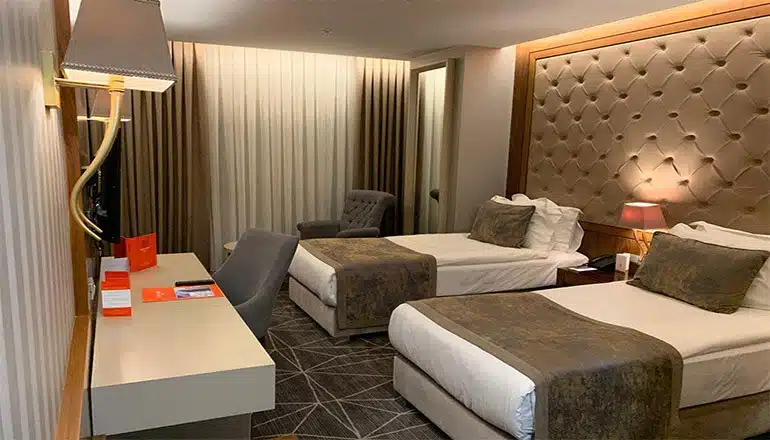 The five-star Laleh Park Hotel stands out as one of the most luxurious accommodations in Tabriz. The quality of services and amenities at this hotel meet international standards, making it one of the top choices for travelers to the city. Laleh Park Hotel is part of the Kaya hotel chain from Turkey and began its operations in Tabriz in 2016. This opulent tower, built over 17 floors, boasts 220 luxurious rooms equipped with exceptional amenities. The hotel enjoys a serene and picturesque location within the city. Address: Laleh Park Hotel, Shahid Fahmideh Square, Pasdaran Highway, Tabriz.
Pars El Goli Hotel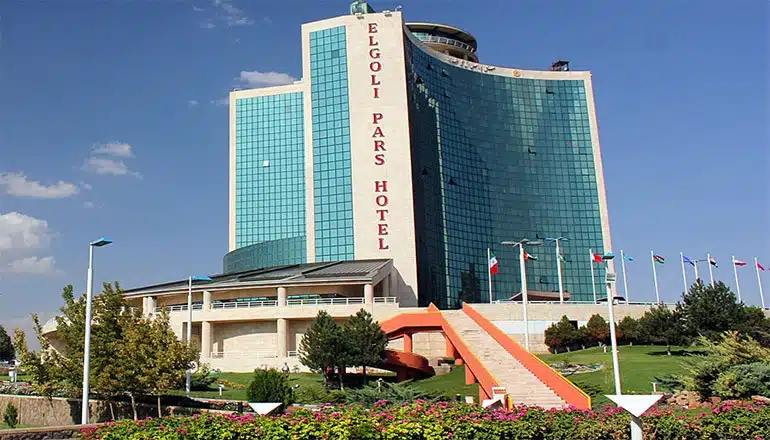 The five-star Pars El Goli Hotel is exquisitely situated atop the city of Tabriz. The hotel started its operations in 2001 and is a short distance from the renowned El Goli Park. Its modern architecture spans 17 floors, housing 178 luxurious rooms and suites with top-notch amenities. The hotel's location offers easy access to attractions in Tabriz, such as the Ainali cable car, Nikdel house, and the Measurement Museum. Address: Pars El Goli Hotel, El Goli Road, overlooking El Goli Park, Tabriz.
Laleh Kandovan Rocky Hotel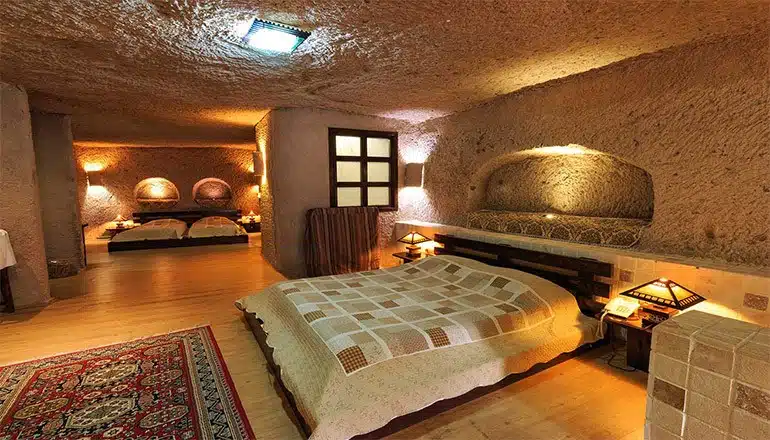 The five-star Laleh Kandovan Hotel is considered one of the three rock-carved hotels in the world. This establishment, built with a traditional texture, is located in the beautiful village of Kandovan. It holds the prestige of being the first boutique hotel in Iran and the third rock-carved hotel globally. Laleh International Hotel has been operational since 2006 and boasts 40 carved suites and rooms.
Situated about an hour away from Tabriz city, you can book a stay in Laleh Kandovan through the website OrientTrips at www.OrientTrips.com and experience lodging in one of Iran's picturesque villages.
Address: Tabriz, Esco, Historical Village of Kandovan.
Shahriyar Hotel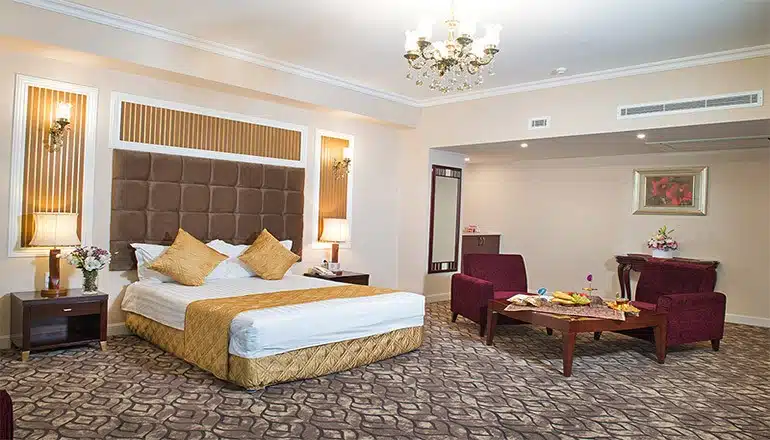 Inaugurated in 2006 and renovated in 2016 to enhance its luxury offerings, the five-star Shahriyar Hotel ranks among the finest in Tabriz. Spanning ten floors, the hotel features 202 luxurious rooms and suites. It's strategically located on the renowned El Goli Street. This prime location offers easy access to most of Tabriz's tourist attractions, including El Goli Park, Alishah's Ark, the traditional Tabriz bazaar, Poets' Mausoleum, Qajar Museum, Kabood Mosque, and more.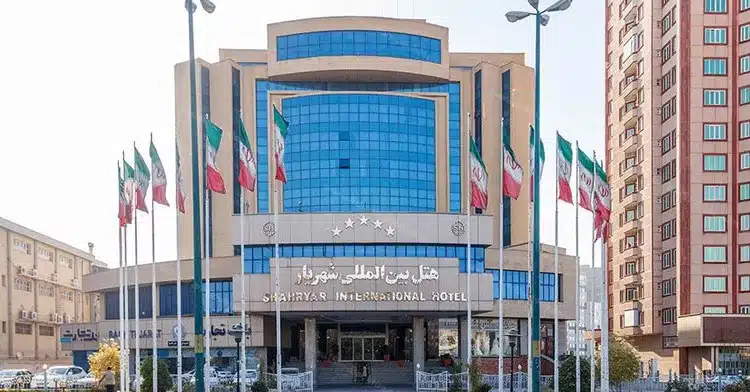 Address: Tabriz, Rajaee Shahr, Shahid Bakri Boulevard.
Tabriz International Hotel
The four-star Tabriz International Hotel is one of the oldest hotels in Tabriz. Established in 1972 on Imam Khomeini Street in the city center, this hotel stands out with its unique and beautiful exterior. Despite its age, the hotel underwent renovations in 2016 to uplift its service quality.
Address: Tabriz, Imam Khomeini Street, University Roundabout, Tabriz International Hotel.
In addition to these, Tabriz boasts other commendable accommodation options. Shahriyar Hotel in Tabriz and various apartment hotels in the city are worth considering for your stay.
Souvenirs of Tabriz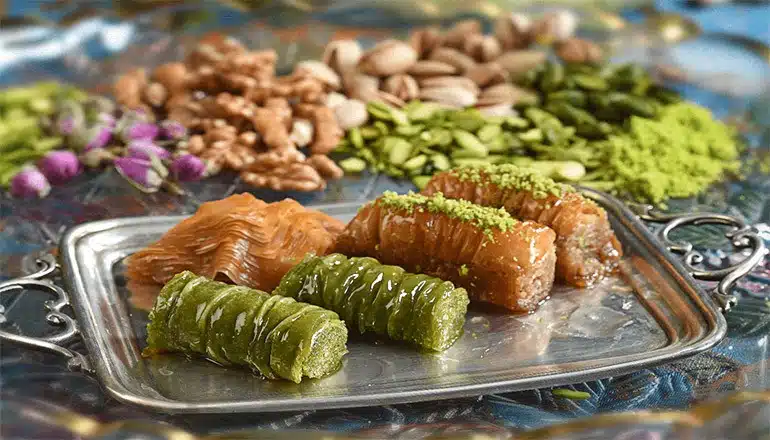 Every city has its unique souvenirs, and Tabriz, one of the historical and traditional cities of Iran, offers a plethora of choices to suit every taste and preference. Considering the ancient history of this city and the prevalence of many traditional Iranian crafts, handicrafts stand out as the most significant souvenirs of Tabriz. Depending on your budget, you can select the perfect keepsake for yourself. Some of the renowned handicrafts from Tabriz include hand-woven carpets, Tabriz leather, engraving (Ghalamzani), pottery and ceramics, Verneh weaving (Soumak), rug weaving (Gelim), silver crafting, wood carving, and block printing (Batik).
Furthermore, various sweets also rank high as beloved souvenirs from Tabriz. So, if you're planning a trip to Tabriz, make sure to visit its confectioneries. Let's delve into some of the traditional handicrafts and famous sweets of Tabriz.
Nougat (Nouqa)
The most famous sweet from Tabriz is the nougat, locally known as 'Louqa.' Interestingly, this delightful and delicious sweet has international fame. You might be intrigued to know that in 2016, Android version 7 was named in honor of this enticing sweet. The nougat is fundamentally a Middle Eastern delicacy, consumed in Arab countries, Iran, and Southern Europe. Nouqa can be likened to a cousin of Gaz (a Persian sweet). Both sweets have egg whites and nuts as their primary ingredients. The traditional nougat of Tabriz primarily features walnuts. Other variants include mixed nuts nougat. The confectioneries Karimi and Tashrifat in Tabriz are renowned for their nougat. You can locate branches of these confectioneries in Abresan and El-Goli streets. Other notable mentions include Eftekhari confectionery on Mansour street and the nougats of Tabriz's bazaar.
Ghottab (Qottab)
Ghottab is another popular souvenir from Tabriz, mainly made of egg whites, sugar, and pistachios. It's also made in other cities like Zanjan and Maragheh. This sweet enjoys a significant fan base in Turkey and Greece. In Tabriz, it's mostly consumed during gatherings and wedding ceremonies. Relatively pricier than other sweets, its main ingredients are sugar, egg whites, and almonds. The Tashrifat confectionery on Abresan street and the Rex confectionery on Shahda street are well-known for their high-quality Ghottab.
Baslogh
It's unlikely that as an Iranian, you're unfamiliar with Baslogh. The Baslogh made in Tabriz is among the most famous in Iran, typically known as a signature souvenir from this city. Its primary ingredients include starch, sugar, and assorted nuts. Baslogh is a traditional sweet of Tabriz, predominantly consumed during the Nowruz (Iranian New Year) festivities.
Baklava
Who can resist the allure of Baklava? Certainly not many of us, especially among Iranians and Turks. Of course, you might be aware that locals in Yazd and Kashan also boast a unique Baklava variant with a distinct texture and composition compared to the Turkish version. The Turkish Baklava you'll encounter in Tabriz is made from thin pastry soaked in sugar syrup. It's primarily crafted in Turkey and cities in Azerbaijan. If you visit Tabriz, do not miss out on Baklava. For the finest Tabrizi Baklava, head to Jam-e-Jam on Jam-e-Jam street or Shirouneh confectionery in Baghmishe.
Kadaif Baklava
The Kadaif Baklava is a favorite dessert in Turkey, but its allure doesn't end there. It also holds a cherished position among the traditional sweets of Tabriz. This captivating pastry is made from unique thin strands combined with clarified butter, sweet syrup, and rose water. The filling of the Kadaif is a creamy concoction that offers a cheesy flavor, often made from a special kind of cream. Interestingly, mozzarella cheese is used in its Turkish version. If you're craving for this, be sure to visit the Karimi confectioneries located on Valiasr, Elgoli, and Abrasan streets.
Halva Bazarak
The Halva Bazarak is a Tabrizi dessert, which can also be found in Maragheh. This nourishing black dessert is made from seeds known as "Bazarak black". However, the Maragheh variant is slightly different as it's made with grape syrup or "doushab". It is believed to have numerous health benefits and is particularly invigorating. Alongside confectioneries, it's available in traditional medicine stores in Tabriz.
Tabrizi Almond Sweets
The Almond Sweet is among the most traditional pastries of Tabriz. You might also come across it being referred to as Bairam pastry, which translates to a festive or celebratory dessert in Turkish. Hence, it's often enjoyed during celebrations. The almond sweet can be made with various nuts and is quite simple to prepare – a mixture of your chosen nut with sweet syrup. The Karimi confectionery on Abrasan, Valiasr, and Elgoli streets is the place to get high-quality Tabrizi almond sweets.
Rosary Chocolate (Shokolat Tasbih)
The intriguing shape of this chocolate, resembling prayer beads, led to its name – Rosary Chocolate. Made primarily from milk and sugar, this delightful treat is one of the renowned souvenirs from Tabriz. Don't miss out on this when visiting the city!
Aris
Similar to the Rosary Chocolate, Aris is crafted from the basic ingredients of milk and sugar. This simple-to-make sweet has garnered quite a fanbase in Tabriz. There are diverse variants of Aris, ranging in flavors from cocoa to saffron, and some with different nuts. For the best Aris experience, I highly recommend visiting the Eftekhari confectionery on Mansour street.
Finger Twist Pastry
One can find the Finger Twist pastry in Hamedan and many other cities of Iran. The primary ingredient of this treat is egg white. However, the story of Finger Twist in Tabriz is a different tale altogether. This dessert is incredibly popular in Tabriz and is considered a special treat during the Nowruz festivities.
Of course, Tabriz's delicacies don't stop there. Many other well-known pastries probably sound familiar to you, such as Rahat-al-hulqum (Turkish delight), ginger halwa, Latifeh pastry, and Chorutmeh.
Tabriz Cheese
If you thought edible souvenirs from Tabriz were limited to pastries, you'd be quite mistaken! Apart from delicious sweets, Tabriz offers other captivating delicacies. Take the Tabriz cheese, for instance. It's hard to find someone in Iran who hasn't heard of it. Its quality and taste are so delightful that it's become a staple on Iranian breakfast tables. So, if you ever find yourself in Tabriz, remember to purchase the authentic Tabriz cheese. It's sure to bring joy to many!
Tabriz Honey
In general, one of the most renowned souvenirs from Azerbaijan is honey. Due to its high quality and unique taste, Azerbaijani honey has garnered numerous fans both in Iran and across the globe. Eastern Azerbaijan alone contributes to 15% of the country's total honey production. The gardens of Tabriz and its surrounding towns provide an ideal environment for honey production. So, remember to add honey to your must-buy list when in Tabriz.
Rose Jam
You might think that rose petal jam is exclusive to Kashan and can only be found there. But that's where you're mistaken! The rose jam of Tabriz, or as locals call it, "Qizil Gul" jam, is very renowned and delicious. They prepare the jam using their distinct methods, which gives it a unique and pleasant taste. I recommend trying the rose jam of this beautiful city when you visit Tabriz.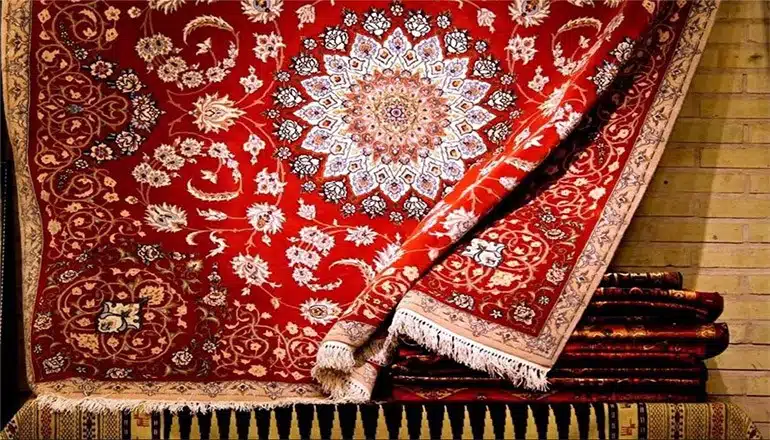 Tabriz Leather
Tabriz leather needs no introduction, given its fame. The history of leather production in Tabriz can be traced back to the early livestock farmers of the Caucasus region. Tabriz stands as one of the pioneering cities in leather production in Iran. The quality of the leather products from Tabriz is so well-known that they are confidently considered world-class. The global reputation of Tabriz leather products arises from their high quality, durability, and unmatched flexibility. Leather crafts, along with other leather derivatives like varnishes, are among the souvenirs you should seriously consider purchasing.
Tabriz: The City of Art and History
Tabriz is a city of art and history. Throughout various periods in Iranian history, it has served as the capital. Eras under the governance of Atabegs, Ilkhanates, Khwarezmians, Jalayirids, Aq Qoyunlu, Qara Qoyunlu, and Safavids saw kings choosing Tabriz as their capital. The rich historical background of Tabriz has enriched its cultural heritage. Hence, the handicrafts of Tabriz, much like those of Isfahan, hold a special place in Iranian art. Marquetry, metal inlaying, pottery and ceramics, needlework, carpet weaving, inlaid work, rug weaving, and painting are just glimpses of Tabriz's renowned crafts, which are on par with similar crafts in Isfahan.
Traditional Foods of Tabriz
In the city of Tabriz, numerous traditional dishes await the palates of discerning travelers. Without a doubt, after just one experience, you'll be smitten by the rich aroma and flavors of Tabriz's indigenous foods. These local dishes, characterized by their vibrant colors and sumptuous taste, are emblematic of the city's authenticity. Most Iranians are familiar with the traditional dishes of Tabriz, and each trip to the city beckons them to sample the tantalizing flavors.
Now, let's journey with SURFIRAN magazine into the Tabrizi kitchen and explore some of these iconic dishes:
Koofteh Tabrizi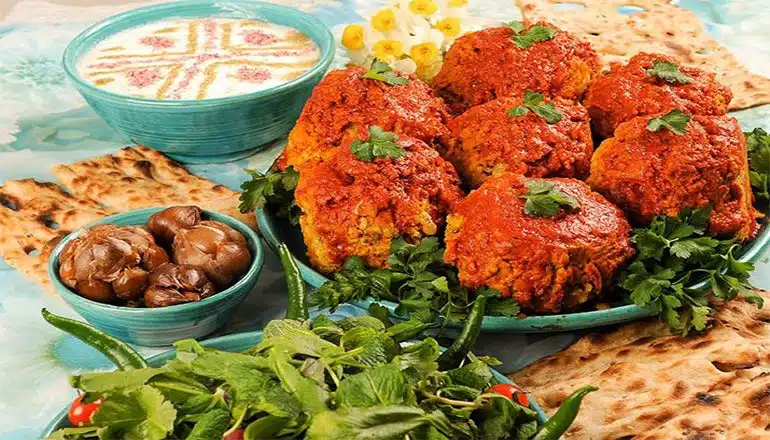 The Most Famous Dish of Tabriz When discussing the food of Tabriz, how can one forget the exciting sight of a Koofteh Tabrizi placed in a bowl full of sauce accompanied by herbs? Crafting this dish is an art form, requiring skillful hands to shape each meatball. In earlier times, meat was ground in a mortar, but nowadays, thanks to the availability of minced meat, this method has become rare. Minced meat, onions, fragrant herbs, rice, and mashed yellow split peas make up the main ingredients for this unparalleled dish. Inside each meatball, you'll find prunes, walnuts, sautéed onions, barberries, and usually a boiled egg. A delicious sauce made from tomato paste, saffron, and water is prepared, and the meatballs are simmered in it. While the koofteh is delectable on its own, savoring it with yogurt, pickles, and fresh herbs doubles the delight. There are several good restaurants in the city, like Vahid Restaurant, Gazmak Restaurant, Shahsawari, and Barkeh Restaurant, serving this dish. However, our top recommendation would be Barkeh Restaurant, a traditional place featuring a pond and a soothing green ambiance, where, alongside its renowned kebabs, they serve an unforgettable Koofteh Tabrizi.
Dolmeh Barg-e Mo
A Delightful Addition to Any Feast Though the grape leaves stuffed dish, also known as Yarpaq Dolmasi, is registered on UNESCO's Intangible Cultural Heritage list under Azerbaijan's name, it still stands as a staple among Tabriz's traditional dishes. From Tabrizi kitchens come bite-sized and neatly wrapped dolmehs. Ingredients like minced meat, sautéed onions, mashed yellow split peas, rice, and aromatic herbs are sautéed together. The grape leaves are briefly blanched, filled with a spoonful of the mixture, and folded into compact parcels. If you're keen to try this in a Tabriz restaurant, check out Kam Restaurant. Their Iranian menu also boasts a carrot stew (Khoresh Havij). Another option is Karma Restaurant, which serves a variety of Iranian dishes, with their grape leaf dolmeh shining like a gem. They also offer Koofteh Tabrizi on their menu.
Khoresh Havij
A Dish That Beautifies Any Meal One of the delightful stews that Tabriz claims as its own is Khoresh Havij or carrot stew. Forget any preconceived notions of cooked carrots; this dish is usually made with meat, although chicken can also be used. Thin, elegant strips of carrot are sautéed and then combined with the sautéed meat or chicken, thickened with tomato paste. Prunes, saffron, and lemon juice are added to give the stew its unique sweet and sour flavor. During your visit to Tabriz, head to Gazmak Restaurant to taste one of the most delicious Khoresh Havij in the city. It's one of the best restaurants in Tabriz, and it's worth browsing through their extensive menu. Catering Dorhami is another Tabriz restaurant offering Khoresh Havij, and their traditional Abgoosht (a meat and bean stew) is a must-try too.
Aash-e-Mast
When discussing Iranian soups, Aash-e-Mast from Tabriz deserves a mention. Prepared with minced meat, onions, and corn flour, this dish boasts bite-sized meatballs. Add to this mixture lentils, beans, rice, potatoes, and carrots, all boiled in meat broth. The soup's herbs are introduced next, allowed to simmer and blend. Yogurt is added right before serving, resulting in an exhilarating and delectable soup.
Doymaj
For those who love variety on their table and are always seeking new appetizers, snacks, or bite-sized dishes, Tabriz offers a delightful option: Doymaj. Start by assembling Tabriz cheese, walnuts, water or yogurt drink (doogh), fragrant herbs, green onions, and dried bread. Crumble the cheese, chop the walnuts, sprinkle the herbs, and crush dried Lavash bread or Tabrizi bread in a dish. Drizzle some doogh over it and mix them all together. For an expert touch, mold this mixture into shapes resembling small meatballs. Garnish with walnut pieces and fresh herbs. If you're invited to a party while traveling in Tabriz, there's a high chance you'll be pleasantly surprised with a tray full of Doymaj.
Qarni Yarikh
Another dish frequently encountered in the kitchens of Tabriz is Qarni Yarikh or "stuffed eggplants." The sauce for this dish is made with garlic, sautéed onions, minced meat, tomatoes, tomato paste, and parsley. The eggplants are halved and shallow fried. Their centers are then filled with the sauce. After about half an hour on low heat, the flavors meld, rendering a unique and rich taste.
Aash-e-Miveh
For those who are fond of sour soups, Aash-e-Miveh will be an instant favorite. Imagine a combination of prunes, cherries, barberries, and turmeric. Add to this chickpeas, beans, soup herbs, carrots, and tomatoes. Crispy meat is prepared separately. For an added tang, some vinegar is also mixed in.
Qorma Shorbaasi: Tabriz's Special Broth
The people of Tabriz have a special kind of stew known as Qorma Shorbaasi. To prepare this flavorful dish, one needs to cook neck meat and legumes, then add tomato paste, potatoes, salt, and turmeric. Towards the end, leek and eggs are introduced. Paired with hot bread, a bowl of pickles, and, of course, fresh herbs, it promises a memorable meal.
For a delicious bowl of Dizi in Tabriz, one can visit the Mohammad's Aabgoosht Tavakobabi. Though a small and cozy restaurant, if you prioritize food quality, you will leave satisfied. Mohammad's Aabgoosht is located on the famous Tarbiat Street.
Culture and Traditions of Tabriz
Every city has its own unique customs, but some cities are so ancient that discussing their traditions can never truly do them justice. Tabriz is one such city. Beyond its captivating sites and attractions, the culture and traditions of Tabriz, such as the Azerbaijani dance, "Beyl Baghlamaq" (the ritual of fastening the bride's belt on her wedding day), and the preparation of "Samanu" for Nowruz, are considered attractions in their own right that intrigue tourists. In this section, we will delve deeper into some of these traditions to provide a clearer picture of what we're discussing.
Aashiq-Khani (Ashik Performance)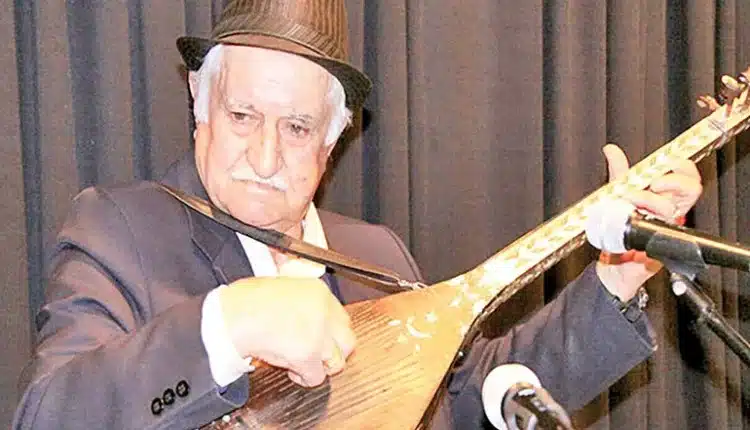 In the Turkish language, "Aashiq" or "Ashik" refers to a mystic minstrel or singer who, while playing an instrument, also sings. Aashiq-Khani is a segment of Iranian folklore music in Azerbaijan and an integral part of the culture and customs of Tabriz. Essentially, Aashiq-Khani is an auditory tradition through which authentic local music, dating back centuries, is brought vividly into the present.
Aashiq-Khani combines epic poems with mystical life concepts and is often performed impromptu. The music typically involves three primary instruments: the "Balaban," "Qaval," and "Saz." Listening to these instruments, combined with the voice of the Aashiq, creates a mesmerizing ambiance, and serves as one of the most captivating ways to transmit the oral literature and culture of the city's inhabitants.
Bayram Payi (Holiday Offering)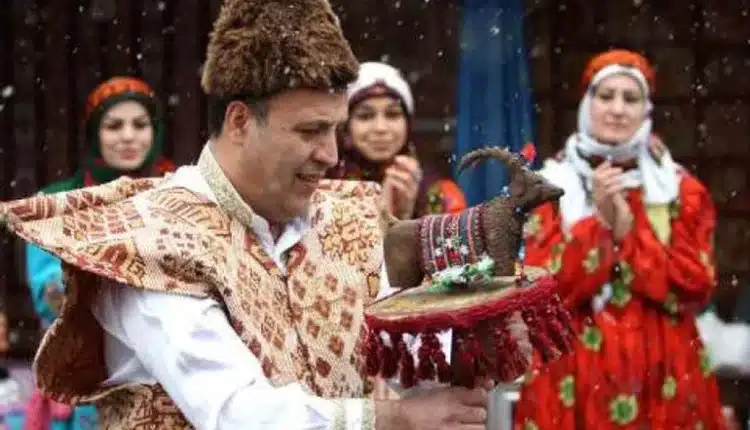 Another tradition of Tabriz is the "Bayram Payi", especially for newlyweds. In Turkish, "Bayram Payi" means "holiday share." In this ceremony, the bride's family prepares local dishes, sweets, chocolates, and various other gifts, which are beautifully arranged on a copper tray. This tray is then sent as a New Year's greeting to the house of the bride who has married within the year. Local delicacies on this tray often include herb-filled frittata (Kuku Sabzi), chicken, fish, stew with split peas (Qeymeh), and rice. While this custom is gradually fading, there are still those who diligently observe it.
Tekm-Gardani (Spinning Top)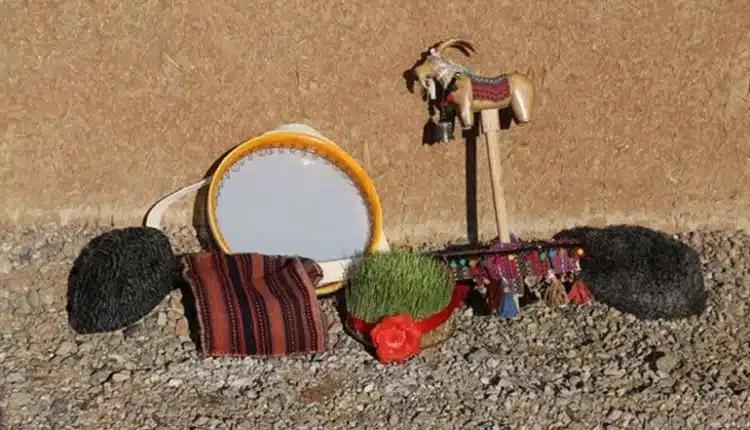 Tekm-Gardani, also known as "Buzcharani," is one of the traditional ceremonies of Tabriz marking the onset of spring. During this event, a performer, referred to as a puppeteer, tours the city with a puppet, a bell-footed goat, and wearing local attire. Through puppet shows, narration, songs, and performances, the puppeteer announces the arrival and joyful atmosphere of spring to the residents.
Important Neighborhoods and Streets of Tabriz
Every city has several streets and neighborhoods that, due to their location, facilities, or numerous tourist attractions, experience more traffic and are well-known among the city's residents. As you wander through the neighborhoods of Tabriz, you will notice that some streets and areas are more frequently mentioned than others. In this segment of our travel guide to Tabriz, we will introduce you to some of these key areas and streets.
Tabriz's Tarbiat Street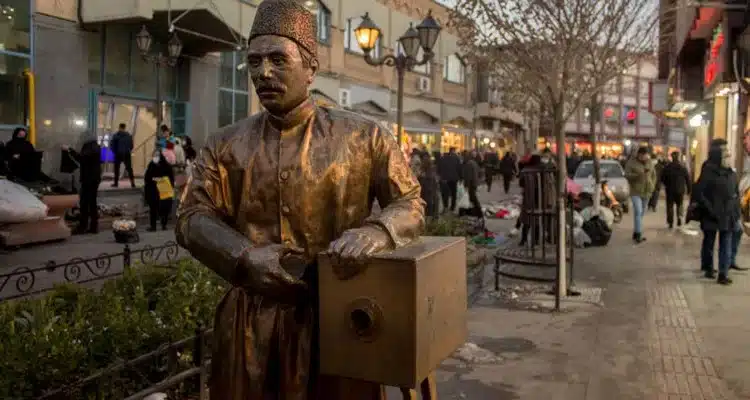 Tarbiat Street in Tabriz is one of the most famous and oldest major streets in the city, boasting two significant characteristics. Historically, this street is of great importance as it once served as the Silk Road passage. Moreover, it connects two major areas of Tabriz, namely Saat Square and the Bazaar. Tarbiat Street is a cobblestone pathway adorned with landscaped gardens, shopping centers, decorative sculptures, traditional restaurants, and historical attractions, making it a popular choice among tourists.
Shariati Street (Formerly Shahnaz Street) of Tabriz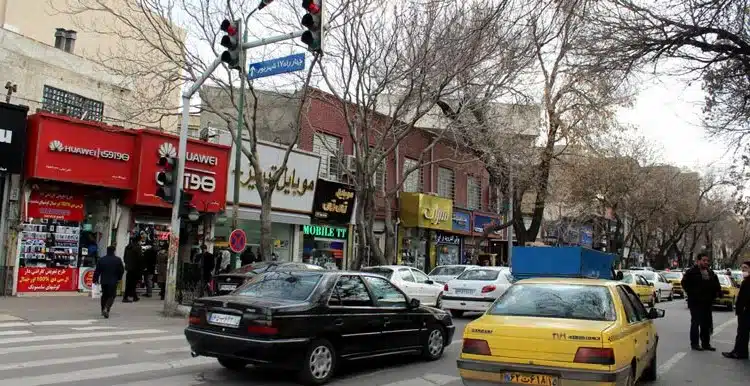 Many long-time residents of Tabriz still refer to Shariati Street as Shahnaz Street. It is one of the busiest areas in the city. Originally named after Mohammad Reza Pahlavi's daughter, Shahnaz Pahlavi, during the Pahlavi regime, its name was later changed to Shariati Street. Along Shariati Street, one can find numerous churches, cinemas, administrative centers, and educational institutions. If you delve into its surrounding alleys, you will see that they have retained their old-world charm, with ancient buildings catching the eye.
Valiasr Neighborhood of Tabriz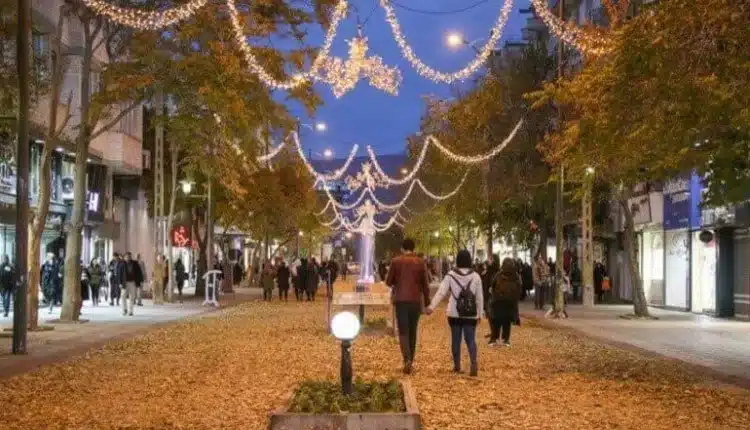 The Valiasr neighborhood is among the more upscale areas in Tabriz, consisting of several distinct streets and regions. One section of Valiasr Street, known for its spectacular lighting and paved ground, has transformed into one of Tabriz's most bustling streets, colloquially referred to as "Shanzelize" by locals. Another part, the Valiasr Square, has become a primary shopping hub due to its abundance of retail centers. The area offers ample amenities such as shopping malls, restaurants, and entertainment centers.
Abresan Intersection in Tabriz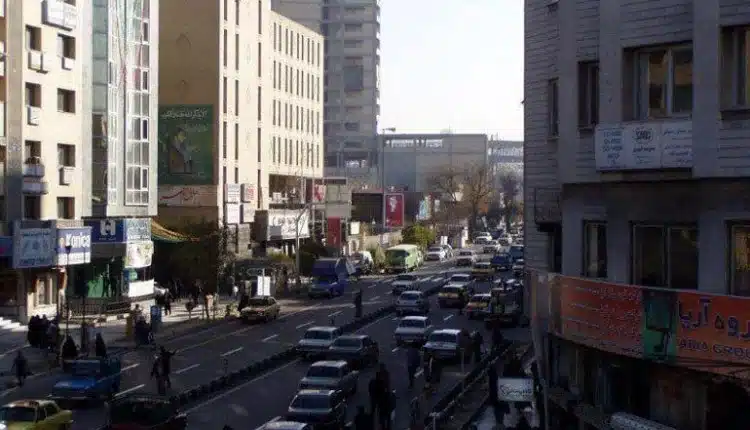 Abresan is one of the most central neighborhoods in Tabriz, located in the heart of the city. Historically, water piping to the northern parts of Tehran began from this street, giving rise to its name, which translates to "Water Carrier." Abresan Intersection is one of the city's main hubs, bustling with shopping centers, renowned bakeries, restaurants, and more.
Continue on your journey through Tabriz, and you'll uncover many more gems in this historical and culturally rich city. Whether you're admiring the intricate architecture, sampling local delicacies, or engaging with the welcoming locals, Tabriz promises an unforgettable experience.
Interesting Facts About Tabriz You Should Know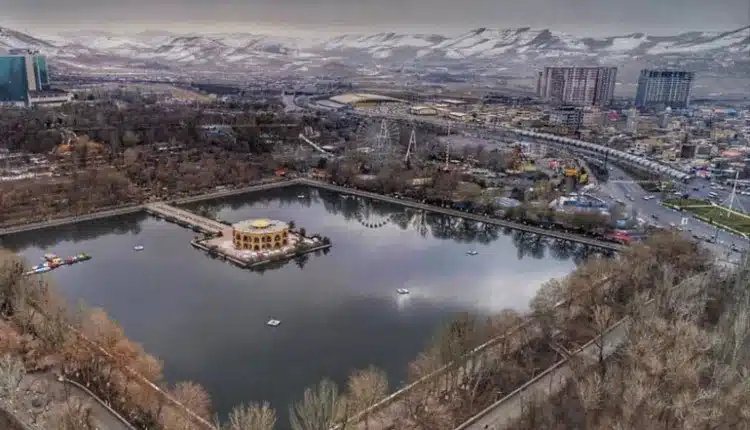 Every city has its unique features, but Tabriz, the capital of East Azerbaijan province in Iran, boasts an abundance of distinctive qualities that make it a captivating destination for travelers. Tabriz has earned a multitude of titles over the years, and each carries a specific significance. Did you know that many refer to Tabriz as the "City of Firsts"?
The Inauguration of Iran's First Tram Line in Tabriz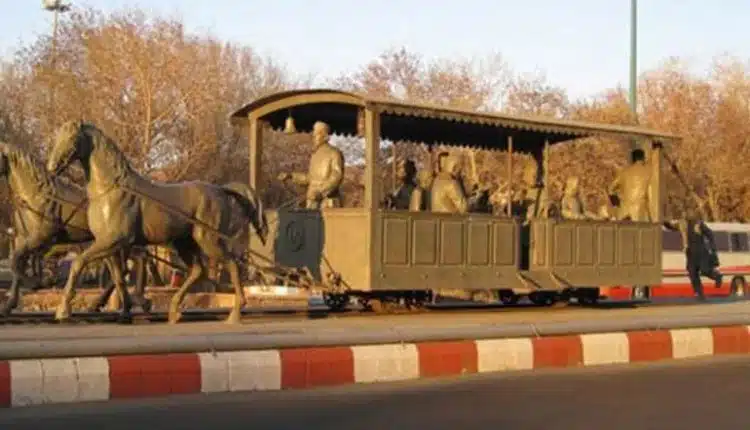 Tabriz can proudly claim the distinction of being the first city in Iran to introduce a tram system. In 1901 (1280 in the Persian calendar), under the leadership of Mayor Qasem Khan Vali, Tabriz launched the first tramline in the country. Initially known as "Qonqa," or tram, this mode of transportation transformed the city's public transit system. Tabriz became the pioneer in modern urban transportation in Iran.
The Leading Tourist Destination in Islamic Countries in 2018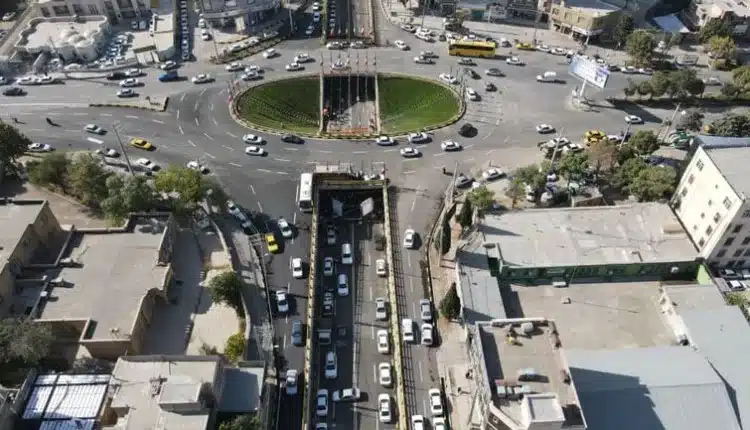 In recognition of its burgeoning tourism industry, Tabriz was selected as the "Leading Tourist Destination in Islamic Countries" in 2018 during the Meeting of Senior Experts of the Organization of Islamic Cooperation (OIC). This accolade was awarded based on various factors, including the growth of both domestic and international tourism, the development of infrastructure, the presence of historical and cultural treasures, and more. Tabriz's commitment to nurturing its tourism sector earned it this prestigious title.
The Chocolate Capital of Iran
East Azerbaijan province, where Tabriz is located, is responsible for approximately 50% of Iran's total production of sweets and chocolates. Tabriz, in particular, is renowned as the "Chocolate Capital of Iran." The city boasts an unparalleled diversity of traditional sweets and confections, reflecting its rich culinary heritage. Tabriz's confectionery industry continues to flourish, making it a delightful destination for anyone with a sweet tooth.
Tabriz, the World City of Carpet Weaving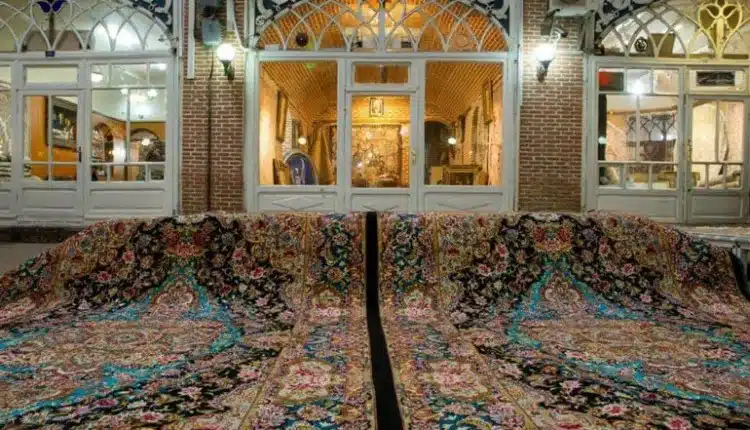 Recognized by the World Crafts Council, Tabriz holds the esteemed title of the "World City of Carpet Weaving." This designation is a testament to the city's longstanding tradition of crafting exquisite carpets. Tabriz carpets are celebrated for their exceptional quality and unique beauty, a rarity among carpets worldwide.
Conclusion
Tabriz is a city of many facets, each more captivating than the last. From its historical firsts to its recognition on the global stage for its sweets, confections, and carpets, Tabriz offers an array of experiences that are sure to leave a lasting impression on any traveler. Whether you're exploring its tramway history or indulging in its delicious chocolates, Tabriz is a city with a story waiting to be uncovered.
Frequently Asked Questions
What are the must-visit attractions in Tabriz?
Explore the UNESCO-listed Grand Bazaar, the world's largest covered market. Don't miss the Tabriz Historic Bazaar Complex, the Blue Mosque, and the Azerbaijan Museum. For a taste of history, visit the Arg of Tabriz and the El-Gölü Park.
What's the best time to visit Tabriz?
Tabriz welcomes travelers year-round, but spring (April to June) and autumn (September to November) offer pleasant weather and vibrant cultural festivals. Summers can be hot, and winters are cold, perfect for winter sports enthusiasts.
How can I get to Tabriz?
Tabriz has an international airport with regular flights. You can also reach Tabriz by train or bus from major cities in Iran. For cross-border travel, there are land border crossings with Turkey.
What is Tabriz famous for in terms of cuisine?
Tabriz boasts a unique culinary scene. Don't miss Tabrizi meatballs (Koofteh Tabrizi), delectable kebabs, and a variety of aromatic stews. Sweets and chocolates from Tabriz are renowned throughout Iran.
What are some unique souvenirs to buy in Tabriz?
Tabriz offers a range of distinctive souvenirs, including handmade Persian rugs, exquisite handicrafts, saffron, spices, and traditional ceramics. The Grand Bazaar is an excellent place to shop for these unique gifts.