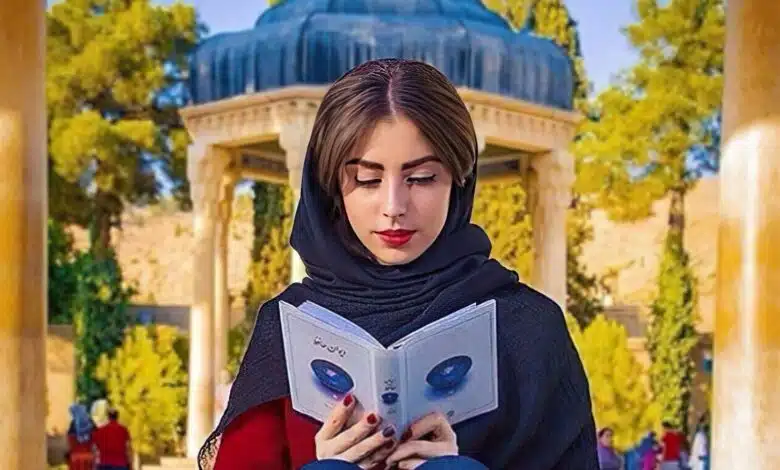 Welcome to Shiraz, a city that epitomizes the poetic soul and architectural splendor of ancient Persia. Nestled in the southwest of Iran, this city, presented by SURFIRAN, is a vibrant mosaic of history, culture, and art. Shiraz is revered as the City of Poets, Literature, Wine, and Flowers, and it rightfully earns this title through its rich heritage and stunning beauty.
As the birthplace of legendary poets like Hafez and Saadi, Shiraz invites visitors to explore its tranquil gardens and historical sites that resonate with the echoes of these literary giants. The city's architecture, a harmonious blend of Islamic and Persian influences, is showcased in landmarks like the Nasir-ol-Molk Mosque, renowned for its captivating stained glass that dances with colors in the morning light.
The city's charm extends to its lush Persian gardens. The Eram Garden, a UNESCO World Heritage site, is a testament to the exquisite Persian garden design, marrying natural and architectural elements in perfect harmony. These gardens are not just visually stunning but also offer a peaceful retreat from the bustling city life.
Shiraz is also a haven for food enthusiasts, offering a delightful culinary journey through traditional Persian cuisine. From the bustling local bazaars to quaint restaurants, every dish, infused with flavors like saffron and pomegranate, is a treat to the senses. Dishes like Kalam Polo and the refreshing Shirazi Salad are local favorites that you must try.
The city's vibrant bazaars, particularly the Vakil Bazaar, are a treasure trove of Persian crafts and art. Here, you can find exquisite handwoven carpets, intricate inlaid artworks, and a plethora of colorful handicrafts, each telling its own story of Persian culture.
In this guide, brought to you by SURFIRAN, we invite you to embark on a journey to Shiraz – a city where every corner is steeped in history and every street whispers tales of the past. For an in-depth exploration and to plan your visit, check out our detailed Shiraz Travel Guide on SURFIRAN. Join us on our Discover the Beauty of Persia in 15 Days tour for an immersive experience into the heart of Iranian culture and heritage.
Distance from Shiraz to Major Cities
One of the most important things to know before traveling to Shiraz is the approximate distance from your place of residence to this city. In this section, we have tried to summarize the distance from Shiraz to major cities in Iran so that you can plan your trip to Shiraz based on these distances.
Distance from Tehran to Shiraz: About 913 kilometers
Distance from Tabriz to Shiraz: About 1368 kilometers
Distance from Mashhad to Shiraz: About 1352 kilometers
Distance from Ahvaz to Shiraz: About 517 kilometers
Distance from Bandar Abbas to Shiraz: About 579 kilometers
Distance from Rasht to Shiraz: About 1111 kilometers
How to Get to Shiraz?
Reaching Shiraz, a city full of charm, offers various options. Once you decide to travel, the rest becomes easy. Given that Shiraz is one of Iran's most important tourist cities, it boasts a comprehensive intercity transportation network. You can travel to Shiraz by personal car, bus, airplane, or train, with no limitations from any part of the country.
Travel to Shiraz by Personal Car
If you're driving from Tehran to Shiraz and prefer to use your own car, be prepared for a long drive. However, traveling by personal car lets you pass through different cities, offering more opportunities to explore. Cities like Kashan and Isfahan, with their own attractions, are on your way. Ultimately, choosing to drive depends on your mood and the distance from your city to Shiraz.
Travel to Shiraz by Train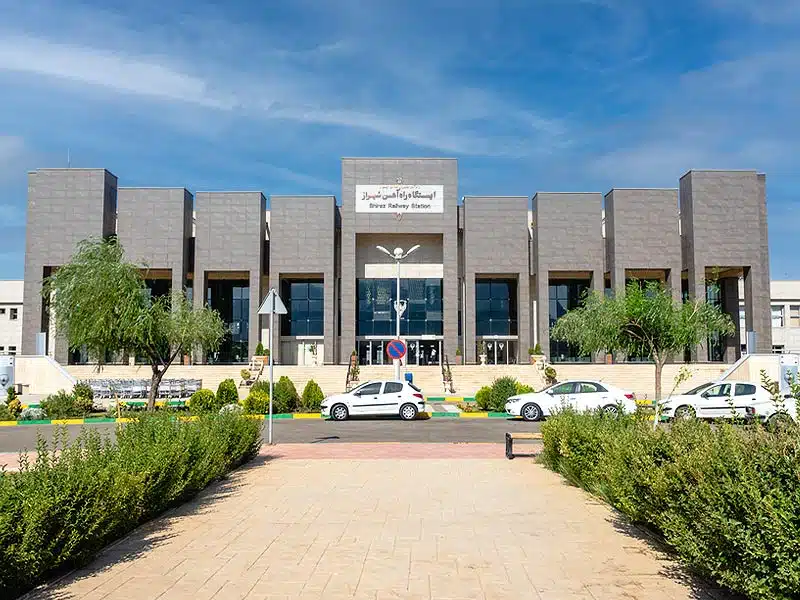 Train travel is also a popular and cost-effective option. Many enjoy the rhythmic sound of trains for their journey. Most major cities, including Isfahan, Tehran, Mashhad, and Tabriz, have train lines to Shiraz. The duration of your train journey depends on the type of train you choose, but generally, it takes about 15 hours from Tehran. You can book your train with OrientTrips.
Note: The distance from Shiraz railway station to Shiraz city center is about 35 minutes drive.
Travel to Shiraz by Bus
Bus travel to Shiraz is another economical option. Many travelers choose this method for its convenience. You can easily get direct bus tickets to Shiraz from most major cities, allowing you to board a bus from anywhere in Iran and head towards Shiraz.
The Shiraz Terminal is not only the largest passenger terminal in the city, but also one of the most important and busiest terminals in the country.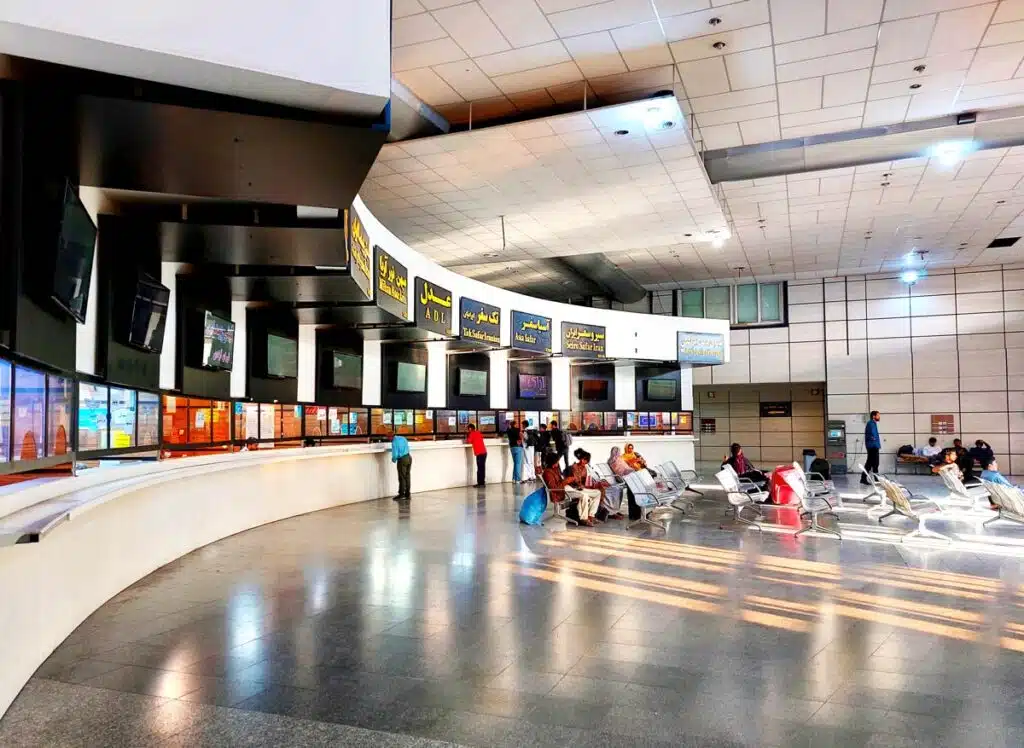 The Shiraz (Karandish) Terminal is well situated relative to the bus and metro stations. If you use public transportation, it's easy for you. The distance from Karandish Terminal in Shiraz to the bus and metro stations is very short. If you want to get to the Karandish Terminal in Shiraz quickly, take a taxi to the passenger terminal.
OrientTrips' online system is the best and most reliable way to buy bus tickets in Iran. OrientTrips, covering all terminals across the country and offering easy reservation in seconds without the need to physically go to the terminal, provides the ability to reserve bus tickets at any hour of the day or night.
Address of Shiraz Passenger Terminal: Eastern Saheli Street, Karandish Boulevard, Shiraz.
Travel to Shiraz by Airplane
Flying to Shiraz is undoubtedly one of the quickest and most comfortable ways to travel, although it is the most expensive. Most Iranian cities have direct flights to Shiraz with various airlines. A flight from Tehran to Shiraz approximately takes an hour and twenty minutes.
Shiraz International Airport (SYZ)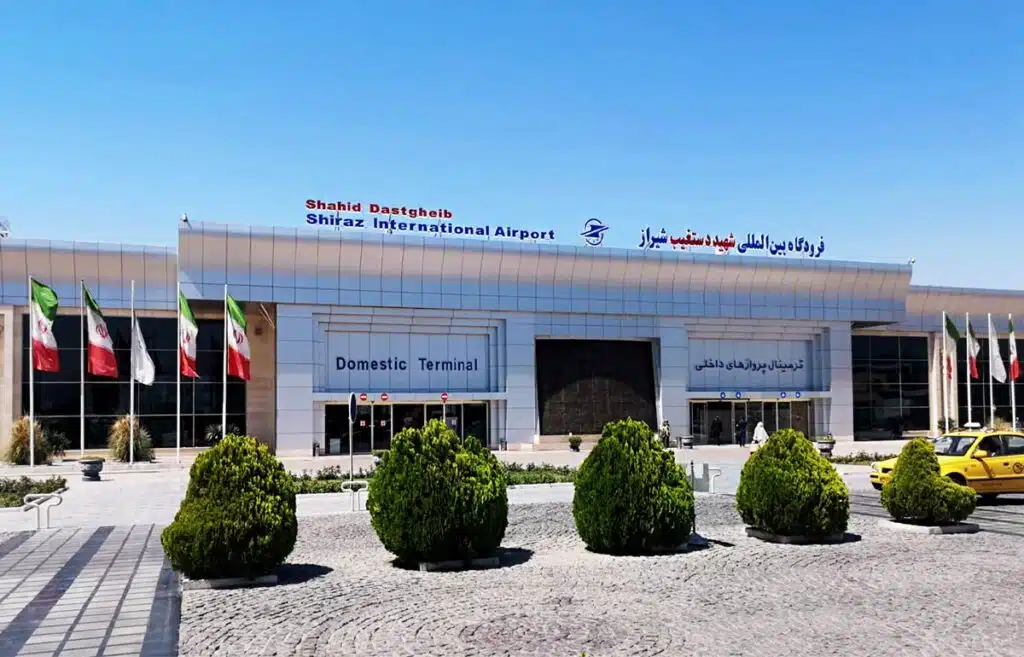 Shiraz's Shahid Dastgheib International Airport, second only to Tehran's Imam Khomeini International Airport in terms of facilities, is located in Shiraz. The airport has two terminals: Terminal One for domestic flights and Terminal Two for international flights.
Shiraz Airport offers amenities like car parking, CIP–VIP services, various booths, flight information, currency exchange counters, and special facilities for disabled passengers.
For access to Shiraz Airport, passengers can use Metro Line One at Shahid Dastgheib Metro Station or opt for other transportation means like buses and taxis.
Best Route to Shiraz from Tehran by Airplane, Train, and Bus
If you're starting from Tehran and choose to fly to Shiraz, your journey will take approximately one hour and ten minutes, not accounting for any flight delays.
The distance from Tehran to Shiraz, if you're driving a personal car from the capital's center, is around 910 kilometers. The travel time will be about 10 hours, not including any stops along the way.
Traveling to Shiraz by bus will also take around the same duration, excluding the time spent on breaks. To catch a bus from Tehran to Shiraz, you need to get to one of the bus terminals located in the West, South, or Beihaghi areas.
If you prefer to travel by train, it's important to know that this method will take you about 16 hours to reach Shiraz.
The Best Time to Visit Shiraz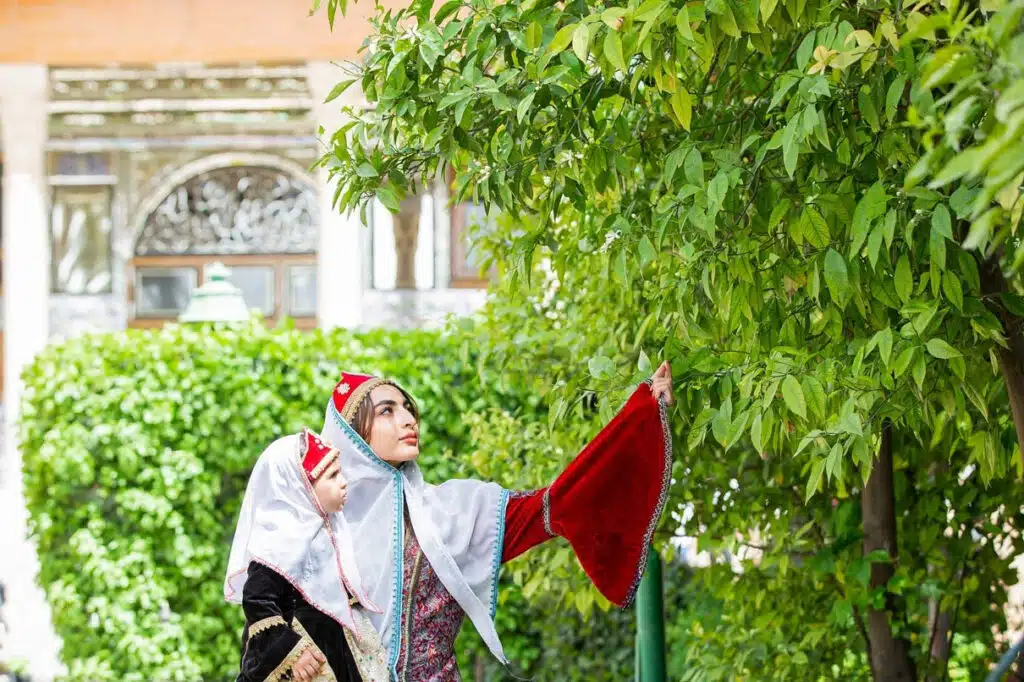 When planning a trip to Shiraz, timing is key to fully enjoying what this beautiful city has to offer. The best time to visit Shiraz is during the spring, specifically from late March to early May. During these months, the city is at its most vibrant, with pleasant temperatures and nature in full bloom. The famous Persian gardens, such as the Eram Garden, burst into a kaleidoscope of colors, offering an unforgettable visual feast.
Another great time to explore Shiraz is in the autumn, from September to early November. This season offers mild weather, making it comfortable for tourists to wander through the city's historical sites and bazaars without the intense heat of the summer. The reduced number of tourists during this period also means a more relaxed and intimate experience of the city's attractions.
It's worth noting that summer and winter in Shiraz present more extreme temperatures. Summers can be very hot, often reaching highs that might be uncomfortable for some travelers. Winters, on the other hand, are quite cold, although they offer the chance to experience the city's cultural sites and indoor museums in a quieter setting.
Here is an outline of the city's climate consistently:
Climate Data for Shiraz, Iran
| | | | |
| --- | --- | --- | --- |
| Month | Average High (°C) | Average Low (°C) | Precipitation (mm) |
| January | 11 | 0 | 79 |
| February | 13 | 1 | 61 |
| March | 17 | 5 | 58 |
| April | 23 | 10 | 35 |
| May | 30 | 15 | 6 |
| June | 36 | 20 | 1 |
| July | 38 | 22 | 0 |
| August | 37 | 21 | 0 |
| September | 33 | 17 | 0 |
| October | 27 | 11 | 8 |
| November | 19 | 6 | 23 |
| December | 13 | 2 | 67 |
Monthly climate averages for Shiraz, illustrating typical high and low temperatures and precipitation levels throughout the year. This information is useful for travelers planning their visit to the city.
Spring (Walk to May)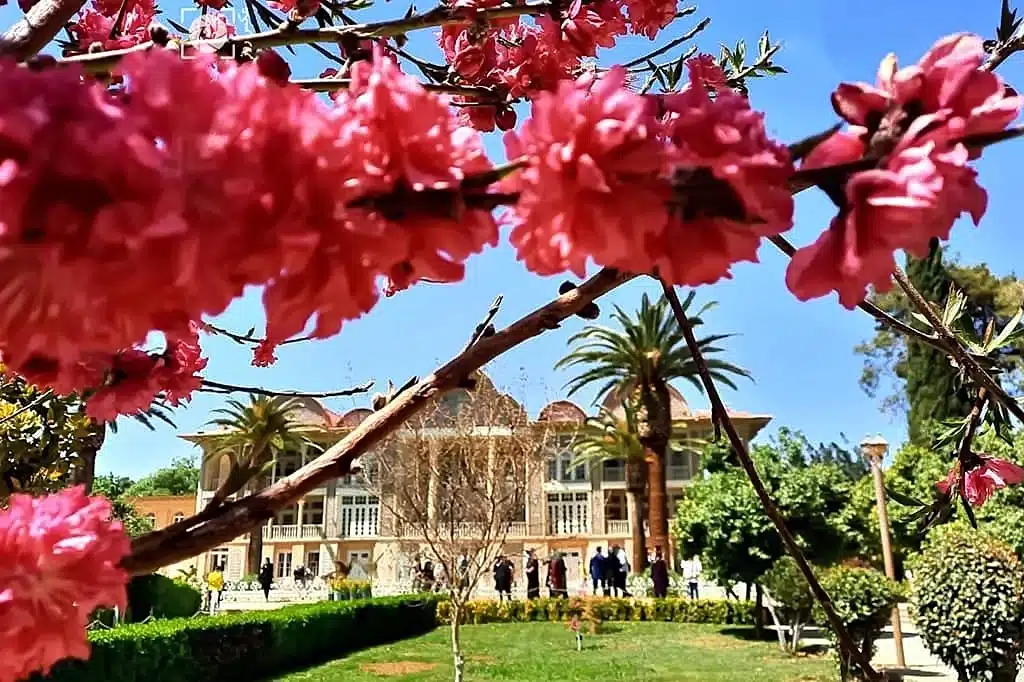 Spring is for the most part viewed as the best opportunity to visit Shiraz. The climate during this season is gentle and charming, with temperatures going from around 15°C to 25°C (59°F to 77°F). The city is enhanced with sprouting blossoms and lavish green nurseries, making it a pleasant opportunity to investigate the city's attractions and partake in the wonderful scenes.
Summer (June to August)
Summer in Shiraz can be very warm, with temperatures frequently taking off above 30°C (86°F) and at times coming to 40°C (104°F) or higher. It very well may be trying to investigate the city during the pinnacle of summer because of the serious intensity. Be that as it may, on the off chance that you wouldn't fret the intensity, this season offers less groups and the chance to encounter nearby life during Ramadan, the Islamic heavenly month of fasting.
Autumn (September to November)
Fall is one more ideal opportunity to visit Shiraz. The weather conditions begins to chill off, making touring more agreeable. Temperatures range from 15°C to 25°C (59°F to 77°F), the city's gardens stops actually offer energetic varieties and lovely outside encounters.
Winter (December to February)
Winter in Shiraz is generally gentle contrasted with numerous different districts in Iran. Temperatures range from 5°C to 15°C (41°F to 59°F). While it seldom snows in the city, the close by mountains might have some snowfall, making for a delightful setting. Winter can be a great time for spending plan voyagers as convenience and travel costs will generally be lower, and there are less sightseers.
Taking into account the lovely climate and sprouting gardens, the best opportunity to venture out to Shiraz is during spring (Walk to May) and fall (September to November). During these seasons, you can partake in the city's social attractions, investigate the antiquated destroys, and submerge yourself in the city's verse and artistic legacy without the outrageous temperatures of summer or the colder temperatures of winter.
Accommodation in Shiraz
Shiraz offers various hotels that take special care of various spending plans and inclinations. Here are a portion of the renowned lodgings in Shiraz.
Five-Star Hotels in Shiraz
If you plan to stay at the best and most famous hotels in Shiraz and budget is not a priority for you, our suggestion is the five-star hotels in Shiraz.
Zandiyeh 5-Star Hotel
*****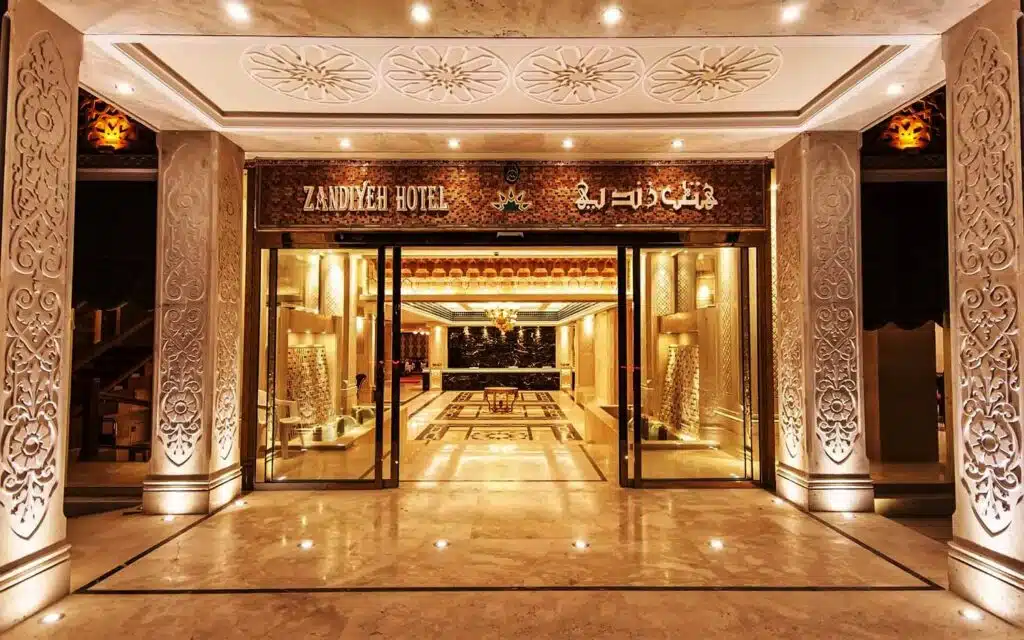 The Zandiyeh Hotel in Shiraz is a symbol of elegance and comfort, offering a perfect blend of traditional Persian architecture and modern amenities. This luxurious hotel, situated in the heart of Shiraz, provides easy access to the city's historical and cultural landmarks. The design of the hotel reflects the rich history of the Zand dynasty, with intricate tile works, magnificent courtyards, and classic Persian gardens. Each room and suite at Zandiyeh Hotel is a testament to luxury, equipped with state-of-the-art facilities, ensuring a comfortable and memorable stay for guests.
Visitors at Zandiyeh Hotel can indulge in a range of culinary experiences, from traditional Persian dishes to international cuisine, all prepared by skilled chefs. The hotel's restaurants and cafes provide an ambient setting for dining and socializing. Additionally, the hotel's spa and wellness center offer a tranquil space for relaxation and rejuvenation, complete with traditional Persian treatments.
Shiraz Grand Hotel
*****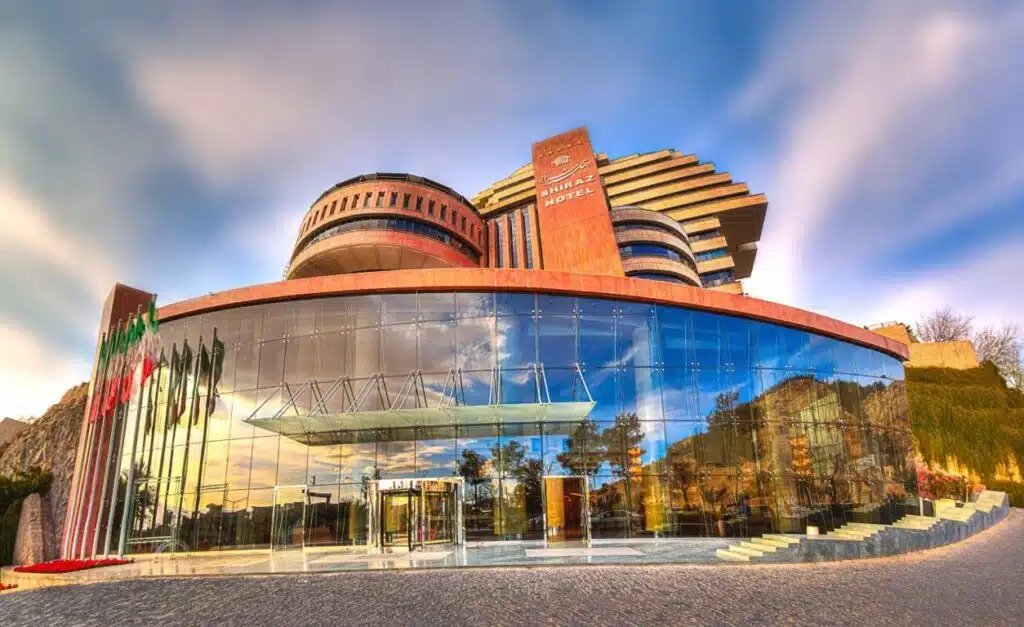 Shiraz Grand Hotel is a popular and well-known hotel in this city, located on Ayatollah Rabbani Boulevard near the Quran Gate. This hotel is a five-star establishment, designed in 14 floors with 158 rooms.
Shiraz Grand Hotel offers a great view of the city, cozy cafes, sports halls, handicraft shops, conference halls, parking, and a variety of restaurants with Iranian, international, seafood, and fast food options. It is located near many attractions in Shiraz, including Khwaju Kermani's Tomb and Koohpayeh Park.
Address: Ayatollah Rabbani Boulevard
Chamran Grand Hotel in Shiraz
*****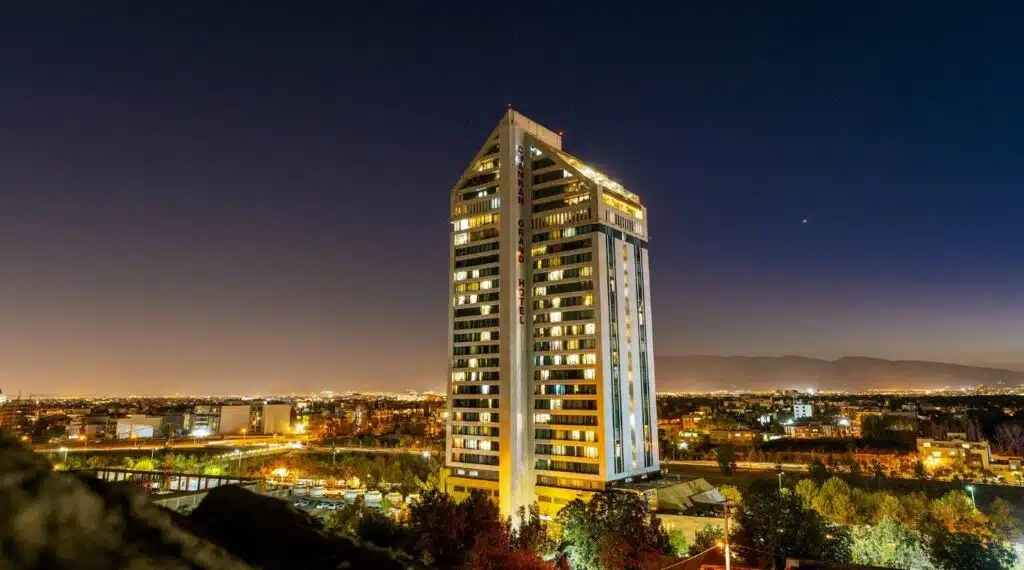 Arranged on a slope sitting above the city, Chamran hotel is perhaps of the most extravagant hotels in Shiraz. It offers dazzling perspectives on the city and the encompassing mountains. The hotel includes very much selected rooms, a few eateries, spa offices, and a housetop pool.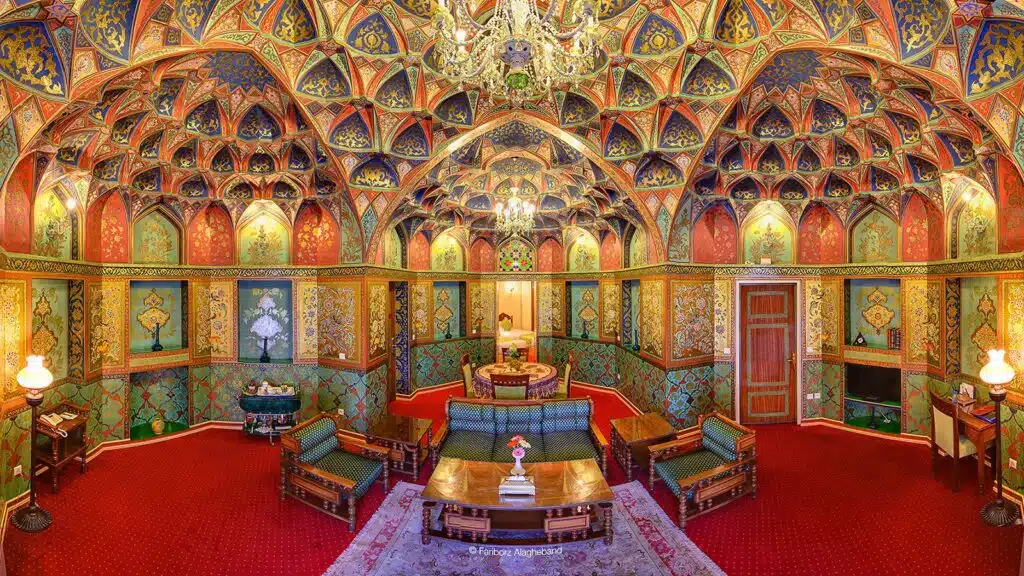 Homa Hotel Shiraz
*****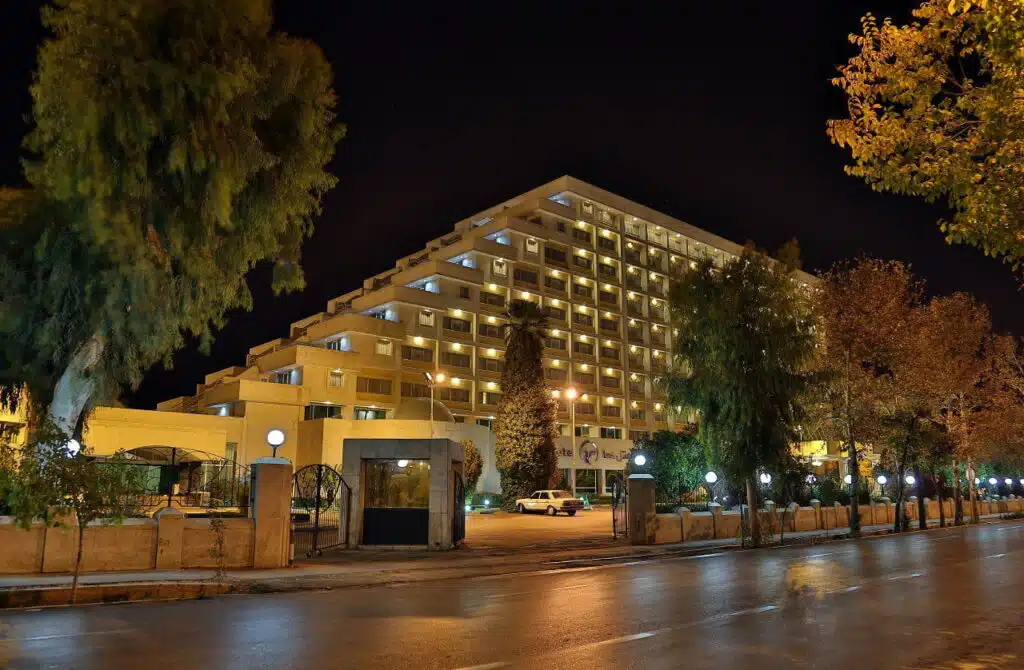 Homa is a 5-star hotel situated close to the downtown area, making it helpful for investigating the significant attractions of Shiraz. The lodging offers agreeable rooms, a wonderful garden, pool, and different feasting choices.
Pars International Hotel
*****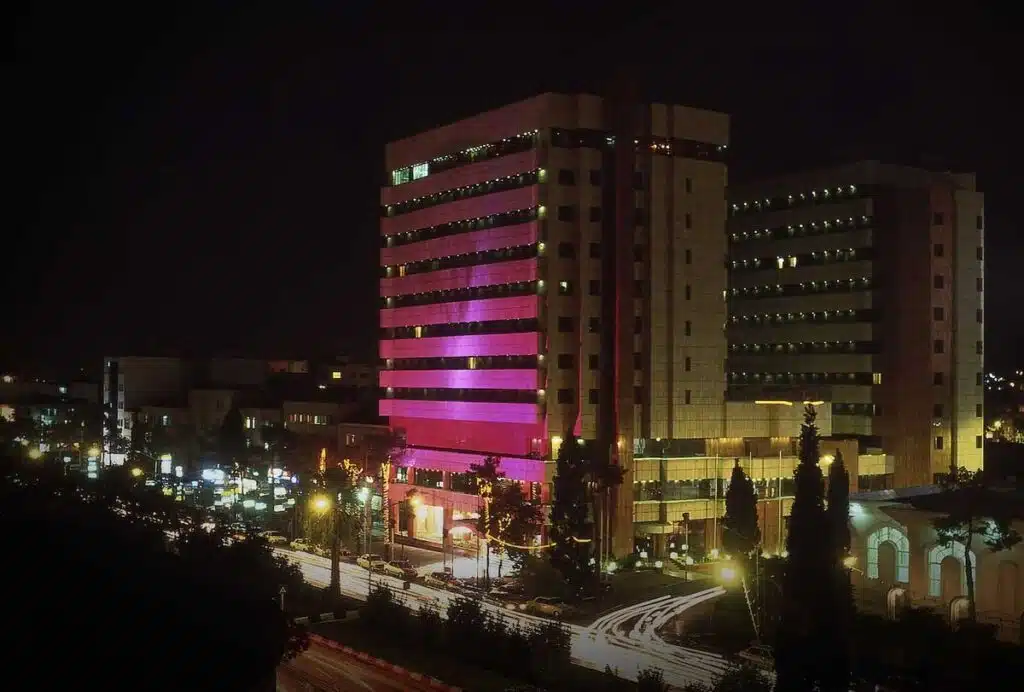 This 5-star hotel is situated in the core of Shiraz and is known for its rich feel and first class benefits. The hotel offers open rooms, a wellness place, a roof pool, and different feasting decisions.
Elysee Hotel Shiraz
****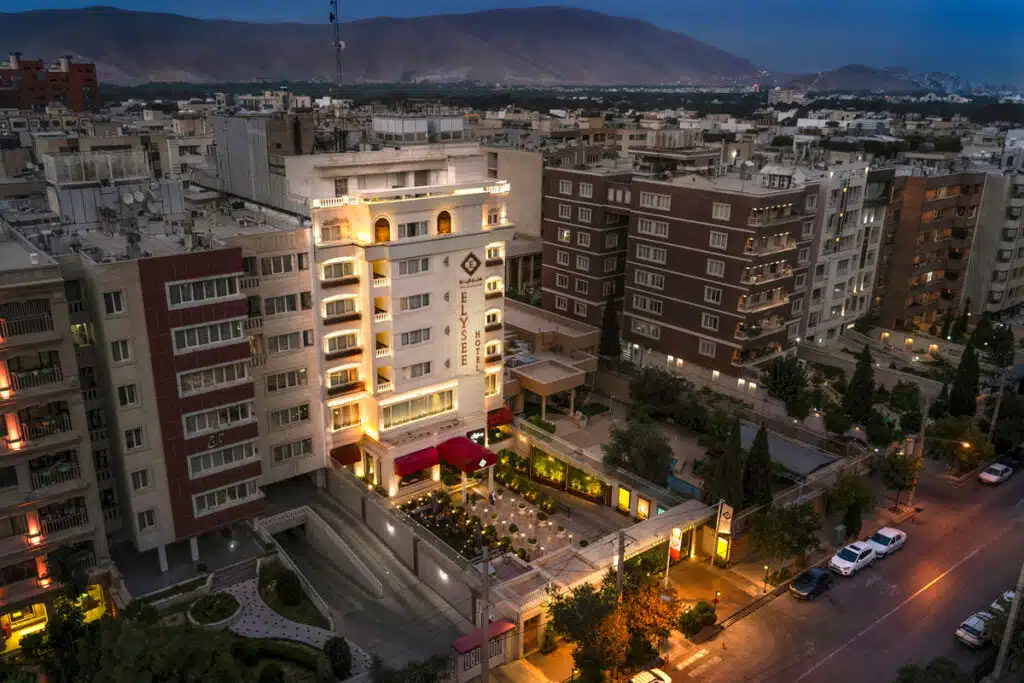 Elysee is a 4-star hotel offering a charming stay with present day conveniences. The hotel is strategically placed close to well known milestones like the Hafez Tomb and the Quran Gate. It gives agreeable rooms, a café, and well disposed staff.
Royal Hotel Shiraz
****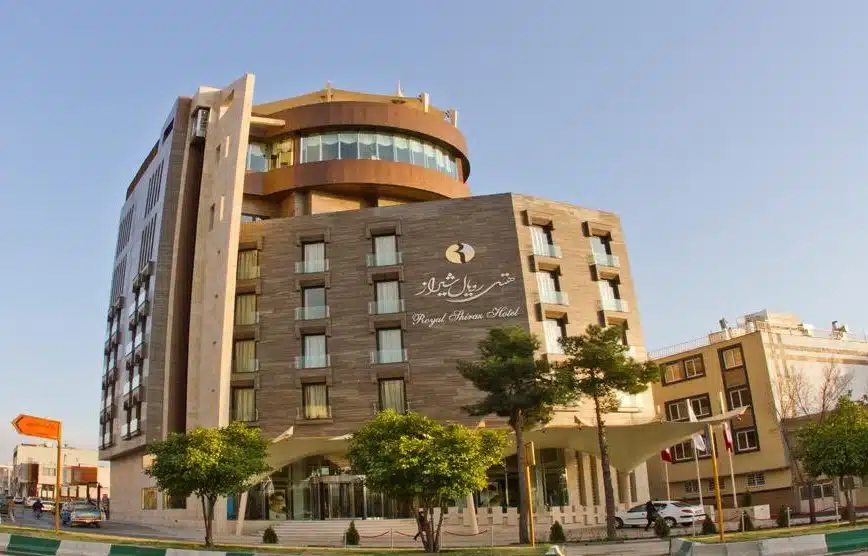 The Royal Hotel is another four-star hotel in Shiraz and a popular choice for travelers staying in the city. Located on Ayatollah Rabbani Boulevard, it is near many attractions in Shiraz, such as the Quran Gate, Koohpayeh Park, Jahan Nama Garden, Hafez's Tomb, etc.
The location of the Royal Hotel, near the road to Marvdasht, makes it easy for hotel guests to reach the ancient site of Persepolis without wasting time in city traffic. The hotel offers facilities such as a restaurant, conference hall, cafe, etc. The famous Haft Khan Restaurant is located next to this hotel, offering some of the best and most delicious foods in Shiraz.
Address: Ayatollah Rabbani Boulevard, Shiraz
Three-Star Hotels in Shiraz
Three-star hotels in Shiraz are among the most cost-effective in the city, providing satisfactory facilities to travelers. Here, we introduce two examples of such hotels, so you can stay in standard Shiraz hotels at a reasonable cost.
Vakil Hotel Shiraz
***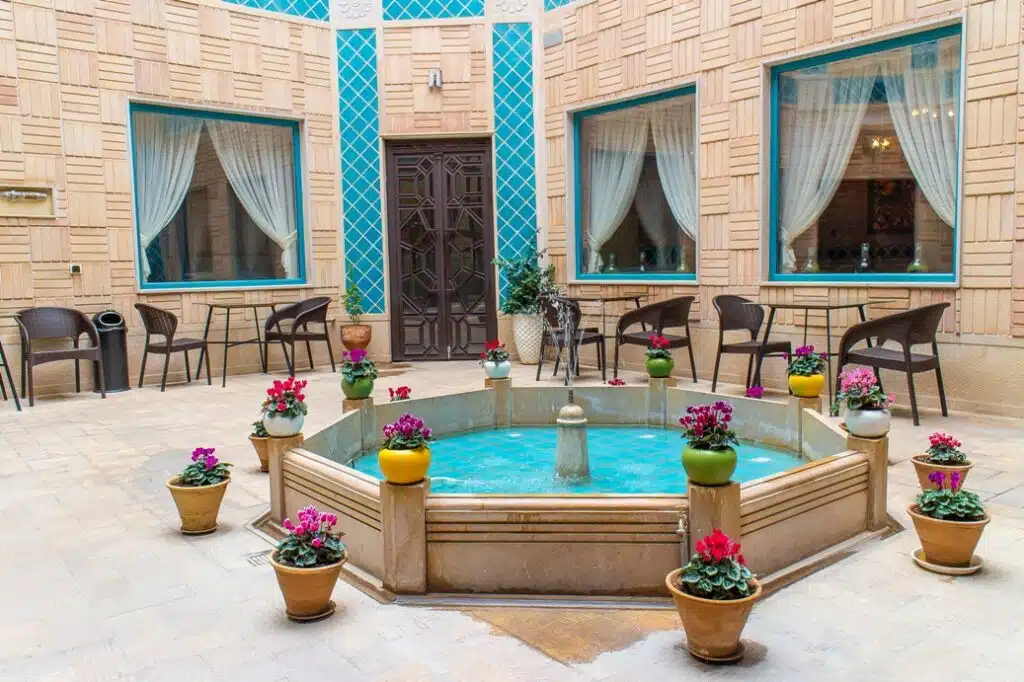 The Vakil Hotel is one of the best choices among the three-star hotels in Shiraz. This hotel opened in the old texture of Shiraz about three years ago. The use of traditional Iranian architectural elements in the design of the facade, restaurant, and courtyard creates a warm and intimate atmosphere.
Vakil Hotel Shiraz features a brick façade, water pond, authentic Iranian restaurant, cozy cafe, clean and comfortable rooms, etc. It is steps away from the historical Vakil complex, which includes a bathhouse, bazaar, and mosque. Additionally, this hotel is a popular choice in Shiraz due to its good access to other attractions like Arg of Karim Khan, Nasir al-Mulk Mosque, Narenjestan Ghavam, and Shah Cheragh.
Address: Lotfali Khan Zand Street
Arg Hotel Shiraz
***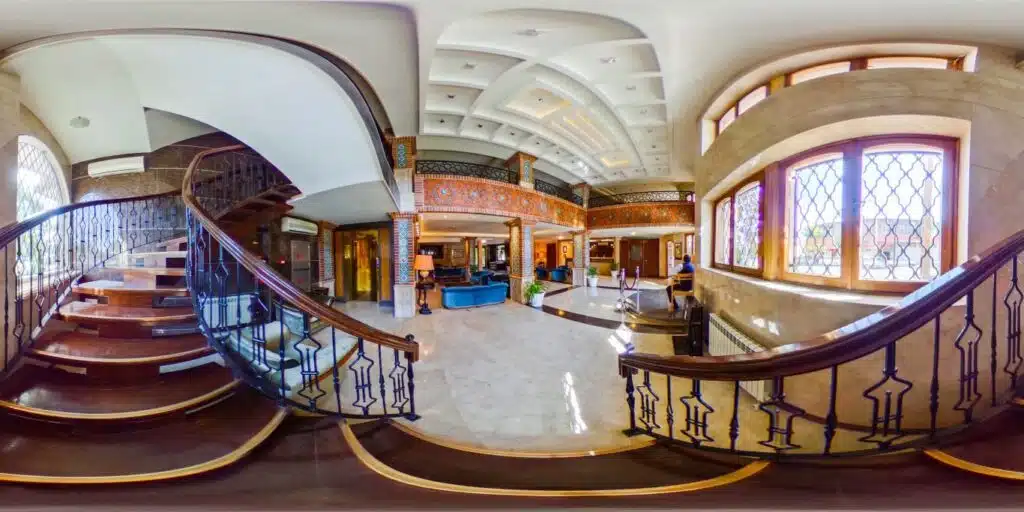 Arg Hotel Shiraz is located on Takhti Street and has been operating for about thirty years. Despite the renovations, it maintains a beautiful appearance and standard facilities.
Arg Hotel has made its mark among the best three-star hotels in Shiraz, with traditional Iranian architectural decorations visible in its design. The hotel offers an Iranian restaurant, open-air cafe, easy access to the famous Zand Street of Shiraz, etc. It is situated on the edge of the coastal walkway and the dry riverbed, a popular spot for walkers enjoying the pleasant weather of Shiraz. Address: Coastal walkway edge, Takhti Street, opposite Tavakoli Mosque
Must Visit Attractions in Shiraz
Shiraz, often heralded as the cultural heart of Iran, beckons travelers with its blend of poetic heritage and historic splendor. This city, celebrated for its connection to Persian poets like Hafez and Saadi, offers an immersive cultural experience. Visitors can explore the vibrant Vakil Bazaar, a bustling hub of commerce and craftsmanship. Here, the intricate artistry of Persian rugs and the rich scents of spices fill the air.
A short distance away, the Pink Mosque (Nasir-ol-Molk Mosque) awaits. Renowned for its stunning stained-glass windows, the mosque bathes visitors in a kaleidoscope of light at sunrise. This architectural marvel represents the zenith of Persian-Islamic art.
For history enthusiasts, the nearby Persepolis stands as a testament to the ancient Achaemenid Empire. This UNESCO World Heritage Site captivates with its grand columns and detailed bas-reliefs. It's a window into the past, revealing stories of kings and empires long gone.
No visit to Shiraz is complete without experiencing its famed gardens. The Eram Garden, with its majestic cypress trees and elegant pavilion, epitomizes the beauty of Persian landscaping. It's a serene retreat from the city's bustle.
Persepolis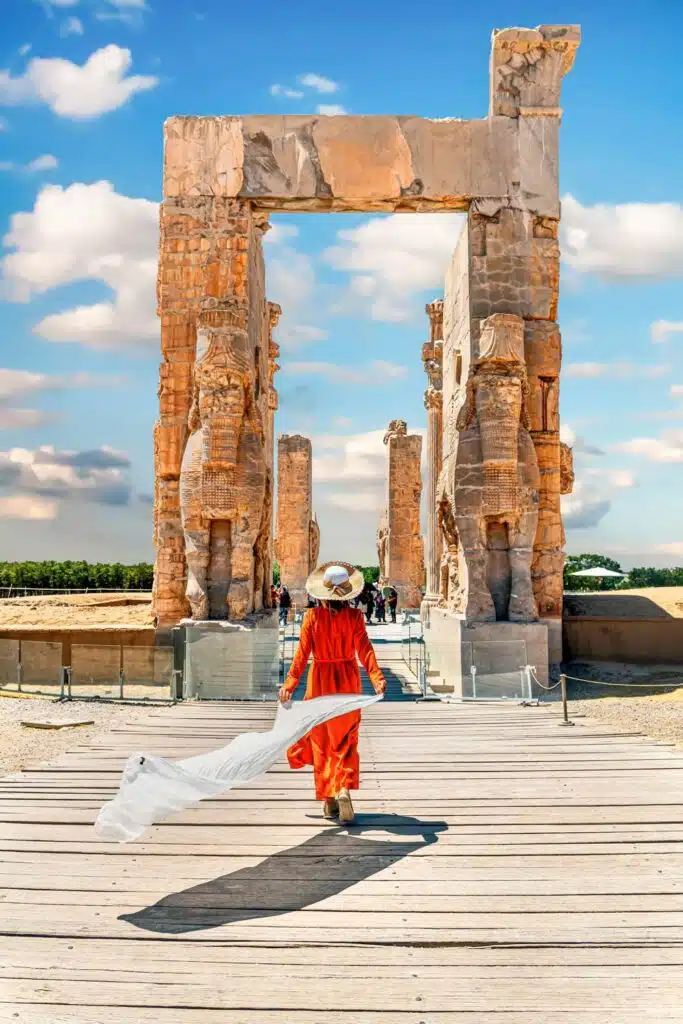 Persepolis, an ancient marvel and a UNESCO World Heritage site, stands as a testament to the grandeur of the Achaemenid Empire. Located just an hour's drive from Shiraz, this iconic site captures the essence of Persian civilization's architectural and cultural achievements. The monumental staircases, towering columns, and exquisite reliefs at Persepolis tell a story of a once-mighty empire, offering visitors a glimpse into its historical significance.
This archaeological masterpiece, also known as Takht-e Jamshid, reveals the advanced architectural skills of its builders. The intricate carvings and detailed sculptures depict scenes of ancient ceremonies, royal audiences, and the diverse subjects of the vast empire.
Visitors to Persepolis can explore the remains of the Great Hall of Apadana, the Throne Hall, and the Gate of All Nations, each echoing the stories of power, diplomacy, and the cultural exchange that characterized the ancient Persian Empire.
Nasir al-Mulk Mosque (Pink Mosque)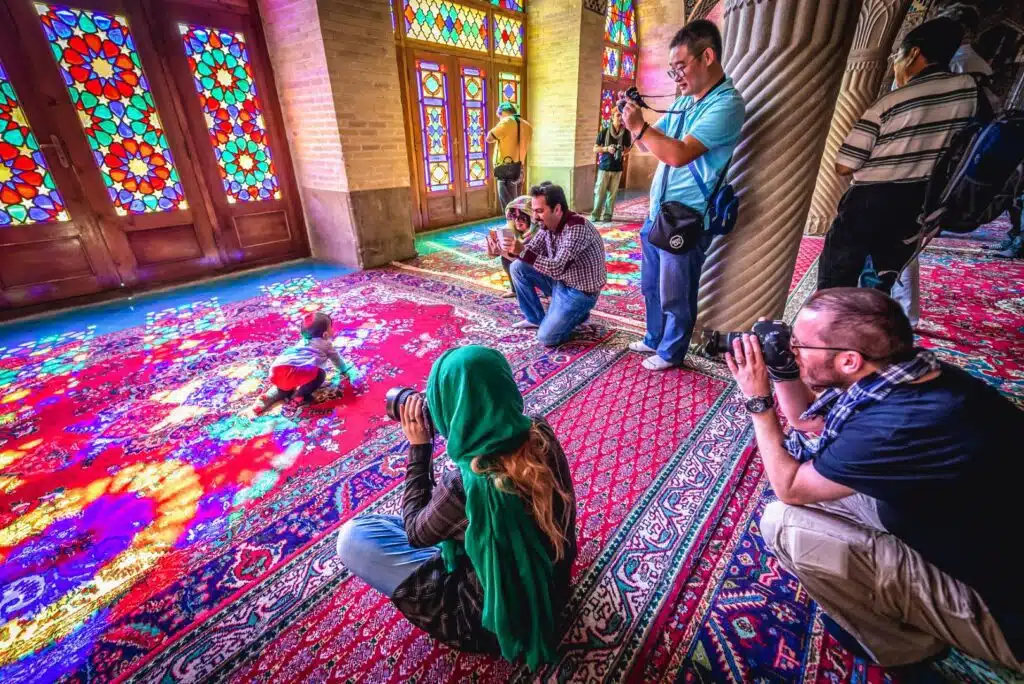 Nasir ol Molk Mosque, often referred to as the Pink Mosque, stands as a marvel of architecture in Shiraz, Iran. Built during the Qajar dynasty era, it boasts an exquisite display of Islamic architecture with an emphasis on colorful window glasses and intricate tile work. The mosque's fame largely comes from its stunning stained-glass windows that create a kaleidoscope of vibrant colors, especially when sunlight streams through in the mornings. This exceptional use of light and color makes it a must-visit destination for travelers and photography enthusiasts.
Inside the mosque, visitors find themselves enveloped in an enchanting atmosphere where light and color blend. The mosque's interior is adorned with beautifully crafted tiles featuring traditional geometric designs and floral motifs, a hallmark of Persian artistic expression. The harmonious combination of light, color, and Islamic architecture here not only offers a visual feast but also provides a serene space for reflection and prayer. The Nasir ol Molk Mosque is not just a religious site; it's a celebration of art, culture, and architectural ingenuity.
Hafez Tomb (Hafeziyeh)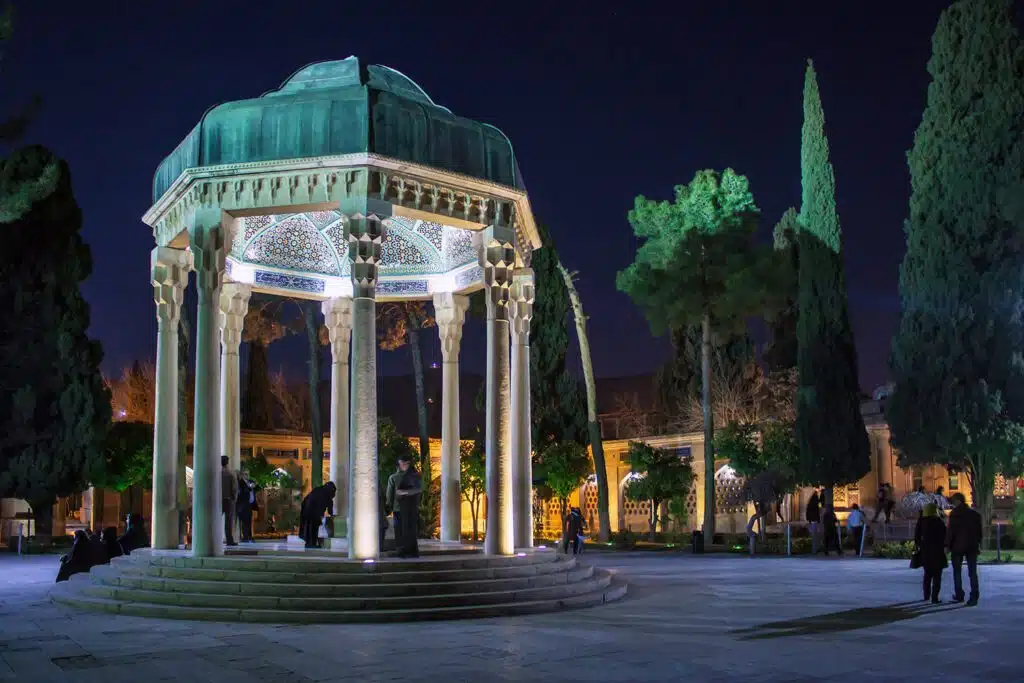 Hafez Tomb, located in the enchanting city of Shiraz, is a tribute to one of the most celebrated and revered poets in Iranian history, Hafez. Known for his profound and lyrical poetry, Hafez has influenced Persian literature significantly. The tomb, set within the serene Gardens, offers a peaceful retreat where visitors can immerse themselves in the poetic legacy of Hafez. The site features a beautifully crafted marble tombstone, inscribed with verses from Hafez's poetry, encapsulating the essence of his profound philosophical thoughts.
Read More: Why Hafez is So Important to Iranians
The atmosphere around Hafez Tomb is one of contemplative calm, with visitors often seen reflecting on his verses or enjoying the tranquil gardens. The site also includes a small teahouse and a souvenir shop, where visitors can purchase books of Hafez's poetry and other memorabilia. This culturally significant site does not just represent a final resting place; it is a symbol of Persian literary heritage and intellectual thought.
Eram Garden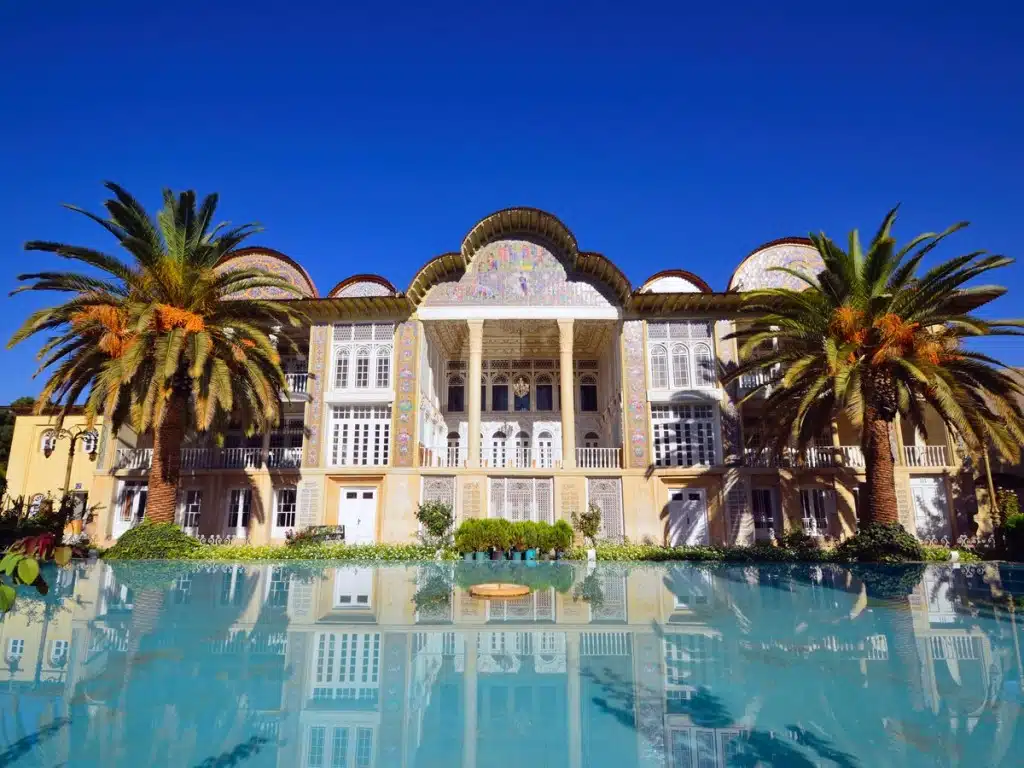 Eram Garden, a historical and picturesque site in Shiraz, is celebrated for its stunning array of botanical beauty and architectural elegance. Recognized as a UNESCO World Heritage Site, this garden exemplifies the classical Persian garden style with its symmetrical design, tranquil water features, and lush greenery. The garden's name, 'Eram', suggests a utopian idea, a fitting description for this paradise-like setting. Visitors are captivated by the garden's diverse collection of plants and the majestic Qavam House, which stands as a testament to traditional Persian architecture.
The beauty of Eram Garden lies not just in its flora and architectural wonders but also in its historical significance. It has been a source of inspiration for poets and writers for centuries. The garden's pathways, lined with tall cypress and orange trees, lead to a central pavilion and pond, creating a serene and contemplative environment. This harmonious blend of nature and artistry makes Eram Garden a must-visit for those exploring the cultural heritage of Iran. For a detailed exploration of this magnificent site, you can find more information and guided tour options at SURFIRAN's Eram Garden Guide, which provides a deeper insight into its history and beauty​​.
Vakil Bazaar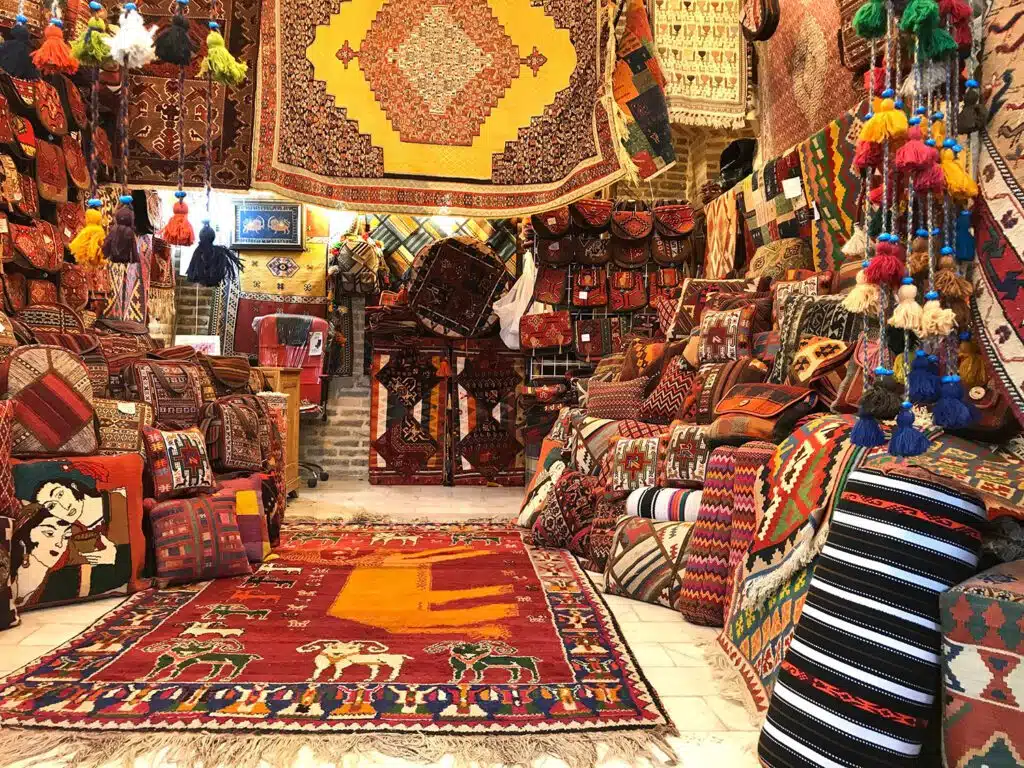 Vakil Bazaar, situated in the heart of Shiraz, is a vibrant testament to the city's rich history and culture. Known for its traditional Iranian architecture, the bazaar is a sprawling marketplace, offering a fascinating glimpse into the everyday life and commerce of the region. It dates back to the Zand period and is well-known for its wide corridors, high ceilings, and captivating carvanserais. As you wander through the bazaar, the rhythmic blend of sounds, from the chatter of shoppers to the clinking of artisans at work, creates an immersive cultural experience.
The bazaar is not just a shopping destination; it's a cultural journey. Each section offers unique items, from handwoven Persian rugs and exquisite handicrafts to spices and jewelry. The scent of spices and the colorful displays of goods make Vakil Bazaar a sensory delight. It is also a social hub where locals and tourists mingle, offering insights into the Iranian way of life.
Karim Khan Citadel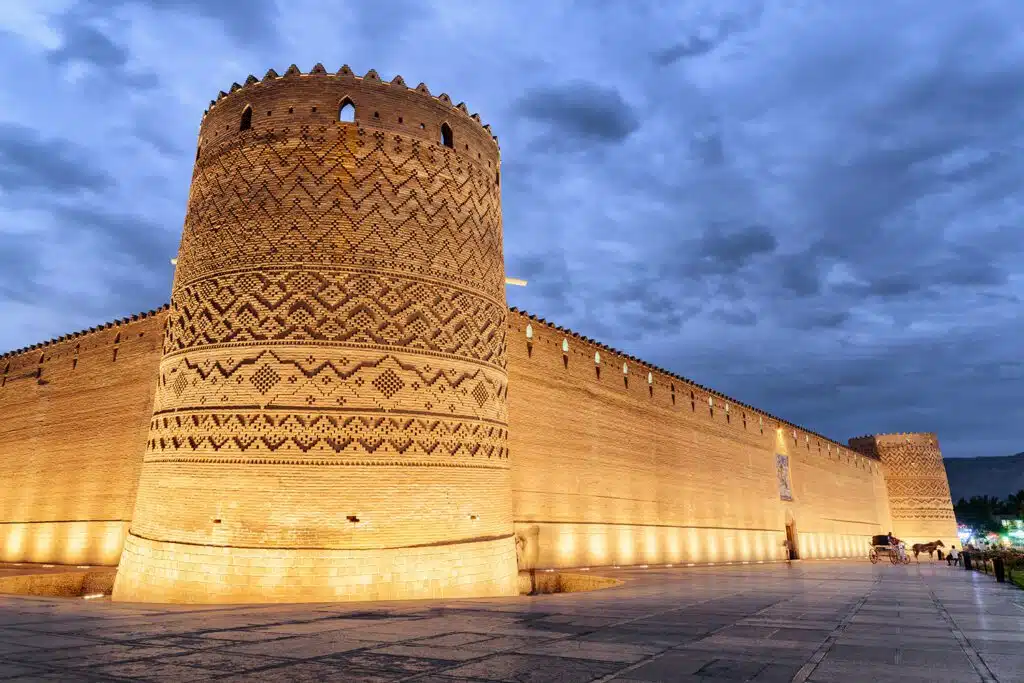 Karim Khan Citadel, located in the bustling city of Shiraz, stands as a prominent symbol of Iran's rich history. Constructed in the 18th century during the Zand dynasty, it was the residence and stronghold of Karim Khan, who preferred the title 'Vakil e-Ra'aaya' (Representative of the People) over that of king. This historic fortress is characterized by its distinctive architectural features, including robust circular towers, one of which is noticeably leaning. The citadel reflects a blend of military and residential architecture, a rarity in Persian design.
Visitors to the citadel are greeted with an imposing yet elegant exterior, leading into a peaceful interior courtyard. The interior is a stark contrast to the robust exterior, featuring lush gardens and beautiful fountains. This juxtaposition symbolizes the duality of Karim Khan's reign – strength and benevolence. The citadel has also served various purposes throughout its history, from a governor's residence to a prison, and now stands as a museum and a window into the past.
Read More:
Shah Cheragh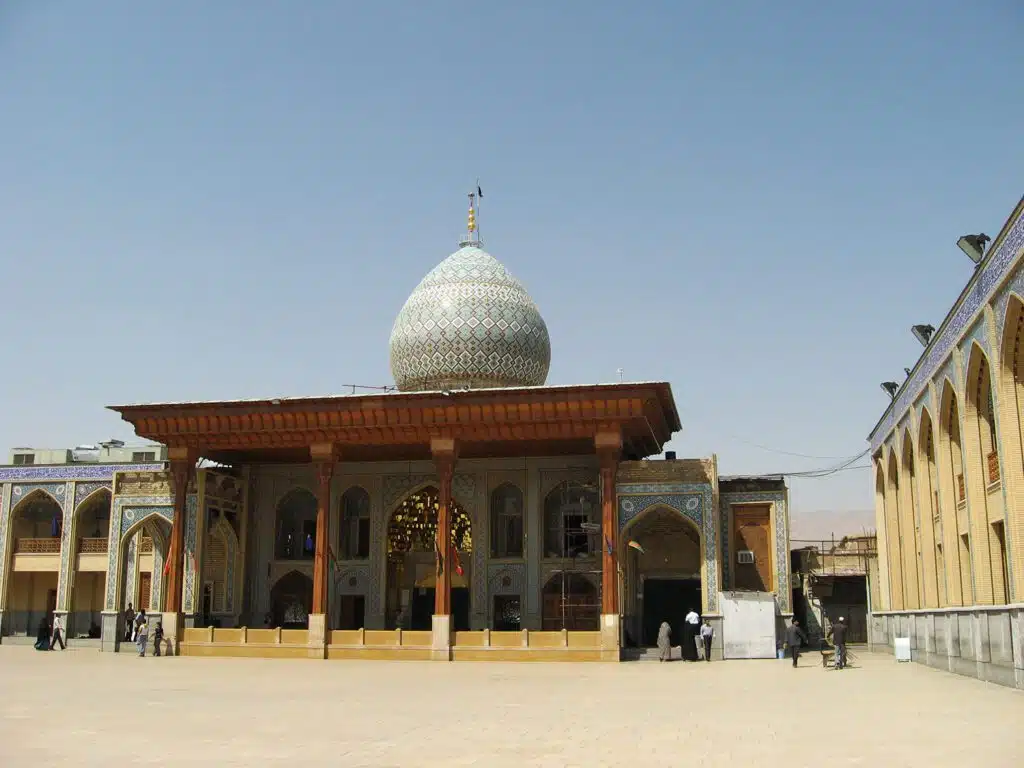 Shah Cheragh, a revered mausoleum and mosque in Shiraz, holds immense spiritual and historical significance in Iran. The site is the resting place of Ahmad and Muhammad, brothers who were the sons of Musa al-Kadhim, the seventh Shia Imam. Originating in the 12th century, Shah Cheragh is a prominent pilgrimage site, renowned for its stunning architecture and dazzling interior adorned with mirror tiles. The name "Shah Cheragh" translates to "King of the Light," a fitting title considering the interior's reflective brilliance, creating a mesmerizing light display that leaves visitors in awe.
This religious monument is not just a burial place; it's a center of cultural and spiritual gatherings. The complex includes a mosque, a theological school, and a religious library, making it a hub of Islamic learning and devotion. Its intricate tile work, beautiful courtyards, and the tranquil atmosphere inside the mosque offer a glimpse into the rich cultural and religious tapestry of Iran.
Qavam House (Narenjestan-e Ghavam)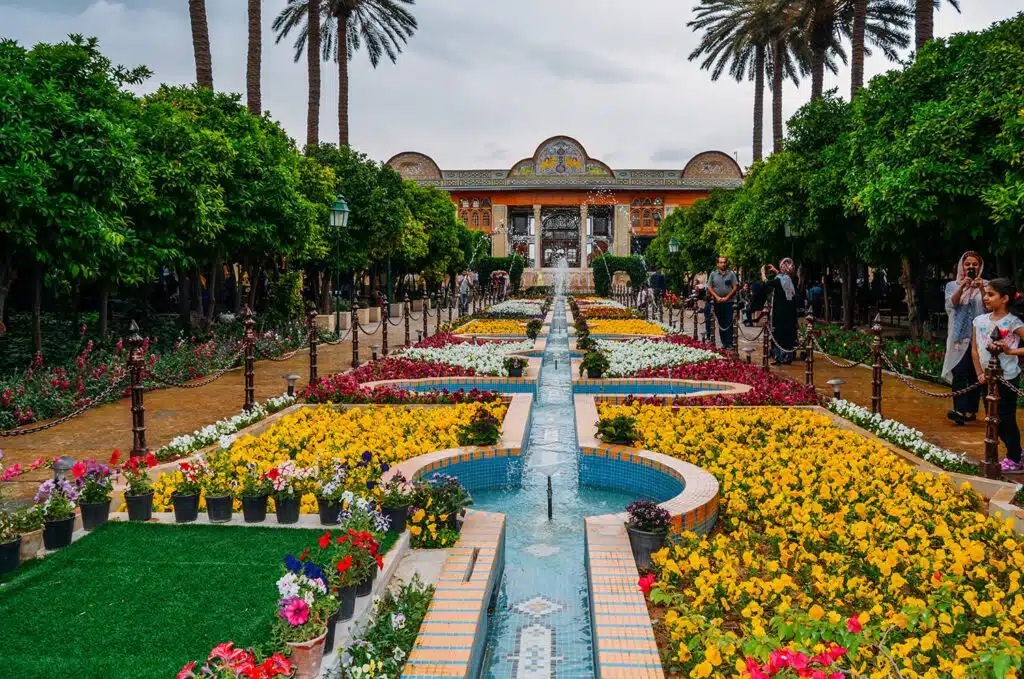 The Qavam House, also known as Narenjestan-e Ghavam, stands as a historical marvel in Shiraz, Iran. Built during the Qajar era, this elegant mansion is famous for its exquisite architecture and beautifully manicured gardens. Reflecting the quintessential Persian style, the house features intricate wood carvings, stunning mirror work, and vibrant stained glass windows. The lush garden, adorned with tall palm trees and fragrant flowers, adds a serene ambiance to this architectural gem. This house, once the residence of the Qavam family, now serves as a museum and cultural center, attracting tourists and history enthusiasts from around the world.
Visitors to Narenjestan-e Ghavam are immediately captivated by the detailed craftsmanship visible in every corner of the estate. The house's main hall, with its elaborate ceiling decorations and artistic tilework, exemplifies the artistic heritage of 19th-century Iran. Each room within the mansion tells a story, showcasing a blend of traditional Persian art and European influences. The house also played a significant role in the history of Shiraz University, as it was used as the faculty of Asian Studies and Art for a time.
Tomb of Saadi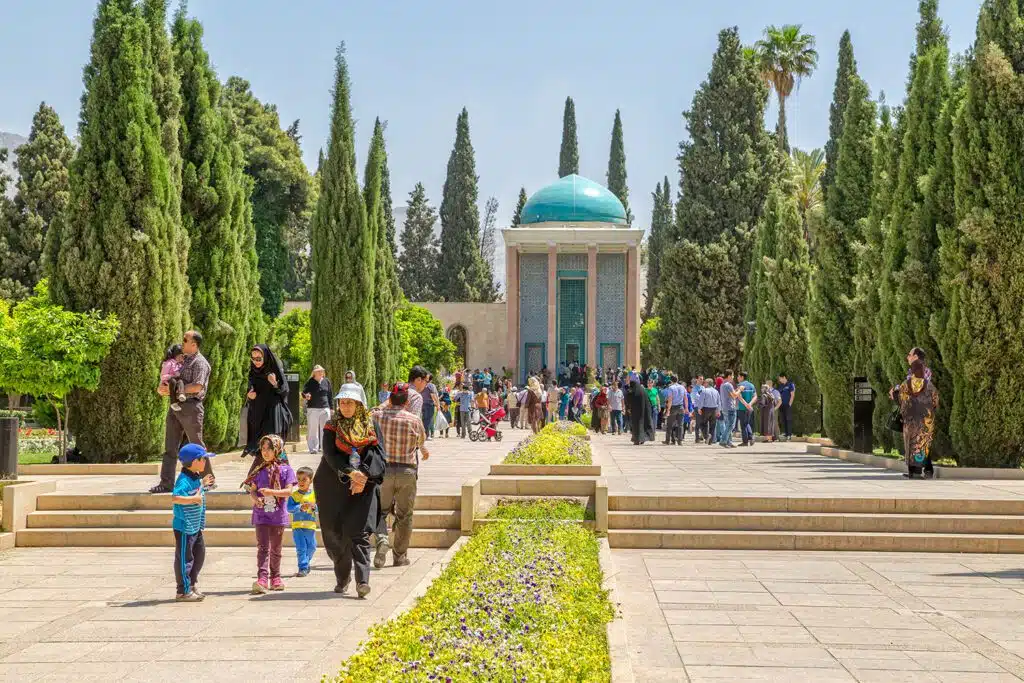 The Tomb of Saadi, known as Saadi's Mausoleum, is a significant historical site in Shiraz, Iran. It honors the famous Persian poet Saadi, renowned for his profound impact on Persian literature. This mausoleum is not just a burial place but a tribute to Saadi's enduring legacy. Its architectural design, featuring a beautiful dome and intricate tilework, reflects the rich Persian heritage. Inside, Saadi's tombstone, engraved with verses from his works, offers visitors a moment of reflection and admiration. The surrounding garden, typical in Persian architecture, adds a sense of peace and contemplation to the site.
Visiting the Tomb of Saadi is a journey into the heart of Persian literary culture. Saadi, celebrated for "Bustan" and "Golestan", is a pillar of Persian poetry. This site goes beyond being a mere resting place; it's a cultural center where poetry enthusiasts and scholars gather to pay homage to Saadi's contributions. The fusion of natural beauty and architectural finesse makes this tomb a key destination for those seeking to explore Iran's rich cultural heritage.
Cultural Experiences
Shiraz offers an abundance of social encounters that permit guests to drench themselves in the rich legacy of Iran. Here are the absolute most outstanding social encounters you can appreciate in Shiraz:
Poetry and Literature
Shiraz has a well established standing as a city of writers and researchers. Participate in verse readings at bistros or go to abstract social affairs where local people and aficionados present stanzas of popular Persian writers like Hafez and Saadi. The atmosphere and love for writing in Shiraz are really enthralling.
Persian Calligraphy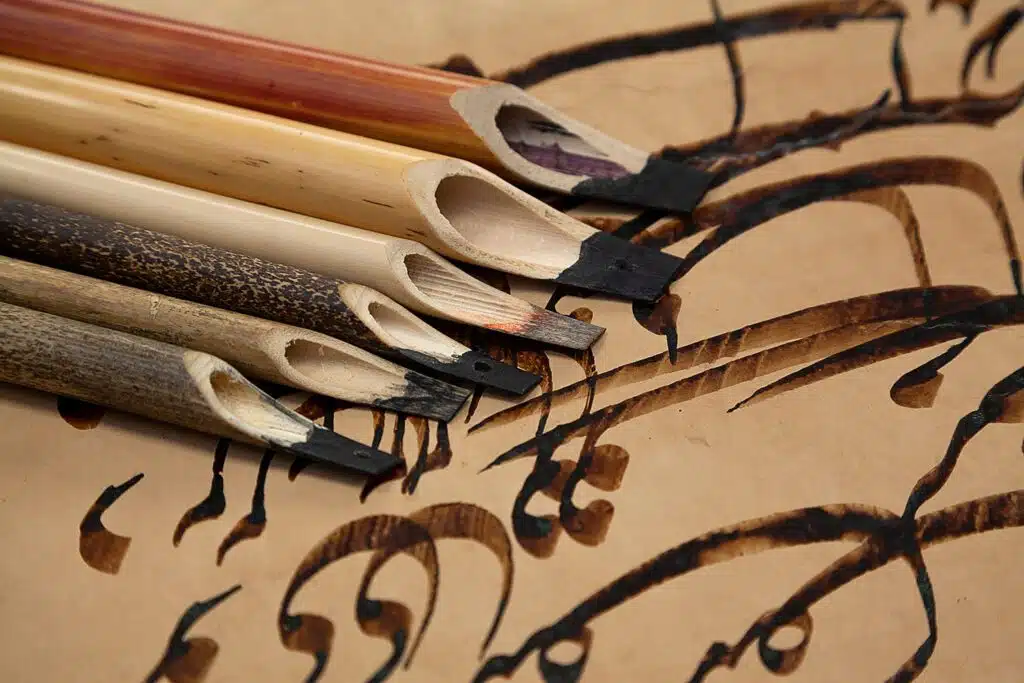 Persian Calligraphy stands as a significant and revered art form in Iranian culture, embodying the elegance and intricacy of Persian script. This art form, deeply rooted in historical and cultural traditions, has evolved over centuries. It is not just a method of writing but a creative expression that intertwines literary brilliance with aesthetic beauty. Persian calligraphy, known for its fluid lines and harmonious proportions, is a visual representation of Iran's rich poetic and literary heritage. It has adorned everything from grand palaces to modest homes, showcasing the importance of written word in Iranian society.
This art form has produced various styles, each unique and reflective of the times and contexts in which they were developed. The most famous styles include Nastaliq, Naskh, and Thuluth, each with its distinct characteristics and aesthetic appeal. Persian Calligraphy is not merely about writing but is a sophisticated art that requires years of dedicated practice and a deep understanding of Persian literature. Today, it continues to inspire artists and calligraphers worldwide, symbolizing the timeless beauty and depth of Persian culture.
Traditional Music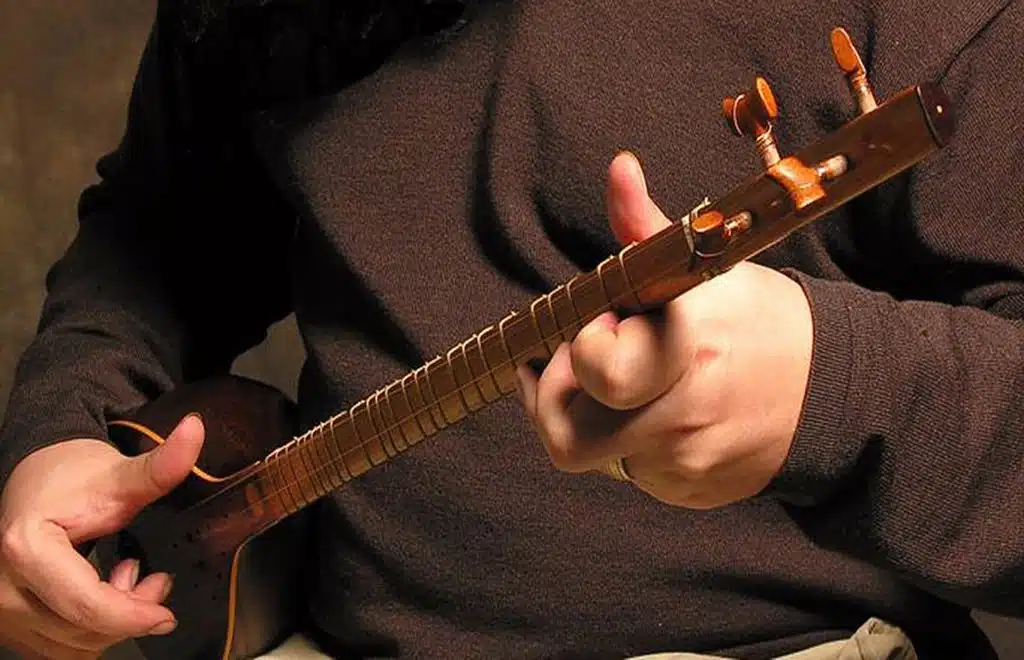 Traditional music of Iran, a profound aspect of the country's cultural heritage, offers a melodious journey through its history and society. This music, rich in diversity and depth, is an amalgamation of various regional influences, reflecting the country's complex cultural mosaic.
Iranian Traditional Music
Iranian traditional music, often known for its intricate rhythms and melodic nuances, uses a wide range of instruments like the setar, santur, tar, daf, and ney. These instruments contribute to the distinctive sound of Persian music, characterized by its emotive and sometimes improvisational style. The music often accompanies Persian poetry, another cornerstone of Iranian culture, creating a harmonious blend of literary and musical artistry.
Iranian traditional music has deeply influenced not only regional music styles but also significantly contributed to world music.
This genre encompasses various forms, from classical and folk to spiritual music. Each form narrates a different aspect of Iranian life, be it the everyday experiences of its people, the profound mysticism of Sufism, or the grandeur of its royal courts. This music, evolving through centuries, continues to resonate with people, offering a window into the soul of Iran. Its timeless appeal lies in its ability to convey deep emotional experiences, making it a vital part of Iran's cultural legacy.
Carpet Weaving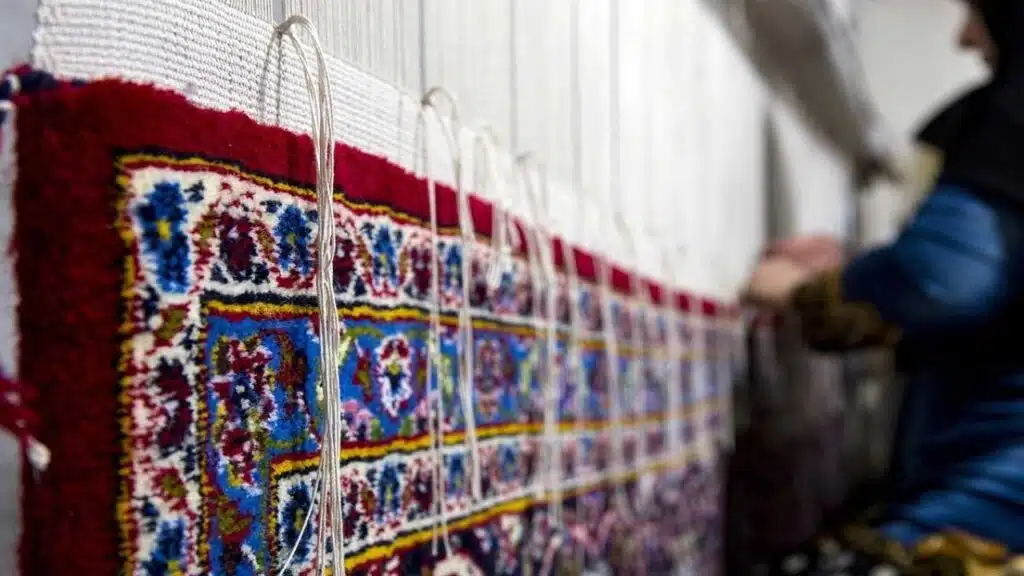 Carpet Weaving in Iran is an ancient craft, deeply embedded in the nation's culture and history. Recognized globally for their beauty and craftsmanship, Persian carpets are more than just floor coverings; they are expressions of artistic tradition passed down through generations.
Each carpet tells a story, often featuring motifs that reflect the weaver's surroundings, beliefs, and traditions. The intricate designs, ranging from floral patterns to geometric shapes, are not just visually appealing but also hold cultural significance. The art of carpet weaving showcases the skill and creativity of Iranian artisans, making each carpet a unique piece of art.
This craft involves a meticulous process, from hand-spinning the wool to dyeing it with natural colors and then weaving it on a loom. The high-quality craftsmanship of Persian carpets makes them durable and valuable, often becoming cherished family heirlooms. Different regions of Iran have their unique styles and techniques, contributing to the vast diversity seen in Persian carpets. This diversity is a testament to the rich cultural fabric of Iran, with each region's environment and history influencing its carpet weaving style.
Shirazi Cuisine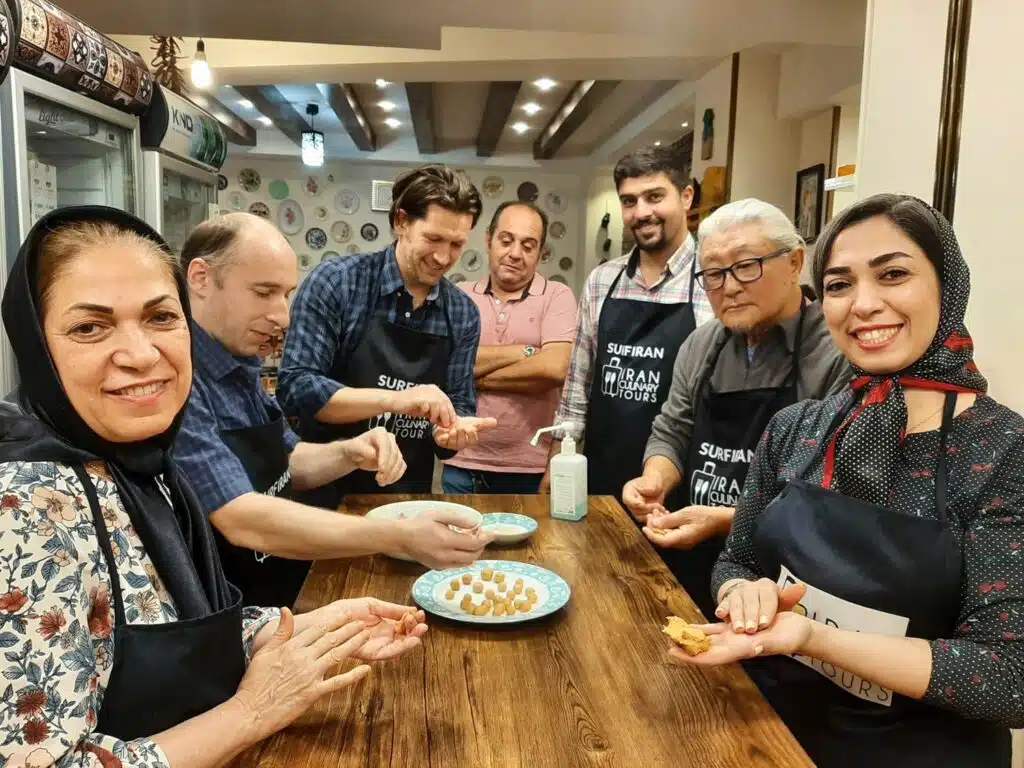 Explore the rich and diverse world of Iranian Cuisine, a true reflection of the country's cultural heritage. Iranian dishes are renowned for their flavorful and aromatic qualities, often featuring a blend of spices, herbs, and fresh ingredients. One of the most distinctive aspects of this cuisine is its emphasis on balancing flavors – sweet and sour, mild and spicy. Staples include rice, a variety of meats, and an abundance of fresh fruits and vegetables. A must-try is Fesenjan, a luxurious stew made with pomegranates and walnuts, offering a unique blend of sweet and tangy flavors, often served with chicken or duck.
Specifically, Shirazi food stands out for its use of fresh herbs and ingredients like pomegranates, adding a delightful burst of flavor to every dish. The Shirazi Salad, a refreshing mix of cucumber, tomato, onion, and mint, is a perfect accompaniment to any meal. Another local specialty, Kalam Polo, combines cabbage with aromatic rice, creating a hearty and satisfying dish.
The cuisine of Shiraz mirrors the rich culinary customs of Iran, known for its assorted flavors, sweet-smelling flavors, and utilization of new fixings. Shirazi cuisine, as other Persian territorial foods, puts extraordinary accentuation on equilibrium and amicability between various components, bringing about dishes that are both delightful and outwardly engaging. Here are a few features of the cooking of Shiraz:
Shirazi Salad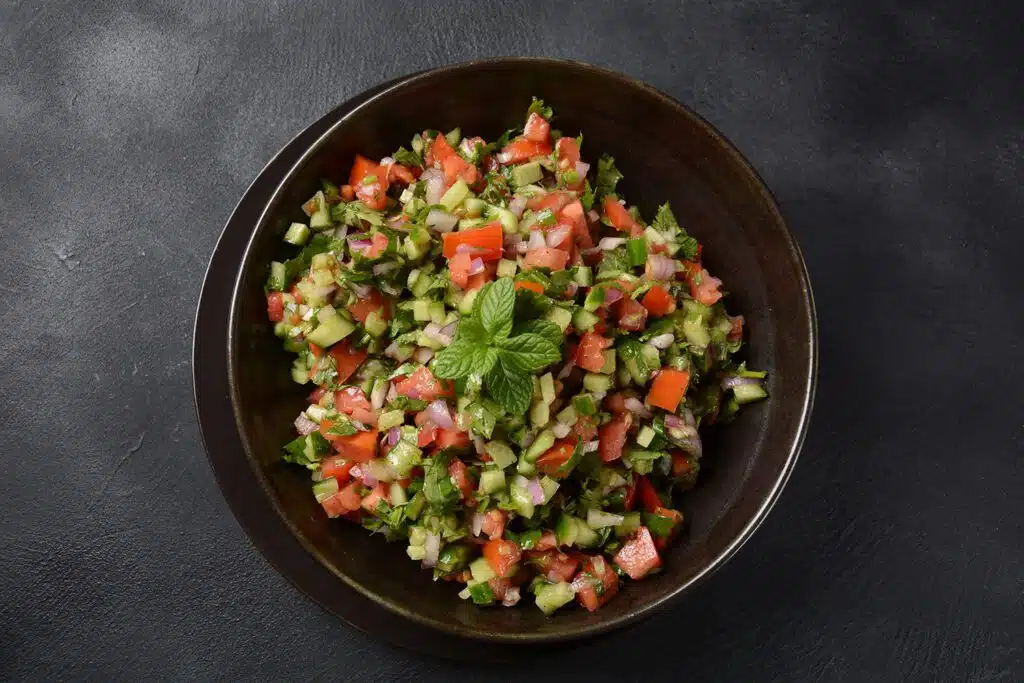 This reviving and beautiful plate of mixed greens is a mark dish of Shiraz. It commonly comprises of finely cleaved cucumbers, tomatoes, red onions, and new spices like mint and parsley. The plate of mixed greens is prepared with lime juice, olive oil, and in some cases a sprinkle of sumac for added tartness.
Ingredients for Shirazi Salad
Cucumbers
Tomatoes
Red onions
Fresh mint leaves
Lemon juice
Olive oil
Salt
Black pepper
Fesenjan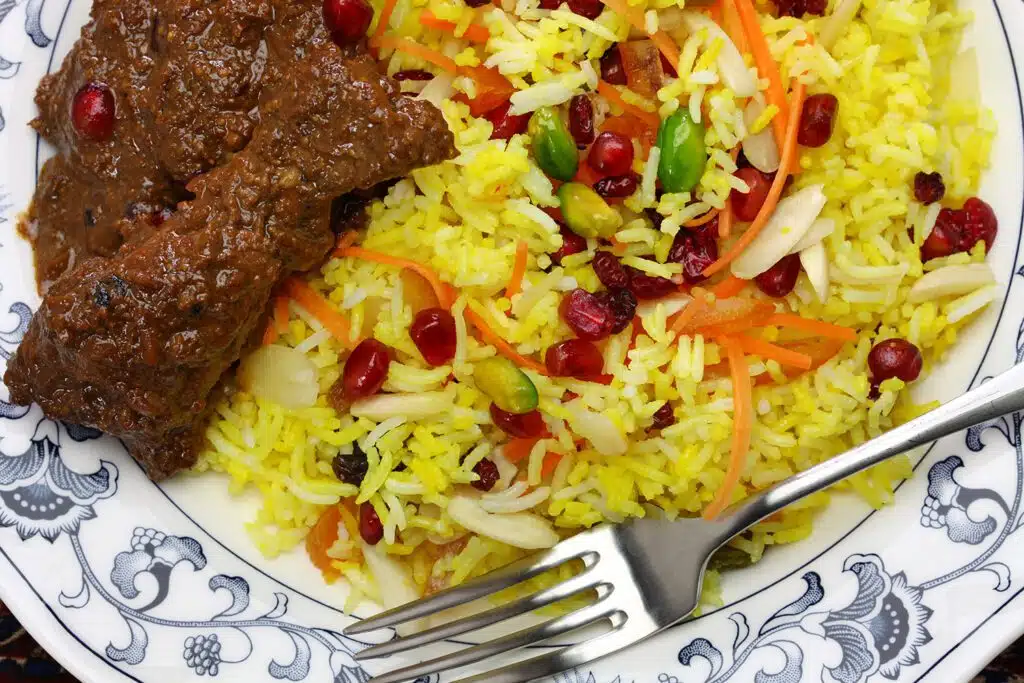 A renowned Iranian stew, Fesenjan is made with chicken or duck cooked in a rich sauce of ground pecans and pomegranate molasses. The blend of nutty and tart flavors makes a remarkable taste that is both sweet and exquisite.
Ingredients for Fesenjan
Ground walnuts
Pomegranate molasses
Chicken or duck (traditionally)
Onion
Vegetable oil
Sugar (optional, for sweetness)
Salt and pepper (for seasoning)
Kalam Polo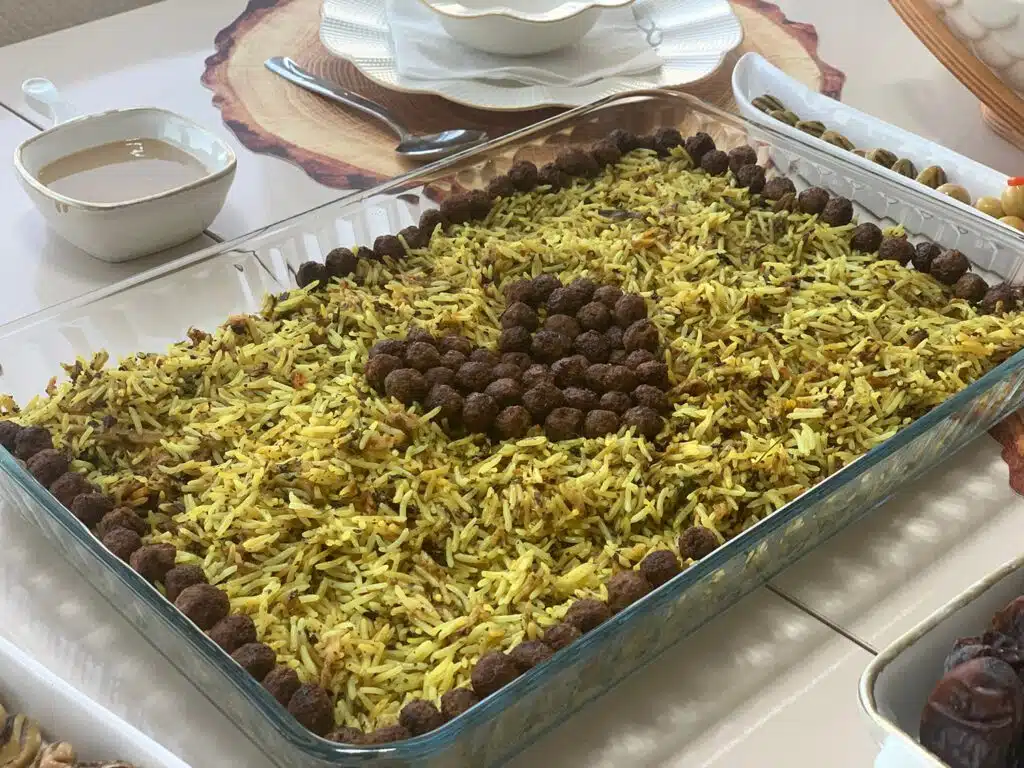 A wonderful rice dish made with layers of fragrant basmati rice and cabbage, Kalam Polo is frequently presented with delicate bits of meat (generally sheep or hamburger). The rice is seasoned with saffron, cinnamon, and other sweet-smelling flavors.
Ingredients for Kalam Polo
Rice
Cabbage
Ground beef or lamb
Onion
Turmeric
Cooking oil
Dried fenugreek leaves (optional)
Salt and pepper (for seasoning)
Baghali Polo
This fragrant rice dish is cooked with dill and fava beans, bringing about an energetic green and delightful mix. It is regularly presented with sheep or chicken, offering a magnificent mix of tastes and surfaces.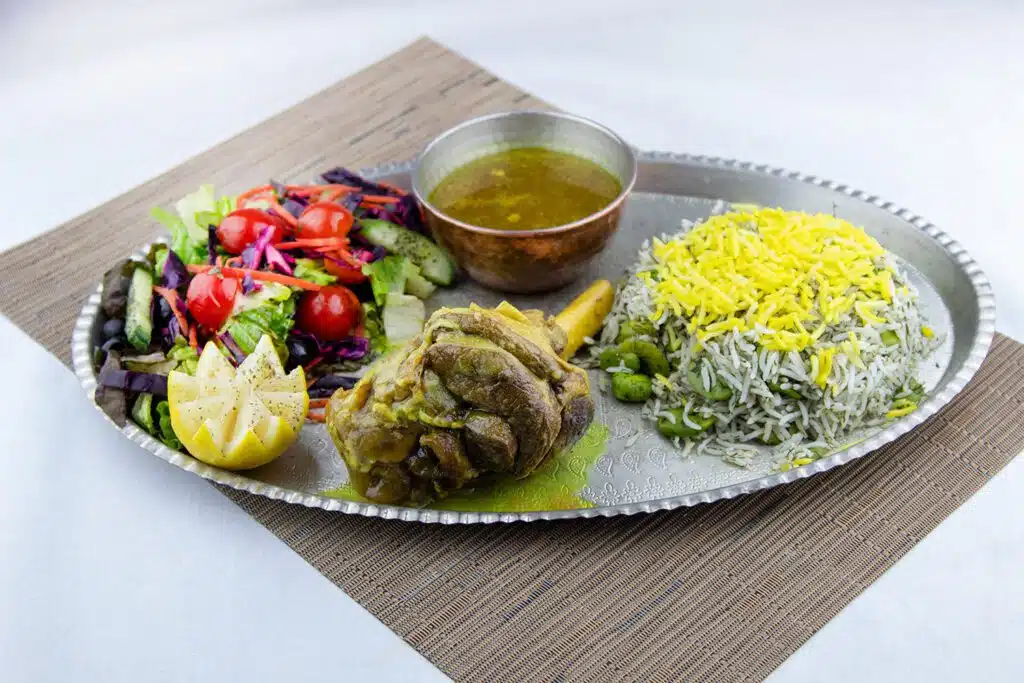 Ingredients for Baghali Polo
Basmati rice
Fresh or frozen fava beans (baghali)
Dill weed
Onion
Lamb or beef (optional)
Cooking oil
Turmeric
Salt and pepper (for seasoning)
Ashe Reshteh
A good and feeding soup, Ashe Reshteh is made with noodles, beans, chickpeas, new spices, and flavors. It is frequently decorated with a dab of yogurt and presented with fresh seared onions.
Ingredients for Ashe Reshteh
Persian noodles (reshteh)
A mixture of herbs (parsley, cilantro, spinach, and green onions)
Kidney beans
Chickpeas
Lentils
Onion
Garlic
Persian dried mint
Kashk (whey or yogurt)
Turmeric
Salt and pepper (for seasoning)
Halim Shirazi
An extraordinary sweet porridge made with wheat, sugar, cinnamon, and spread, Shirazi Halim is many times ready during strict occasions and proposed to neighbors and the less lucky as a token of generosity.
Ingredients for Halim Shirazi
Wheat
Chicken or lamb (traditionally)
Onion
Cooking oil
Turmeric
Salt and pepper (for seasoning)
Cinnamon (optional, for flavor)
Saffron Pastries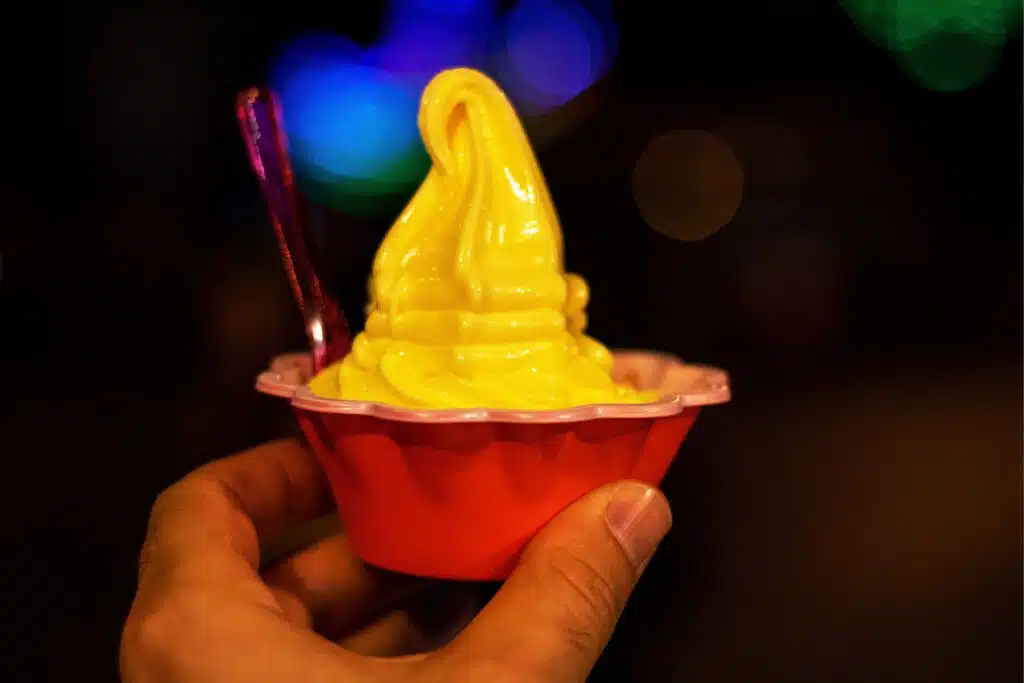 Saffron, perhaps of Iran's most valued flavor, is much of the time utilized in different treats in Shiraz. From saffron-seasoned frozen yogurt (Bastani) to saffron-enhanced rice pudding (Sholeh Zard), these pastries have a particular and lavish taste.
Ingredients for Saffron Pastries
All-purpose flour
Butter
Sugar
Eggs
Saffron threads
Rosewater (optional, for flavor)
Ground cardamom (optional, for flavor)
Slivered almonds or pistachios (for garnish)
Shirazi Shirini (Cakes)
Ingredients for Shirazi Shirini (Cakes)
All-purpose flour
Sugar
Eggs
Baking powder
Vegetable oil
Rosewater or cardamom (for flavor)
Slivered pistachios or almonds (for garnish)
Shiraz is known for its magnificent determination of baked goods and treats, frequently implanted with flavors like rosewater, cardamom, and pistachios.
Shiraz Day Trips
Shiraz isn't just a city wealthy in culture and history yet additionally fills in as an extraordinary base for investigating the encompassing locale of Fars region. A few interesting roadtrips can be produced using Shiraz, offering different scenes, verifiable destinations, and exceptional encounters. Here are some awesome roadtrip choices:
A full day of visiting Persepolis and Naqsh-e Rustam
A visit to the ancient city of Persepolis is a must-do roadtrip from Shiraz. This UNESCO World Legacy site was the stately capital of the Achaemenid Realm and grandstands amazing remains of castles and sanctuaries. Naqsh-e Rustam, found close by, is an old necropolis with rock-cut burial chambers of Persian rulers.
Morning: Persepolis Exploration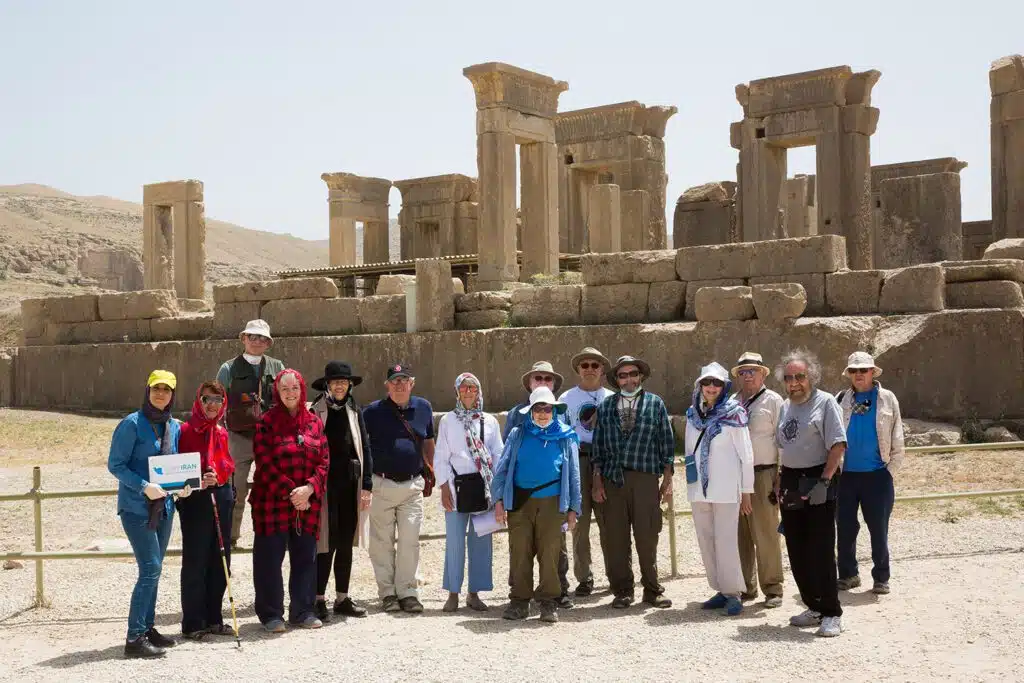 8:00 AM: Start your day early to make the most of your visit to Persepolis, a UNESCO World Heritage site. Have a hearty breakfast at your accommodation or a local cafe in Shiraz.
9:00 AM: Depart from Shiraz and head to Persepolis, which is approximately 60 kilometers northeast of the city. You can arrange for a guided tour or choose to explore independently.
10:00 AM – 1:00 PM: Spend the morning exploring the ancient ruins of Persepolis. Marvel at the well-preserved archaeological wonders, including the Gate of All Nations, Apadana Palace, Tachara Palace, and the iconic Persepolis Throne Hall. Take your time to appreciate the intricate carvings and historical significance of this ancient Persian capital.
Lunch: Local Cuisine
1:00 PM: Enjoy a delicious Persian lunch at a nearby restaurant. Try some local dishes, such as kebabs, rice dishes, and stews, to savor the flavors of Iranian cuisine.
Afternoon: Naqsh-e Rustam Visit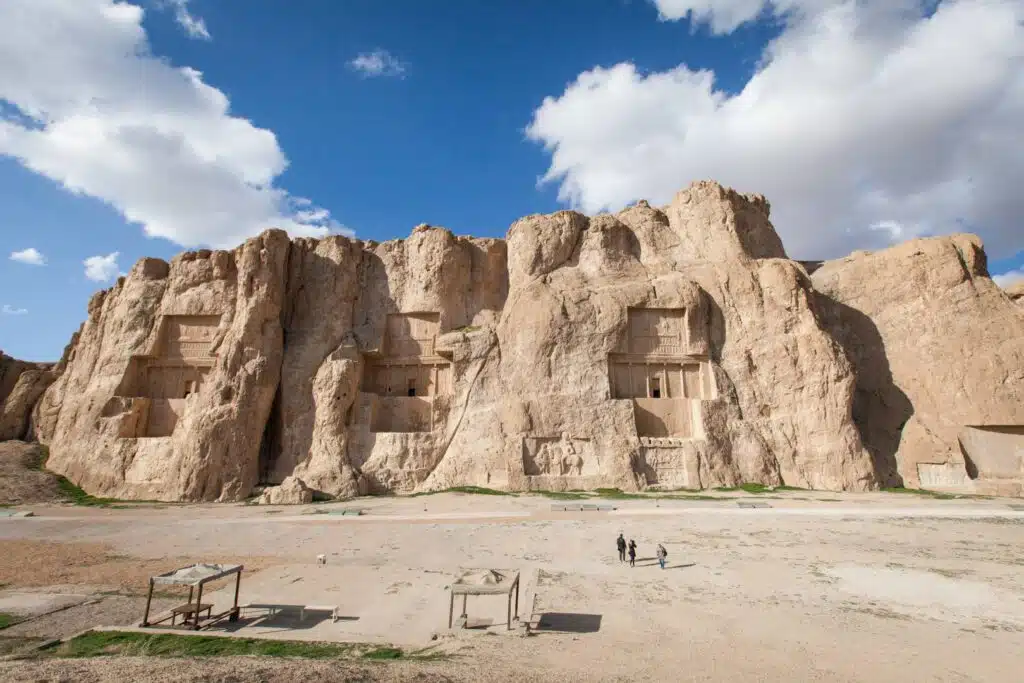 2:00 PM: Leave Persepolis and head to Naqsh-e Rustam, a short drive away. This historic site features rock-cut tombs and monuments dating back to the Achaemenid era.
2:30 PM – 4:30 PM: Explore Naqsh-e Rustam, which includes the impressive tombs of Persian kings, such as Darius the Great and Xerxes the Great. Admire the massive rock reliefs that depict scenes of Persian victories in ancient battles.
Evening: Return to Shiraz
5:00 PM: Begin your journey back to Shiraz, taking in the scenic countryside views along the way.
6:30 PM: Arrive back in Shiraz. Depending on your energy levels, you can either relax at your accommodation or explore some of Shiraz's evening attractions.
Dinner: Shiraz Dining
8:00 PM: Enjoy a leisurely dinner at a local restaurant in Shiraz. Sample more Persian dishes or try some traditional Iranian sweets for dessert.
Optional Evening Activity:
If you have the energy and are interested in experiencing more of Shiraz's culture, consider attending a live music performance or strolling through the beautiful Eram Garden to unwind.
Full Day Itinerary: Pasargadae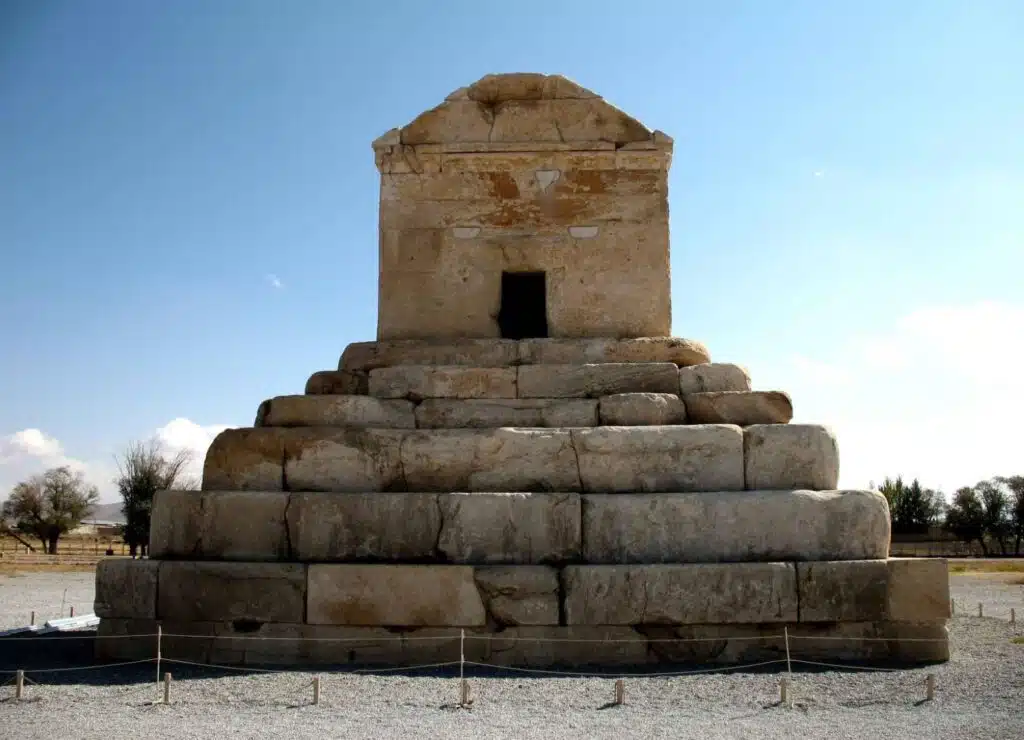 Another fundamental roadtrip from Shiraz is Pasargadae, the burial place of Cyrus the Incomparable, the organizer behind the Achaemenid Realm. Investigate the vestiges of the ancient city and wonder about the straightforward yet great burial chamber of Cyrus.
Morning: Pasargadae Discovery
8:00 AM: Begin your day with breakfast in Shiraz, and then set off for Pasargadae, located approximately 130 kilometers northeast of Shiraz.
10:00 AM: Arrive at Pasargadae, the first capital of the Achaemenid Empire. Start your exploration at the UNESCO-listed Tomb of Cyrus the Great. Admire the simple yet majestic structure and its historical significance.
Lunch: Local Cuisine
1:00 PM: Enjoy lunch at a nearby restaurant or picnic in the serene surroundings of Pasargadae. Taste traditional Persian dishes to refuel for the afternoon.
Afternoon: Pasargadae Highlights
2:00 PM – 4:00 PM: Continue your journey through Pasargadae by visiting the Audience Hall, believed to be a royal palace. Explore the Pasargadae Fortress and the archaeological remains of the city, including the Mozaffari Caravanserai.
Evening: Return to Shiraz
5:00 PM: Depart Pasargadae and head back to Shiraz, taking in the scenic views along the way.
7:30 PM: Arrive back in Shiraz.
Dinner: Shiraz Dining
8:30 PM: Relish a delightful Persian dinner at a local restaurant in Shiraz.
Full Day Itinerary to visit Firuzabad
Go to Firuzabad to see the old Sassanian city and the Qal'eh Dokhtar, a very much protected post with a one of a kind roundabout plan. The close by Royal residence of Ardashir is additionally worth visiting for its verifiable importance and building magnificence.
Morning: Firuzabad Exploration
8:00 AM: Start your day with breakfast in Shiraz, and then embark on a journey to Firuzabad, which is around 120 kilometers to the southwest.
10:00 AM: Arrive at Firuzabad and begin your exploration with a visit to the stunning Qal'eh Dokhtar, an ancient castle with a unique circular design. Take in the historical and architectural significance of this fortress.
Lunch: Local Cuisine
1:00 PM: Enjoy lunch at a local restaurant in Firuzabad, where you can savor traditional Iranian dishes.
Afternoon: Firuzabad Highlights
2:00 PM – 4:00 PM: Continue your tour by visiting the impressive Ardeshir Palace, also known as the Palace of Ardeshir I. Explore the well-preserved ruins and learn about its historical importance during the Sassanid Empire.
Evening: Return to Shiraz
5:00 PM: Begin your journey back to Shiraz, taking in the scenic landscapes of the region.
7:30 PM: Arrive back in Shiraz.
Dinner: Shiraz Dining
8:30 PM: Conclude your day with a delightful Persian dinner at a local restaurant in Shiraz.
Qashqai Nomad Experience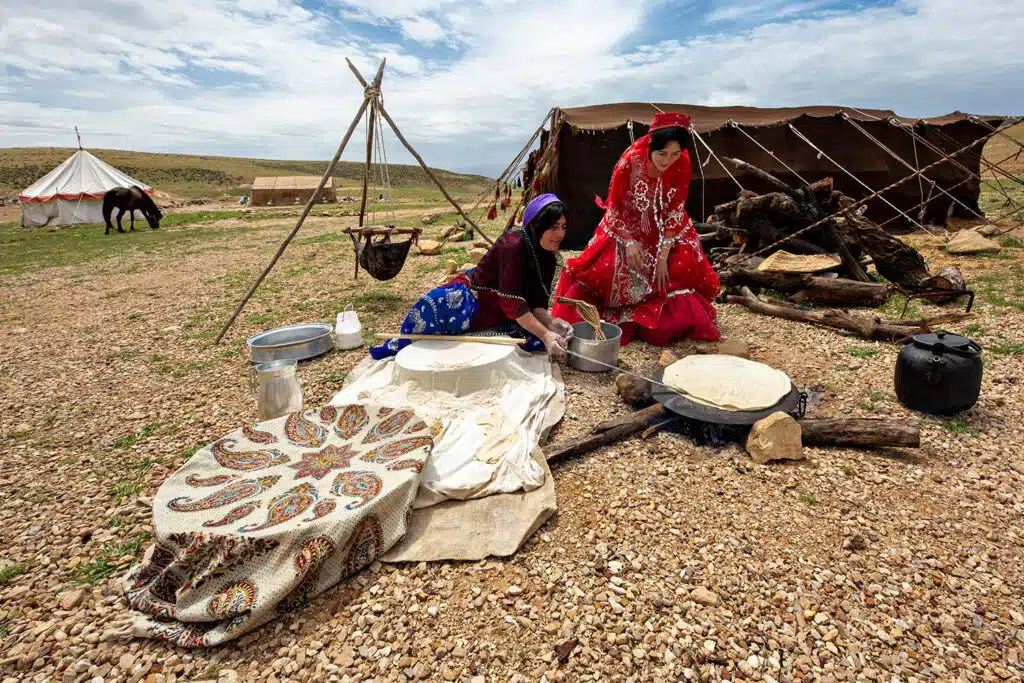 Morning: Departure from Shiraz
8:00 AM: Begin your adventure by departing from Shiraz and heading to the Qashqai nomadic region, located to the east or northeast of Shiraz. The specific nomadic camp location may vary, so consult with a local tour operator for details.
Qashqai Nomadic Camp Experience
10:00 AM: Arrive at the Qashqai nomadic camp. You'll be warmly welcomed by the Qashqai people, known for their hospitality and rich nomadic traditions.
10:30 AM – 12:30 PM: Immerse yourself in the nomadic way of life. Participate in activities such as milking goats, learning about traditional weaving, and gaining insights into their daily routines. Engage in conversations with the Qashqai nomads to learn about their culture, history, and customs.
Lunch: Nomadic Cuisine
1:00 PM: Enjoy a traditional nomadic lunch prepared by your hosts. Taste dishes like kebabs, flatbreads, dairy products, and locally sourced ingredients.
Afternoon: Nomadic Exploration
2:00 PM – 4:00 PM: Explore the beautiful surrounding landscapes on foot or horseback, depending on the arrangements made with your hosts. Take in the stunning scenery of the nomadic region, including rolling hills, pastures, and perhaps even encounter nomadic animal herds.
Evening: Return to Shiraz
5:00 PM: Bid farewell to your Qashqai hosts and embark on your journey back to Shiraz.
7:30 PM: Arrive back in Shiraz.
Dinner: Shiraz Dining
8:30 PM: Conclude your day with a delicious dinner at a local restaurant in Shiraz, where you can share your memorable nomadic experiences.
Embrace the migrant way of life by requiring a roadtrip to visit a Qashqai itinerant clan in the close by mountains. Experience their neighborliness, find out about their traditions, and appreciate amazing perspectives on the encompassing scene.
Maharloo Lake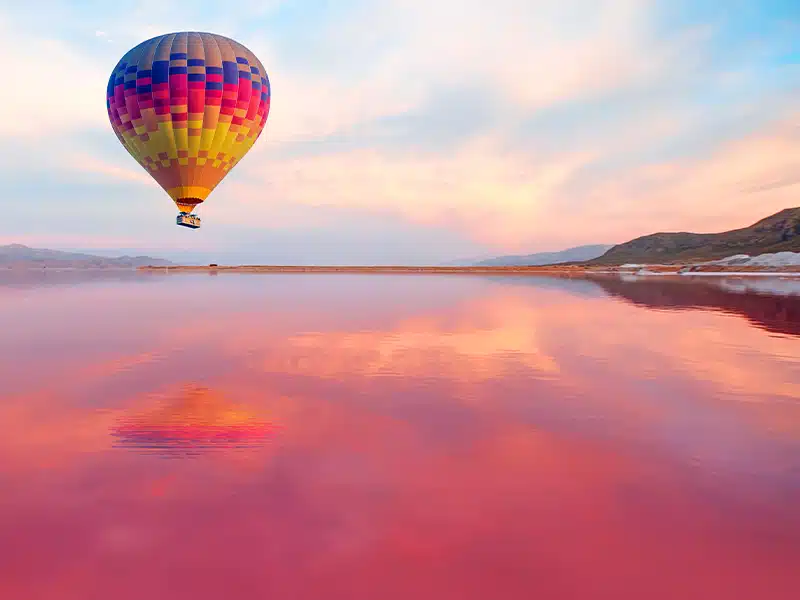 This delightful saltwater lake, found right external Shiraz, offers a peaceful setting for a roadtrip. The lake's pink shade, particularly during specific seasons, adds to its charm, making it a picture taker's enjoyment.
Tang-e Chogan
Climb or drive to Tang-e Chogan, a picturesque ravine with old carvings on its walls. This site is known for its verifiable stone reliefs, giving a brief look into the locale's past.
Bishapur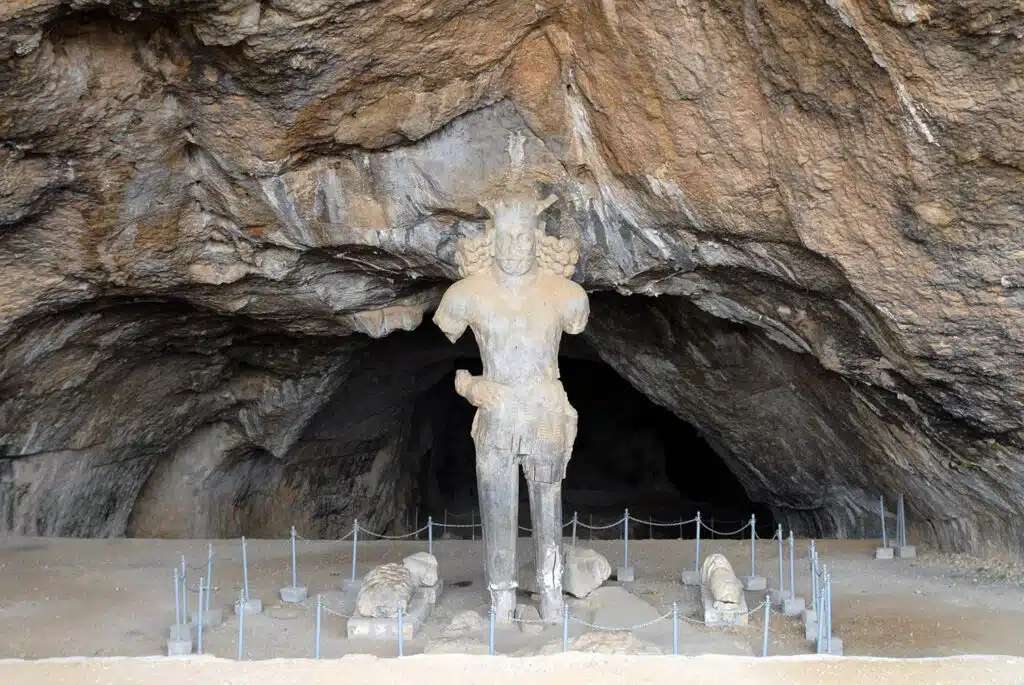 Dare to Bishapur, an old city established by Shapur I of the Sassanian Realm. The site highlights entrancing vestiges, including a stone cut help and the remaining parts of a terrific royal residence.
These roadtrips around Shiraz offer an opportunity to dive further into the set of experiences, culture, and regular magnificence of the locale, making your visit to Shiraz a genuinely improving encounter.
Public Transport in Shiraz
Shiraz, in the same way as other significant urban communities in Iran, has a deeply grounded public transportation framework that incorporates different methods of transport. Here are the essential public transportation choices accessible in Shiraz:
Buses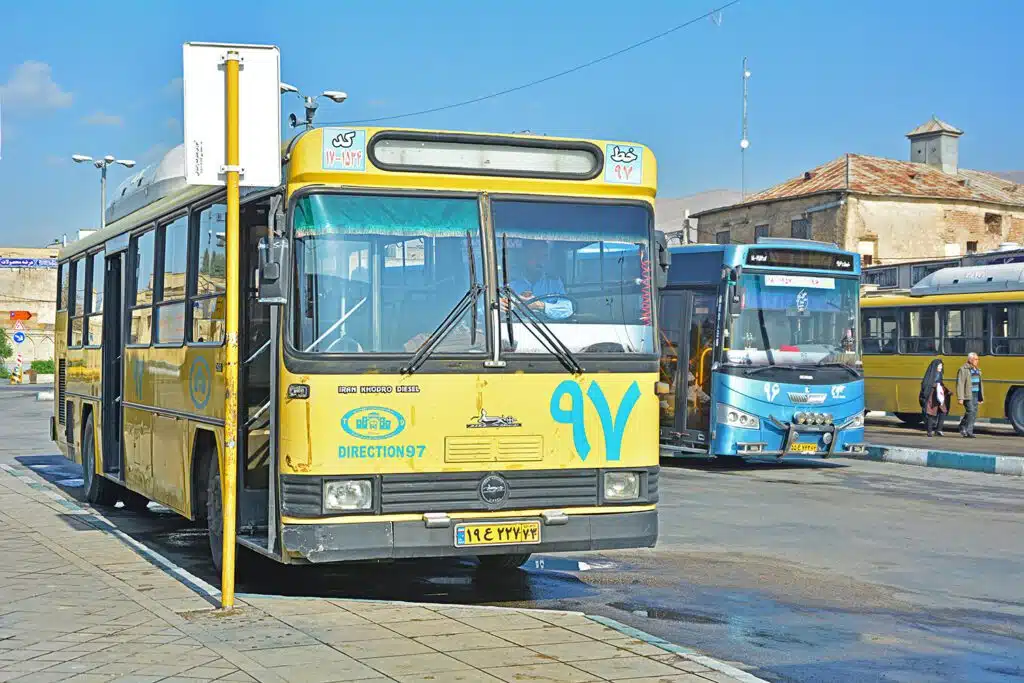 Shiraz has a broad organization of public transports that cover most region of the city. These transports are a reasonable and well known method of transport for the two local people and guests. There are various kinds of transports, including ordinary city transports and cooled transports, offering a more agreeable travel insight.
Metro
Shiraz has a metro framework with a few lines that interface various pieces of the city. The metro is a helpful and quick method for going inside Shiraz. It is especially valuable during top hours when gridlock is normal.
Taxis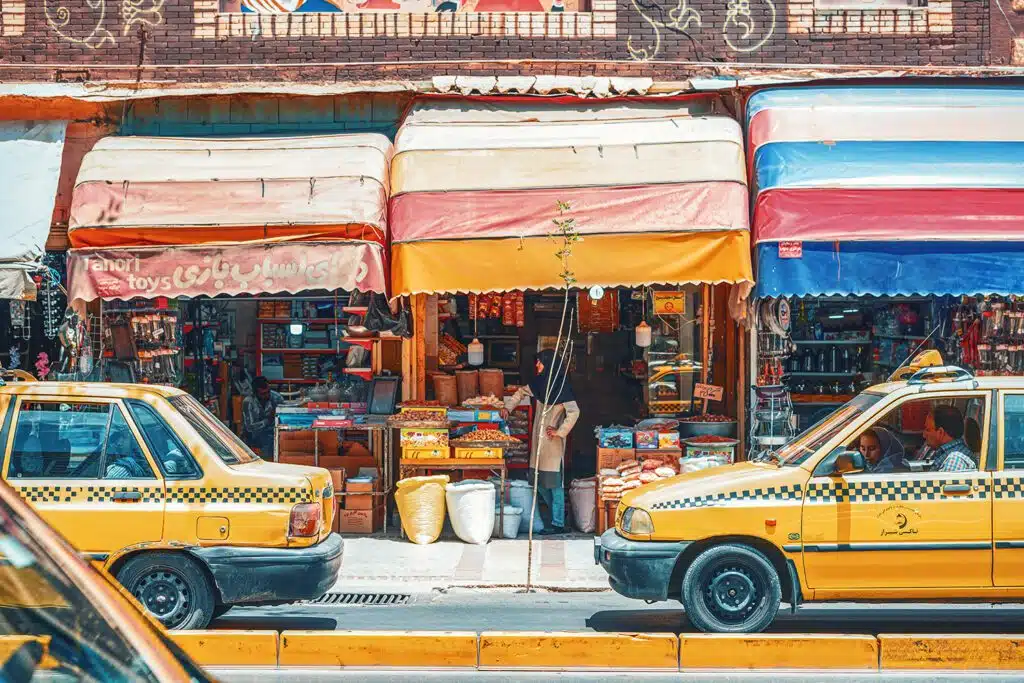 Taxis are bountiful in Shiraz and proposition an adaptable method of transport. You can find both authority city taxicabs and confidential cabs. Official city taxis are generally yellow or green, and their rates are regularly metered. Confidential taxicabs might require some exchange for the charge before the excursion.
Safety Consideration
While venturing out to Shiraz, similar to some other objective, it's fundamental for vacationers to focus on wellbeing. While Iran, as a general rule, is viewed as a protected country for voyagers, it's consistently shrewd to play it safe and know about neighborhood customs and guidelines. Here are some wellbeing contemplations for sightseers visiting Shiraz:
Respect Local Laws and Customs
Iran has severe regulations and social standards that guests ought with comply to. Dress unassumingly, particularly while visiting strict locales, and keep away from public presentations of love. Utilization of liquor is disallowed in Iran, and it's critical to know about this and regard neighborhood customs.
Be Vigilant in Crowded Areas
Like in any city, be careful of your things in jam-packed places like markets, vacation spots, and public transportation. Pickpocketing can happen in occupied regions, so keep your assets secure and know about your environmental factors.
Transportation Security
In the event that you intend to utilize taxis or ridesharing administrations, pick official city taxis or trustworthy ridesharing applications like Snapp. Continuously arrange the charge ahead of time with private cabs. While going across streets, utilize person on foot intersections and be wary of traffic.
Souvenir of Shiraz
Shiraz, as a city wealthy in culture and history, offers a large number of novel and delightful trinkets that make for superb remembrances and gifts. Here are a few famous trinkets you can track down in Shiraz:
Persian Carpets and Rugs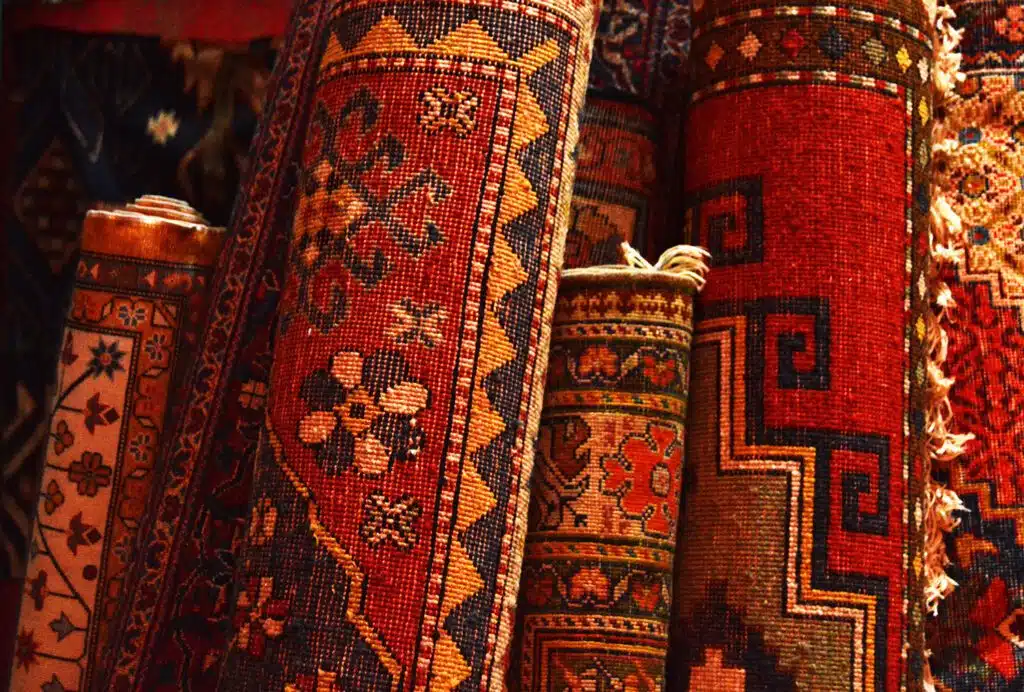 Shiraz is prestigious for its dazzling handwoven Persian floor coverings and carpets. These mind boggling pieces grandstand wonderful plans and craftsmanship and are prized all over the planet. Search for floor coverings made with great fleece or silk, and you'll track down various sizes and examples to browse.
Handicrafts and Pottery
Shiraz is known for its customary crafted works and ceramics. You can find hand-painted earthenware production, sensitive tiles, and wonderfully created wooden things. Search for little improving pieces like small scale works of art or wooden boxes embellished with Persian workmanship.
Khatamkari Craftsmanship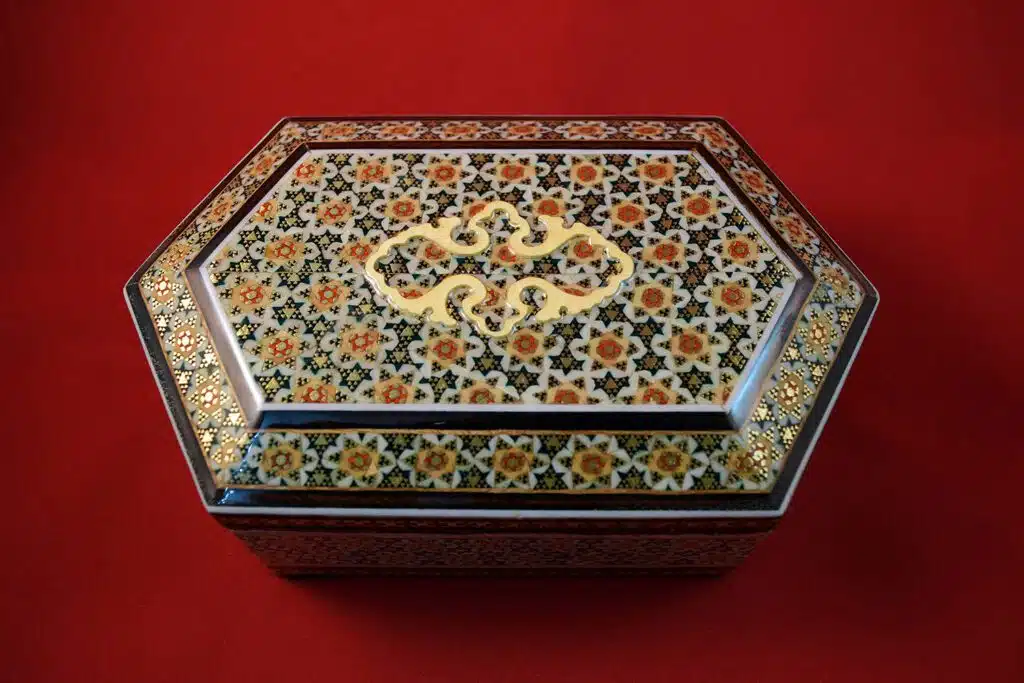 Khatamkari is a customary Persian work of art that includes making unpredictable mathematical examples utilizing minuscule bits of wood, metal, and bone. Things like gems boxes, photo placements, and enhancing plates decorated with Khatamkari plans make novel and exquisite trinkets.
Traditional Musical Instruments
In the event that you are a music devotee, consider purchasing a conventional Persian instrument like the tar, setar, or santur. These delightfully created instruments are beautiful as well as proposition a chance to learn and value Iranian music.
Silverware and Jewelry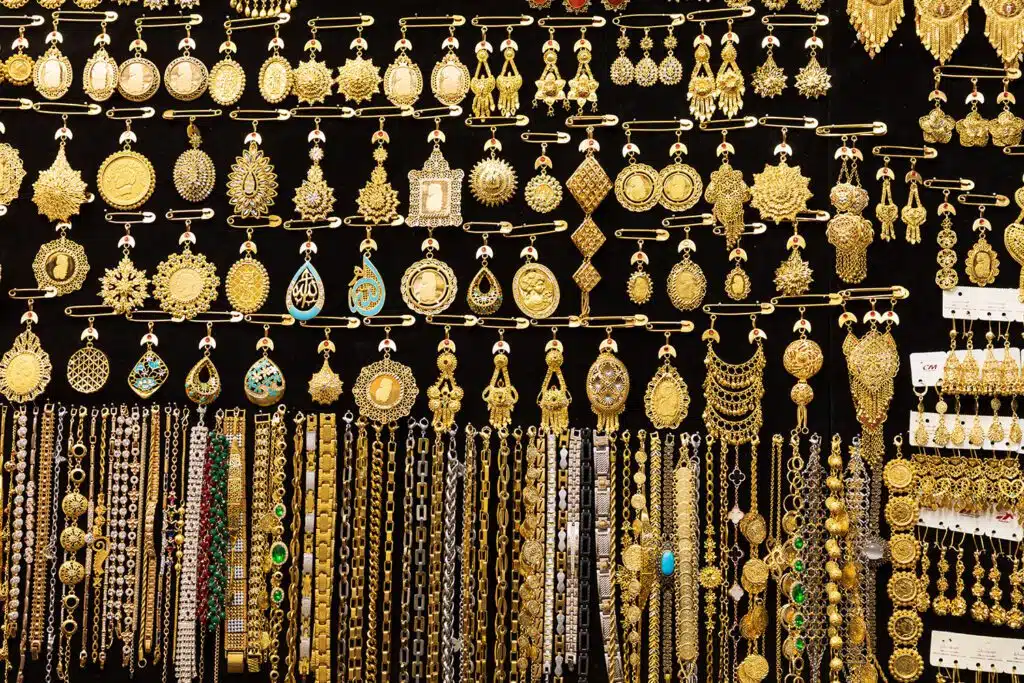 Shiraz offers an assortment of hand tailored flatware and gems pieces. Search for extraordinary plans like filigree work or pieces propelled by old Persian craftsmanship and images.
Shopping Centers
Shiraz flaunts a few renowned retail outlets and marketplaces where you can track down a large number of products, from customary crafted works to current style things. Here are the absolute most notable malls in Shiraz:
Vakil Bazaar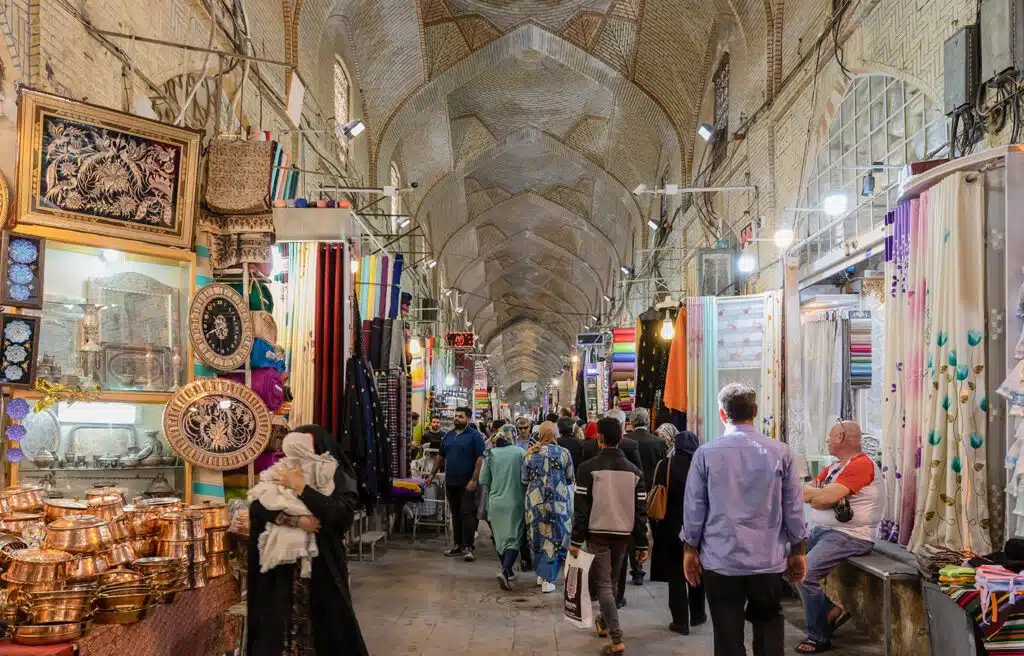 Vakil is one of the most seasoned and most renowned marketplaces in Shiraz. It offers a customary shopping experience with tight rear entryways fixed with shops selling flavors, rugs, handiworks, materials, gems, and then some. The market likewise houses the Vakil Bathhouse and Vakil Mosque, making it a well known vacation destination.
Pars Shopping Center
Situated in the downtown area, Standards Retail outlet is one of the biggest and most current shopping centers in Shiraz. It houses various shops, stores, and retail chains offering a wide assortment of items, including clothing, hardware, beauty care products, and home merchandise.
Arg-e Jadid
This mall is known for its wonderful engineering and plan. It highlights different stores, bistros, and eateries, making it a well known spot for local people and sightseers the same.
Moshir Shopping Center
Moshir is a more modest retail outlet known for its specialty stores, especially those selling crafted works, rugs, and customary Iranian products.
Arg-e Karim Khan Mall
Arranged inside the verifiable Karim Khan citadel, this retail outlet offers an interesting involvement in its mix of present day shopping offices inside an old post setting.
While shopping in Shiraz, remember to rehearse your dealing abilities, particularly in the conventional markets where wrangling is a typical practice. Whether you're looking for customary Persian trinkets or the most popular trend drifts, these malls in Shiraz take care of different preferences and inclinations, guaranteeing a pleasant retail insight.
Top Restaurants in Shiraz
Haft Khan Restaurant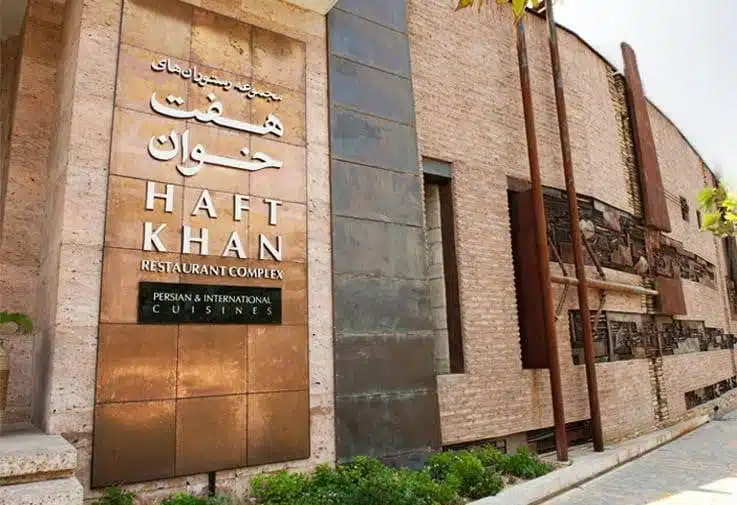 It is a flawlessly planned restaurant that offers a true Persian feasting experience. It highlights seven unique areas addressing different parts of Persian culture. The menu incorporates many Iranian dishes and conventional drinks.
Shiraz offers a great culinary scene with various eateries that serve conventional Persian dishes and global foods. Here are a portion of the renowned eateries in Shiraz that are famous among the two local people and vacationers:
Shater Abbas Restaurant
Situated close to the Vakil bazaar, Shater Abbas is a notable and cherished restaurant in Shiraz. It spends significant time in serving tasty Iranian kebabs, stews, and nearby dishes in a customary setting.
Sharzeh Restaurant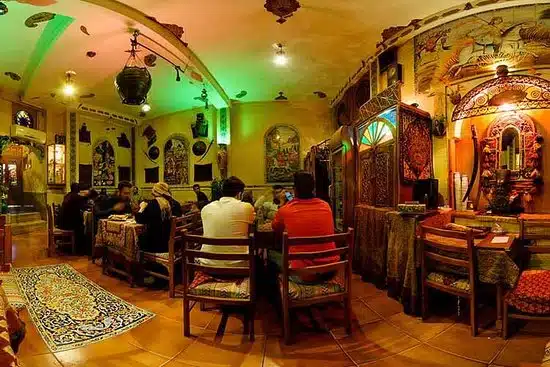 This restaurant is well known for its awesome roof garden, where you can appreciate dazzling perspectives on the city, while enjoying flavorful Persian food. The restaurant offers a blend of customary and current dishes.
Zeytoon Traditional Restaurant
Zeytoon is a beguiling restaurant with a comfortable and customary climate. It serves different Iranian dishes, including neighborhood claims to fame and customary pastries.
Sofre Khaneh Sonati Restaurant
This restaurant gives a one of a kind feasting experience as visitors sit on conventional floor pads around low tables while getting a charge out of customary Iranian dishes. The feel is upgraded by unrecorded music exhibitions.
Mahyar Restaurant
Mahyar is a deep rooted restaurant known for its delightful kebabs and barbecued meats. It offers a charming feeling and different Persian dishes.
Hafez Divan Tea House
While not a customary restaurant, It is a must-visit for any explorer to Shiraz. Situated close to the Hafez Tomb, this tea house permits you to appreciate Persian tea while encompassed by the verse and air of perhaps of Iran's most celebrated artist, Hafez.
Kindly note that the accessibility and notoriety of restaurants may change after some time, so it's generally smart to really take a look at ongoing surveys and suggestions prior to visiting. Shiraz's culinary scene offers a fabulous cluster of flavors and encounters, making feasting in the city a critical piece of your visit.
Shiraz Travel Guide: Frequently Asked Questions
How far is it from Tehran to Shiraz?
Distance: Tehran is approximately 930 kilometers away from Shiraz.
By Car: The journey by car can take around 10 to 12 hours, depending on traffic and weather conditions.
By Plane: A direct flight from Tehran to Shiraz usually takes about 1.5 hours.
By Train: Traveling by train can take approximately 12 to 14 hours, offering a scenic route through Iran's diverse landscapes.
What are the historical sights of Shiraz?
Shiraz is rich in historical sites, including:
Persepolis: An ancient ceremonial capital of the Achaemenid Empire.
Nasir al-Mulk Mosque: Famous for its stunning stained glass windows.
Arg of Karim Khan: A fortress dating back to the Zand Dynasty.
Vakil Bazaar and Mosque: Exemplifying traditional Iranian architecture.
Eram Garden: A UNESCO World Heritage Site known for its beautiful Persian gardens.
Tomb of Hafez and Saadi: Celebrating the legacy of two of Iran's most revered poets.
What are the best restaurants in Shiraz?
Top restaurants in Shiraz include:
Haft Khan Restaurant Complex: Offering a variety of Persian and international cuisines.
Shandiz Mashhad: Known for its excellent kebabs and traditional dishes.
Vakil Cultural House: Blending traditional Shirazi cuisine with a cultural experience.
Soroor Café House: Ideal for lighter meals and a cozy atmosphere.
What are the best hotels in Shiraz?
Renowned hotels in Shiraz are:
Zandiyeh Hotel: A luxurious stay near many historical sites.
Shiraz Hotel: Offering modern amenities with stunning city views.
Karimkhan Hotel: Combining tradition with comfort in the heart of the city.
Pars International Hotel: Known for its excellent service and facilities.
What are the most important streets of Shiraz?
Notable streets in Shiraz include:
Zand Street: Lined with shops, restaurants, and historic buildings.
Hafez Street: Leading to the Tomb of Hafez, surrounded by quaint cafes.
Lotfali Khan Zand Street: A hub for local markets and cultural activities.
Karim Khan Zand Boulevard: A major thoroughfare with access to key attractions.
What is Shiraz famous for?
Shiraz is renowned for:
Cultural Heritage: Including Persian poetry, gardens, and historical architecture.
Handicrafts: Such as inlaid mosaic work and carpet weaving.
Literature and Poetry: As the home of poets like Hafez and Saadi.
What is the population of Shiraz?
Shiraz has an estimated population of around 1.5 million people. For the most up-to-date population statistics.