Iran Tourism
Shiraz
Vakil Bazaar: The Thriving Heart of Shirazi Commerce
Exploring Vakil Bazaar in Shiraz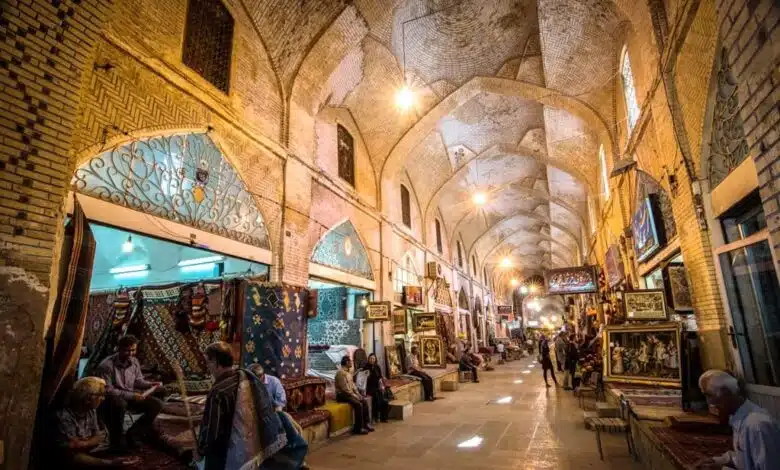 Vakil Bazaar in Shiraz is one of the city's most famous attractions, a name familiar to all. Perhaps you've noticed that if we have more information about the history and significance of a place, we appreciate its true value even more. That's why we'll start by delving into the history of Vakil Bazaar.
A Glimpse into History
During the Zand era, Shiraz experienced a glorious and prosperous period. Many of Shiraz's historical buildings that are still valuable today date back to the Zand dynasty. One of these historical sites is Vakil Bazaar. This bazaar was built by the order of Karim Khan Zand, inspired by his visit to the Qeysarieh Bazaar in Lar. Construction of the bazaar began in 1758 and took 19 years to complete. Vakil Bazaar, with its fascinating alleys and shops, became a hub for businesses and merchants in 1777.
Each of the alleys in the bazaar is named according to the type of goods sold there, such as the Crystal Market, Tailors' Market, and Carpet Market, among others. All types of trade, from buying and selling domestic and foreign goods to issuing promissory notes and even currency exchange, took place within Vakil Bazaar.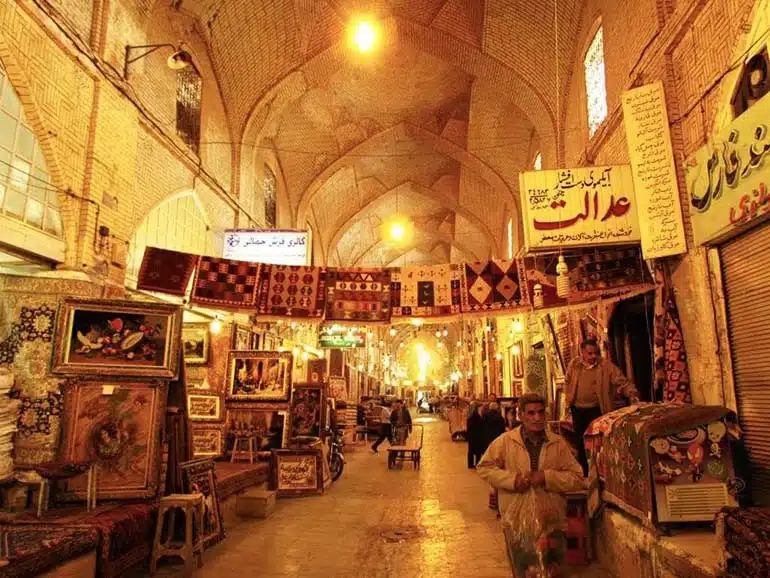 Where to Find Vakil Bazaar
The entrances to Vakil Bazaar are located on Zand Street, Taleghani Street, and Lotf Ali Khan Zand Street. You can reach the bazaar through any of these streets. The main entrance to Vakil Bazaar is on Zand Street, east of the City Hall Square. Access to Vakil Bazaar is possible via public transportation, including buses and the Shiraz Metro. If you're taking a bus to the bazaar, use the lines that stop at Shahrdari Square. From Shahrdari Square, it's just a short walk to the bazaar. If you plan to use the Shiraz Metro, you can disembark at Zandieh Metro Station. The distance from Zandieh Station to the bazaar is approximately a 10 to 15-minute walk.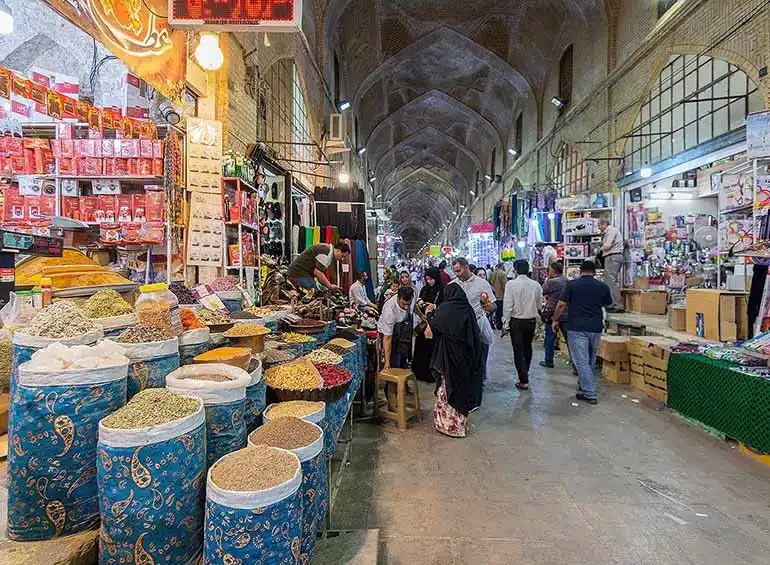 Vakil Bazaar's Address: Shiraz, Lotf Ali Khan Zand Blvd.
Operating Hours: On regular days throughout the year, the bazaar is open from 8:30 AM to 8:30 PM, and it's usually closed on Fridays. However, keep in mind that different occasions and special circumstances can affect the operating hours.
Architectural Marvel
Vakil Bazaar's unique architecture is one of the reasons tourists are amazed when visiting this ancient bazaar in their journey to Shiraz. Inspired by the architecture of Isfahan's Bazaar and Qeysarieh Bazaar in Lar, Vakil Bazaar exhibits traces of Safavid architecture. Covering an area of nearly 21,840 square meters, the architecture of Vakil Bazaar is divided into three main sections:
Passageway (for pedestrian traffic).
Marketplace (shops on an elevated level above ground).
Shop Spaces (actual sales areas).
Vakil Bazaar was constructed using materials such as plaster, brick, and lime. Its structural integrity is ensured by carved stone columns. This bazaar boasts a resilient and sturdy construction that has withstood earthquakes over the years.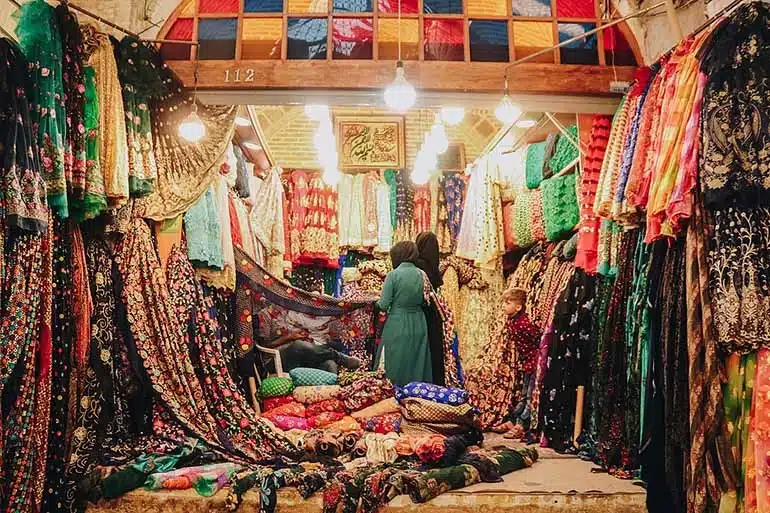 The Layout of Vakil Bazaar
Vakil Bazaar is divided into two main corridors: North-South and West-East, intersecting in a cross-like fashion. At this intersection, four arcades converge, immediately catching your attention.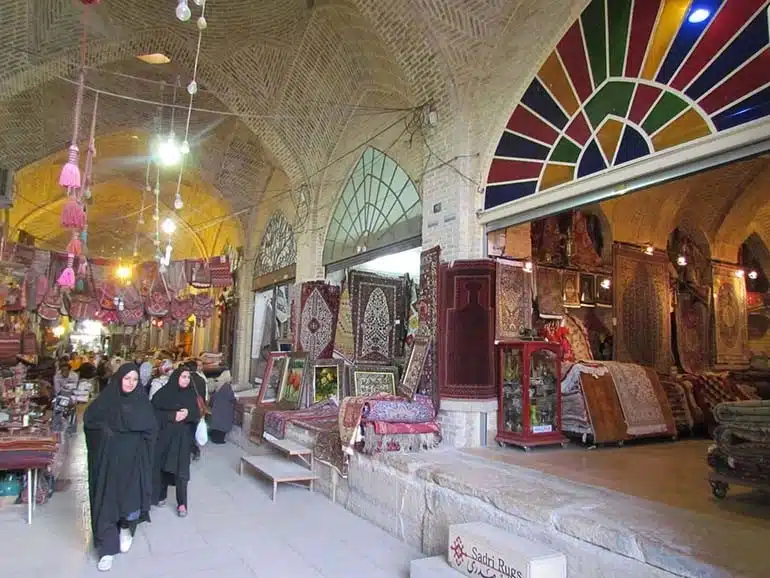 Vakil Bazaar in Shiraz has several significant differences from other traditional markets. Firstly, the bazaar is several steps below ground level. The height of Vakil Bazaar's ceilings and the width of its alleys are remarkable compared to other ancient bazaars. Many of its shops are two stories high, and due to the presence of moisture, they are positioned one meter higher than ground level. In front of each shop, platforms were built, which were once intricately decorated and adorned with tile work. Today, remnants of the tile work can still be seen, and these platforms serve as the storefronts for the shops.
Exploring the Alleys of Vakil Bazaar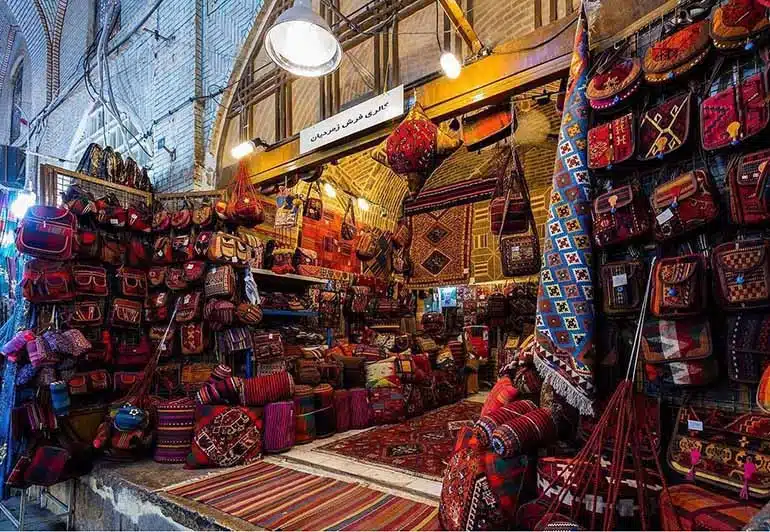 To better understand the different alleys of Vakil Bazaar, it's helpful to visualize the overall layout of the bazaar. The bazaar has two main corridors: North-South and West-East, intersecting in a cross-like fashion with a central area called "Charsooq" or the four squares. Keeping this general layout in mind, let's explore each section of the bazaar.
North Section – Home to Traditional Crafts
The northern section of Vakil Bazaar begins at the Isfahan Gate and extends to the large market. This section includes three caravanserais: Ahmadieh, Roghani, and Customs. You'll also find sellers of sesame sweets and hat makers in the northern section. This is where you're likely to encounter more local people and traditional craftsmen.
South Section – The Sword Makers' Market
The southern section, known as the Sword Makers' Market, is one of the more bustling parts of the bazaar. The entrance to this section is marked by the Vakil Mosque. This section used to be a place for selling various types of swords and cold weapons, hence the name. However, today, it offers handmade crafts and goods from Iranian nomads. The entrance to the Vakil Caravanserai in the southern section is also known as the Elephant Caravanserai.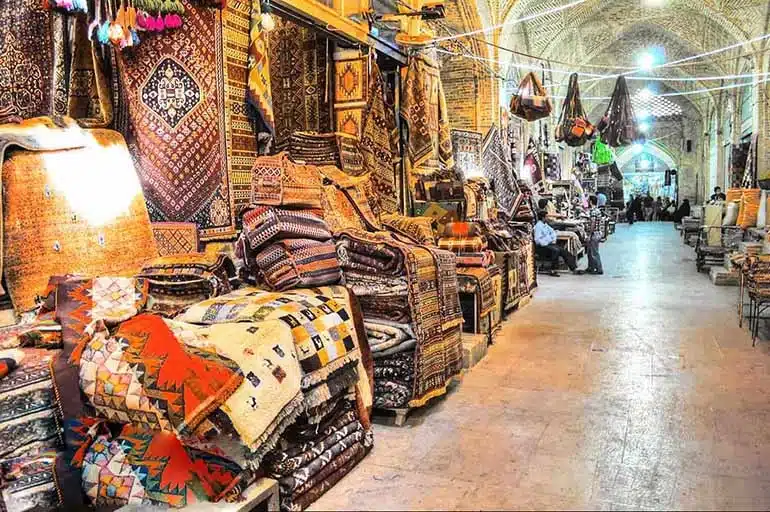 West Section – Carpet Weavers' Market
The western section, known as the Carpet Weavers' Market, is famous for its traditional Persian carpets. This section contains 11 chambers and 20 shops, all dedicated to the sale of authentic Iranian handwoven carpets. It starts with the Sword Makers' Market and connects to the southern section of the bazaar.
East Section – The Ribbon and Spice Market
The eastern section, known as the Ribbon and Spice Market, is the largest section of Vakil Bazaar. It consists of 19 chambers and 38 shops. Historically, this section was dedicated to the production and sale of ribbons, silk ribbons, threads, and more. However, today, it primarily serves as the center for selling Persian rugs, with some shops selling spices and herbs.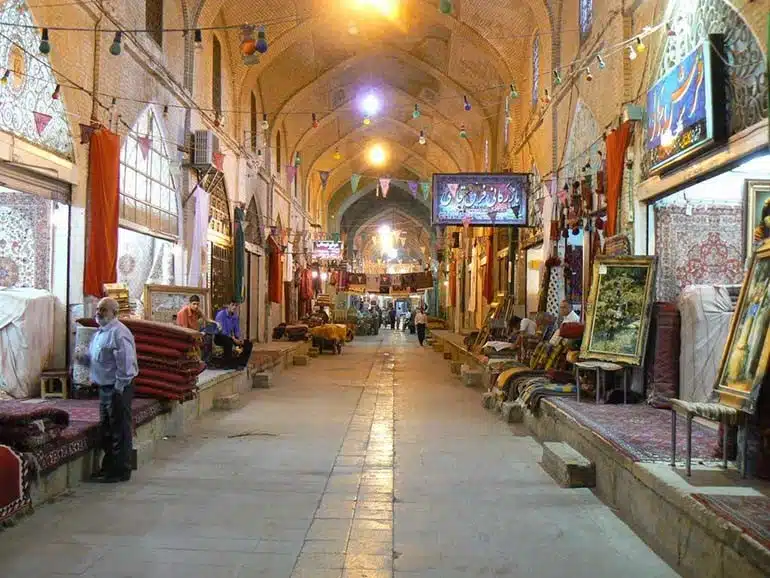 Shopping at Vakil Bazaar
The beauty of Vakil Bazaar is captivating, and the shops and stalls are so enticing that they encourage you to shop. In a bazaar of this size, you'll find an appropriate answer to all your shopping needs. From food items, handicrafts, spices, copperware to cafes, restaurants, and herbal shops, everything is under the tall roof of Vakil Bazaar in Shiraz.
Today, many Iranian and foreign products are sold in this market. In this article, we'll introduce you to the main sections:
1. Food and Spices
In Vakil Bazaar, you can purchase local delicacies such as Koloocheh, traditional Masghati sweets, Lari sweets, rice bread, and "Yukhe" bread, all of which are famous as Shirazi souvenirs. Additionally, Shiraz is renowned for its Bitter Orange Blossom scent, and you can buy various perfumes, mountain herbs, and aromatic spices from Vakil Bazaar as well.
2. Handwoven Products
Various Persian handwoven products such as carpets, Kilims, and Gabbehs are available in Vakil Bazaar. These are genuine works of art that represent the Iranian nomadic culture.
3. Fabrics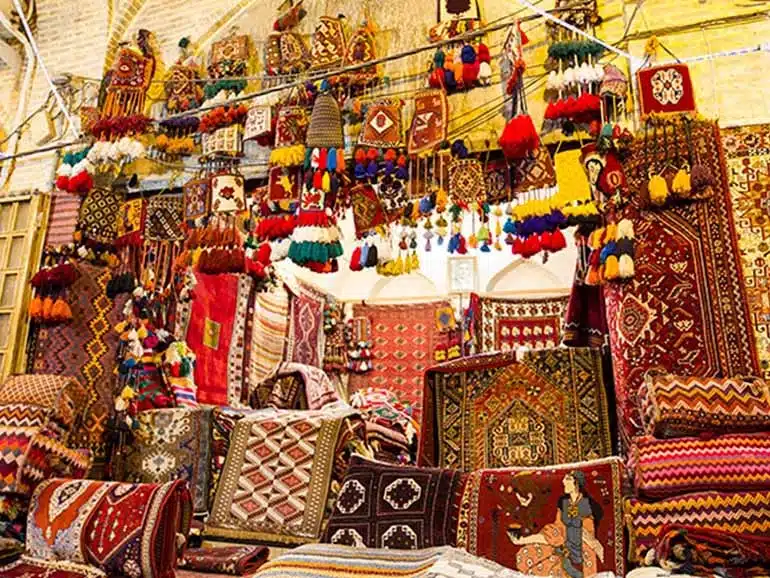 Vakil Bazaar offers a wide variety of colorful fabrics. You can choose your preferred fabric and take it to the local tailors within the bazaar to have custom-made clothing to remember your trip to Shiraz.
4. Handicrafts
Numerous handicrafts including calligraphy, marquetry, carving, and other traditional Iranian crafts are available in Vakil Bazaar. In addition to the mentioned items, Vakil Bazaar is an ideal place to purchase copper and silverware, local clothing, jewelry, various types of leather goods, and more.
A Bazaar of Colors
Vakil Bazaar speaks in colors. The colors of the carpets, fabrics, and spices are so vibrant that you can't simply pass by without admiring its beauty. So, don't be an ordinary passerby; be a tourist. Each time, walk through the bazaar's alleys as if it's your first time. This way, you'll store beautiful memories of your journey to Shiraz in your heart.