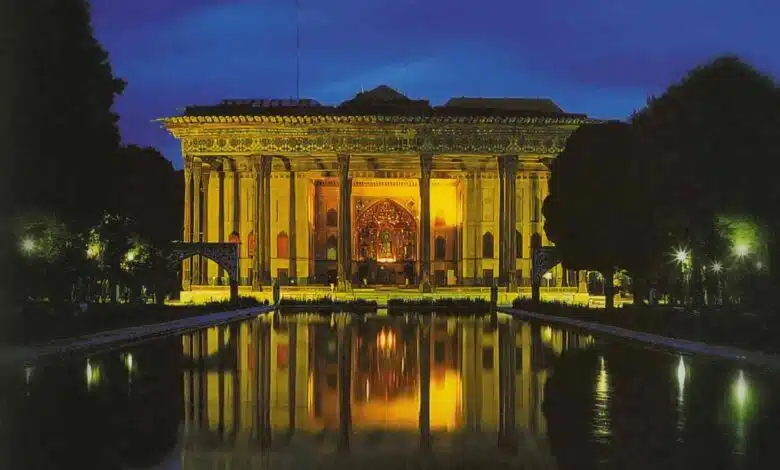 Isfahan is a city in central Iran, south of Tehran and is the capital of Esfahan Province. The Persians call it "Nesf-e-Jahan", meaning "Half the World".
Due to its beautiful hand-painted tiling and magnificent public square, it is considered to be one of the most beautiful cities in the world. An ancient town and capital of Persia from 1598 to 1722, it was long noted for its fine carpets and silver filigree.
Today, textile and steel mills take their place. Its architecture, tree-lined boulevards and relaxed pace make it one of the highlights of Iran. The city is 430km south of Tehran at the foothills of the Zagros Mountain range.
The city enjoys a temperate climate and regular seasons. Isfahan is located on the main north-south and east-west routes crossing Iran. It is similar to Denver in the United States in terms of altitude and precipitation. It is the twin city of Freiburg and Freiburg Street in Isfahan is famous.
Best Time to Visit Isfahan
Isfahan experiences an arid climate, much like the rest of the Iranian plateau with little rainfall. It features cold winters with temperatures between -2°C (27°F) and 8°C (47°F) in January. Cold waves can occasionally lower temperatures to -10°C (14°F) and the record low is -19.4°C (-2.9°F). Snow does fall at least once every winter. In contrast, summers can get hot with highs topping 36°C (97°F) in July but with pleasant nights just above 21°C (70°F). Heat waves do occur and the record high is 43°C (109°F).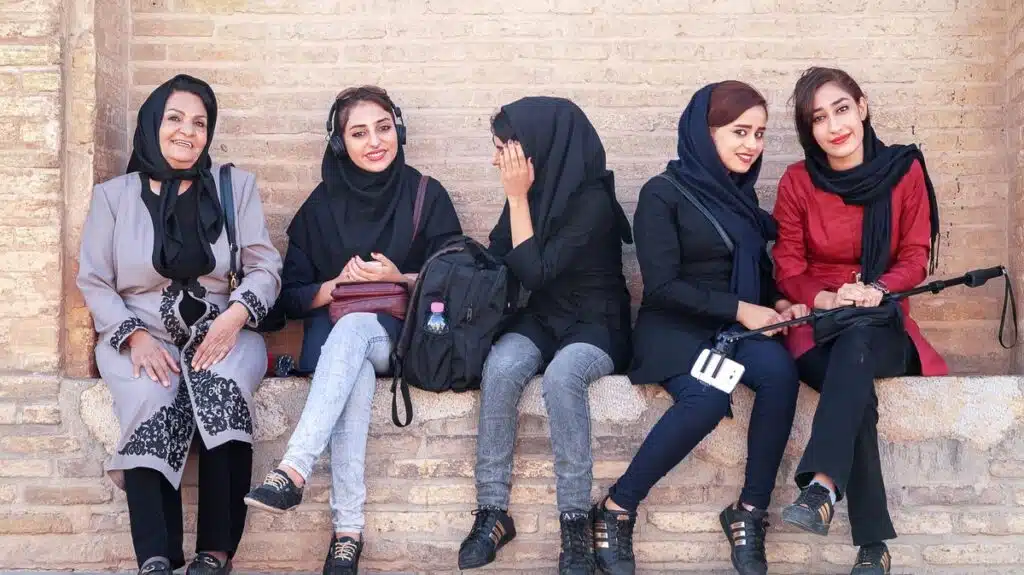 Get Around Isfahan
It is easy to get around Isfahan by public transports.
Get Around Isfahan By Bus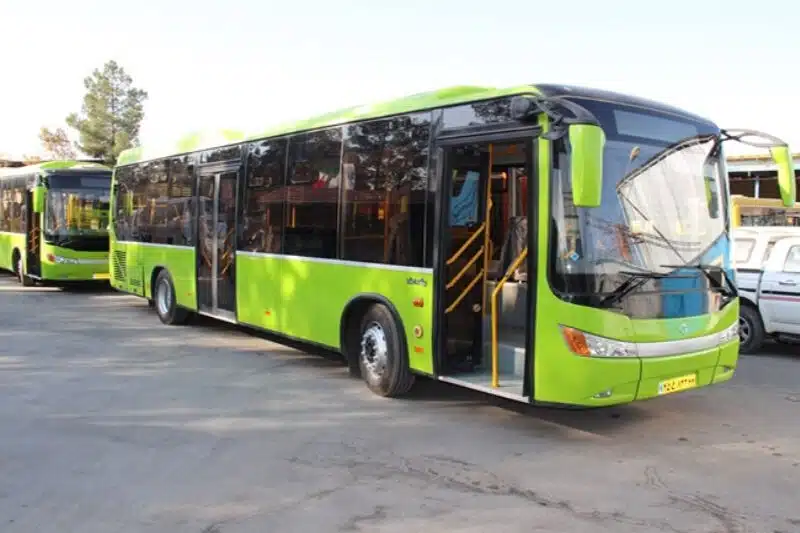 A single journey costs IRR25000 (November 2022); you can pay the driver directly, or buy multi-journey contactless cards at certain bus stop booths. Note that there are separate men (front) and women (rear) sections on each bus.
From Kaveh Bus Terminal, take Bus 91 which runs down Chahar Bagh-e Pa'in St towards the city center, past Takhti Junction and Imam Hossein Sq.
By Metro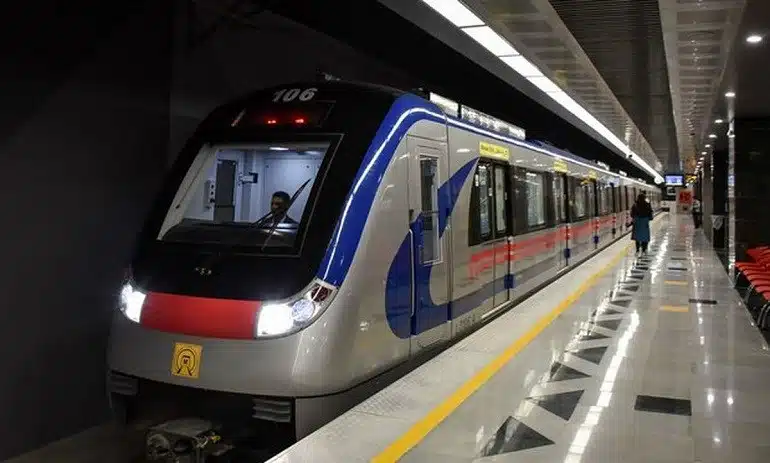 Isfahan Metro is a metro system serving the city of Isfahan, Iran.
The first phase of Line 1 runs for 11 km from Qods in the northwest to Shohada via Kaveh (Northen long-distance bus terminal) to Sofeh (Southern long-distance bus terminal). A single journey costs IRR28000 (November 2022) you can buy multi-journey contactless cards at any metro station ticket seller offices.
Ride-Sharing Apps
It is recommended for traveler to use the ride-sharing apps such as SNAPP or TAP30 since they are cheaper than the regular taxi most of the time.
What To See in Isfahan?
Squares and streets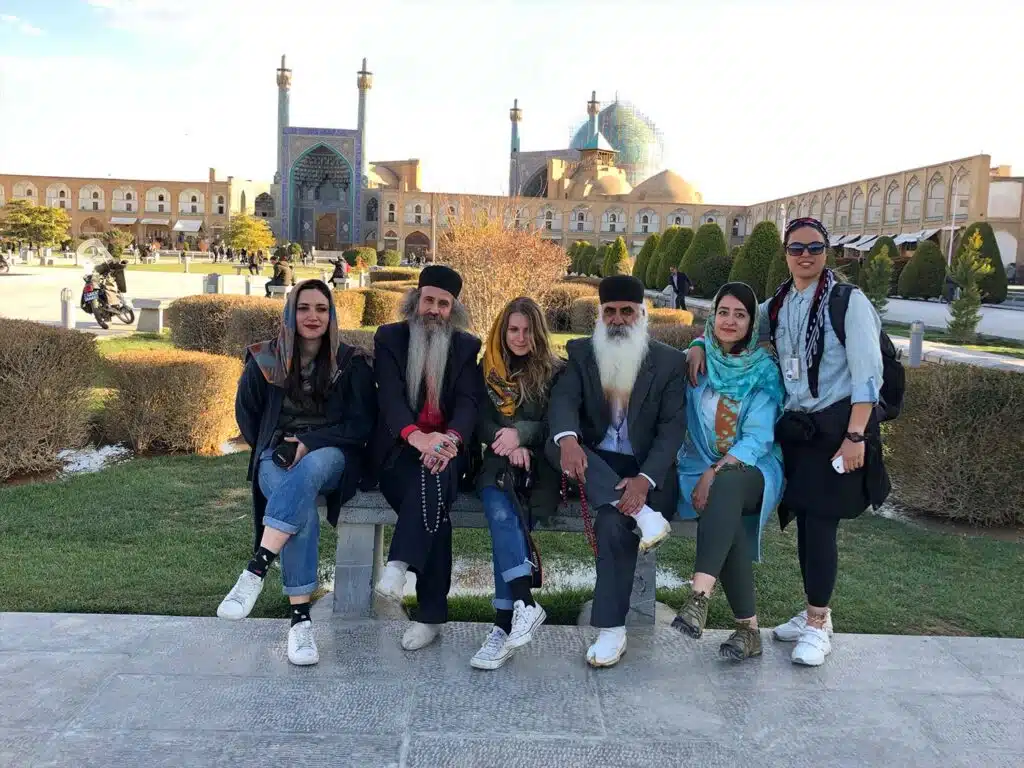 Naqsh-e Jahan Square also known as shah square or imam square-1602. The square contains two mosques, a palace, and the bazaar. The square is the largest historic public square in the world after Tiananmen Square in [[Beijing]] and it is one of UNESCO's World Heritage Sites. The square is surrounded by buildings from the Safavid era. This a very popular place for locals to picnic on Friday and holiday evenings.
Meydan Kohne (Kohne Square)
Shahshahan Square
Chaharbagh Boulevard: 1596, dating from the Safavid era, the avenue is the most historically famous in all of Persia.
Chaharbagh-e-khajou Boulevard
Mosques
The stunning mosques of Isfahan are among the most beautiful and interesting in the world.
* Built during the Safavid period, it is an excellent example of Islamic architecture of Iran, and regarded as one of the masterpieces of Persian Architecture. It is registered as a UNESCO World Heritage Site. Its splendor is mainly due to the beauty of its seven-colour mosaic tiles and calligraphic inscriptions.
Sheikh Lotf Allah Mosque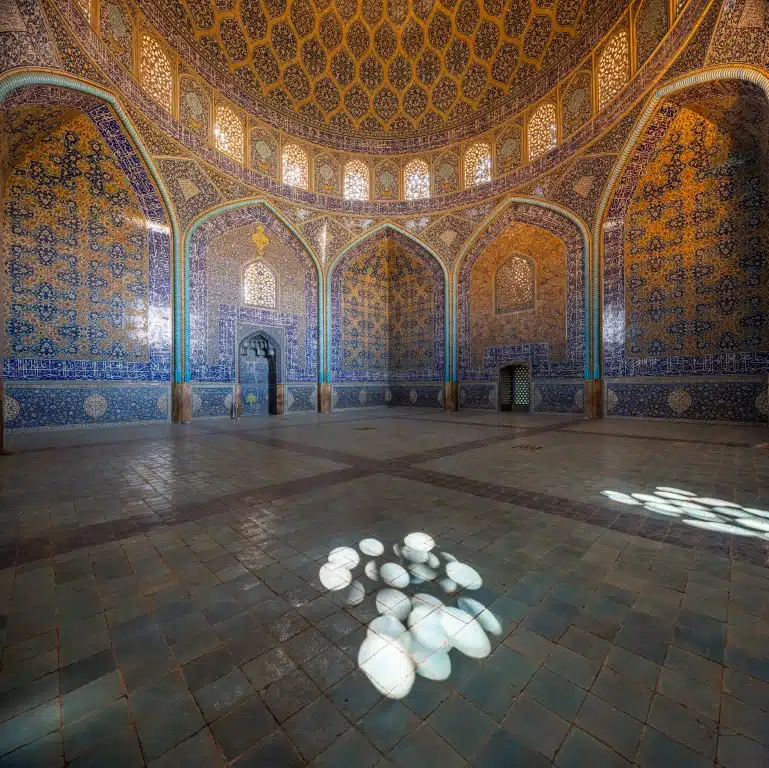 one of the architectural masterpieces of Safavid Iranian architecture, this mosque is considered to be the most beautiful in Iran. Built-in 1602 by Shah Abbas I.= and designed by his chief architect, Sheikh Bahai. The mosque was designed to be a private mosque for the royal family and therefore it does not have any minarets. There is a tunnel from the mosque to the Royal Palace, across the square.
Hakim Mosque
one of the oldest mosques in Isfahan. Built by Shah Abbas II between 1656 and 1662. Located on the site of a 10th-century mosque. The portal was covered in mud until it was discovered in 1956.
* Started in AD842, this is the first Islamic building to adapt the four-courtyard layout of Sassanid palaces
Palaces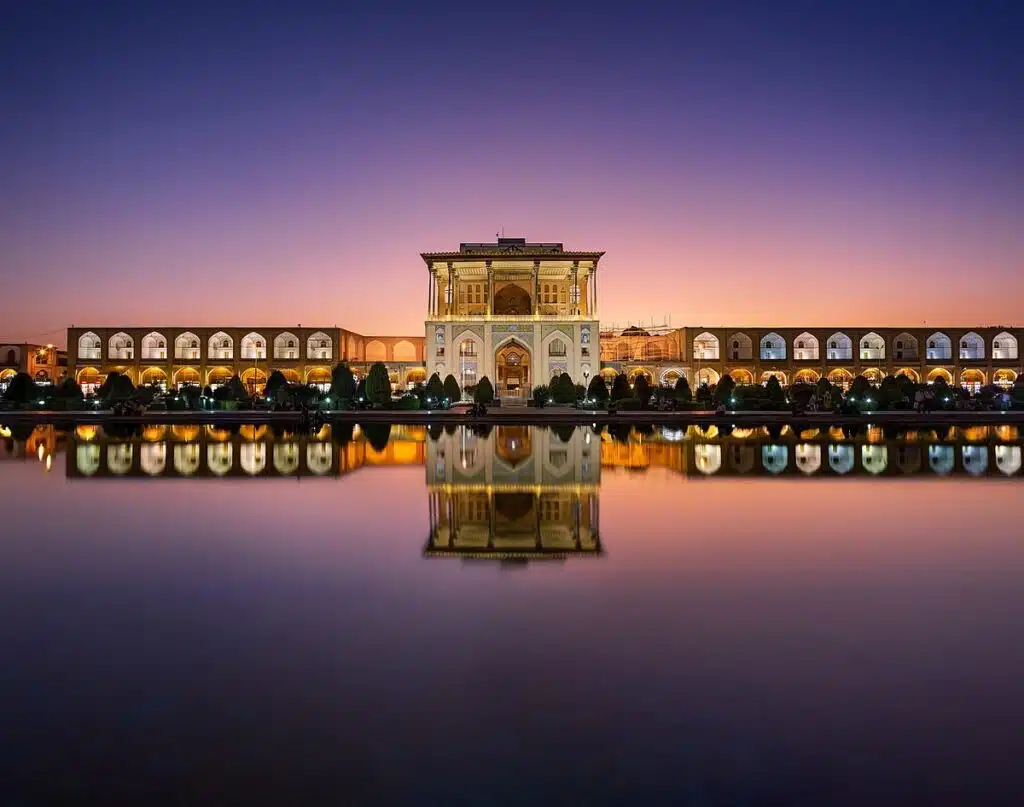 Ālī Qāpū (The Royal Palace) – Early 17th Century. It is forty-eight meters high and there are seven floors, each accessible by a difficult spiral staircase. In the sixth-floor music room, deep circular niches are found in the walls, having not only aesthetic value but also acoustic. It is rich in naturalistic wall paintings by Reza Abbassi, the court painter of Shah Abbas I, and his pupils. There are floral, animal and bird motifs.
Talar Ashraf (The Palace of Ashraf) – 1650.
Hasht Behesht (The Palace of Eight Paradises) – 1669: Reportedly built for residence purposes of the King's harem.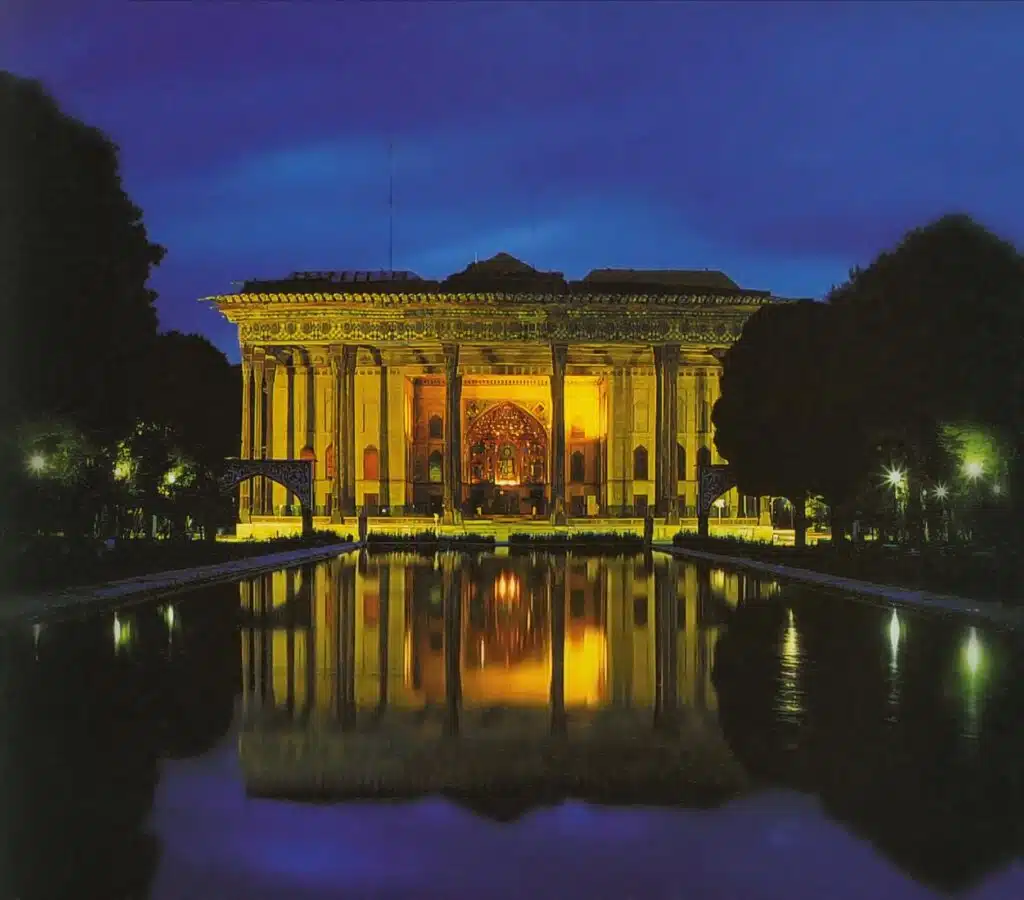 Chehel Sotoun (The Palace of forty columns) – 1647: It is called Palace of forty columns, as there are many columns, and in Iranian, 40 means many. Incidentally, there are twenty columns, and these are reflected in the pool in front, which might also account for its name. The function of this palace was for holding religious-national ceremonies and royal festivals and for receiving royal ambassadors and guests.
Schools
Madreseye Sadr (Sadr school)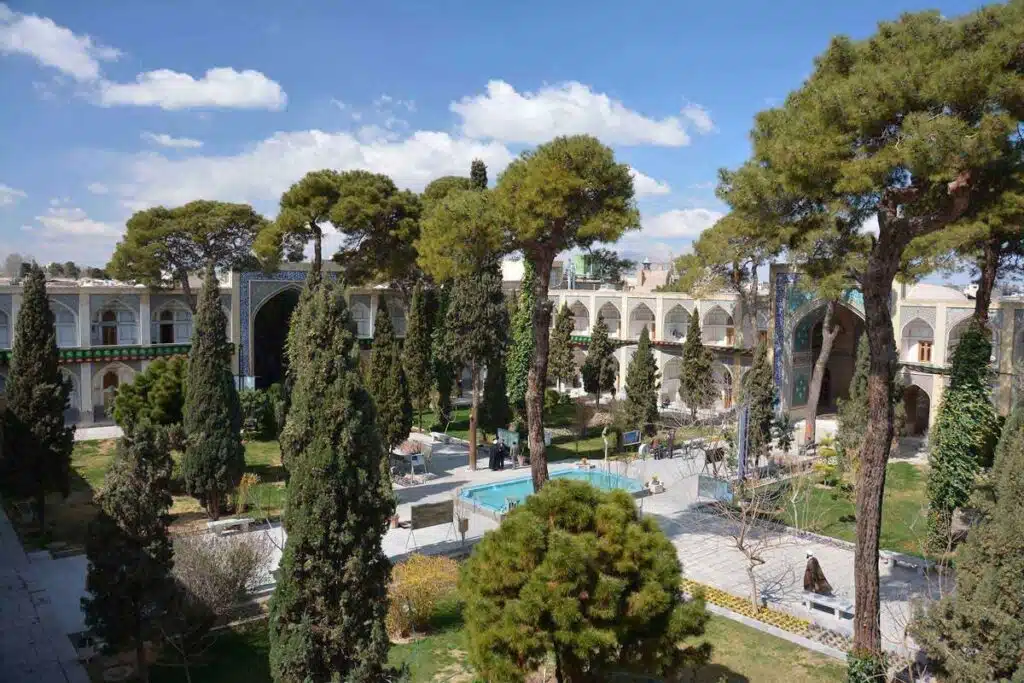 Madreseye Shah (Imam Jafar Sadegh after the revolution). The compound was built during Soltan Hossein, a Safavid king, to serve as a theological and clerical school to train those who were interested in such sciences. The dome and the greater part of the walls are covered in bright yellow bricks which give a feeling of lightness. The entrance gate decorated with gold facade and silver and the tile-works inside the building are masterpieces of fine art and industry. The central court, with its pool and garden, are surrounded by arcades on two levels, each giving access to a student's room.
Bridges
Walk along the Zayanderud River beside the ancient bridges. You see many locals doing this every day. However, as a result of a drought and badly planned dam, there is usually no water in the river.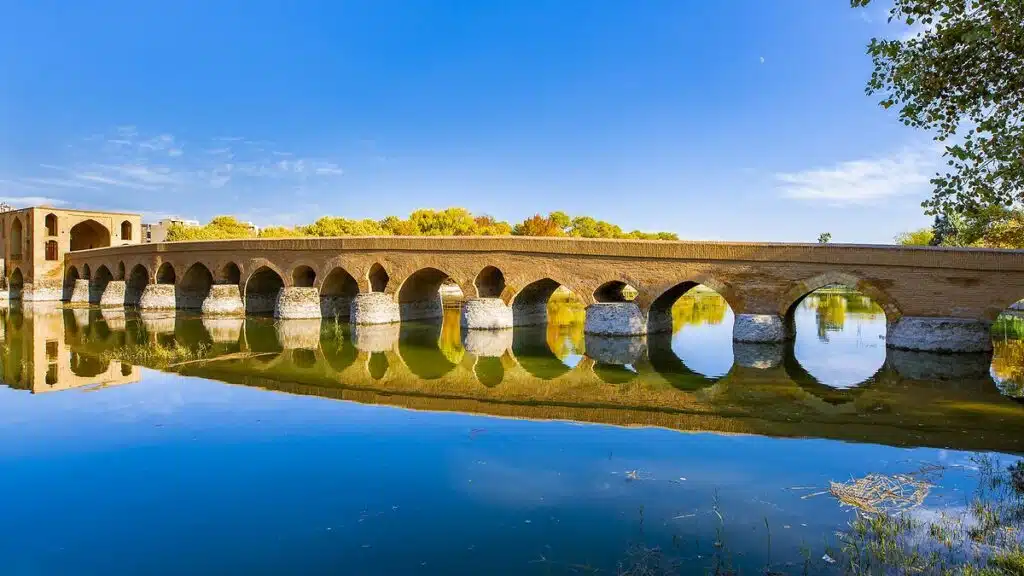 Pol-e Shahrestan (The Shahrestan Bridge) – 11th Century. It is one of the oldest surviving bridges in Iran, built in the 14th Century (C.E.).
Pol-e Khaju (Khaju Bridge) – 1650. It is the finest bridge in the province of Esfahan. It was built by the Persian Safavid king, Shah Abbas II around 1650 C.E. This structure originally was ornated with artistic tile works and paintings serving as a teahouse.
Si-o-Seh Pol (The Bridge of 33 Arches) – 1602. It is highly ranked as being one of the most famous examples of Safavid bridge design.
Pol-e-Joui or Choobi(Joui bridge)It is one of Isfahan's oldest bridges and was built in 1665, during the Safavid era.
Pol-e-Maarnaan (Maarnaan Bridge)
Churches and Cathedrals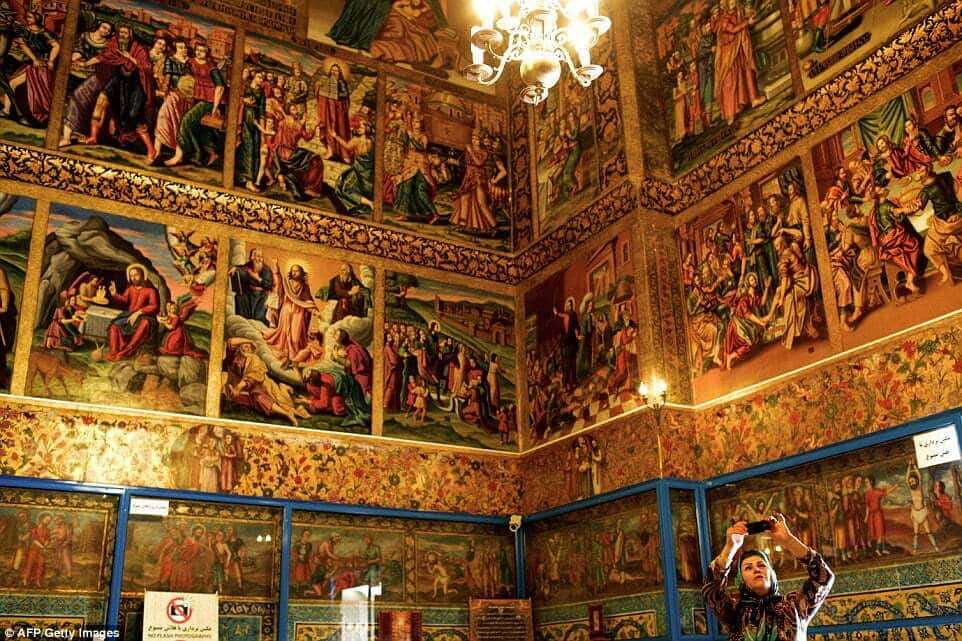 Vank Cathedral (The Church of the Saintly Sisters) – 17th century. The interior is covered with fine paintings and gilded carvings and includes a wainscot of rich tile work. The delicately blue and gold painted central dome depicts the Biblical story of the creation of the world and man's expulsion from Eden. Right above the entrance, there is an interesting fresco of heaven and hell with black and brown devils slaughtering white naked people who obviously sinned. To heaven go well dressed pious people with candles. Entrance to the compound on which there is also a museum: IRR200,000. Good value compared to what you pay at other sites.
Kelisaye maryam (maryam church)
Modern Isfahan
Isfahan City Center which is recently completed and now serving the visitors with its variety of products and services, such as a museum, a Food court with traditional and international meals, an Art Gallery, the largest shopping mall in Iran with local and international brands, The largest indoor amusement park in Iran. You can spend a whole week exploring its facilities.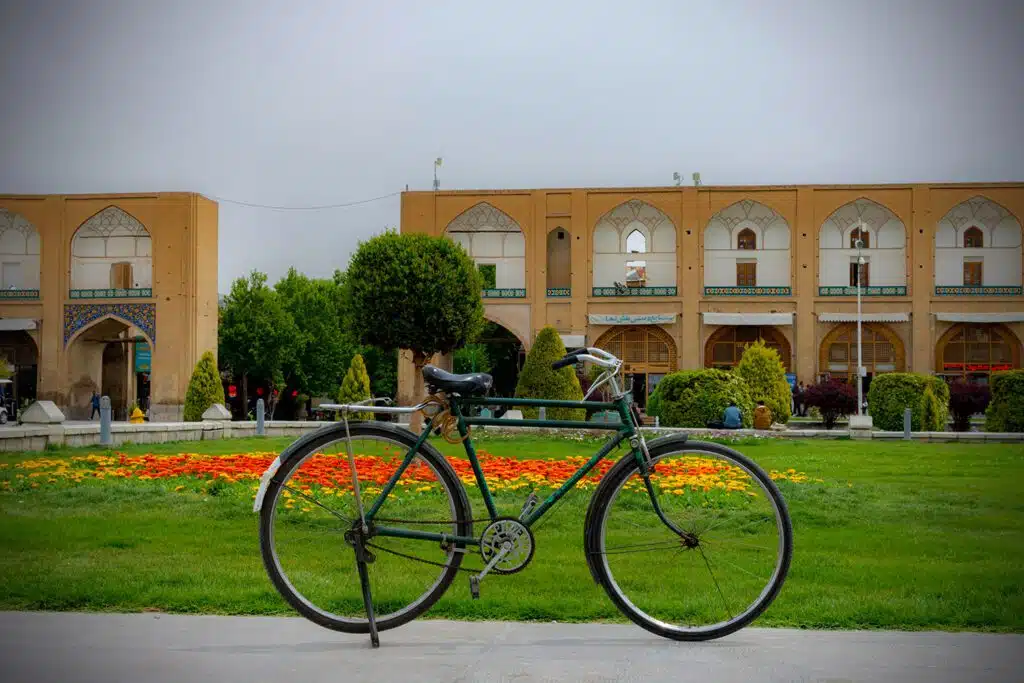 Modern Restaurants such as Shab Neshin, Kentucky House, Hermes, …
Modern Amusement Parks such as Isfahan City Center amusement Park, Simorgh Amusement Park and Dreamland Amusement Park east of Isfahan.
Kids Club Sofia Kids Club is the best kids club in Esfahan. They can keep and educate your children in English language. The price is about 3 US Dollars per hour.it is consists of Coffee shop, rock climbing, children`s sand game etc. Tel +983132605725
Address: No.177, Ghorbanian Deadend, Bazarcheh st., Second Moshtagh (Near Shahrestan Bridge).
Other sights
Atashgah: a Zoroastrian fire temple. This small reconstructed temple and ruins are dramatically set atop a rock on the outskirts of Isfahan and provide a commanding view of the smog-covered city. You can take one of the blue buses there (ask the drivers). Alternatively, you can cycle the 15 km from the city along the river bank. Entry: IRR 150,000 for foreigners. Free for Iranians.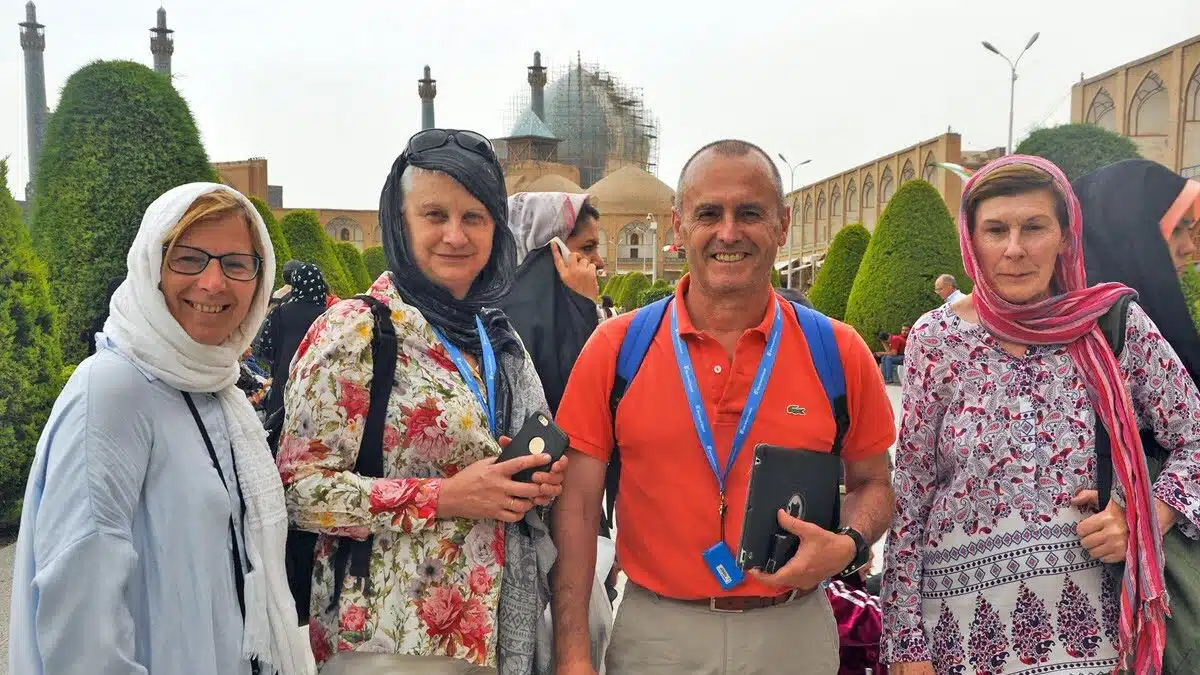 Buqe'h-ye Ibn-Sina (Avicenna's Dome) – 12th Century.
The Tombs of Nizam al-Mulk & Malek Shah: 12th & 18th Century.
Jolfa: The Armenian Quarter, it includes one of the most beautiful churches in Iran.
Sheikh Bahai Bathhouse: falling apart due to neglect.
Pigeon Towers: Built in the 17th century to attract pigeons, whose feces were then used as fertilizer.
Hamam-e (Bathhouse) Ali Gholi Agha located in a pleasantly quiet neighborhood with many silver and bronze smiths.
What To Do in Isfahan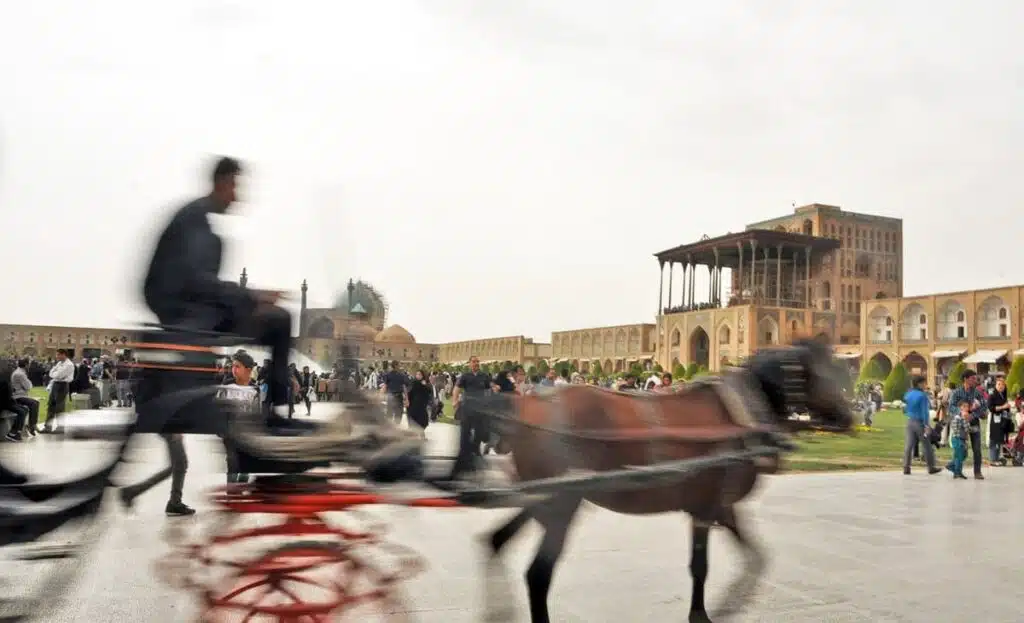 Take a taxi to the south of the city to Soffeh Mountain and catch a telecabin up for IRR500,000 or go bowling at the only bowling alley in the city underneath the telecabin station.
Walk along beautiful Zayanderood river and enjoy well maintained parks and historic bridges on the ways.
Enjoy a horse-drawn carriage ride in the historic Naqshe-Jahan square.
Have a picnic in Nazhvan garden and enjoy the scenery
Take a walk in Chahar-Bagh street while enjoying Persian saffron ice-cream
Take a day trip to Kashan and Qamsar, especially during the months that local Rosewater production is underway in Qamsar.
What To Buy in Isfahan?
Note that shops in the main square must pay an additional 8% tax on sales, which is passed on to the customer. Unless the item that you are purchasing is unique or inexpensive, you may be better off shopping outside of the main square.
Isfahan, often referred to as "Half the World," is not just a city of mesmerizing mosques, historic bridges, and serene gardens; it is also a hub of traditional Iranian arts and crafts. As you meander through the winding bazaars, the scent of spices wafting through the air and the gentle sounds of artisans at work, you'll find treasures that are quintessentially Isfahani. Here's a guide to what to buy in Isfahan to take a piece of this Persian gem home with you.
1. Persian Carpets and Rugs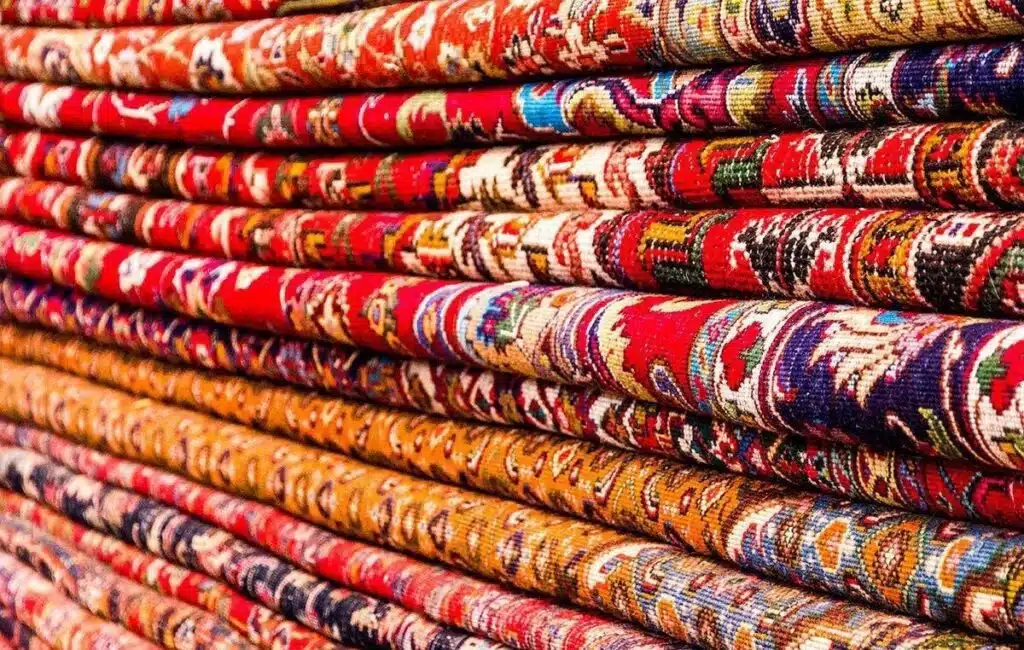 Isfahan is famed for its handwoven carpets and rugs, each telling a unique story through intricate patterns and vibrant colors. These carpets are not just floor coverings; they are works of art, painstakingly crafted over months or even years. While they might be a pricier keepsake, owning an Isfahani carpet is like having a piece of Persian history in your living room.
2. Miniature Paintings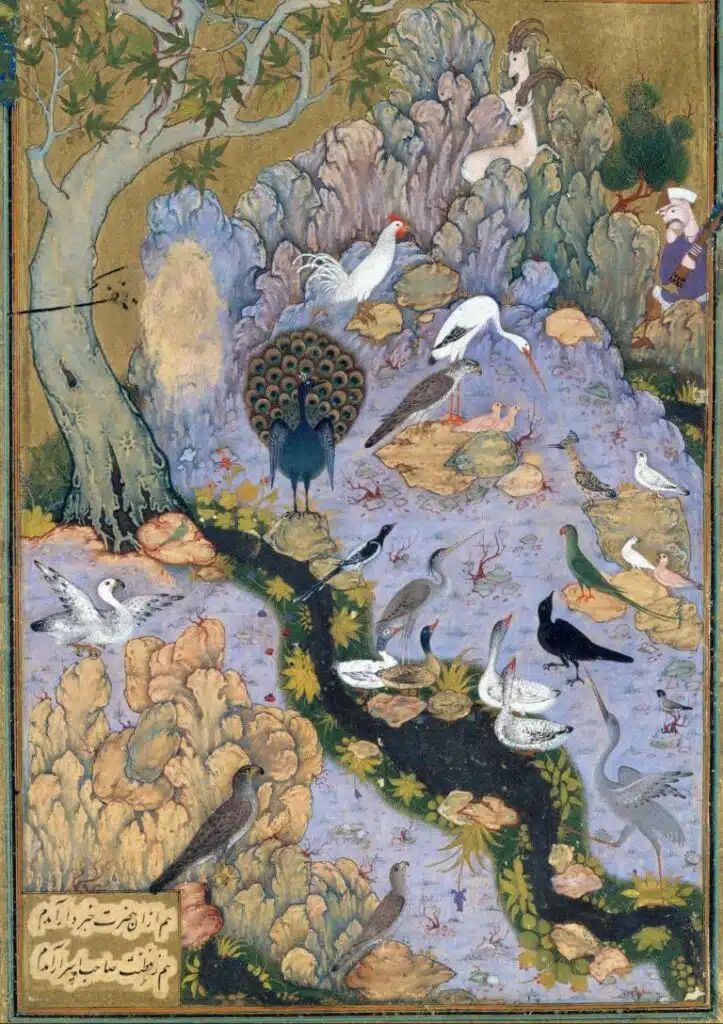 The art of miniature painting has been cherished in Iran for centuries. These delicate and finely detailed paintings often depict scenes from Persian myths, poetry, or everyday life. Visit the art galleries around Naqsh-e Jahan Square to find an original piece or even get a personalized miniature painting as a unique souvenir.
3. Khatamkari (Marquetry)
Khatamkari is the art of crafting intricate geometric patterns from thin pieces of wood, bone, and metal. You'll find this beautiful inlay work on boxes, frames, chess boards, and even furniture. Each piece, with its meticulous detailing, is a testament to the artisan's dedication and skill.
4. Hand-painted Tiles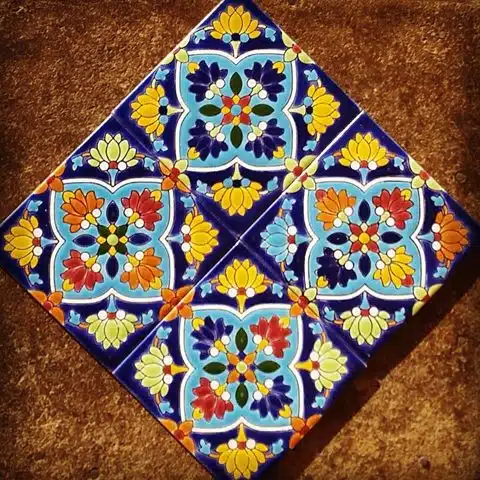 Reflecting the grandeur of Isfahan's mosques and palaces, hand-painted tiles are a popular item among tourists. These tiles, adorned with floral motifs, Persian calligraphy, and scenes from folklore, make for beautiful wall hangings or coasters.
5. Traditional Sweets and Nougats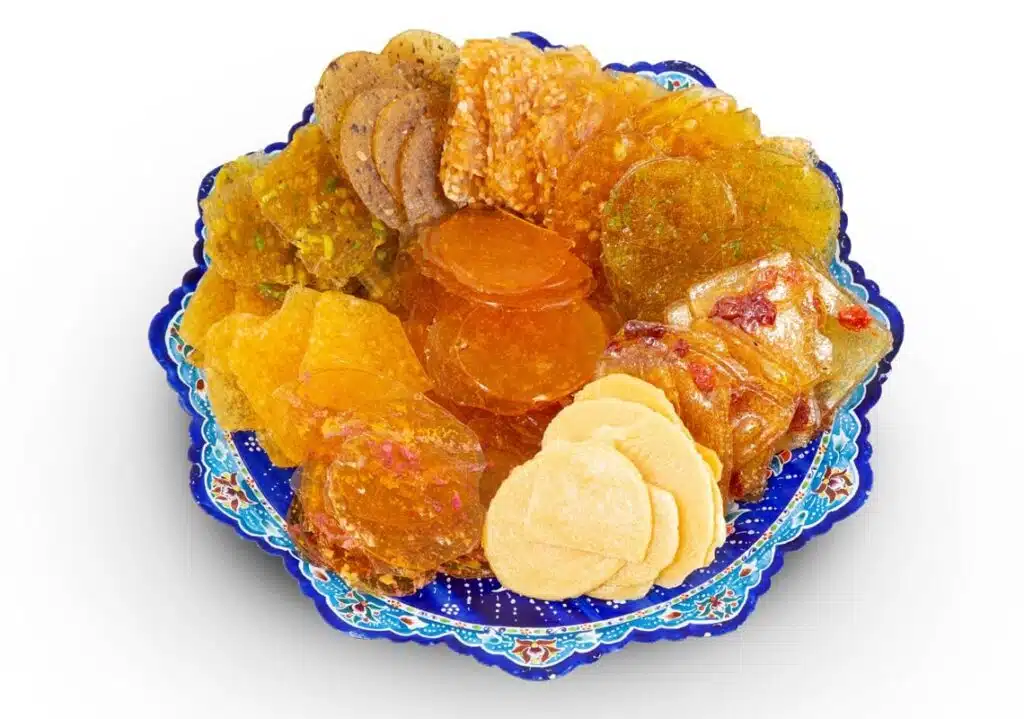 No trip to Isfahan is complete without indulging in its mouth-watering sweets. Gaz, a nougat made from the sap of the Angebin plant, mixed with rosewater, pistachios, and almonds, is a must-try. Pack some in beautiful boxes as gifts or simply enjoy them with a cup of Iranian tea.
6. Termeh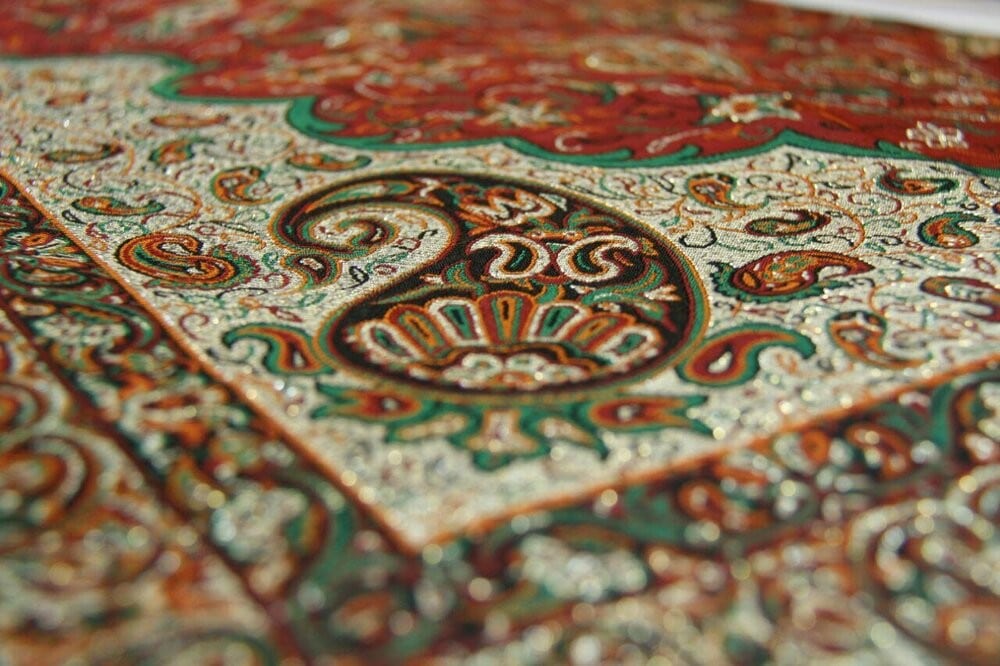 Termeh is a luxurious handwoven fabric, traditionally used for ceremonial clothing. Today, it's fashioned into tablecloths, shawls, and cushion covers, all boasting rich colors and intricate designs. A piece of Termeh is a vibrant reminder of the textiles of Isfahan.
7. Qalamzani (Metal Engravings)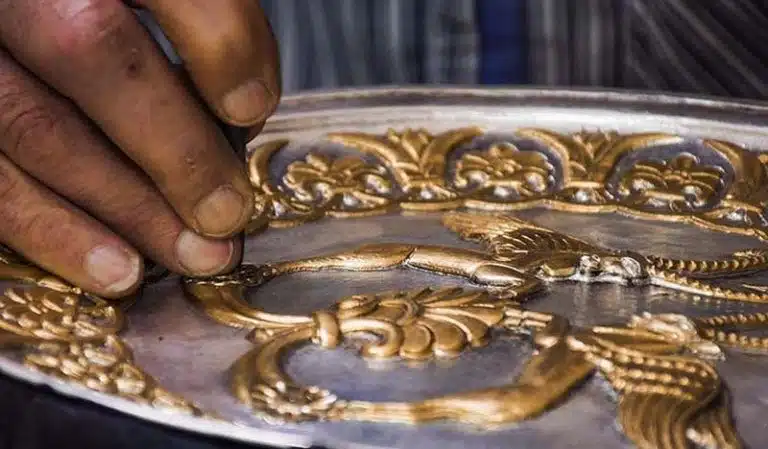 Isfahan is renowned for its brass and copperware, especially items adorned with Qalamzani – the art of engraving intricate designs on metal. From vases and trays to ornamental pieces, these items shimmer with tales of Persian legends and motifs.
8. Pottery and Ceramics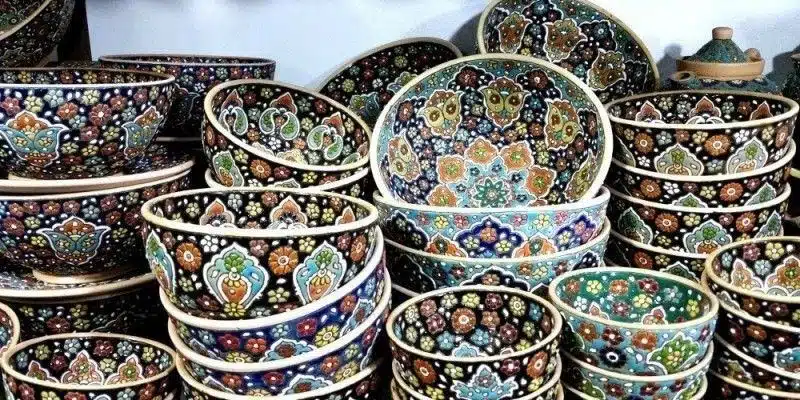 Isfahani pottery, with its distinctive blue and turquoise glaze, can add a touch of Persian elegance to any home. Bowls, plates, and decorative items, often adorned with poetic inscriptions, are popular choices among visitors.
What To Eat in Isfahan?
In some parks, you can simply obtain a carpet and tea from the park warden, and have a picnic on the grass! You will find families gather in these parks, and bring barbecues and cook freshly made kebabs, which smell (and taste) delicious.
Local foods in Isfahan
Chelo kebab (kebab with rice) is a must; there are regional variations in Isfahan.
Beryani is a popular and tasty lunch dish in Isfahan. Many visitors wrongly call it "Biryani" which refers to the place that sells Bryan. This local dish is made of sheep meat and lung. Although it is generally known as a fatty dish if you would like to try it you may order a dietary one.
Fereni & Shireh (Fereni= A concoction of cereal, rice flour, water, and milk) at Fereni Hafez, which is along Hafez Street near Imam Square. Usually, they mix it with date essence. It costs IRR15000 for a small bowl or IRR25000 for a bigger one.
Khoresht mast is a popular dessert dish, only made in Isfahan. It is a sweet yellow pudding, which literally means "Yogurt Stew". Saffron, meat, and yogurt are among the main ingredients.
Doogh-o-Gooshfil a strange combination of Doogh (yogurt drink – usually salty/sour) and Gooshfil (kind of sweet)