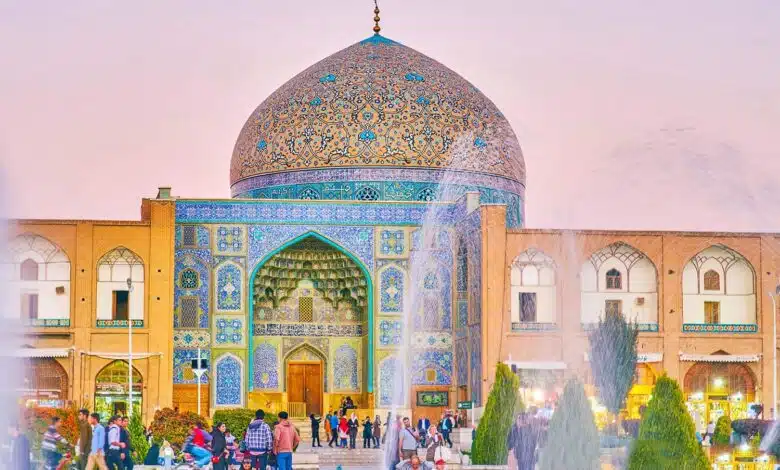 Isfahan is one of the most attractive cities of Iran thanks to its exquisite blend of culture, history, and architecture. The Safavid's capital has a multitude of architectural wonders, from palaces to bridges and, of course, mosques. On the UNESCO listed square of Naqsh-e Jahan, visitors can appreciate one of these masterpieces: Sheikh Lotfollah Mosque.
With its delicate dome and astonishing interior, it's one of the most iconic sightseeing of the country. From an historical perspective, it is also considered as one of the most important architectural projects built under the Safavid on Naqshe Jahan Square, and one of the best examples of this era's architecture, due to its scale, design and decoration.
A Brief History of Sheikh Lotfollah Mosque in Isfahan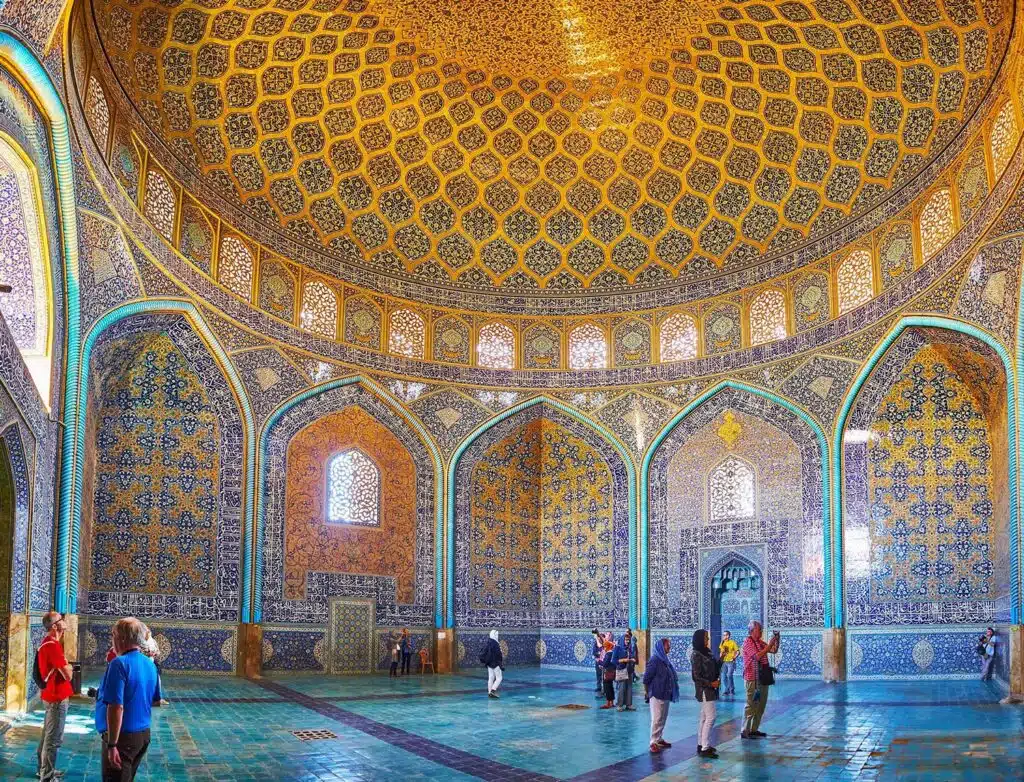 The construction of the Sheikh Lotfollah Mosque in Isfahan started in 1603, before the Shah (Imam) Mosque (whose construction started in 1611 and ended in 1629). It was ordered by Shah Abbas the Great, the fifth king of the Safavid dynasty and one of Persia's most important rulers, and dedicated to his father-in-law, Sheikh Lotfollah, a prominent religious scholar.
Mohammad Reza Isfahani was chosen to be the architect of this grand project which took 16 years to be completed (in 1619). Contrary to the Shah Mosque which was designed for the people, this mosque was built with the purpose of being solely used by the royal family. Indeed, the king had his residence on the square, in front of Sheikh Lotfollah Mosque, in Ali Qapu Palace.
Thus, the doors of Sheikh Lotfollah Mosque would remain closed and guarded, and it took centuries for ordinary people to be able to enter it. It is said that to avoid crossing the square and meeting people, the king and his wives could access the mosque via a tunnel under the square. That is why the mosque is also sometimes called "the Women's Mosque", as it allowed the Safavid women to pray at the mosque, instead of remaining behind the closed doors of the palace.
The mosque was renovated in 1920, under Reza Shah Pahlavi.
Architecture of Sheikh Lotfollah Mosque in Isfahan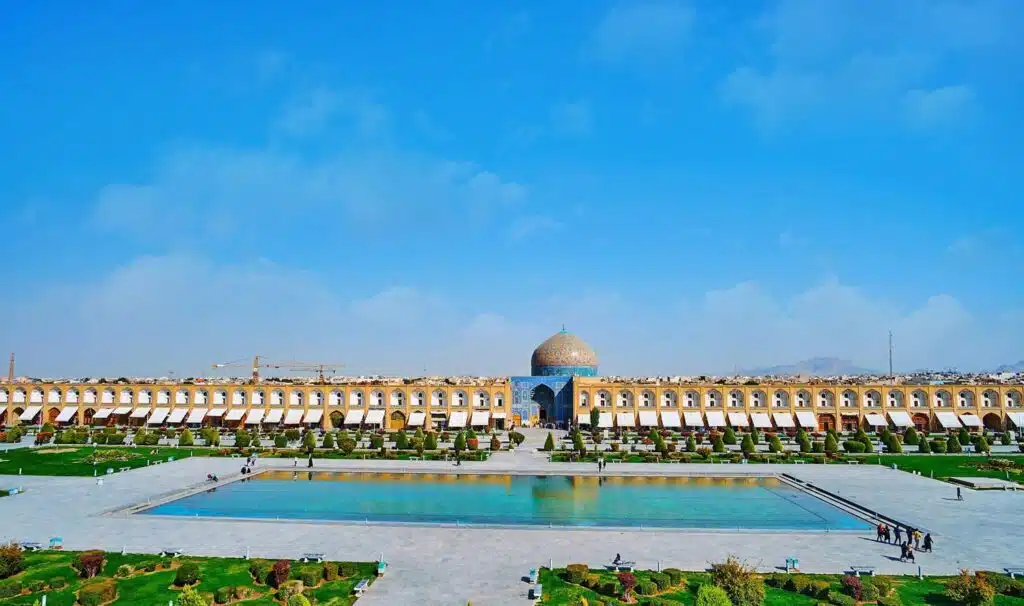 The Sheikh Lotfollah Mosque in Isfahan is one of the architectural masterpieces of Iran. Built during the Safavid Empire, it displays the expertise of Iranian architecture. Sheikh Lotfollah stands out of most Iranian's mosques, and has little to do with the Shah Mosque. Its design is quite simple and sober. Due to the fact that it was meant to be the king's private mosque, there is no courtyard, no interior iwans and no minaret, which is pretty uncommon for a mosque.
The Sheikh Lotfollah Mosque simply consists in a single domed chamber, surrounded by three rooms that may have been used as service areas. It is quite small in size, in particular when compared with the Shah Mosque.
The entrance is similar to the one of the Grand Bazaar and Shah Mosque, with a marble facade decorated with "half-rangi" ("seven colored") tiles on the upper part. The main edifice is mostly blue-colored, while the dome has pale tiles from cream to pink, whose colors change depending on the light, and is ornamented with an arabesque of floral motives in white, blue, and black. The dome is one of the most amazing feature of this mosque, composed of a 13-meters diameter single-shell with a three levels structure.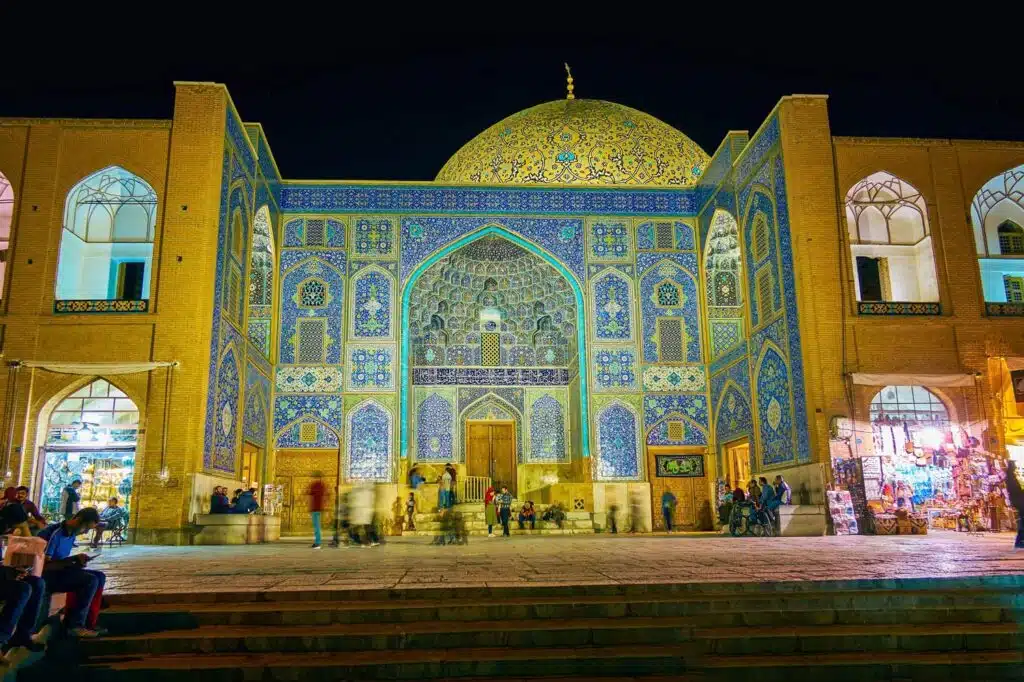 The interior design of Sheikh Lotfollah Mosque was done by Reza Abbasi, a famous Iranian artist. It is richly decorated with "haft-rangi" tiles and calligraphy from the Quran.
One of the other interesting aspects of Sheikh Lotfollah Mosque is that unlike most mosques, the entrance portal and the dome are not aligned. The entrance portal indeed turns right in order to face the direction of Mecca, in the southwest.
Access to Sheikh Lotfollah Mosque in Isfahan
Sheikh Lotfollah Mosque is located on Naqshe Jahan, Isfahan's main square, a UNESCO World Heritage. It is standing on the eastern side of Naqshe Jahan, facing Ali Qapu Palace and with Isfahan Bazaar on both sides. Naqshe Jahan is located in the city center of Isfahan, and thus, is easily accessible by bus, taxis and even metro (Meydan-e- Emam Hossein and Meydan-e- Enghelab are the nearest stations).
Cost and Suggested Visit Time for Sheikh Lotfollah Mosque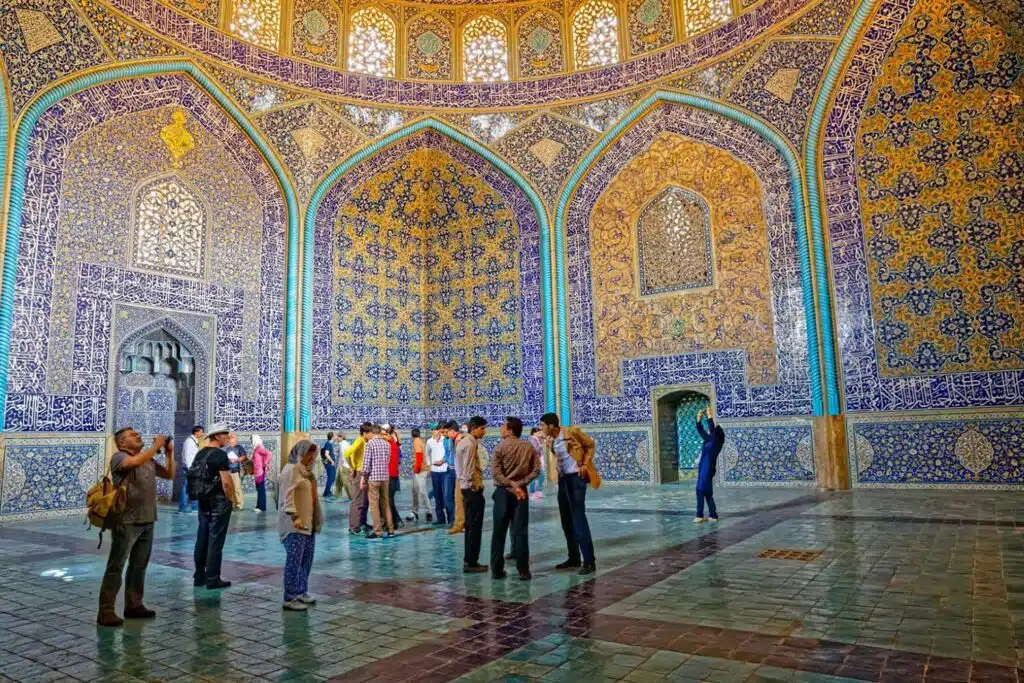 Sheikh Lotfollah Mosque is accessible to all visitors outside of the praying schedule, which means that you can enter from 9 to 11:30 AM and 1 to 4 PM in winter, and from 9 to 12:30 AM and 2 to 6 PM in summer. Visiting the mosque can take as little as a few minutes as it's pretty small, but many visitors enjoy sitting inside to admire the immense work done. The entrance fee for foreign visitors is only 1.000.000 rials (about 2 € as per the rate of October 2023).
Nearby Attractions to Sheikh Lotfollah Mosque in Isfahan
Sheikh Lotfollah Mosque is ideally situated to enjoy all the most iconic sites of Isfahan. Naqshe Jahan square itself is a Unesco World Heritage. The mosque is located just a few meters away from Ali Qapu Palace, the Shah Mosque and Isfahan Grand Bazaar. It's about 10 minutes by foot from Chehel Sotoon Palace and Hasht Behehst Palace on the west side. From Sheikh Lotfollah you can also access the famous Chaharbagh avenue that leads to Sie-o Se Pol Bridge (about 2 kilometers south). By entering the bazaar, you can also reach the Jomeh Mosque (UNESCO) and Imam Ali Square in about 25 minutes' walk in direction of the north of the city.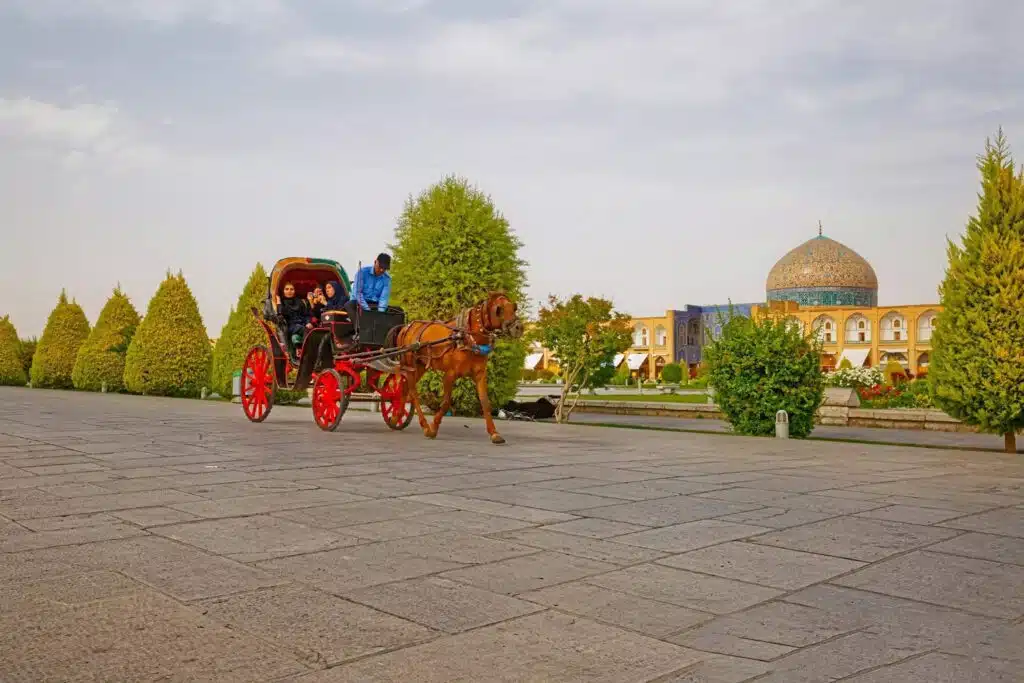 List of the Nearby Attractions to Sheikh Lotfollah Mosque
Naqsh-e Jahan Square (Imam Square)
This is one of the largest city squares in the world and a prime tourist destination in Isfahan. It is surrounded by buildings from the Safavid era.
Imam Mosque (Shah Mosque)
Located on the south side of Naqsh-e Jahan Square, this mosque is known for its stunning architecture and tile work.
Ali Qapu Palace
This grand palace is located on the western side of Naqsh-e Jahan Square and offers a panoramic view of the square.
Chehel Sotoun Palace
A short walk from Naqsh-e Jahan Square, this palace is known for its 20 columns, which reflect in the front pool and appear to be 40, giving it the name "Forty Columns."
Isfahan Grand Bazaar
This is an old and historical market with numerous vendors selling a variety of goods, including Persian rugs, spices, and handicrafts.
Jameh Mosque of Isfahan
This is one of the oldest mosques in Iran, showcasing different architectural styles from various periods.
Si-o-se-pol (Bridge of 33 Arches)
This is one of the eleven bridges of Isfahan and is highly regarded for its architecture.
Khaju Bridge
Another famous bridge in Isfahan, known for its beautiful design and function as both a bridge and a dam.
Vank Cathedral
Located in the Armenian quarter of Jolfa, this cathedral is known for its beautiful interior decorations.
Hotels Near the Sheikh Lotfollah Mosque in Isfahan
OrientTrips
Book Isfahan Hotels
Given the central location of Sheikh Lotfollah Mosque, on Naqshe Jahan Square, finding a good hotel nearby is not a hard task. You can find an accommodation for all budgets. Here are some of the best hotels around the mosque:
Abbasi 5-Star Hotel
Known for its luxurious accommodations and stunning Persian architecture, the Abbasi Hotel offers guests a blend of traditional elegance and modern comfort.
View Abbasi Hotel on Google Maps
Parsian Kowsar 5-Star Hotel
Situated by the Zayandeh River, Parsian Kowsar offers scenic views and upscale amenities, providing a serene and comfortable stay for its guests.
View Parsian Kowsar Hotel on Google Maps
Ghasr Monshi Boutique Hotel
This boutique hotel is set in a renovated historical house, offering a unique and authentic Persian experience with its beautifully decorated rooms and traditional ambiance.
View Ghasr Monshi Boutique Hotel on Google Maps
Keryas Traditional Hotel
Located near Naqsh-e Jahan Square, Keryas Boutique Hotel combines traditional Persian architecture with modern amenities, making it an ideal choice for those looking to explore the city's historical sites.
View Keryas Traditional Hotel on Google Maps
Isfahan Traditional Hotel
Offering a blend of traditional Persian hospitality and comfort, this hotel provides a charming and cozy atmosphere for visitors seeking an authentic experience.
View Isfahan Traditional Hotel on Google Maps
Aseman Hotel
Standing tall with modern architecture, Aseman Hotel offers panoramic views of Isfahan, including the Zayandeh River, and provides contemporary amenities for a comfortable stay.
View Aseman Hotel on Google Maps
Nearby Restaurants to Sheikh Lotfollah Mosque
Once again, due to its great location, the Sheikh Lotfollah Mosque offers plenty of catering options nearby. While visiting Isfahan, do not miss trying Biryani, a local meat dish. Among the cafes and restaurants nearby, you will find:
Azadegan Tea House and Restaurant
Emarat Namakdan Cafe
Meydoon Cafe
Sogoli Cafe and Restaurant