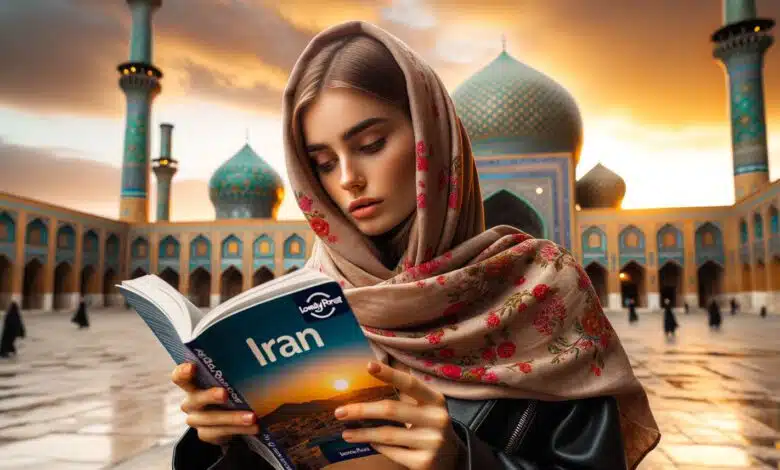 Kashan, an ancient and beautiful city, lies 220 kilometers south of Tehran Province. Located in the heart of Iran's desert, Kashan weaves together history, culture, and arid natural beauty. This historic city is a prime destination for those fascinated by Iranian history and culture, thanks to its traditional architecture and historical houses. Remarkably, Kashan has managed to preserve its historical fabric over time, resisting the tide of modernity.
For thousands of years, Kashan has been a cradle of human civilization, hosting diverse communities. Its historical significance dates back to one of the oldest human settlements in Iran's central plateau, known as Sialk. This area, situated about 2 kilometers southwest of Kashan, has been inhabited for nearly 7,500 years.
Kashan also stands out for its grand Qajar-era houses and Persian gardens, like the Fin Garden, a stunning example of traditional Iranian garden design. Tourist attractions such as the Agha Bozorg Mosque, Tabrizi and Borujerdi Houses, and its traditional bazaar offer visitors a space brimming with nostalgia and history. Moreover, its proximity to other Iranian tourist hotspots like Isfahan and Yazd makes it an ideal destination for designing combined tours.
In our Kashan travel guide, we aim to delve into these aspects in detail. Join us as we explore Kashan, the city of flowers and rosewater in Iran.
The Best Time to Visit Kashan
Kashan is a desert city, boasting hot summers and cold winters. Because of this, the best times to visit are during the spring and fall seasons, particularly around Nowruz, the Persian New Year. One of the most delightful periods in Kashan is during the month of Ordibehesht (late April to late May), which marks the season of rosewater extraction—known as "Golab-giri."
| Month | Average High (°C) | Average Low (°C) | Precipitation (mm) | Description |
| --- | --- | --- | --- | --- |
| January | 8°C | -3°C | 20mm | Cold with occasional snowfall |
| February | 12°C | -1°C | 15mm | Cold mornings, mild afternoons |
| March | 18°C | 4°C | 20mm | Pleasantly mild, green landscapes |
| April | 24°C | 9°C | 15mm | Warm days, cool nights |
| May | 30°C | 14°C | 10mm | Beginning of the hot season |
| June | 36°C | 20°C | 5mm | Peak of summer, very hot |
| July | 38°C | 24°C | 2mm | Extremely hot, dry |
| August | 37°C | 23°C | 1mm | Slightly cooler than July, still hot |
| September | 33°C | 19°C | 3mm | Moderating temperatures |
| October | 27°C | 13°C | 10mm | Comfortably warm, autumn leaves |
| November | 18°C | 6°C | 15mm | Cooler days, onset of winter |
| December | 11°C | 1°C | 20mm | Cold with chances of snow |
Kashan Monthly Climate Table
Budgeting Your Kashan Trip
Although Kashan sees a surge in visitors during Nowruz, the rosewater season, and the autumn months, travel costs do tend to spike during these peak seasons. If you're on a budget but can handle the hot weather of summer or the cold of winter, these off-peak seasons can be more economical for a trip to Kashan. For those who prefer the mild weather of spring and autumn, early hotel booking and budget planning can make your trip much more affordable.
OrientTrips Experience
Book Kashan Tour
To plan your trip down to the last detail, including hotels and budgeting, consider checking out OrientTrips for a comprehensive range of services from hotels to visa assistance and travel insurance. And, of course, to truly experience the uniqueness of Kashan, why not book a tailor-made tour with SURFIRAN?
For more insights into this captivating city, make sure to read our comprehensive Kashan travel guide.
How to Get to Kashan
Getting to Kashan is relatively straightforward, and you have multiple options to choose from, including train, bus, personal car, or even airplane. Once you're in the city, commuting within Kashan is equally convenient with several modes of public transport available.
Journey by Train
Taking a train to Kashan from Tehran is an enjoyable ride that lasts about 2.5 hours. The train ride is comfortable and provides scenic views along the way. Kashan's train station is located approximately 10 kilometers from the city center. You can also catch a train from most cities with a railway station to reach Kashan.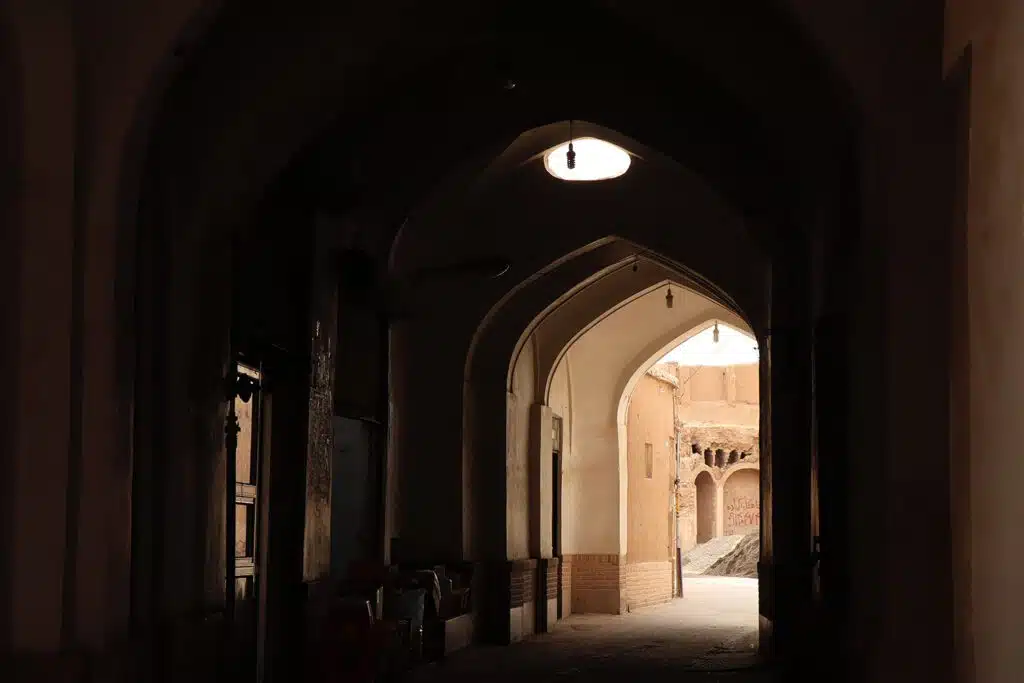 Budget-Friendly Bus Trips to Kashan
If you're looking for an economical way to travel, buses are a good option. The ride doesn't induce much fatigue, and the bus terminal is only about 5 kilometers from the city center. You can also book bus tickets online for added convenience.
Driving to Kashan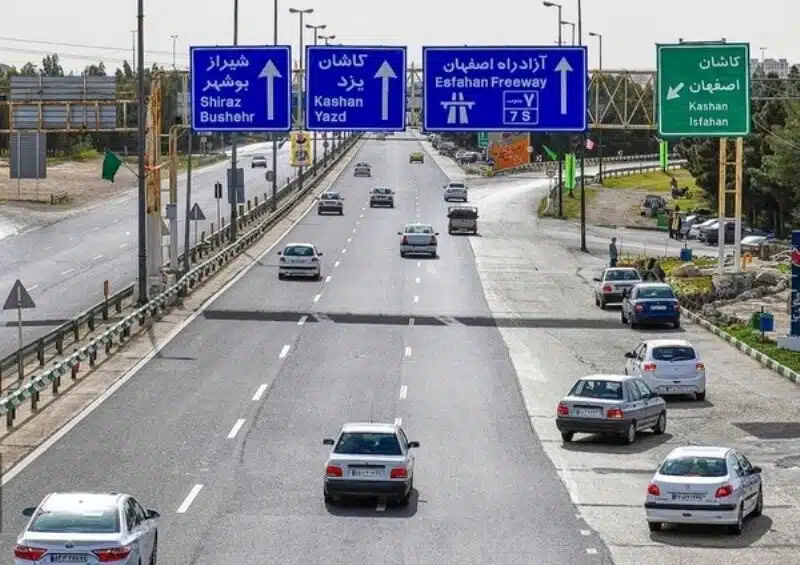 Kashan is 240 kilometers away from Tehran. The drive along the Qom highway takes approximately three hours. Having a personal vehicle provides you with the freedom to explore the city and surrounding areas at your own pace.
Flight to Kashan
While Kashan does have an airport, it has been operational for only a few years and offers limited flight options. It's not the most popular choice for travel but can be considered based on your specific needs.
Getting Around Kashan
Often overshadowed by the more frequented cities like Tehran or Isfahan, Kashan offers an unfiltered glimpse into Iran's rich heritage, a place where every corner whispers tales from a bygone era. From its intricately designed houses and mosques to its bustling bazaars and age-old traditions like the famed Rose Water Festival, Kashan invites travelers to step back in time.
Kashan Taxi
Kashan is a small enough town to walk to most of the main sites, and you can get pleasantly lost walking through beautiful laneways (and if you're lucky, onto Kashan's famous rooftops).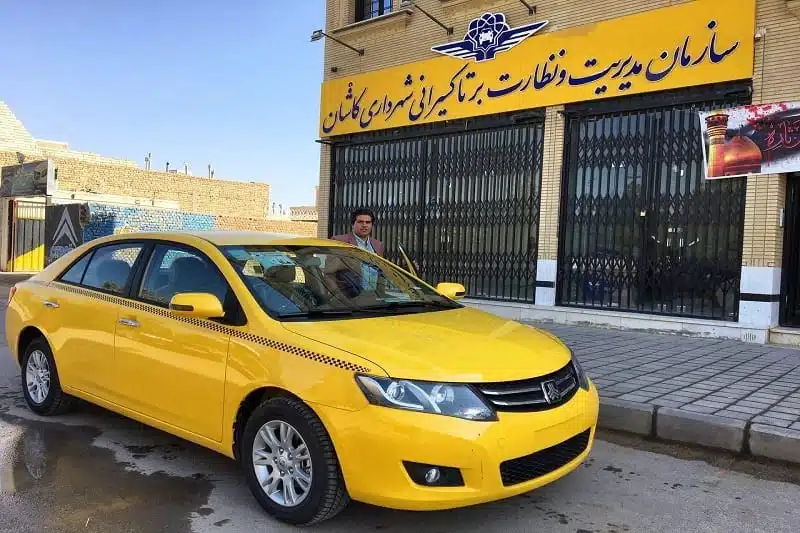 Traveling by taxi in Kashan is easy and inexpensive. A shared taxi (savari) costs around 15,000—100,000 rials and private hire (darbast) costs up to 800,000 rials, depending on where you are going.
RIDE-SHARING APPS
It is recommended for traveler to use the ride-sharing apps such as SNAPP or TAP30 since they are cheaper than the regular taxi most of the time.
Fin Garden and Bath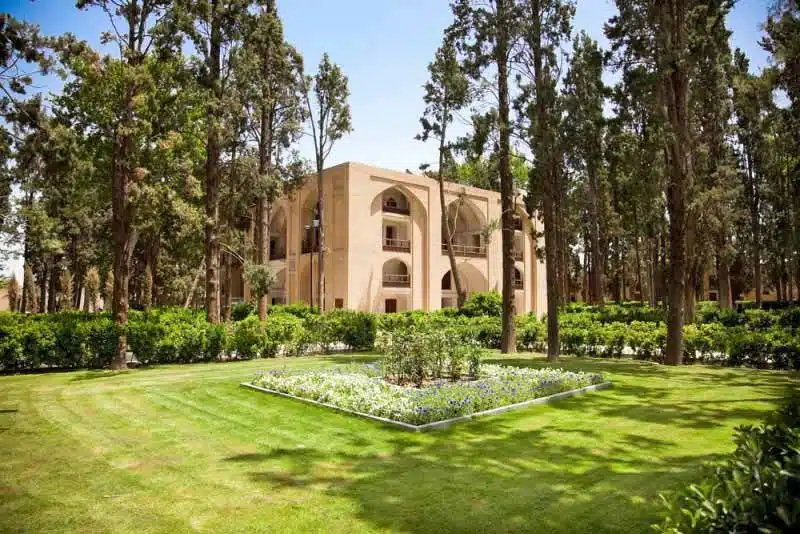 Set amidst towering trees, Fin Garden offers one of the most picturesque landscapes in Iran. But what amplifies its beauty is the historical Fin Bath, famously known for the tragic assassination of Amir Kabir, a significant figure in Iranian history.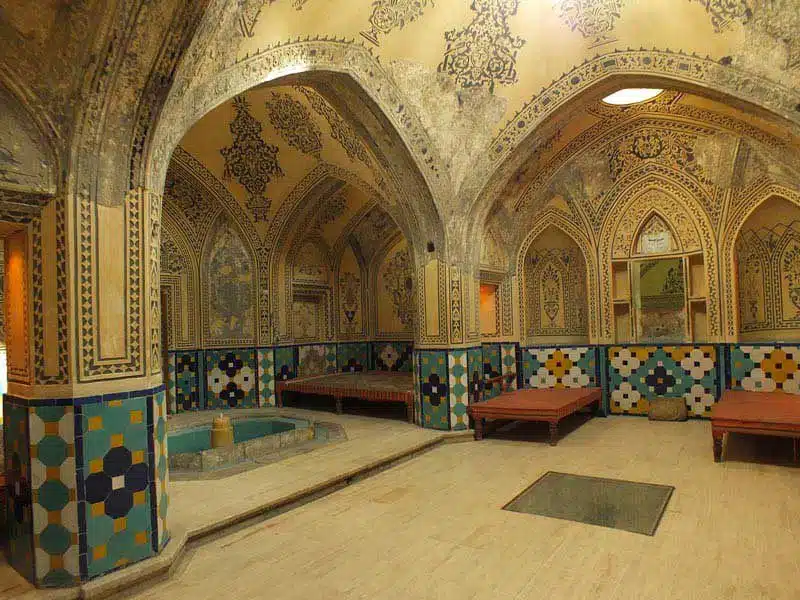 Walk amid the garden's lush foliage, and let the sound of flowing water be your background score.
Kashan's Traditional Bazaar
Although primarily a shopping hub, the bazaar's eye-catching architecture makes it a must-see. Gaze upwards at the intricately designed ceilings and witness the renowned Kashan carpets right at the entrance. The Amin al-Dowleh Timcheh, with its semi-open roof, is one of the bazaar's most attractive features, surrounded by antique shops and carpet vendors.
Jame Mosque of Kashan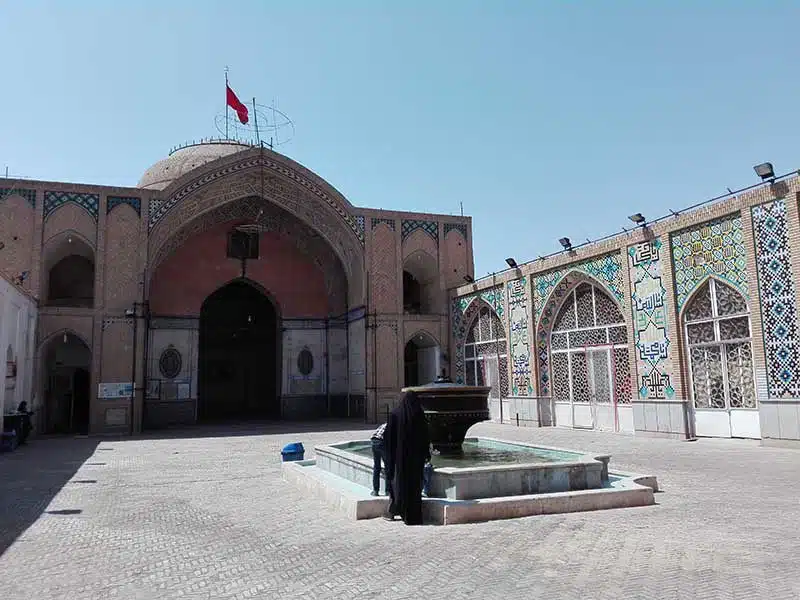 Among the city's ancient structures, the Jame Mosque stands out. Believed to be built during the Seljuk era, its stunning Iranian art and tile designs make it a must-see during your trip to Kashan.
Sultan Amir Ahmad Bathhouse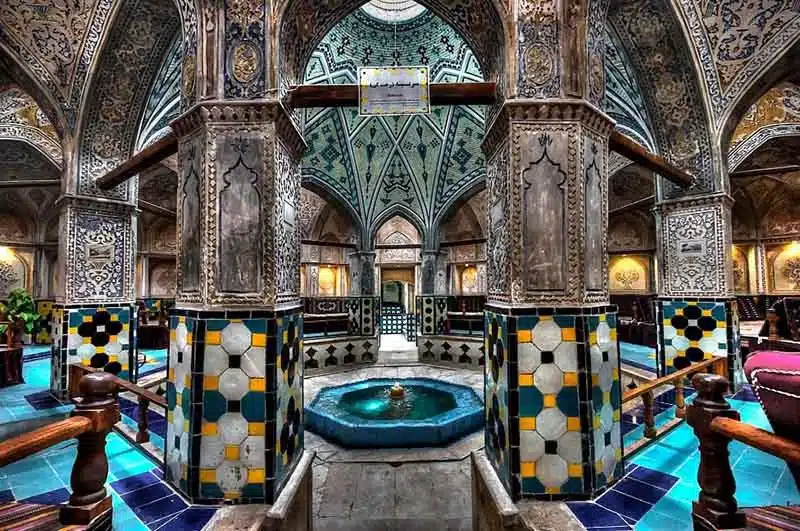 Prepare to be stunned by turquoise and golden tiles, along with an unforgettable rooftop view. The architecture of the Sultan Amir Ahmad Bathhouse leaves an indelible impression on anyone who visits.
Agha Bozorg Mosque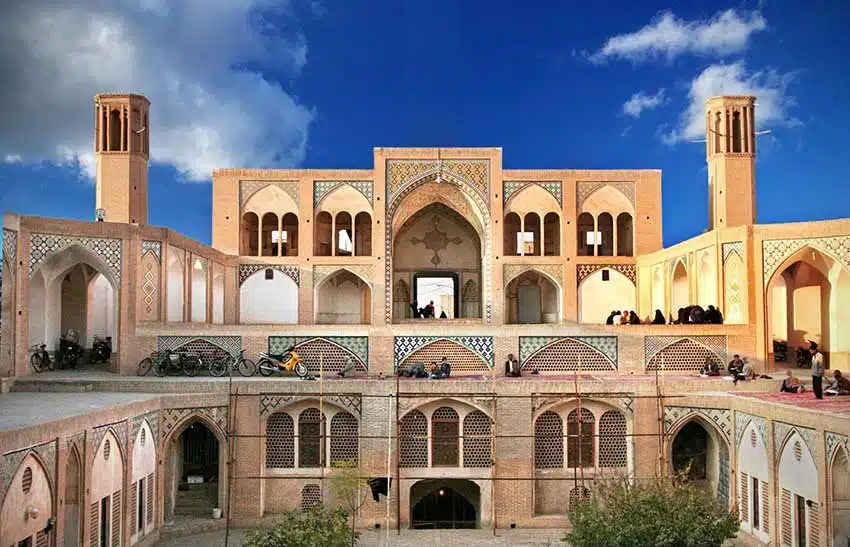 Boasting domes and windcatchers crafted by master artisans, the Agha Bozorg Mosque is a magnet for visitors. The complex comprises various sections like the central courtyard, the nocturnal prayer hall, and the entrance vestibule.
Sialk Hill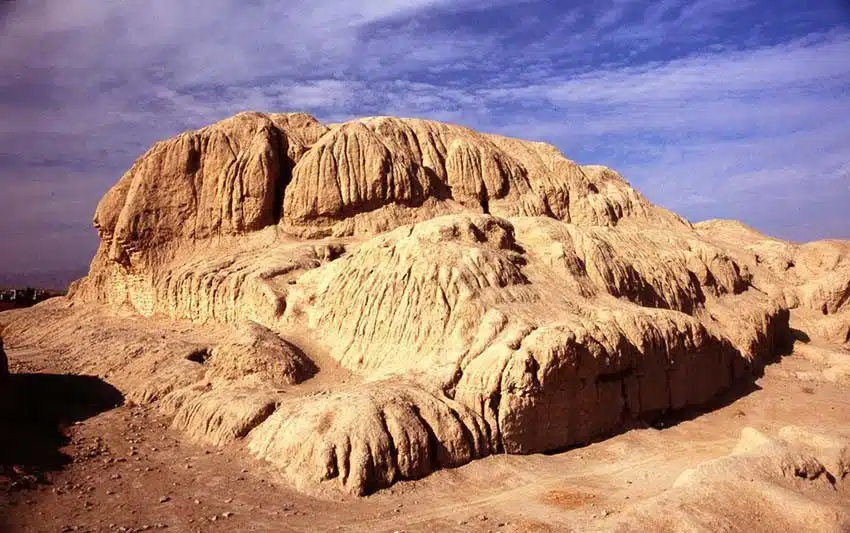 For those interested in ancient history, Tepe Sialk is the place to be. This archaeological site, dating back 3,500 to 3,000 years, offers a glimpse into the ancient civilizations that once flourished here.
Historic Houses of Kashan
Tabatabaei House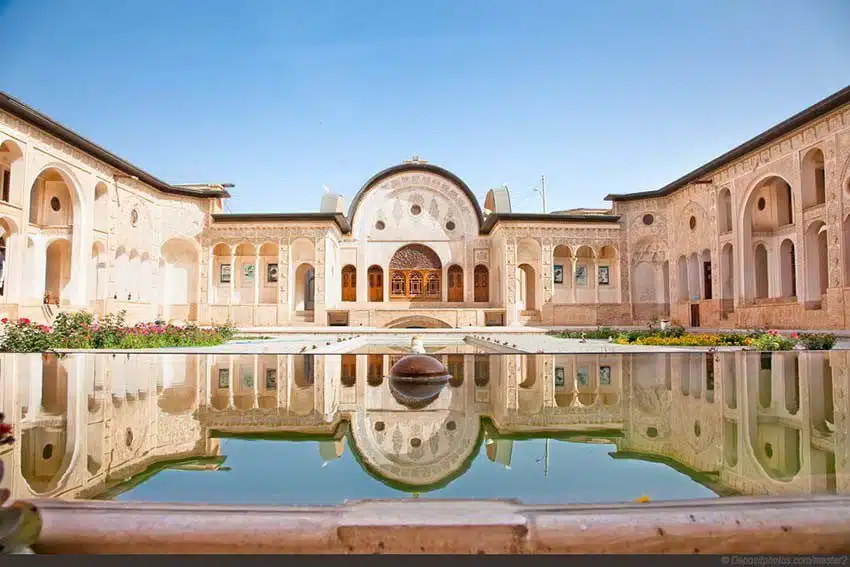 Known as the bride of Iranian houses due to its lovely fountains and artistic stucco work, the Tabatabaei House is a masterpiece in Iranian architecture. The house is divided into three sections: exterior, interior, and servants' quarters.
Borujerdi House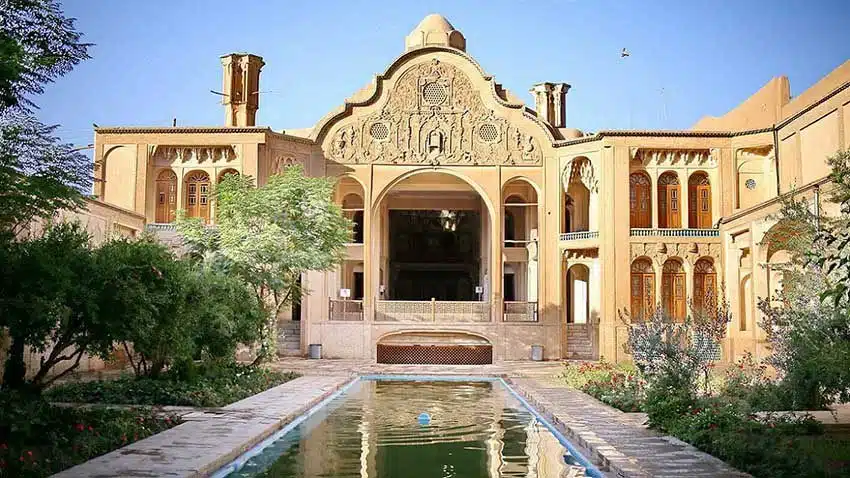 Built in the Qajar era, this house shares similarities with the Tabatabaei House and was built out of love between a Borujerdi son and a Tabatabaei daughter.
Abbasian House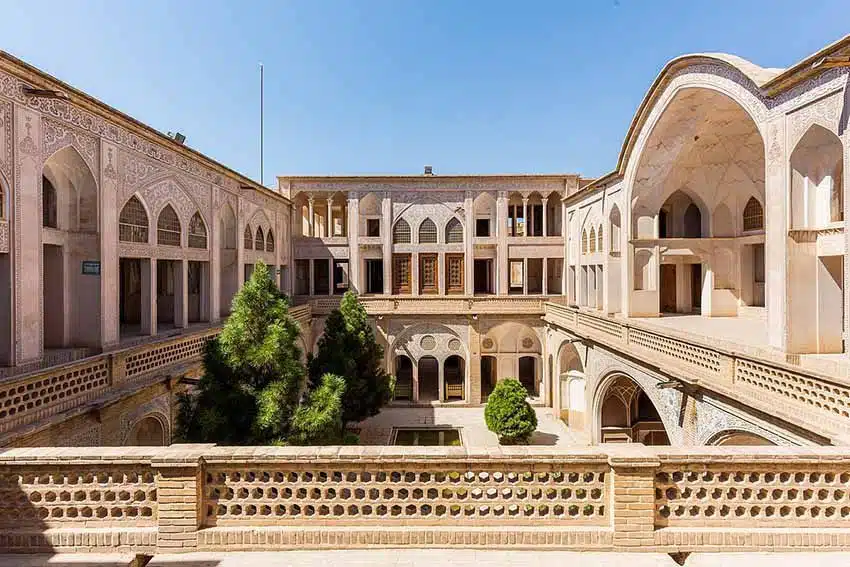 Famed for its unique architecture, the Abbasian House has even won the award for the most beautiful Iranian-Islamic building. It has multiple courtyards and sections that make it an architectural wonder.
The Āmeri House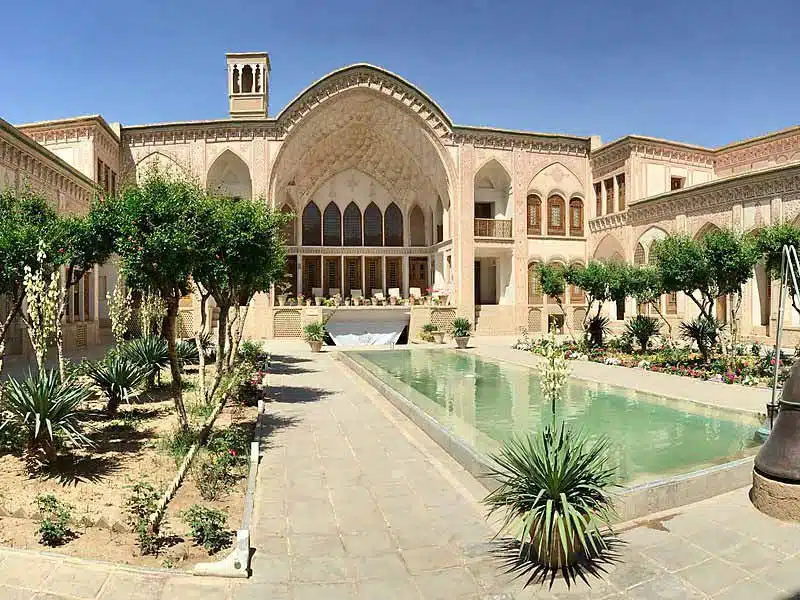 This traditional resting place was built during the Zandieh era. Inside it, there are several houses connected through communication paths. This spacious place has the tallest windcatcher compared to the windcatchers of Kashan and has been available as a 5-star guesthouse since 1393 (2014 in Gregorian calendar). Bath, bank, restaurant, and handicraft sales stalls are other amenities of this complex.
Kashan Day-Trip Guide
The charm of Kashan is not just confined to its city limits. The surrounding areas also offer a plethora of sights and experiences that will make your trip even more memorable. Whether you're planning a half-day or full-day excursion, here are some must-visit nearby destinations that promise to captivate you.
Qamsar: The Land of Rosewater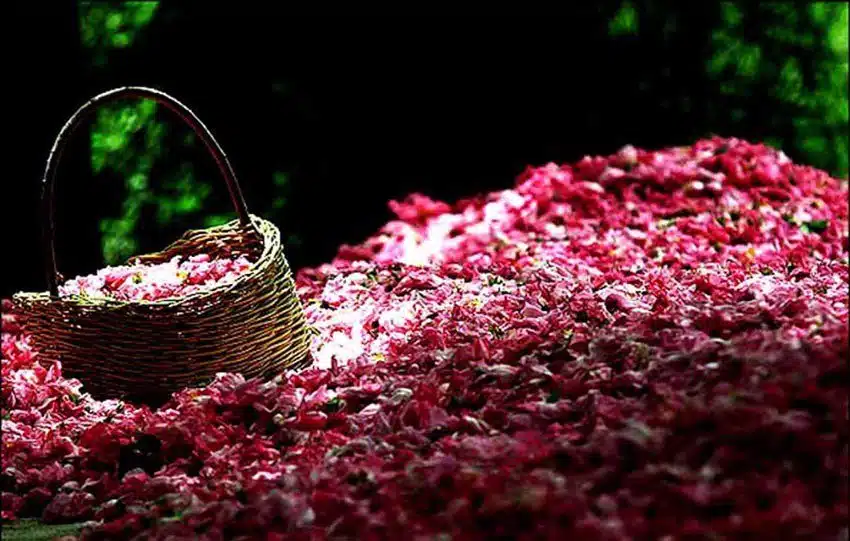 Qamsar is renowned for its exquisite rosewater. Most travelers opt to visit during the month of Ordibehesht (April-May) when the roses are in full bloom. However, no matter when you visit Kashan, a short 35-minute drive to Qamsar will allow you to bask in its pleasant weather and return with bottles of fragrant rosewater.
Nushabad and Aran & Bidgol: Journey to the Underground City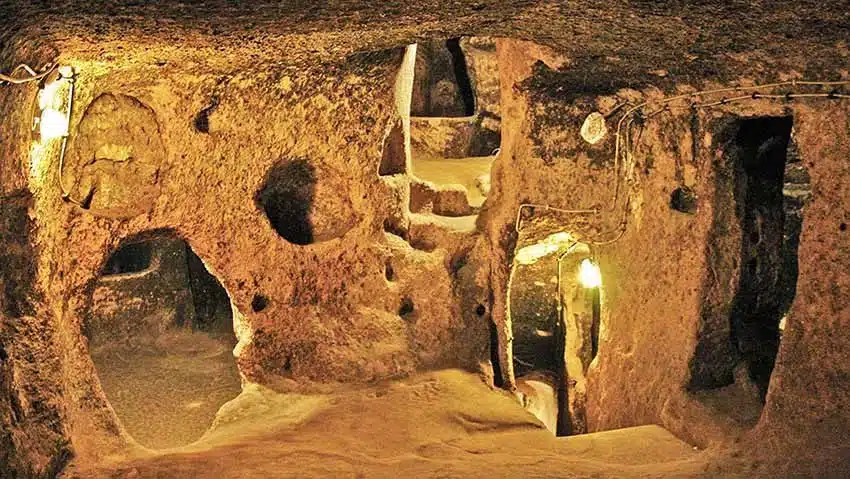 Just 14 kilometers from Kashan lies the mysterious underground city of Ouyi in Nushabad. It's said that this location was used for defensive and military purposes even before the Islamic era. Nearby Aran & Bidgol also houses many historic and fascinating sites worth exploring.
Niasar: A Breath of Fresh Air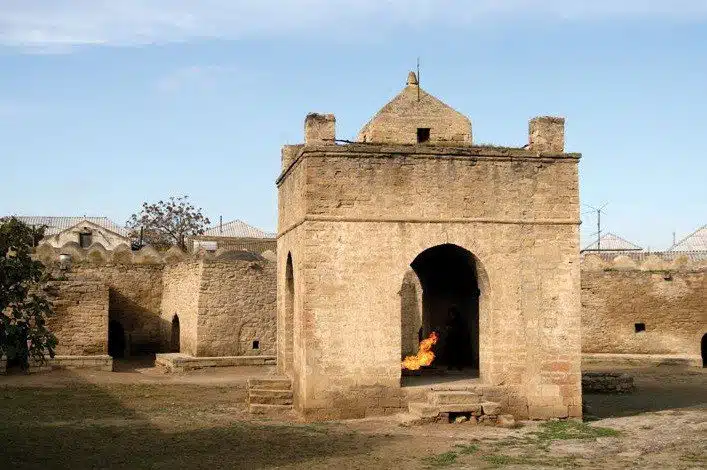 If you're looking for more pleasant climates near Kashan, head to Niasar, a mere 30-minute drive away. Must-see attractions include the 2,000-year-old Niasar Cave, also known as Ghareh Surakh Reis, and the ancient Niasar Fire Temple.
Mashhad Ardehal: Qishuyan Ritual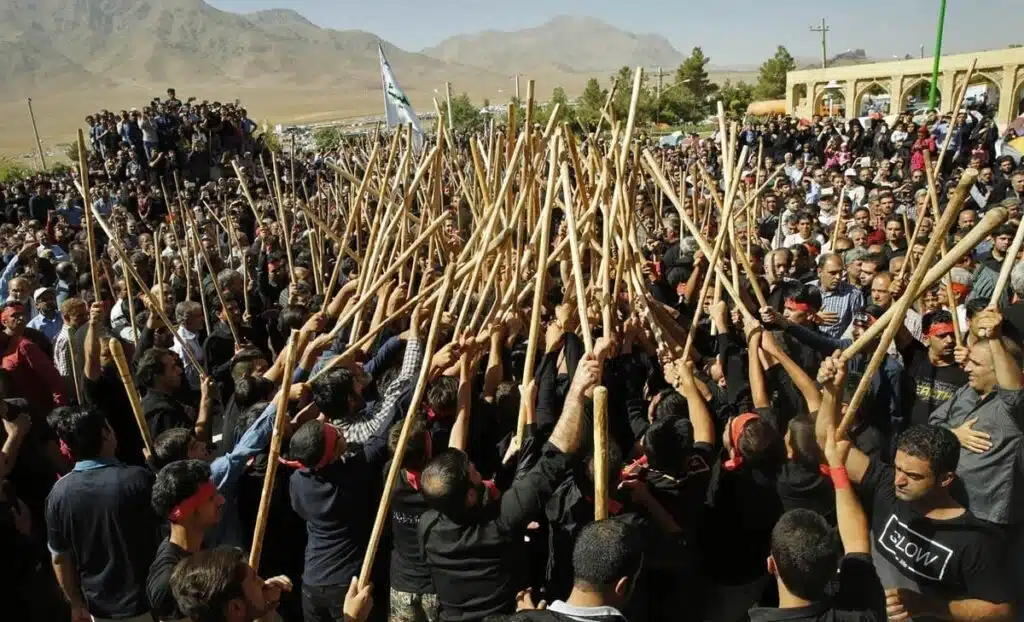 Located 40 kilometers from Kashan, Mashhad Ardehal is renowned for its annual "Qali Shuyan" ceremony held on the second Friday of Mehr (September-October). You can also pay a visit to the tomb of the famous Persian poet, Sohrab Sepehri, within the precincts of the Imamzadeh Sultan.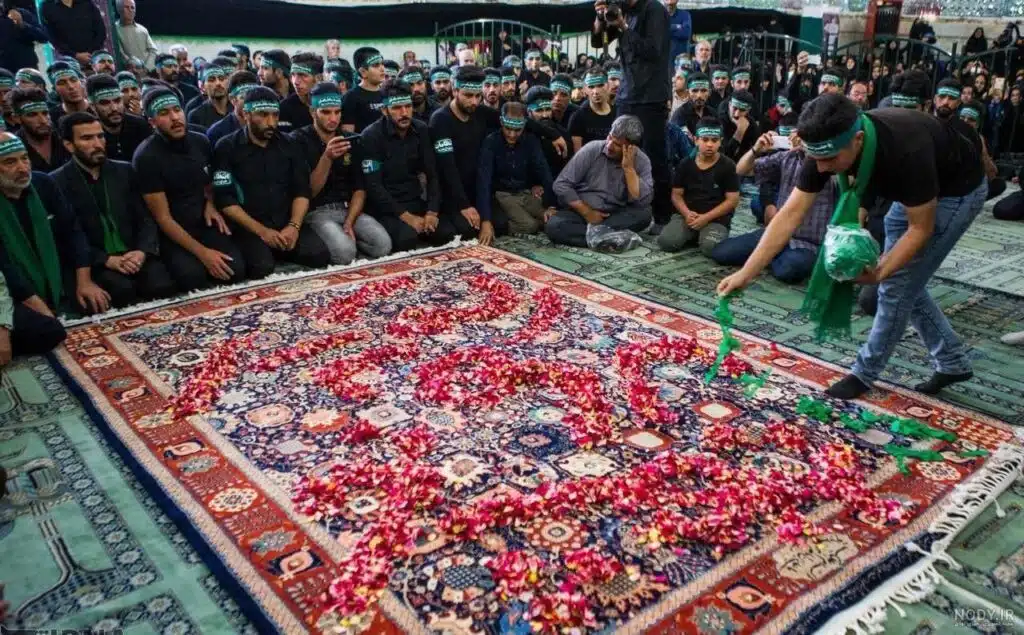 Abyaneh: Step Back in Time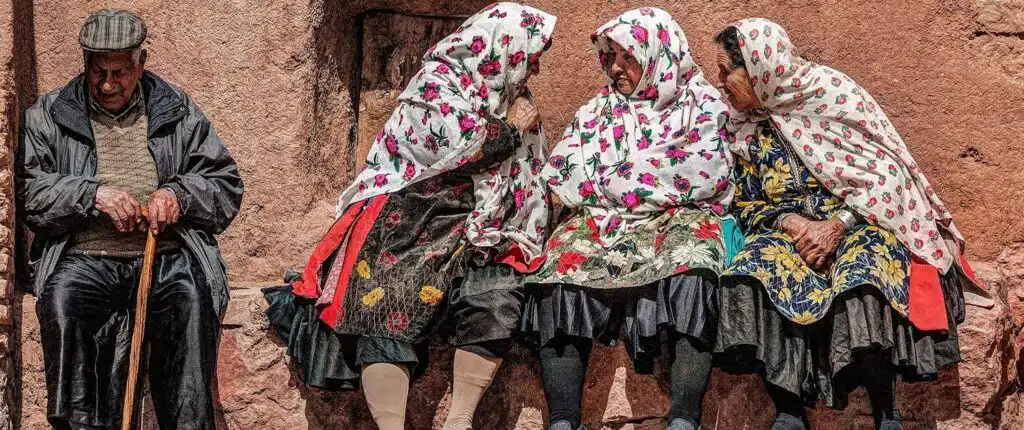 The iconic red-hued stepped houses of Abyaneh are an absolute treat for the eyes. The traditional clothing of the local populace adds another layer of allure. It takes about an hour and a half to reach this stunning village from Kashan, and the journey is worth every minute.
Bazaars in Kashan
Kashan offers more than just historical sites and mesmerizing landscapes; it is also a haven for shoppers and foodies alike. In this section, we delve into where you can shop for souvenirs or modern wares and taste the local gastronomy.
Safaviyeh Bazaar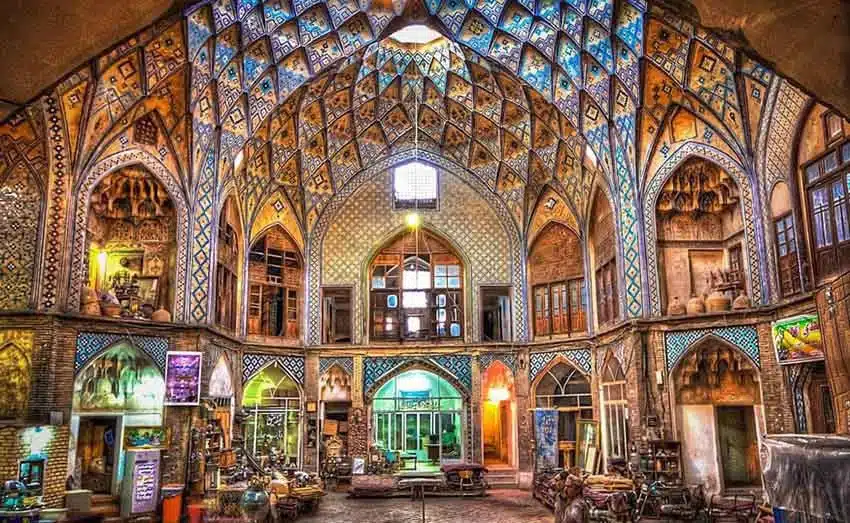 One of the oldest shopping centers in Kashan, Safaviyeh Bazaar located on Rajaei Street is your go-to place for clothing and personal care items. Whether you're looking for traditional fabrics or cosmetics, this bazaar has it all.
Traditional Accommodations and Hotels
Now that you're familiar with the historical houses of Kashan, it's a good idea to get to know some of the city's traditional hotels and accommodations. The idea of staying in one of Kashan's attractions is quite appealing.
Manouchehri Traditional Hotel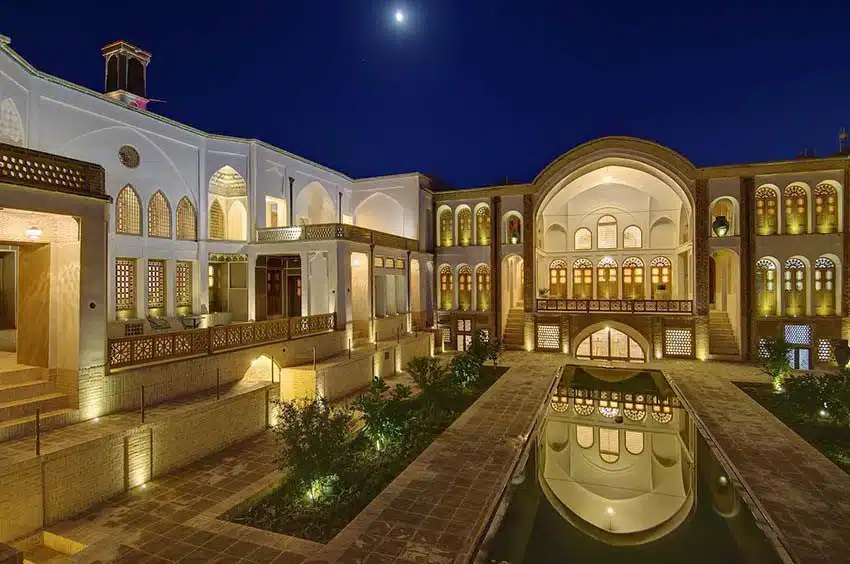 This beautiful traditional hotel not only provides you a resting place but also entices you with its 400-year-old art and history. Given its proximity to the old bazaar of Kashan, it offers both trade and sightseeing opportunities. The Manouchehri Traditional Hotel was renovated in 2011. Despite modern changes, it has preserved its traditional appearance. The hotel features a cistern that now serves as a venue for ceremonies and lectures.
Sadeghi Traditional Residence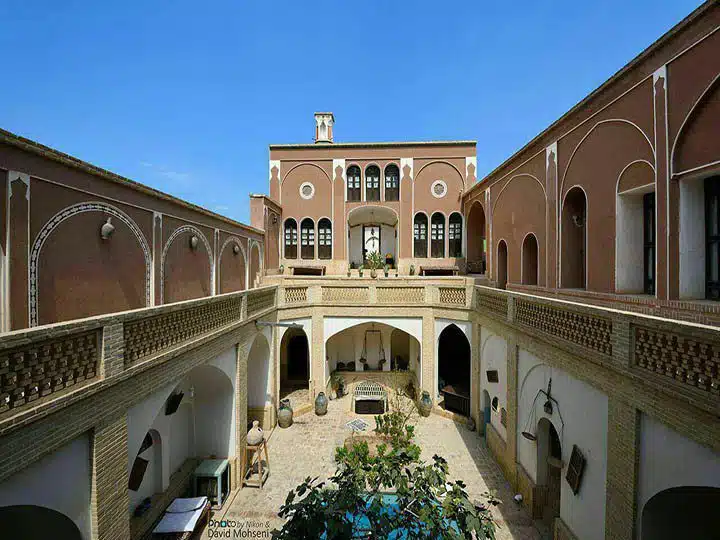 One of the renowned hotels, which is also an attraction in Kashan, is the Sadeghi Residence. This building was purchased by Mr. Sadeghi in 1991 and after an 8-year restoration, it's now recognized as a traditional accommodation. Unlike other hotels, this one has public baths and restrooms.
Traditional Sadeghi Residence on Google Maps
Traditional Negin Hotel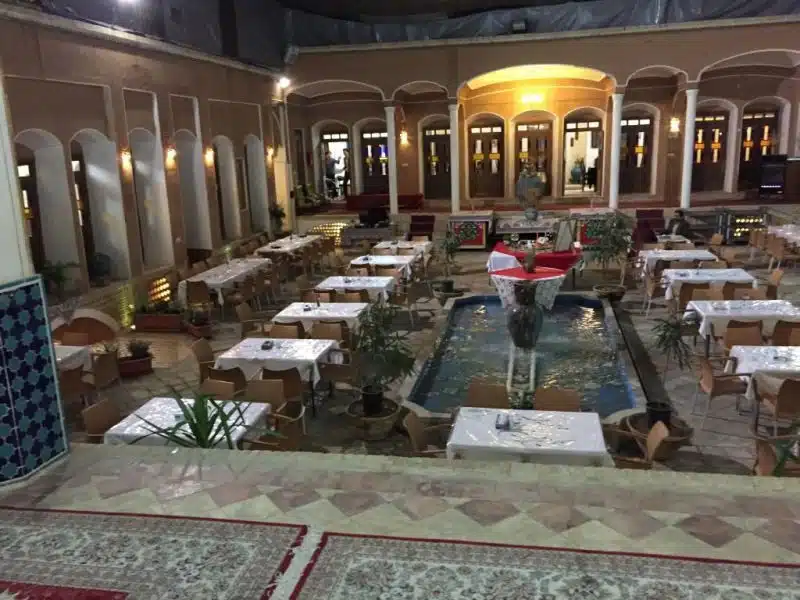 This historical hotel is approximately 250 years old, managed by a charitable family. The income is dedicated to orphans. The unique architecture of this building ensures protection from the heat and cold during different seasons. The interesting part is, despite its modern facilities, it still reflects ancient Iranian culture. Many tourists are keen to stay here. The hotel can accommodate up to 100 tourists at a time.
Traditional Negin Hotel on Google Maps
Traditional Mehinehstan Residence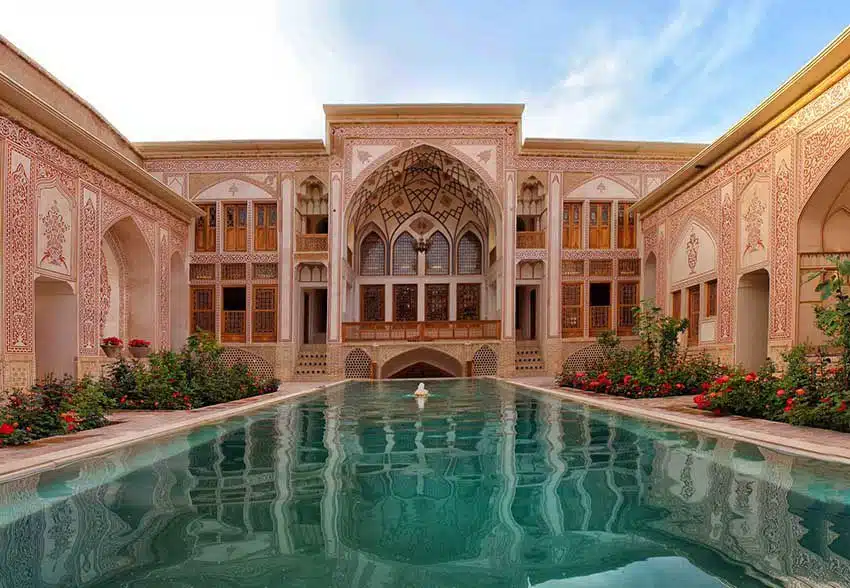 This beautiful building was constructed towards the end of the Qajar dynasty and was fully restored in 2013. Features added during the renovation have made it one of the chicest hotels in Kashan. In addition to admiring the blend of ancient and modern Iranian culture, you can also enjoy a free city tour. The hotel also offers handicraft stalls, safe deposit boxes, dry cleaning, and currency exchange services.
Authentic Iranian House
One of the attractions of Kashan that's also suitable for accommodation is the three-star Iranian House, which is about 250 years old. This hotel has five rooms named Balakhaneh, Pardesara, Nehankhaneh, Khanesara, and Khalvatsara. If you love photography, capture some amazing shots in the mirror room, dining room, and beside the pond.
Majoon Traditional Homestay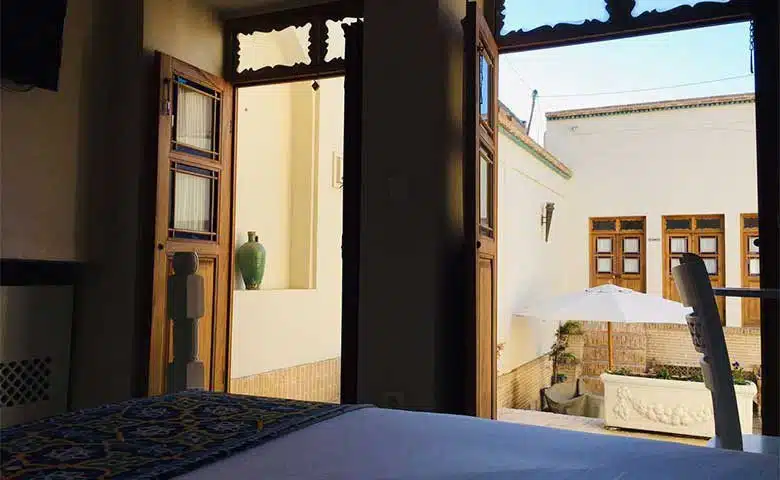 This accommodation is located in the eastern part of Kashan, in the Marq village, which is considered the mountainous region of Kashan. Naturally, such an area would have a pleasant climate, a river, a spring, and fruit gardens, creating a dreamy setting. Alongside staying in this picturesque place, you can also enjoy the historical sights of Marq. However, it's worth noting that staying here during the hot seasons might not be ideal as the only cooling facility is a fan.
Homestay Majoon House on Google Maps
Local Kashani Cuisine
Kashan, a historic city in Iran, is not only renowned for its beautiful architecture and ancient artifacts but also for its delectable local cuisine. Delving into the culinary world of Kashan, one can find a plethora of traditional dishes that will tantalize the taste buds and offer an unforgettable gastronomic experience. Here are some must-try dishes that every visitor should savor when in Kashan:
Kashani Meat and Beans (Gosht-e Lobia Kashani)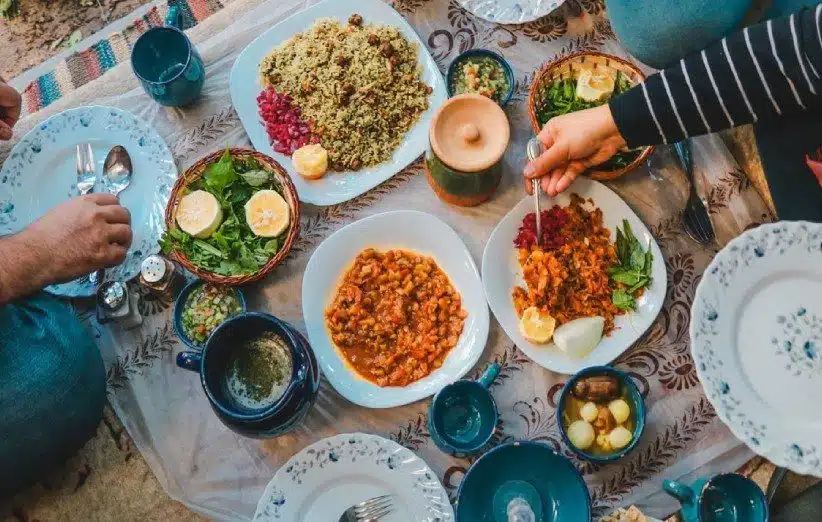 One of the delicious and nutritious dishes of Kashan is the meat and beans, which is highly beneficial due to the presence of meat and beans. Its taste is quite delightful. The locals often distribute this dish during religious ceremonies in the month of Muharram, and it's considered a festive dish in Kashan. Some locals also refer to it as "Gosht-e Lobiaab." To prepare this dish, one needs boneless meat, white beans, cinnamon, onions, and saffron. The residents of Kashan typically simmer the meat, white beans, and onions for several hours until the stew thickens. This dish is one of the registered cultural heritages of Iran. Once cooked, it's served with stone-baked bread or dill rice. Some prefer to have it like a soup, accompanied by herbs and bread. Due to the presence of legumes and meat, it's rich in protein, calcium, and iron, keeping you full for hours. After a tour around Kashan and visiting its historic houses, this dish can provide you with the much-needed energy.
Kashani Chickpea Stew (Shafte Nokhodchi Kashani)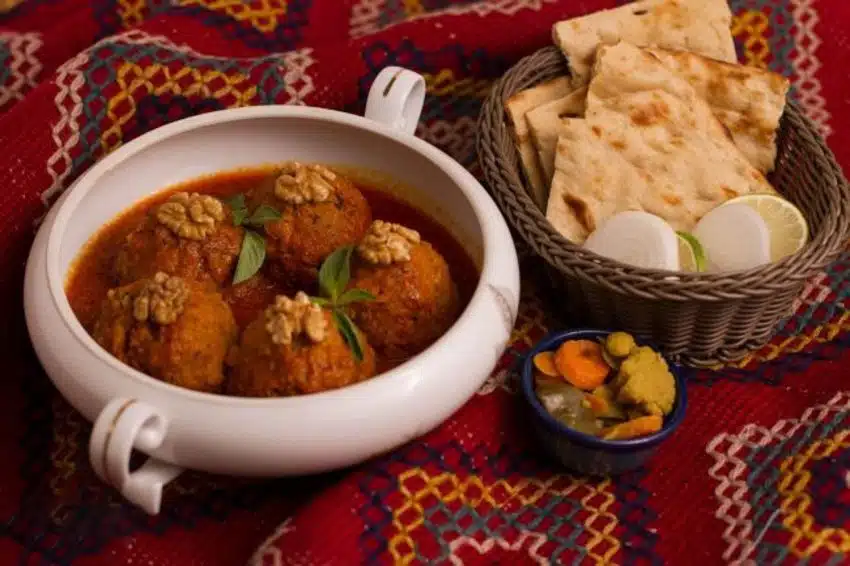 Another appetizing dish from Kashan is the chickpea stew, which is commonly prepared during winter due to its warm nature. The dish's name is derived from the Kashani term for minced meat, "Shafte." The dish is made from minced meat combined with chickpea flour and onions. It's usually served with bread and herbs.
Kashani Sumac Meatballs (Shafte Somaq Kashani)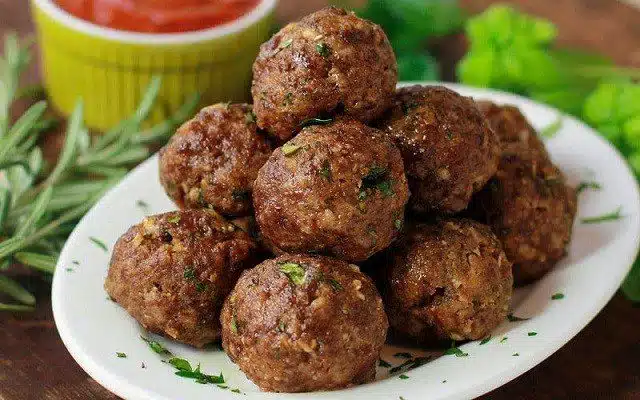 Another local delicacy is the Sumac meatballs. To prepare this dish, one combines minced meat with chickpea flour, grated onions, and sumac. After combining, the meatballs are fried and then simmered in a tangy sumac-infused broth. This dish can be paired with rice or bread. Sumac not only adds flavor but is also known for regulating blood sugar, reducing bad cholesterol, and is rich in antioxidants and vitamin C, enhancing the body's resistance against ailments.
Pomegranate Stew (Shafte Anar)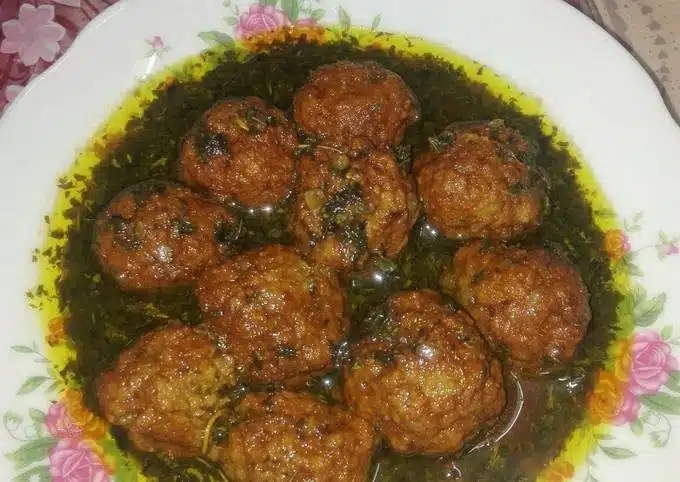 Another delightful dish from Kashan is the Pomegranate Stew, which has its own special fans. To make this, minced meat is mixed with onions and chickpea flour, followed by the addition of aromatic herbs like tarragon. After blending, small meatballs are formed and fried. These are then simmered in a sauce containing pomegranate paste and sautéed onions. Some locals also add pomegranate juice to enhance the dish's color and taste. The tanginess of the stew can vary based on the sourness of the pomegranate used, ranging from very sweet to very sour.
Eggplant Stew (Shafte Bademjan)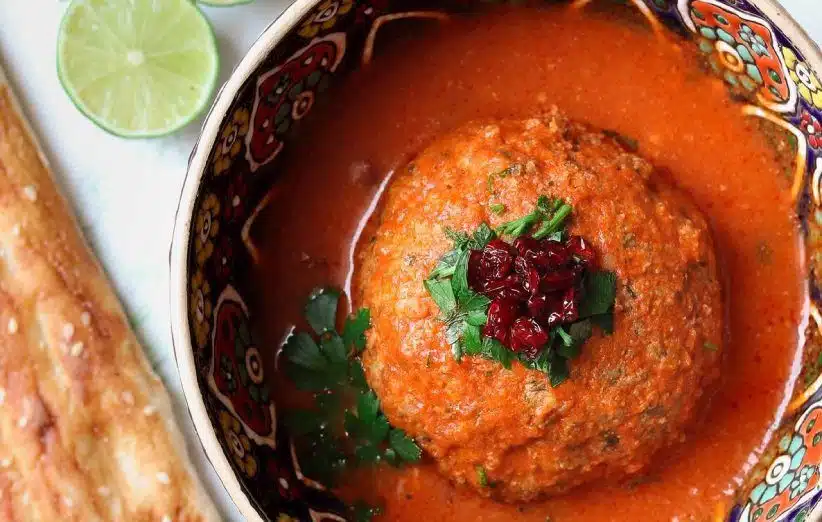 Another authentic dish from Kashan is the Eggplant Stew. Given the presence of fried eggplant, this dish is a favorite among eggplant lovers. To make this, minced meat is combined with onions, chickpea flour, and other spices. After forming the meat into small balls, they are fried. Separately, eggplants are also fried. The meatballs and fried eggplants are combined in a special sauce made of sautéed onions and pomegranate paste, blending their flavors into a unique and delicious meal.
Nokhod Aaleh Stew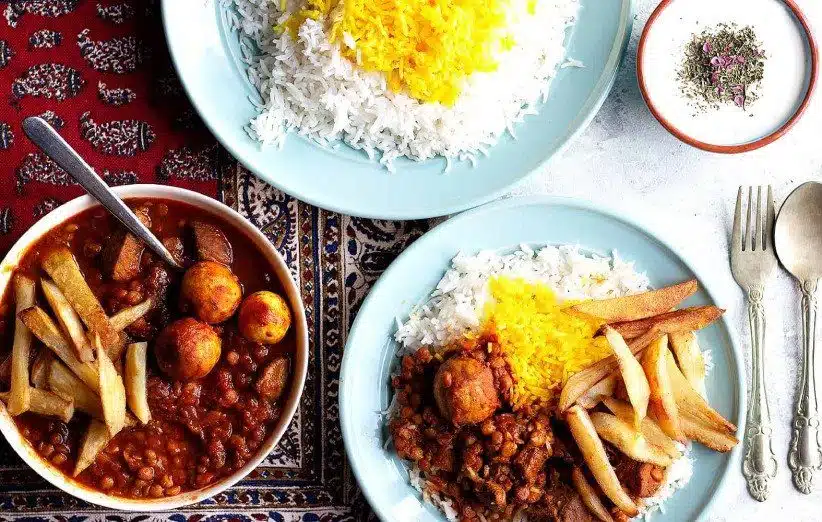 Nokhod Aaleh is essentially a Qeymeh stew prepared in the style of Kashan locals. This stew uses chickpeas, which are split into two, hence the name "Nokhod Aaleh." Ingredients include meat, onions, dried limes, and chickpeas. It's cooked similarly to the traditional Qeymeh stew. When onions, meat, and chickpeas have been sautéed, tomato paste and pureed tomatoes are added, giving the stew a vibrant color. Towards the end, rose water and spices like saffron, cardamom, and cinnamon are added to enhance its flavor. It's best enjoyed with rice. More on Kashan Travel Guide.
Kashani Eggplant Halim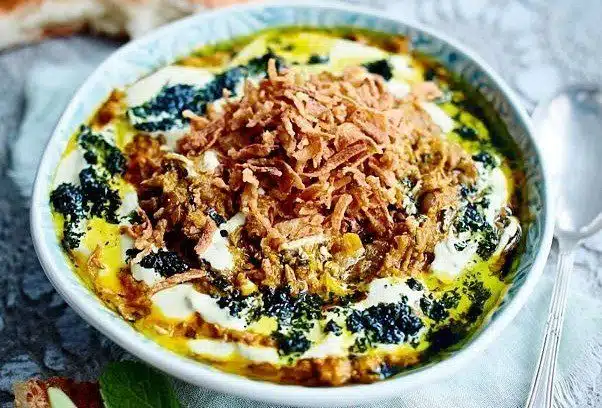 A delicious variant of eggplant halim, this dish is made with meat, lentils, and eggplant. It starts with sautéing onions until tender, followed by boneless lamb meat. Turmeric and black pepper are then added. After around 2 hours, soaked lentils, eggplant, and tomatoes are introduced. This Halim, when paired with flatbread and fresh herbs, becomes an irresistible treat.
Mocheh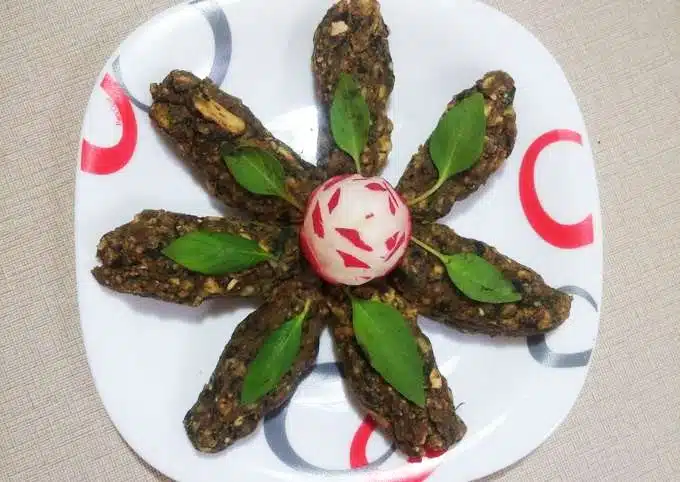 When in Kashan, if you come across Mocheh on a menu, do not hesitate to order this delectable snack. It's made by drying flatbread and powdering it. This is then mixed with powdered walnuts and cheese. More cheese is added, and the mixture is shaped into small balls. The name Mocheh stems from the fact that it's shaped by hand pressure. Depending on preferences, some variations might include fresh herbs or spices like caraway and mint.
Ash Sholi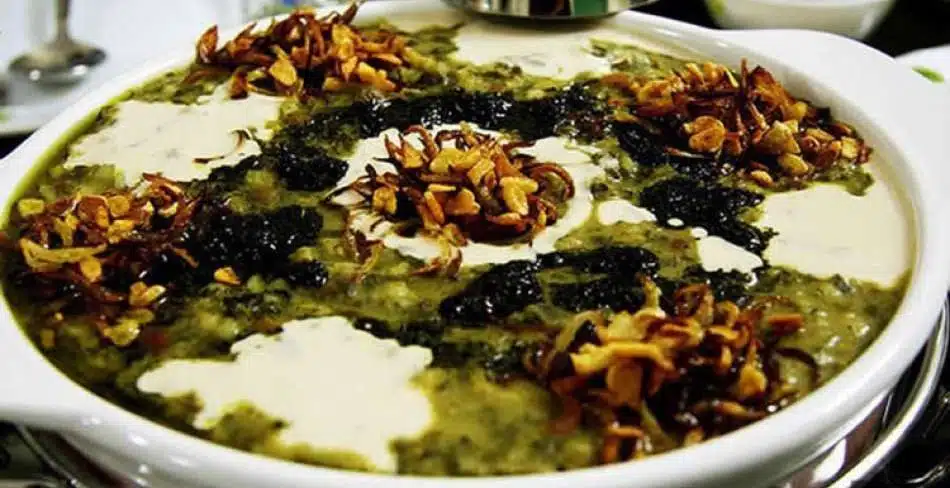 Iranians love their soups and stews, and Kashan has its own unique offerings. Ash Sholi is a simple yet tasty dish made from beetroot, vinegar, onions, flour, and herbs like mint, dill, and spinach. Pomegranate molasses and vinegar are key flavoring agents, making the soup tangy and appetizing.
Kashan's Food Culture
Upon visiting Kashan, you'll step into a warm desert city with deep historical roots and stunning architectural sites. The locals, known for their kindness and patience, have mastered the art of crafting delicious dishes using simple ingredients. The abundance of wheat over rice in Kashan has led to many dishes being paired with bread. However, there are a few dishes best savored with rice. Depending on your food preferences, you can enjoy your meal with either bread or rice.
Best Restaurants in Kashan
Aaine Sare Amirieha Restaurant
If you're looking for quality dining after exploring the old textures and historical houses of Kashan, the Aaine Sare Amirieha Restaurant is your sanctuary. The restaurant offers a variety of stews, traditional Iranian dishes, and refreshing drinks.
Madar Bozorg Traditional Dining
For the authentic taste of Khoresht Alu Hoijeh with chicken, Madar Bozorg's traditional restaurant is a cozy and intimate spot located on Baba Afzal Street.
Other notable restaurants include Bagh Restaurant Nayeb, Akbar Joojeh Restaurant, Khatun Restaurant, Mashdi Traditional Restaurant, and Melal Restaurant of Kashan.
Gastronomic tours
Ready to embark on this gastronomic journey? You can effortlessly add these experiences to your trip when you book your tailor-made tours through SURFIRAN.
And while you're at it, why not sort out your stay? You can book your hotels through OrientTrips, where we have an array of options to suit all budgets and preferences. Don't forget to check out other services like visa processing at orienttrips.com/visa to ensure a hassle-free journey!
Excited to explore Kashan? Check out our Kashan Travel Guide on SURFIRAN and OrientTrips' guide for more valuable information.