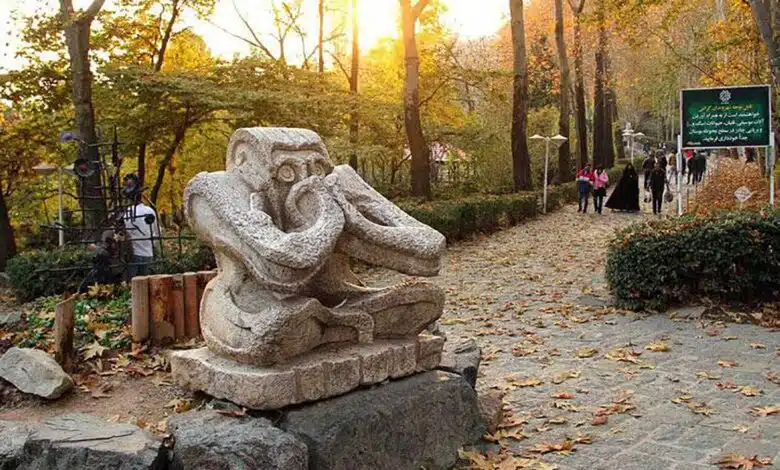 Jamshidieh Park is a bustling hotspot during both day and night and is a popular tourist destination in Tehran. If you find yourself in Tehran and are looking for a refreshing getaway in the northern part of the city, Jamshidieh Park is an excellent choice. In this article from the SURFIRAN Tourism Magazine, we will take you on a journey to the northernmost point of Tehran, to explore the beauty of this region and Jamshidieh Park.
Where is Jamshidieh Park located in Tehran?
Jamshidieh Park, also known as Bustan-e Jamshidieh, is one of Tehran's famous parks, situated in District 4, Zone 1 of Tehran's municipality. Located to the north of Niavaran Street, it has four entrances from different directions, connecting the park to the following areas:
From the north: Kolakchal
From the south: Dowloo Gardens
From the east: Jamshidieh Street
From the west: Kolakchal Road
Address of Jamshidieh Park Tehran
Jamshidieh Park Address: Tehran, end of Shahid Bahonar Street (Niavaran), end of Feiziyeh and Omidvar Street
Access to Jamshidieh Park Tehran
Reaching Jamshidieh Park is feasible by public transportation and private vehicles. First, you need to get to Tajrish Square from any part of Tehran. From there, you can continue the rest of the way to Niavaran. In the Niavaran neighborhood, you can access the park via Omidvar and Feiziyeh streets.
Accessing Jamshidieh Park by Metro
If you plan to travel to Jamshidieh Park by metro, you should first board Tehran Metro Line 1 and get off at Tajrish Square Station. From there, you can take a taxi from Quds Square or taxis on Bahonar and Niavaran streets to cover the distance to Jamshidieh Park, which takes approximately 20 minutes.
Accessing Jamshidieh Park by Bus
If you decide to use the Bus Rapid Transit (BRT) system to get to Jamshidieh Park, you should board the Railway-Tajrish bus line and get off at Tajrish Square Station. Then, from Tajrish, take a taxi from Quds Square or Niavaran taxis to Jamshidieh Park. The distance from Tajrish to Jamshidieh is about 6 kilometers, which takes around 20 minutes by taxi.
If you opt for a regular bus, you need to board the Tajrish-Jamaran line and get off at Yadegar School Station. From here, you can either walk to the park or take a taxi. However, be aware that the walking route to Jamshidieh is uphill and lengthy.
Accessing Jamshidieh Park by Taxi
To reach Jamshidieh Park in Tehran by taxi, from wherever you are in the city, take taxis heading towards Quds Square and from there continue the rest of the way to Jamshidieh. Online taxis might be a more convenient option for you.
Accessing Jamshidieh Park by Private Vehicle
If you have decided to visit Jamshidieh Park using your private vehicle, you can utilize the location of Jamshidieh on Google Maps.
Jamshidieh Park Working Hours
Jamshidieh Park in Tehran is open daily from 6 AM until midnight.
Parking at Jamshidieh Park in Tehran
If you're one of those people who are always worried about finding parking, rest assured that next to Jamshidieh Park and at the end of Feiziyeh Street, there is a large parking lot available for use at a fee. However, keep in mind that on holidays, Jamshidieh Park may be crowded, and you might have to spend a considerable amount of time queuing and dealing with traffic to reach the parking area. Therefore, it might be better to park at the beginning of Feiziyeh Street.
Best Time to Visit Jamshidieh Park
Jamshidieh Park has its own unique charm in every season, but if you're a nature lover, we suggest you plan your visit according to the descriptions below. Generally speaking, spring and autumn are the best seasons to visit Jamshidieh Park. In autumn, the dance of colorful leaves in the sky and their encounter with the ground is like a large, colorful army, offering an indescribable pleasure.
Jamshidieh Park in Spring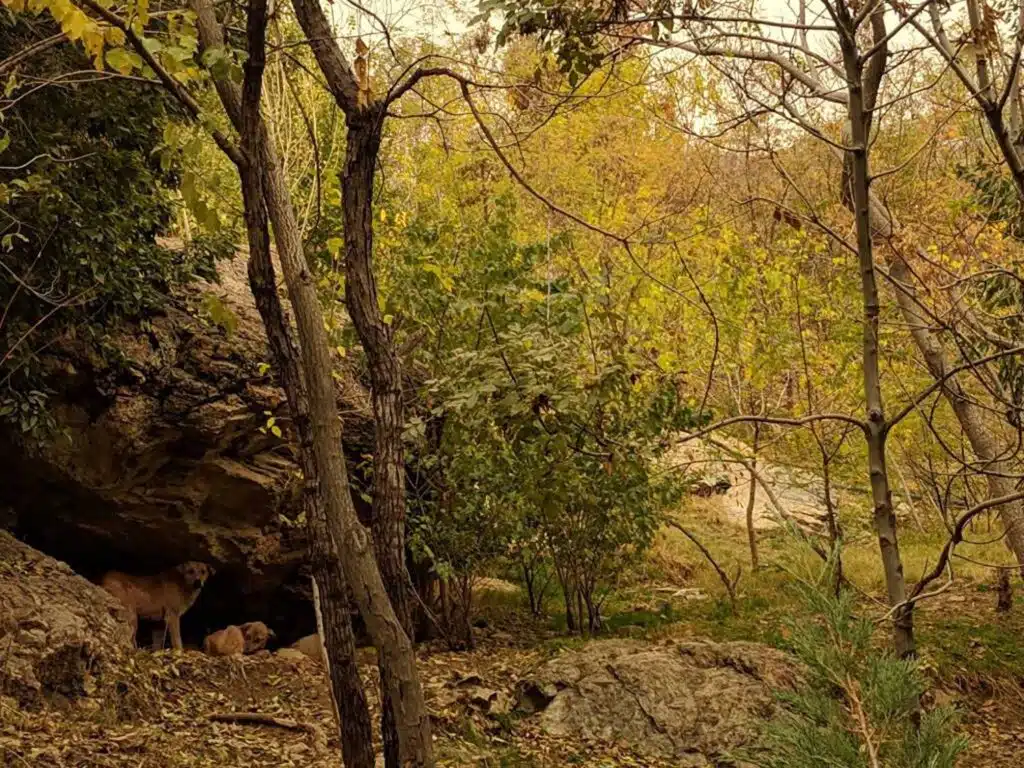 In spring, the trees turn green and flowers bloom. If you're lucky, you might even experience this verdant nature accompanied by a light drizzle. The cool spring air will certainly uplift your spirits. However, be aware that in spring, especially on weekends, Jamshidieh Park in Tehran can get a bit crowded. If you prefer quiet and serene places, it's better to visit the park during less busy hours.
Jamshidieh Park in Summer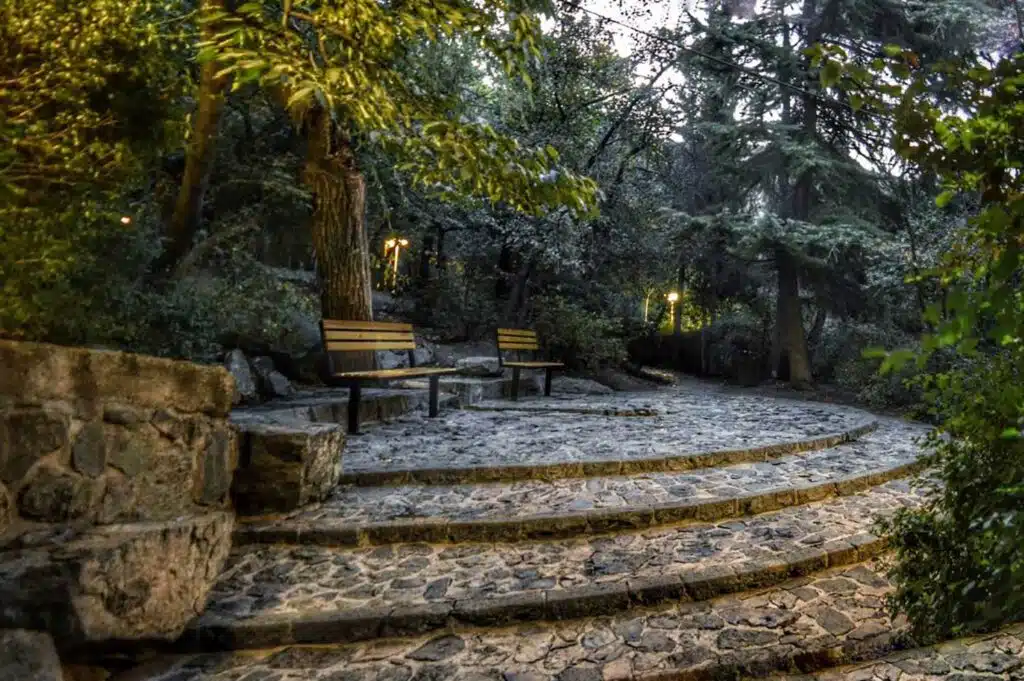 Given that Jamshidieh Park in Tehran is located at higher altitudes, naturally, it has better weather than the rest of the city during the hot summers. The park's trees remain green and scenic, making it an ideal place for strolling and enjoying nature.
Jamshidieh Park in Autumn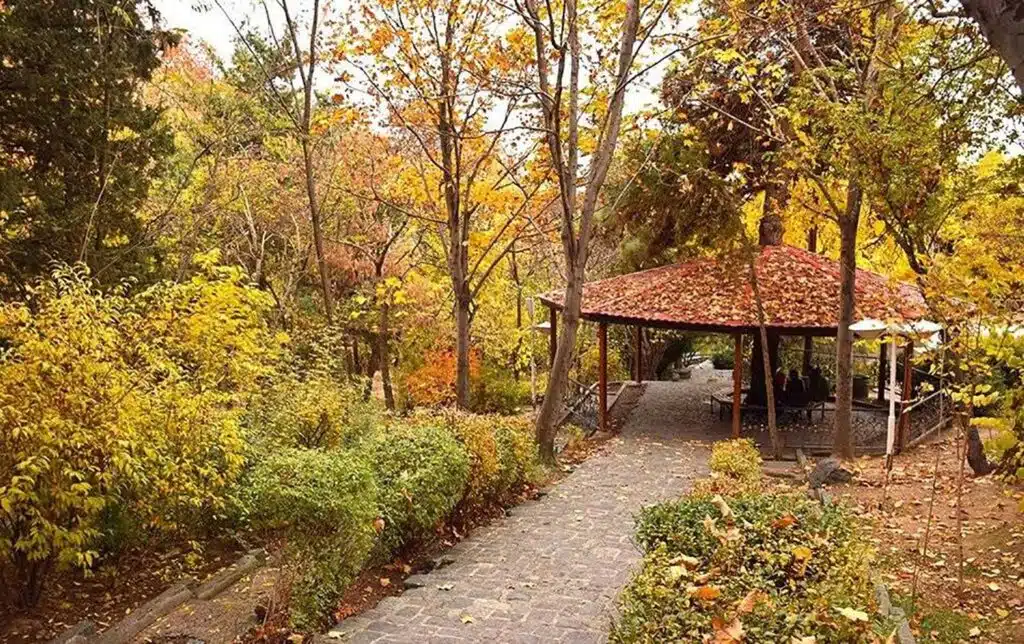 The weather in Jamshidieh is also pleasant in autumn. Autumn in Jamshidieh comes with a dance of colorful leaves in the sky. The leaves gracefully make their way to the ground, and their landing is like a large, colorful army, offering an indescribable pleasure. The multicolored autumn and trees, each in its own hue, walking on dry leaves or strolling among the trees and listening to the sounds of various birds, can create the best time for you.
Jamshidieh Park in Winter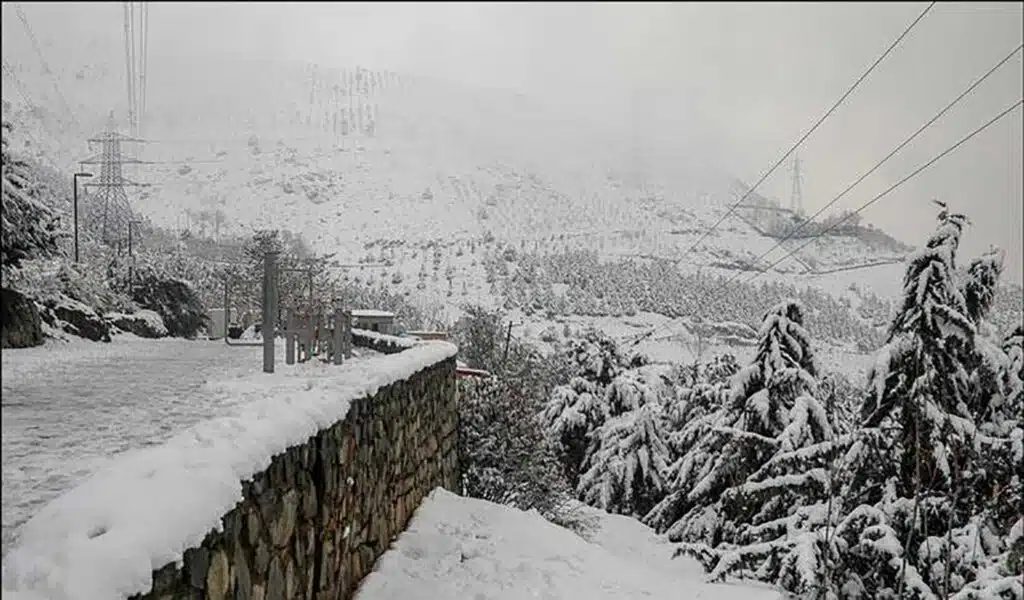 Jamshidieh Park in Niavaran is one of those places that, due to its elevation, becomes cold and snowy with the onset of winter. If the sight of towering trees covered in snow appeals to you, Jamshidieh Park in winter will be dreamy for you. However, be mindful that Jamshidieh is on an uphill path; the weather is very cold, and there's a risk of slipping.
General Introduction to Jamshidieh Park
Jamshidieh Park in Tehran, also known as "Jamshidieh Stone Park" among locals, is one of the parks of District 1 of Tehran Municipality. To give you an idea of the size of Jamshidieh Park, you would have to put about 10 football fields together to match its size, approximately 10 hectares. This park is so large that if you want to walk from one end to the other, it won't be as short and easy as a daily walk.
In the Persian year 1374 (about 1995), roughly 16 hectares were added to the size of Jamshidieh Park, which was named "Ferdowsi Park." This Ferdowsi Park, which I mentioned, was constructed in such a way that it towers over Jamshidieh Park, and even now, these two parks are competing in beauty.
Attractions of Jamshidieh Park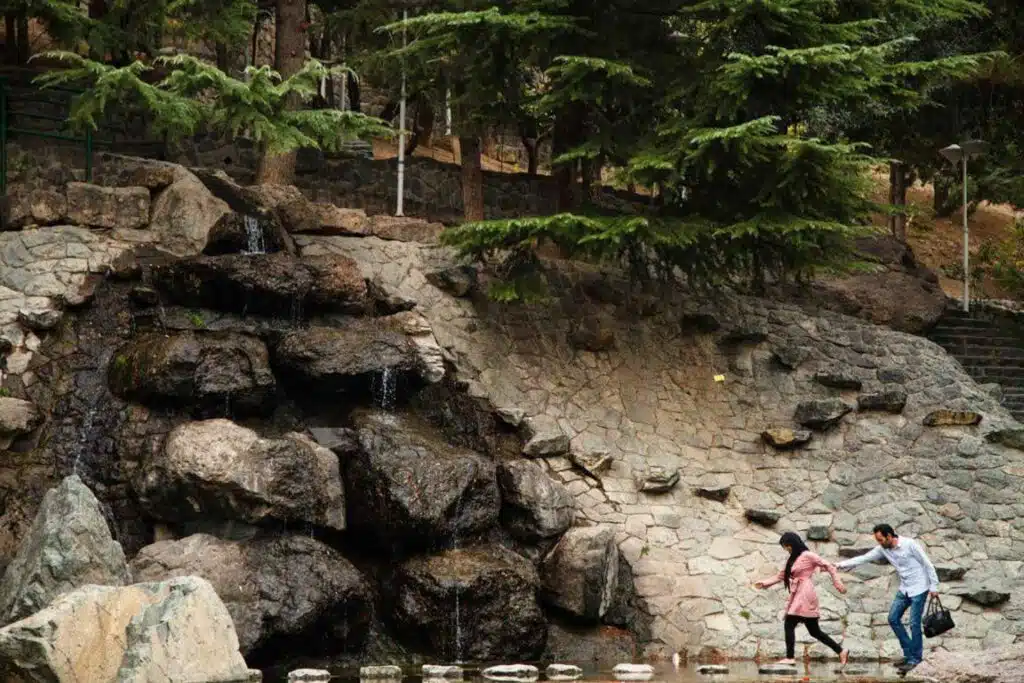 Jamshidieh Park in Tehran, as one of the tourist attractions of Tehran, has many tourist attractions and sights, which we will introduce and examine in the following so that you can visit them on your next visit.
Ferdowsi Park; Part of Jamshidieh Park
Jamshidieh Park in Tehran has been renovated twice since its establishment, with one of these renovations taking place between 1995 and 1996. During this renovation, an area of 16 hectares was added to this park, which is known as "Ferdowsi Park". This park has more than 6317 square meters of floral landscaping, offering various spectacles such as fountains and different statues, one of the most important of which is the grand statue of Ferdowsi.
Jamshidieh Park Lake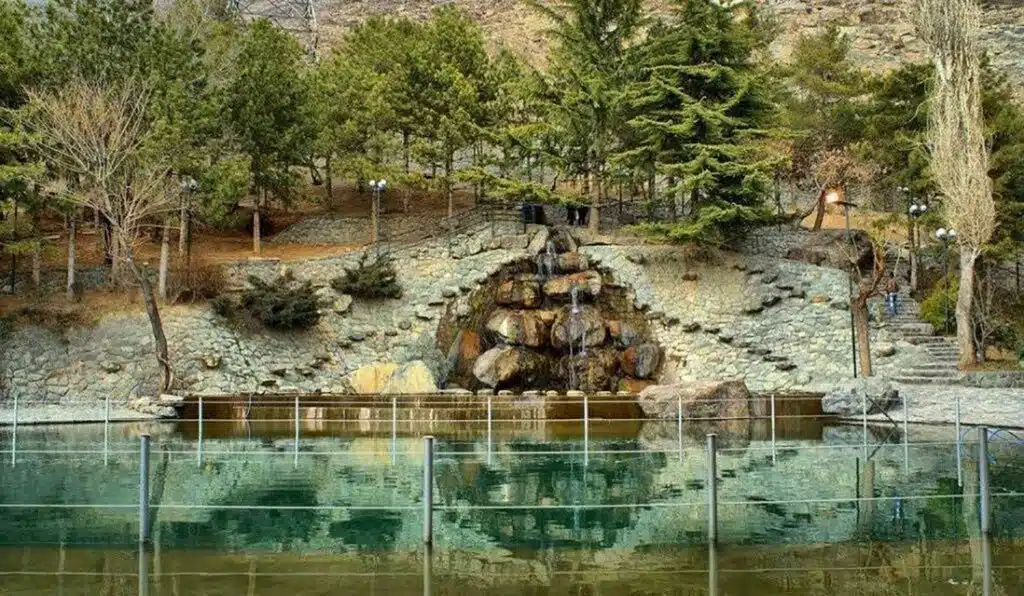 Throughout Jamshidieh Park in Tehran and Ferdowsi Park, there are waterfalls and a lake formed, which add to the beauty of this park. The delightful roar of the waterfall and its flow beside you as you leisurely stroll in the park will be the most beautiful sound of nature. The lake in Jamshidieh Park is a pleasant environment located in the middle of the park, attracting people around it. If you're lucky, you might also see a beautiful bird coming to drink water from the waterfalls and the lake.
Stone Statues of Jamshidieh Park
One of the attractions of Jamshidieh Park in Niavaran are the rocks that have been shaped over time due to weather changes and have taken the form of statues, evoking images of various animals in the mind. This beautiful stone zoo is located atop 600 steps. If you want to see the statues of Jamshidieh Park, you'll need to muster the energy to climb 600 steps. If you think 600 steps are too many and you're having second thoughts, I must say you'll be missing out on something exciting. I mention this to perhaps encourage you a bit to take on the stair-climbing challenge. Apart from these naturally formed statues, there are sculptures in different parts of Jamshidieh and Ferdowsi Parks, each conveying a natural, mystical, and cultural meaning, and some of them have extraordinarily beautiful and modern designs.
Various Exhibitions in Jamshidieh Park, Tehran
Different seasonal exhibitions are held in parts of Jamshidieh Park and Ferdowsi Park in Tehran, where the handicrafts and art of Tehranian artists are sold. One of the reasons why some locals and people visit Jamshidieh Park is to attend these seasonal exhibitions.
Negarestan and Amphitheater
The Negarestan and amphitheater are yet another attraction of Jamshidieh Park that you must visit. In this amphitheater, excellent programs are displayed, and I highly recommend seeing them.
Facilities of Jamshidieh Park The facilities of Jamshidieh Park are sufficient for a complete leisure experience. The facilities of this park include:
Restaurants of Jamshidieh Park, Tehran
Amphitheater
Traditional Iranian dining place
Pavilions and benches
Landscaped green spaces
Restrooms
Drinking fountains
Fountains and the lake of Jamshidieh Park
Food and snack stalls
What to Do in Jamshidieh Park?
Jamshidieh Park in Tehran, known as one of Tehran's scenic spots, is extensive and offers various facilities, so you can enjoy different recreations in various parts of the park. The heights, river, waterfalls, and various fountains are all part of the attractions and beauties of Jamshidieh Park. In this section of the article, I'll tell you what activities await you when you step into the park and what the facilities of Jamshidieh Park in Tehran are.
Picnicking; Enjoying Leisure Time in Jamshidieh Park, Tehran
Picnicking is the simplest recreation you can have in Jamshidieh Park, Tehran. Just bring a mat and some snacks and enjoy the beauties that this park displays for you. If you happen to forget to bring snacks, don't worry at all – there are various shops in parts of Jamshidieh Park, Tehran, where you can buy various drinks and snacks.
Mountain Climbing in Jamshidieh Park, Tehran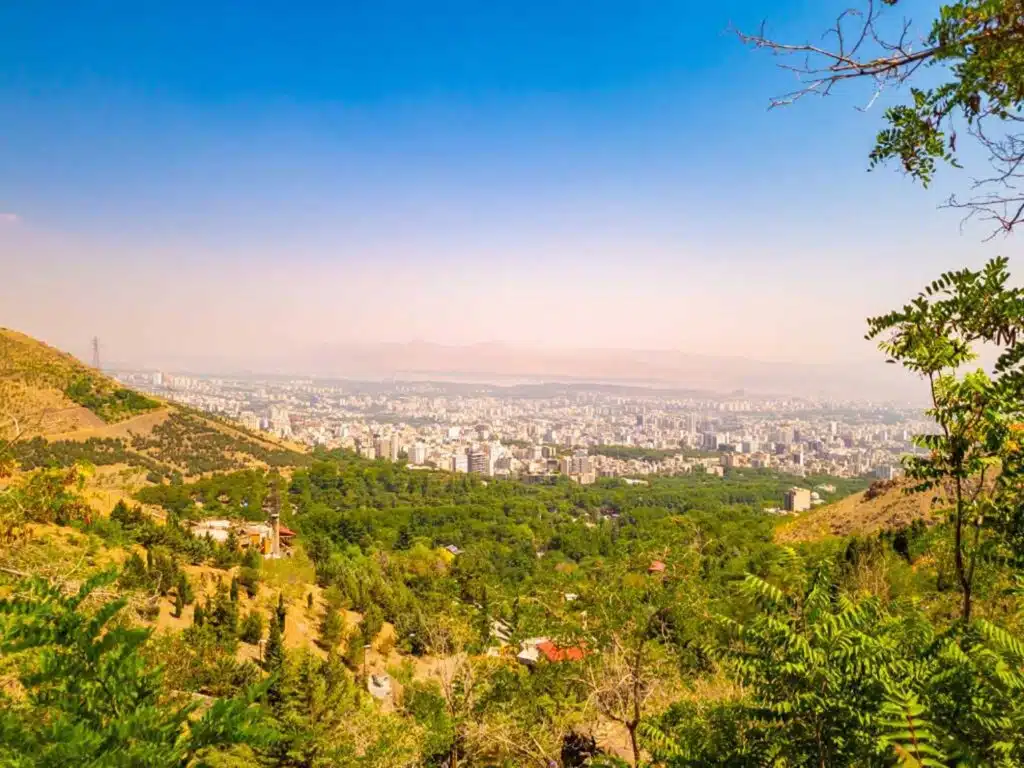 Mountain climbing is one of the most important recreations of Jamshidieh Park as one of Tehran's scenic spots. Everyone who wants to go to Tochal and the northern heights of Tehran arranges to meet in Jamshidieh Park.
Near the statue of the great and renowned Iranian poet Ferdowsi, a signboard is installed that acts as a guide to the mountain climbing route to Kolakchal. On this route, you first reach a river that has been fenced off from the park. If you go a little further, the fences end somewhere, and you can get close to the river.
Continuing the Path to Kolakchal Shelter
As you continue the path, you'll reach the Kolakchal shelter. This area has been a symbol of social solidarity during the democratic government of Dr. Mosaddegh and the coup of 28 Mordad 1332. However, the tower in this area has been inaccessible for some time, and climbers cannot enter it. Some young people of the 30s built this tower, and if you get close enough to the tower, you might be able to see their names.
Walking
With its vastness, Jamshidieh Park in Tehran is one of the best choices for walking. So, wear comfortable shoes and enjoy a vigorous walk among the beauties of the park's pathways, surrounded by cypress and elm trees.
We suggest that while walking in Jamshidieh Park, Tehran, take a few minutes to walk with your eyes closed to hear the sound of the wind whirling through the elm leaves and the birds talking to each other. You can't find a more beautiful sound than this in the heart of Tehran.
Photography in Jamshidieh Park, Tehran
One of the most beautiful seasons for photography in Jamshidieh Park, Tehran, is autumn, precisely when the trees flirtatiously and sorrowfully hand over their multicolored leaves to the wind, which scatters them all over the park to form a colorful pavement on the ground.
If you enjoy the sound of rustling leaves and seeing autumn colors, we recommend choosing the autumn season for photography in Jamshidieh Park, Tehran; but don't forget, this park has its own beauty in every season, and it's hard to differentiate between different seasons.
Birdwatching
One of the most interesting recreations in Jamshidieh Park, Tehran, which few people pay attention to and has its own specific enthusiasts, is birdwatching. In this large and beautiful park, more than 60 species of birds have been identified that you can see with binoculars and enjoy the childish hustle and bustle of their lives on the trees. If you enjoy the frolicking and play of birds, it's better to bring binoculars with you.
Jamshidieh Park Restaurants, Tehran
If you don't mind climbing stairs, a delightful surprise awaits you at the top. There are several cafes and restaurants, blending traditional and modern architecture, serving various types of delicious food in Jamshidieh Park.
Kurdistan Restaurant
One of the most popular restaurants in Jamshidieh Park is Kurdistan Restaurant, located at the highest point of the park. To get there, you need to climb many stairs, but in return, you'll be greeted by beautiful nature and enjoy tasty and unique dishes.
Azerbaijan Restaurant
Another popular restaurant near Jamshidieh Park, located on Omidvar Street, is Azerbaijan Restaurant. This restaurant serves traditional Iranian dishes, and after a stroll in the park, you can enjoy a hearty meal here.
Jamshidieh Restaurant
Like Kurdistan and Azerbaijan restaurants, Jamshidieh Restaurant serves some of the best Iranian dishes in the park, which you will surely enjoy.
Important Tips for Visiting Jamshidieh Park, Tehran
Given the age of Jamshidieh Park in Tehran, it's not surprising that some areas, like the pathways, might be a bit uneven, so pay attention while walking.
The park is situated in the northern highlands of Tehran, and it's natural for some parts to have stairs; therefore, these areas are not suitable for people with disabilities or limited mobility.
Don't forget that in the winter season, this region is colder than other parts of Iran due to its proximity to the mountains; so, if you're visiting Jamshidieh Park in Tehran during winter, make sure to bring appropriate clothing.
GET IN TOUCH
Best Tehran Hotels
Attractions Near Jamshidieh Park, Tehran
Here are a few suggestions for you if, after your stroll in Jamshidieh Park, Tehran, you have some extra time and want to explore the nearby attractions, so you have a clear plan.
Niavaran Park and Palace near Jamshidieh Park, Tehran
The historic and cultural complex of Niavaran Palace is one of the attractions near Jamshidieh Park in Tehran. With its picturesque historical buildings, it takes you back to the Qajar and Pahlavi eras. This complex, known for its natural surroundings and unique buildings, is on the national heritage list and welcomes numerous visitors every day.
Among the various parts of this complex, you can visit the Sahebqaranieh Palace, Ahmad Shahi Pavilion, Niavaran Palace, Jahan Nama Palace, the private library, the automobile museum, etc., offering an exceptional opportunity to become acquainted with Iran's history.
Address: Tehran, Shahid Bahonar Square (Niavaran), East side of Shahid Bahonar Square (Niavaran), Niavaran Cultural-Historic Complex
Sa'dabad Palace Museum
The Sa'dabad Palace Museum is one of Tehran's most famous museums, located near Jamshidieh Park in Tehran. This palace used to be the residence of the Pahlavi family and has now been transformed into a museum. The complex includes 18 large and small palaces, each with a distinct architecture, currently being used as museums.
Important palaces in Sa'dabad include the Nation's Palace Museum, the Green Palace, Shams Pahlavi Palace, the Hossein Behzad Museum, the Museum of Fine Arts, etc.
Address: Tehran, Valiasr Street, Shahid Fallahi Street (Zaferanieh), end of Shahid Kamal Taheri Street
Tajrish Bazaar
Tajrish Bazaar is one of those old shopping centers in Tehran where you can enjoy walking around even without buying anything. This old covered bazaar, located near Jamshidieh Park in Tehran, has a completely traditional texture and, with its 400 colorful stalls, creates a pleasant and bustling atmosphere. The bazaar is over 100 years old, and the hustle and bustle of people and the old shopping atmosphere attract many Iranian and foreign tourists to this area.
Address: Tehran, Tajrish Square, next to Imamzadeh Saleh