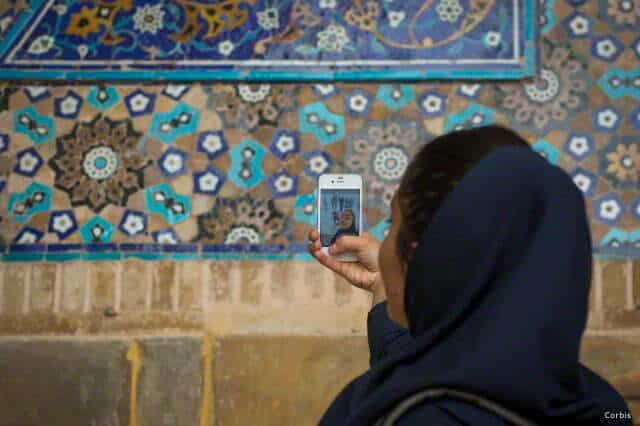 Iran is becoming a hot new tourist destination Perhaps that's because of a slight thaw in its relationships with the West – As a tour operator we have constantly receiving questions about how to have mobile phone service on the go the cheapest way in Iran? There is a few options for travellers to keep in touch with Family, Friends or even Social Media on the go the cheap way.
International Roaming
Local SIMCard are resemble in Iran so you don't need to use roaming services, also mobile Internet works fine within the populated areas. Just remember to put your mobile phone into Airplane Mode when you don't need it, or you will be receiving an extremely high phone bill which may cost more than your vacation.
Local Sim Cards in Iran
You can easily buy a MTN IRANCELL SIM card for USD5 (with 1GB data) at the very first moments you arrive at Imam Khomeini International Airport. Internet speed is almost H+, 3G, or 4G. So you can check your emails, social network accounts, download files etc.
The only thing you need to do is to show your passport.
After activating your SIM Card, you can use internet services easily with high speed.
OrientTrips
Buy Iran SIM Card
The Registration Process
The registration process is tedious and might take easily over a minute.
Bring your passport and… that's it!
The cost of calls and texts is reasonable and phone top-ups can be easily purchased from convenience shops anywhere in Iran.
Which Cellular Company?
We recommend you to use MTN Irancell which is the second largest mobile phone network operator of Iran.
It is 49% owned by the South Africa-based MTN Group. They offer Prepaid, Postpaid and the Mobile data (3G and 4G). You can get an Irancell sim right at the airport on arrival.
Internet in Iran
The Internet is widely available, though be aware that some sites may be blocked and the connection may not be very fast; Hotmail is particularly slow.
Hotels generally have Wi-Fi and in most towns and cities it will be reasonably easy to find cheap internet access.
Do note that Facebook is officially blocked, but the young and creative have their ways around it. Some internet cafés in larger cities have Facebook on their PCs.
Alternatively, ask an Iranian friend to help.
Some smaller hotels in Iran still have a fax machine as opposed to email or a website. In this book we supply a fax number when there is no email address or website available.