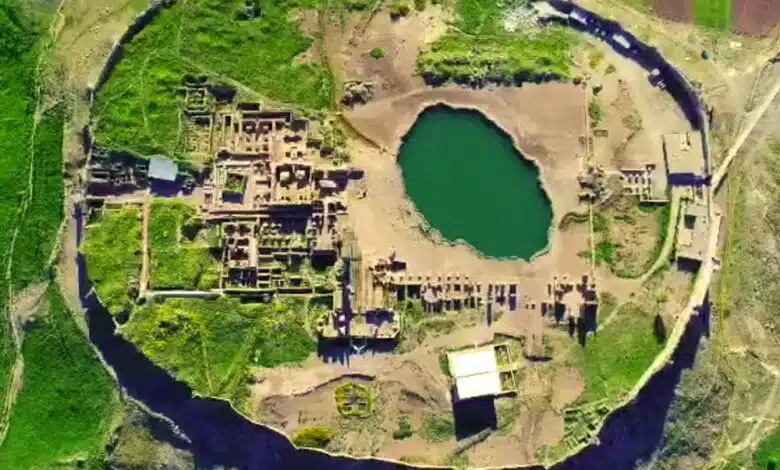 Takht-e Soleyman is the unique survival of one of the three principal fire temples of the Zoroastrian faith.
reveals architectural achievements of outstanding universal values, which from artistic, religious, mythical, and historical points of view, emerge from a symbiosis of man-made and spectacular natural setting.
Takht-e Soleyman bears some legendary and fascinating identities. It has been supposed to be a mirror of the Paradise itself, Mark Anthony's touch-stone, the Parthian horsemen's Phraaspa or even the place where the Holy Graal was conserved. None of these legends has been proved by any real fact.
Nevertheless, archaeological research shows that the site has to be identified with the location of the Sassanian fire temple of Athur-Gushnasp (Azargoshnasb) of the 5th and 6th centuries. It is the best preserved and most fascinating old fire temple complex known in the world.
Takht-e Soleyman in Zoroastrian book
According to Avestan texts (sacred Zoroastrian book), Athur-Gushnasp was one of the three principal fire temple of the Sassanians; the location of the two other ones have not been so far discovered. Natural and archaeological features of Takht-e Soleyman are quite unique. It is the largest and probably one of the most ancient ritual places of the Zoroastrians ever discovered.

While the exact names and identifications of other Sassanian religious centres are not known and they are essentially situated in the southern half of the Iranian plateau, Takht-e Soleyman bears the exceptional testimony to the royal fire temple of Sassanian emperors in north-western Iran for which we possess firm archaeological evidence.
Archaeological research at Takht-e Soleyman has provided important data on functional aspect of a Zoroastrian fire temple, the facts which are not or rarely known elsewhere. Takht-e Soleyman is, therefore, the unique extant testimony of one of the three principal fire temples of the Zoroastrian religion during the Sassanian period (3rd to 7th centuries A.D.).

Natural aspects
Natural aspects of the site together with its religious and historic importance constitute another significant factor feature.
The fire temple is situated in a mountainous setting marked by a small lake. The lake, which is supplied by sources operating as an artesian well, is undoubtedly at the origin of foundation of this site.
It is interesting to notice that the surrounding plain watered by the source of Takht-e Soleyman is as green as it was described in the past by the medieval historians as the pasture for horses of the Mongol Ilkhanid army.