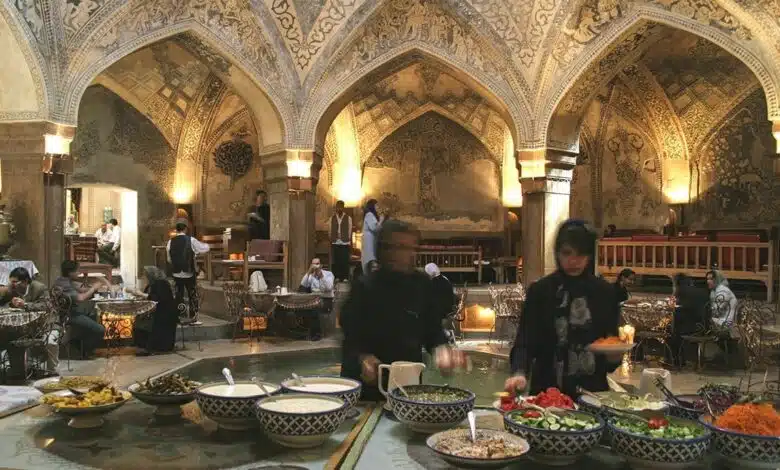 Shiraz, the city of poetry, literature, and mysticism, in addition to its outstanding historical attractions, has many restaurants, most of which offer the guests local Shiraz dishes along with other high-quality Iranian food.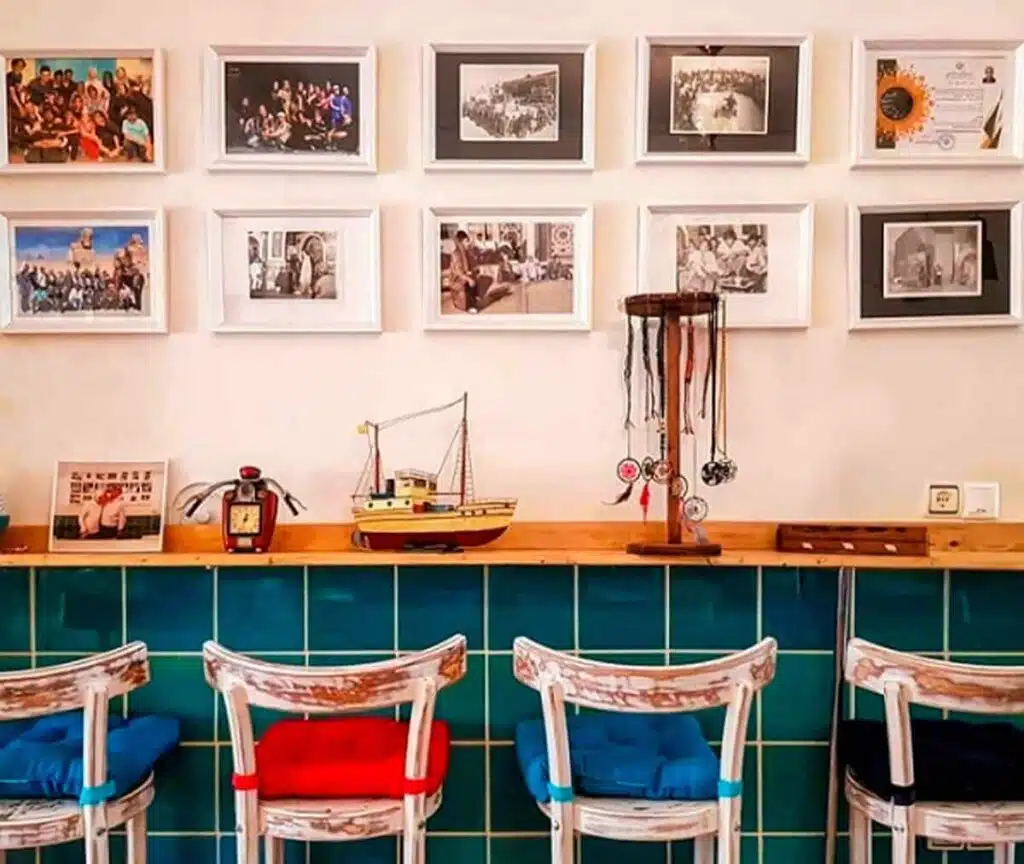 Indeed, due to the preponderance of fast food in the culture of Iranian people, just like the diet of people around the world, Shiraz restaurants are also divided into two groups, traditional and fast food.
The Haft Khan restaurant in Shiraz is a traditional and luxurious complex, built in a space with an area of ​​1400 square meters and an infrastructure of over 6000 square meters in the form of 5 restaurants and 2 coffee shops.
The name of this complex and all its floors are taken from Ferdowsi's Shahnameh. Each floor of this complex includes a special arrangement, design, and decoration related to the type of food served on that floor.
The Haft Khan restaurant complex, with a variety of more than 500 types of food, is one of the best restaurants in Shiraz, which offers a diversity of Iranian and international dishes, and provides services that suit all tastes.
Since its establishment, this complex has been registered as a tourist complex under the supervision of Fars Province Cultural Heritage, Handicrafts, and Tourism Organization continues to operate. This complex has received numerous awards and recognition.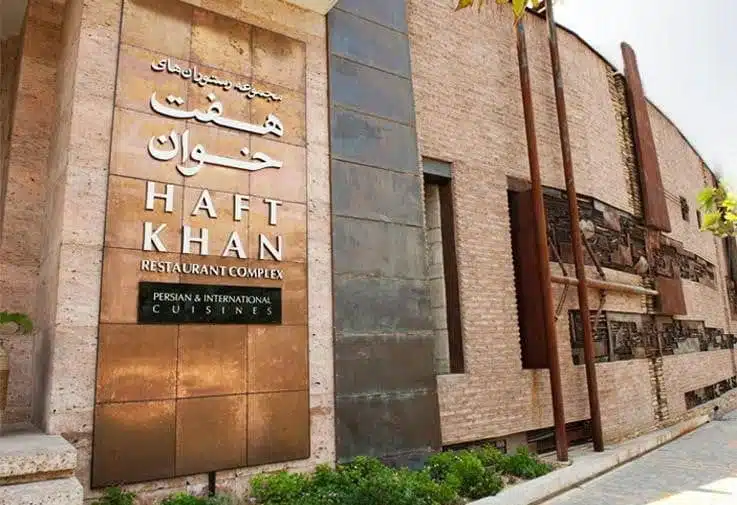 No. 17, Ayatollah Rabbani Blvd., Shiraz, Iran
07132270000
Sharze restaurant, located near Vakil Bazar, is among the best and most famous restaurants in Shiraz.
Sharze is known as the best kebab restaurant in Shiraz, but besides kebab, all kinds of authentic Iranian dishes are served in a beautiful atmosphere with Iranian music.
Zand Underpass, Vakil complex, Shiraz, Fars province
+987132241963
Soofi restaurant is one of the most famous restaurants in Shiraz, where a variety of Iranian and Middle Eastern dishes are served.
It should be noted that the Afif-Abad street branch is very busy, but the food served has a special taste and quality.
Amid this crowd, you can enjoy the sound of Iranian music while eating various types of kebabs, chicken, lamb, fish, and cabbage pilaf.
Next to Bank Mellat, Afif-Abad St., Qasr-e Dasht
+987136261573
Shater Abbas is one of the most popular restaurants from the standpoint of Shiraz's people, where a variety of Iranian dishes are prepared in an open kitchen and offered to customers.
The interior design of the restaurant is in Iranian style, and besides the main dish, lots of Iranian appetizers are served, such as halim-bademjan and taftoon.
Khakshenasi St., Azadi Blvd., Shiraz, Iran.
+987132261370
www.instagram.com/shaterabbasco
If you are eager to eat authentic Iranian food near historical places, Shapouri restaurant is the best option, as the restaurant is located in the historical part of Shiraz.
The historical building of the restaurant was also designed and built between 1930 and 1935 by Abolqasem Mohandesi (Iranian architect) in the style of Qajar architecture and was registered in the list of national monuments of Iran in 2000.
This building has a large veranda where guests can rejoice in the elegant perspective while eating. The menu of this restaurant also includes authentic Shirazi dishes such as kalam polo and other Iranian dishes.
Anvari St., Karimkhan Blvd., Shiraz, Iran.
+987132347491
www.instagram.com/emaratshapouri
The building of this restaurant belongs to Vakil's historic bath, which has been converted into two parts, a cafe, and a restaurant.
Since Hammam Vakil restaurant is very popular, a table should be reserved several days in advance. Also, traditional Iranian music is performed live for customers every night.
Hammam Vakil, Zandiyeh Complex, Taleghani St., Shiraz, Iran.
+989177062863
www.instagram.com/vakil.restaurant
Zarnegar Traditional House is the first painting museum in Shiraz, which combines a cafe and a restaurant with a special and historical environment, providing the opportunity to experience authentic and tasty Iranian food in a Qajar house.
This cafe, with beautiful royal rooms, panjdari, a pleasant courtyard, and a beautiful roof overlooking the turquoise domes of Shiraz, can hold formal and informal parties, birthdays, engagements, weddings, and other special events. If you want to get to know the atmosphere of old Shiraz and the old houses of Shiraz, visit this cafe. As soon as you enter the museum cafe, the sound of traditional music takes you back to the past. Antique decoration and old dishes, authentic Iranian drinks, and foods have been chosen in such a way that they are faithful to the hundred and twenty years old of this historic building.
No.33, Lotfalikhan Zand, Shiraz, Iran
+989179355003
www.instagram.com/zarnegar_traditional_house
Fatholmolouki Cafe is located in one of the historical mansions of Shiraz. This mansion dates back to the year 1911, the Qajar era. This house has a completely traditional appearance and Iranian architecture is used in its design.
The roof of the house is wooden. In the basement of this building, there is the Hall of Fame where you can visit the famous statues of Fars province. Inside the cafe, all Iranian and traditional elements have been well used.
Colored windows make the lighting of the cafe very beautiful. This cafe is one of the best cafes in Shiraz. The quality of services and the menu of Fatholmolouki Mansion are at a high level.
Therefore, it should be considered among the luxury and expensive cafes of Shiraz.
22 Bahman St., behind Karimkhan Arg, Shiraz, Iran
+987132228078
www.instagram.com/emarat.fatholmolouki
Shiraz Theater Cafe is one of the well-designed art cafes in this city. When you look at the interior design of this cafe, your mood will be improved subconsciously.
Of course, as expected, this cafe is for people who are interested in theater. Therefore, the theater cafe can be considered a hangout for art lovers.
On the walls of the cafe, immortal words can be seen next to the pictures of different artists of the country. This cafe has a very pleasant and energetic atmosphere.
The menu of the theater cafe includes a variety of teas, cakes, desserts, and side dishes or snacks. There is also a space for people who want to smoke.
No. 363, 16 Alley, Valiasr, Qasr-e Dasht, Shiraz, Iran
+987136272673