Beyond the historic tales and architectural marvels, Iran offers a touch of grandeur with its range of luxury hotels.
Quick Facts about Kish Island
Location: Kish Island is situated in the Persian Gulf, off the southern coast of Iran.
Visa-Free Zone: It's a visa-free zone for tourists, making it a hassle-free destination for international travelers.
Climate: Kish enjoys a warm, humid climate year-round, making it ideal for beach vacations.
Transportation: The island is well-connected with its own international airport, facilitating easy travel.
Diverse Accommodations: From luxury resorts to budget-friendly hotels, Kish offers a variety of stay options for travelers.
For a comprehensive travel guide and booking options, consider checking out SURFIRAN's travel guides. Safe travels!
Toranj Hotel in Kish island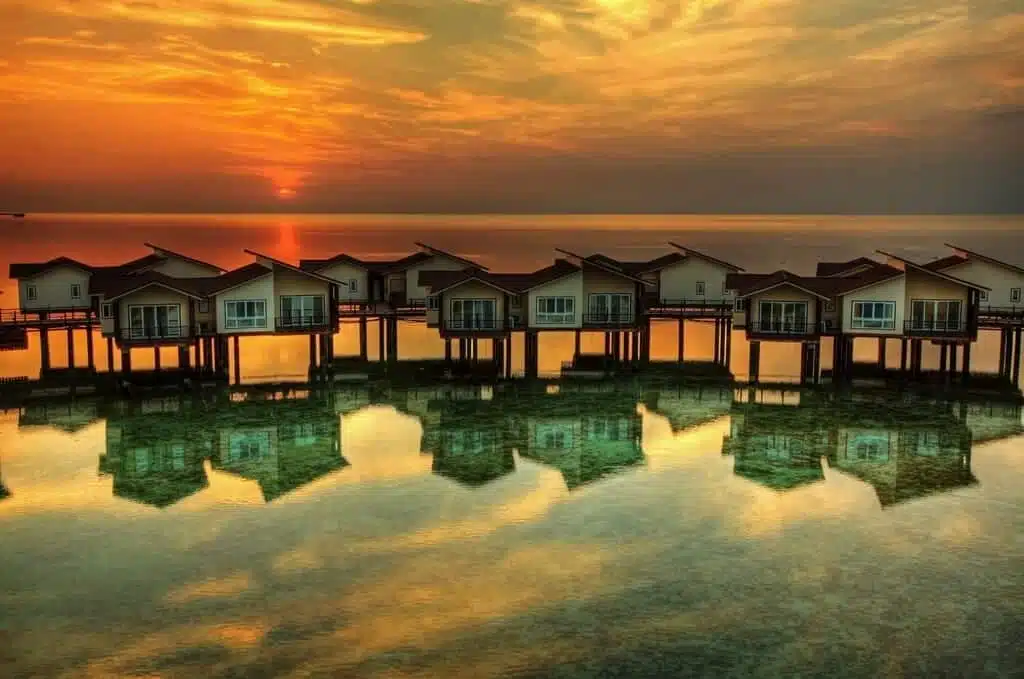 Among Iran's premier luxury lodgings, Toranj Hotel in Kish island stands as a testament to contemporary opulence. Nestled on the water's edge, its dual phases comprise a waterfront complex and a multi-storey beachfront edifice. The hotel's 100 suites are uniquely poised on the sea, with partial glass flooring and private balconies for each. Connected by a charming wooden pier, these suites collectively form an image resembling a majestic structure hovering above the Persian Gulf. Guests are transported in style using golf carts, ensuring their utmost comfort.
A plethora of dining options beckon, including a beachfront restaurant, a cozy coffee shop, beachside fast-food outlets, and an exquisite Khursheed restaurant featuring a captivating glass floor, all providing sweeping waterfront views. Additional culinary delights await at the Farengi and Taj Taranj restaurants. And for those seeking tranquility and rejuvenation, a spa and massage sanctuary with a glass floor, a gym with panoramic sea views, a children's playhouse, an artful maison, a billiard room, and even a professional photography studio grace the premises.
Location: Kish Island, Hormozgan Province, Iran
Features: The hotel is famous for its overwater villas and bungalows, a unique feature for hotels in Iran. It also offers amenities such as a spa, restaurant, and beautiful views of the Persian Gulf.
Book Toranj Hotel in Kish through OrientTrips
---
Darvishi Luxury Hotel in Mashhad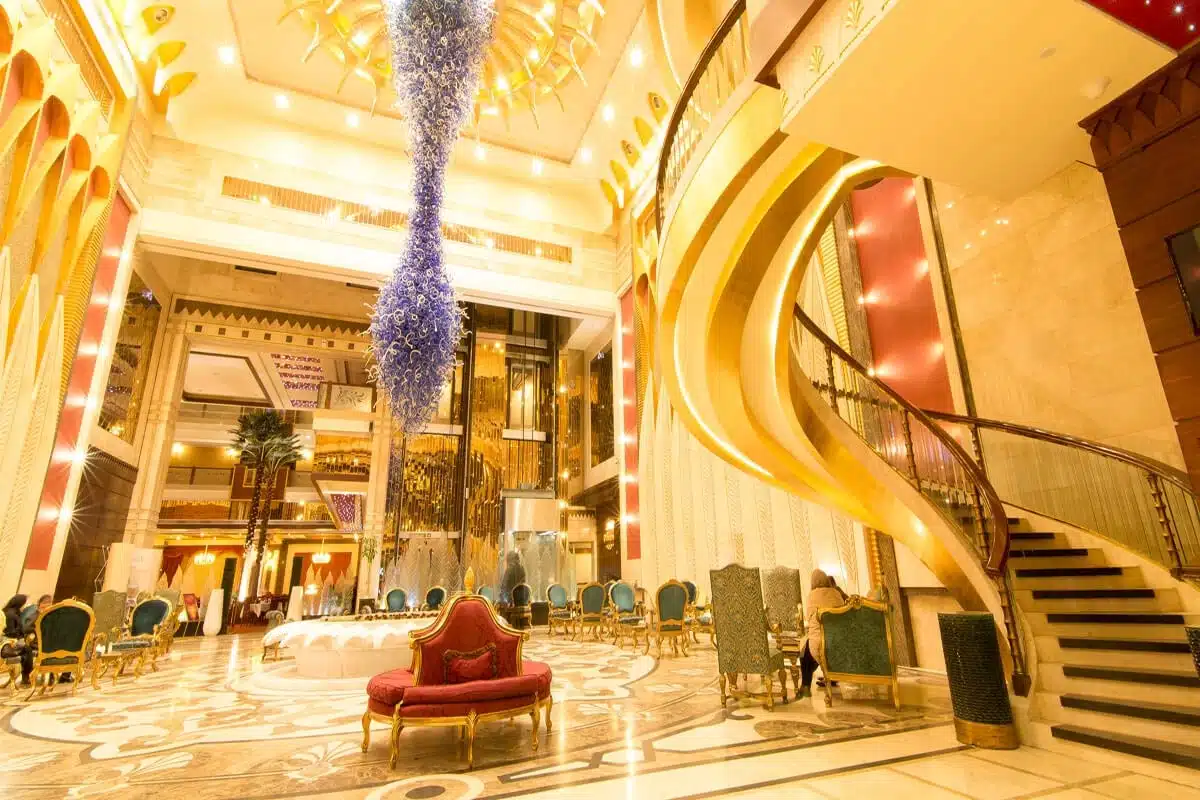 Poised gracefully on the fringes of Imam Reza Street, the Darvishi Luxury Hotel soars 20 floors high, reigning as the preeminent atrium-style (open space) hotel in eastern Iran. With its 5 distinctive restaurants, each boasting a unique culinary offering, Darvishi caters to a diverse array of palates. One standout is the Barka Restaurant, where patrons can partake in catching their own fish, to later savor it prepared in seven delectable styles.
The hotel's penthouse suites, spanning a grand 70 meters, pamper guests with amenities such as dry saunas, cutting-edge electronics, computers, and fax facilities.
For a glimpse into the epitome of elegance and convenience, the SURFIRAN website offers a seamless platform to book a stay at this remarkable hotel, empowering you to make an informed choice based on amenities and prices.
Location: Imam Reza St, Mashhad, Razavi Khorasan Province, Iran
Features: The hotel is known for its luxurious accommodations, a revolving restaurant on the top floor, spa facilities, and proximity to the Imam Reza Shrine.
Book Darvishi Hotel in Mashhad through OrientTrips
---
Mashhad Golden Palace (Ghasr-E Talaee) Hotel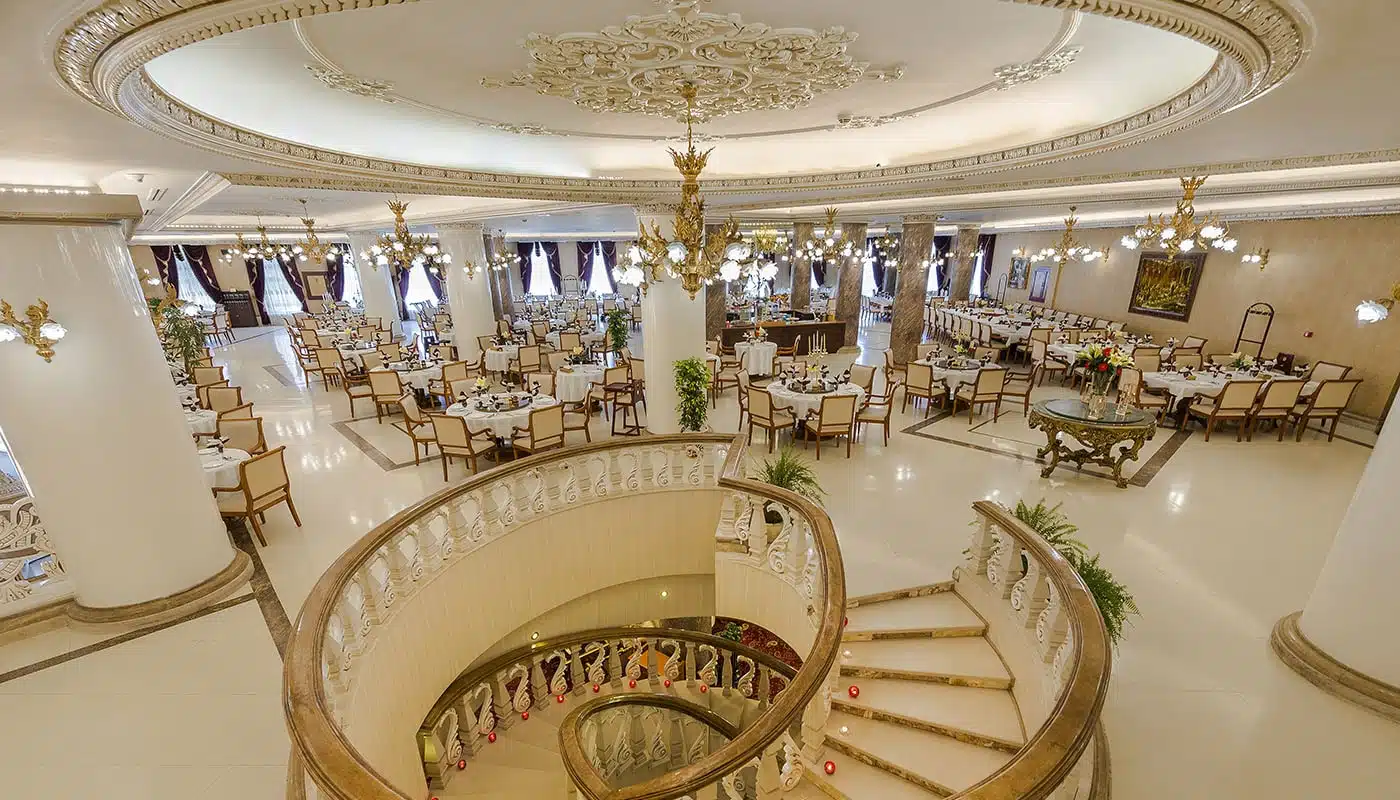 Dominating the skyline of the revered city of Mashhad, the Golden Palace Hotel holds the distinction of being the second jewel in the International Palace Hotel Group's crown, while also being the tallest structure in the holy city. With a cornucopia of room categories gracing its different floors, every traveler's preference is catered to. Whether seeking a single, double, suite, connecting rooms, princess suites, royal apartments, or presidential chambers, each promises breathtaking views of the Holy Shrine of Imam Reza.
The hotel is a microcosm of indulgence, boasting a range of facilities from banking services and exchange options to business units and event venues. For leisure and relaxation, there's an impressive lineup including conference halls, an amphitheater, a business center, sports complexes, swimming pools, saunas, computer rooms, beauty salons, and an array of five restaurants and coffee shops to satiate even the most discerning palates.
Location: Imam Reza Street, Mashhad, Razavi Khorasan Province, Iran
Features: The hotel is known for its luxurious accommodations, multiple dining options, conference facilities, and proximity to the Imam Reza Shrine.
Book Ghasr E Talaee Hotel in Mashhad through OrientTrips
---
Espinas Palace Hotel in Tehran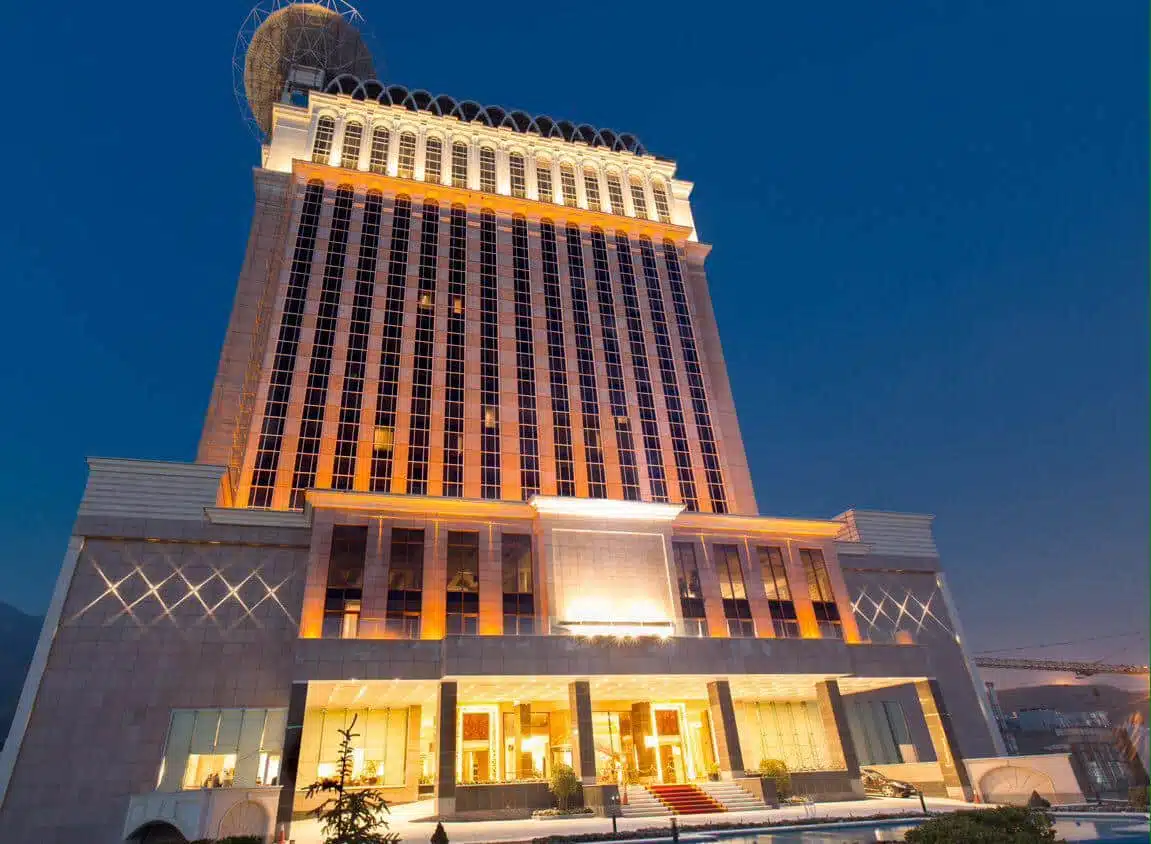 An embodiment of grandeur, the Espinas Palace Hotel sprawls across a vast expanse of 75,000 square meters, offering an unparalleled fusion of luxury and functionality. Boasting a staggering 12 conference halls and a capacious amphitheater accommodating between 50 to 1200 individuals, along with 43 rooms and offices, the hotel goes further by featuring over 500 rooms and reception suites ranging from 130 to 700 square meters. Among these, a regal collection of 56 presidential suites stands as a testament to lavish living.
In the heart of northwest Tehran, this palatial sanctuary provides a comprehensive array of amenities including accommodation options, sports facilities, reception areas, and a remarkable 14 meeting halls. A sprawling concert hall that can host up to 2,500 patrons further underlines its commitment to excellence. With its 28 floors designed and executed with meticulous attention to international standards, Espinas Palace Hotel stands as a testament to post-revolutionary Iranian accommodation marvels.
For an unsurpassed reservation experience, the SURFIRAN website is your gateway to securing your place in this world of refined indulgence.
Location: No. 126, Keshavarz Blvd, Tehran, Iran
Features: The hotel is known for its luxurious accommodations, a variety of dining options, a wellness center, and conference facilities.