Accommodation
Tehran
Tips
Top 8 Five & Four Star Hotels in Tehran
Explore luxurious 5-star accommodations in Tehran, handpicked for your comfort and convenience.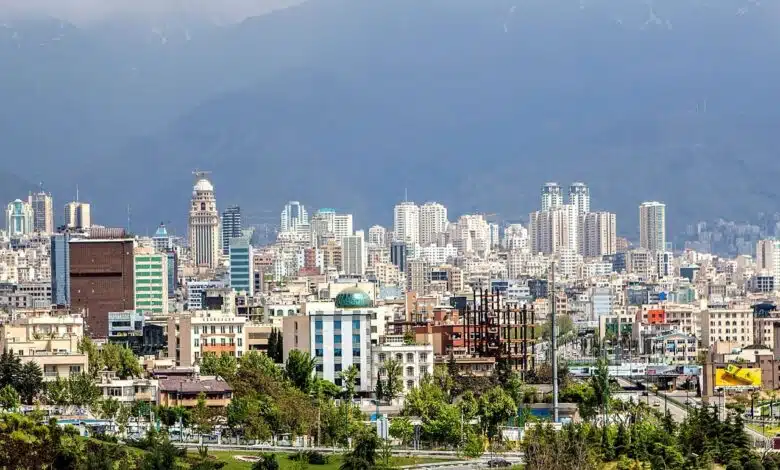 A memorable stay in Tehran depends on choosing the right accommodation. This blog post presents a list of top-notch five and four star hotels in Tehran, offering a unique blend of comfort, luxury, and convenience. Whether you're planning a business trip or a leisurely escape, we've got you covered.
These handpicked hotels in Tehran provide not only splendid rooms but also easy access to the city's attractions, making your exploration of the Iranian capital a breeze. From modern amenities to impeccable service, we'll delve into what sets these accommodations apart and why they should be your top choices.
Read on to discover the best Tehran hotels that cater to your every need. Your comfortable and memorable stay in Tehran starts right here.
1. Espinas Persian Gulf Hotel, Tehran
*****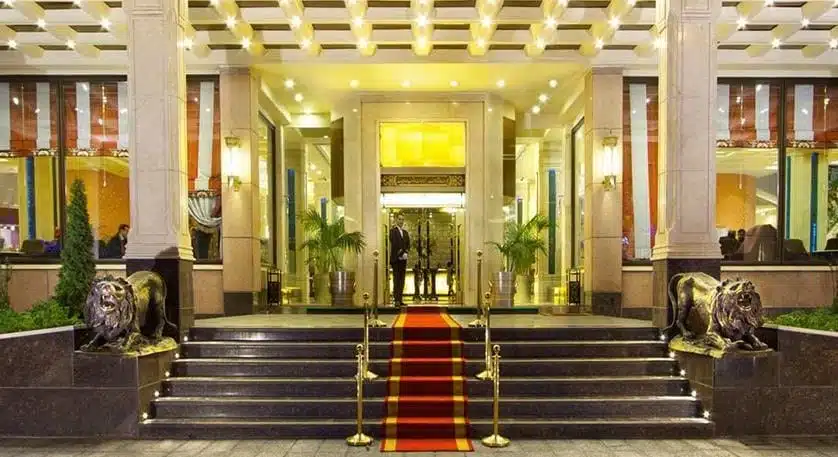 Espinas Persian Gulf Hotel also known as Espinas boulevard Hotel and Espinas International Hotel is located in the heart of the historic part of Tehran, Iran. It is a prestigious hotel in downtown Tehran that beautifully captures the essence of this cosmopolitan city. With a perfect blend of modern design elements and natural materials, Espinas Persian Gulf Hotel offers a serene and calming atmosphere for relaxation.
Featuring 224 luxurious suites, each tastefully decorated to provide a comfortable stay, Espinas Persian Gulf Hotel offers modern facilities such as satellite TVs and high-speed Wi-Fi access. Additionally, all rooms are equipped with air conditioning and tea and coffee making facilities.
Book Hotels
Book Tehran Hotels
This hotel and resort features a spa with special treatments and massages, a fitness centre with a gym, a hot tub and a swimming pool. Hotel services include a shuttle, laundry, dry cleaning and concierge. A fully functional business centre is available.
The on-site restaurant serves a continental breakfast daily and a menu offering a variety of international cuisines for lunch and supper. The lounge bar and coffee shop serve a selection of refreshing drinks.
The Golestan Palace and the National Jewellery Museum are both situated roughly a 15-minute drive from the Espinas Hotel and Resort.
2. Espinas Palace Hotel, Tehran
*****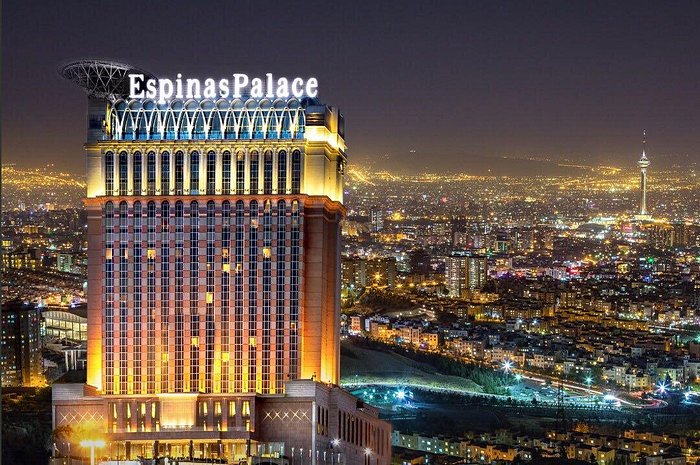 The 5-Star Espinas Palace Hotel located in the best residential and commercial part of Tehran, Iran. The Hotel features modern architecture with a beautiful environment.
Espinas Palace Hotel combined beauty and spiritual atmosphere with almost every modern atmosphere with almost every modern amenity of you think. You can always enjoy unlimited WI-Fi during your stay at one of 550 rooms of the Hotel.
As one of Tehran's most premium buildings with exhilarating architecture, the beautiful Palace is an imposing city landmark, which boasts a magnificent lobby, dramatic public spaces and indulgently comfortable bedrooms.
Espinas Palace Hotel is a hotel with a flair for services. A stay in the Palace is always a special time for our guests. The Palace features all the amenities and services of a luxury five-star hotel coupled with attraction and a unique feel-at-home atmosphere.
3. Parsian Azadi Hotel, Tehran
*****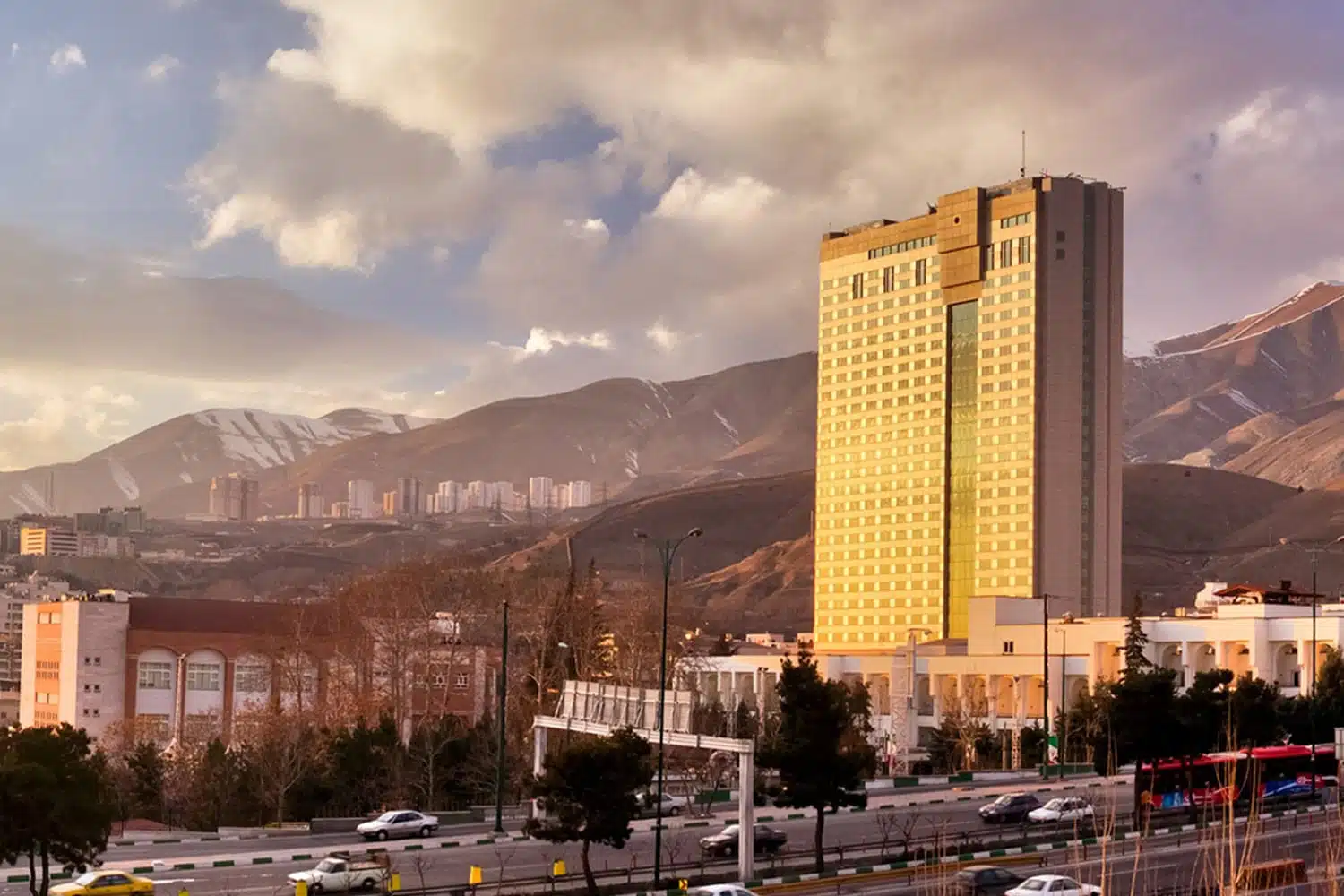 The 5-star Parsian Azadi hotel in Tehran is one of the largest and luxurious international hotels in Iran located in northern part of Tehran.
Parsian Azadi Hotel is one of the most luxurious hotels in Iran. With many rooms of different types, including: twin, and double rooms, junior, royal, and presidential suites and special rooms for disabled people.
Parsian Azadi Hotel tries to supply a vast variety of choices for the honored guests. In addition to the rooms, it is essential to know that Parsian Azadi Hotel provides other services for the guests among all we can mention 24-hour Iranian Ethnic Cuisine Restaurant, Orchid International Restaurant on the 26th floor, Italian Restaurant and seven multi-purpose halls with different capacities covering over 700 conventions, conferences, meetings, and banquets during a year.
4. Parsian Kowsar Hotel, Tehran
****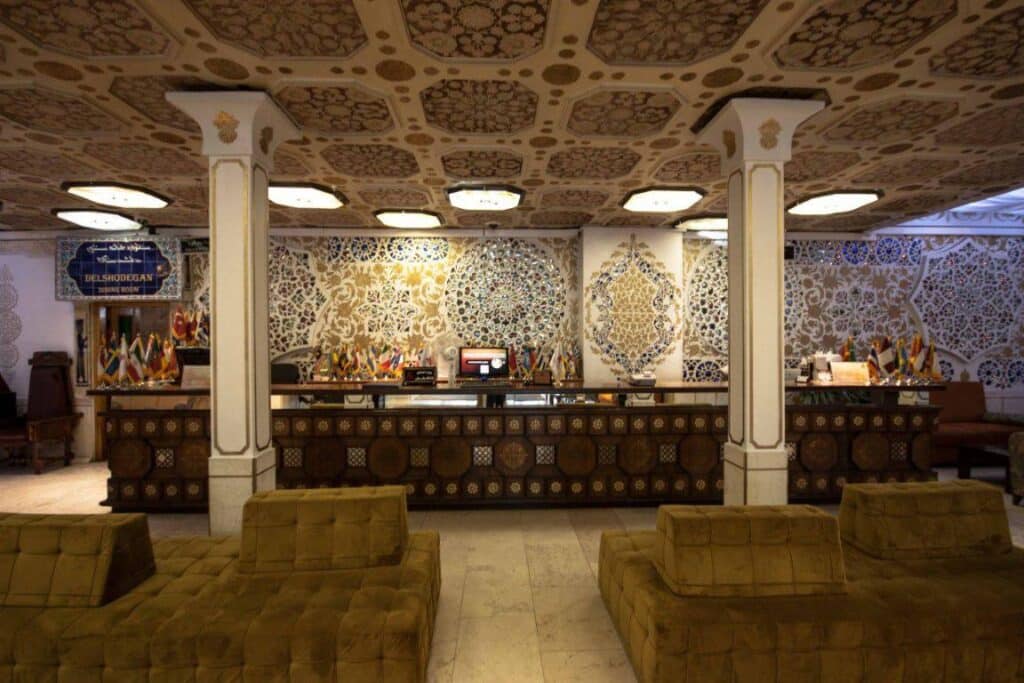 Parsian Kowsar hotel with its traditional architecture seeds one of the most beautiful 4 star hotel in Tehran. The hotel offers a unique hospitality welcoming guests into a lobby in a beautiful typical Arabic style.
Many services at guests disposal such as 24 hour front desk with multilingual staff, safes for leaving your values​​, room service and taxi service. Inside the hotel you will also find craft shops, barber shop, indoor pool, sauna and jacuzzi, as well as 3 restaurants, a snack bar and 1 meeting room that accommodates up to 500 persons.
Parsian Kowsar Hotel in Tehran has a total of 5 floors and 95 modern rooms. A TV, safety deposit box, a mini-fridge, and basic furniture are standard in all room. All rooms have an en-suite bathroom with either a shower or a bathtub and all the necessary toiletries available for your comfort. Free, unlimited Wi-Fi is available throughout.
---
5. Wisteria Hotel, Tehran
*****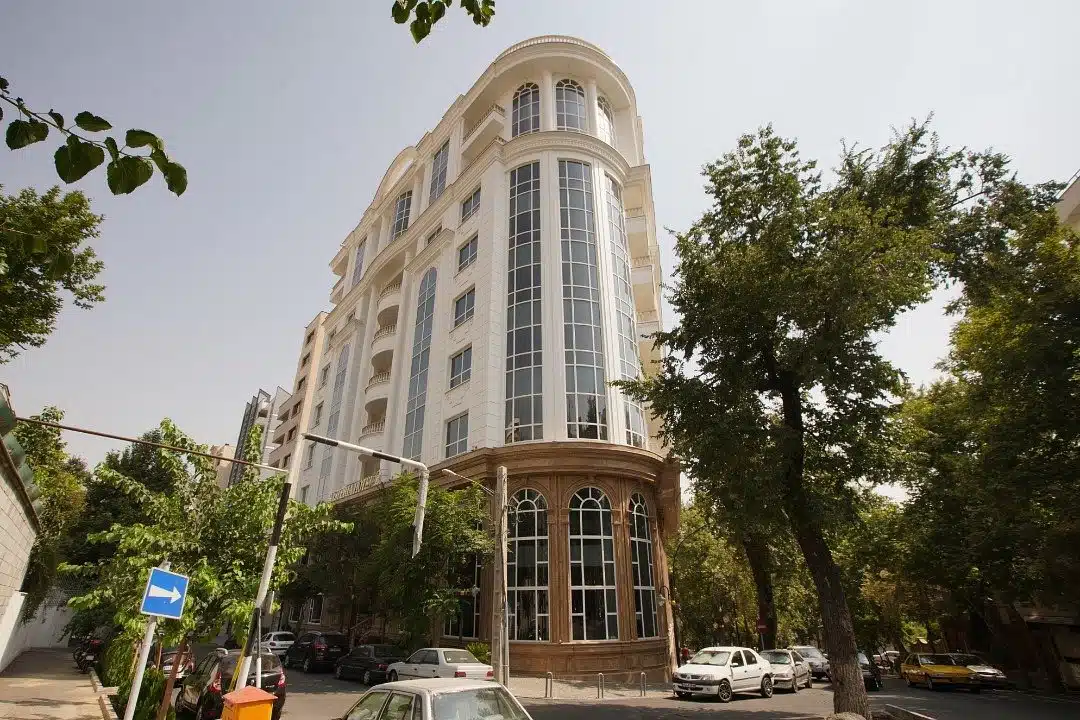 Wisteria hotel, established in 2016, is a luxury 5-star hotel located in the Tehran province, and privately founded by a group of Iranian and Canadian hospitality professionals.
The hotel is in one of Tehran north's prime spots, located within the Alborz mountain range and at the highest peak of the city, with access to many scenic tourist attractions, major commercial and recreational centres, hiking trails, and museums.
The surrounding attractions include museums such as Sa'adabad Palace, Niavaran Palace, Royal Library Museum, Ferdos garden, Cinema Museum, Pahlavi Exclusive Car Museum, Dr.Hesabi Museum, Jahan Nama Museum, commercial and recreational centers such as Palladium,
Arg, Pardis and Ghaem, Elahiye and Jordan shopping centers, and scenic hiking trails and ski resorts such as Darband, Dar'abad, Darake, Shemiran, and Shemshak ski resort. The hotel offers spacious rooms with magnificent Alborz Mountain and city views, fully equipped with modern amenities and access to the hotel's services and facilities.
Guests have the option to dine and relax in one of the hotel's luxurious restaurants and cafes, conduct business meetings in the hotel's multi-purpose conference hall and business centre or celebrate a special occasion in one of the two fully catered luxurious banquet halls.
The hotel's spa and wellness centre includes various amenities such as indoor pool, sauna/steam room, Jacuzzi, a well-equipped gym, aromatic spa, massage salon, Turkish bath, and coffee shop, offering a pleasant and relaxing atmosphere for guests.
---
6. Homa Hotel, Tehran
*****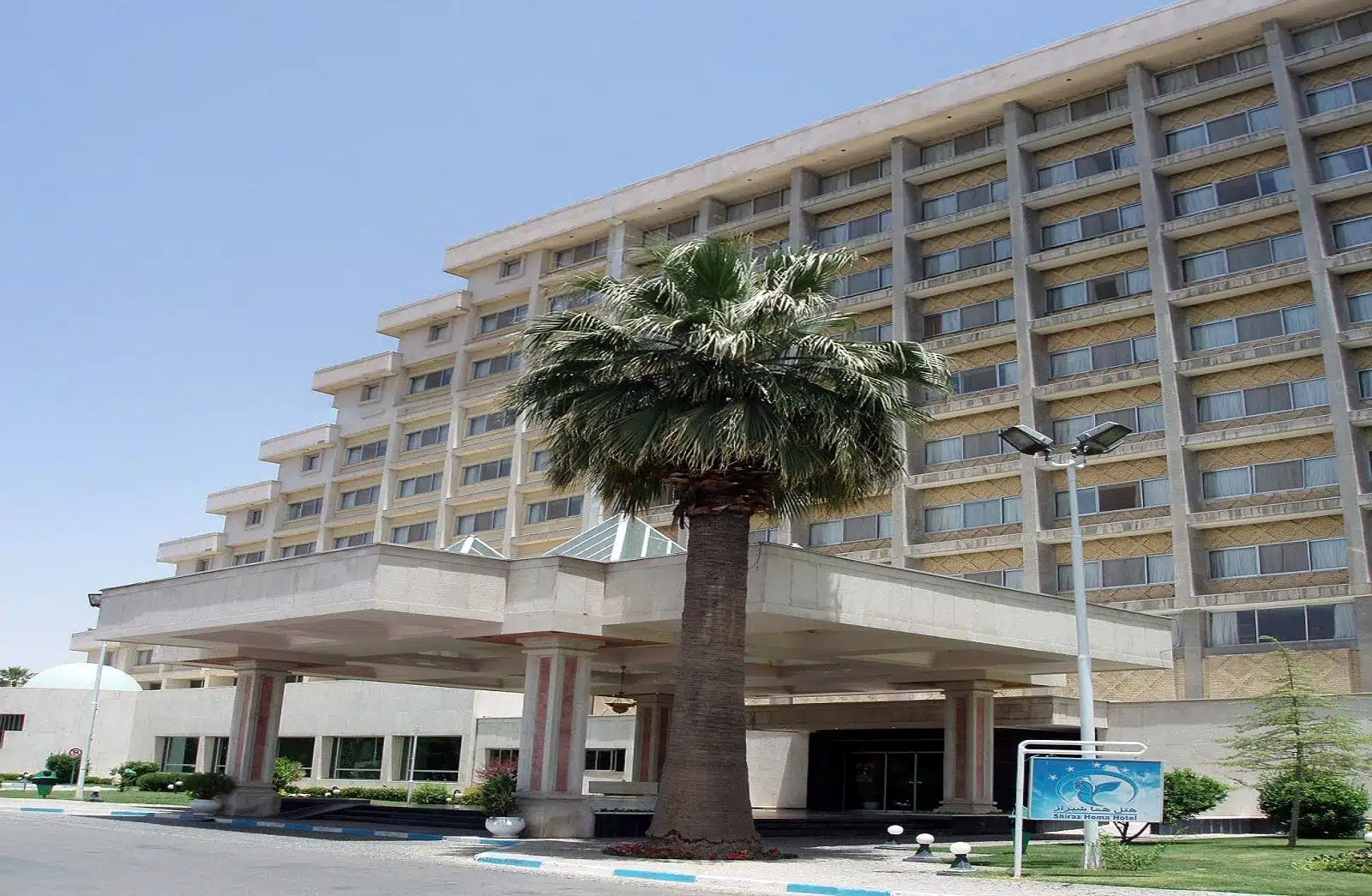 High-rise Hotel Homa Tehran is located in the northern part of Iran's capital, Tehran. Conveniently, it's only an eight-minute walk from Vanak Square where shops, eateries and transport links can be found. The rooms and suites provide plenty of amenities, such as air conditioning, fridge and a safe.
Satellite television and Wi-Fi access are also available and guests can enjoy great views of the city and Alborz Mountains on the higher floors. On the ground floor is a shop selling essentials and the hotel also features a gym and a swimming pool.
Other facilities include a car park and a 24/7 reception. Guests staying at Hotel Homa Tehran can head to Meraj Restaurant on the 16th floor for fantastic Iranian meals.
The on-site coffee shop is the destination for coffees and sweet pastries. One of the city's main landmarks, where locals spend the evening, is Tabiat Bridge, around a mile away. To experience a vibrant Iranian market, Tajrish Bazaar is a five-mile journey.
The 5-star Homa hotel is located at the heart of the capital Tehran and in the northern part of main Valiasr street having easy and fast access to the main trade and official centers.
Located in the north of Tehran. This hotel is only a short distance from the cities main highways. The hotel has been renovated by the use of modern technology and is well prepared to offer the best possible services to our guests.
---
7. Parsian Esteghlal Hotel, Tehran
*****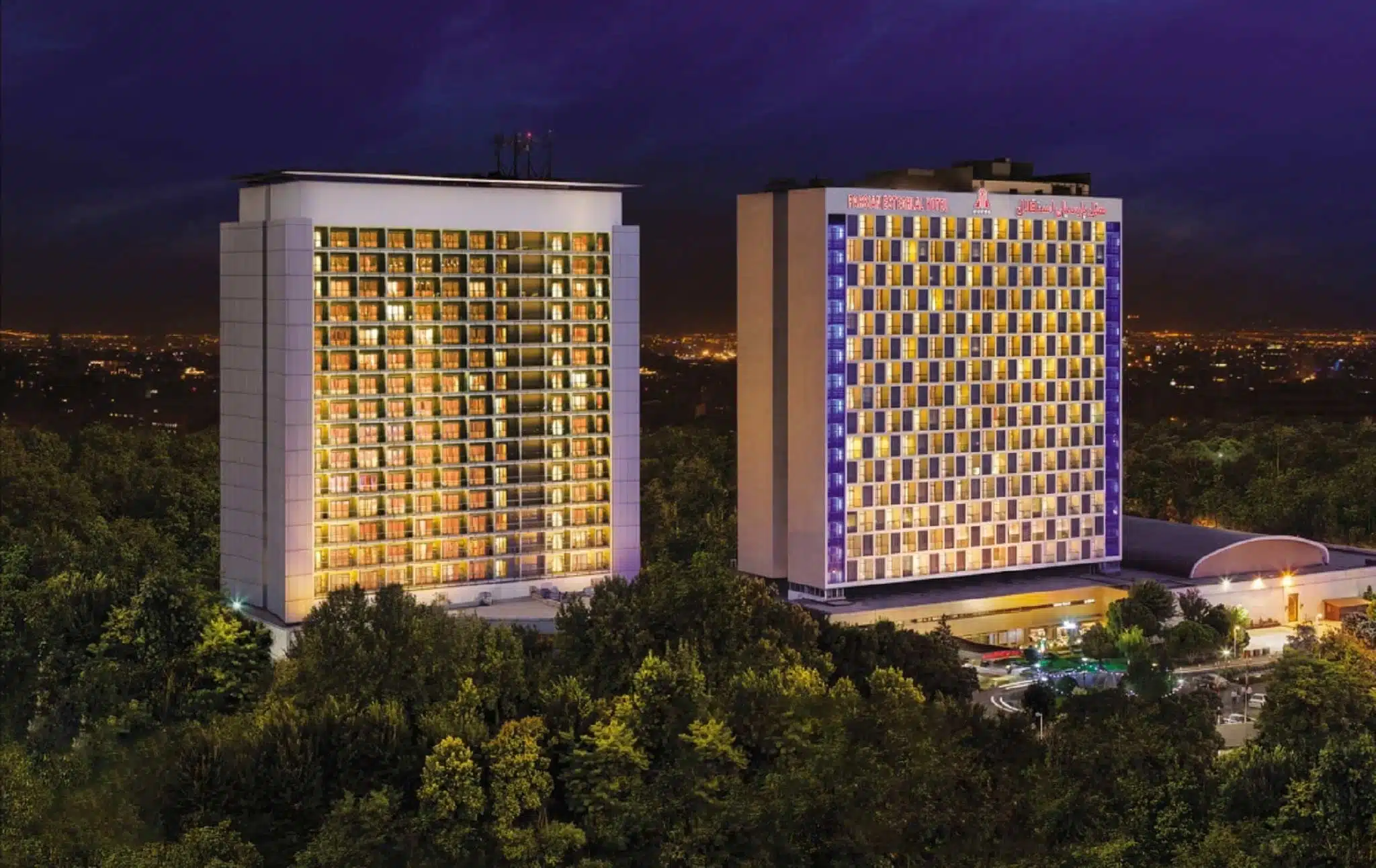 Since 1962, the five-star Parsian Esteghlal International Hotel which was first named as the Tehran Royal Hilton Hotel has been hosting countless guests, events, and seminars.
Esteghlal International Hotel situated on the vicinity of Alborz Mountain Ranges, the twin West & East Towers guests have access to some of Tehran frequently-visited spots as well as an unobstructed perspective of the whole city.
Designed by Heydar Ghiai who was known as a pioneer of modern architecture in Iran and noted British architect Raglan Squire who designed Hilton hotels, the 70,000 square-meter property used to be a first-of-its-kind hotel in the Middle East, both in scale and magnitude.
Fascinating with the early morning sunrise accompanied with the cool gentle breeze, the complex features two buildings with mountain and city-facing rooms, junior and royal suites, and the pillar-free Daryay-e-Noor Hall.
8. Persian Plaza Hotel, Tehran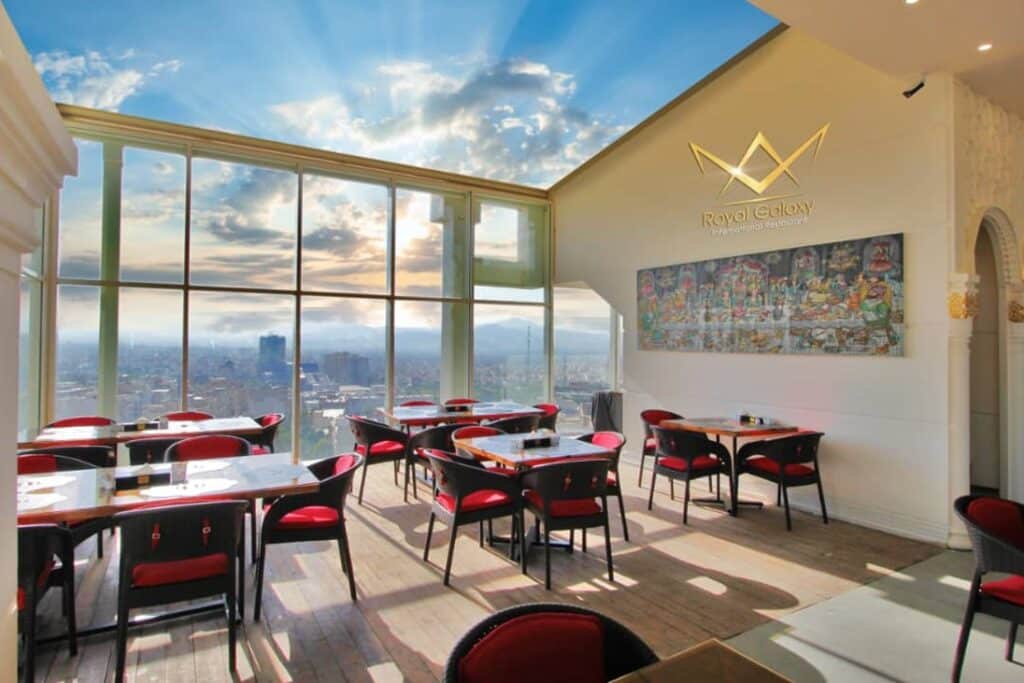 Persian Plaza is a 5-star hotel located in the heart of the Middle East's administrative and trade center in Tehran's Abbas-Abad neighborhood, covering an area of 13,000 square meters.
The project has been carried out by our colleagues in Ofogh Sepid Pasargad Co. (LLC) in two separate phases during 5 years. The result of our efforts embodies Iranian hospitality in the modern structure of a hotel that lets the honored guests distinguish the difference in services, like a special gem stone. We eagerly look forward to seeing you.
Wrap-Up
In conclusion, Tehran's top hotels offer a tapestry of luxury, comfort, and convenience that ensures your stay in Iran's bustling capital is nothing short of exceptional.hospitality.
Whether you choose a centrally located hotel for easy access to Tehran's attractions or opt for a tranquil oasis away from the city's hustle and bustle, the options are diverse and enticing. With modern amenities, impeccable service, and attention to detail, these hotels are more than just places to rest; they are an integral part of your Tehran adventure.
We hope this guide helps you make an informed choice for your stay in Tehran, and we look forward to welcoming you to these exquisite accommodations. Immerse yourself in the charm of Tehran and create unforgettable memories in the heart of Iran's capital.
For more information and booking options, visit OrientTrips. Your Tehran adventure begins here.
Read more…