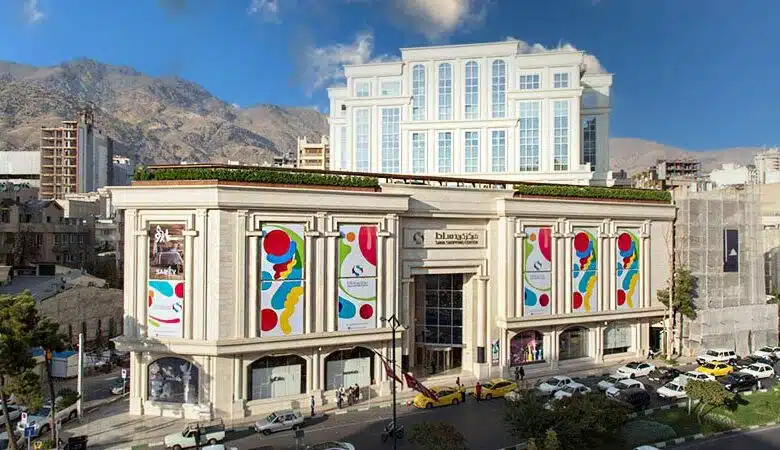 If you have the chance to visit Tehran, the vibrant capital of Iran, for a few days, you'll quickly discover that it's a city of captivating complexity, seamlessly blending traditional and modern lifestyles. As one of the largest capital cities in the Middle East, Tehran boasts over 400 shopping centers, offering the perfect opportunity to immerse yourself in the contemporary and youthful essence of this dynamic metropolis.
Why Visiting Tehran Malls
When thinking about Iran, images of Persepolis remains and blue tiles of sumptuous mosques may first come to your mind. While Iran has indeed a vast and precious heritage, it's also a modern country with a young population. Somehow as it's the case in the neighboring Arab countries, shopping centers are, in Iran, a place to gather and hang out with friends. These centers indeed offer lots of indoor activities that are great options for warm summer days and evenings, as well as they have plenty of trendy restaurants and cafes. It's thus pretty common to go out to the mall to grab a drink with friends, do window shopping, and even, who knows, flirt a little bit!
You've got it: shopping centers in Tehran, and in Iran in general, are not just a place to go shopping, but rather a location to socialize, hang out, and have food. That's why it mostly gets crowded in the evenings and weekends.
But Tehran's malls also have, for many, the particularity to be pretty luxurious and expensive. They are the only places where one can buy international luxury brands along with local high-class brands. Yet, while the shops may not be as luxurious as what you could find in Paris or London, the architecture of most of these shopping malls still reminds the visitors that luxury has plenty of customers in Tehran. That's why most of these malls are located in the northern part of the city, which is also the richest area.
Palladium Mall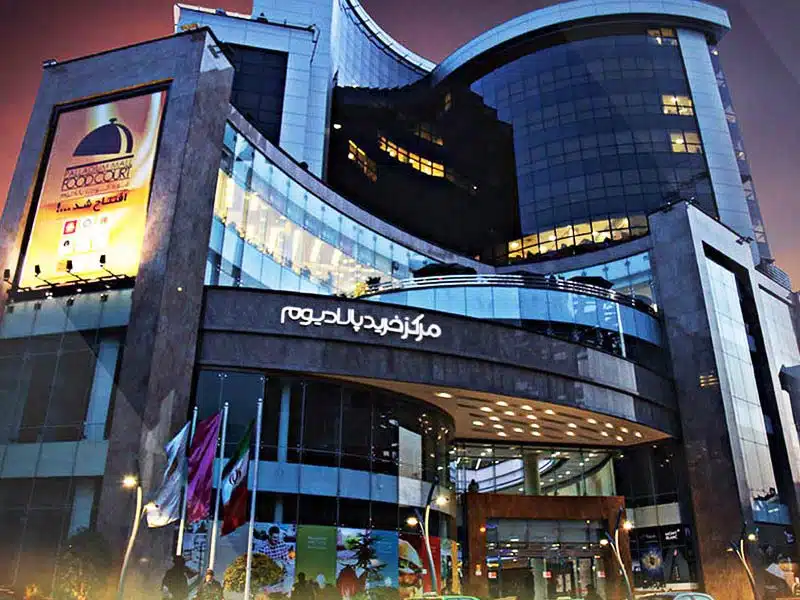 Palladium Mall is one of the references in terms of modern and expensive shopping malls in Tehran. If you say to your friends that you've been buying an item at Palladium, they will know that it was expensive without enquiring about the price.
Open in 2012, Palladium is considered one of the best shopping malls in Tehran and is located on Zafranieh Street, near Tajrish Square. There are mostly clothing brands, with a few international ones, but also a vast supermarket on the lower level and a food court on the last level, with a nice open terrace.
Iran Mall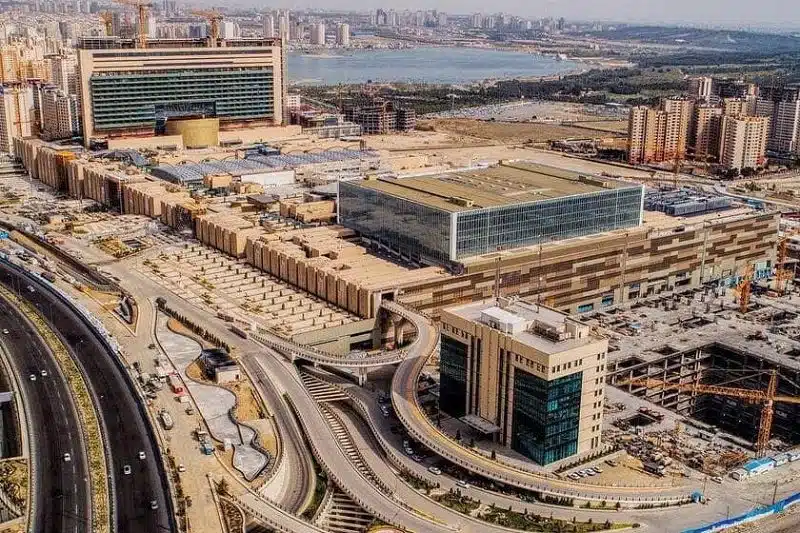 Iran Mall would probably deserve a whole article on itself, like it deserves a full day to visit it. This mall is a city within the city. It is the world's largest shopping mall: it has an area of 317.000 square meters and seven floor, and should be increased to 1.600.000 square meters by the completion of the project. Indeed, Iran Mall is recent: it was opened in 2018 and is located a bit outside of the city, on the northwest of Tehran, near Chtigar Lake.
As one of the most recent and outstanding malls in Tehran, it's naturally a spot that is very Instagram-friendly. Sure, there are many shopping options: there were more than 700 shops at the opening in 2018. But what attracts more people is the architecture of the different areas. There is the so-called "traditional bazaarâ€, that has the architectural features of traditional Iranian bazaars and was inspired by Tabriz, Isfahan, Shiraz, and other grand bazaars. Iranian handicrafts and souvenirs are sold in this section (yet, probably more expensive than what you'll find in traditional bazaars). You can also find the "mirror hall†in this section, inspired by Golestan Palace's.
There are also two large gardens inside Iran Mall: Didar Garden, which is 3.000 square meters and inspired by the architecture of traditional Persian Gardens, and Mahan Garden, a 16.000 square meters' garden built on three floors! Eventually, one of the most beautiful parts of this mall, is the Jondishapour Library. With its wooden stairs and ceiling, its reproduces the old atmosphere of an old library. And it's not just for show off: it also contains 45.000 volumes of books, manuscripts, and documents.
Of course, besides shops, gardens, and library, Iran Mall is also a place for entertainment, with more than 200 restaurants, musical fountains, an amusement park, IMAX cinemas, swimming pools, rooftop tennis courts, and plenty of other activities!
Bamland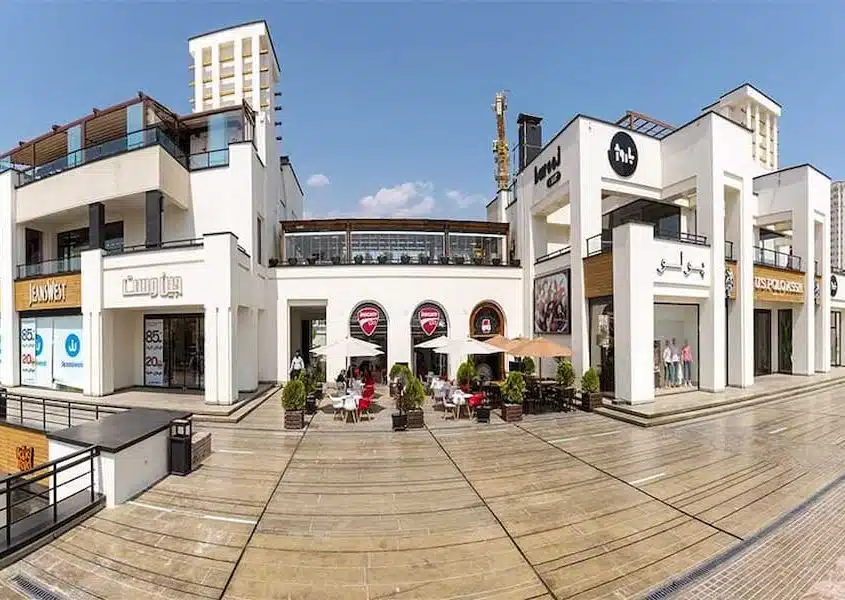 Bamland is another interesting high-standing shopping experience in Tehran. Located by the bay of Chitgar Lake, in the northwest of the city, it is Iran's first open-air strip mall. Instead of having a main multiple-story building, you'll rather find several separate buildings next to each other and inspired by traditional Iranian architecture, with features such as wind tower and Achaemenid pillars.
Bamland is spread over an area of 60.000 square meters and has many luxurious brands. It also offers a very interesting choice of restaurants, many having a nice view over the lake. Once you're done with shopping and eating, you can also enjoy the other activities offered in the area, such as a boat trip on the lake or renting bicycles to stroll around the lake.
Sana Shopping Center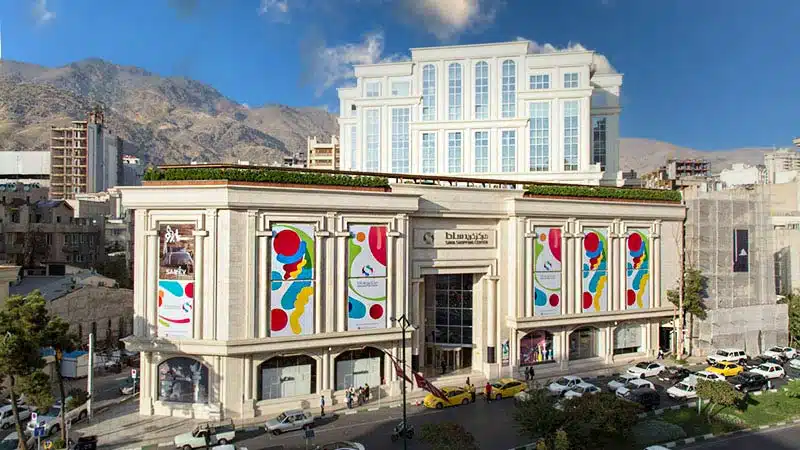 Such as Palladium, Sana Shopping Center is another luxurious shopping center located in the rich neighborhoods of northern Tehran. This time, it is located a little bit more east, on Andarzgoo Boulevard, which is famous for "dor-dorâ€, an activity that consists of driving slowly in order to flirt. And of course, Andarzgoo being a rich area, this area is where rich kids of Tehran are doing it!
Unsurprisingly thus, Sans Shopping Center is one of the favorite places for young wealthy Iranians to hang out. There, you can find nice Italian clothing brands alongside other expensive outlets. The rooftop and its food court also offer plenty of options to have food and drinks.
Sam Center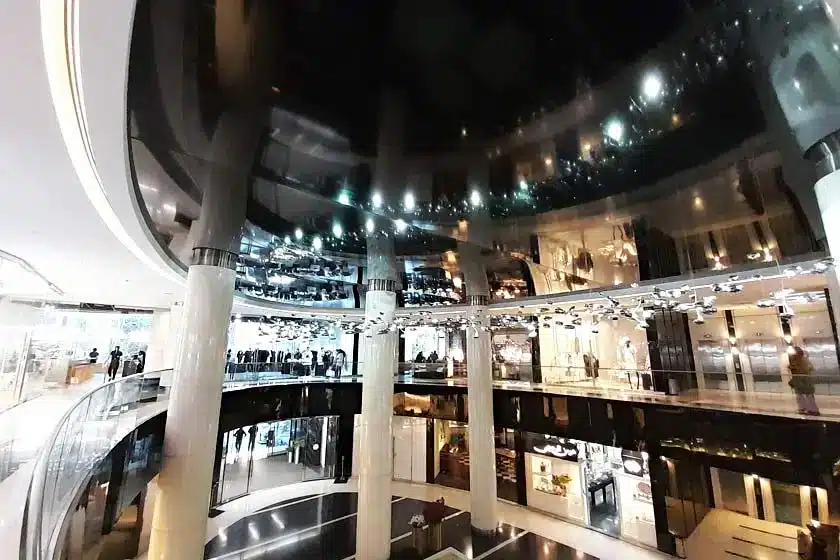 Sam Center is one of the main malls in Tehran for those who are looking to do some expensive shopping. It is, of course, also located in the north of Tehran, this time on Fereshteh Street, one of Tehran's most expensive streets. Sam Center is a modern shopping center that occupies three of the nine floors the building has. On the last floor, you can find several excellent cafes and restaurants where food really meets European style and standards.
Other Luxury Malls in Tehran
Tehrani people do not seem to be tired of luxury shopping, and covering all the options would be endless! While the ones we've introduced are the most famous and the most interesting options to experience luxury shopping in Tehran, we could also mention Melal Boutique Mall, one of the most famous luxury malls in Tehran, also located on Fereshteh Street.
Opal Shopping Center, located in Sa'adat Abad neighborhood, is another name that rimes with luxury in Tehran. There is also Modern Elahiey Shopping Center, the place to go if you're looking for fancy perfumes, clothes, or chocolates. Eventually, in Tajrish Square, near the traditional bazaar, you will find Ava Center and Arg Shopping Center, two nice options for shopping and hanging out with friends.