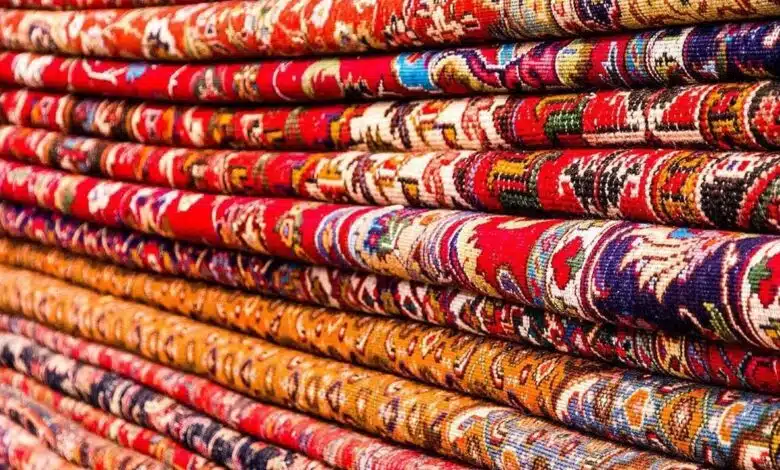 Persian carpet or rug is definitely on top of the list when it comes to buying souvenirs in Iran. While variety of designs and colors of Persian Rugs are endless and they come in different price ranges, there are also other handmade textiles and throw rugs that are noteworthy and many tourists prefer to buy them for their diverse choices.
Persian Rug
They are called Qali or Farsh in Persian language; the hand woven precious works of art which are different in design, material, craftsmanship and price in each province of Iran. It would be a good idea to study a little bit about types of Persian rug before coming to Iran or at least try to familiarize yourself with different rugs while you are in the capital Tehran where you have the opportunity to compare the diversity of patterns. This search will extend your enjoyment of visiting the royal palaces in Tehran, since you would pay attention to some rare and elegant rugs dedicated to the Kings. Also, you can visit the Carpet Museum of Iran in central Tehran which has an exquisite collection of antique rugs of the country.
The most elaborate and therefore most expensive rugs are the silk rugs (Qali Abrisham), with very delicate knots and much lighter weight than other rugs in the same size. Woolen rugs are normally cheaper, but heavier than the silk rugs and come in numerous designs and colors. Although this is not a certain rule, but usually rugs from Tabriz and Qom are among the most expensive rugs, while you can also find astonishing Kashan, Yazd, Kerman or Naeen rugs in different price range.
Nomadic carpets (Farsh-e Ashayeri), such as Qashqai, Bakhtiari, Turkmen and Balouch are among the least expensive ones, for their larger knots and designs they have learnt by heart. I personally enjoy Bakhtiari nomadic carpets, since certain rules such as symmetry and stable color tones are broken in them. Sometimes I delightfully find the shape of a small bird or animal hidden in between regular patterns. As much as I love the perfection of an elegant Persian Qali, such as in glamorous Tabriz rugs, I can't get enough of the simplicity and diversity of nomadic rugs. Keep in mind that most nomadic rugs are heavy, due to the use of thicker woolen threads, as they have to be finished in a certain time before migrating.
Tablo Farsh
These framed rugs became popular as wall decorating frames in Iranian houses. The image usually is a picture, of nature or portrait, but they also include miniature paintings or calligraphy. Tablo farsh is a lightweight and small size choice suitable for your living room wall or as a precious souvenir.
Some helpful notes:
When buying a hand woven rug, look at the back of it. The knots should be almost identical in size and density. Specially when buying a large size rug, fold the it in half in both directions to make sure the dimensions are accurate and for example one end is not wider than the other end. This happens in some hand woven carpets, when the knots are disparate throughout weaving process. There are many tips in buying a handwoven rug which only experts know and it would be a good idea to study thoroughly or hire an expert if you are planning to invest a lot of money on a Qali. Last advice I can give you is that have the measurement of your own room area and perhaps some pictures of the furniture with you, so you can have a better imagination when being lost in the middle of endless colors and patterns.
| | | | |
| --- | --- | --- | --- |
| Kind | Material | Size | Average Price* |
| Tabriz or Qom Rug | 100% Silk | 2X3 m | 6000 to 9000 US$ |
| Tabriz Rug | 45% Silk 55% Wool | 2X3 m | 1000 to 2140 US$ |
| Qashqai Rug | 100% Wool | 2X3 m | 220 to 1000 US$ |
| Hamedan Rug | 100% Cotton | 1.5X2.2 m | 200 to 500 US$ |
| Bakhtiari Rug | 100% Wool | 1.5X2 m | 100 to 400 US$ |
| Tablo Farsh Tabriz | 100% Silk | 50X80 cm | 460 US$ |
| Tablo Farsh Tabriz | 45% Silk 55% Wool | 50X70 cm | 100 to 250 US$ |
Gabbeh
Gabbeh is another hand woven nomadic area rug mostly produced in the Zagros region of Iran. In gabbeh there are no rules of pattern and color, the design is totally abstract, depending on what the weaver learnt or has in her mind. Gabbehs are not as delicate and sturdy as the high quality rugs. Gabbeh is usually woven by hands of Qashqai and Lor tribe women. Ask the carpet seller to show you some gabbeh and you will be surprised by the minimal design and yet soothing colors.
Gelim or Kelim
Gelim or Kilim is a kind of floor tapestry, normally with geometrical shapes and designs, and is thinner than a regular Persian rug. It can be easily folded and put in a suitcase without being damaged. Color variety in gelim is usually higher than the other floor coverings. Some famous gelims in Iran are Harsin, Shahsavan, Balouch, Lori, Qashqai, Afshar and Turkmen.
Gelim Suzani (needlework kilim) or Verni is an outstanding yet laborious tapestry often used for decorating the wall or a tabletop. An extra layer of thread is added to a regular gelim, either while weaving or as embroidery after the gelim is finished, to give it an embossed look.
Jajim
Jajim is woven the same way as the gelim, yet it is thinner and the design is simpler than it. Jajim mostly comes from provinces in the west side of Iran, such as Azarbayjan, Kordestan, Lorestan, Hamedan, Kermanshah and Fars. Jajim is usually woven in narrow and long size, and then four of them sewed together to create a wide blanket. Jajim is also used as fabric to make backpacks and furniture covers.
Ziloo
Ziloo is made out of cotton threads, woven often in large size, with simple geometric and symmetrical designs. Ziloo is used as an inexpensive floor covering, to cover subordinate areas of a mosque or as a picnic blanket. Ziloo is mostly woven in cities of Kashan and Meybod.
Namad
Namad is felt but not the one people use as protecting pad under their rugs. Namad itself is an artistic simple floor covering that its traditional production process is totally different from the other examples above. The animal hair, after being cleaned and washed, is flattened on a mat in the desired size and design. By adding hot water, rolling the mat forcefully, and putting ongoing pressure with the forearm, the material sticks together and creates this thick soft throw rug. Making a large namad is a group process, and often a whole family do it together. If you are lucky on a trip to Turkmen Sahra, you might be able to see the Turkmen namad making process which resembles a sacred ritual, with all the workers apply pressure simultaneously as they sing. Turkmen Namad is famous for its variety in design and bright colors. Other felt-makers in Iran use the original color of the wool for their desired patterns and are mostly located in Shahrekord, Kermanshah, Semnan, Quchan and most nomadic tribes. Namad used to have an important position in Iranian houses. According to Persian traditional medicine, Namad is the best floor cover in cold and humid climate and it prevents diseases such as rheumatism.
Other products of rug
Besides an area rug, there are other products that are made out of rugs or done like them. You may consider Poshti (a traditional seat and backrest made by small size carpets to put on the floor next to the wall) and Rakhtekhab-pich. The later is a kind of large bag to hold pillows, blankets and sleeping pads when nomads were migrating. They can serve the same purpose and sometimes can be used as a comfy seat. Also Pardeh Aviz Gelimi is a decorating door string curtain, which has a wide gelim on top and strings of woolen thread with tufts of pompons decorating them.
Final story
At the end let's mention the most famous rug in Iran's history, The Baharestan Rug. It was woven during reign of Khosrow Anushiruwan, Sasanian Empire's praised and famed king. Description of the carpet in historical books note that the carpet was decorated with precious jewelry and gold and silver threads. The Baharestan carpet was only used in winter to resemble a spring garden (Baharestan means spring garden, and the carpet was also called Bahar-e Khosrow). When the capital, Ctesiphon, fell after Arab invasion, Baharestan rug was taken as plunder, then was cut into pieces and given to the Muslims of Medina. Sad, but true story.
| | | | |
| --- | --- | --- | --- |
| Kind | Material | Size | Average Price* |
| Gabbeh | 100% Wool | 150X200 cm | 28 to 214 US$ |
| Gelim Suzani | 100% Wool | 50X100 cm | 46 to 270 US$ |
| Gelim Qashghai | 100% Wool | 65X100 cm | 10 to 40 US$ |
| Jajim | 100% Wool | 2X2 m | 12 to |
| Jajim backpack | 100% Wool | Medium | 10 to 15 US$ |
| Ziloo | 100% Cotton | 1X2 m | 25 US$ |
| Namad | 100% Wool | 100X185 cm | 20 US$ |
| Poshti Turkmen | Wool | 60X90 cm | 28 US$ |