Food
Khoresh-e Bademjan Recipe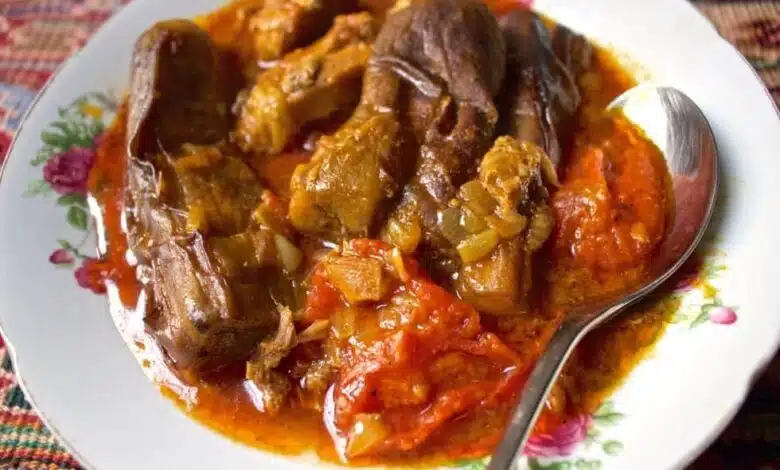 Iran, with its millennia-old culinary traditions, offers an array of dishes that intricately weave together flavors, textures, and aromas. One such dish that embodies the soul of Persian cuisine is Khoresht-e Bademjan, a luscious eggplant stew that's both hearty and deeply aromatic.
Aubergine/eggplant (badenjan) is a very popular vegetable in Iran, and this khoresht is one of the most traditional ways of using it. There are different varieties of aubergine and the thin, long variety is better for a khoresht (rather than the shorter, rounder type, which is preferable for stuffing).
Some regional variations of this recipe include split peas, while others replace lamb with chicken. Sour grapes or verjuice (the juice of green, unripe grapes, which lend the khoresht a tart, delicate taste) are popular additions. Tomatoes and tomato purée/tomato paste are not used in very traditional versions.
Remember that aubergine absorbs a lot of oil while frying and can make the whole dish oily. Leave the fried aubergines on sheets of kitchen paper to absorb as much of the oil as possible. Older recipes suggest brushing the aubergine slices with beaten egg white, or brushing them lightly with yogurt, to prevent them from absorbing too much oil. Using a non-stick frying pan/skillet means that you will need less oil. You could also deep-fry the aubergines and drain on plenty of kitchen paper.
Serves 4–6
Preparation: 30 minutes
Cooking: approximately 2 hours,
plus standing time
Ingredients
3 medium aubergines/eggplants salt and black pepper
500 g/1 lb 2 oz lean leg of lamb
1 medium onion
3 beef tomatoes
3 dried limes approximately 150 ml/5 fl oz vegetable oil
2 teaspoons turmeric
400 g/14 oz canned chopped tomatoes
1 heaped tablespoon tomato purée/tomato paste
1 litre/1¾ pints boiling water
3 tablespoons lemon juice (or verjuice
2 tablespoons liquid saffron
Preparation
Peel the aubergines/eggplants and cut each one lengthwise into three slices. Spread them on a large plate, sprinkle with 1 teaspoon of salt and leave to stand for about 15 minutes. Pat dry on kitchen paper. Wash the lamb and dry on kitchen paper.
Trim off any skin and fat, and cut the meat into 3–4 cm/1½ inch cubes. Peel and finely chop the onion. Wash and dry the tomatoes and cut each into four slices. Wash and dry the dried limes and pierce them with a fork.
Cooking
tips: Try to keep the aubergine and tomato slices on top of the meat in the saucepan. This makes it easier to transfer them intact into the serving dish. You can use a mixture of cherry tomatoes and beef tomatoes. For 1 beef tomato use 5 cherry tomatoes. and cut each into four slices. Wash and dry the dried limes and pierce them with a fork.
Heat 4 tablespoons of oil in a medium-sized, heavy-based saucepan and fry the onion until golden brown. Add the lamb, turmeric, salt and pepper and then the dried limes. Stir until the meat is well coated with the turmeric and sealed all over.
Add the canned chopped tomatoes, tomato purée/tomato paste and boiling water and half-cover the pan with a lid. Simmer on a low heat until the meat is tender enough to cut with a fork and the sauce has reduced to around 500 ml/just under 1 pint; this will take approximately 1–1½ hours.
While the meat is cooking, fry the aubergines until golden brown, preferably in a non-stick frying pan/skillet (if you use an ordinary frying pan, you may need more oil). Remove and pat dry on kitchen paper to remove excess oil. In the same pan, heat 1 tablespoon of oil and lightly fry the sliced tomatoes.
Return the aubergine slices to the frying pan/ skillet and turn off the heat. Pour half of the lemon juice and half of the liquid saffron over the aubergine and tomato slices. Set aside. When the meat is cooked, carefully arrange the aubergine and tomato slices in the sauce on top of the meat.
Reduce the heat to very low and let the mixture simmer very gently for about 15 minutes. (The aubergine and tomatoes will disintegrate if the sauce boils vigorously.)
Add the rest of the lemon juice, salt and pepper to taste. Remove from the heat and leave to stand for 10–15 minutes before serving. Place in a large shallow bowl, arranging the aubergines and tomatoes over the meat. Pour the remaining liquid saffron over the top.
Serve with plain rice (chelo).
Source: New Persian Cooking: A Fresh Approach to the Classic Cuisine of Iran by Jila Dana-Haeri