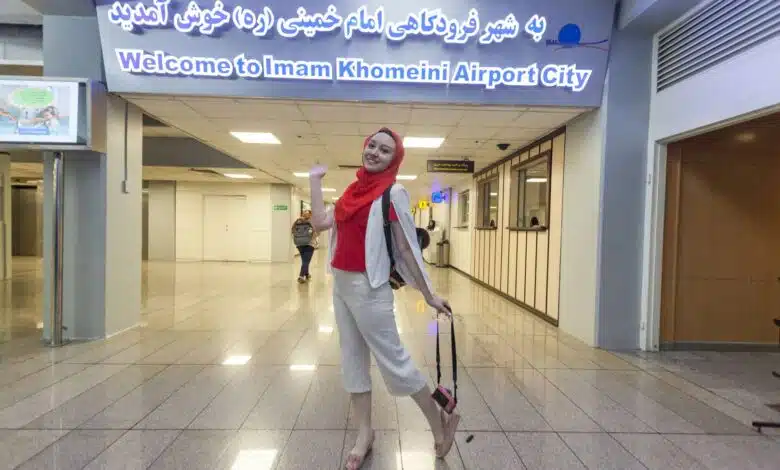 If you're planning to visit Iran, chances are that your first step on Iranian ground is at Imam Khomeini International Airport, Tehran's international airport. In the article, we'll guide you through the various facilities of the airport, what to except when you arrive and when you leave, what are the means of transportation available and which hotels are located near the airport.
Tehran Imam Khomeini International Airport (IKIA) Overview
Imam Khomeini International Airport, known as IKIA, is Iran's main international airport, while Mehrabad Airport serves domestic flights. While the construction started before the 1979 revolution, IKIA was completed 19 years ago and inaugurated in May 2004. There are 3 terminals, but only Terminal 1 is currently operating, receiving some 700 flights weekly and 8 million passengers per year.
Imam Khomeini Airport is located south of Iran's capital, Tehran, about 45 to 1-hour drive. It serves as a hub for Iran's main national airlines, Iran Air and Mahan Air, as well as several other Iranian airlines.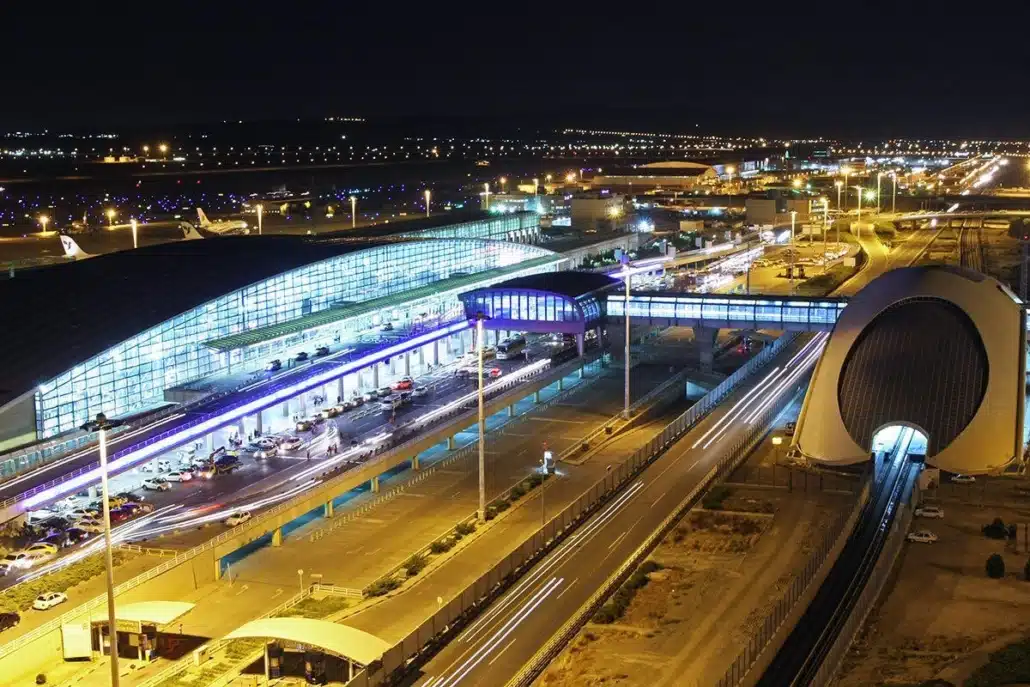 Imam Khomeini Airport: What to Expect on Arrival
While it occupies 14.000 hectares on the ground, IKIA is not such a big airport and is pretty easy to navigate. Descending the plane, you will quickly be led to the control gates. Before standing in the queue to cross the passport controls, you can withdraw your visa at the visa office if you have chosen to collect it on arrival. Once your visa and passport are in your hands, you can wait on the dedicated line for foreign passports and pass the passport control to enter the country! While waiting, you can try connecting to the free Wi-Fi of the airport.
Right after the passport controls, you'll arrive at the luggage collection area. Once you have everything with you, you can pass the last security control to enter on the landside. Note that if you need to register your phone, you will find the customs office right in front of this security control. You'll also find the Irancell corner immediately before the exit doors where you can buy a local sim card for your phone.
Before leaving the airport, you may need to exchange some money. To do so, go upstairs with the escalators and you'll find an exchange office. The rate is usually fair enough, but avoid changing too much money right away.
Imam Khomeini Airport: What to Expect on Departure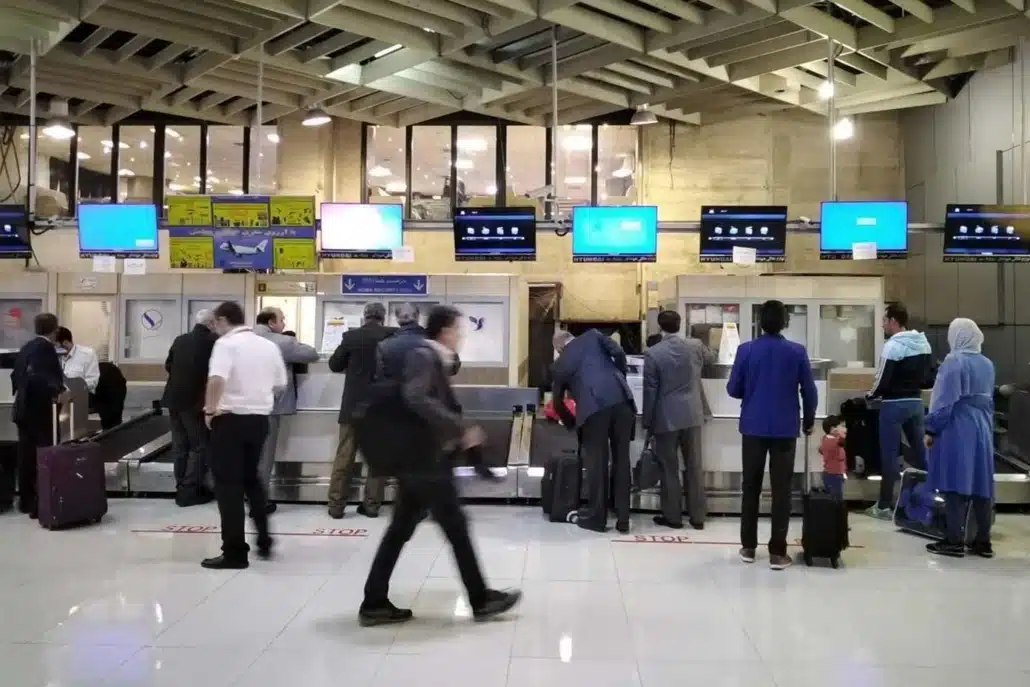 IKIA's Departure Hall is located on the second level of the airport. Travelers who leave Iran through Imam Khomeini Airport are advised to get to the airport early, as security checks can sometimes take a long time. Indeed, you'll have to pass a first passport and security control to enter the area where airlines have their check-in counters. Once you have your boarding pass, you can go through the immigration control (there is a specific line for foreign passports) to reach the gate area (after one last security control).
In the airside, you will find several shops to buy duty-free souvenirs and foods, as well as cafes restaurants. These facilities are available 24 hours. It may be a good opportunity to spend your last Iranian Rials, as you won't be able to exchange them abroad and these shops are not accepting other currencies or international credit cards. Like most airports in the world, expect higher prices, though!
Near the gates, you will find comfortable semi-inclined chairs where you can relax before your flight. Furthermore, IKIA is a relatively quiet airport with few announcements. There are also several bathrooms available and prayer rooms (there are 17 prayer rooms all over the airport), as well as free charging stations at the airport.
How to get from and to Imam Khomeini Airport?

Imam Khomeini Airport is located 30 kilometers from the southern entrance of Tehran, which could also mean 70 kilometers away from your hotel, if this latter is located in North Tehran. Make sure to anticipate traffic jams if you're leaving Tehran for IKIA and consider at least one hour to get to the airport by road.
Whatever the time of the day or the night, the best way to get to or from IKIA is by taxi. Several taxi service companies are available outside the Arrival Hall. The price varies depending on the destination and the type of vehicle. The best option is to book your transfer in advance to know the price and arrive stress-free.
The ride-hailing service companies Snapp and Tap30, which are the Iranian equivalents of Uber, are also authorized to operate at the airport. However, that would not be our suggestion, both in terms of safety (if you have to make this long trip to the airport at night) and ease (being able to understand where your driver is waiting for you at the airport requires serious Persian language skills!).
Another option, if you are travelling to or from the airport during the day is the Metro. The Red Line (Line 1/8) of Tehran's Metro has recently been extended to the airport (Station: Imam Khomeini Airport). Note that trains are departing every 80 minutes, from 6 AM to 8 PM.
What are the Hotels near Imam Khomeini Airport?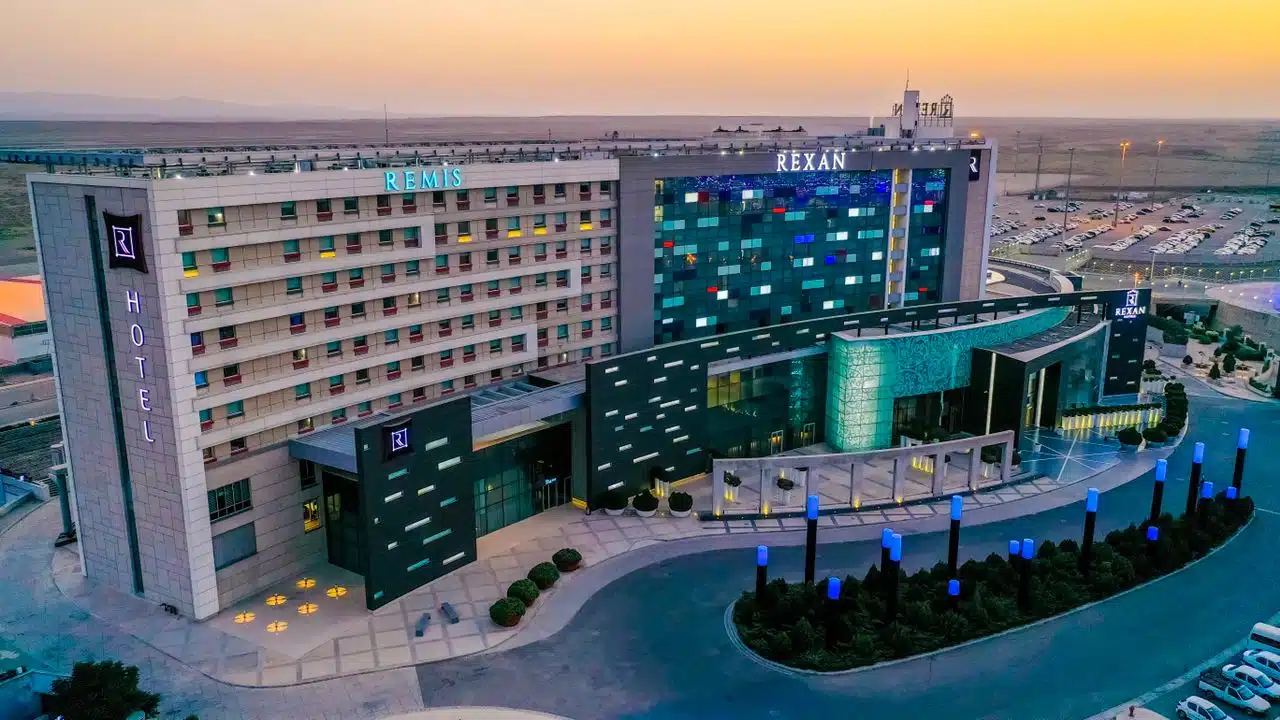 There may be several reasons why you would want to spend the night close to Imam Khomeini Airport. Indeed, many international flights arrive or depart late at night. For instance, if you arrive around 2 or 3 AM and you do not intend to visit Tehran the next day, but rather go directly toward Kashan or Isfahan, it may be a good option to sleep at the airport upon arrival to Iran.
There are two good options available. One is Remis Hotel (ex-Novotel) and the other is Rexan Hotel (ex-Ibis). Both hotels are quite similar. They are both located in front of the terminals, and easily accessible either through the glass bridge that connects the hotels and the airport, or with a free shuttle. They also offer comfortable and modern rooms, with all amenities, such as free Wi-Fi, private bathroom, flat-screen TVS, etc. Both have restaurants serving breakfast (included in the room price), lunch and dinner. Furthermore, the staff is available 24 hours and will be happy to help you arrange transportation or anything else you may need.
If you're planning a trip to Iran or have a layover in Tehran, finding a comfortable and convenient hotel near Tehran Imam Khomeini International Airport is essential. As the country's primary international airport, Imam Khomeini Airport serves as the gateway to the enchanting city of Tehran and the beautiful Iranian landscapes beyond. In this blog post, we'll explore some of the best hotels in the vicinity of the airport, ensuring you have a relaxing and pleasant stay during your visit.
Remis Airport Hotel
Located just a short distance from the airport, Novotel (Remis Hotel) Tehran Imam Khomeini Airport offers modern amenities and a welcoming ambiance. With spacious rooms, excellent dining options, and a fitness center, this hotel is an excellent choice for both business and leisure travelers. The complimentary shuttle service to and from the airport ensures you won't have to worry about transportation.
Book Online
Book Remis Hotel
Rexan Airport Hotel
Another outstanding option by AccorHotels, the Ibis (Rexan) Tehran Imam Khomeini Airport provides a budget-friendly stay without compromising on quality. The contemporary design, comfortable rooms, and 24/7 services cater to the needs of weary travelers. The hotel's proximity to the airport and the Imam Khomeini Airport City complex makes it an attractive choice.
Book Online
Book Rexan Hotel
Transportation
Metro near Tehran Imam Khomeini Airport
An extension of the southern part of Tehran Metro Line 1 towards IKA airport and the new town of Parand is presently under construction. One station at the current passenger terminal (Terminal 1) is undergoing final stages of construction. There are also provisions for a second station serving the planned Iranshahr Terminal (Terminal 3). The service is not expected to commence operations before March 2017.
There are further plans to have Tehran Metro Line 3 reach its southern terminus at either IKA or the new town of Parand located 15 km to the west of the airport. A formal decision is yet to be finalized on the choice of terminus.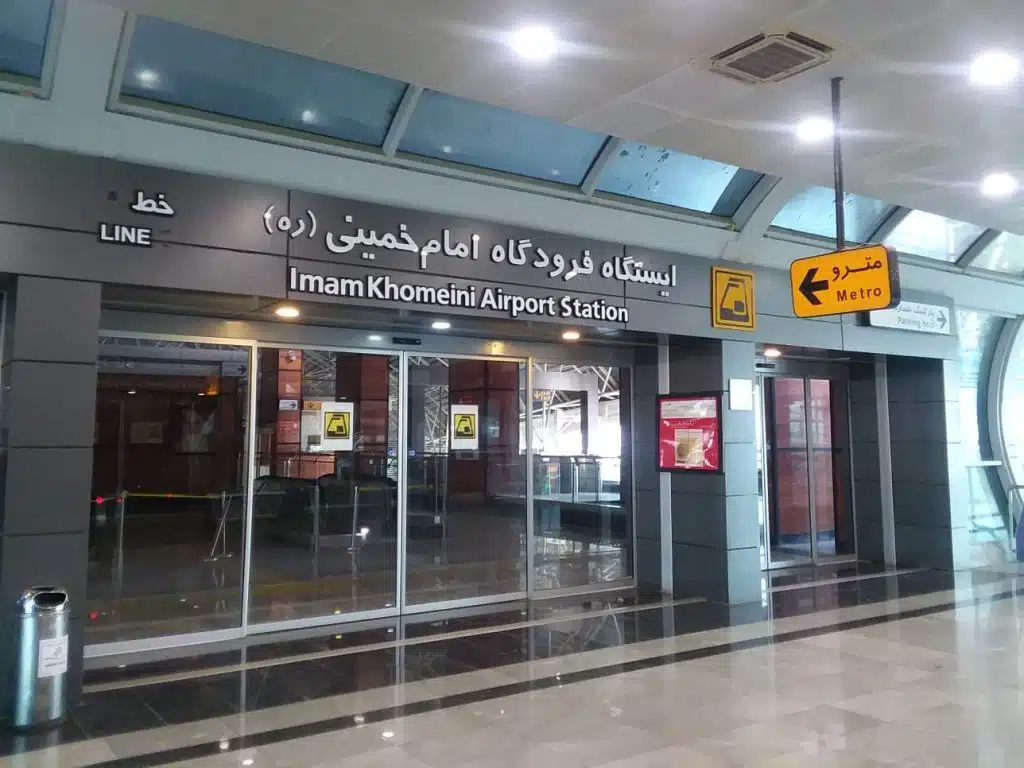 High Speed Rail
The airport is planned to be served by the Tehran-Qom-Isfahan High Speed Rail. The new link will enable direct rail access from the cities of Qom and Isfahan and a fast non-stop connection to Tehran Railway Station. The line is currently in early planning and construction phase.
By Road
Imam Khomeini Airport is accessible from Tehran by car, taxi and shuttle buses via Tehran-Qom and Tehran-Saveh freeways. Airport-operated taxis serve arriving passenger 24/7. As of December 2016, a typical taxi journey from the airport to the center of Tehran takes around 45 minutes and costs approximately 600000 IRR ($15).
Tehran Imam Khomeini International Airport, also known as Tehran-IKI