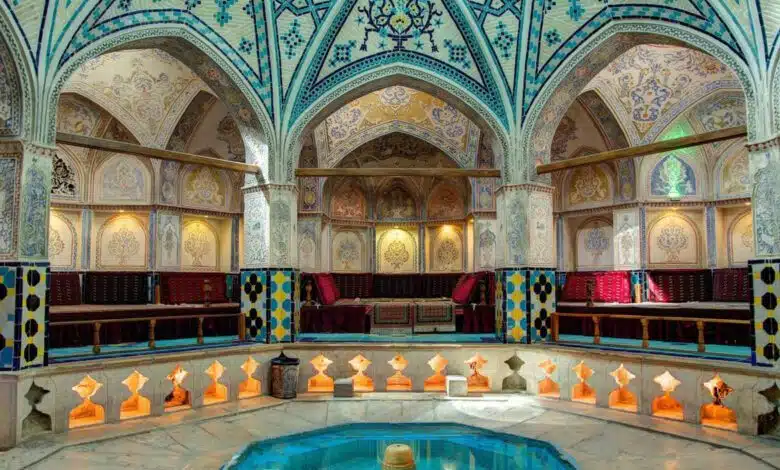 Washing the body might be an attractive ceremony all around the world from west to east, such as baptism in west of the world applying special and eye-catching acts to respect the religion or culture.
Washing the body might be an attractive ceremony all around the world from west to east, such as baptism in west of the world applying special and eye-catching acts to respect the religion or culture. Public bathhouses are an ancient tradition in Iran that in many areas still form part of people's daily lives. Here we explore some of the most beautiful bathhouses in Iran.
But what is your guess about the place of being cleaned in Persia?
The place is named bathhouse or Hammam with ancient tradition and existed prior to Islamic era. The evolutionary construction of bathhouses has changed them to picturesque sights in some different cities of Iran. Going through the modern era even in Iran has caused the tradition to fade and Iranian people are used to wash themselves at their own houses.
In spite of changing in Iranian lifestyle the spectacular architecture still remains in some cities of Iran and attracts lots of visitors. Hammam or bathhouse was known as a place to get cleaned, shaved, be massaged and talk about daily activities. A typical bathhouse is made up of three sections, as the first stage all people get undressed to wear a traditional cloth from waist to knee called "Long". The weather circulates very well in all the bathroom to make it warm just because of creative engineering in the building, as all visitors admire the Iranian architecture.
Most bathhouses were located in densely populated areas near local bazaars.
Before the number of bathhouses was more than today but many of them are no longer used or have been converted to museums or restaurants.
From the entrance to cloakroom (Rakhtkan) there is a curving way to enhance the circulation. Sarbine and Garmkhane are the other main sections.
Now it is time to have a glimpse at some of the most important bathhouses in IRAN:
Hammam-e Vakil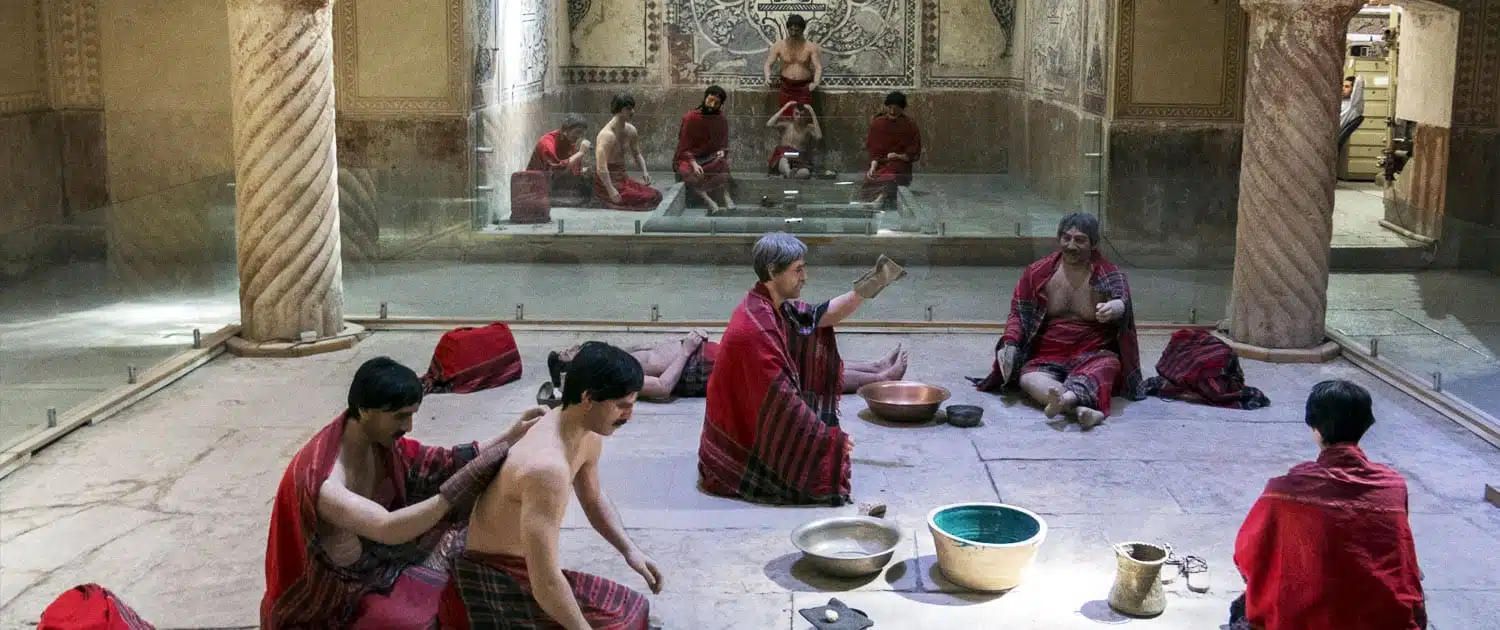 Shiraz as one of the best places in Iran where welcomes you warmly not only to visit traditional bathrooms but also prodigious various sites in whole city such as mosques, bazaars, historical buildings and so on.
Talking about Hammams (bath) in Iran, the cradle of art does not summarize just in some sentences and there is no way except seeing it by travelling to the country.
If you dream of experiencing plasterwork and candy twist columns, Hammam Vakil that dates back to Zandie era as one of the most remarkable historical miracles, could be a good example. Taking bath in the handsome heat room with vaulted ceiling, small pool and pillars was commonplace in ancient era in Shiraz.
The mentioned bath which is 11000 m2 was built by order of Karim khan Zand, the famous effective man in history of Iran with an admirable design to convey the rich culture of Iranian custom.
Sultan Amir Ahmad Bathhouse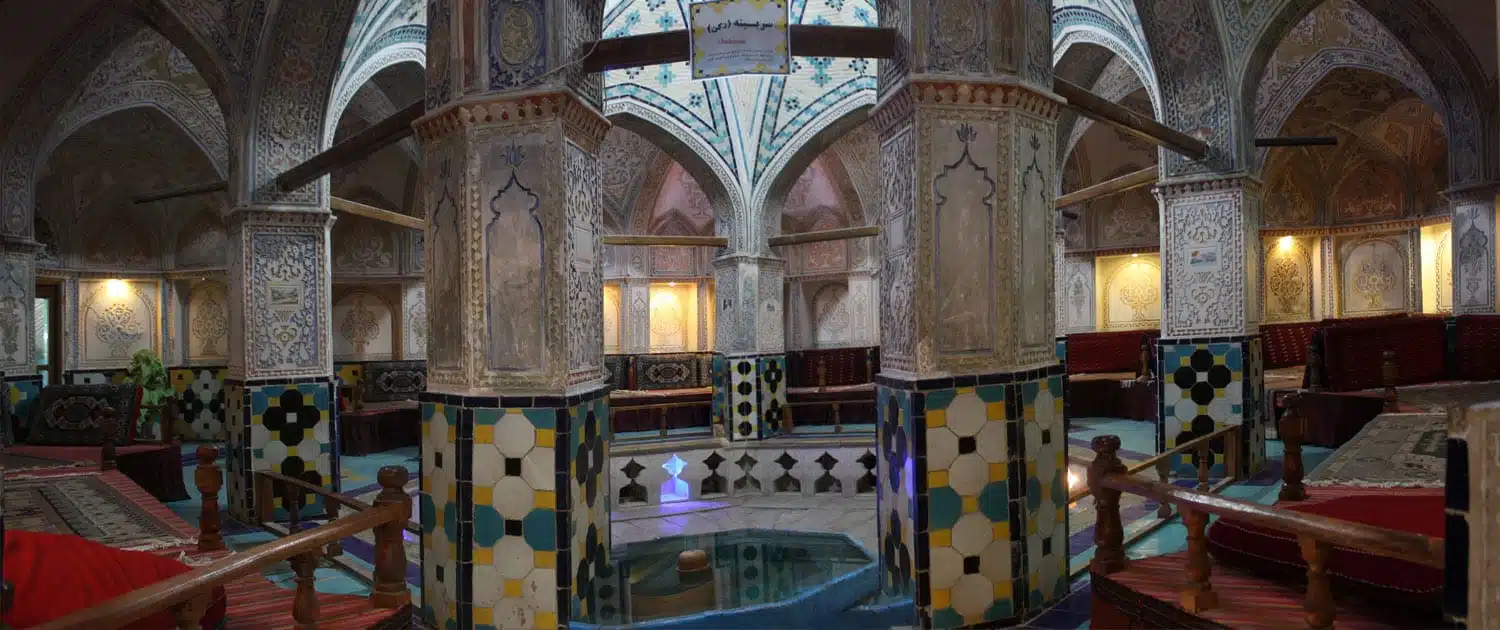 The bathhouse serves as a tourist attraction in Kashan which was built in 16th century to provide a place not only for being cleaned but also very suitable for relaxation and talking. A beautiful place that is emphatically a gorgeous ancient spa in Iran. Glorious ornamental tiles in gold and turquoise colors are just one attractive part of the bath. The Hammam (bath) has two sections called Sarbineh and Garmkhaneh. The first one is an octagonal dressing hall and the second one is the hot bathing hall, both very popular among Iranian people. The bath is now registered as a national heritage site and lots of tourists visit this famous museum in Kashan.
Hamam-e Fin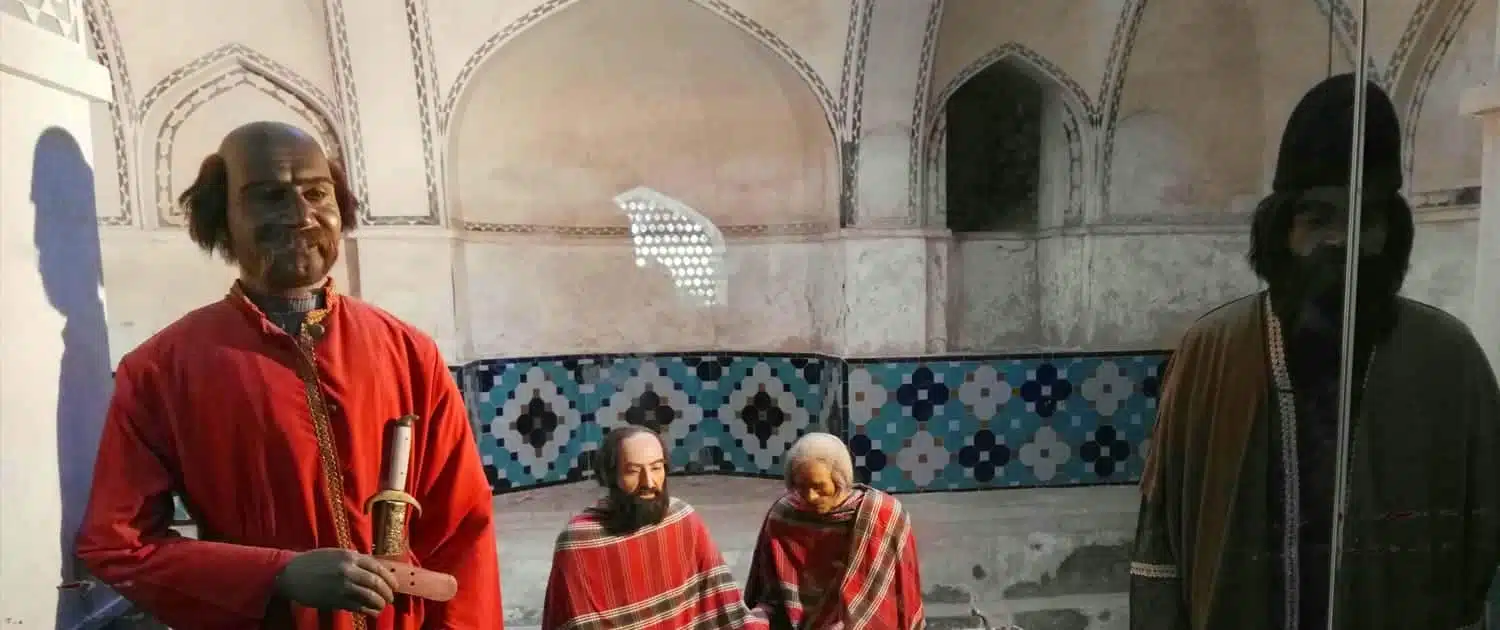 Have you ever heard the name of Amir Kabir Mirza Taghi khan, the minister of Ghajar era?
The reason of fame and reputation of Fin bath is due to the murder of Amir Kabir. The small bathroom was constructed in Safavid era allocated to servants, but the construction of big bath goes back to Qajar by command of Fath Ali Shah, a place just for the ministers. Both bathrooms include areas like entrance, fountain, treasure, clean place. The corridors are numerous and then give a memorable atmosphere to the architecture of the baths. It is interesting to know that Fin bath is registered in national index of Iran and of course the UNESCO World Heritage List.
Qajar Traditional Bath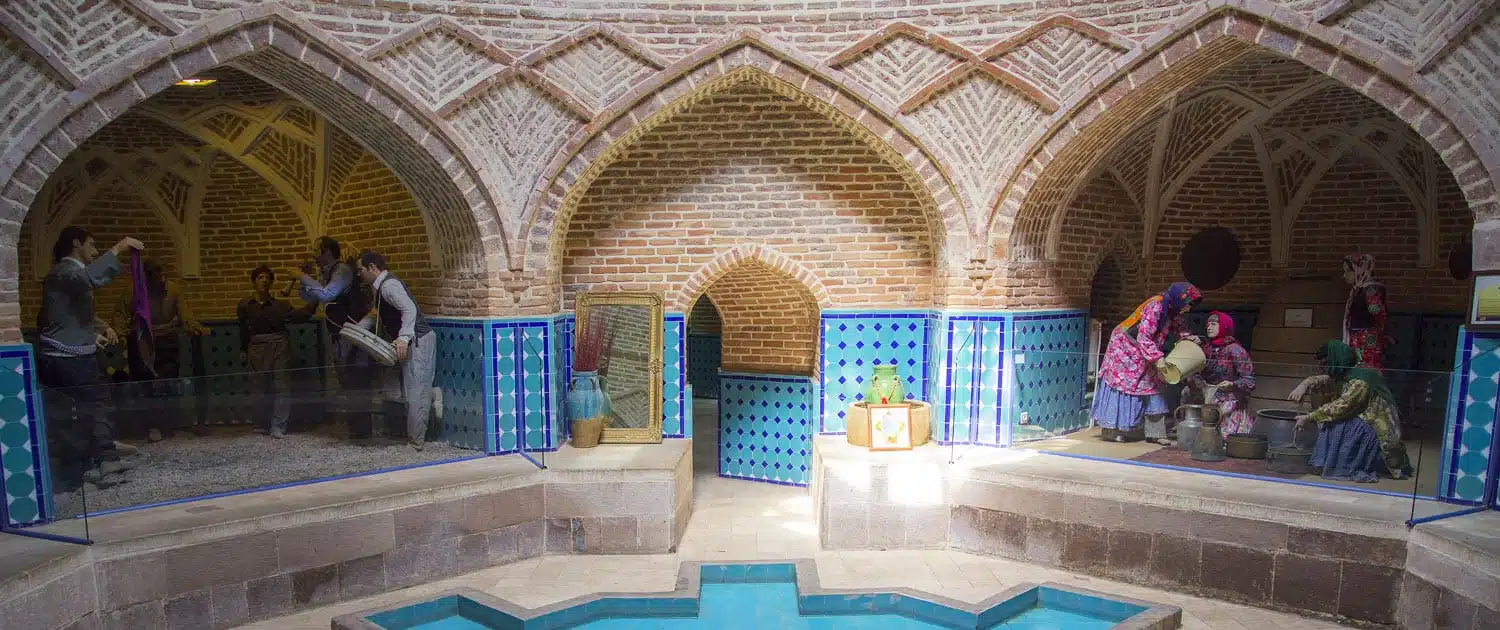 Let's have a trip to Qazvin as one of the most picturesque places not only in Iran but also in the world. Famous for its delicious food, attractive tourist attractions, hospitable culture, various souvenirs and of course kind people.
Qazvin is a city with a lot of bathhouses. Qajar traditional bath is one of the largest bathhouses in the city which was built by "Amir Goone Khan Qajar" one of the Shah Abbas commanders in 17th century. The bath is today known as anthropology museum in the list of cultural heritage of Iran located in a historical quarter in the city.
As you enter the bathhouse, the atmosphere is like a beautiful performance, absorbing the visitors as old time such as costumes, ethnic ceremonies, different professions or vocations of Qazvin. Relax and close your eyes just for some seconds to imagine yourself in bath, immerse in the atmosphere to get rid of bothering thoughts just like a meditation.
Statues of two women baking bread wearing traditional cloths on the corner of the bath is a good example of ancient Iranian traditions.
The structure of Qajar bathhouses is quite remarkable and really eye-catching.
Qazvin has 25 historical bathhouses scattered throughout the city dating back to Safavid and Qajar eras. Even though the lifestyle of people has changed but some old bathhouses exist in the city and are still in use. Then if you are interested in Safavid and Qajar eras do not skip the bathhouses because they are a rich source of the mentioned dynasties.
Ali Gholi Agha Bathhouse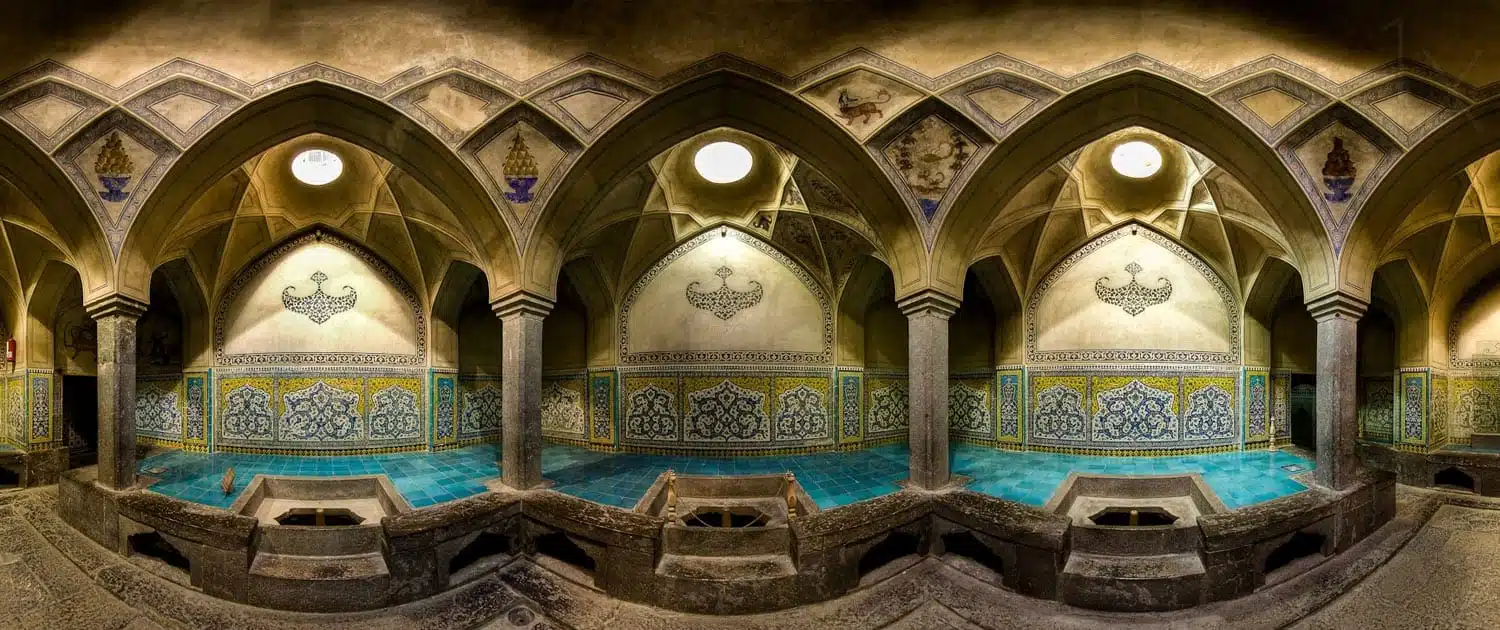 Now it is time to go to Isfahan. If you are eager to know more about the city, stay with us.
Ali Gholi Agha Bathhouse is combination of tradition, art and architecture located in district of Bid Abad, far away from the center. The bath dates back to Shah Sultan Hossein the last king of Saffavid era. Hammam is made up of two sections, private and public
Turquoise tiles with symbols of original Iranian architecture are seen all around the bath like epic or mythical paintings, murals, polychrome tiles, mosaics mirroring the rich culture of Persia. A hunting scene, a duck-heated water spout above the main bathtub and beautiful marble flooring have changed the bath into a charming complex.
The bathhouse had water pools with desirable temperature and of course diving boards.
Bathhouses have played an essential role in history of Isfahan, then cleanliness is an inevitable cultural religious activity among Iranian people from ancient time as you can feel it in the remained old traditional bathhouses in Isfahan.
Narrating the story of bathhouses in Persia is long and does not summarize to just some sentences. The reason goes back to the complicated and rich culture of Iran. Visiting Persia is just deeper than reading a text about it. Are you ready to experience this mysterious travel?