Food
Abgusht Recipe
Lamb soup with pulses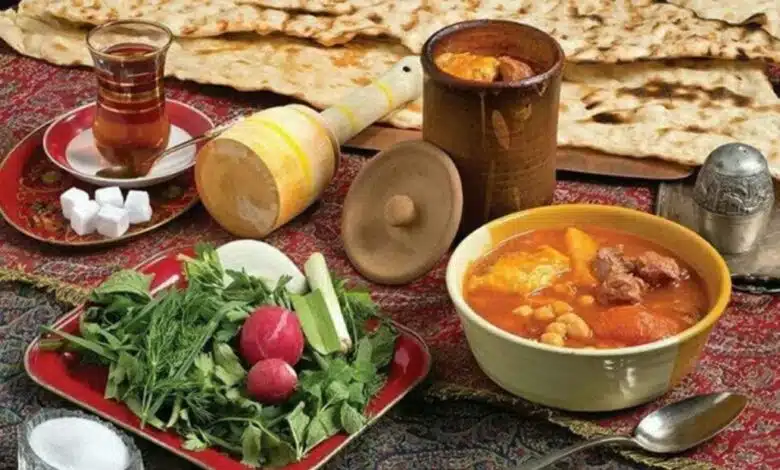 Abgusht is not just a stew; it's an emblem of Iran's rich culinary heritage, a dish that has been savored for ages. Its deep-rooted history and succulent flavors make it an irresistible treat for both the locals and wanderers who venture into the heart of Iran.
On chilly winter evenings, a bowl of Abgusht provides the warmth and nourishment that one seeks. With its perfect blend of complex carbs, proteins, and fats, and when paired with tangy yogurt and aromatic herbs, it promises a wholesome meal.
Once considered a staple for the less affluent, crafted from the most affordable lamb cuts and fats, Abgusht has now evolved into a beloved choice for cozy family dinners.
Memories from yesteryears paint a picture of old tea houses and caravanserais where this dish was prepared in individual clay pots. Ingredients were combined with a dash of water, and once the pot was sealed, it was nestled in the warm ashes of a wood stove, letting the magic slowly unfold.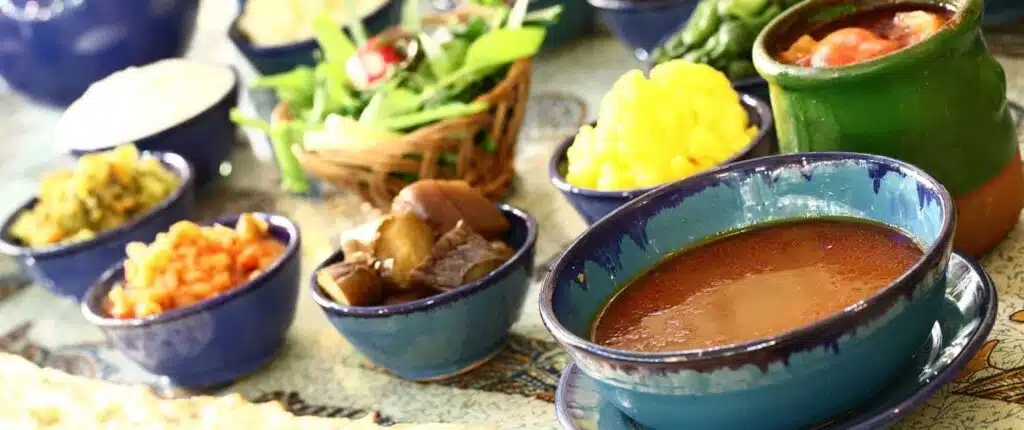 Today, this stew boasts the inclusion of premium lamb cuts like the leg or shoulder shanks. A unique aspect of enjoying Abgusht is sipping the flavorful broth with bits of bread, reminiscent of croutons, followed by a hearty mix of the meat and pulses, complemented with herbs and toasty flatbread.
As you traverse different regions of Iran, you'll notice subtle variations in the Abgusht recipe.
While some might favor the simplicity of chickpeas without the richness of tomato paste, others incorporate potatoes, red kidney beans, split peas, and a tangy tomato base. The secret to its exquisite taste lies in its slow-cooking process, allowing every ingredient to release its essence. If you're looking to recreate this timeless dish, remember to let it simmer, and just before it's ready to be served, a splash of lemon juice and a sprinkle of saffron will seal the deal.
Serves 4–6
Preparation: approximately 30 minutes, plus soaking
Cooking: approximately 2½ hours
Ingredients
100 g/3½ oz split peas
4 lamb shoulder shanks (or 3 leg shanks)
1 large onion
3 medium potatoes
2 tablespoons vegetable oil
2 teaspoons turmeric
2 dried limes, washed, dried and pierced with a fork
1 litre/1¾ pints boiling water
2 heaped teaspoons tomato purée/tomato paste salt and black pepper
200 g/7 oz canned red kidney beans (drained weight)
3 tablespoons lemon juice
2 tablespoons liquid saffron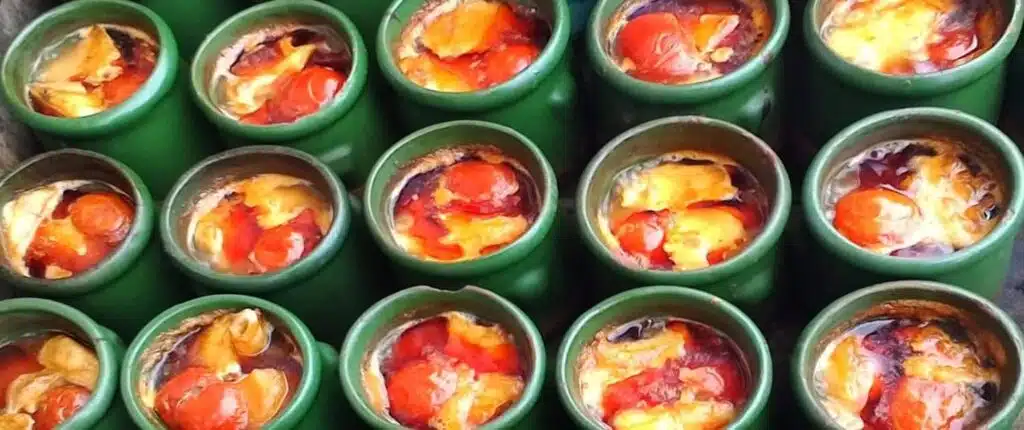 Variation
The traditional way to serve abgusht is to strain the liquid into bowls to serve as a broth, then pound the cooked meat and other ingredients in a food processor or using a pestle and mortar or potato masher. You can pound the mixture until it is smooth or for a shorter period to retain the texture of the components. This is called Gusht-e koubideh: literally, pounded meat. Serve separately on a platter with peeled, quartered fresh onions and warm flat bread. The meat can also be eaten cold as a sandwich filling in pitta bread.
Preparation
Wash the split peas, put them in a bowl, pour boiling water over them and soak for 1 hour (or follow the instructions on the packet). Alternatively, soak the split peas in cold water overnight.
Wash the lamb shanks and pat them dry with kitchen paper. Cut off any skin, protruding tendon and fat with a sharp knife. Peel the onion and cut it into quarters. Peel the potatoes and cut each one into four. Place the potato pieces in a bowl and cover with cold water to avoid discoloration.
Cooking
Heat the oil in a heavy-based saucepan, preferably cast-iron, and toss the quartered onion in the oil for a couple of minutes, until lightly golden. Add the lamb shanks and turn to seal on all sides. The meat should not be browned at this stage.
Add the turmeric and stir to coat the shanks evenly. Drain the split peas and add to the pan, then add the dried limes.
Pour the boiling water into the pan and stir well. Bring back to the boil, then reduce the heat and cover the pan with a lid. Simmer gently for approximately 1½ hours until the shanks are nearly cooked (you should be able to separate the meat from the bone with a fork) and the split peas are al dente. Keep the heat low and keep the lid on the pan to retain as much of the liquid as possible.
Drain and add the potatoes and the tomato purée/tomato paste to the pan and stir to mix. Leave to simmer very gently until the potatoes are cooked, approximately 30 minutes. Season to taste.
Add the red kidney beans and simmer for a further 10–15 minutes. Add the lemon juice and simmer for another 5 minutes. Just before serving, add the liquid saffron and mix well.
Serve with warm flat bread such as pitta or lavash (very thin Persian bread) with a side dish of yogurt and fresh herbs.
Source: New Persian Cooking: A Fresh Approach to the Classic Cuisine of Iran by Jila Dana-Haeri