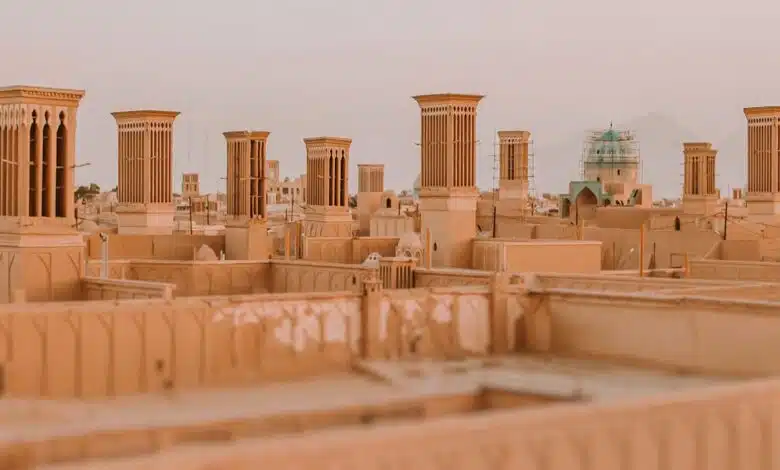 On Sunday – 2017 09 July, the Yazd city in Iran made a World Heritage Site at the 41st session of the World Heritage Committee in Krakow, Poland. Read more…
Yazd in central Iran as a likely candidate to receive world heritage status in the upcoming UNESCO World Heritage Committee meeting.
In an article published online on June 15, the author points to Yazd's "diverse collection of architecture, all dating from different time periods".
The UNESCO World Heritage Committee will vote on whether to register the ancient city on its coveted World Heritage List when it holds its 41st session on July 2-12 in Krakow, Poland.
Iran currently has 21 world heritage sites, more than any other country in the Middle East.
Yazd is a city in central Iran and the capital of the Yazd province. It is an ancient city dating back to the Sassanian Period (224-651 AD). Yazd is located midway between Isfahan and Kerman, 689 km (427 miles) southeast of Tehran. Yazd is well connected to the rest of the country by planes, trains and buses.
Yazd, located between the Dasht-e Kavir and the Dasht-e Lut deserts, is one of the oldest cities in the world. It is known for the wind towers, or badgirs, built on its houses and for the beautiful weavings created by its craftspeople.
Yazd is also the original home of the Zoroastrian religion. Zoroastrians believe in an all-powerful god called Ahura Mazda. Ahura Mazda is represented by fire, which Zoroastrians believe he created. A holy fire enclosed in the Zoroastrian temple in Yazd is believed to have burned continuously since 470 B.C. It is tended by temple priests and protected from the public by glass.
The city of Yazd is unique among Iranian desert cities which although much changed by reconstruction during the 1340s—1960s, but still presents the features of a traditional Iranian city in the Islamic period. In the 1960s, there were still some indications of traditional crafts having survived throughout the ages, commerce, and remarkable skill of craftsmen and the hierarchy of guild organizations.
Investigations show that up to one century ago there were six Zoroastrian quarters in the city of Yazd. The city was famous for having the largest Zoroastrian population. Today these quarters Still survive. Zoroastrian occupations were mainly farming, and they owned cultivated fields. The remains of these areas still exist and constitute the majority of wastelands within their quarters. Altogether, except economic relations, the Zoroastrian community was a closed community, as is evident in the physical structure Of the city.