Culture
Destinations
News
Jahan Nama Museum – Collection Of Modern And Ancient Art Gathered By Farah Diba
Collection of Modern and Ancient Art Gathered By Farah Diba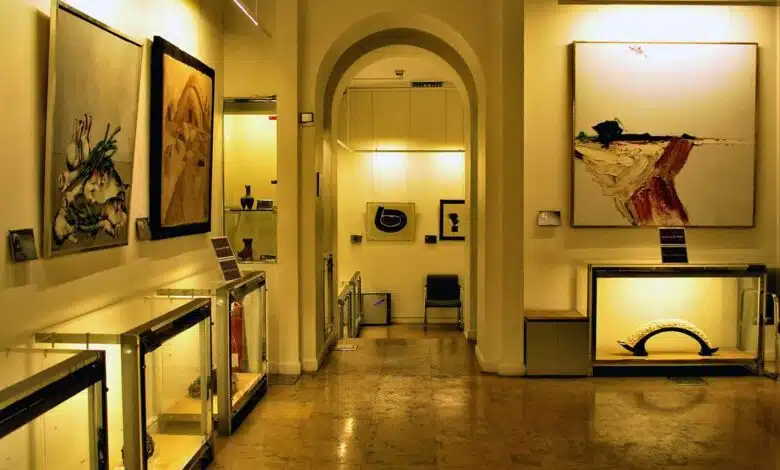 Part of the sprawling Niyavaran Cultural-Historic Complex, two rooms here are filled with a small but well-displayed example of the eclectic collection of modern and ancient art gathered by Farah Diba, mainly during the 1970s.
In the northern part of the capital, Niavaran Garden is situated. With an area more than 9,000 square meters, this glorious garden houses Niavaran cultural-historic complex.
The primary palace was built in the early Qajar era when Fath-Ali Shah decided to build a summer residence over the countryside district of Tehran at that time. The original purpose of constructing the main palace was to host royal ceremonies and gatherings.
Nevertheless, the second king of Pahlavi dynasty, Mohammad Reza Shah, decided to reside here with his family. During these years, the palace was renovated and some parts of the western section were used for other purposes.
Next to the largest monument of the complex, Sahebgharani Palace, a smaller building is situated which primarily was used to house the private art collection of the Shah's wife, Farah Pahlavi, assembled during the 1970s. The building, just like the old mirror mounted in the hall of Sahebgharani Palace, was named Jahan Nama.
A Modern Gallery
This small but rich museum is comprised of five galleries in total and displays the gorgeous artworks and artifacts collected from five continents. Some of these masterpieces are being purchased, while others have been granted to the former queen of Iran.
The amazing works exhibited here, from prehistoric era including pre-Columbian artifacts to contemporary artworks by some of the most avant-garde Iranian artists such as: Sohrab Sepehri, Bahman Mohasses, Faramarz Pilaram, Jafar Ruhbakhsh, Parviz Kalantari, and Leyli Matin-Daftari as well as works by the greatest Western artists- Georges Braque, Paul Gauguin, Pablo Picasso, Pierre Auguste Renoir, Andy Warhol, Salvador Dali, Diego Giacometti and Marc Chagall, to name a few- turns this place to one of the most worth-visiting places of Tehran.
The painted ceiling of Jahan Nama has been transferred from an old house in Shiraz to Tehran and demonstrates a lacquer painting on wood from the remains of the Qajar dynasty.
Although the Jahan Nama museum is fairly smaller than the other conventional galleries and museums in Tehran, the works are well-displayed and rooms are pleasantly decorated. The diversity of the well-chosen artworks gathered together from different eras encourages the visitors to spend at least a few hours here.
Ancient Cultures of the World
An important part of this museum has been devoted to the prehistoric art of the most important ancient cultures of the world, such as artifacts found from the sites in Egypt and Mexico, African, Far-eastern and North American artworks, which date back to 1st and 2nd millennia BC, as well as bronze works discovered in Lorestan, animal figurines, human statues, and pottery vessels of Amlash culture in Gilan and other pieces which have been found from old civilizations like those of Tepe Sialk in Kashan and other parts of Iran.
In addition, a notable space of this museum has been dedicated to the works of Iranian contemporary artists. Around the 1950s and 60s and along with forming the middle-class category in the society of Iran, a modern art movement was shaped, mainly to preserve the national identity and fundamental characters of Iranian culture.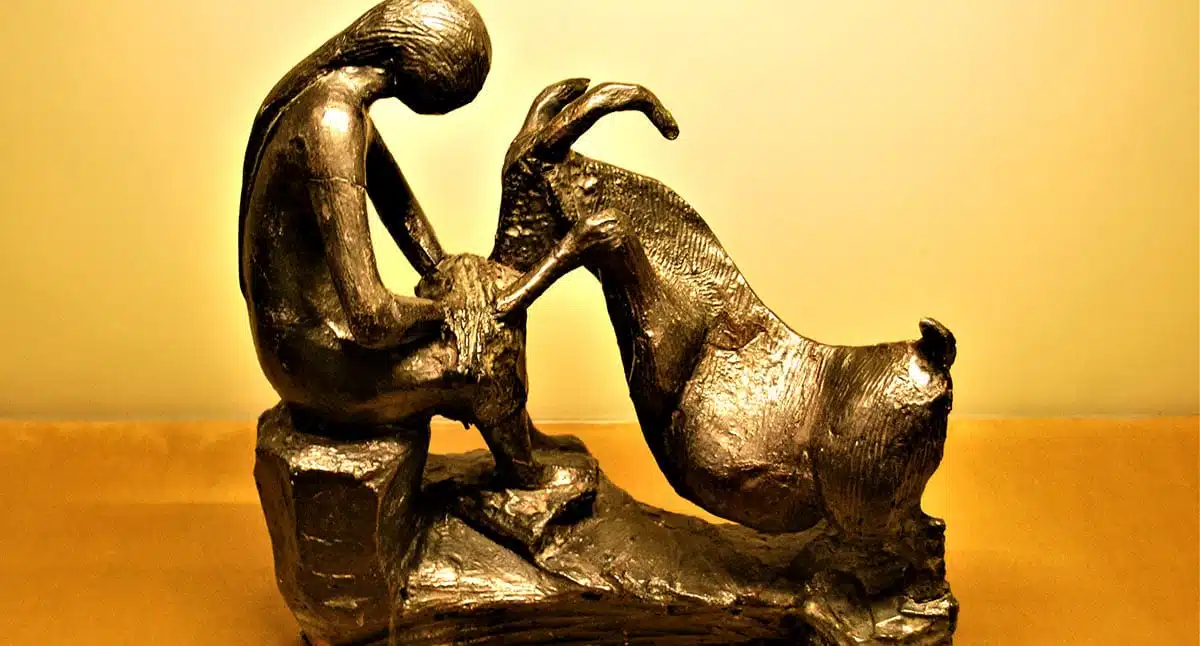 This movement, which is now known as SAQQĀ-ḴĀNA school of art, initially started with applying the traditional, decorative elements from votive Shia art in the modern works of Iranian artists and after the Islamic revolution of 1979, this new Islamic dimension influenced the works of other artists as well. Gradually, this school became more and more popular among the distinguished artists of that era and was joined by several Iranian painters and sculptors.
In this school of art, the main sources of inspiration are folk beliefs, local rituals, traditional symbols and visual elements combined together with western elements and techniques which create a unique and incomparable style in Iranian modern art.
Among the most renowned pieces of this school of art displayed in the Jahan Nama museum are the works of Nasser Ovissi, Jazeh Tabatabai, Hossein Zenderoudi, Parviz Tanavoli and Massoud Arabshahi who are considered as the most prominent Iranian artists and pioneers of this school.
Furthermore, due to her passion for art, the former queen of Iran put a group of art experts in charge of touring the most distinguished auction houses of the western world in order to purchase and build an eclectic and prestigious collection from the existing modern artworks.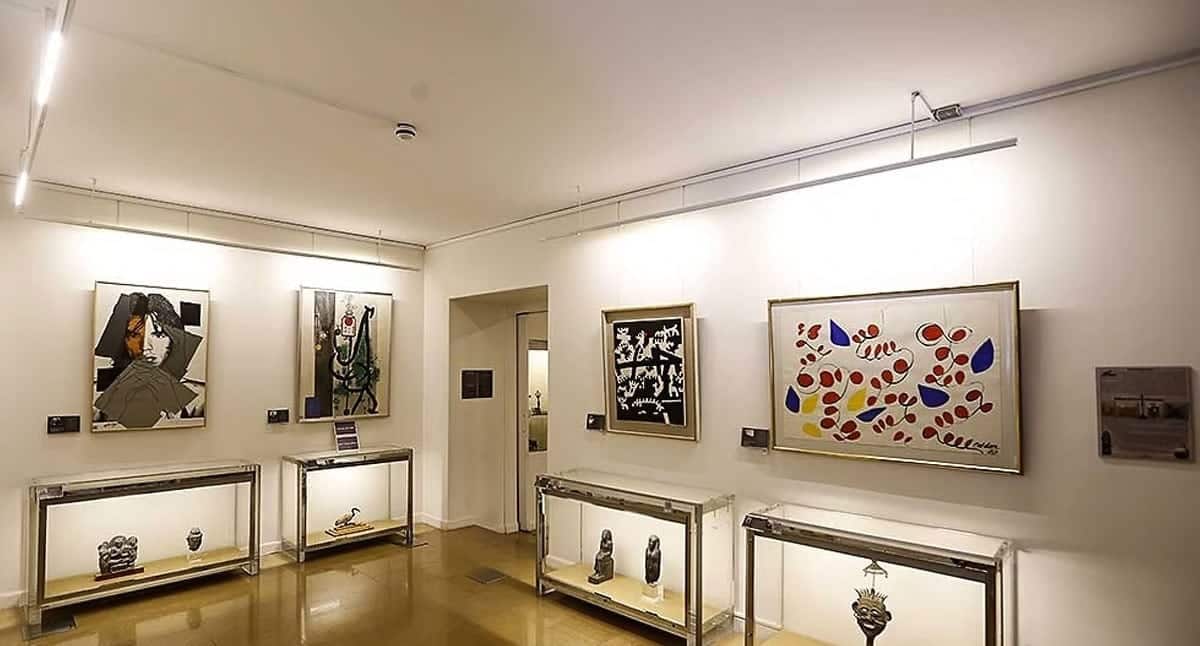 Consequently, more than 300 valuable painting and sculptures –of which only a limited selection is on show now-were assembled to form one of the most priceless art collections of the world, which in fact belongs to Iranian people.
From Salvador Dali to Andy Warhol
Today, Jahan Nama museum showcases some of Salvador Dali's rarely seen painting and sculptures, Andy Warhol's Mick Jagger, the artist's profile of Gauguin and some works of Picasso which definitely are worth a visit.
Among all media created by humankind, art in any of its forms transfers the most peaceful and comprehensible message world over, therefore could be employed as a common, universal language to bridge different cultures and bring nations together.
It would be no exaggeration then to say that Jahan Nama museum is a treasure hidden in the heart of Niavaran complex which promotes a sense of unity by showcasing the works of most recognized International artists along with displaying Iranian artist's masterpieces. Walking among the beautiful works displayed in Jahan Nama, which unlike many similar museums is not crowded, would definitely create an unforgettable memory for an art enthusiast.
Here, one can admire the art of distinctive painters and sculptors and get inspired by observing their efforts to express the deepest human emotions in an intimate atmosphere.