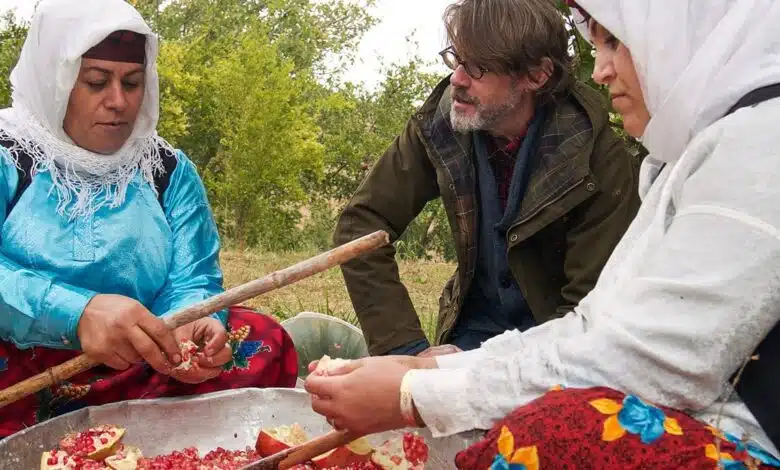 Nigel Slater's adventure concludes in a country shrouded in mystery and often in the headlines – Iran.
Nigel Slater, English journalist, broadcaster and one of the most famous cooks and food writers of the world, documented his awe-inspiring journey through Iran to discover Persian food, one of the oldest and most influential cuisines in the world.
In his show Nigel sets out to discover the secrets of Persian food, one of the oldest and most influential cuisines in the world.
Click here to see the video: https://www.aparat.com/v/4SOiY
His adventure starts in Tehran, where he gets the chance to try the most traditional Iranian breakfast, Kalle Pacheh. A dish which at first he seems reluctant to try, as in his opinion in this nose to tail eating to the extreme: "the flavors are going to be really quite strong" but surprisingly at the end, he describes it as "heavenly". His journey then continues in Tehran with trying a home-made Dizi cooked by his Taxi driver's wife and Ash-e-Reshteh in Grand bazar.
He then leaves Tehran to visit a pomegranate garden near the remote village of Anbu, where he enjoys observing the people celebrating the harvest time.
Afterward, he visits the traditional bazaar of Rasht near the Caspian Sea and eats the lunch with local fishermen, trying freshly- caught beluga and its caviar. Before heading back to Tehran, Nigel travels to further east to Torbat-e Heydarieh to witness the harvesting of saffron, which undoubtedly characterizes Persian cooking more than any other ingredients. Here, he learns about the truly labor-intensive process of saffron production and also receives a plenty of it as a gift.
After coming back to Tehran, he visits Palladium Mall and tries Iranian version of International fast foods in its food court. At the end of his journey, a restaurant owner in Tehran offers him a cookery lesson at his home to cook a forgotten Iranian dish from the 16th century called Mutanjan. He recalls his overwhelming experience with the hospitality, the generosity and the amount of culture he has seen on this journey to the heart of the Middle East.