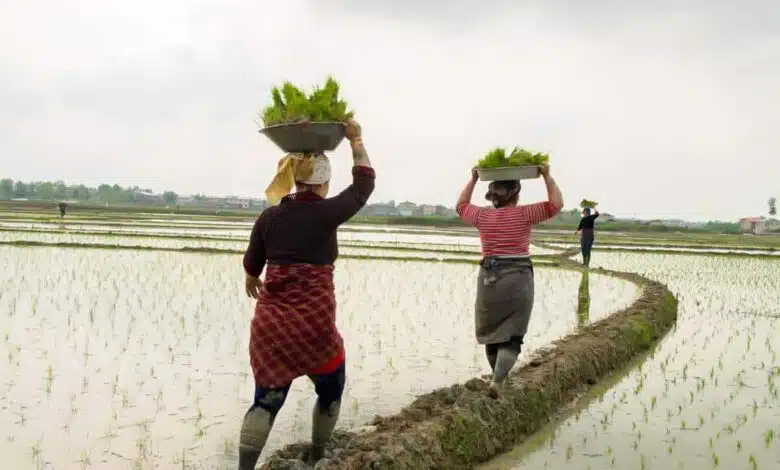 Gilan, the land of jungle and rain, rice and silkworm, the bed of roaring rivers and the growing area of ​​violets, primroses, water lilies, the habitat of swans and ducks and thousands of eye-catching plants and countless other beauties. A land full of life and full of vitality, whose magical nature is not only a source of activity and hard work but also an inspiration for serenity and energizing thought and creativity.
Gilan is one of the northern provinces of Iran, which supplies the best varieties of Iranian rice. Due to the valley and plain areas and the mild, humid climate, this province is suitable for cultivating the best types of this product.
Annual rice transplantation
Every year, from late April, rice transplantation in the paddy fields of Gilan begins. Transplanting is one of the stages of rice cultivation, in which rice seedlings (sprouts) that have been previously prepared in the treasury are planted in the ground by farmers.
Gilan, with 238,000 hectares of rice fields, is the largest producer of local and high-quality rice varieties in the country, which ranks first in the country in terms of cultivated area and second in production. "Hashemi", "Ali Kazemi", "Sadri", "Hasani" and "Dilmani" cultivars except for qualitative cultivars and "Khazar", "Shirverdi", "Anam", "Rash", "Gohar" and "Jamshid Jo" cultivars. It is also one of the high-yielding varieties cultivated in the paddy fields of Gilan.
The most cultivated varieties of rice in this province are the Hashemi and Ali Kazemi varieties, which comprise more than 85% of Gilan's rice production. Most of the rice fields in the province are located in the cities of Rasht and Someh Sara. Rice harvesting starts in late June.