Culture
Food
Iran Tourism
All About Rice in Iran: History, Cultivation and Traditional Iranian Rice-Based Foods
History, Cultivation and traditional Iranian rice-based foods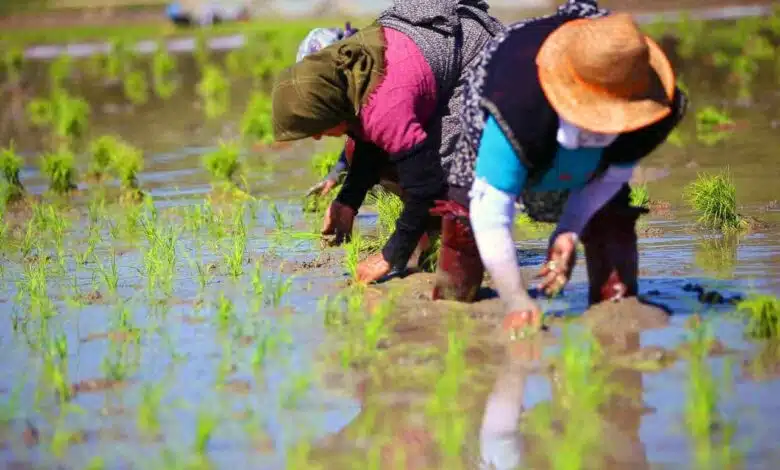 With the arrival of spring, the process of cultivating rice in the coastal plains of Gilan and Mazandaran Provinces begins.
Rice plays an undeniable role in Persian cuisine. Go to a Persian restaurant and you will be hardly able to order a meal without rice. Although it was traditionally the major staple item in northern Iran and bread was considered the dominant staple in other parts, nowadays a rice-based diet is widely used throughout the whole country.
The variety of rice types and also the cooking methods in Iran seems unbelievable. You can find specialist shops (specifically in the northern cities) which sell nothing but rice. Moreover, it is not only the type and quality of the rice that matters, but the age of it is also so important! According to Iranian people, it is better to store rice for at least a year before using it. They even have a special method for rice making which is totally different compared to other rice-loving nations. In this article, we'll take you on a journey to explore this famous ingredient in Persian diet.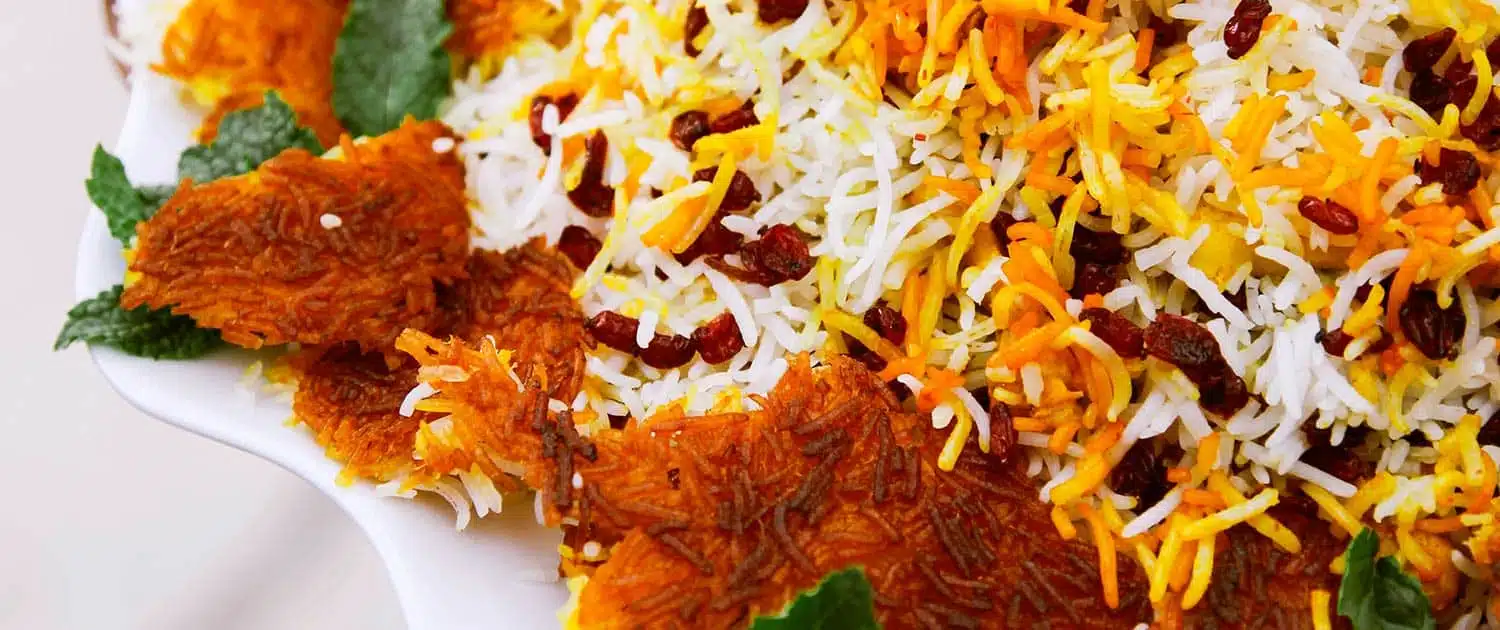 History of Rice in Iran
There is no exact information about the precise era in which rice was introduced along the Caspian shore and the Iranian cuisine, but we know that it was not widely grown in the country before the Islamic period. One evidence comes from the fact that there is no word for rice in Avesta. The farming of rice reached Iran from southeast Asia and India. It was a specialty of the Safavid empire's royal household cuisine at first and became a major part of Iranian cookery by the end of the 16th century. Before that, during the 7th-13th centuries, rice was cultivated in Azerbaijan, Fars, Khuzestan and most importantly, the Caspian provinces, the very regions that are still the main areas of rice production.
Rice Paddies of Iran
As mentioned above, rice is mainly produced in the northern part of Iran, where the fields are located near the Caspian Sea. Gilan is the most important province in this regard, considering the fact that 52% of farmlands in this province are paddy fields. This number is about 16% in Mazandaran province, 3% in Fars province and less than 1% in the rest of the country.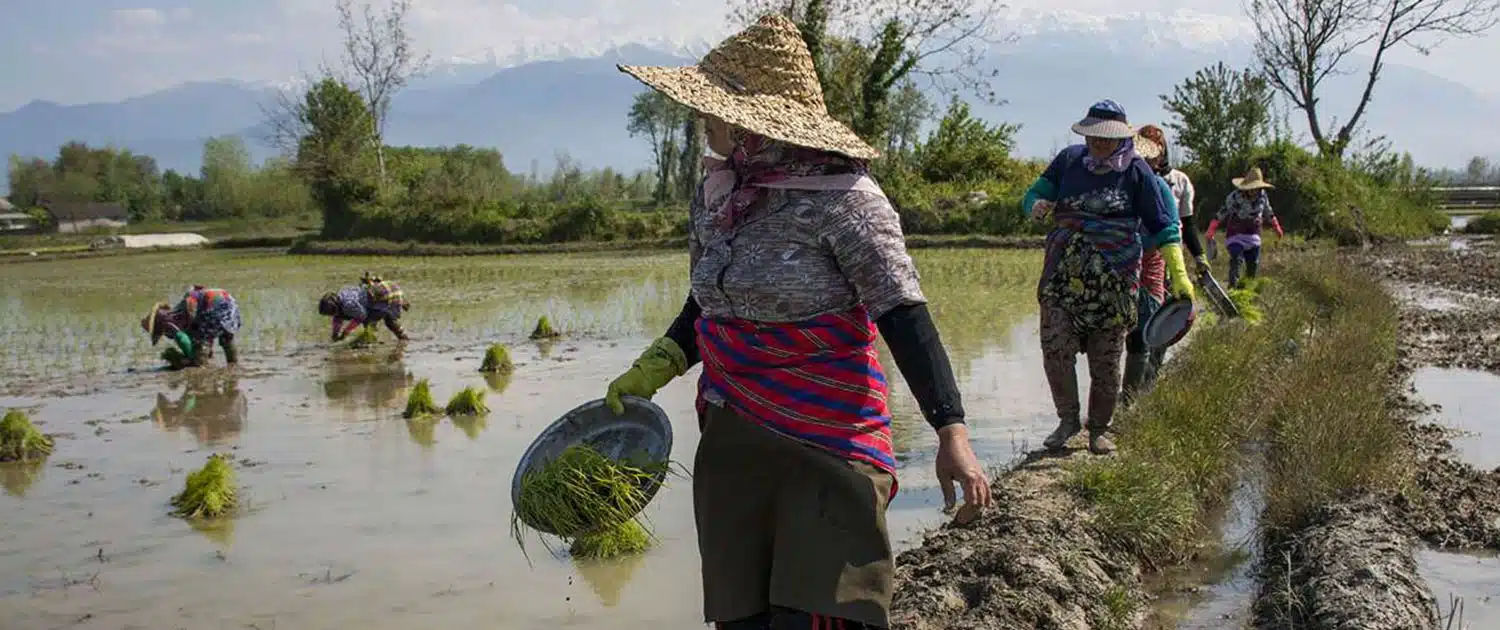 Gilan yields about 50% of the national harvest and the process of cultivating rice in this province commences in late March. The peak period of the job is around April and May. The tough and exhausting labor of rice cultivation is mainly done by women in this region and you'll see them working hard in the paddy fields wearing their colorful traditional clothes.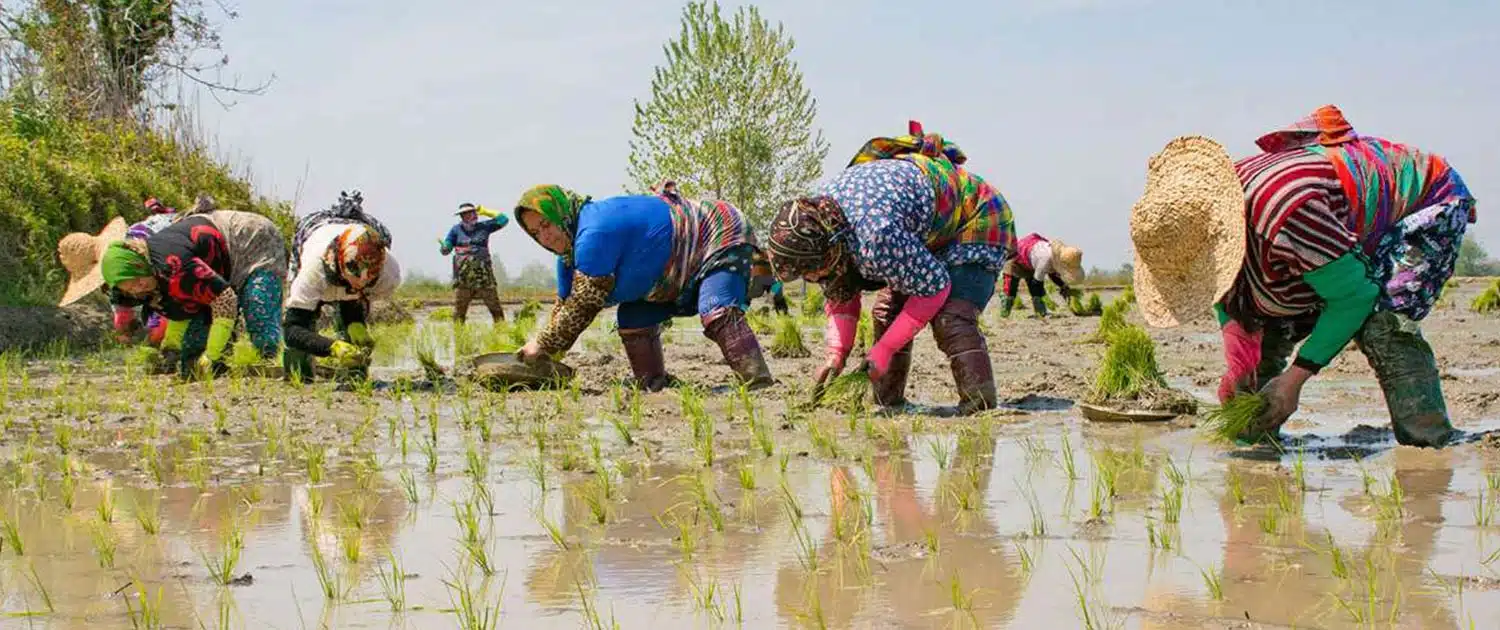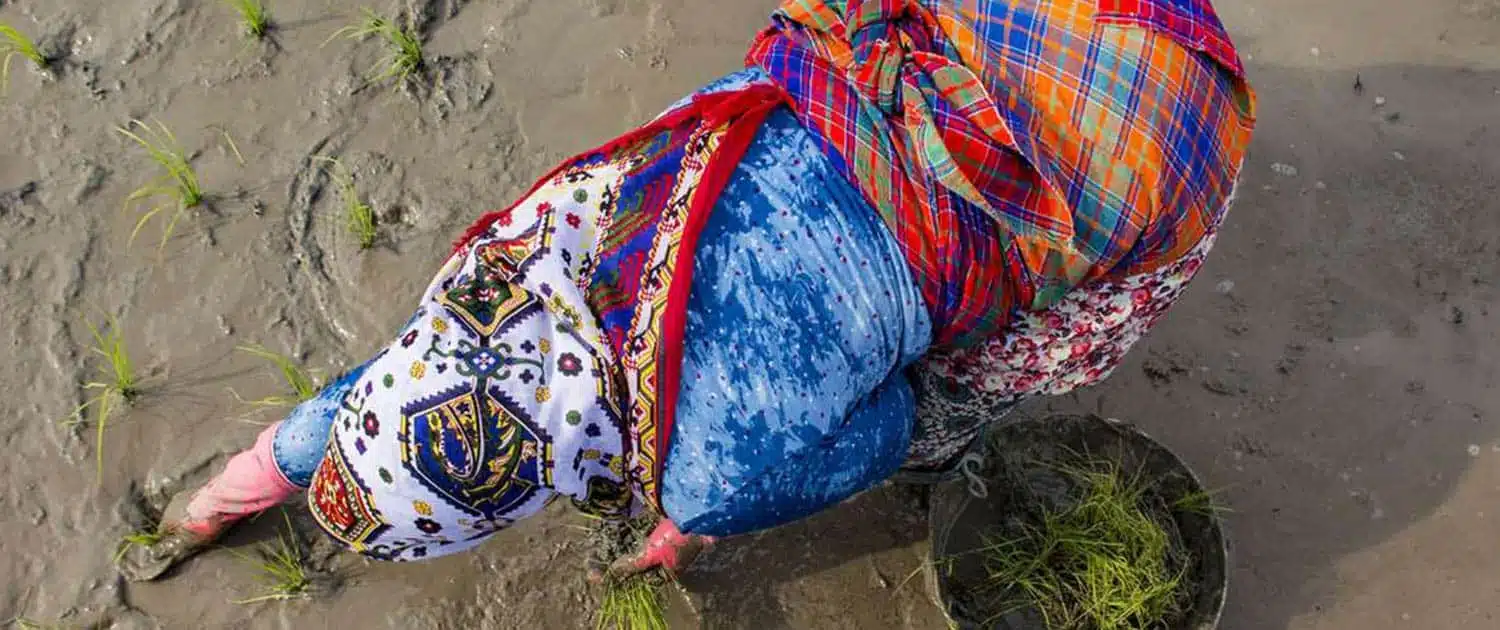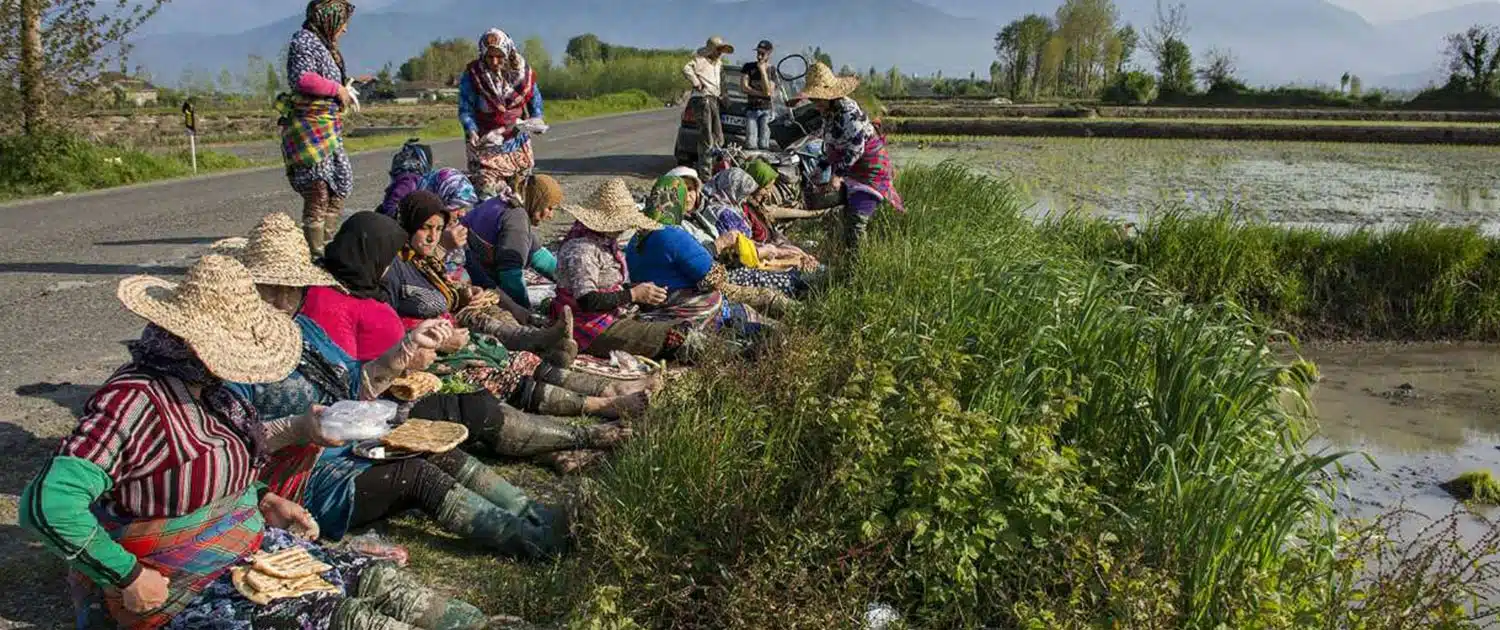 Making rice like an Iranian!
There are different types of rice in Iran such as Gerde, Domsiah (literally meaning black-tail, because it's black at one end), Champa, Doodi (smoked rice), Lenjan and Tarom. Cooking methods also differ depending on the food type or the occasion in which the food is going to serve. Rice cooking method in Iran includes 3 primary procedures named Polow and Chelow (that is when rice is soaked in salted water and then is boiled. Chelow is plain rice served as an accompaniment to a stew or kebab, whereas Polow is rice mixed with something), Kateh (traditional dish of Gilan which is when rice is cooked until the water is absorbed completely) and Dami (which is similar to Kateh but is cooked along with other ingredients such as grains and beans).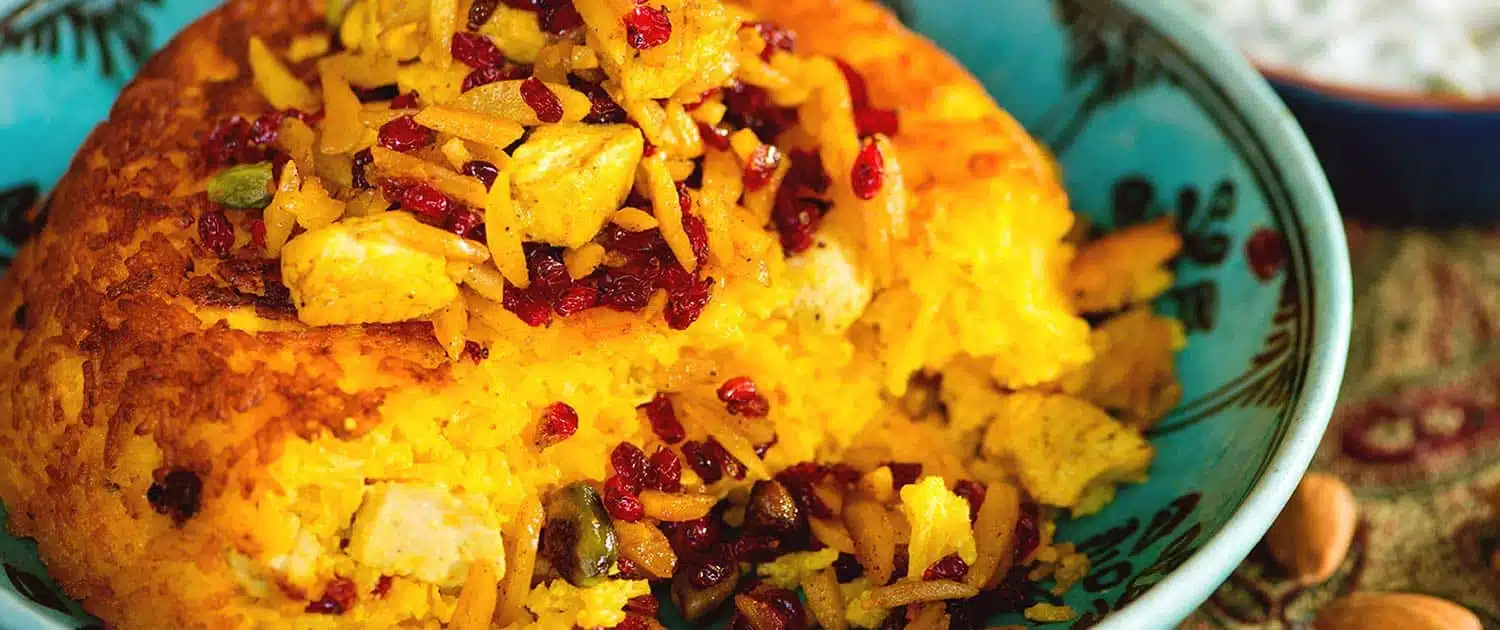 Iranians normally cover the rice with Damkoni (a fitted fabric pot-lid cover) to prevent the vapor from escaping while steaming.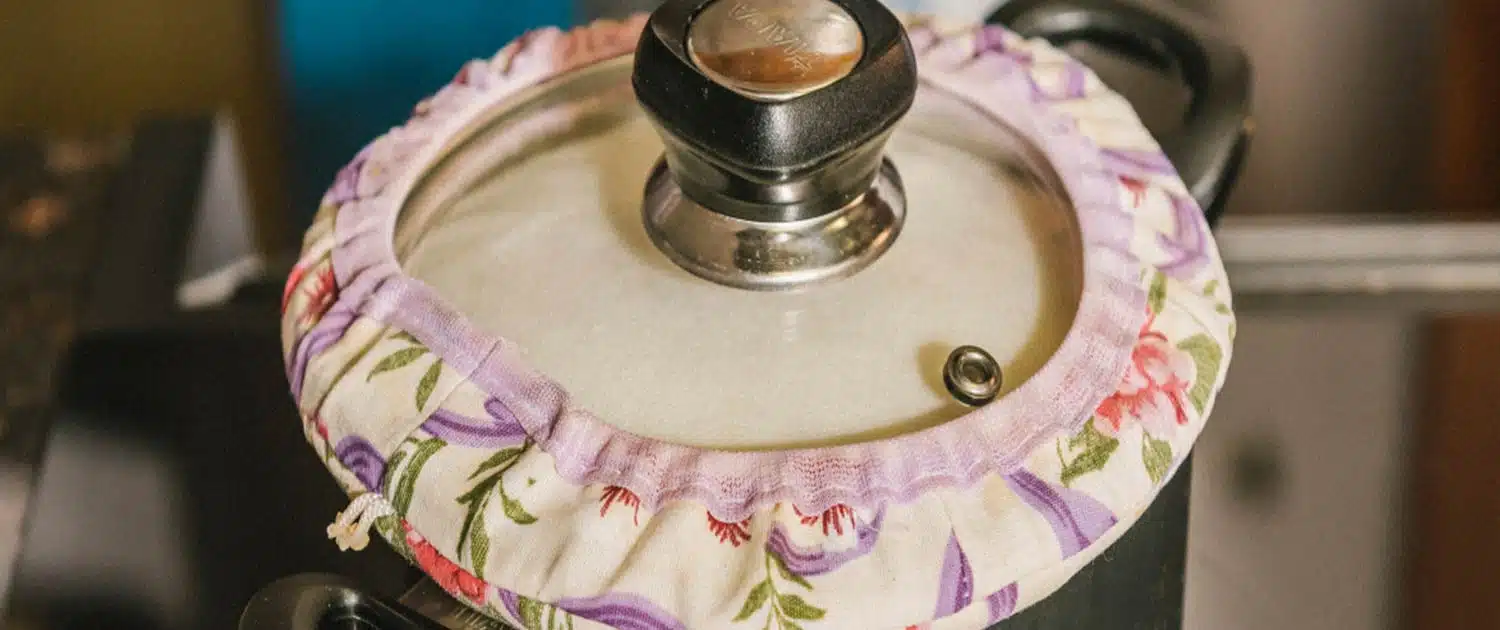 The other component that makes Iranians' method unique is the golden, crunchy-crisp layer at the bottom of the pot which is called Tah-Deeg(Tah in Farsi means bottom and Deeg is a pot, so it literally means the bottom of the pot!). Persians make several variations of Tahdeeg using thin flatbread, potato and even fresh leaves of Romaine lettuce or grape leaves.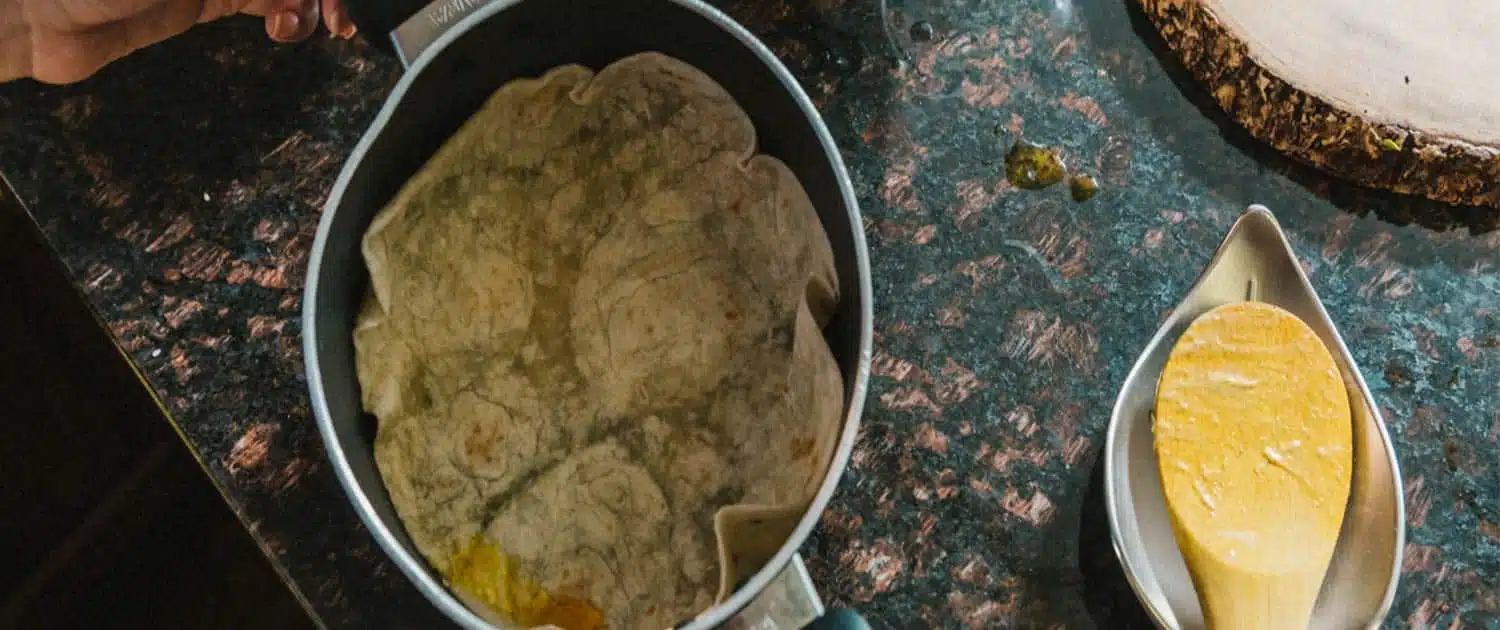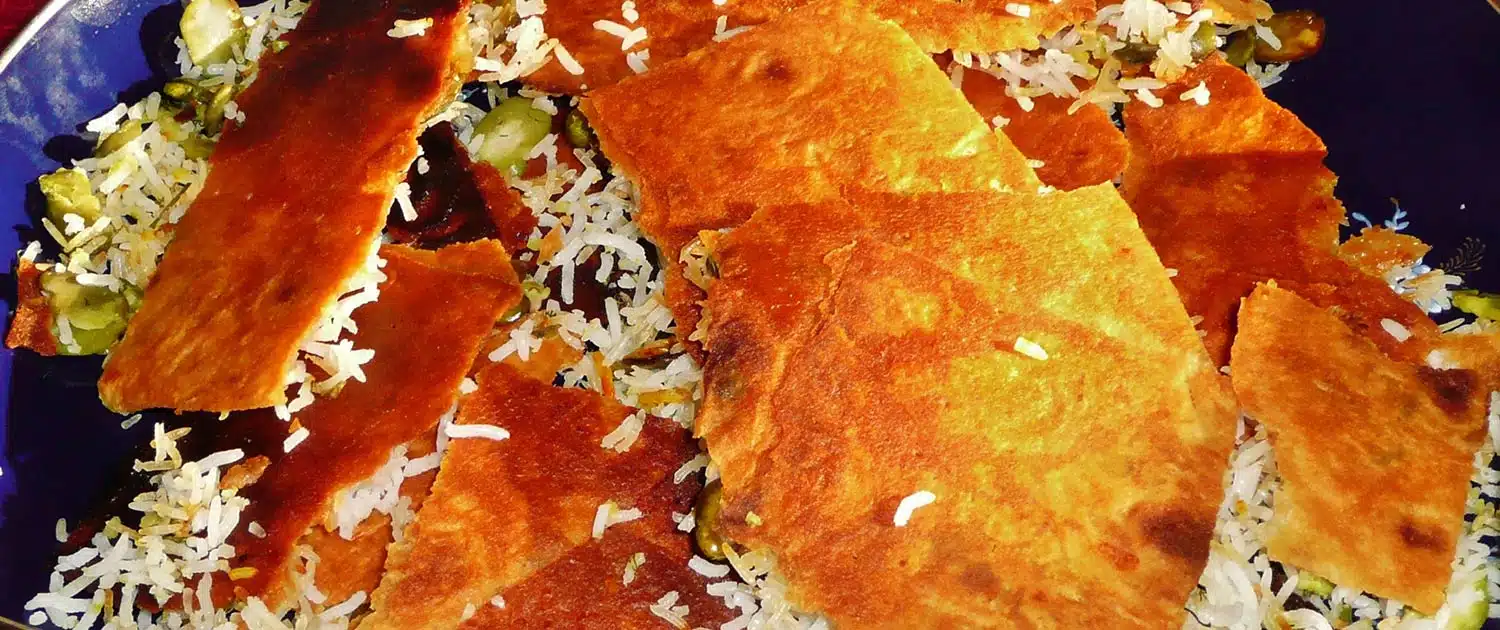 Iranian rice-based Foods
Many Iranian dishes consist of rice, as an accompaniment of another meal or as the main ingredient. The most famous ones are Baghali Polow ( rice mixed with fava beans and served with lamb shank or chicken), Sabzi Polow (or herbed rice, scented with dill, mint, and other soft herbs, along with saffron), Zereshk Polow (rice mixed with barberries and saffron and served with pieces of cooked chicken), Tahchin( rice mixed with yogurt, egg, and saffron and served with chicken, orange peels, pistachios and almonds) Lobia Polow (rice mixed with green beans, beef, tomato paste, and fried onion) and Adas Polow ( rice mixed with lentil).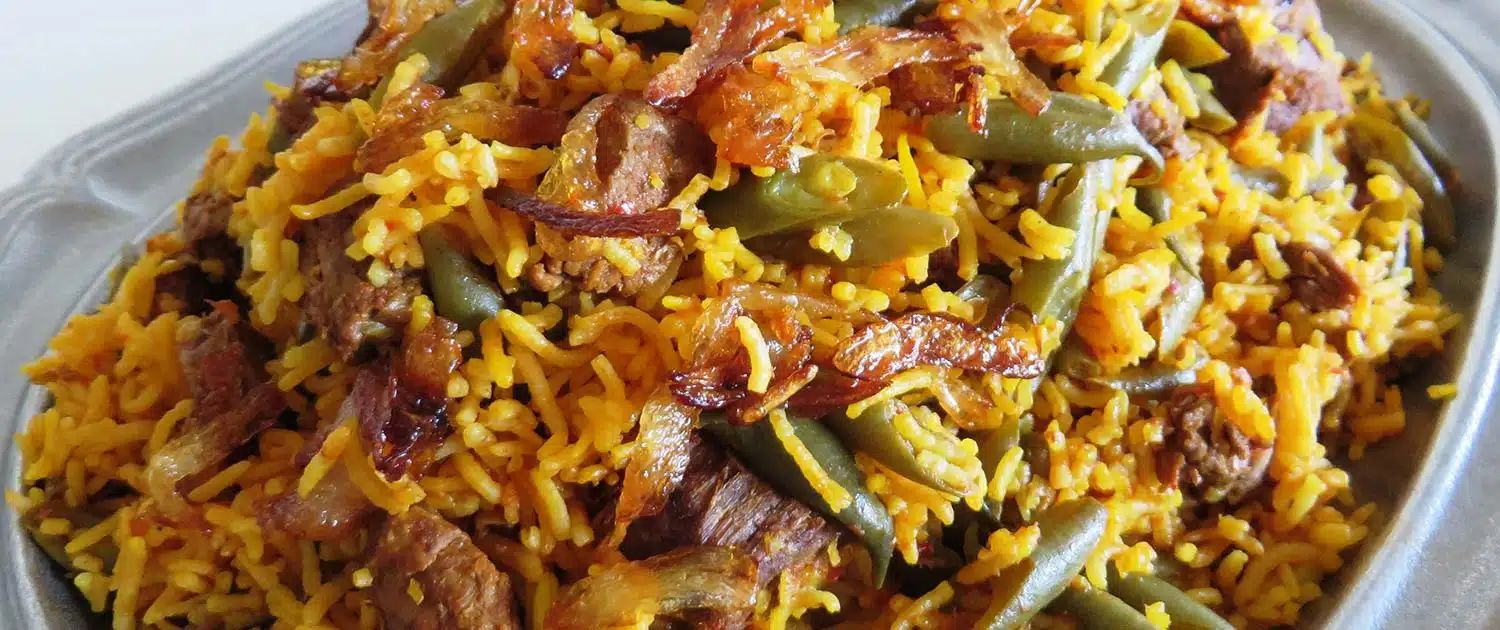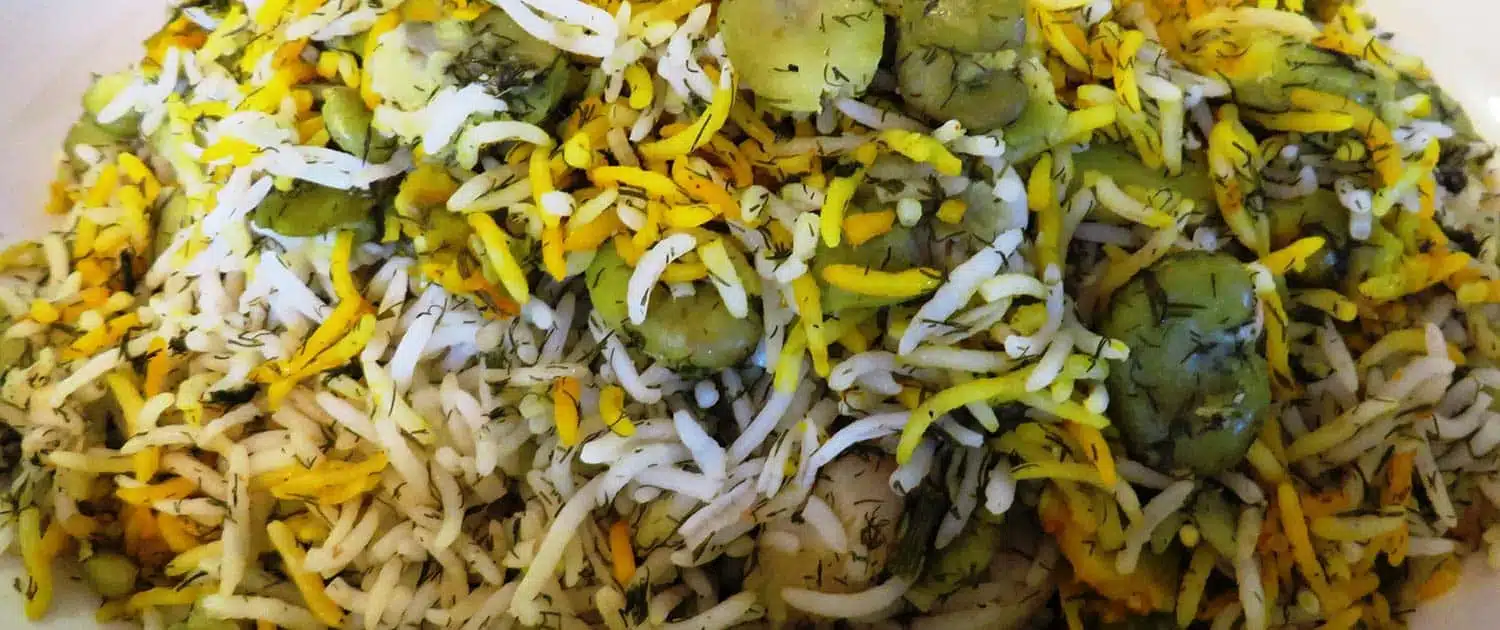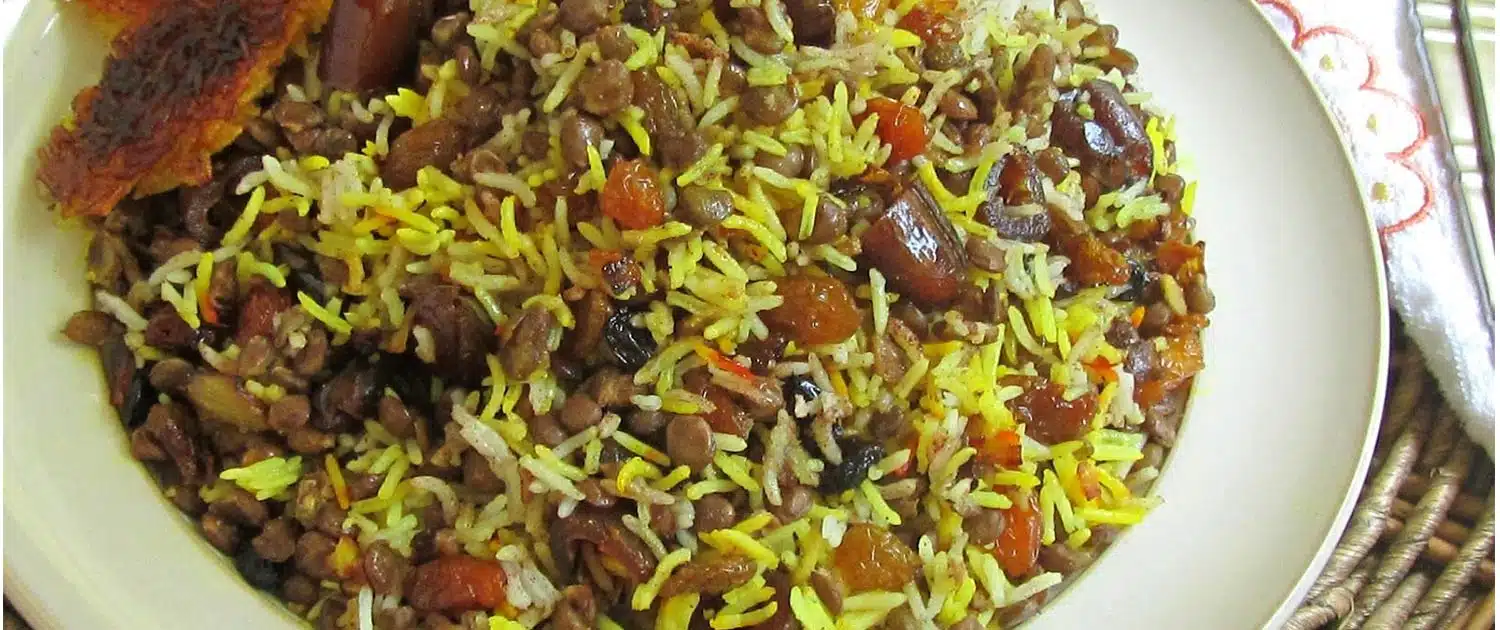 There is also a group of stuffed vegetable dishes called Dolmeh which is also very popular in Iranian dishes which have rice as one of their main ingredients. Common vegetables for stuffing include eggplant, tomato, lettuce, cabbage, capsicum, and grape leaves. The filling usually consists of soaked or parboiled rice, spices, and minced meat.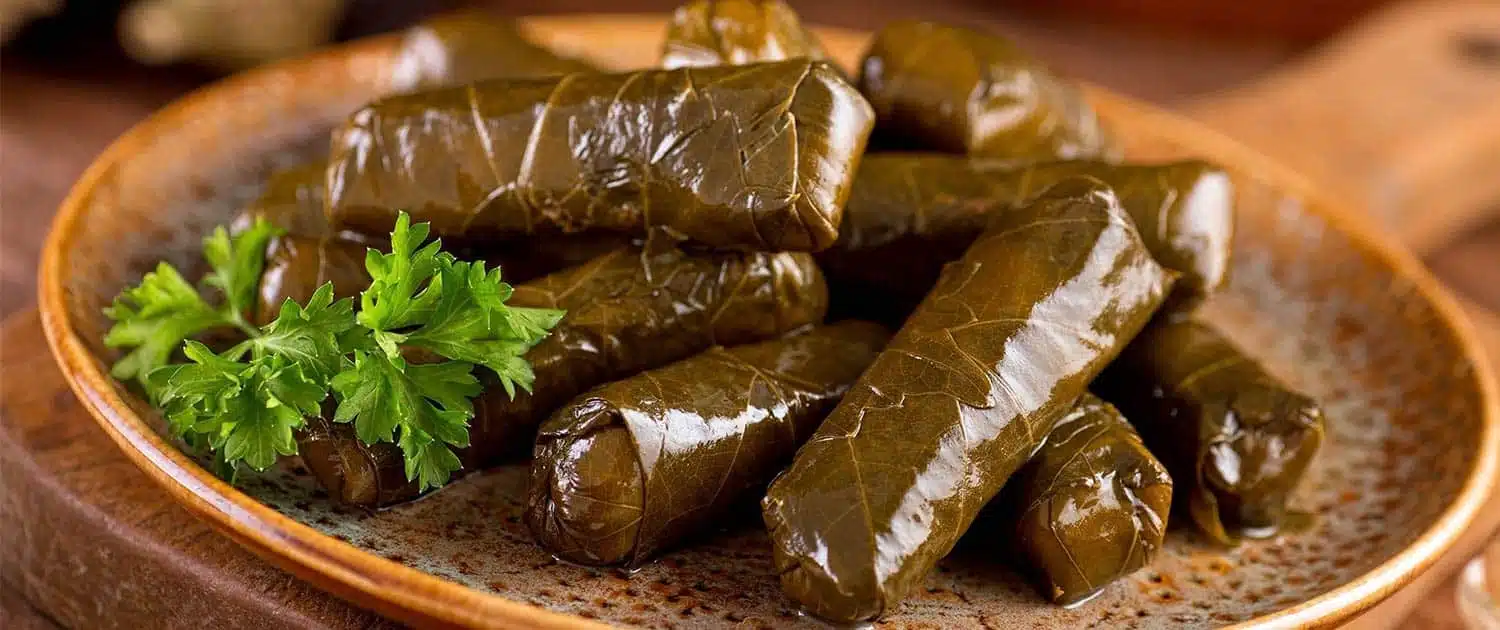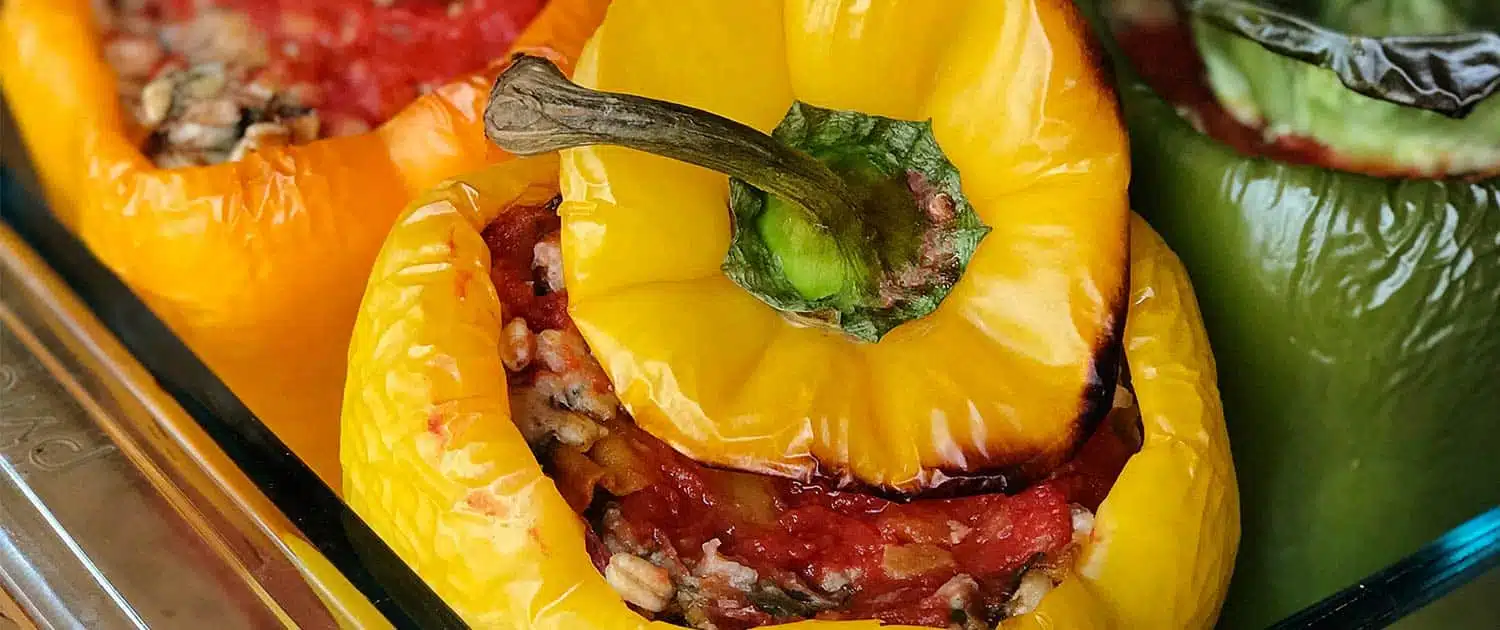 Another famous meal is Kofteh whose ingredients are similar to those of Dolmeh but are cooked and served in different shapes and styles and some provinces have their special version of it.