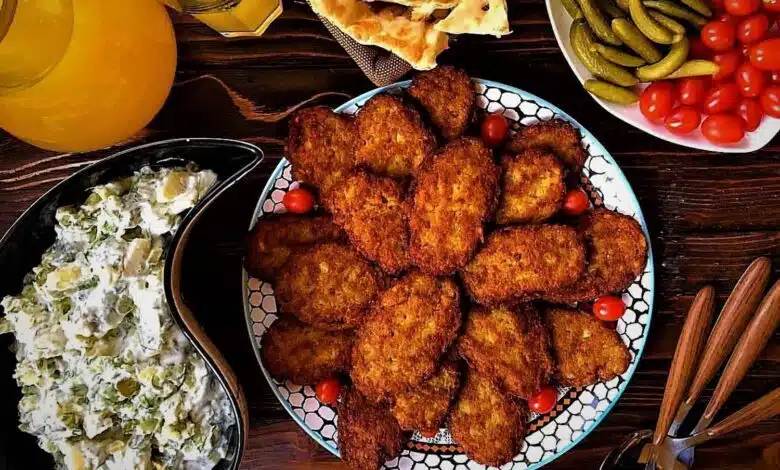 Although some tourists may complain about the lack of diversity in Iranian dishes, Persian cuisine is so rich and there are variety of choices you can make during your trip to Iran.
"Why all restaurants in Iran only serve different types of kebabs and nothing more?" That's a common complaint we hear all the time from the tourists who visit Iran. The reason is not because of the lack of diversity in Iranian meals. In fact, there are hundreds of different dishes in Persian cuisine with pleasant flavor and tastes and you have variety of options to eat in this country. However, most of these dishes were traditionally being prepared only at homes and certain types of foods such as kebabs were served in restaurants. That's why you normally see different types of kebabs on Iranian's menus and nothing more.
However, if you are a traveler in Iran, chances are that you get invited into locals' homes to have a meal together and besides, recently more and more restaurants are trying to serve different types of traditional Iranian foods . So, let us explore together the most famous Iranian meals to have a better outlook on what you can taste while in Iran. If you try them, you would probably love Persian cuisine, if you don't already!
1. Ghormeh Sabzi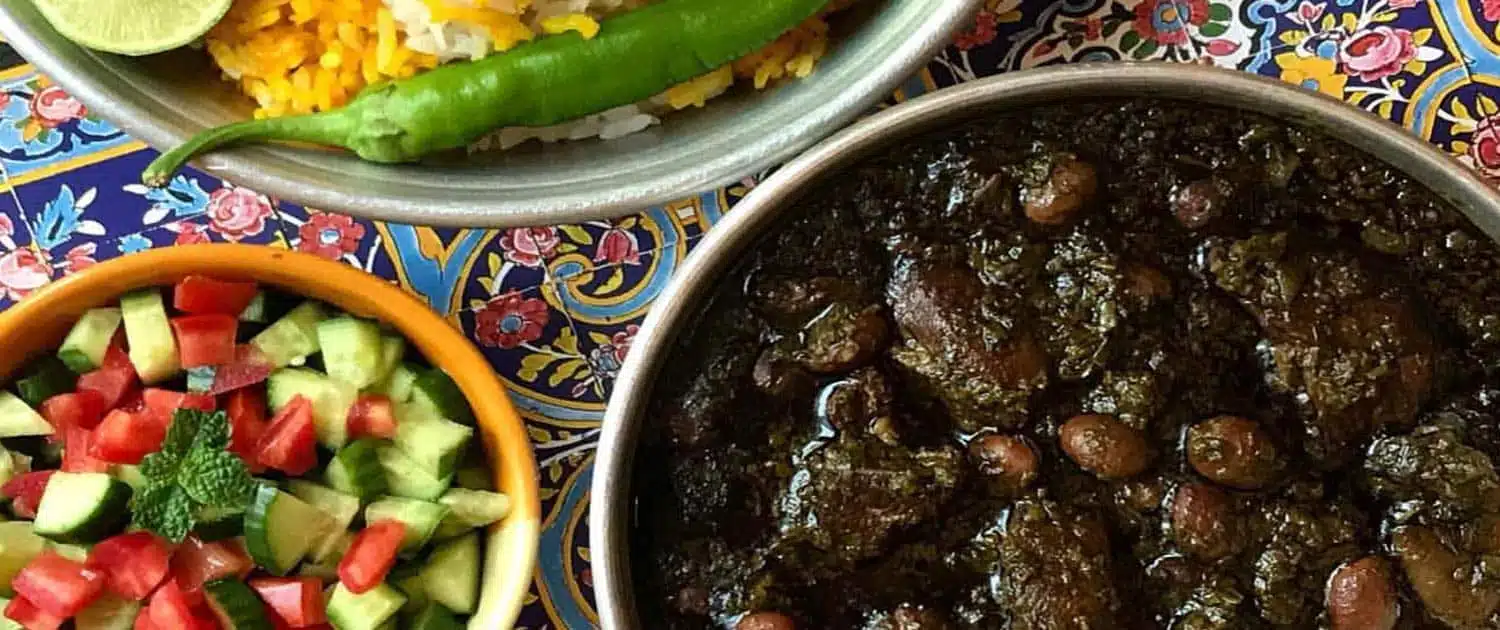 You can hardly find an Iranian who claims not to love Ghormeh Sabzi. It is among the most famous and popular stews in Iran and is prepared in every Iranian house once or twice a week and each family has its own tips and tricks to make it more delicious! Ghormeh Sabzi in in fact the lamb stew with herbs and beans and takes about 4 to 5 hours to get prepared, but we assure you, the effort will well worth it!
Ingredients
250 g/9 oz canned red kidney beans (drained weight), (or 150 g/5 oz dried red kidney beans)
500 g/1 lb 2 oz lean leg of lamb
2 medium onions
4 cloves of garlic
1 small chilli (optional)
5 dried limes (p. 21)
150 g/5 oz spinach
100 g/3½ oz chives
150g/5 oz parsley
100 g/3½ oz fresh coriander/cilantro
4–5 tablespoons vegetable oil
2 teaspoons turmeric
1 litre/1¾ pints boiling water
4 tablespoons dried fenugreek
2 tablespoons powdered dried
lime (p. 21)
salt and black pepper
juice of 1 lemon (optional)
30 g/1 oz butter
2. Gheymeh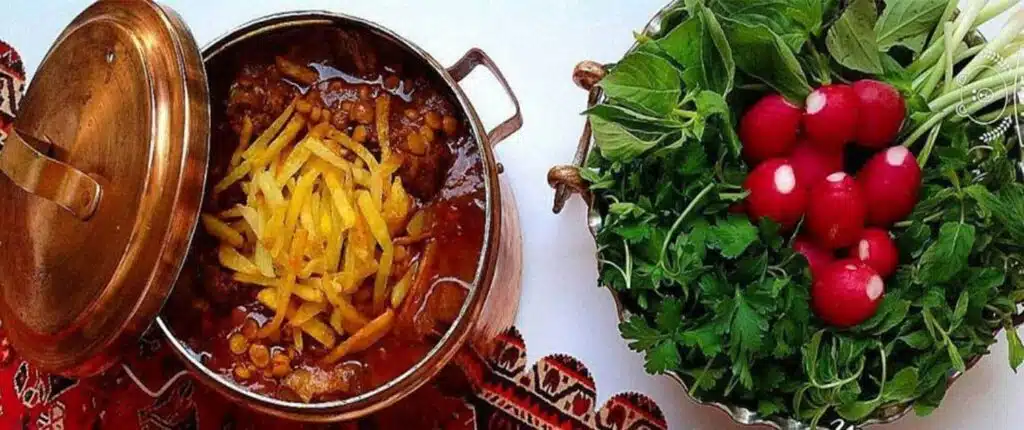 It is another Persian stew which is as popular as Ghormeh Sabzi. When you ask Iranian people about their favourite food, they often choose one of these two stews! Gheymeh literally refers to any meat that is cut into cubes and the stew is usually made of diced meat, yellow split peas tomato paste, sun dried lime and saffron. You can serve it either with fried potato or fried eggplant. In both cases, the result would be a fantastic dish!
Ingredients
100 g/3½ oz. yellow split peas
1 medium onion
4 dried limes
300 g/11 oz. leg of lamb
50 g/2 oz. butter
4 tablespoons vegetable oil
2 teaspoons turmeric
2 teaspoons powdered dried lime
Salt and black pepper
1 litre / 1¾ pints boiling water
1 tablespoon tomato purée/tomato paste
2 tablespoons lemon juice
2 tablespoons liquid saffron
3. Fesenjan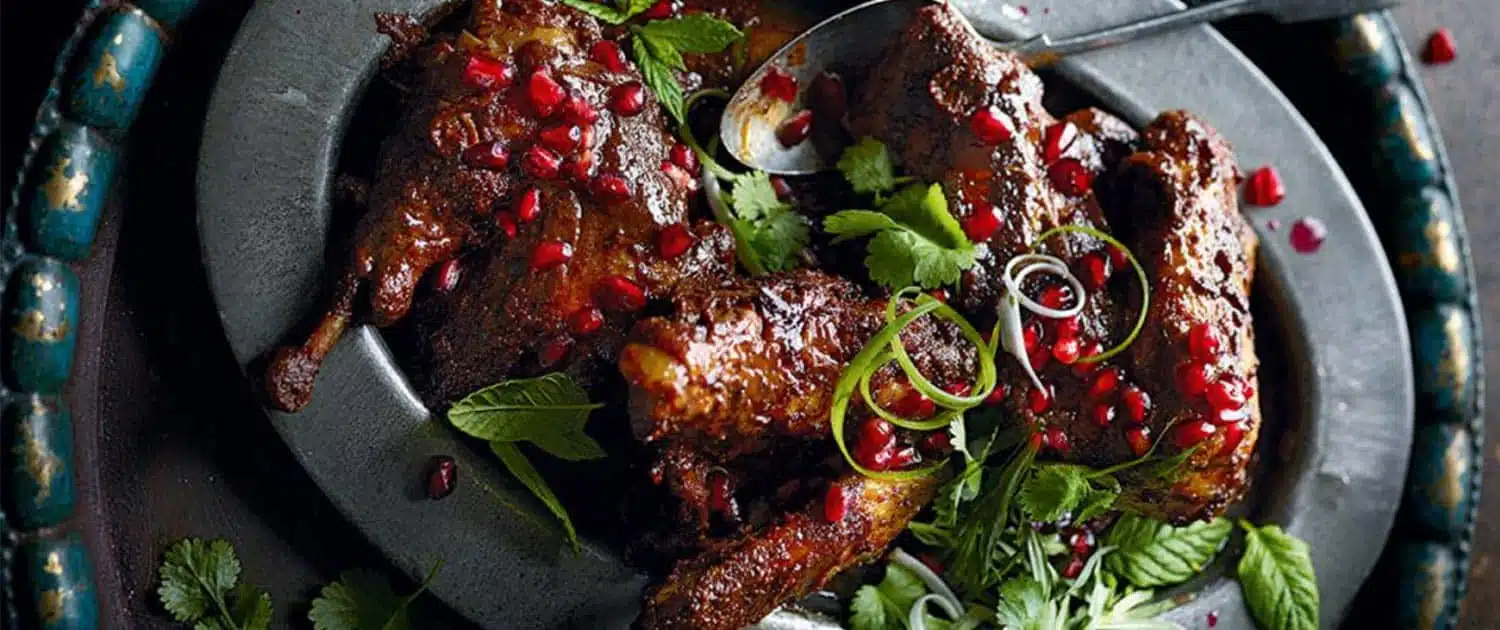 Fesenjan is a cliché Iranian food, loved by almost every Iranian! You would see it as a main dish is many family ceremonies as it is so popular and delicious. Although its appearance may not reveal, it has a great taste and just like Ghormeh Sabzi, different version of it is made by Iranian families. Some may prefer it sweet, some sour and others sweet-and-sour! Fesenjan is a stew made of chicken or duck, pomegranate molasses and ground walnuts. The result would be a fantastic dish served along with rice!
Ingredients
2 tablespoons olive oil
1 1/2 pounds chicken legs, cut up
1 white onion, thinly sliced
1/2 pound walnuts, toasted and finely ground in a food processor
1 teaspoon salt
4 cups pomegranate juice
1/2 teaspoon cardamom (optional)
2 tablespoons sugar (optional)
4. Kotlet (Persian Kutlet)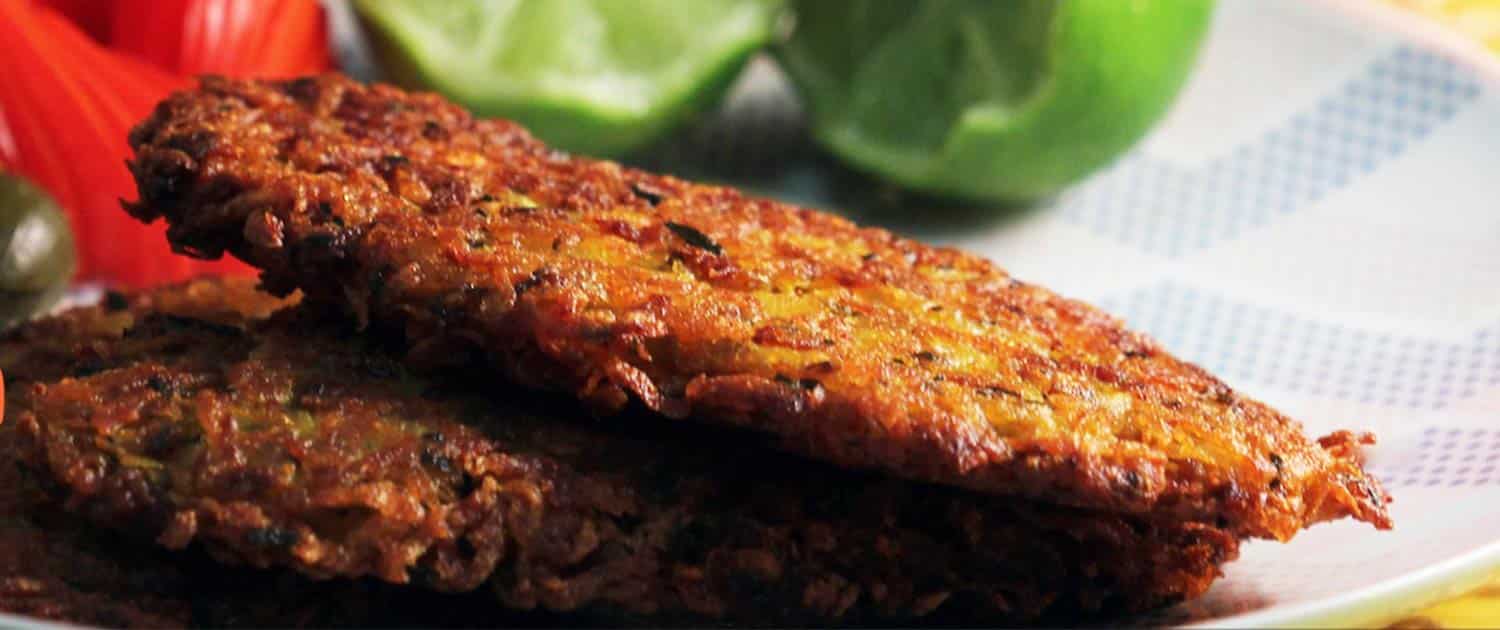 Although this food is not only prepared in Iran, the Persian version of it is so delicious and is loved by most Iranian people! Kotlet can be served either warm or cold and plain or with bread. This food is made of minced meat, potato, egg and onion mixed with different spices and fried in a pan. A good Kotlet is normally crispy on the outside and juicy in the inside! It is usually a delicious dinner that also makes great leftovers for the next day's meal!
Ingredients
700 g/1½ lb potatoes
1 large onion
30 g/1 oz fresh herbs (coriander/cilantro, parsley, chives, mixed or singly)
350 g/12 oz lean minced/
ground beef
2 teaspoons turmeric
1 large egg
salt and black pepper
4 tablespoons plain/all-purpose
flour mixed with 1 tablespoon
turmeric
vegetable oil for frying
5. Kuku Sabzi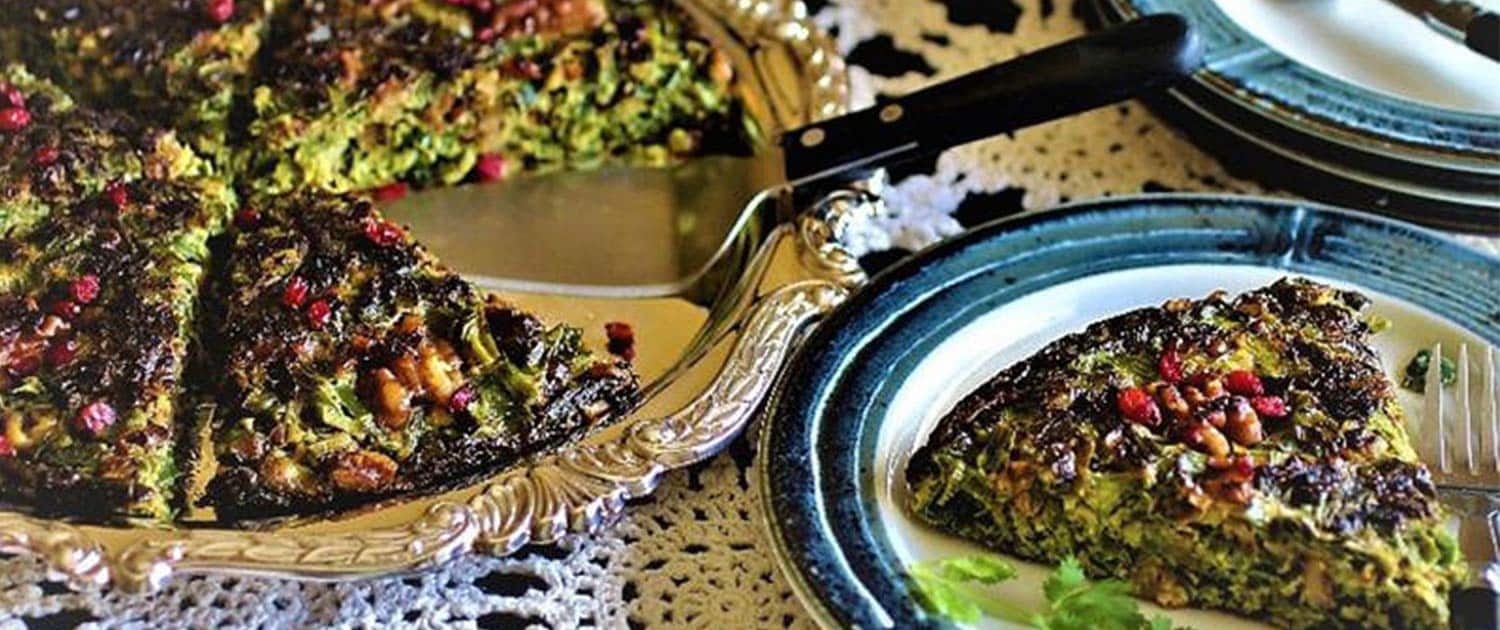 This is another delicious meal that normally is served for dinner. Kuku Sabzi is a green-hued omelet made of fresh herbs including parsley, spring onion, scallions and spinach mixed with eggs, walnut and dried barberry. Although Kuku sabzi is made for Nowrooz- Iranian new year- and served with fried fish, it is an everyday meal, too. This dish would be a great option for vegetarians or people who like healthy, simple foods.
Ingredients
4 cups sliced garlic chives (nira or tareh), or green parts of scallions
¾ cup chopped fresh cilantro
½ cup chopped fresh dill
6 large eggs
2 TBSP Greek yogurt
1 TBSP flour
¾ tsp baking powder
½ tsp salt
½ tsp rice spice
½ tsp turmeric
¼ tsp freshly cracked black pepper
Pinch of ground cayenne pepper
¾ cup walnut halves
2 TBSP zereshk (barberries) optional
3 TBSP vegetable oil
1 TBSP unsalted butter
Optional garnish: 6 walnut halves
6. Ash Reshteh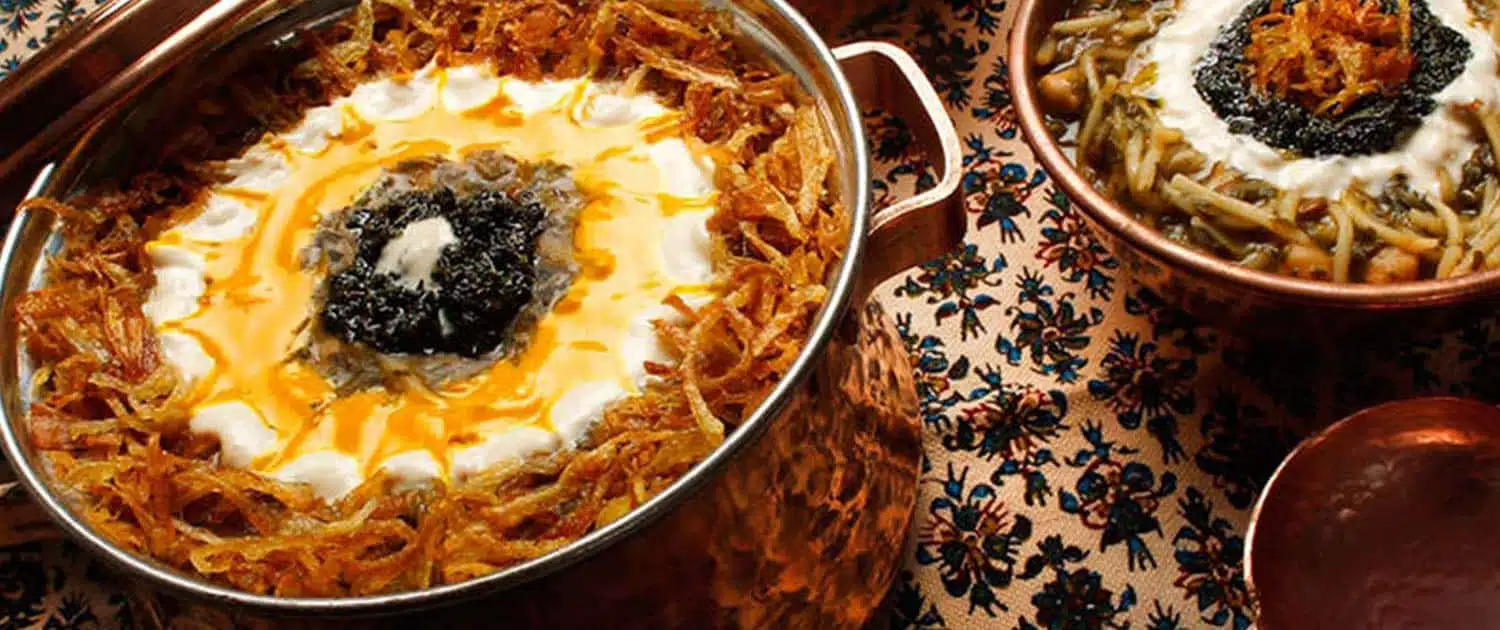 This traditional soup dish which is generally served in winter, is one of the most popular foods in Iran. It is a dish which remind Iranian people of their grandmothers' heavenly cookery! Ash Reshte is a mixture of chickpeas, beans, noodles and plenty of herbs and it takes a while to get prepared. People normally serve it along with fried onion and mint.
Ingredients
¼ cup dried chickpeas
¼ cup dried white beans, such as navy or cannellini
Fine sea salt and freshly ground black pepper
2 pounds spinach
1 pound cilantro (about 3 large bunches)
1 pound Italian parsley (about 3 large bunches)
2 large bunches dill
1 large bunch chives
About 20 large fresh mint leaves
6 tablespoons plus 1/3 cup extra-virgin olive oil
2 large yellow onions, 1 finely chopped and 1 thinly sliced
2 garlic cloves, minced
1 cup dried green or brown lentils
½ teaspoon ground turmeric
2 quarts chicken or beef stock (preferably homemade), or water
1 ½ cups liquid kashk (Persian sun-dried yogurt or whey), plus 1/2 cup, for serving
8 ounces reshteh (Persian soup noodles)
1 tablespoon dried mint
7. Salad Olivieh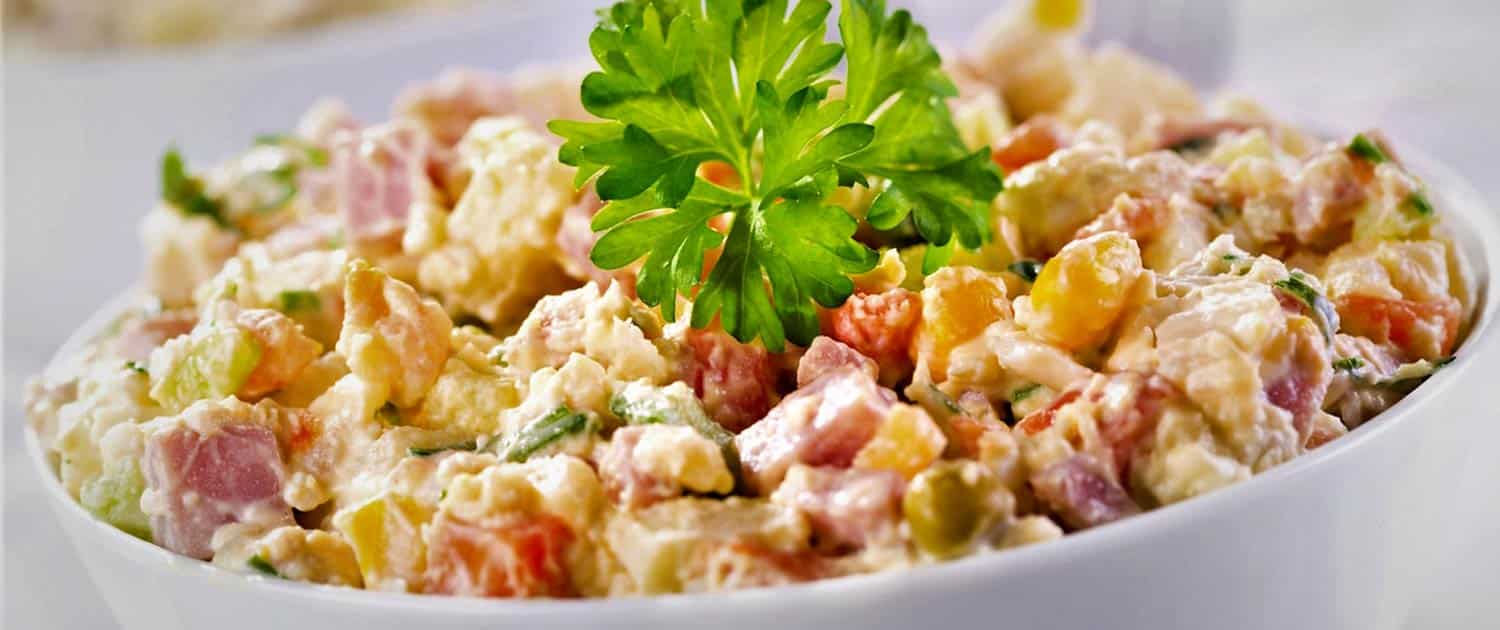 Although the original recipe comes from Russia, Salad Olivieh is one of the most popular Iranian meals which is normally served for dinner. The ingredients in Iranian version are rather different and mainly consist of shredded chicken, cooked potato and egg, mayonnaise, carrots and lemon juice. Just like Kotlet, it makes great left-over which would be even a great option for a delicious breakfast!
Ingredients
4 medium potato
2 eggs
450 Grams Mortadella Ham, or 2 cups of shredded chicken
2 carrots
6 dill pickles
½ Cups sweet peas
½ Cups sweet corn
2 Cups mayonnaise
2 Tablespoons olive oil
2 Tablespoons lemon juice
black pepper to taste
salt to taste