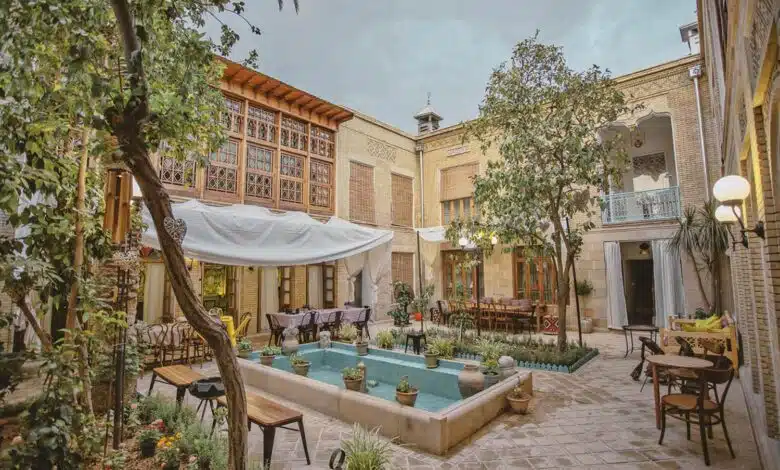 An introduction to some of the Iranian restaurants with the most authentic atmosphere
In this article, we will introduce some of the Iranian restaurants offering a good meal in an authentic and lovely atmosphere.
Many different types of Kebabs, various slow-cooked stews, so many types of desserts and sweets and specific spices and ingredients, have turned Persian cooking to one of the most exciting cuisines of the world!
One of the most exciting parts of a trip to any country is to try the area's regional foods. It gets even more interesting when you travel to a country with a totally different style in combining ingredients and preparing foods. Undoubtedly, Persian cuisine can be a totally new adventure for a foreigner, if he or she has never tried any Iranian dishes before.
You will also have some new options while exploring different cities in this country as the style of cooking varies in each city or region. But despite the food itself, the environment in which the meal is served will also influence your experience.
So, if you are an adventurous eater or you simply seek restaurants with unique atmospheres, join us in this article to know more about the best places to eat while you're in Iran.
Restaurants in Tehran
In a vast city like Tehran, the eating options seem endless. Over the years, many food courts, restaurants and coffee shops have emerged in Tehran and yet, there are a few options which have been- and still are- very popular among the locals.
Our first suggestion for you in Tehran is Dizi Sara restaurant (Map), where only one item appears on the menu! Here you have the chance to try dizi, which is basically the stew of lamb, potato and legumes served along with pickles, yogurt and special kind of bread called Sangak.
Another suggestion is to try Kebab or Tahchin in one of the most traditional atmospheres of Tehran.
Go to Moslem restaurant (Map) or Sharaf Eslami restaurant (Map), located in the heart of Tehran's grand bazaar and enjoy the most authentic Iranian foods in a cozy and unique atmosphere.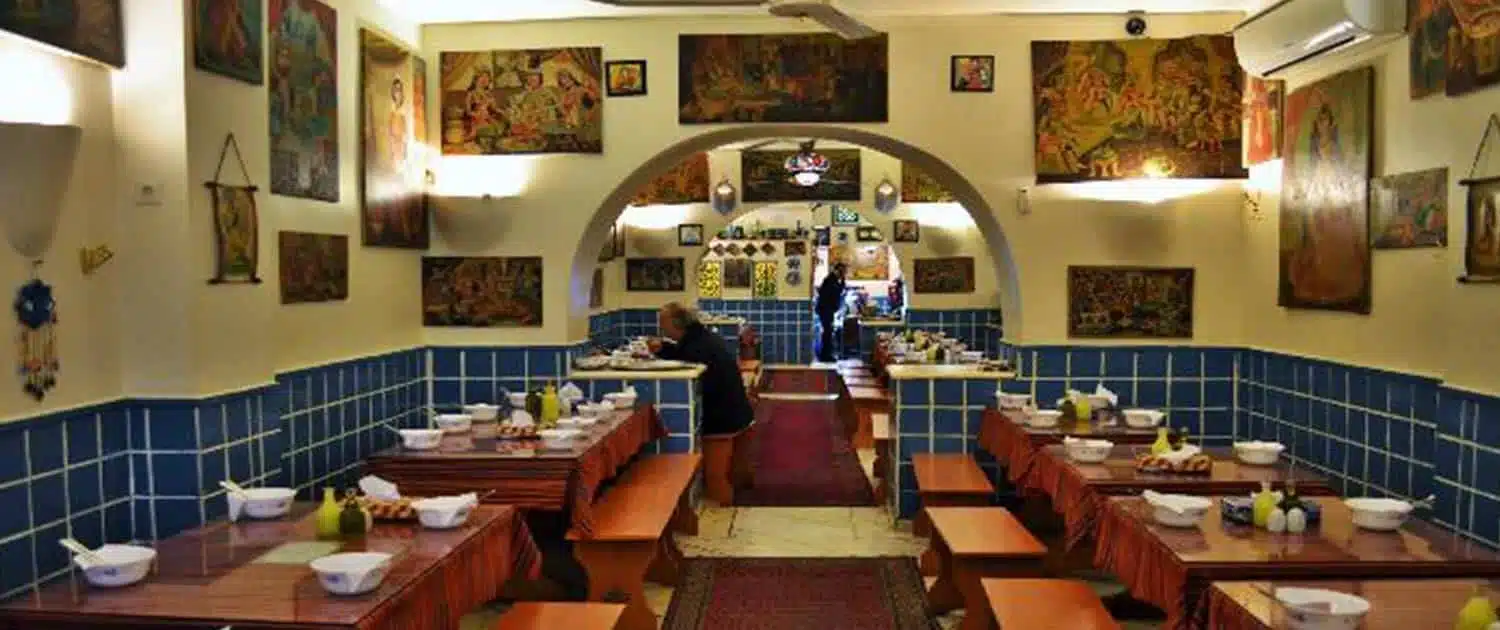 Restaurants in Kashan
The most notable point about a trip to Kashan is its wonderful traditional houses which, over the years, have turned to guesthouses, museums and restaurants. We think that the best option for experiencing an ancient atmosphere is to choose one of them for having a meal!
Abbasi traditional restaurant (Map) will give you the chance to enjoy your food while passing a few hours in one of these old, beautiful houses. Manouchehri house restaurant is another good option for eating in a traditional atmosphere in Kashan.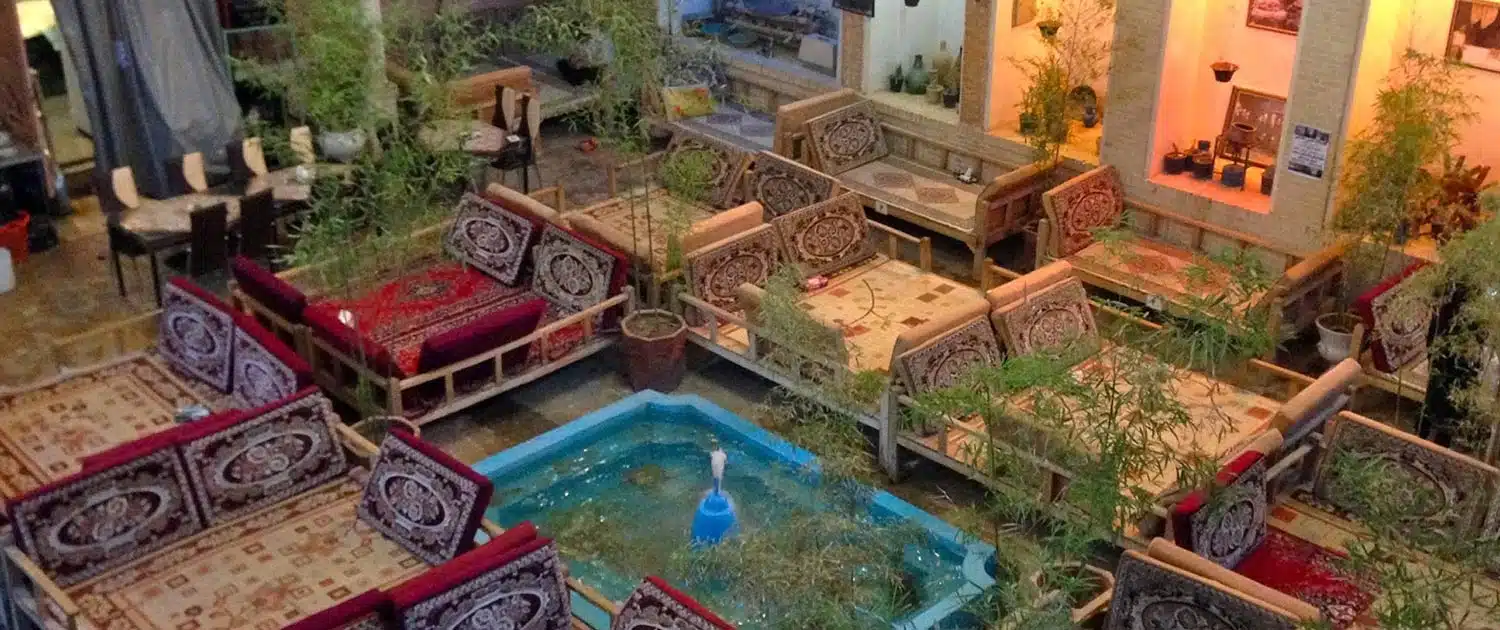 Restaurants in Isfahan
You will have a variety of options to eat in a large, old city like Isfahan and we assure you that most of them will satisfy you.
But, our first suggestion in Isfahan is to try Shahrzad restaurant. Apart from the great meal you will have here, the building itself is a masterpiece and provides a delightful atmosphere with its colorful windows and decorated walls. Please note that the restaurant might be crowded during the weekends and it may take a little while to get in and order your meal.
Traditional Banquet hall located close to Sheikh Lotfollah mosque with its Qajar-style atmosphere can be another good option for having a different experience while you're in Isfahan.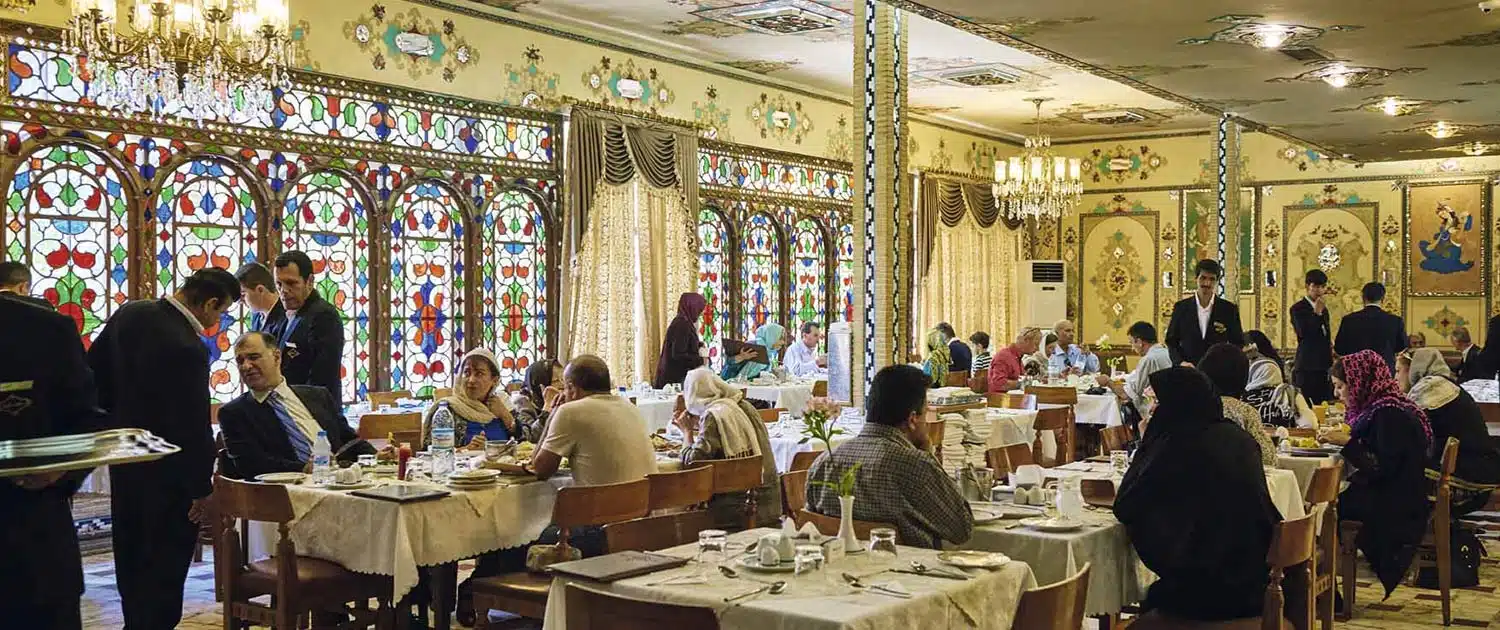 Restaurants in Yazd
In the city of windcatchers, you will visit many beautiful adobe houses which match perfectly the desert ambiance. Located in the heart of the city's winding alleys, Silk Road hotel was, in fact, a traditional adobe house that today, has turned to a hotel and restaurant.
You can try international meals as well as local foods of the city like Shuli or the camel stew in this charming environment. You can also try Dad or Malek-o Tojjar Hotel for having a meal in a very authentic atmosphere while you're in Yazd.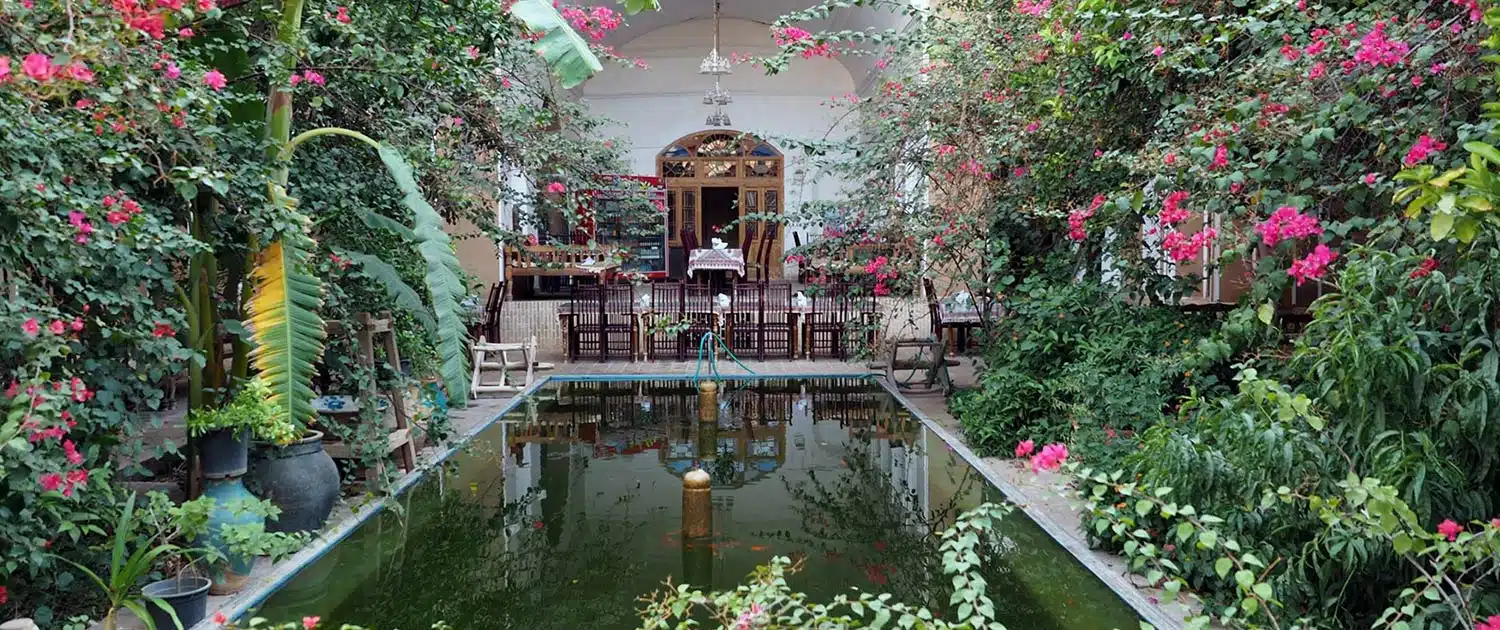 Restaurants in Shiraz
Like almost any city in Iran, Shiraz has some of the most delicious meals to offer. For a great dessert, you should definitely try Faloodeh, but for eating, you have a variety of options.
Soufi traditional restaurant is our first suggestion for trying local foods as well as experiencing a traditional atmosphere. Sharze and Darbe Shazdeh Restaurants are other options you can choose to enjoy a good quality meal in a joyful and beautiful ambient.
But probably Shapouri House will offer you one of the best traditional atmospheres of Shiraz and its gardens.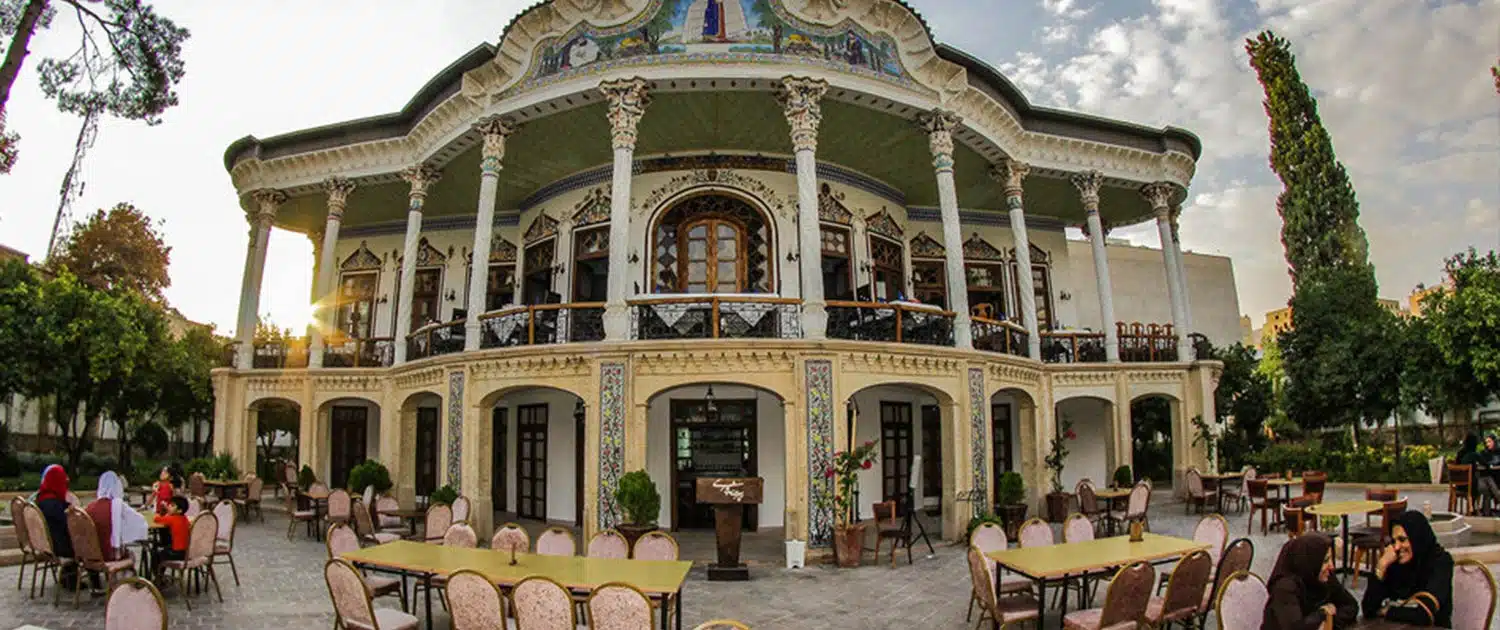 Restaurants in Kerman
Although Kerman is vast and full of eating options, we can't think of any other restaurant than Vakil tea house.
This is a beautifully restored Hamam located in the Grand Bazar of Kerman, where you can try local foods in the heart of Kerman's traditional zone. Keykhosro house and Sindokht traditional restaurant are our other suggestions for you in Kerman which offer a good meal in a delightful environment.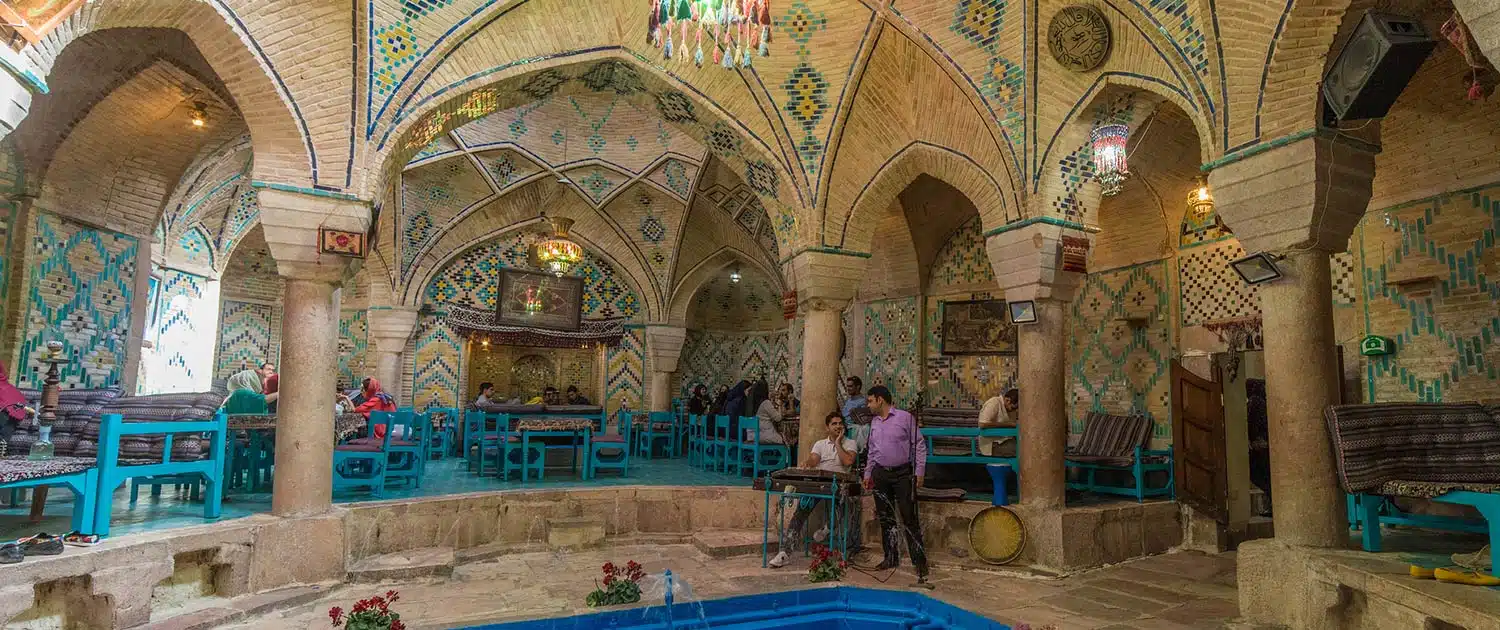 Restaurants in Tabriz
Tabriz is famous for its special gastronomy and delicious foods among Iranian people. While you're in Tabriz, we suggest having a meal in El Goli edifice, which is one of the most important attractions of the city.
Located in the heart of Shahgoli Park, the atmosphere will be truly lovely and delightful. For trying traditional meals, you can go to Berkeh traditional restaurant on your way back from Kandovan historic village or Shazdeh restaurant, both offering high-quality meals in lovely ambients.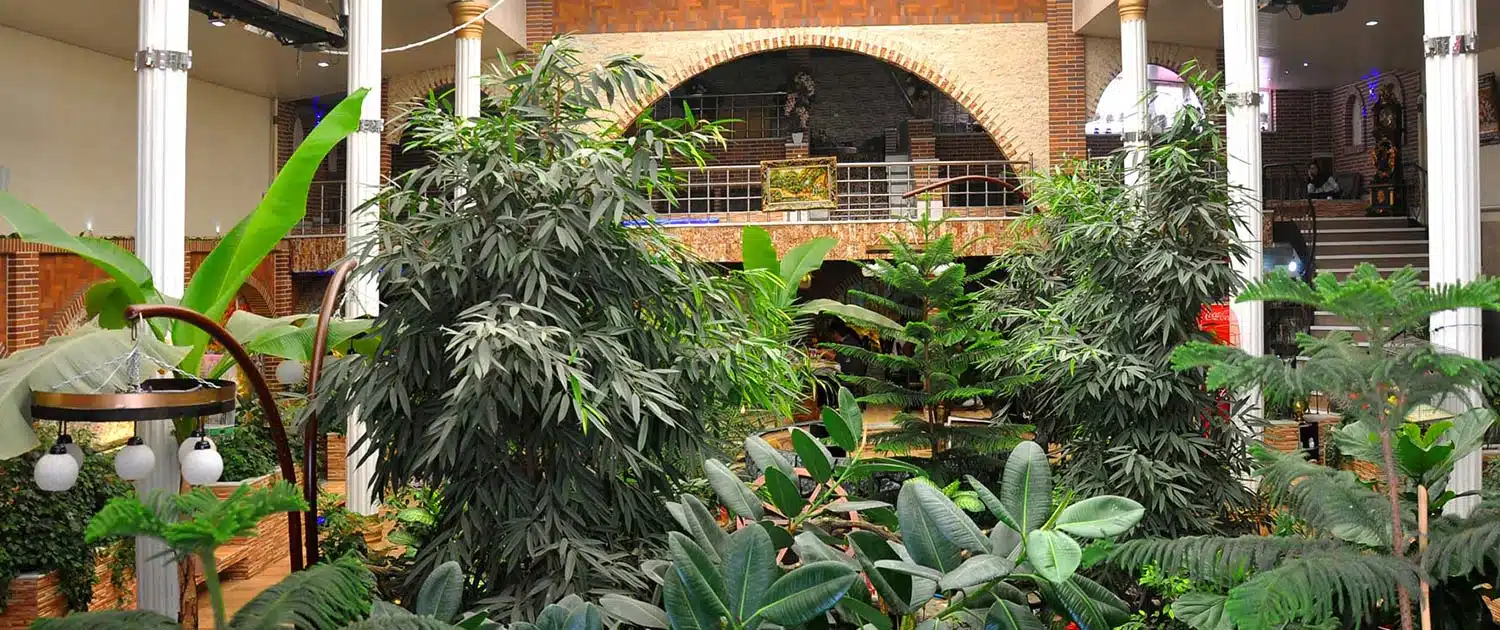 Restaurants in Rasht
Rasht is perhaps one of the most famous cities of Iran regarding its local delicious foods. Here, you will probably find some of the most delicious dishes of your trip to Iran.
Northern cities of Iran are mostly famous for fresh plates of seafood, but there are lots of other options to try here as well. We suggest you Shore Coli restaurant, where you can enjoy quality local food as well as experiencing the traditional northern atmosphere of the country.
Moharam and Delijan restaurant are also very famous and you'll definitely enjoy the food here.