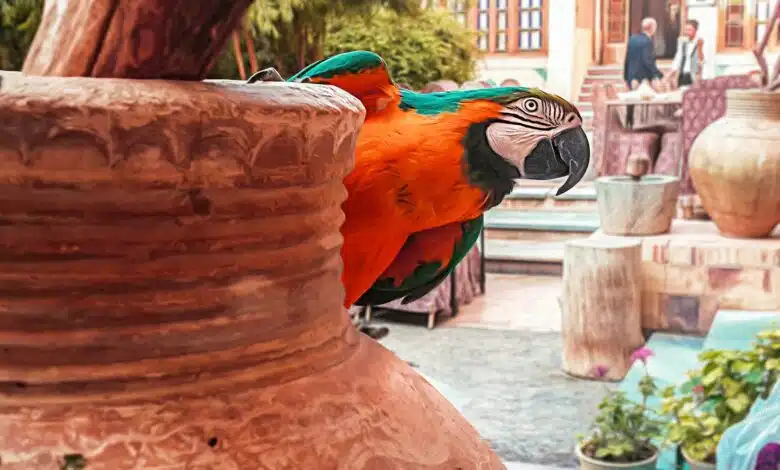 Yazd is a city known for its magnificent mosques, Zoroastrian culture, carpet shops, and ancient Persian wind towers. These towers ventilate houses through turrets oriented toward the prevailing valley winds and are situated amidst traditional guesthouses in the middle of deserts. Staying in one of the traditional buildings in Yazd can be a memorable experience during your travels to Iran.
These hotels are not just mere accommodations; they are gateways to the past, offering modern luxury amid age-old traditions. Whether you seek the comfort of a 5-star establishment or the charm of a 4-star hotel, Yazd's hospitality landscape caters to every preference, ensuring that your stay is as memorable as your adventures in this historic city.
Here are five unique hotels in Yazd that shine like pearls in the middle of the desert in Iran.
Dad Hotel in Yazd
****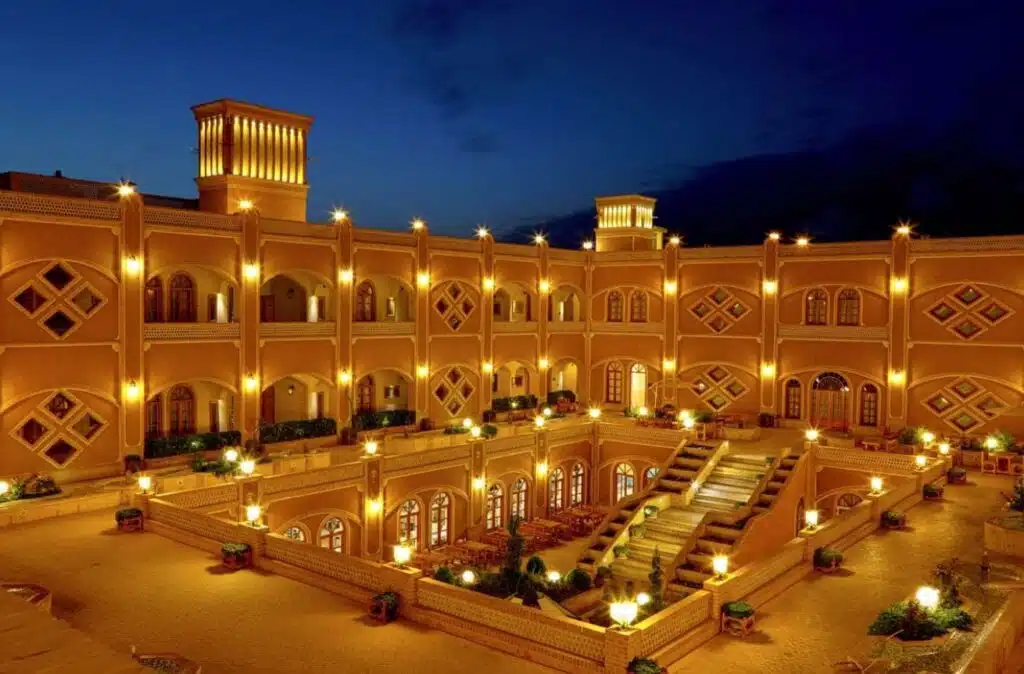 Amazing Hotel Dad, a 4-star hotel in Yazd, boasts an ideal location for guests eager to explore local attractions. As highlighted on their website, Dad Hotel dates back to nearly a century ago, founded in 1928 by the visionary Haj Abdolkhalegh Dad. Originally serving as an inn and transportation hub for about 80 years, the site underwent a comprehensive renovation in 2007. This transformation was the result of the dedication of his son, Haj Mohammad Hassan Dad, along with their children and grandchildren, elevating it to the status of an international 4-star hotel.
Strategically situated in the heart of the world's second oldest city, boasting over 3000 years of history, Dad Hotel enjoys a prime location close to main tourist attractions.
Parsian Safaiyeh Hotel
****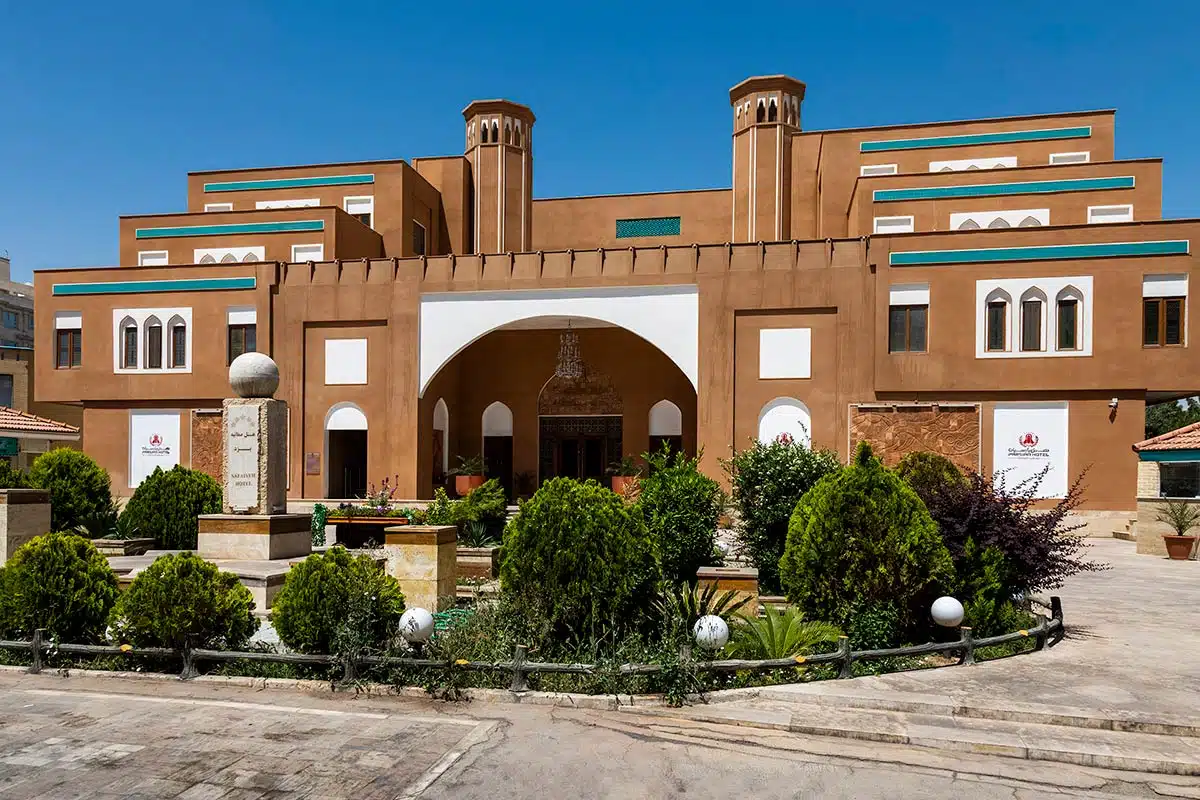 Parsian Safaiyeh Hotel, nestled in the heart of Yazd city, offers an ideal blend of Iranian cultural beauty and modern amenities. This five-star hotel is a perfect choice for those visiting Yazd, the renowned city of wind towers, who seek a stay that marries traditional Iranian charm with the best modern services, equipment, and facilities.
Strategically located in the most pleasant, verdant region of Safaiyeh, Parsian Safaiyeh Hotel provides easy access to the city center and key tourist attractions such as the Jame Mosque and Amir Chakhmagh Complex. Guests staying in the hotel's beautifully decorated rooms and suites will find themselves immersed in luxury. The hotel's lobby, various elegant restaurants, and cafes offer a delightful experience, serving a variety of Iranian and international cuisine and drinks, ensuring memorable moments for every visitor.
Moshir al-Mamalek Garden Hotel
****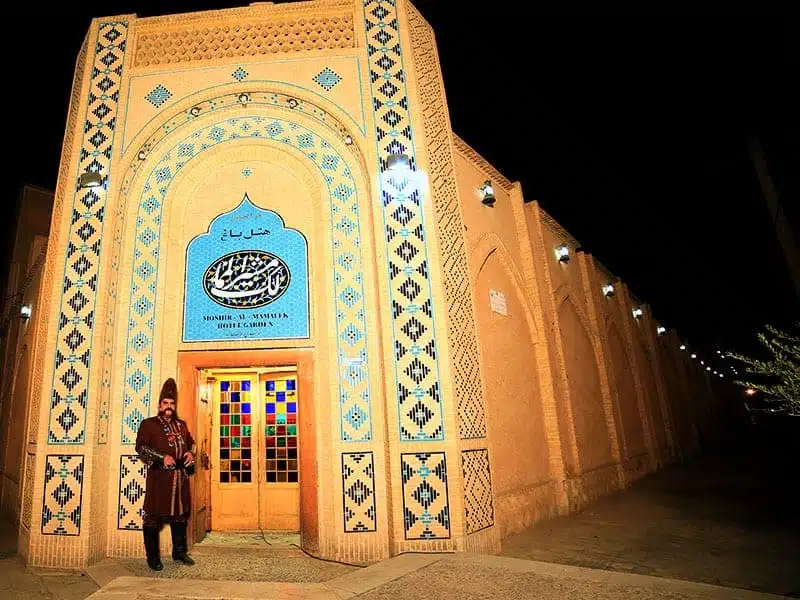 Moshir al-Mamalek Garden Hotel in Yazd stands as a remarkable transformation from a traditional roadside inn, where travelers could rest, into a caravanserai-style hotel. Built around a beautiful garden with lush watercourses, shrubs, and trees, this 2-storey establishment features rooms arranged in small clusters, offering a unique and intimate experience.
The hotel is imbued with a peaceful atmosphere and provides utmost convenience. The lobby, lounge, and indoor dining areas are all exquisitely decorated in a local style, creating an intimate ambiance despite the fairly large size of the dining areas. Guests also have the option of outdoor dining in the serene garden area. The buffet breakfast is notably extensive and of high quality. Staying at Moshir al-Mamalek Garden Hotel is a must when visiting Yazd; missing out on this experience would be a significant loss for any traveler.
Fahadan Hotel, Yazd
****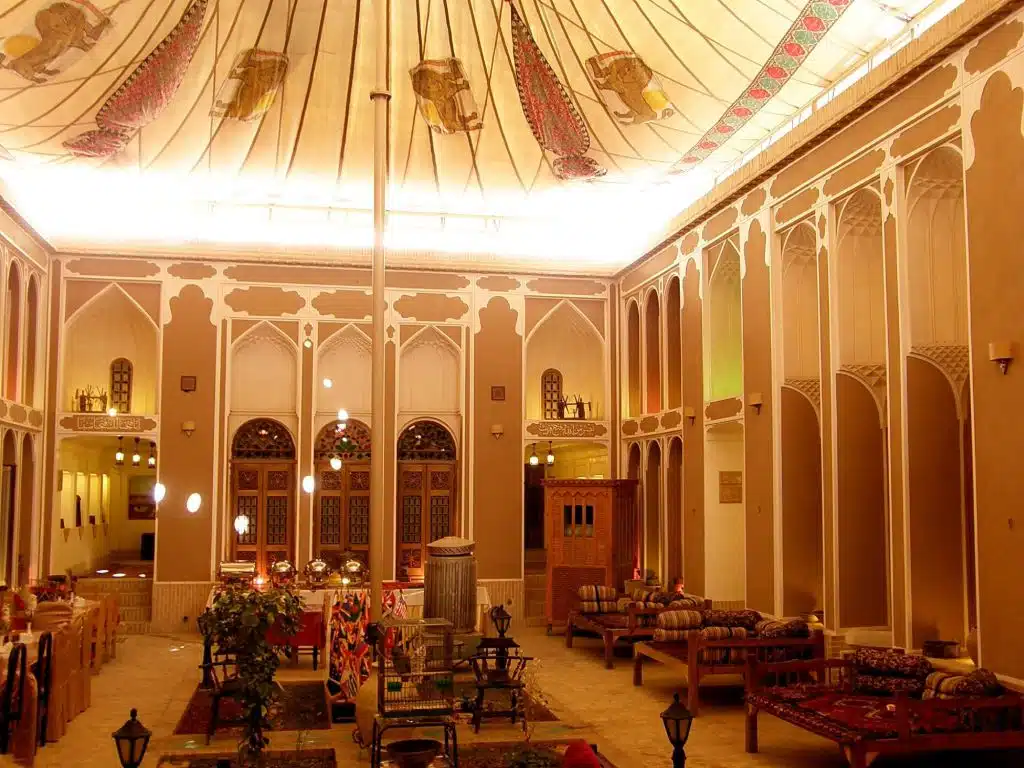 Fahadan Hotel is prominently situated in a historic mansion known as the "Tehrani'ha House," a gem from the Qajar era. This house, originally inhabited by the Tehrani family, prominent carpet traders, dates back some 250 years.
The building's beauty and magnificence led to its use as the economic consul office of various European countries, including France and Germany, in the past. Recently, this architectural marvel has been recognized as a part of the national legacies.
This majestic mansion boasts three courtyards – the main yard, orangery, and the pavilion – adding to its charm. It also features three attractive wind catchers, a lofty traditional hall, a well chamber, a basement, a vestibule, and a roof that offers a stunning view of the historical quarter. The Fahadan Hotel, steeped in history, presents a unique blend of traditional architecture and historical significance.
Zanbaq Hotel, Yazd
****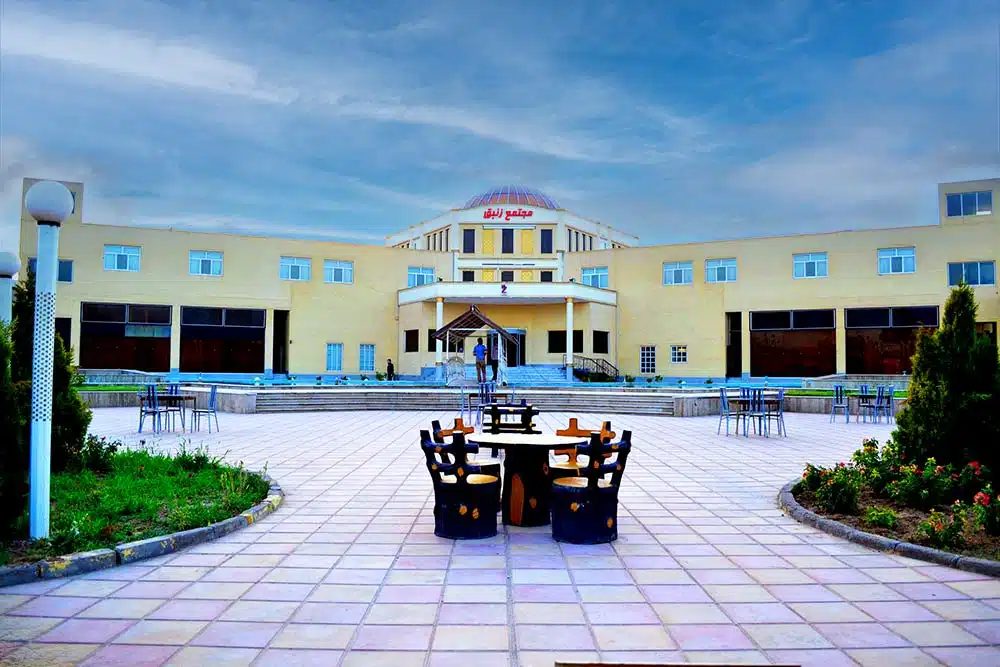 Hotel Zanbaq (Zanbagh) Yazd, a four-star establishment, is conveniently located on Jomhouri Boulevard. Guests have noted the rooms as being quite large and functional, featuring comfortable beds. Notably, any issues, such as an unusable shower head, are swiftly resolved upon request.
The hotel's breakfast stands out as better than average, offering a variety of options along with excellent bread. Its location, while quiet and off a main highway, is about a 20-minute car drive from the historical center, making it a peaceful yet accessible choice.
Overall, Hotel Zanbaq in Yazd is a satisfactory option for a short stay of one or two nights, especially if other preferred hotels in the area are fully booked.