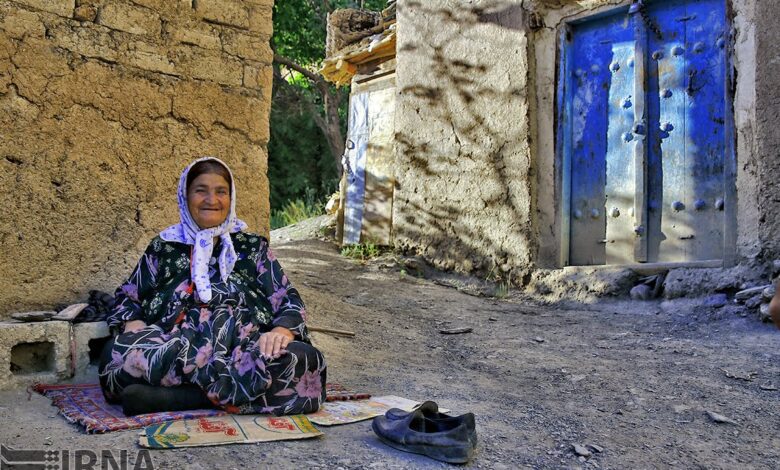 Hoyeh village is located in the west of Kurdistan province between Sanandaj and Marivan cities in the Kellaterzan region. Although this village is located in a mountainous area, it is in a relatively hollow place.
Among the neighbors of Hoyeh, we can mention the villages of Oihang, Bisaran, Serhoyeh, Salian, etc. This village attracts the eyes of every viewer with its interesting stair-stepped architecture. The stair-stepped architecture of this village, by being located on the lap of the mountains and climbing to the top of the sky, displays an extremely attractive face of a village. The Hoyeh village is divided into two parts, Warde Ga, which means the front of the village, and Meleh Ga, which means the back of the village.
In this village, like any other terraced village, the roof of every house is considered the upper yard of the house. This type of architecture requires less land for construction, and in such a mountainous area where suitable land for construction is rarely found, it is a very interesting and widely used method.
Kurdistan province is located in a mountainous region. The existence of Zagros ranges has given a special beauty to this province and its cities and villages. There are also mountains around Hoyeh village that are very important. Among these mountains, which of course is considered the most important, is Zardeh Khani Mountain, which is located directly in front of the village. Among the other mountains around this village that give it a special effect are Shah Neshin, Se Bid, Shiane, Beh Nen, Reh Jal Ga, Piche Vich, Tono Maran, Chovan, etc., each in its place takes a part of the beauty of Hoyeh village.
Waleh Meche Cave is located in the heart of the most important mountain of Hoyeh village, Zardeh Khani. Although this cave is small, it was very important and widely used in its time. Waleh Meche Cave is still considered a must-see attraction for Hoyeh village today.
Among the other natural attractions of this village are Hanu Sheikheh and Hanu Hawasi springs. Besides these springs, the Servzen waterfall gives a special effect to the surrounding nature and attracts tourists.
The recommended time to visit Hoyeh village is one day from morning to night and the best season is spring and summer.