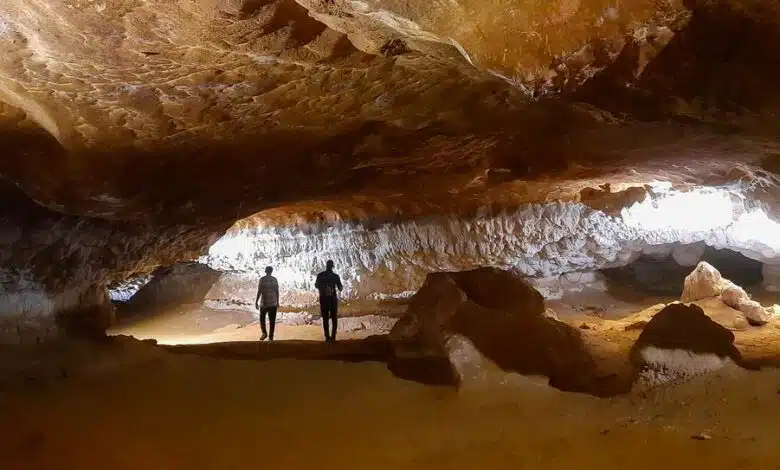 If you had in mind that Iran only is desert, you are going to be surprised. Indeed, Iran is a vast mountainous land, with high peaks, cliffs, and thus… caves.
For amateur speleologists and caving fans, Iran has great potential with plenty of destinations to explore. In this article, found out what are the best caving destinations in Iran, according to travelers.
Iran, a great potential for caving
In Iran, caving has a lot fans that travel all over the country to enjoy this activity. If you're not familiar with this term, caving consists of the recreational exploration of caves. It was in 1945 that caving truly started in Iran. This year, members of the Peykar mountaineer club of Tehran and Shiraz visited the Shapur Cave, near Kazerun city. A few months later they continued with Moghan Cave and then, the trend slowly spread.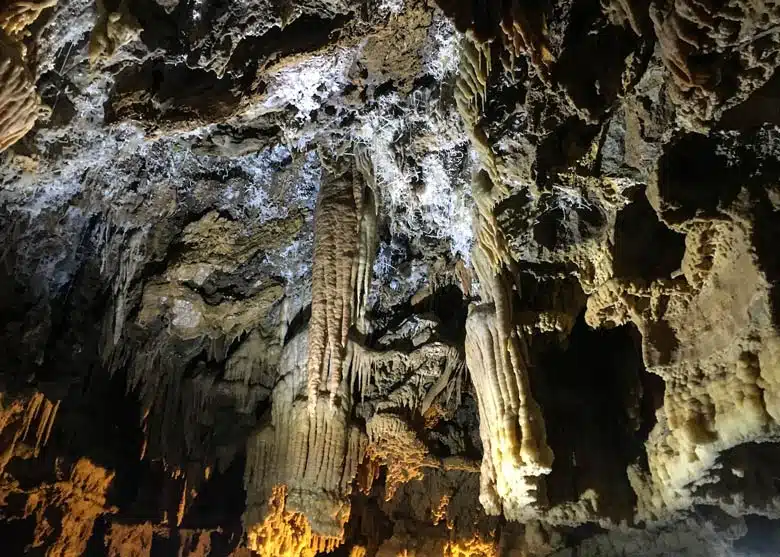 Caving can be practiced by professionals (who are called cavers) as well as amateurs (called spelunkers). As a sport, caving requires skills and proper equipment. Yet, because many caves in Iran have been made accessible to the public, it is also possible to explore them as easily as you would visit any other sightseeing.
There are more than 2500 caves that have been discovered in Iran, mostly over the past 50 years. There are probably thousands more left undiscovered, and even among the caves that have been found, most of them have not been completely explored.
Most caves in Iran are sedimentary caves, formed by the erosion of water. They often have rivers and pools, stalagmites, and stalactites, and their walls are sometimes covered with rainbow colors due to the different minerals. Some caves in Iran also present historical interest, as they show evidence of ancient civilizations and human traces.
The Top 10 caves to visit in Iran
There are a lot of caves that deserve visitors' attention in Iran. Choosing among them is not easy and is pretty subjective. So, to make our list of the best caving destinations in Iran, we have decided to follow the travelers' opinions and we based our ranking on TripAdvisor's best-rated caves. And here are the top ten caves visitors appreciated in Iran:
1. Ali Sadr Cave, Hamedan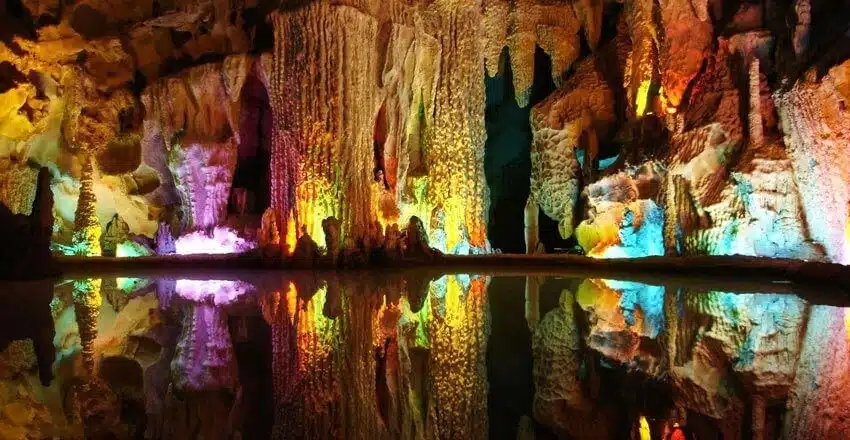 This is by far the most famous cave in Iran. Ali Sadr Cave is considered the world's largest water cave and dates back to the Jurassic era (190-130 million years ago). Ali Sadr creates a maze with various chambers and small passages that can be explored by paddling canoes. The ceilings are between meter in height and 35 meters, with a depth of water that goes up to 17 meters in some areas.
2. Namakdan Salt Cave, Qeshm island (+hormuz)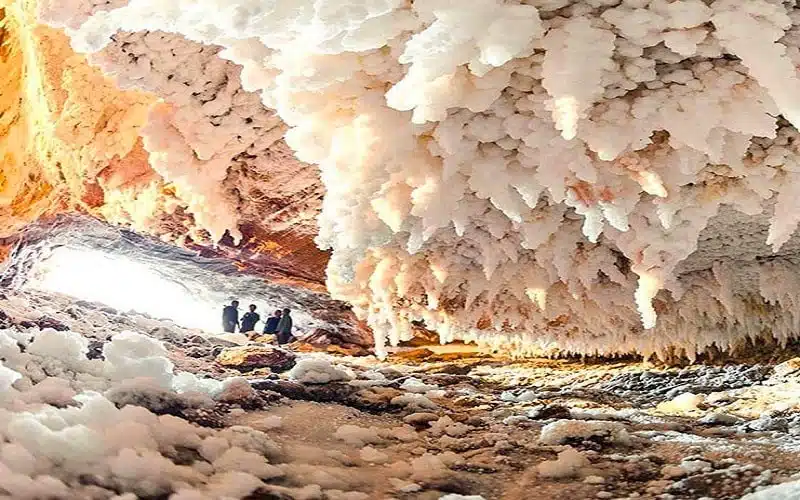 The salt cave of Namakdan (Salt Dome) in Qeshm is the world's largest salt cave and a Unesco geosite. The length of the cave is 6850 meters but it hasn't been fully explored. Visitors can walk on the first 100-150 meters inside the cave, and admire the salt sculptures, stalactites, and its unique specificity: its walls are covered with different layers of color.
3. Chal-e Nakhjir Cave, Delijan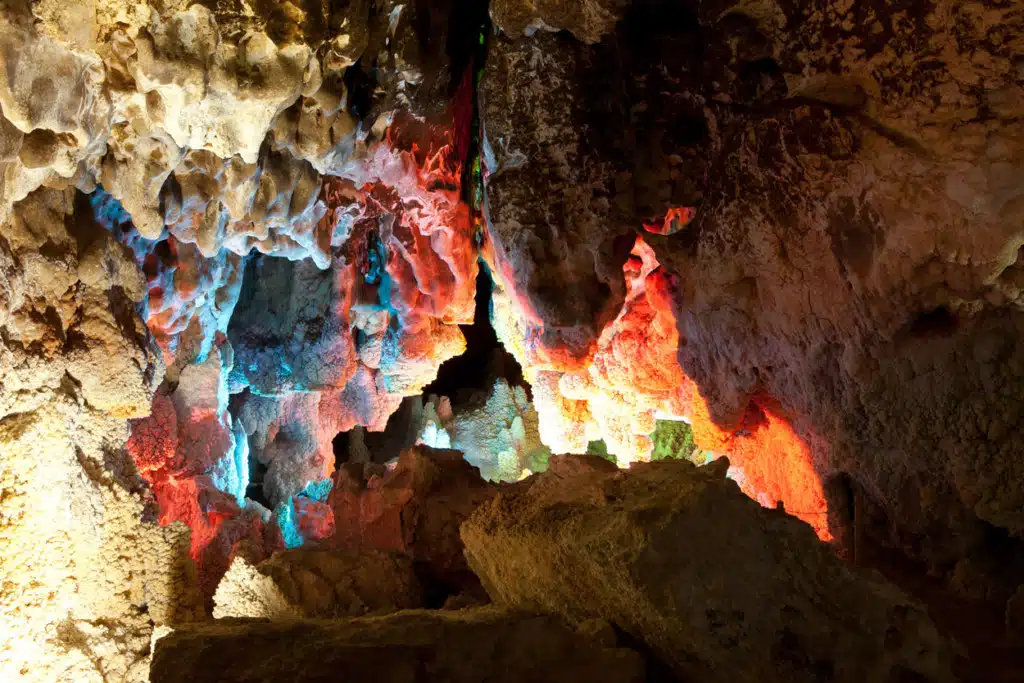 Chal-e Nakhjir Cave, located west of Kashan, is a 70 million years old cave that has only been discovered in 1989. Part of the cave is accessible by walking and allows the visitor to admire this rare geological phenomenon. It contains calcite stones, spongy crystals, pools, and interior lakes.
4. Shapur Cave, Kazerun
Shapur Cave, with its statue of the Sasanid king Shapur I, is probably one of Iran's most famous caves. It is located near the ancient city of Bishapur. Shapur I's statue is 7 meters high and 2 meters wide, and was entirely carved from one stalagmite. It stands at the entrance of the cave, 800 meters height from the ground. The cave continues over 16 meters and contains three water basins.
5. Kharbas Cave, Qeshm island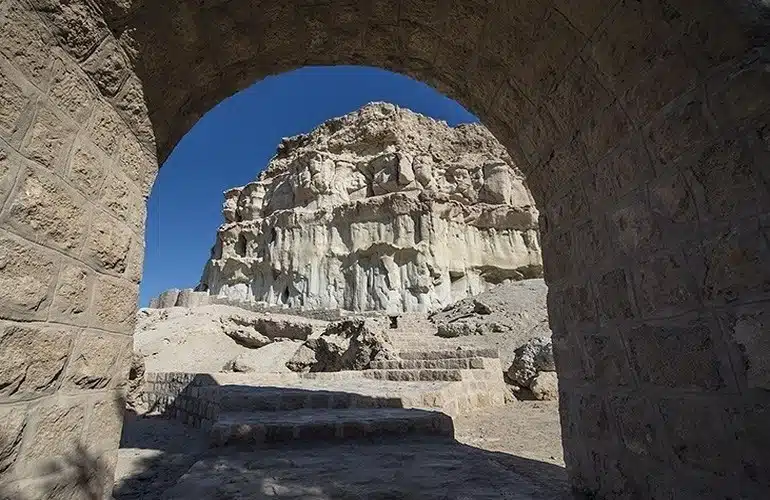 If Kharbas cave existed naturally at first, the result we can now observe is due to human dwellings, done some 500 years ago. Located on top of a hill, 20-30 meters high, villagers have dug shelters with halls, corridors, and various rooms to live in. There is even a pond to store water inside the cave, which was used for defense against the invaders but could also have been an Anahita Temple. Unfortunately, Khorbas Cave is under renovation for several years and cannot be currently visited.
6. Kataleh Khor Cave, Zanjan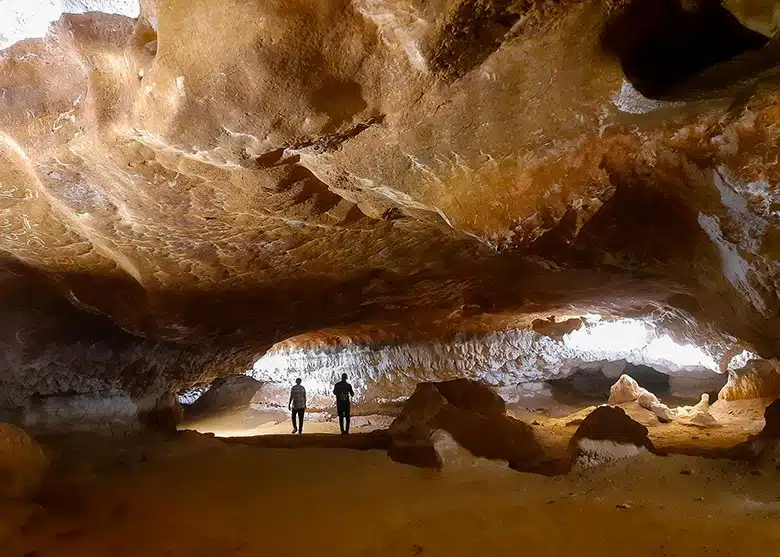 Located in Zanjan, Kataleh (Katlah) Cave is 100 kilometers distant from Ali Sadr Cave. Yet, some believe these two caves could be connected. Just like Ali Sadr Cave, it's a limestone cave, but Kataleh is both wet and dry. Of the seven floors it contains, only three were explored so far. Dating back to the Jurassic period, animal skeletons and the remaining of eighty humans were found in the cave, suggesting it could have been inhabited.
7. Karaftu Caves, Kurdistan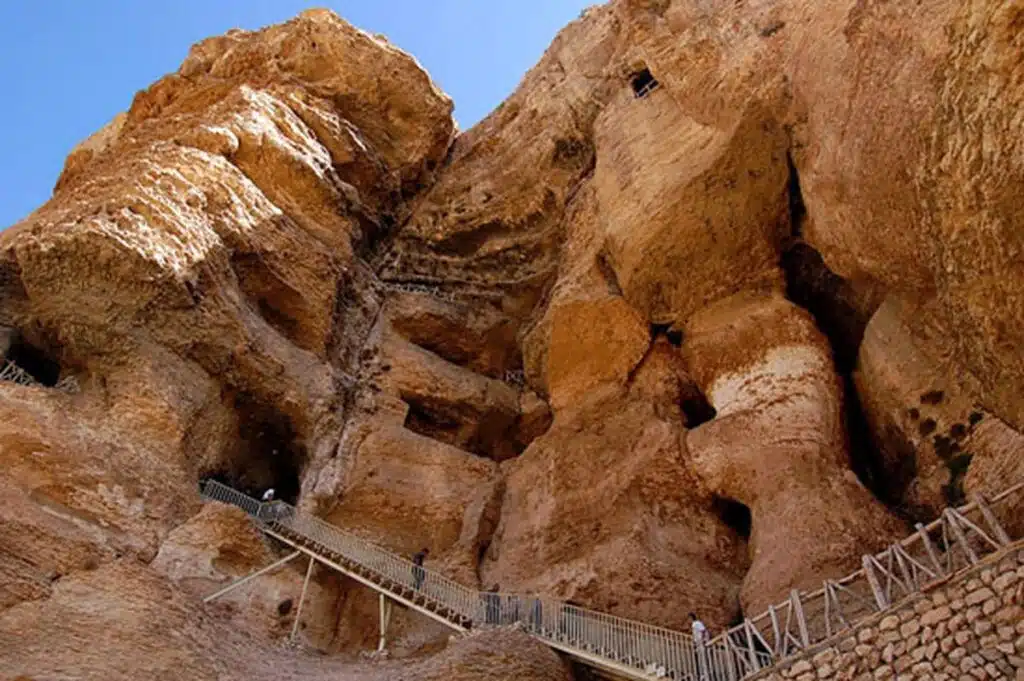 As a mountainous region, Kurdistan has many caves, and Karaftu is one of the most famous locations. Dwelled some 2000 years ago, evidence shows that the caves were first temples of the Grecian deity Heracles, and then became a Mitra temple. There are inside the cave inscriptions and drawings. Unfortunately, access to the cave and the ancient temple is not easy, yet possible.
8. Quri Qal'eh Cave, Kermanshah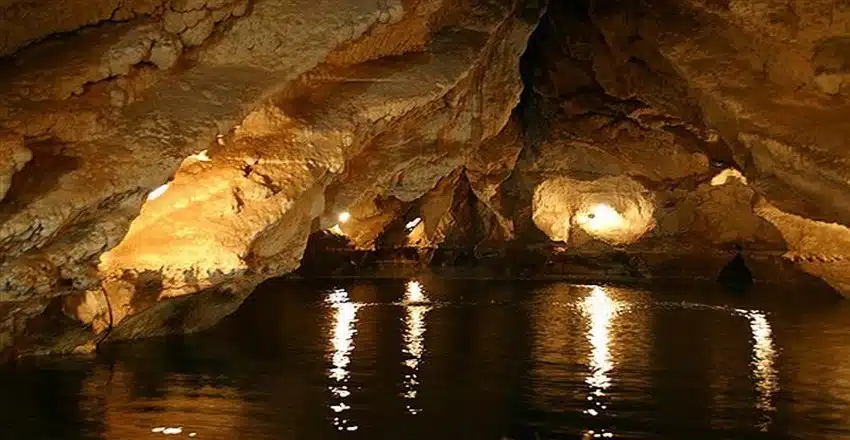 Located in the forest of Uramanat, the Quri Qal'eh Cave is one of the longest water caves in Western Asia. It's approximately 12 kilometers long and was discovered in the 1950s. It's a watery cave with three main chambers, where a rare species of bat (the mouse-eared bat) is living. Objects found in the cave are dating back from the late Sassanid period and suggest it may have been a Mitra temple. Currently, the cave is fully equipped and easily accessible.
9. Chama Ice Cave, Zagros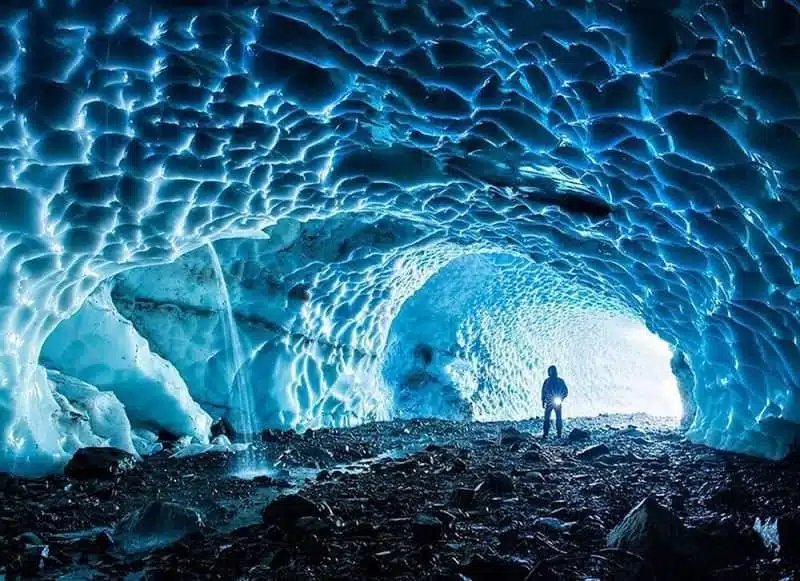 The Chama Ice Cave is located in an area used by Bakhtiari nomads, in the Zagros mountains, near the famous village of Sar-Agha-Seyyed. The cave was carved by the melting process of the snow, which creates corridors and passages for the water when the weather becomes warmer. Chama Ice Cave can be visited, but preferably in summer and with caution. It has water flow and warehouse snow inside.
10. Shirband Cave, Semnan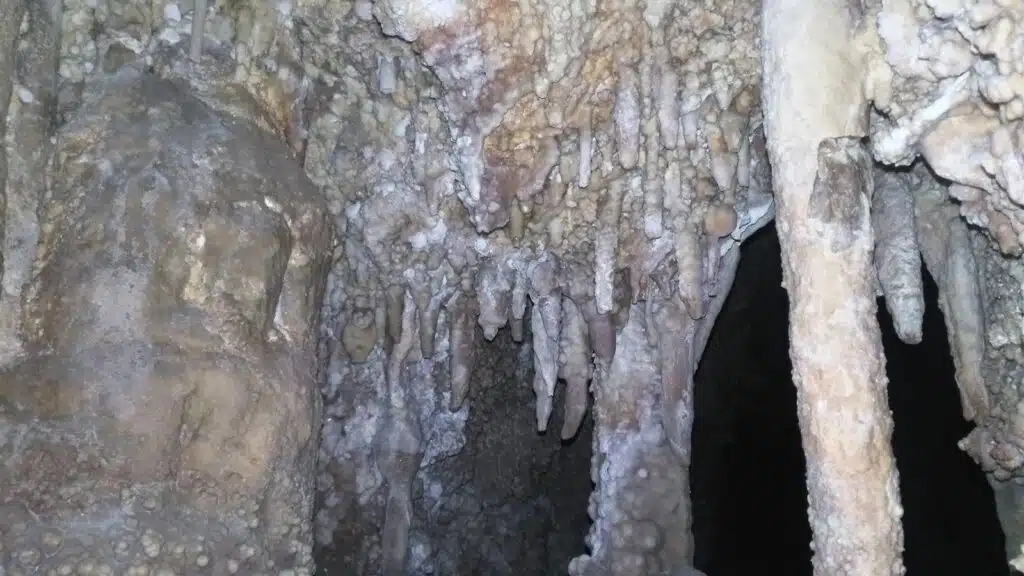 Shirband Cave dates back from 150-190 million years ago and offers nowadays very scenic views. Entering the cave is not so easy though, as its mouth is only one-meter-high and forces the visitors to crawl. Yet, passed the entrance, one can admire large and colorful stalactites and calcareous columns.