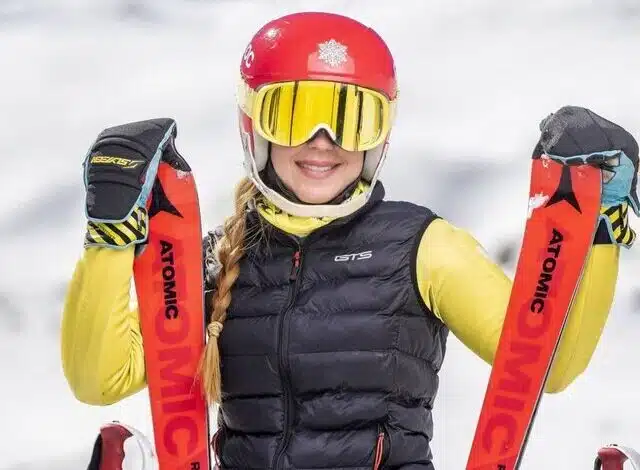 Skiing isn't just a winter pastime in Iran; it's an experience that's gaining momentum among both locals and visitors. While once considered a sport exclusively for the wealthy, the growth of ski resorts and the improvement of facilities across Iran have democratized access to the slopes. If you've been captivated by the idea of racing down the country's snow-covered peaks, you're in for a treat.
In this feature, we're guiding you through some of the standout ski destinations in Iran, each with its own unique offerings.
So, gear up and prepare for an adventurous trip into the top 20 Iran ski resorts to discover Iran's winter wonderland. To help plan your journey, explore various Iran tour packages and consider customizing your trip with our tailor-made options.
Ski Resorts in Tehran
The capital city of Tehran serves as a winter playground, featuring an array of ski resorts tailored to a variety of skill levels and experiences. Whether you're a seasoned skier chasing the next adrenaline rush or a beginner keen on making your first descent, the ski options in Tehran have you covered.
Before setting off on your snow-covered escapade, don't miss our curated Iran Ski Touring packages, designed to offer you a seamless skiing experience. Want to level up your winter sports know-how? Our comprehensive Skiing and Snowboarding guide in Tehran will equip you with all the essential information to make your trip a resounding success.
1. Shemshak Ski Resort, Tehran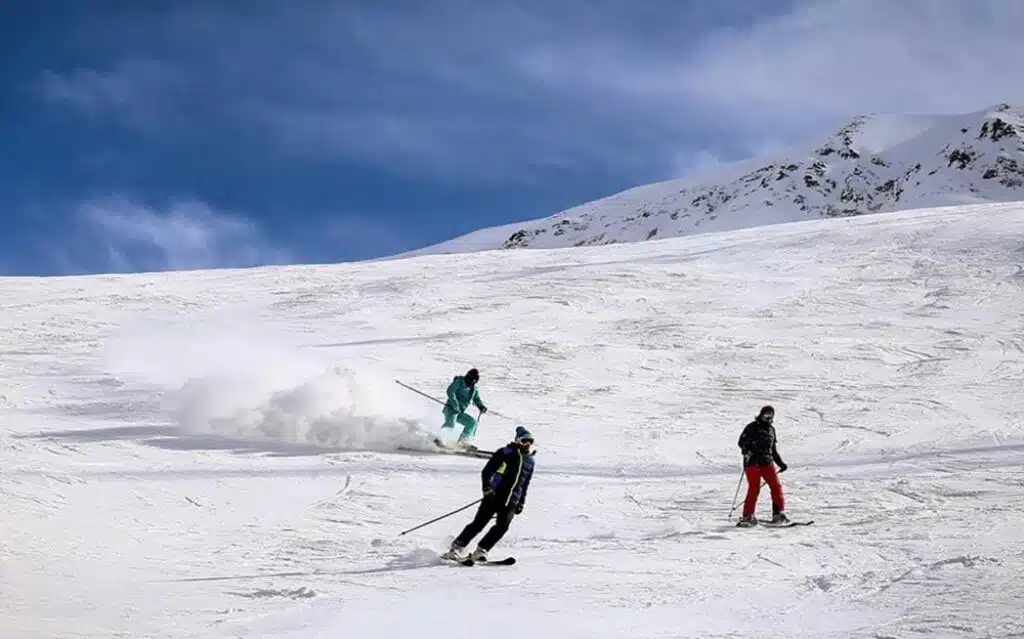 Shemshak Ski Resort is one of Tehran's ski resorts located approximately 57 kilometers northeast of Tehran. To access Shemshak Ski Resort, you can use the Lashgarak-Fasham road or the Karaj-Gachsar road (only in summer). This resort started its operations in 1948 and gained international status in 1978. The highest point of Shemshak Ski Resort reaches an elevation of 3,050 meters, while the lowest point sits at 2,550 meters. The skiing season here spans from early December to mid-April. Statistics show that out of every thousand people skiing at this resort, 2.3 individuals sustain injuries. To date, 76 cases of injuries have been reported at this resort.
Shemshak is equipped with two chairlifts and four ski lifts. Additionally, the resort is illuminated with yellow lights, creating an attractive ambiance and allowing skiing until late hours. Other amenities at this resort include two hotels and four restaurants, one of which is situated at the mountain's peak.
2. Dizin Ski Resort, Tehran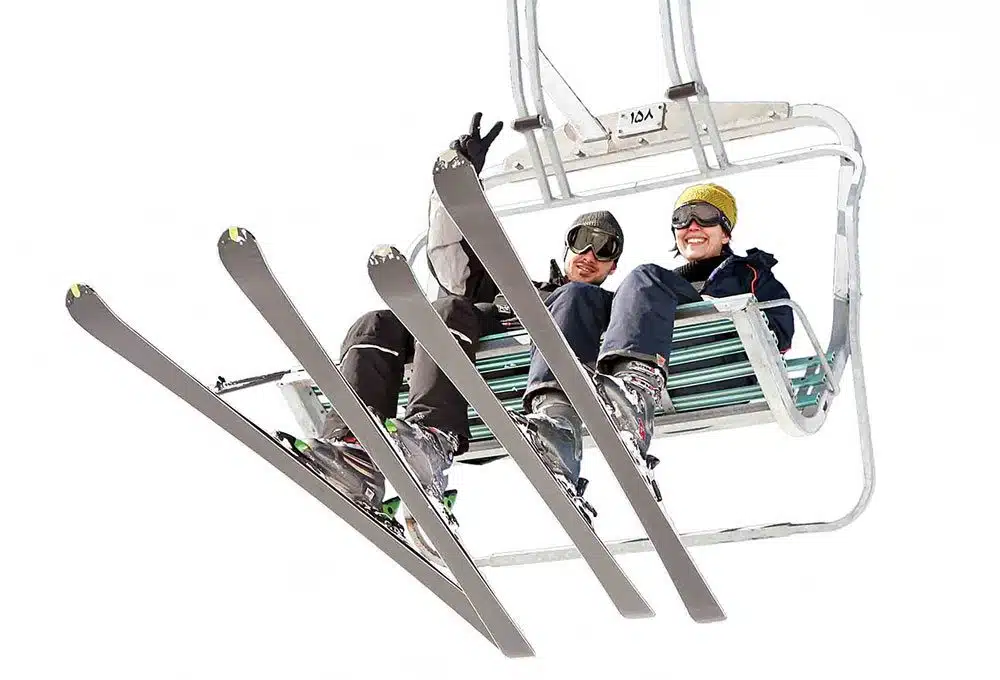 Dizin Ski Resort is not only the most important ski resort in Iran but also the most prestigious in the Middle East. It is the first Iranian ski resort to be approved by the International Ski Federation for hosting official competitions. This is because most of its features, like the slope gradient, track length, and amenities, meet international standards.
Dizin is situated in the northern mountains of Tehran (Gajereh region), about 123 kilometers from Chalus Road and 71 kilometers from Shemshak city. The resort boasts three gondola lifts, two chairlifts, seven platter lifts, and one hammer lift. Regarding amenities, it has two hotels, five restaurants, and 19 cottages. The elevation ranges from 2,650 to 3,600 meters, and the best time for skiing is from early December to late May.
3. Tochal Ski Resort, Tehran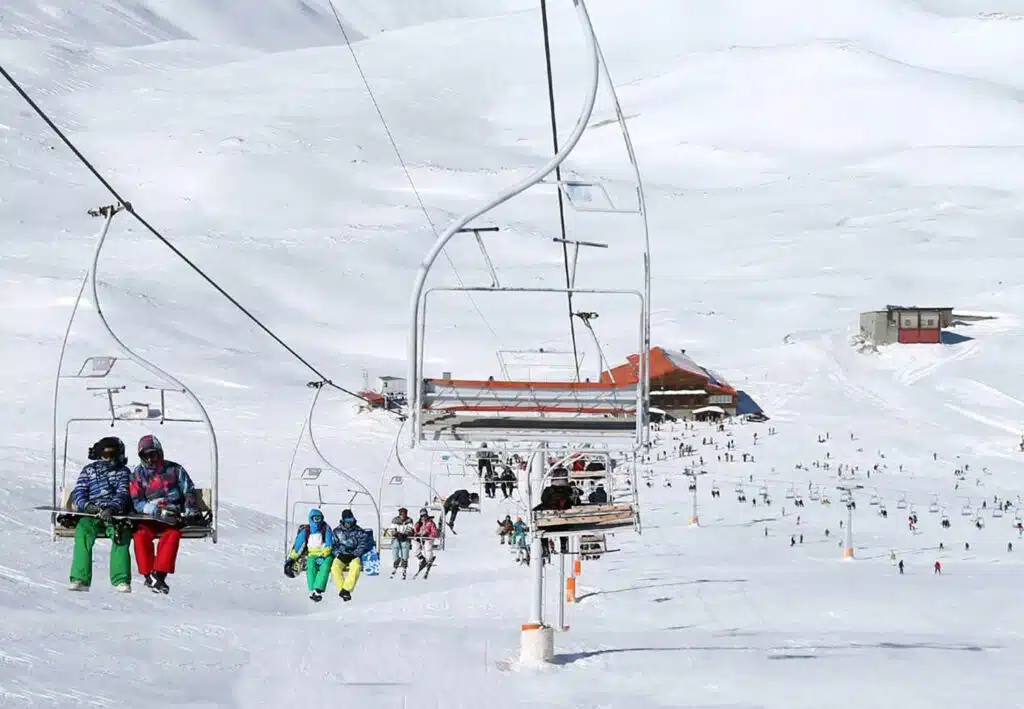 Tochal Ski Resort is one of Tehran's most popular ski resorts and the closest to the city, located at the end of Valenjak Street, just three kilometers from Tajrish Square in the Shemiranat area. Tochal features three gondola lifts, with a combined length of 7,500 meters, making it one of the world's longest gondola lift systems.
Tochal has three ski slopes. The first, with a length of 1,200 meters, is at the peak (elevation 3,850 to 3,550 meters). The second, 900 meters long, is on the western slope (elevation 3,750 to 3,550 meters with a beautiful view of the surrounding mountains). The third runs from station seven to five, spanning nearly 5,500 meters (elevation 3,750 to 2,940 meters). The first two slopes are equipped with ski lifts and chairlifts, but the third, due to its altitude fluctuations, lacks these facilities. Tochal's only hotel, the Tochal Hotel with 30 rooms and suites, is situated at an elevation of 3,550 meters, at the end of the first and second slopes.
4. Abali Ski Resort, Tehran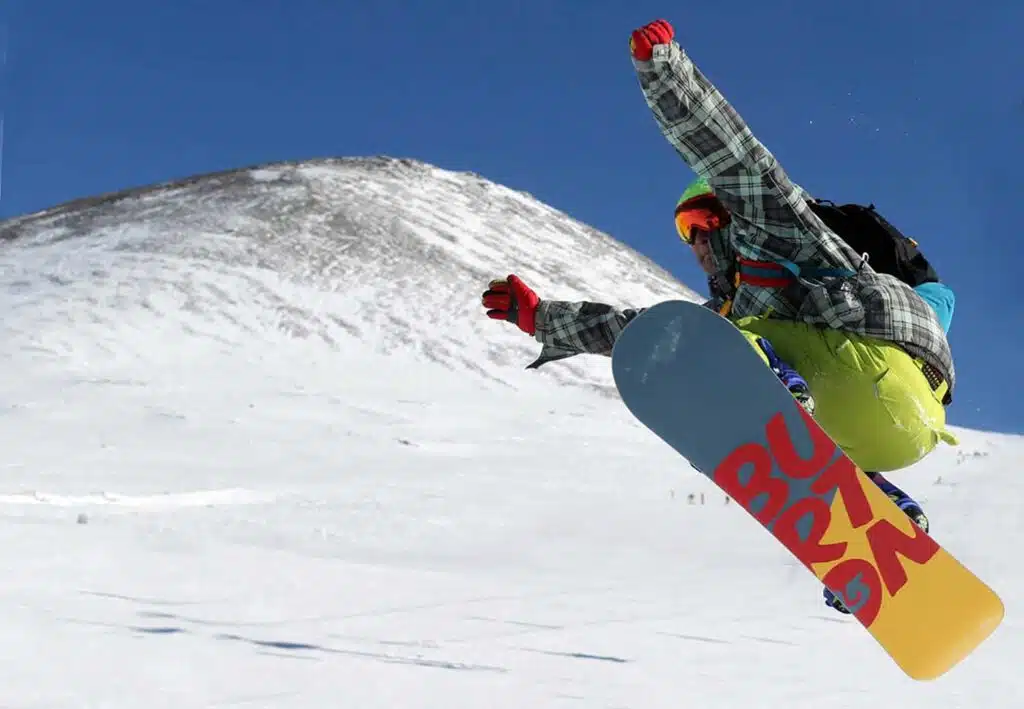 Abali Ski Resort, the oldest in Iran, is located near Abali city, 57 kilometers from Tehran on Haraz Road. It features five ski slopes, equipped with one gondola lift, five platter lifts, three hammer lifts, and one chairlift. If you want to enjoy snow games in Tehran, the best time to visit Abali Ski Resort, with its highest elevation at 2,650 meters and the lowest at 2,400 meters, is from mid-December to mid-March. The resort offers one hotel and six restaurants for amenities.
5. Darbandsar Ski Resort, Tehran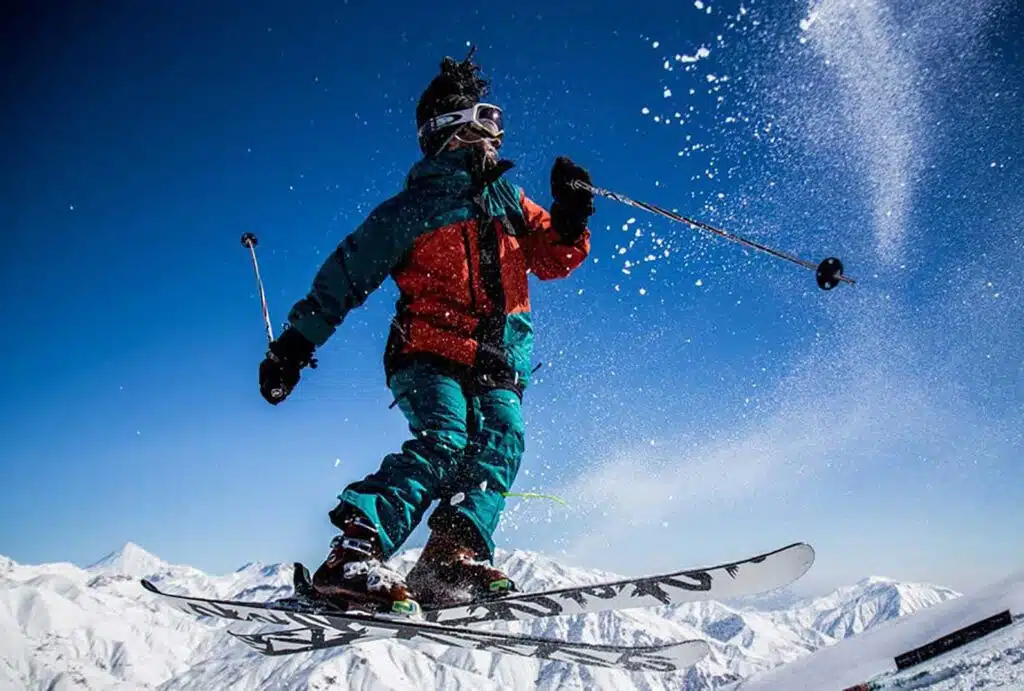 Darbandsar Ski Resort, established in 1983, is located 57 kilometers north of Tehran. The best time to visit this resort, which extends from an elevation of 2,670 to 3,570 meters, is from mid-December to late May. The resort, with an average annual snowfall of two to four meters, has a 12-person gondola lift stretching from the starting point of the resort up to an elevation of 3,370 meters and is equipped in total with seven ski lifts and chairlifts (including two for beginners).
Furthermore, Darbandsar Ski Resort, which covers an area of approximately 300 hectares, operates a professional ski school. Also, in one of the northern valleys of this resort, specifically the "Teltangneh" valley, skiing is possible even in July.
6. Pooladkaf Ski Resort, Shiraz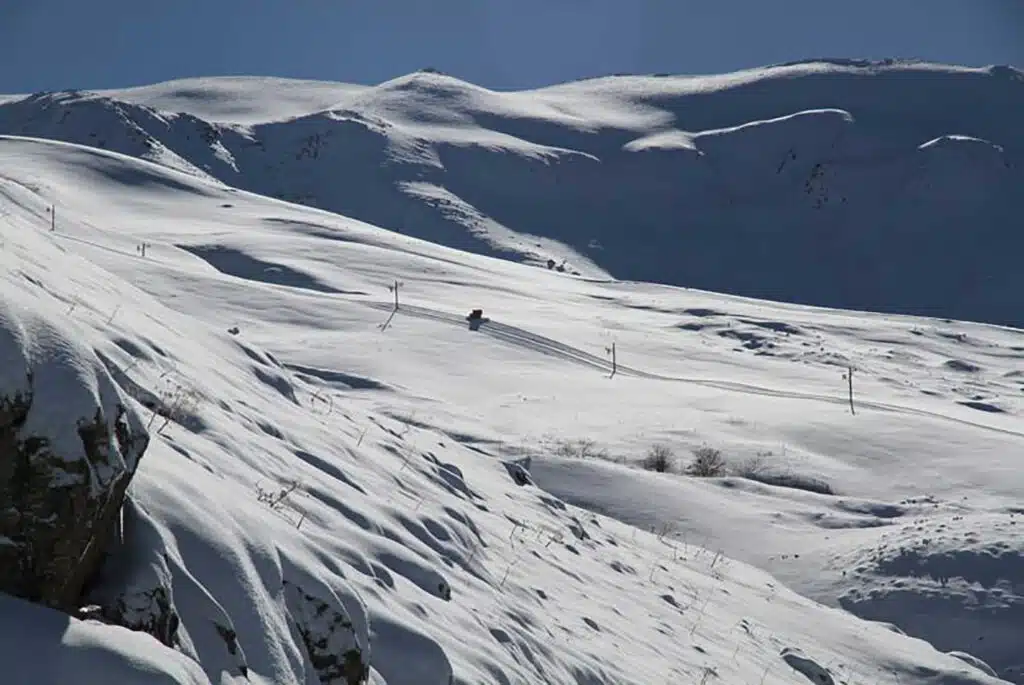 The Pooladkaf International Ski Resort, located 88 kilometers north of Shiraz and 15 kilometers on the Sepidan to Margoon Waterfall road, boasts a four-star hotel, four dining facilities, a two-kilometer-long gondola lift, two ski lifts for skiers stretching 1,600 meters, and eight snowmobiles. Near the Pooladkaf Ski Resort, there is a smaller ski slope known as Sepidan Ski Resort. Heavy snowfall during the winter season makes this area one of the most scenic places in Fars Province. The complex enjoys exceptional popularity among ski enthusiasts during winter and, thanks to its location en route to the beautiful Margoon Waterfall, holds a special position.
The availability of diverse accommodation and recreational facilities makes this resort usable in other seasons too. For instance, during summer, grass skiing is possible, and the gondola lift operates throughout the year. As the country's second international ski resort, Pooladkaf annually witnesses a lively turnout of skiers and the general public.
7. Khoshaku Ski Resort, Urmia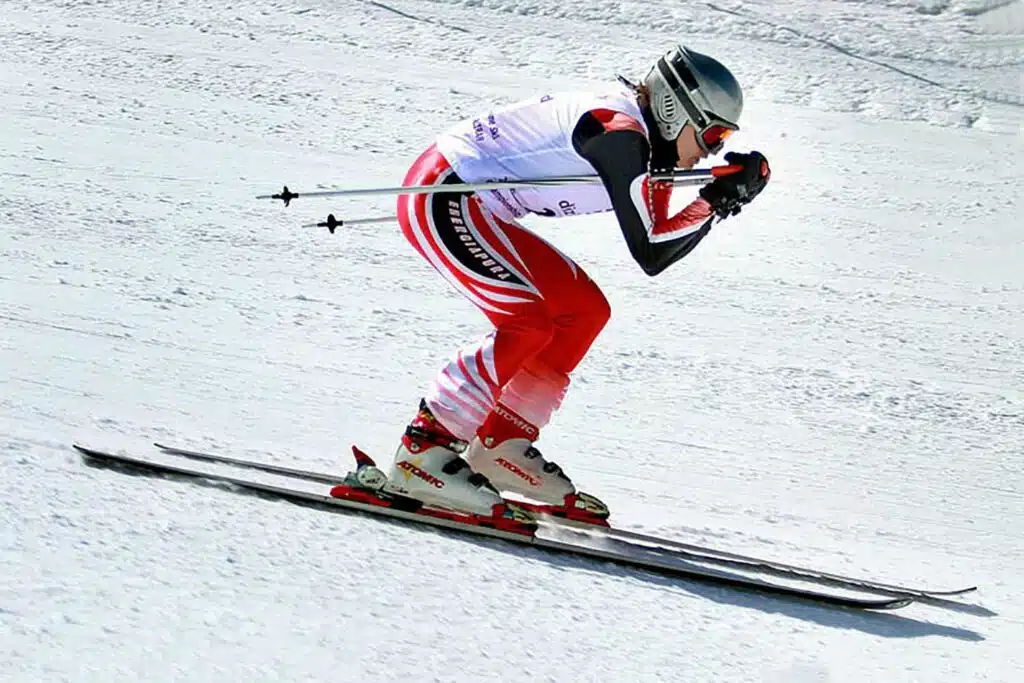 Spanning an area of 50,000 square meters, Khoshaku Ski Resort is situated 24 kilometers west of Urmia (West Azerbaijan) in the Rajan area near Khoshaku village. It's considered a major hub for winter sports in the northwest of the country. The best time to use this resort is late autumn and winter. Other similar ski resorts include Sahand Ski Resort in East Azerbaijan Province and Alvares Ski Resort in Ardabil Province. Additionally, due to the appropriate vegetation cover, grass skiing is also possible at this resort.
8. Kakkan Ski Resort, Yasuj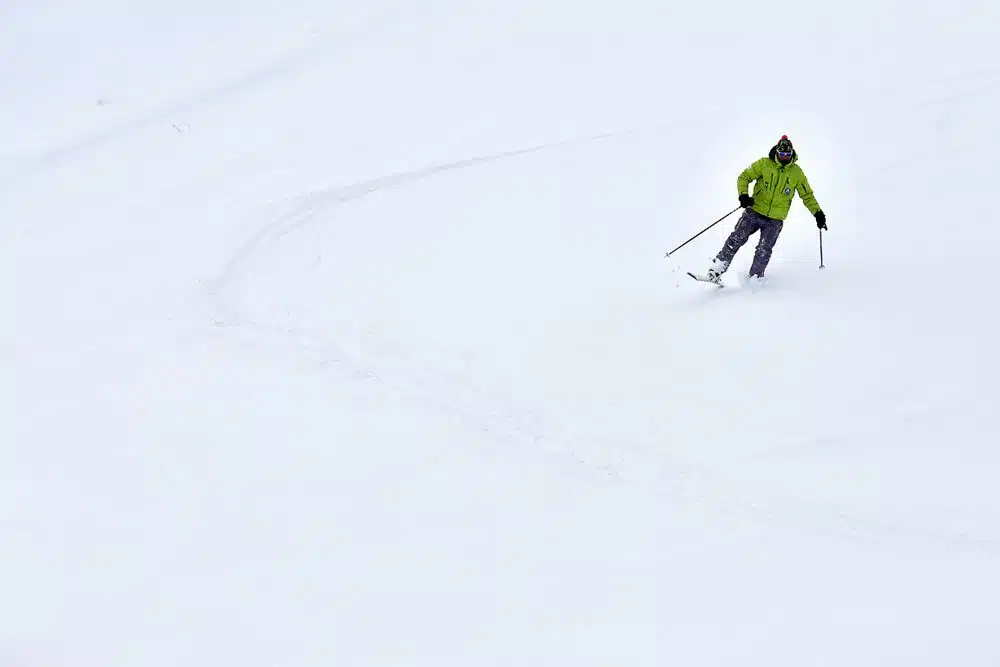 Situated at an altitude of 2,850 meters above sea level and also known as Dena Ski Resort, Kakkan Ski Resort is 18 kilometers from the city of Yasuj (Kohgiluyeh and Boyer-Ahmad Province) and near the beautiful area of Ab Nehar, close to Kakkan village. This fairly wide slope, which is 1,500 meters long and 600 meters wide, offers facilities such as lodging, a restaurant, snow groomers, and four disk ski lifts. Additionally, skilled instructors are available at the resort. The prime time to enjoy Kakkan Ski Resort is from early January to late winter when snow depth can reach up to 3.5 meters.
This ski slope was inaugurated in 1993 with the installation of one ski lift, and in 2005, two more disk ski lifts were added to the complex. It is among the 30 active ski resorts in the country and one of the most popular in the southern region.
9. Nassar Ski Resort, Kurdistan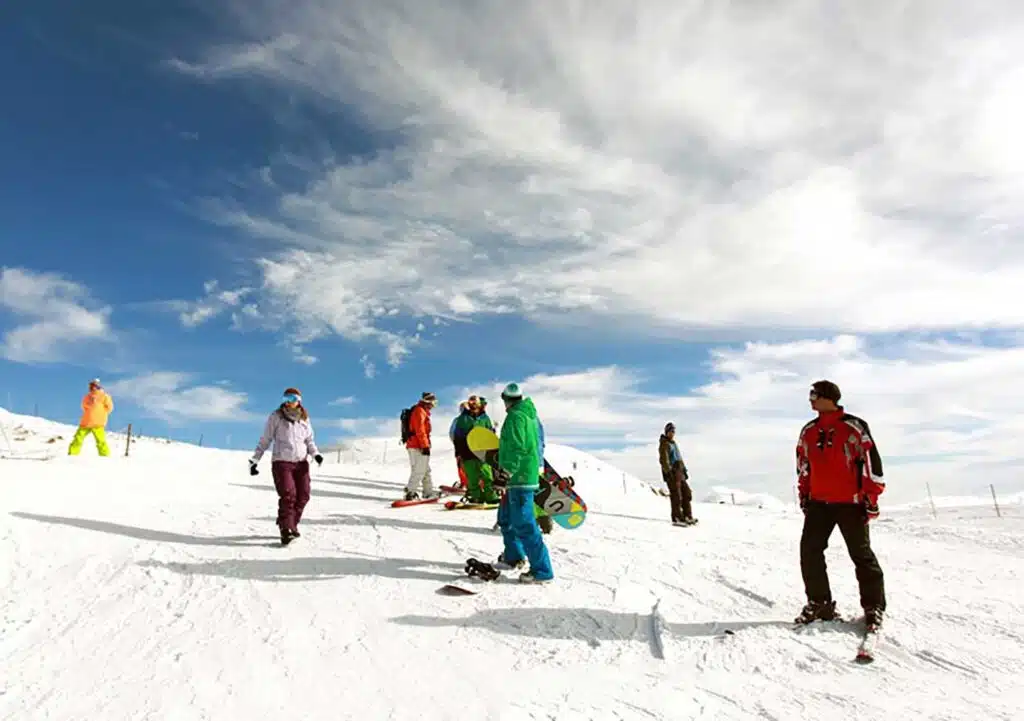 The unique Nassar Ski Resort, located on the slopes of Bijar Mountain near Bijar city in Kurdistan (southwest of the city), dates back to 1951. The ski run at Nassar Resort is 900 meters long and 120 meters wide. This 112-hectare resort boasts facilities like grass skiing on a two-hectare area (330 meters long and 60 meters wide), parking, a restaurant, a 1,300-meter ski lift (under construction), snow groomers, and a ski school with male and female instructors.
10. Chelgard Ski Resort, Shahr-e Kord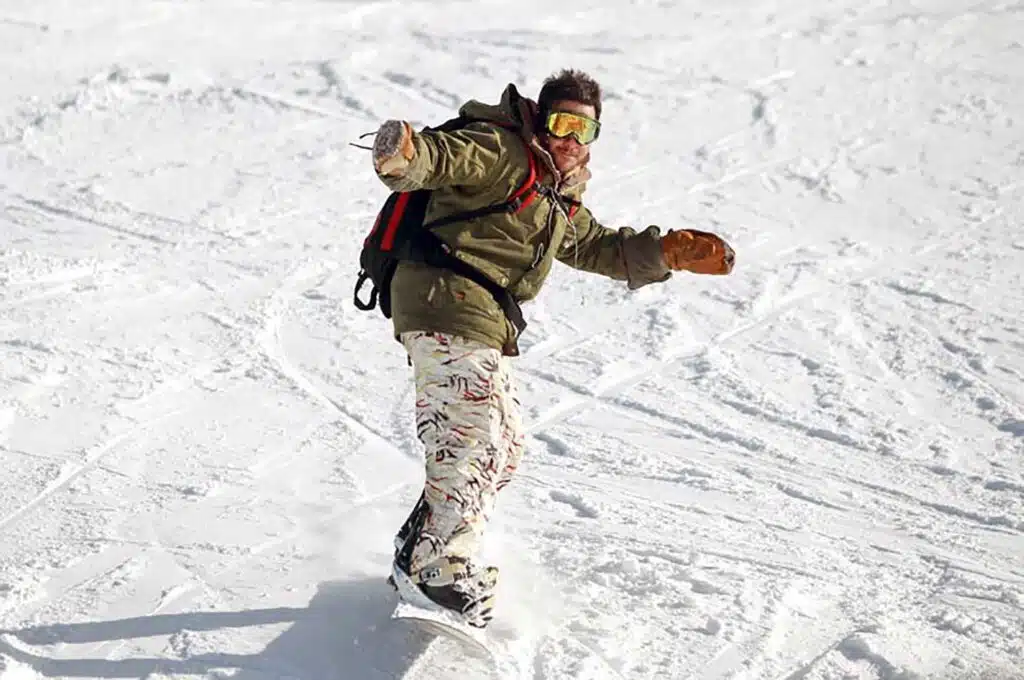 Chelgard or Koohrang Ski Resort, one of the significant ski areas in the Zagros region, is near the city of Chelgard. Chelgard is situated 91 kilometers from the town of Shahr-e Kord in Chaharmahal and Bakhtiari Province. The Chelgard Ski Resort features a slope that is 800 meters long with a 20% gradient, and it offers three separate areas for families, women, and men. The Koohrang Tunnel and Waterfall, located near this resort, are also attractions that can captivate any traveler.
Constructed in 1975, the Chelgard Ski Resort has the capacity to attract 20 to 30 thousand tourists annually, and the weather is sunny on most days of the year. The resort's amenities include the Koohrang Hotel, parking, two ski lifts and a 200-meter training ski lift.
11. Sahand Ski Resort, Tabriz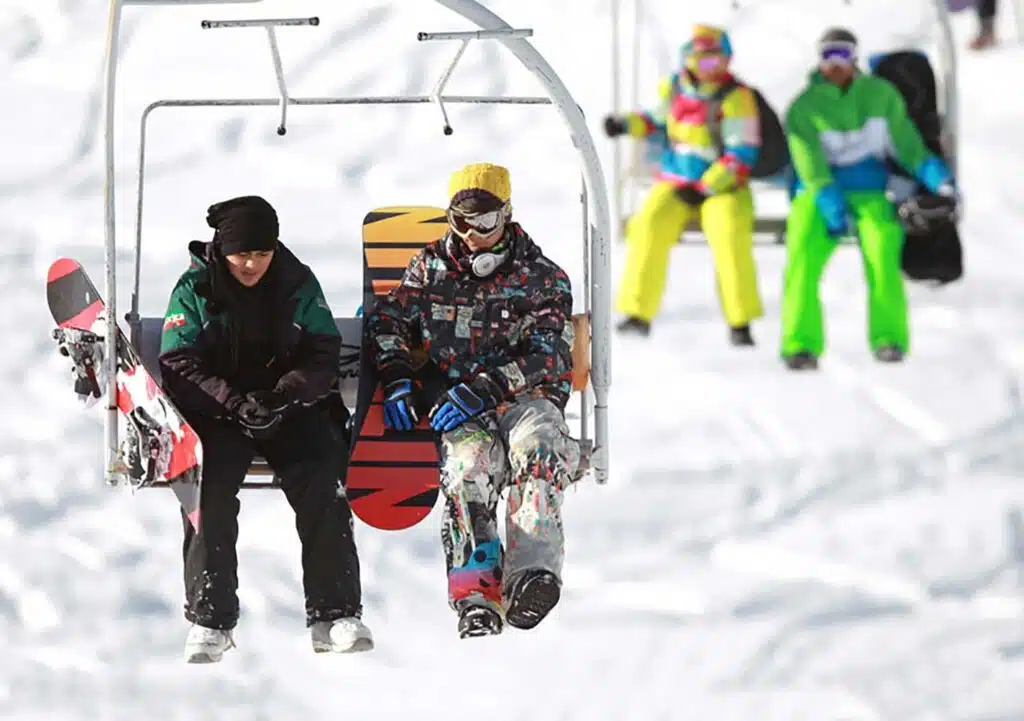 Located 39 kilometers southeast of Tabriz (East Azerbaijan Province), Sahand Ski Resort features two ski lifts that are 1,200 meters long and a beginner's ski lift that is 100 meters long. Soon, the resort will also boast additional facilities like 12 ski lifts, five-star and three-star hotels, apartment complexes, villas, and sports facilities. The snow depth at Sahand Ski Resort sometimes reaches four meters; however, since it is not prone to avalanches, most areas are completely safe for skiing and the resort can be utilized until the end of spring.
12. Khor Ski Resort, Karaj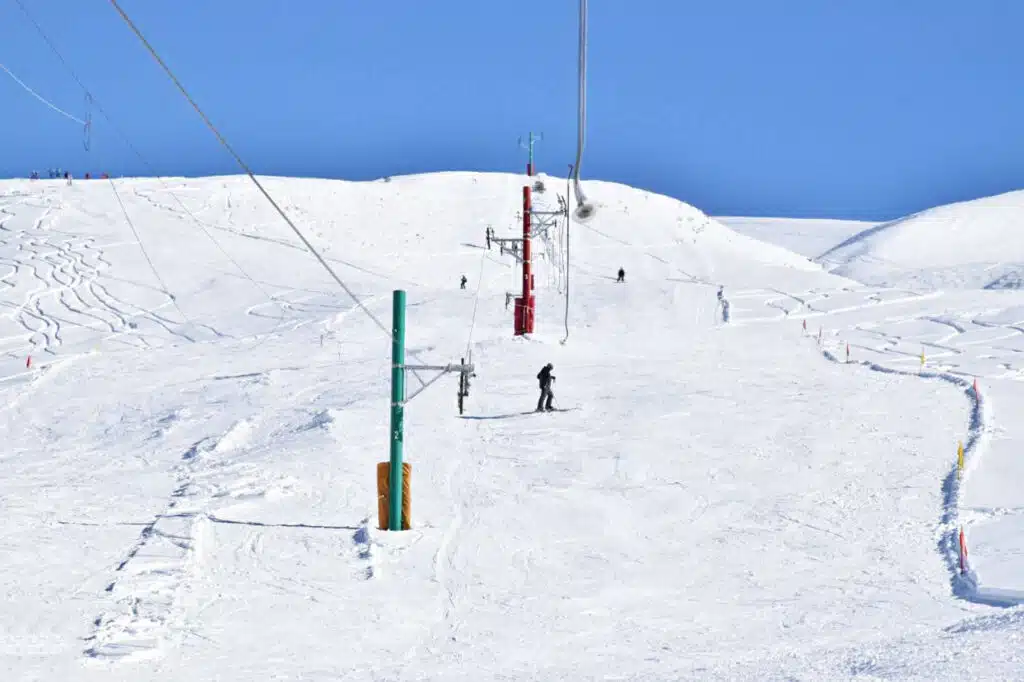 The Khor Ski Resort, ranging in altitudes from 2,800 to 3,000 meters, dates back to before 1978 and is located close to the Karaj Dam. To reach this resort, one should travel 23 kilometers on the Karaj-Chalous Road and take a detour to the east before reaching the Karaj Dam facilities. After which, you'll pass through Artega and Ji villages. The Khor Ski Resort, with two routes of 1,850 and 350 meters, is equipped with a platter ski lift and has a daily capacity of accommodating 1,300 visitors.
13. Alvares Ski Resort, Ardabil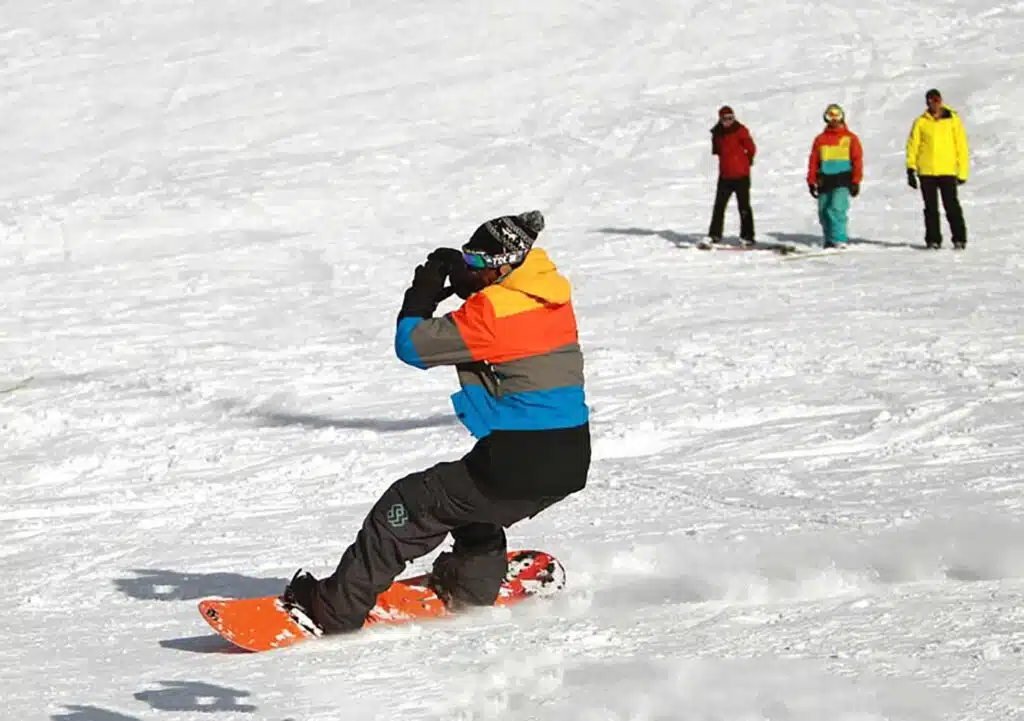 Alvares Ski Resort, the largest ski slope in Iran, is situated on the slopes of Sabalan Mountain, 30 kilometers from Sar'ein (Ardabil Province) and 12 kilometers from a village bearing the same name. Due to its altitude of 3,200 meters and substantial snowfall, it's operational in autumn, winter, and early spring. The resort is equipped with a chairlift that rises to a height of 1,250 meters, facilitating an easy ascent to the top of the slope.
14. Shazand Ski Resort, Arak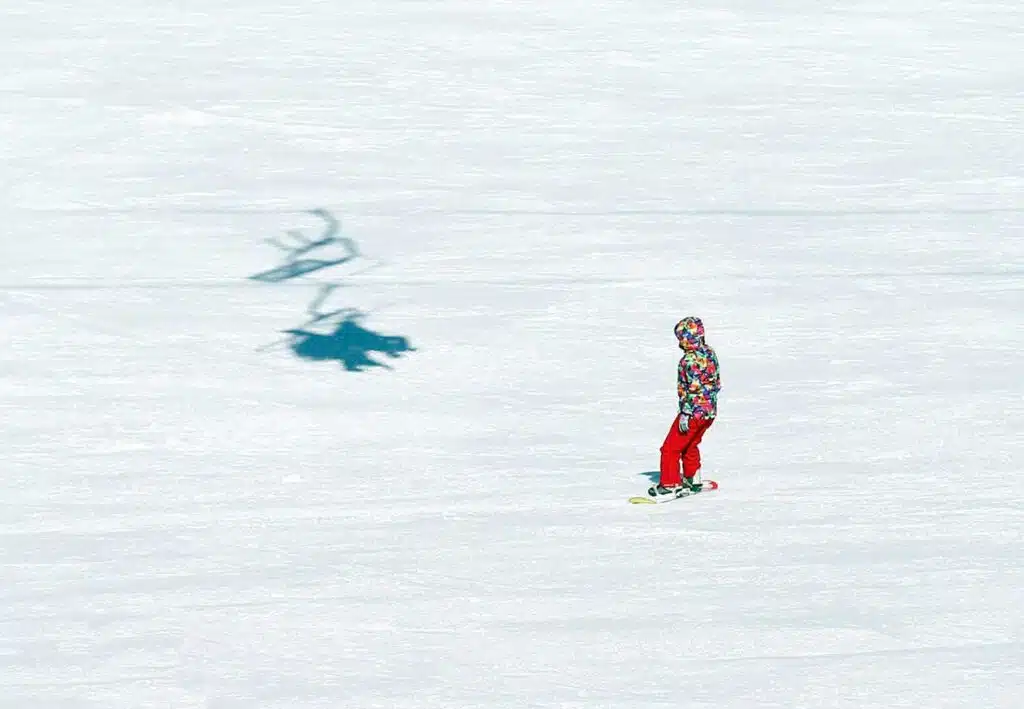 Positioned at an altitude of 2,760 meters, 25 kilometers from the city of Shazand and 55 kilometers from Arak in the Central Province, the Shazand Ski Resort, with its 600-meter long slope, offers amenities like three chairlifts and a restaurant. The Shazand Ski Resort is operational only during winter and spring, drawing tourists from both Hamedan and Lorestan provinces.
15. Tarbiatbadani Ski Resort, Ardakan, Fars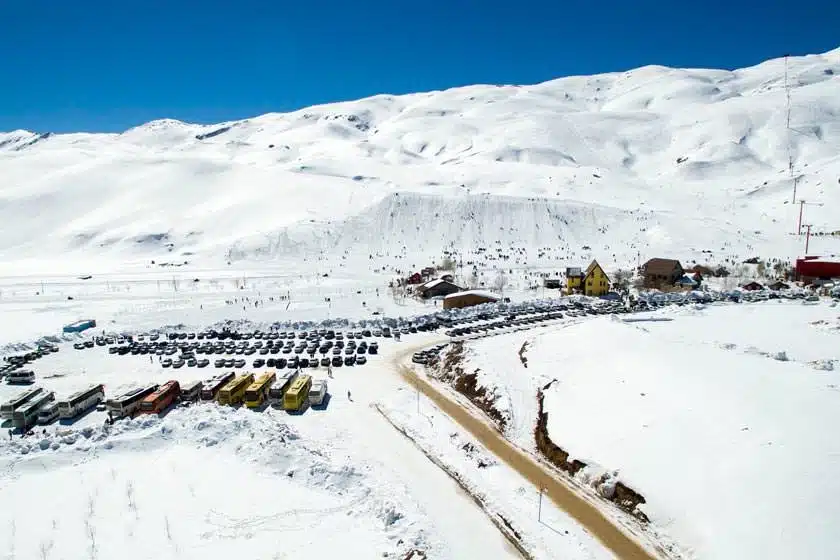 Situated at an altitude of 2,660 meters above sea level, the Tarbiatbadani Ski Resort is located 9 kilometers from the Poladkaf Ski Resort, 80 kilometers north of Shiraz, and 5 kilometers from Ardakan in Fars. This resort provides facilities such as three ski lifts, a cable car, parking, a restaurant, a hotel, and a clinic.
16. Fereydunshahr Ski Resort (Isfahan)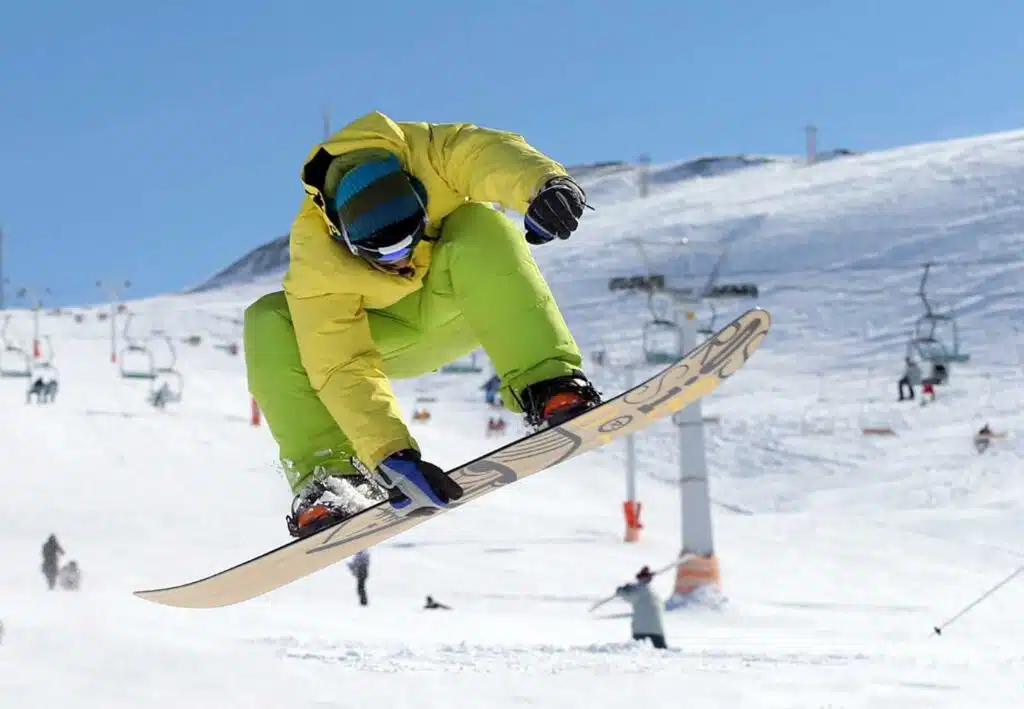 Address: 180 km west of Isfahan, 3 km from Fereydunshahr (View on Goolge Maps)
Fereydunshahr Ski Resort, the only standard ski resort in Isfahan province, is situated 180 km west of Isfahan and 3 km from Fereydunshahr. The elevation of this resort is 2,360 meters above sea level, reaching up to 3,000 meters at its highest point. Facilities at Fereydunshahr include a well-heated hall, a training slope for beginners, a ski lift for professional skiers, a restaurant, a coffee shop, a snow groomer, and suite accommodations. The resort spans 50 meters, and the snowfall ranges from 1 to 6 meters.
17. Papai Ski Resort (Zanjan)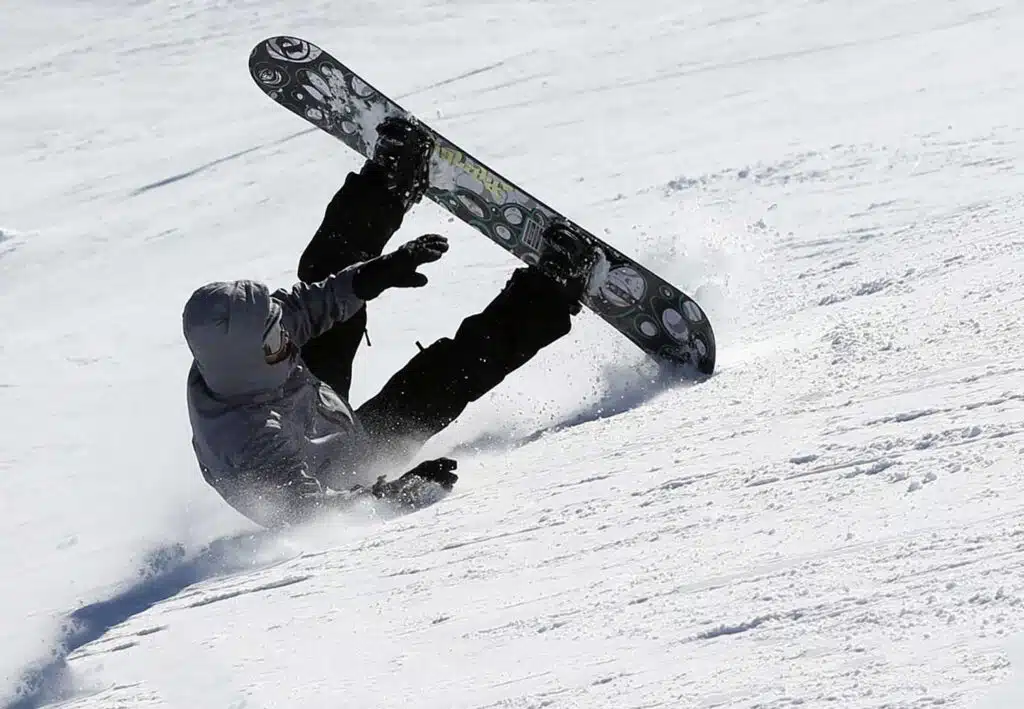 Address: 45 km southwest of Zanjan (View on Goolge Maps)
Papai Ski Resort, the only standard ski resort in Zanjan province, was built in 1346. It's located 45 km from Zanjan and 3 km from the town center of Ijrud. This 80-hectare resort sits at an elevation of 2,850 meters above sea level, with its highest point reaching 3,000 meters. It features a 600-meter-long slope. Facilities at Papai include a ski school, ski lift, suites, a coffee shop, and parking.
18. Saqqez Ski Resort (Kurdistan)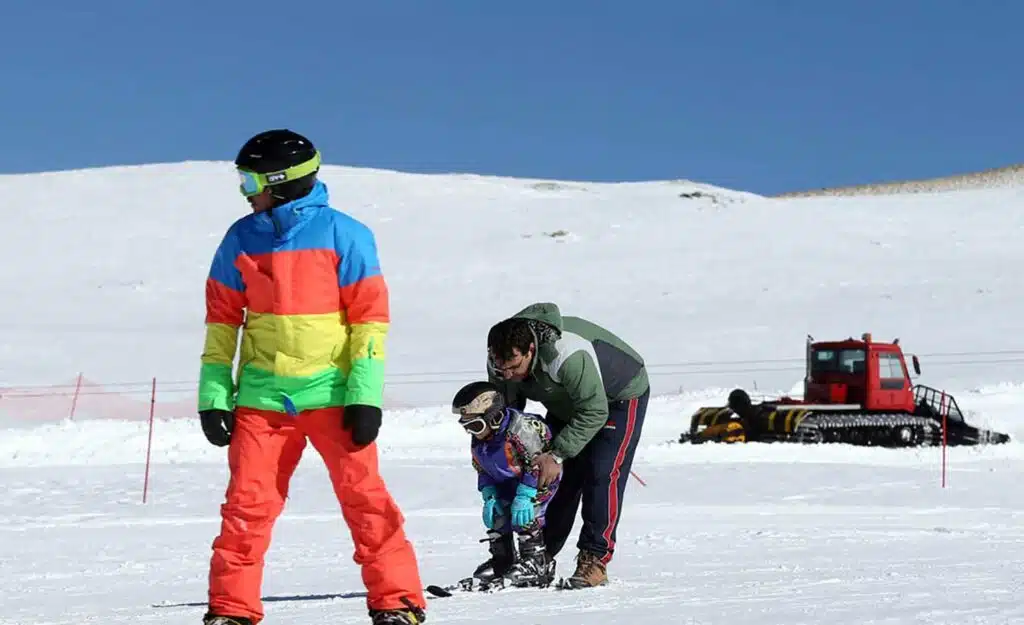 Address: Saqqez to Baneh road, north side of Mount Vazneh (View on Goolge Maps)
Saqqez Ski Resort, situated at an elevation of 2,100 meters above sea level, allows for skiing for five months of the year. The standardization of this resort was confirmed in 1384 and it is currently equipped with a ski lift. Saqqez is one of the most precipitous cities in Kurdistan province.
19. Yam (Payam) Ski Resort, Tabriz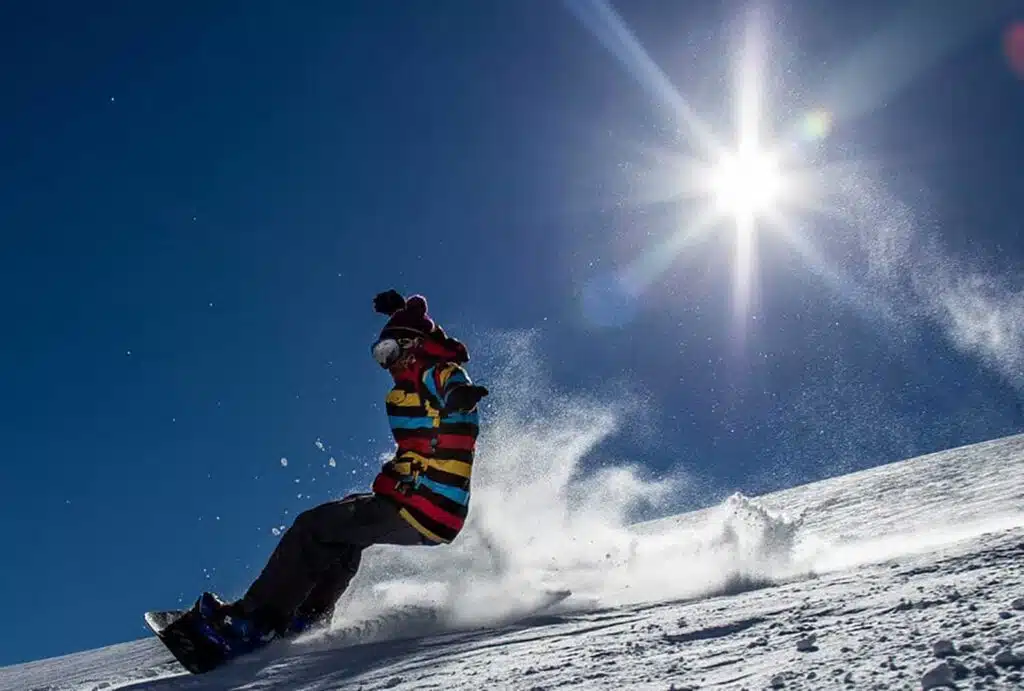 Address: 15 km on the Marand-Tabriz Road (View on Goolge Maps)
Yam (Payam) Ski Resort, one of the oldest in Iran, is located in Marand, north of Tabriz. It was established in 1348 on an 800-meter-long slope on the elevated slopes of the Misho mountain range. The elevation of this 30-hectare resort is 1,800 meters above sea level. Facilities at Payam include parking, a restaurant, restrooms, and ski lifts for beginners and professionals.
20. Fandoghloo Forest Grass Skiing, Ardabil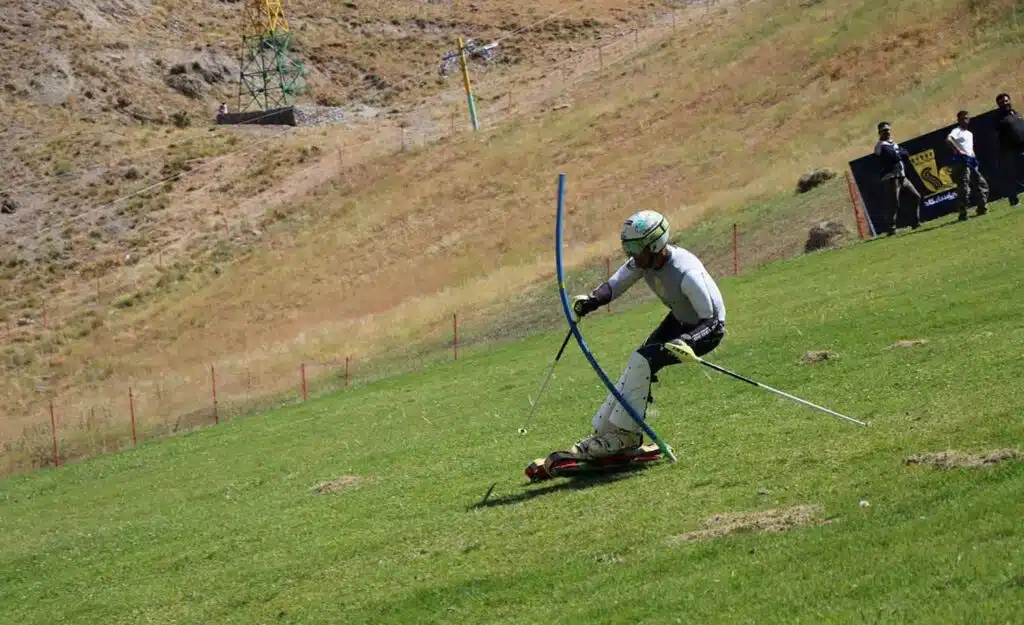 Address: Ardabil, 25 km from Ardabil and 10 km from Namin, Fandoghloo area (View on Goolge Maps)
This ski track, dedicated to grass skiing, is situated at an elevation of 1,700 meters above sea level, 25 km from Ardabil. The Fandoghloo area in Namin, known for its unique forests and pastures, and the presence of the Fandoghloo – Heyran cable car, attracts numerous tourists in the summer season.
21. Kaman Ski Resort, Qazvin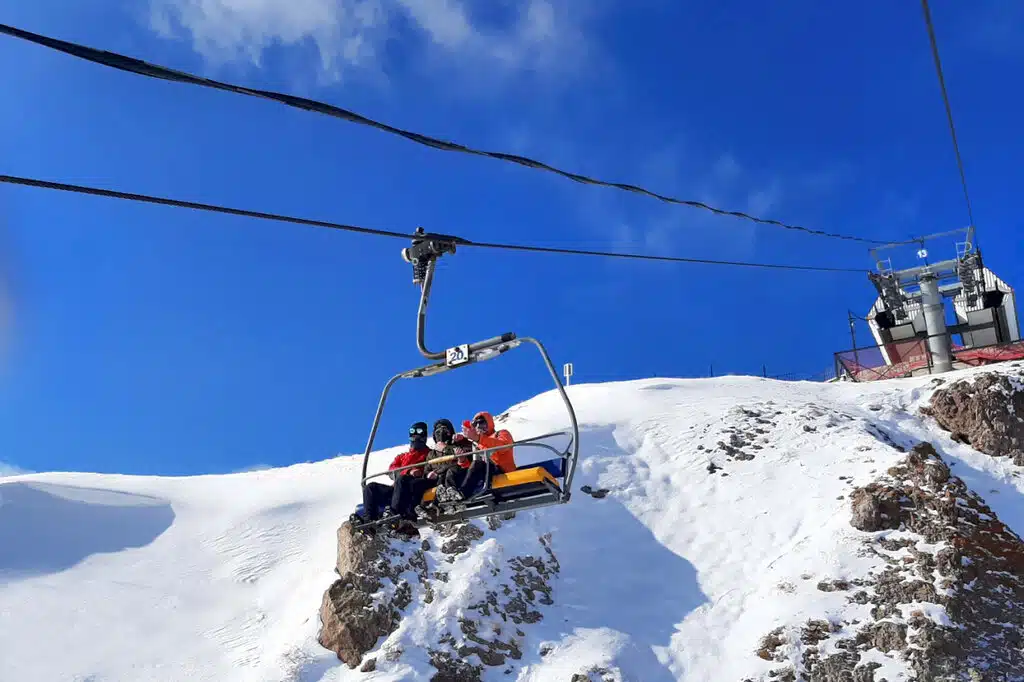 Address: 25 km from the city of Qazvin, Alamut region (View on Goolge Maps)
Kaman Ski Resort, stretching 6 kilometers, was inaugurated last December with the attendance of the then Minister of Cultural Heritage, Tourism, and Handicrafts. This resort, considered one of the most modern and well-equipped in the country, is located 25 km from Qazvin, on the outskirts of the Qazvin-Alamut Road. Its standards are also approved by the national Ski Federation.
Among the ongoing projects at this complex, one can mention the large and small spiral capacities, snowboard and resilience at the destination station, a chairlift for the convenience of climbers, bungee jumping, zip lining, big jump, open viewing platform, the construction of a dark park at the destination station, and the cultivation of medicinal plants.
22. Sakhvid (Sakhoid) Ski Resort, Yazd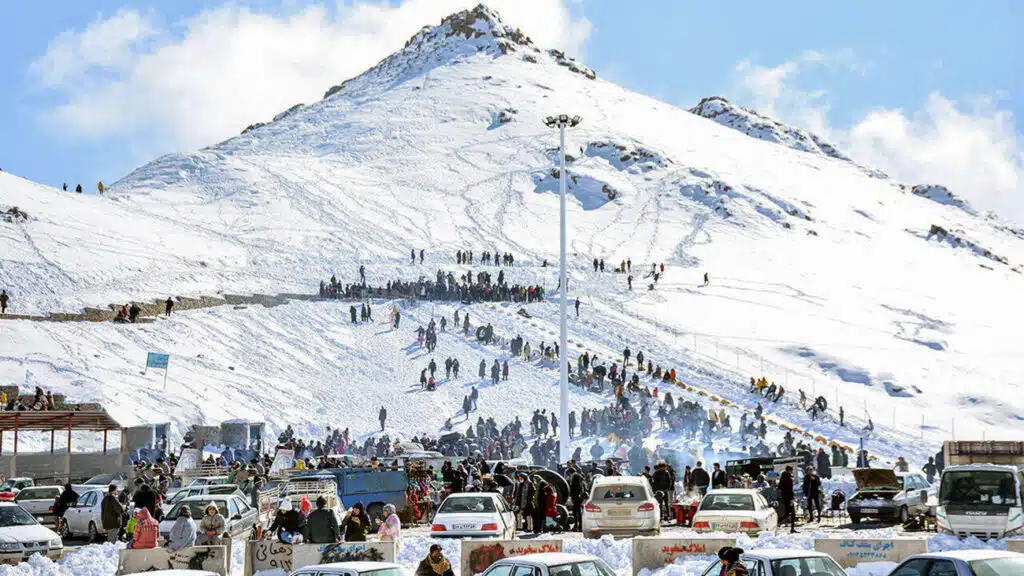 Address: Yazd, Taft County, Sakhvid Village (View on Goolge Maps)
The Sakhvid (Sakhoid) Ski Slope is located in the foothills of the Shirkuh mountain in Taft, in the village of Sakhvid, Yazd. Each year, with the onset of winter and snowfall, it becomes a place for skiing and snow games for the people of the Yazd desert.
As you pass through Sakhvid village in the winter seasons, you'll reach snow-covered mountains with captivating natural beauty. However, don't expect a standard ski location at this slope. The place is more like a large area for snow games. But if you're in Yazd, it might be worth paying a visit to this location.
Please share your views and experiences about visiting these ski resorts with us and other users of SURFIRAN tourism magazine.
Read more about activities you can do in Iran