Driving and Traffic
Is Iran one of the craziest places when it comes to driving and traffic? You bet! Sitting in a taxi with a low tempered driver who wants to pass every other car, or being stuck in the traffic for endless hours is not going to be pleasant. Plan your day to avoid the rush hours. We do recommend that you arrange a private tour, this way we provide reliable driver-guide who is familiar with the roads and time of traffic congestions, so you can leave the worries aside and enjoy your trip in safety and ease.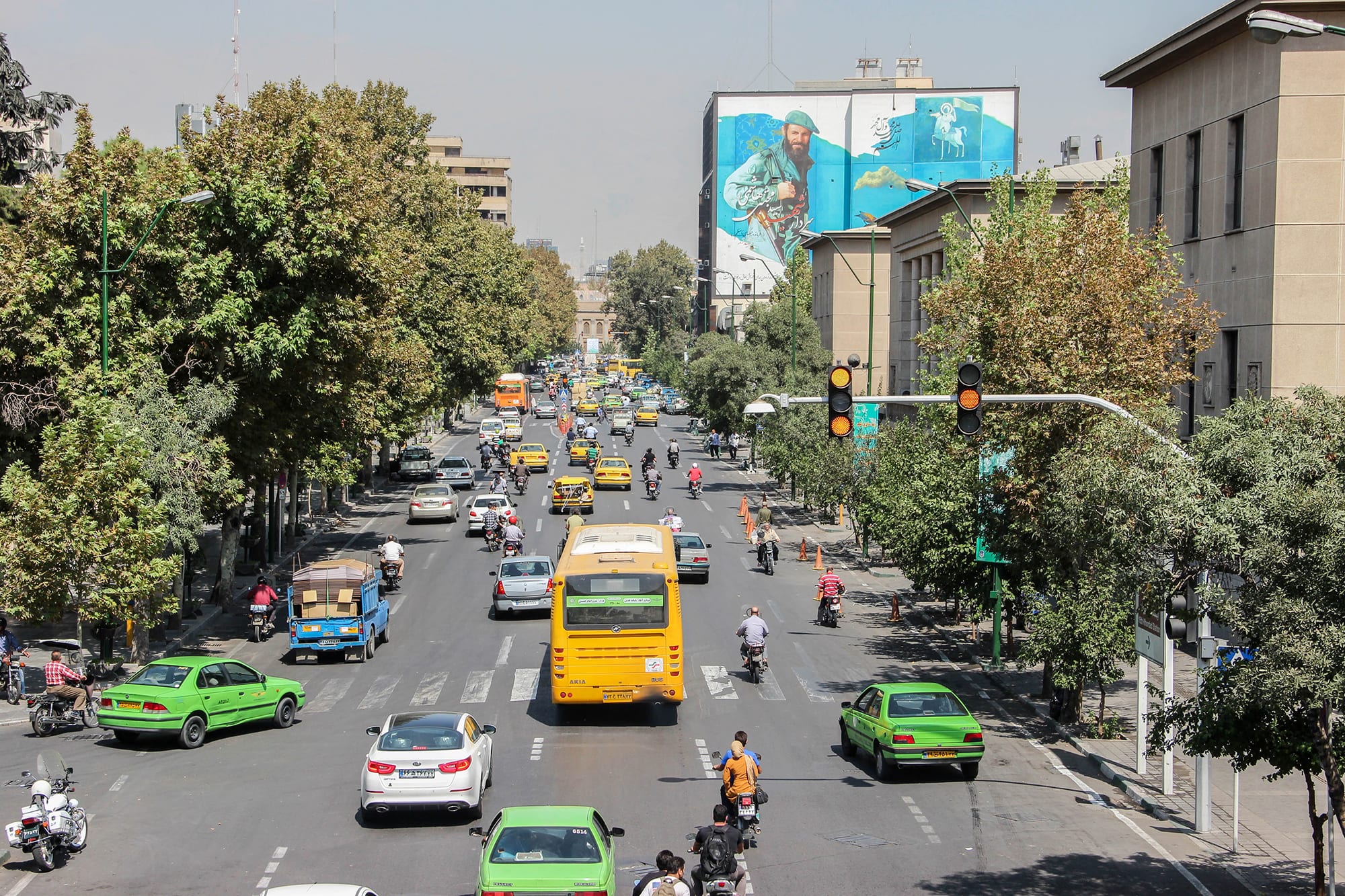 Crossing the streets
This might be the most challenging task of every single day. You probably will be surprised to see how people can cross such busy streets just by walking in between cars. The effort of crossing the kids to the other side can be tiresome.
Subway
The subway system is called Metro. It is clean, frequent, reliable and it runs north-south and east-west. The first and last car of each train is exclusive for women only, yet this doesn't mean a restriction for them from riding in other cars.
Definitely avoid the subway in rush hour period. The cars get over-crowded as literally millions of Tehranies use it to go to work or come back home. It is best to use the rush hour time to relax in the hotel or stay in the museum or so, as streets are also blocked by traffic jams which experiencing it will leave you exhausted with headaches and disturbance.
Traveling within the country
Iran is a large country. Average distance between the cities on the classic route is 350 to 500 kilometers. It is possible to travel by bus (the VIP bus has fewer and wider seats and is more comfortable), train (could be a railbus with seats or with sleeping cars, comfortable, but the journey normally takes longer than buses) and flight (easily found between major cities, and obviously more expensive ).
The main roads in Iran are generally in good condition, while the driver must always watch for other hideous drivers. While getting closer to the rural areas, roads get trickier and the number of cars decreases, but driving becomes more unpleasant. It is best to specially keep the distance from blue Zamyad pickup trucks on the road! Ask your guide about them.
Cultural norms
As mentioned before, Iranians love kids, and you will always get lots of compliments about the beautiful baby you have. Yet they might not hesitate to touch cute babies and slightly pinch their cheeks.
Be polite yet serious if you don't like strangers touch or kiss your kids, also tell your kids what to do in such situations. The same applies on taking photos. You might have endless requests to be in people's pictures or they want to take picture of your kids. Think ahead about how you want to face these situations.
Another thing is getting candy from strangers!! I know it sounds strange, but giving small candy or sweets to children is a random act of kindness, yet it can ruin all you have taught to your kids about trusting the strangers. Iranian parents usually like this event and ask their kids to thank the stranger.
Now, Let's explain some cultural norms which you might not find them elsewhere. One is Nazri. Nazri is any kind of food, from famous Iranian dishes like Gheimeh or Ash, to deserts like Halva and Shole-Zard or just sweets and dates, prepared to be given to neighbours, customers, or just people passing by. Don't be surprised to see a tray of dates on a wooden stool in a sidewalk, especially on a thursday. You will witness that people passing by take one piece of sweets or a date on the go. Thursdays are considered the day to remember the passed members of the family and each passing person taking a piece of the food, gives a short prayer for the spirits.
Nazri especially gets more serious during the holy month of Muharram when Iranians have mourning ceremony for grandsun of the prophet, Hossein. No need to worry about the quality and health of Nazri foods, they are picked with care and generosity, in order to make the receiver satisfied and the deceased soul happy.
The other cultural norm that makes foreigners confused is T'arof. This is an act of politeness, when people offer something like inviting others to their home, not to accept money for something, or even pay for others. Trust me that even Iranians are confused by this, but remember that when someone is inviting you to something, it might be just a way of being kind and polite, and they might not be able or afford to fulfill what they are offering.
A good indication can be politely refusing the offer two times, and if they still insist you can decide if it is legit or not. This doesn't mean that you have to refuse every single offer. Iranians are very hospitable and love to have guests. Take the opportunity to go to an Iranian home and have some tea with them to see how they live. You will be surprised by the diversity of people's life styles.
Don't let go!!
Crowded sidewalks and bazaars are the worst place to let go of your child's hand. Not that someone would kidnap the child, but the time from noticing your child is missing to the moment that you find her will be hell. Being stuck between hundreds of people, whom half of them want to help, when you don't understand their language, will leave you or your child with a trauma. Have the address and telephone of the hotel written on a piece of paper and put it in the kids pocket, or do as many western parents recommend these days, brand your child by writing the telephone number on their body.
In the event of a missing child, look around and ask shopkeepers or uniformed officials for help and ask someone to call the police. Rapid response number is 110 but finding English speaker operator is almost impossible.
And finally
You know better, that traveling with kids needs more effort and energy. It is best that you do the preparation way ahead of leaving home. Take clear photos of your passport and visa and send them to your email, so you can access the pictures rapidly and easily. Study about Iran's currency and exchange which is yet another confusing topic. Bring some favorite toys of your child along.
If you are reserving a traditional boutique hotel or ecolodge, make sure how accessible these places are, as their design could be different from regular hotel standards. Try to learn some Farsi, especially words that indicate a certain allergy or food preference.
And finally keep in mind that most social media, such as facebook, twitter, youtube, etc, are blocked in Iran, due to the government's policy, and some websites and apps could be inaccessible here, due to the US sanctions and restriction policies. It is a good idea to buy and install a VPN on your device before entering the country.