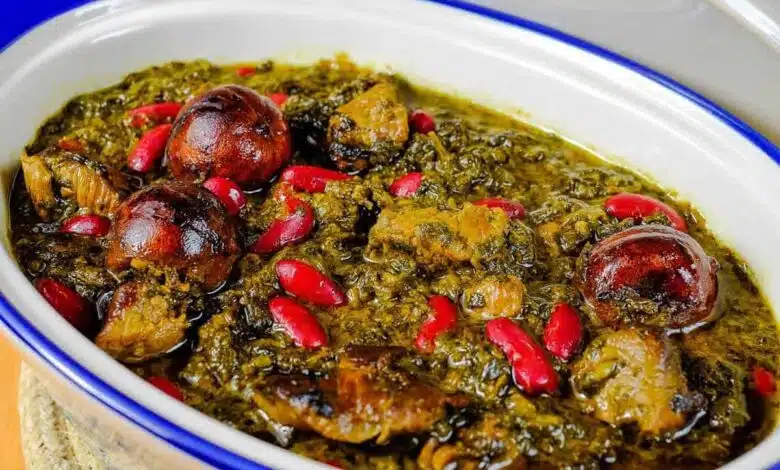 If you are a food lover and enjoy testing different types of food, drinks, and desserts during your travel to any corner of the world, we can say that Iran will be a paradise for you! By checking the menu of Iranian restaurants you will definitely notice the variety of dishes you can find in Iran. Not only will you see different types of cuisines in the country when traveling to Iran, but also you will find some unique dishes in every local restaurant in each city.
It is very common among Iranian to eat chelo (cooked rice) with their food, usually for lunch on a daily basis. One of the most popular types of foods in Iran is called "Khoresh" or "Khoresht", which is literally translated to English as stew dishes and eaten with chelo and called chelo khoresht. While there are numerous types of this dish in Iran, there are some of those which can be considered as the most favorable by local and even international tourists. The most popular and loved ones are Ghormeh Sabzi, Gheimeh, and Fesenjan that are cooked in all cities.
There are also some types of khoresh which are only cooked in one or some towns, same as Khoresht Mast which is only cooked in Isfahan. Or Boz Ghormeh which is mostly cooked in Kerman province. Since a major part of khoresh is usually vegetable and herb, it can be also a choice for vegetarian people.
Generally speaking, Iranians spend a lot of time of their day cooking their meal, especially for their family gatherings on the weekends. Cooking the stew is not apart from this general rule, in addition to preparation the ingredients. Cooking a great stew usually takes about five to six hours.
If you are planning to visit Iran, and you are also interested in knowing more about Iranian cuisine, beside the great heritage and numerous places you can visit, you have found the right article since we are going to introduce you some of the most popular Khoresh in this article. As a recommendation, take a note of the ones you like most so you can remember to taste them while you are traveling in Iran.
1. Khoresht-e Ghormeh Sabzi (Herb Stew)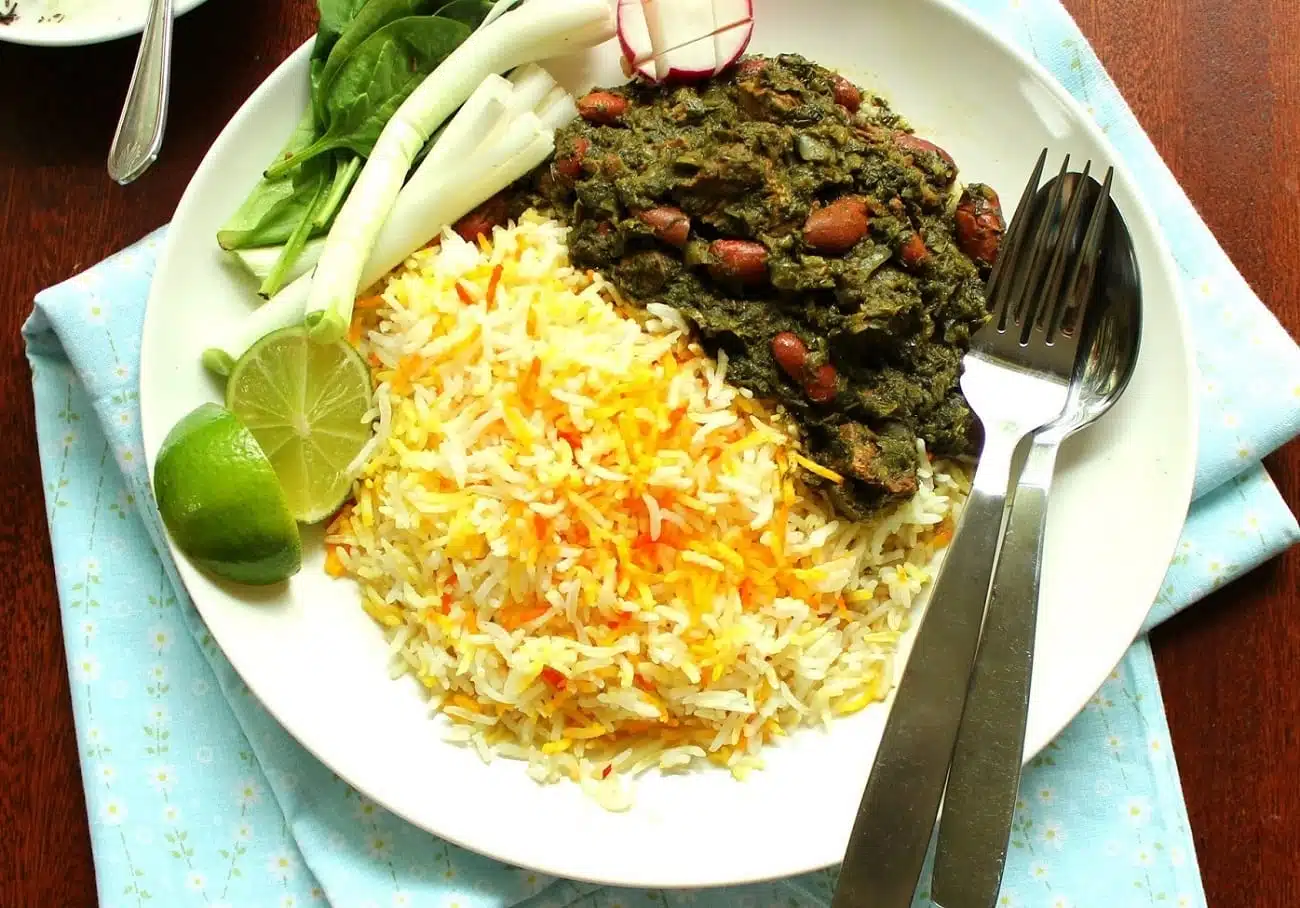 Let's start with Ghormeh Sabzi, believed by most of Iranian from youth to elderly, in addition to international tourists, is to be the most favorable one among all stews. You can rarely find a person who claims he or she doesn't like the stew. In almost every Iranian restaurants Ghormeh Sabzi is served, so I guess it would be not difficult to find a menu with this type of dish.
The main ingredients of the stew are meat (lamb or veal), fresh herbs (usually parsley, coriander, and spinach), kidney beans, and finally dried limes. The same as most stews, onion, salt, pepper, and other spices are used for better taste. As a result of dried limes, the stew is a bit sour. It is not very common, but some people cook the stew with chicken.
You may be interested to know that there is also an "International Day of Ghormeh Sabzi", which is celebrated on the last Saturday of November. The day is not really official, but tourism entities try to celebrate it in order to make other people become more familiar with this type of food.
Ingredients
1 onion
4 cloves garlic
1 tsp turmeric
1 lb. stewing meat
4 dried Persian limes
1/3 cup kidney beans, dried
4 cups fresh parsley, packed
2 cups fresh cilantro, packed
1 cup fresh fenugreek
2 cups fresh chives
Salt/Pepper
Oil
2. Khoresht-e Karafs (Celery Stew)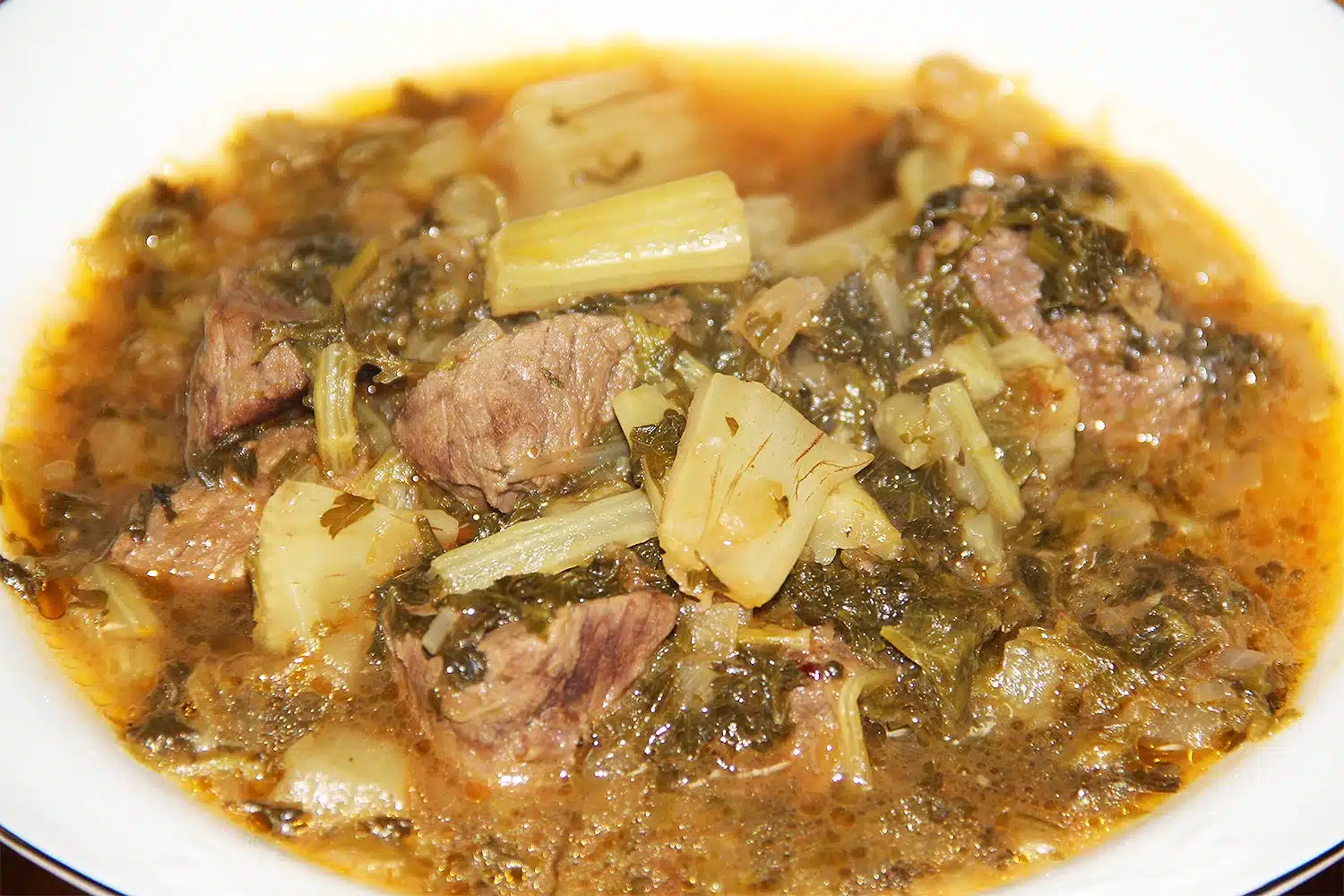 This type of stew is really healthy, with the main ingredient of celery, mint, and parsley. People usually cook it with lamb or veal. It is not usual to add any more ingredients to the stew, but sometimes kidney beans and pomegranate paste are also added to the ingredients. To give it a taste, lime juice is usually added just before serving the food. Therefore, the taste of Khoresht-e Karafs is a little bit sour.
Ingredients
300 Gramsstew meat (lamb or beef)
1 head of celery (stalks cut into 1-inch long pieces) , chopped leaves included
1 Cupparsley, chopped
1 Cupmint, chopped
1 Medium onion
1 Cupkidney beans
2 Tablespoonspomegranate paste
1 Teaspoonturmeric
½ Teaspoonsblack salt & pepper
vegetable oil
water
3. Khoresht-e Bademjan (Eggplant Stew)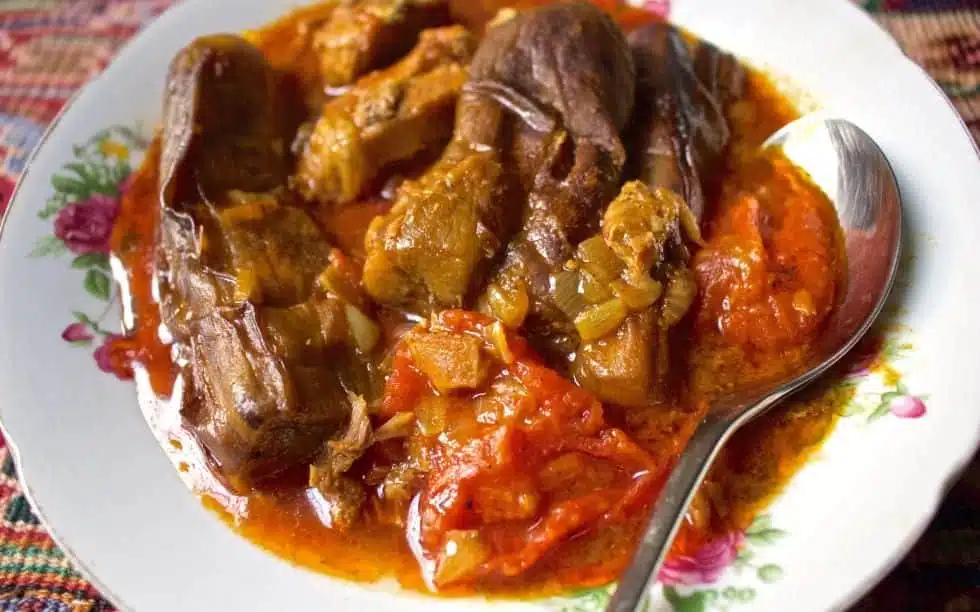 Bademjan (Eggplant) whether cooked, fried, or baked, itself is really favorable by many local people, and I personally believe that it is somehow the same in some other countries. In different parts of Iran, especially in the northern part of Iran, people cook many different numbers of food with eggplant as the main ingredient.
One of the most popular food with eggplant in the whole country is Khoresht Bademjan. The same as other Iranian khoresht, it is also cooked with meat (lamb or veal), in addition to eggplant, onion, spice, and tomato sauce.
Ingredients
2 lbs stew meat
2 large eggplants, peeled and sliced
1 large white onion, finely chopped
4 garlic cloves, minced
4 tablespoons lemon juice
4 medium tomatoes, cut in half
2 tablespoons tomato paste
1 teaspoon turmeric
1⁄2 teaspoon cinnamon
1⁄4 cup yellow split peas (optional)
1 teaspoon salt
1 teaspoon pepper
olive oil
4. Khoresht-e Fesenjan (Walnut Stew)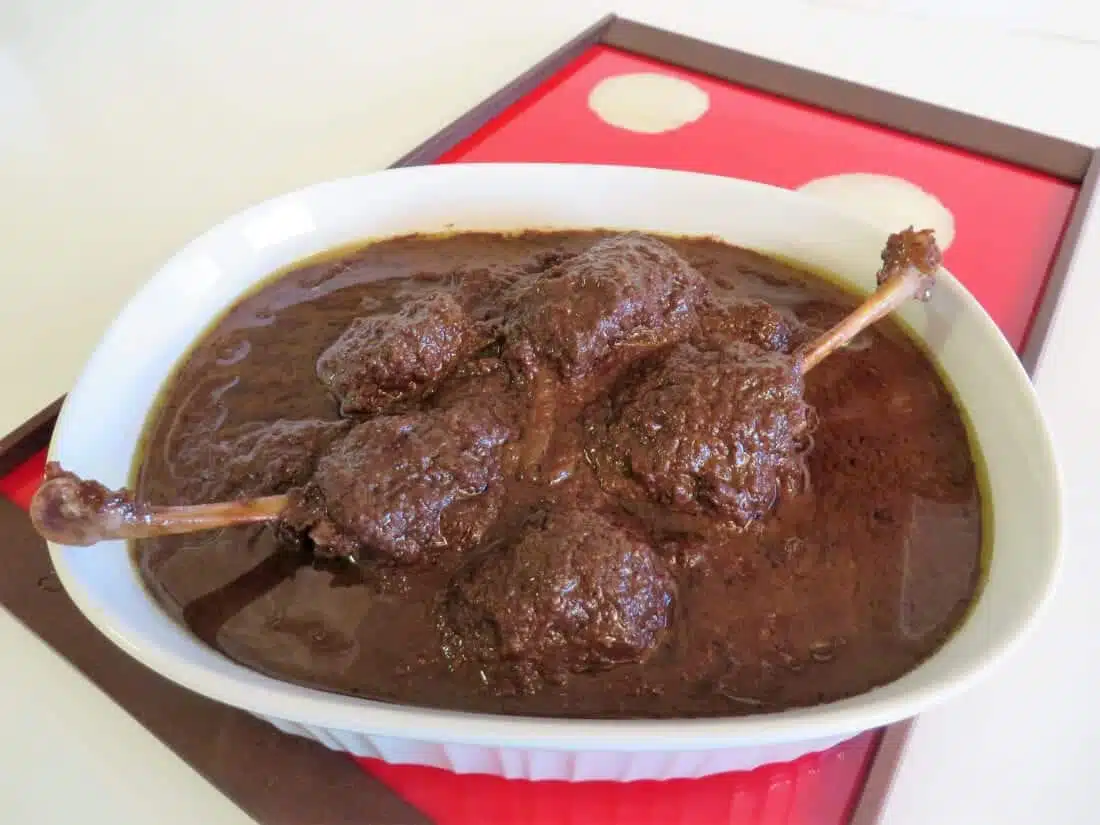 Fesenjan is one of the dishes that is usually served in ceremonies, even in a wedding or a funeral, and also it is a traditional dish of Rosh Hashana, the Jewish New Year. While the stew is originally from Gilan province in the northern part of the country, it is cooked in most of the cities in the country. One interesting thing about this type of stew is that there are various numbers of ingredients and recipes to cook this type of stew. As an example, some people cook it with chicken and some other with meatballs. You can also find it sweet or sour.
Whether the stew is cooked with meat or chicken, the main ingredient is crushed walnut. To add a flavor to the stew, sugar or pomegranate sauce, or a mixture of both is added to it.
Ingredients
4 cups shelled walnuts 1 pound
2 Tablespoons olive oil
2 small yellow onions finely chopped
6 cloves garlic minced
8 boneless skinless chicken thighs
6 chicken drumsticks
12 ounces butternut squash cubed
1 cup puréed pumpkin
1.75 cups pomegranate molasses
1/2 teaspoon cinnamon
1.5 cups water or chicken broth
1/2 cup fresh pomegranate seeds for serving
Fresh thyme for garnish
5. Khoresht-e Gheimeh (Yellow split peas Stew)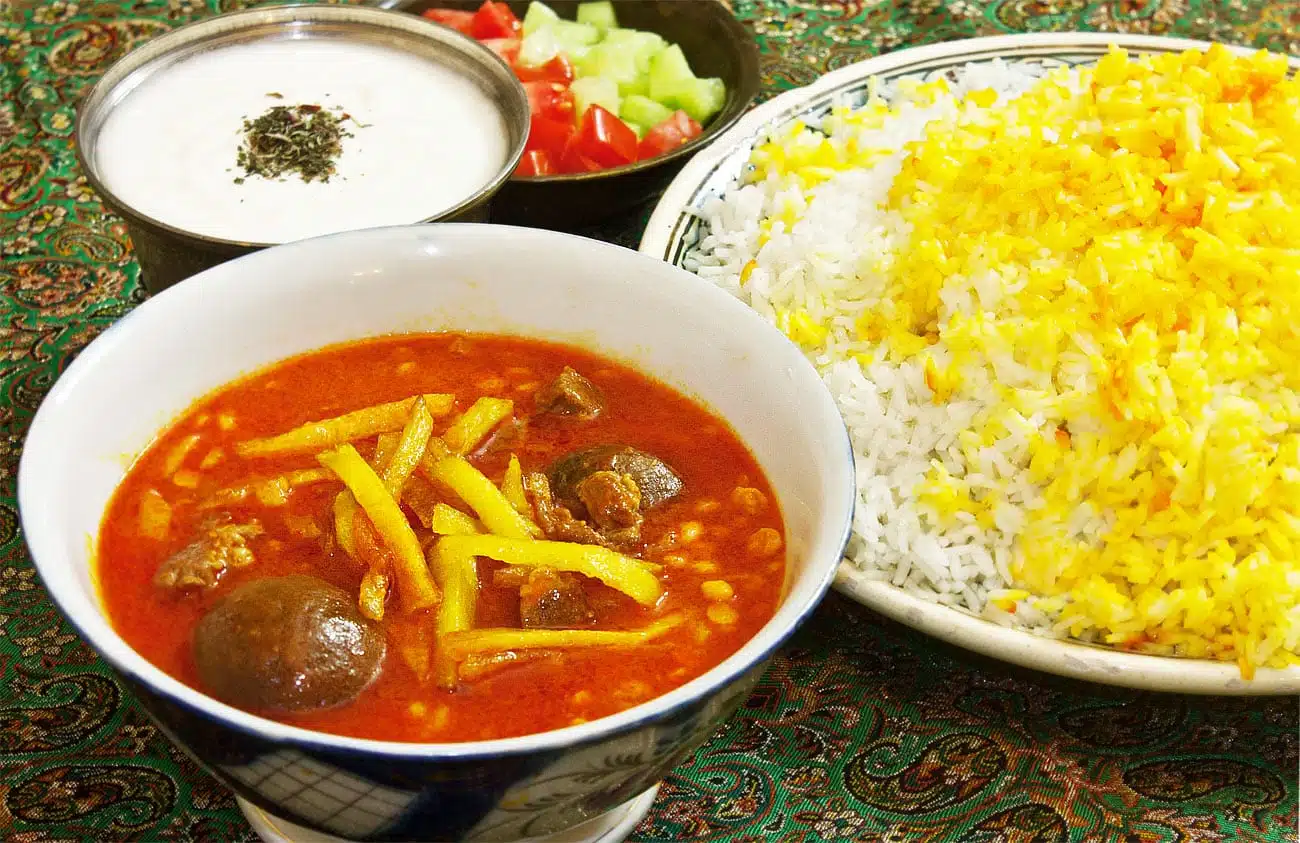 One of the Islamic cultures which is also true about Iranian, is that people give away free foods on religious occasions, which is called "Nazri, and Gheimeh is one of the most popular Nazri in these types of events.
Chopped meat and yellow split peas are the main ingredients of this type of khoresh. To give it more taste, tomato paste, onion and spices are also added while cooking the meat. The stew is usually served with julienne potatoes. Some people also add fried eggplants to the stew.
Ingredients
2 pounds meat (lamb or beef), washed and cut into small pieces
1 cup yellow split peas, picked over and washed.
1 large onion, peeled, chopped
2-3 tablespoons tomato paste
4-5 dried limes
1/2 teaspoon turmeric
A pinch of cinnamon
1 teaspoon  rosewater *optional
Salt and pepper to taste
Vegetable oil
Water
2 large potatoes, peeled, sliced and fried for topping
6. Khoresht-e Mast (Beef yogurt stew)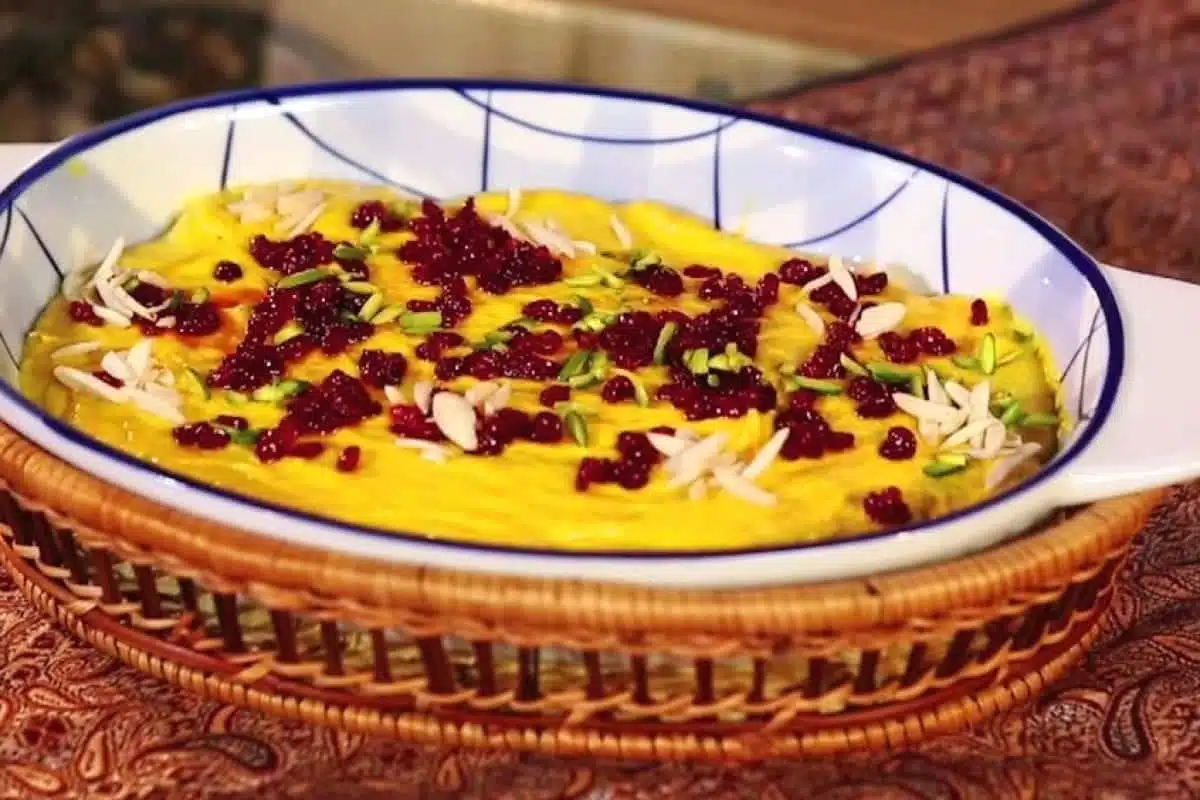 Khoresht-e Mast or beef-yogurt stew is originally cooked in Isfahan, and can mostly be found just in this city. One thing that you may find strange about this type of stew is that some people eat it as a main dish, while others have it as dessert due to its sweet taste.
The main ingredients of the stew are beef, plain yogurt, and saffron, in addition to onion, turmeric, egg, and sugar. When all the ingredients are cooked, they will be smashed and mixed together, so you can't split and identify the ingredients. The stew is usually served as a cold dish and designed with sliced pistachios and almonds.
Ingredients
1/4 lb (113g) Beef Neck
5 Tbsp Plain Yogurt
1/4 Tsp Saffron
1 Small Onion
Turmeric
1 Egg Yolk
1/2 Cup Sugar
7. Boz Ghormeh (Beef Stew)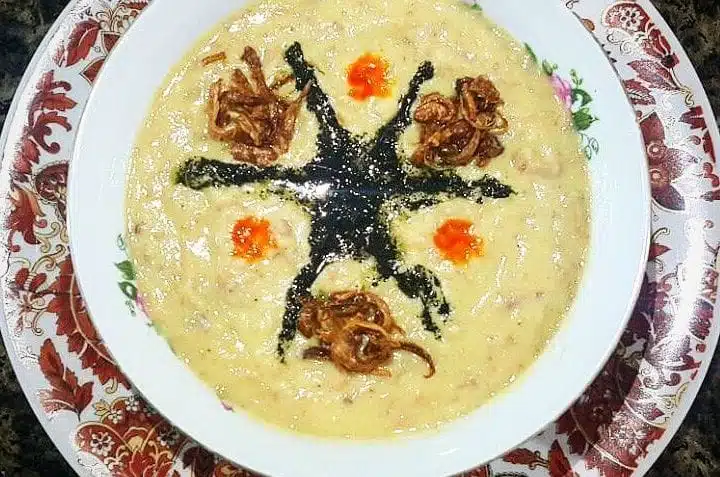 The same as Khoresht-e Mast this stew is not that much popular in the whole country and is only cooked in Kerman province. The stew contains chopped beef, beans, whey (kashk) and onion. Garlic, saffron, turmeric, salt, and pepper are also added to the stew to give more taste to it. The stew is usually served with a local type of dried bread.
Ingredients
Chickpeas, 1 cup
Onions, 1 kg
Garlic bulb, 1 no
Boneless mutton, or beef, 500 g
Kashk, a diary product used in Persian cuisine, as required
Salt, pepper and turmeric, as required
Brewed saffron, 1 tbsp
Fried powdered mint, as required
Walnuts, ground, as required
Water, 2 cups