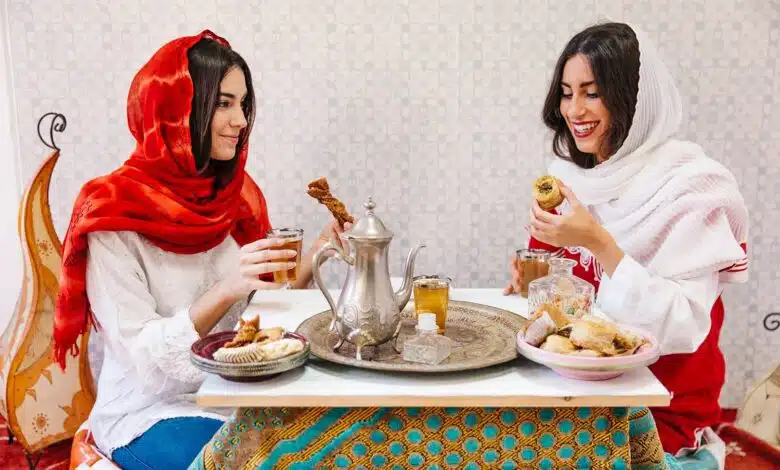 Alcohol is illegal in Iran. But there are so many different soft drinks you might never heard of that you should try! Let's jump in!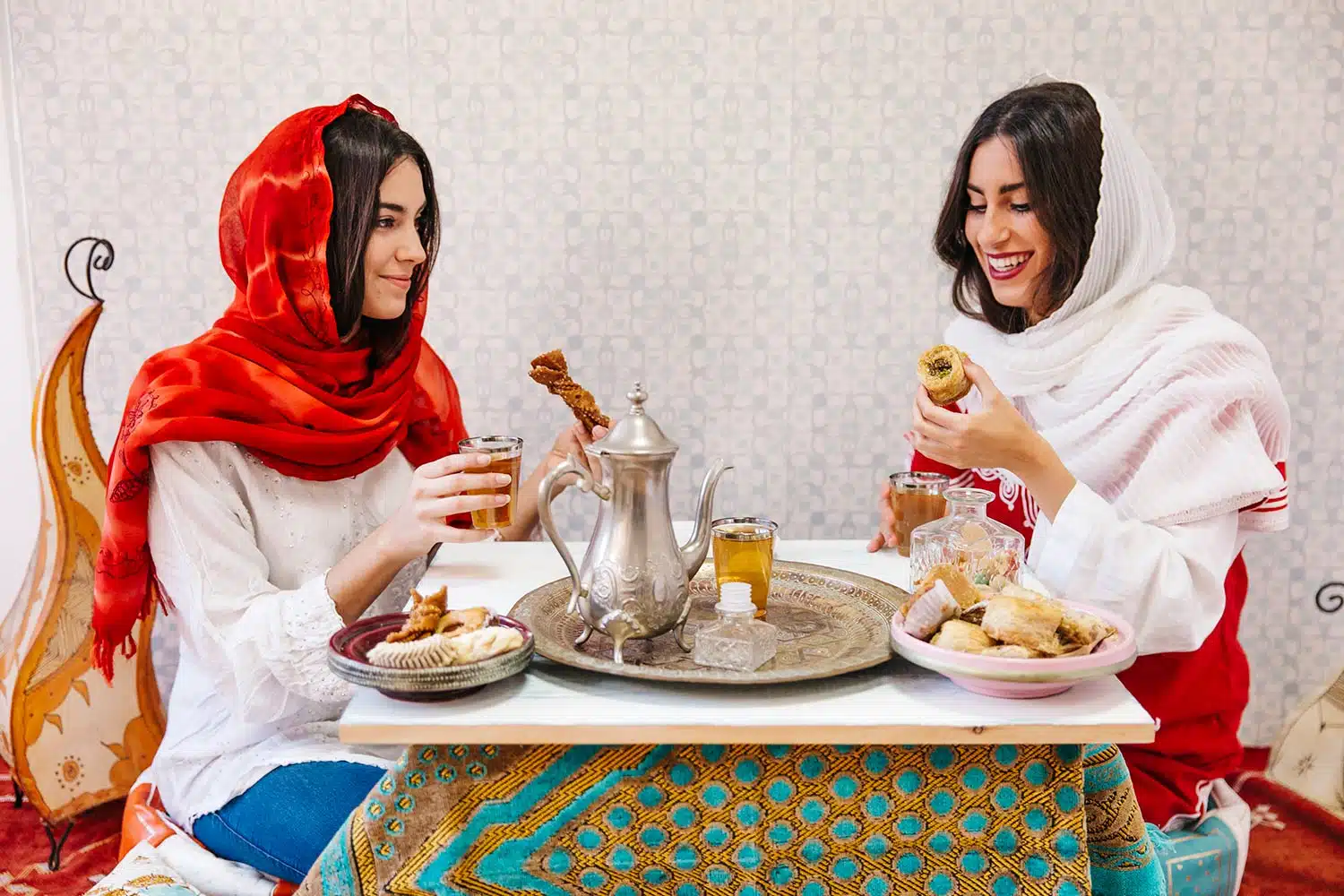 Iranian Drinks & Beverages
The dominant drink in Iran is Chaiee, hot black tea, equivalent to English Breakfast Tea. No matter if it is 40 degrees or -15, tea will be offered to you anywhere at any time. Most of the times it comes with sugar cubes, no teaspoons provided. A challenge for you would be learning how to put the sugar cube in your mouth and drink the tea without burning yourself. But if you want to be in the safe side, ask for Nabot, a sugar candy on stick or as a piece, and Iranians would be pleased to learn that you are familiar with this secret medicine!
Other than tea, there are two main categories of drinks in Iran, Damnoosh and Sharbat.
Damnoosh is general term for herbal tea, a mixture of different herbs, brewed to heartwarming aroma and color. Some famous damnoosh are Babooneh (camomile), Chai Torsh (hibiscus), Beh (Quince, normally with Cinnamon), Ustukhuddus (Lavender), Na'Naa (Mint), Beh Limoo (lemon beebrush), Bahar Narenj (Orange Blossom), Gol gavzaban (borage), Hel (cardamom), Darcheen (cinnamon), Saffron and many other kinds. Most of traditional style cafes now a days have perfected the art of making damnoosh by mixing different fruits and herbs. Order a damnoosh for a relaxing afternoon or warming up in cold winter days.
Sharbat is favourite refreshment of hot summer days. A mixture of any sharbat and ice water cools you down and the aroma tranquilizes your soul.
Sharbat Albaloo is a beautiful pinkish red sharbat, made of sweetened sour cherry syrup. It is by far the most popular fruit sharbat existing in Iran. Other fruit sharbats are Shahtoot (king of berries, it looks like large black berries but has a richer taste) and Tameshk (a variety of wild berries, also very delicious).
But sharbat has another subdivision of distillates which are divine!! Try Sharbat Bidmeshk-Nastaran while in Shiraz. The distillate of pussy willow catkins and rosa canina is a heavenly treat in a hot afternoon after returning from Persepolis. Also try Bahar Narenj (orange blossom), Sekanjabin or Serke-Angebin (sometimes served with graded cucumber, very much recommended by traditional medicine of Iran).
Golab-za'feran (a mix of rose water and saffron), Tokhm Sharbati (chia seeds) and Khak Shir (descurainia). Iranian traditional medicine is based on the idea that everything in the world, from objects to human body, has warm or cold nature. That's why distillates and sharbats are not just refreshments, they are remedies.
Juice!
At first juice could seem very simple, but you will be surprised to learn that carrot juice is so popular in Iran! It is called Ab Havij and you can order it Sadeh (plain) or as Havij-Bastani (carrot juice with a chunk of traditional saffron ice cream) which is an all times favorite regardless of the season.
Ab Anar or pomegranate juice is as serious as the Iranian identity! You will find small shops only selling Ab Anar and the variety includes torsh (sour), shirin (sweet) and malas (sweet and sour).
Ab Talebi is another popular street drink. It is blended honeydew melon with ice and a little sugar. Ab shahtoot (remember? King of berries!), Ab sib (apple juice), Ab karafs (celery juice), Ab anbeh (mango juice), and Ab porteghal (orange juice) are also widely available at vitaminsaras (tiny juice shops you can find on busy streets).
Other Dinks in Iran
Yes, you can find most kinds of smoothies in certain upscale cafes, but the most popular smoothies also found in Vitaminsara are Shir Moz (banana and milk shake), Shir Nargil (coconut and milk shake) and Shir Pesteh (pistachio and milk shake)
What is Served with Food?
Doogh, this favourite yogurt drink, might taste very different in the beginning, but being invited to kebab places five times in a row, you will learn to appreciate the salty and sour drink as much as Iranians do.
Delester is flavoured non-alcoholic beer with lemon, apple, peach and tropical flavour. There is also the classic non-alcoholic beer available which you can refer to as Delester classic or sadeh or talkh (bitter).
Nooshabeh Coca Cola, Pepsi, Fanta, 7up, Sprite and many other brands as well as Zamzam, Shadnoosh, Iranda, Parsi cola for domestic brands. Let us tell you a secret. When coca cola and other drinks came to Iran, their brand were not important. They were referred to by their color: Meshki or Siah (black for Pepsi for instance), Zard (yellow for orange fanta) and Sefid (white, actually used for clear drinks like sprite). There are still many places that use the color terms instead of brands.
Related articles:
Coffee Products
Nowadays it is very common to find specialty coffee in Tehran and most major cities. Young Iranians have discovered their love for coffee and enjoy espresso, latte, cappuccino, affogato, macchiato, and even drip coffees like chemex, aeropress and v60. But normally in any place other than a newly established cafe you will be served with 3 in 1 nescafe (instant coffee, sugar and creamer package). Turkish coffee is common in homes but not much served in the restaurants or cafes. If you are traveling in the south of the country (Abadan, Khorramshahr, Qeshm or Kish island) do yourself a favor and order their Arabian coffee. It could be a very different and pleasant experience.