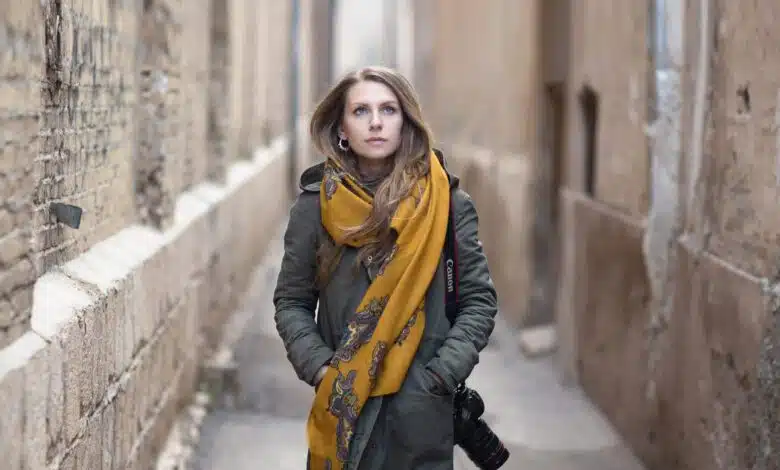 You can't! Not in an article, not in words, you have to go there, see it with your own eyes and live it on your own skin.
– By Sara Melotti, Photographer & Director
I wanted to see Iran. I wanted to feel the charm of ancient Persia, admire the intricate and colorful designs of its architecture, taste the incredibly diverse dishes, soak in the multilayered culture and live its well known heart-warming hospitality on my own skin; and thanks to SurfIran I did it all, on a dream of a road trip I'll never forget.
I'm a travel photographer, I travel A LOT. Often alone, often in 'difficult' places. Traveling doesn't scare me, it fuels me. On the days preceding my departure everyone I talked to kept asking me "But isn't Iran dangerous? Aren't you afraid of going there?". It's a common preconception unfortunately.
The media often write, say and show only one part of the picture, biasedly and poorly portraying a country that has so many incredible things to offer. But I tend not to trust mainstream media, I prefer to go see things with my own eyes before having any opinion about a country, and now that I've been there I can tell you without a doubt, that the Iran I saw has nothing to do with what we see on the news.
But let me start from the beginning: I left home, in Italy, without a hint of fear, my friend Ester on my side. We knew this trip would have been amazing the moment we got out of the airport and met Mehdi, our guide, a charming, kind, fun and super professional Iranian guy who made us feel at home right away while we chatted in the car.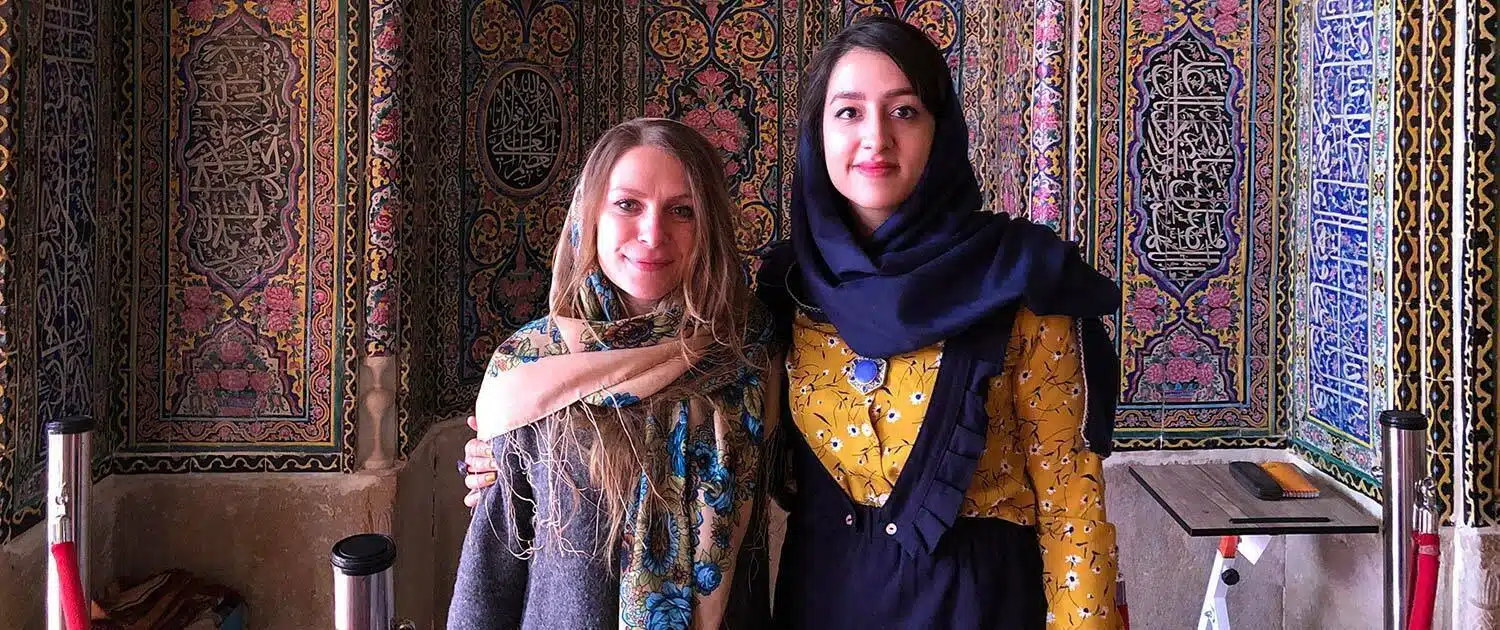 Where are you from?
He dropped us at our hotel and after checking in we took a walk in the neighborhood. The first thing I noticed was the genuine welcoming smile of the people we met in the street, often asking us a "Where are you from?" Followed by an even bigger smile. The second thing was a total sense of safety and ease while walking.
Mehdi showed us around Tehran for the following two days. He brought us to see the Golestan Palace, the Bazaar (where we had our first taste of the local cuisine in a really authentic and really busy restaurant I still crave today), the Tabiat Bridge and the Telegani Park, showing us the many shades of the city, telling us with impeccable knowledge everything he knew about the past and the present of Tehran,and giving us the local experience I was hoping for.
You see, I'm a travel photographer, a blogger, traveling and telling stories is my job and the best way to do my job is to travel as local as possible; a little sight-seen is good but what interests me the most is seeing the essence of a country, its real life. My head is forever filled with questions like" How do people live, what's life like in the country, what difficulties do people face, what do they love, what do they eat, what do they dream about?". And on those first few days around Theran with Mehdi, I knew that I'd go back home with a lot of answers to my never-ending questions.
We ended our unfortunately-short time together in Darband, a little peaceful corner at the bottom of the mountains full of nice restaurants and cafés tangled uphill, where Iranians go to take a break from the heat and the pollution. The following day we flew to Shiraz where Bahar, our guide for the rest of the trip was waiting for us.
Shiraz— City of Roses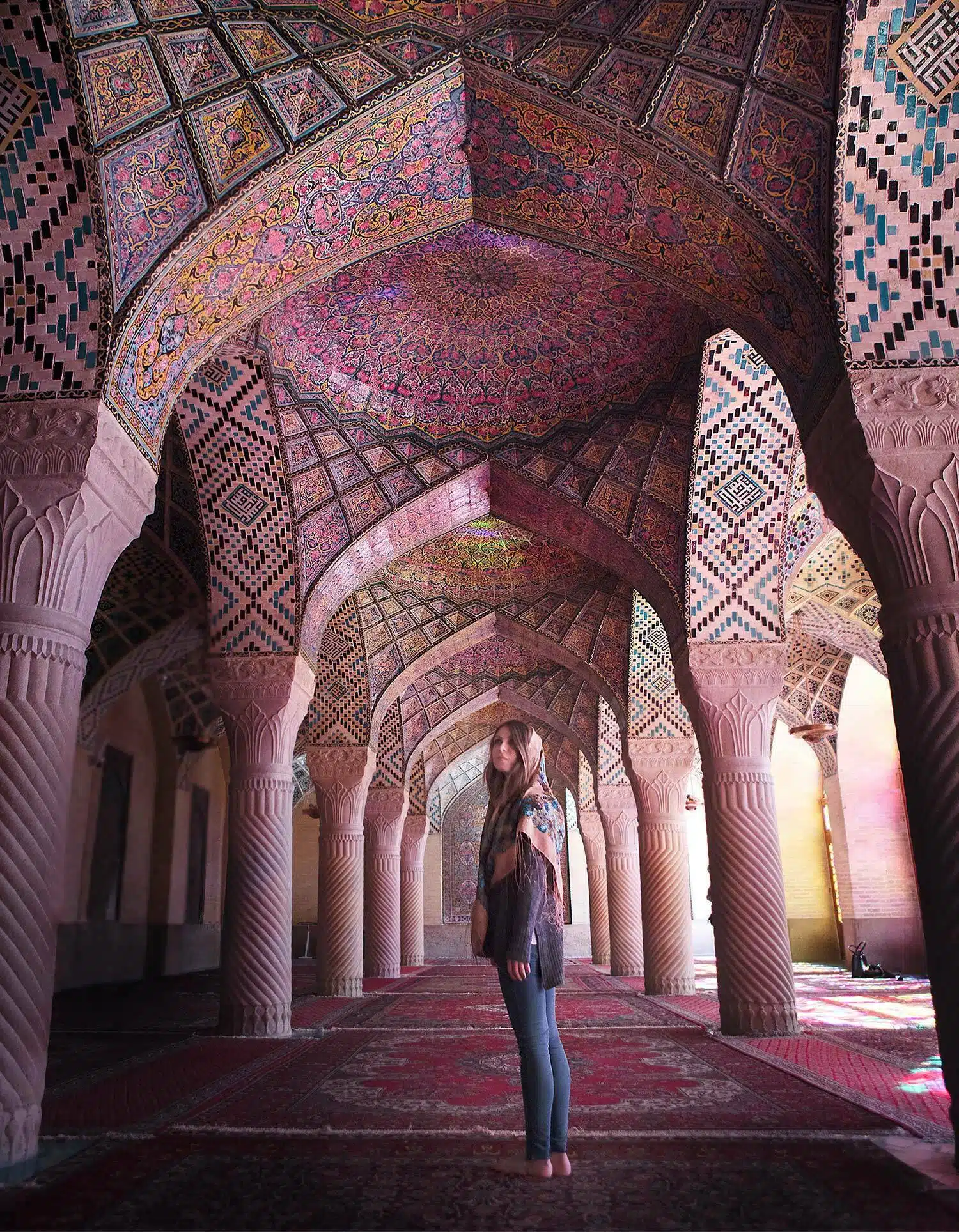 Bahar is a young, beautiful and brilliant Iranian girl that knows everything about her country and puts unbelievable passion in her job, and who quickly became a good friend and made the experience beyond incredible. Shiraz is her hometown, she knows it like the palm of her hand.
We visited the usual iconic landmarks like the Pink Mosque, the Eram Gardens, and the Vakil bath; we got lost in the hyper-suggestive Vakil Bazaar full of pottery, jewels, fabrics and spices; we roamed around the local markets, places not often visited by tourist but that, to me, are so important and fascinating to see (what lands on your plate comes from here, and food silently tells a lot about the history of a country), we ate in local and delicious restaurants and we spent our two nights in the city in the prettiest boutique hotel.S
From Shiraz to Yazd
After two beautiful days in Shiraz we hit the road towards Yadz.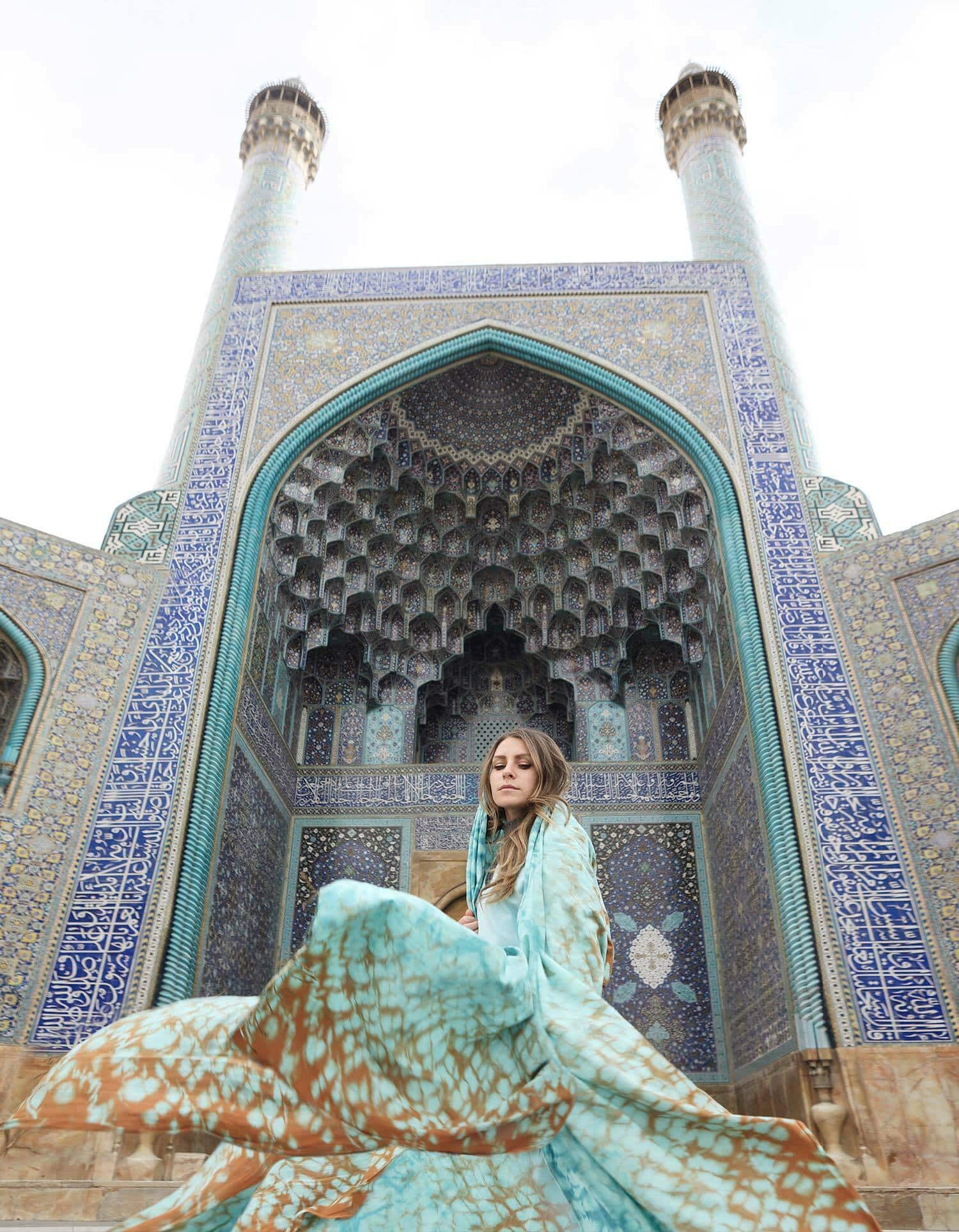 On the way we couldn't miss one of the most important sights in this ancient Persian land: Persepolis. The millenary capital of the Achaemenid empire. Just walking around the ruins you could breath in so much history, feeling the essence of a long lost civilization all around you.
This surreal vibe continued in Yazd, where we felt catapulted inside a one thousand and one night story.
Wrapped among two deserts, Yazd, It's thought to be one of the oldest cities in the world and it looks different than any other city in Iran because of its tangled alleys of ocher clay in the oldest part of town. Beside the fairytale look and the to-die-for food, Yazd is a shopping paradise for someone who wants to decorate its home, artigianal pottery here is said to be the best in the country.
On our last day in Yazd Bahar brought us to a local bakery, where we got to see how bread—which, like in many middle eastern country, is an important part of daily life—is made. The two man making bread were so kind to us and happy about our 'intrusion', the smell of the place was hypnotizing and I am not exaggerating when I say that that was the best bread I ever tasted in my life… and I'm Italian, we took pride in our bread but this was definitely something else!
We left Yazd a bit melancholic, because as we drove away and saw the city vanishing behind us in the rear mirror we realized we were falling deeply in love with the country, its people, its culture, its food, and there was still so much to see and learn, but our trip was about to end soon.
Beautiful Esfahan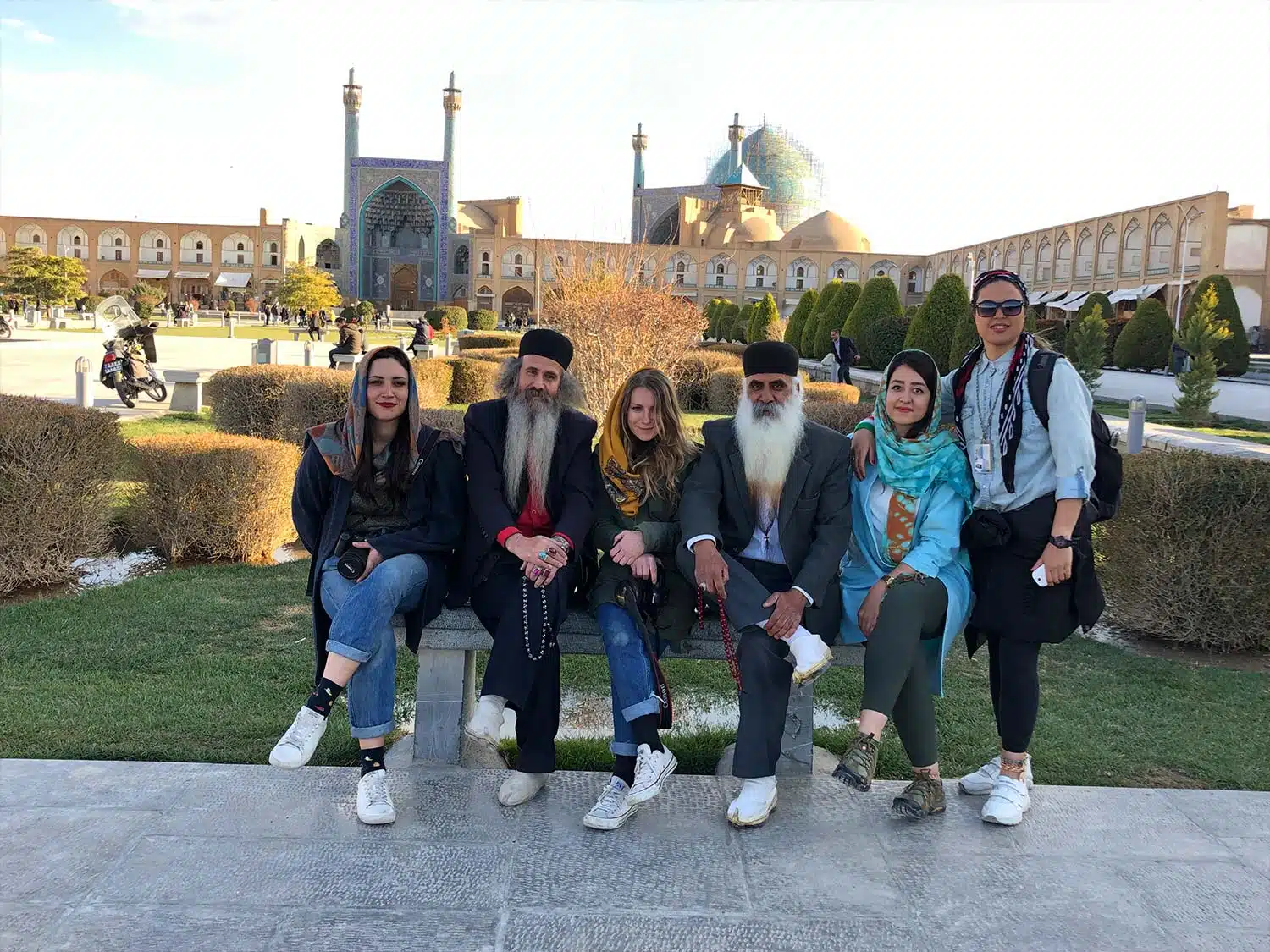 When we arrived in Esfahan it was already Dark. While we sat in traffic I noticed the look of the city was much more modern than Yazd, and I thought right away that I probably wouldn't have liked it much because it was one of those 'too touristy' places…boy I was wrong!
I like being wrong, seeing my own preconceptions collapse is good, is humbling, it gives you a new perspective on life and reminds you how little you really know. Esfahan is one of the most visited city in Iran because of its beautiful Mosques and the Naqsh-e Jahan Square (the second biggest square in the world, the first one is in China) but it's 100% authentic, as far as it can be from a tourist trap. During our time there we filled our eyes with the most pristine man-made beauty and our stomach with—again—delicious, delicious food (don't miss the biriani!); we chatted with sellers in the Bazaars and sat and drank tea with man and women having picnic in the square, often getting an invitation for dinner to their homes (the good old Tarof!). Our last morning in Esfahan was bittersweet, we were so happy for all that we had lived, yet so sad not to have a little more time.
Back to Tehran
On our drive back to Tehran we made a quick stop to Abyaneh, an old town with a quite unique look tucked between the mountains; and one last stop to Kashan, where we visited the iconic Hammam of Amir Ahmad and watched one last Iranian sunset from the rooftop full of domes.
It was nearly heartbreaking to say goodbye to Bahar at the airport. I promised her I'd be back, and I intend to keep my promise. Because there's so much more I want to see in iran, so much more I want to learn about it.
On the plane I thought about all I'd lived during this short yet profound and intense journey. I thought about how everywhere we walked we were greeted with a smile and a heartfelt "Welcome to Iran" that never got old; I thought about the contrasts I saw, about the difficulties people face in their daily life, about their immense hospitality towards us no matter what. Because I had a camera in my hands I was let in into many kitchens, bakery-backs, workshops, homes, and there I saw the look people had in their eyes while showing me what they were making. I saw beautiful people, kind people, welcoming people, curious people, proud people. Proud of being Persian, proud of what they do, of their culture, their country and open to tell you all about it.
Traveling Iran with SURFIRAN, and Mehdi and Bahar on our side, with their knowledge and insights made this trip so much more than just a trip: it has been pure life, a breath of fresh air, a reminder of how much beauty there is in this world and its people, and of how we should leave behind our preconceptions once we leave our home.
I came home with mixed emotions, with more questions in my mind than I had when I left maybe, but with a heart full of good and beautiful things, because Iran and Iranian people filled it in a way I couldn't imagine possible.
Iran is a land with an ancient soul, rich history mesmerizing architecture, amazing food, and with many contradictions yes, but surely made of people with the kindest eyes and the most sincere smiles. And that's what matters the most to me.
So, is it safe to travel to Iran?
Yes, undoubtedly.
Is it beautiful?
Beyond expectations.
And how does one sum up Iran?
You can't! Not in an article, not in words, you have to go there, see it with your own eyes and live it on your own skin.
I hope you'll make it there soon!
Love,
—Sara