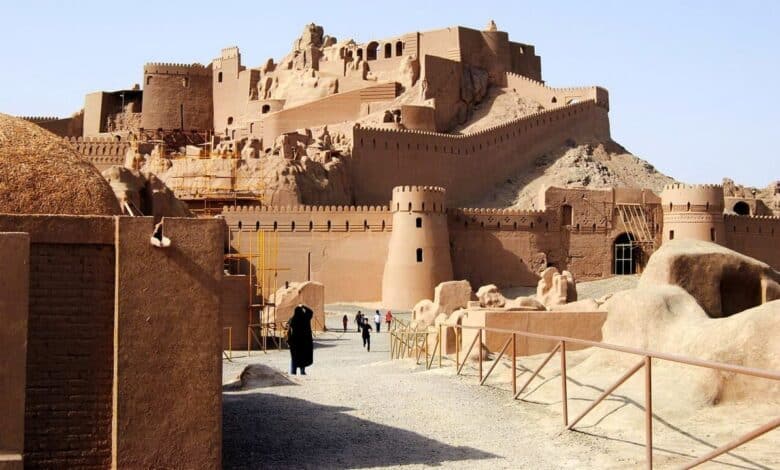 Since the very beginning of human settlement, the existence of castles and citadels seemed crucial for protecting and defending inhabitants from enemies.
During the history, particularly in prehistoric and early historic times, castles have played an important role in fortifying countries. They were normally maintained by authorities along significant routes or cities and most of them were located in uncovered heights with steep slopes or cliffs. Such locations have always served as a natural defense against enemies and offered a panoramic view over the surrounding lands, so the cities and their surroundings lands could be defended.
Most of the castles in Iran had springs or wells, except for those which were already surrounded by water. These structures are considered to represent an important aspect of the country's history and thus, are worth visiting as a tourist historic attraction. So, let's discover some of the most famous castles in Iran together.
1. Falak-ol-Aflak Castle
This amazing castle, dates back to Sassanid era and is located on top of the Falak-ol-Aflak hill in Khoram Abad city in Lorestan province.
This gigantic structure covers an area around 5300 square meters and the height of the entire structure, including the hill, reaches to more than 40 meters above its surrounding lands.
2. Alamut Castle
Although today only ruins of this magnificent fortress have remained, it was once a very glorious structure, located in the mountainous region of Alamut in the southern part of Gilan province near Rudbar. Built around 865 AD, Alamut castle was considered to be impregnable to any attack and was famous for its paradisal gardens and libraries where, scientists, theologians and philosophers could debate in intellectual freedom.
3. Shush Castle
Situated in the ruins of the ancient city of Shush in Khuzestan province in the southern Iran, this beautiful castle resembles medieval monuments in France, as it is constructed by French archaeologist Jean-Marie Jacques in the late 1890s. The castle is relatively well-preserved and is a great example of the pre-scientific era.
4. Dokhtar Castle (Qal-e Dokhrar)
Dokhtar Fortress- which literally means girl-, is one of the oldest constructions worldwide and is situated in Firuz Abad in Fars province. It was built in 209 AD on a mountain slope under the order of Ardeshir I at the end of the Parthian period. According to the name of this castle, it is thought that it was dedicated to Goddess Anahita, to whom the term "Maiden" refers. It is among the most attractive destinations in Fars province.
5. Babak Fort (Qal-e Babak)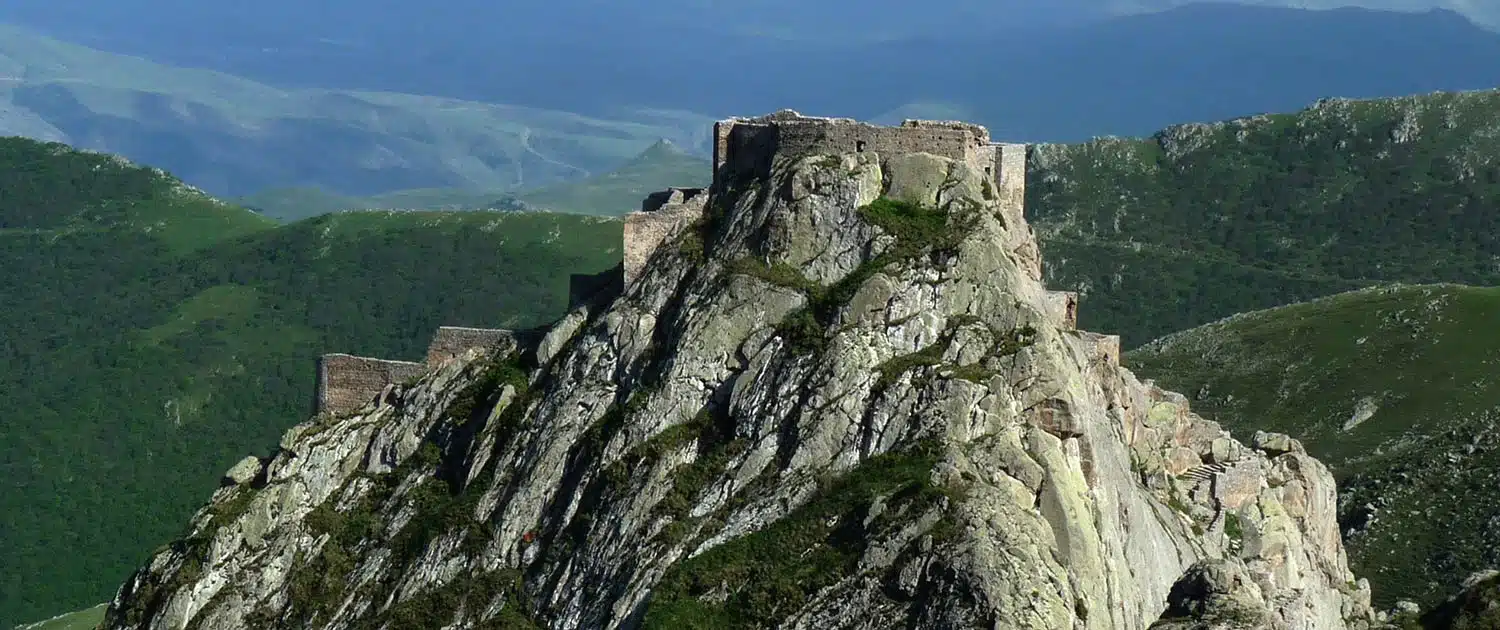 Babak Fort (Qal-e Babak) is located in one of the most beautiful landscapes in Iran, on top of a mountain in Arasbaran forests, 6 km southwest of Kalibar City in northwestern Iran. It is also known as immortal or republic castle and is considered to be a national Iranian symbol, as it is the stronghold of Babak Khoramdin who fought the Abbassids. The fort is accessible through a long series of broken steps.
6. Izadkhast Castle
Located in Fars province, the castle is situated in Izadkhast complex which consists of a castle, a caravanserai and a bridge. The castle dates back to Sassanid era and was registered as a Unesco World Heritage site in 2007.

7. Rudkhan Castle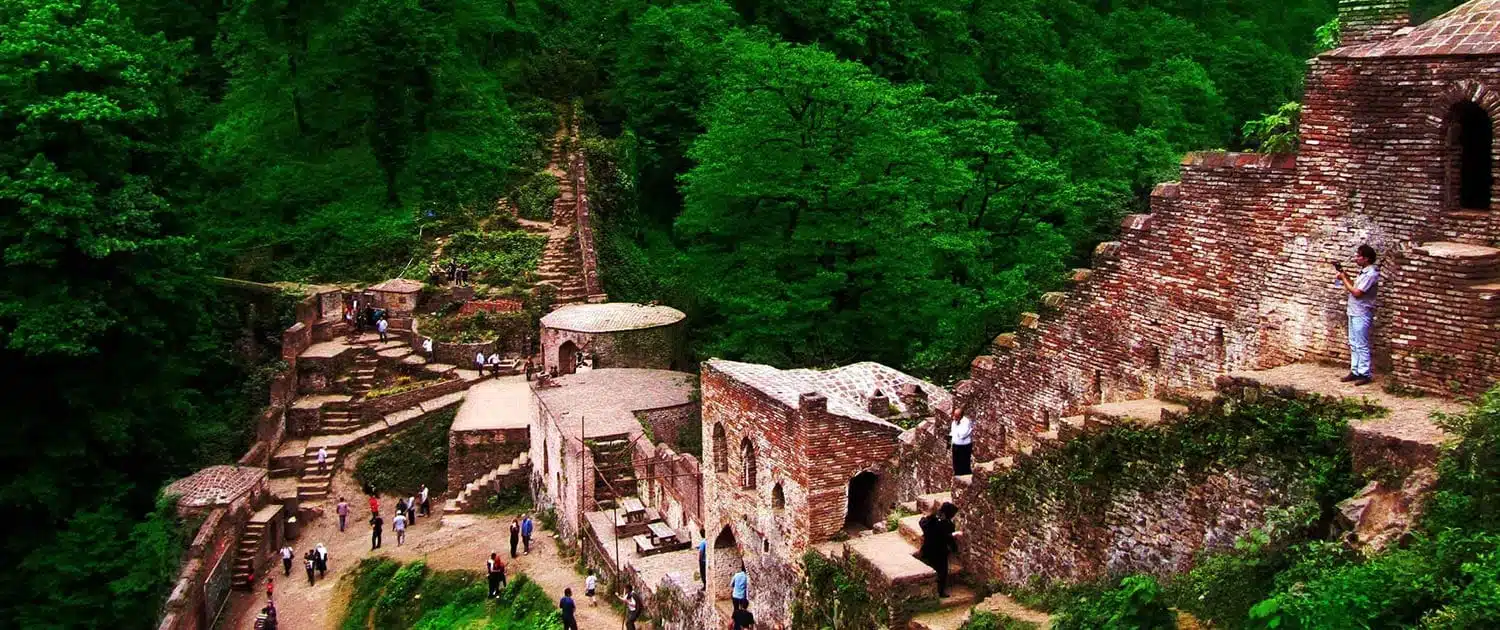 This brick and stone medieval castle of Rudkhan is one of the few castles in Iran which located in an astonishing landscape in forest. Built during the reign of Sassanid, the castle is situated 25 kilometers southwest of Fuman city in Gilan province. This well-preserved splendid castle is accessible via a mountainous winding route in the middle of a forest with more than 1000 stone steps.
8. Arg-e Bam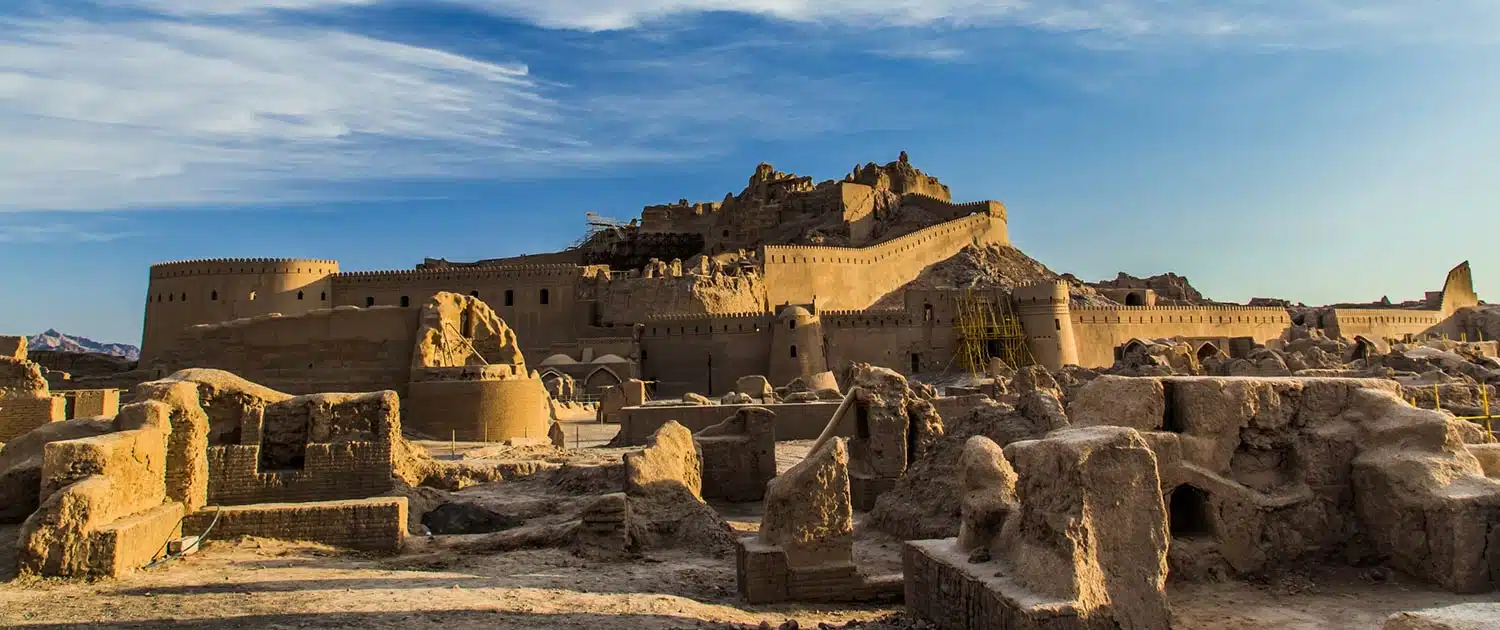 Located in Bam city in Kerman province, Arg-e Bam is the largest adobe structure in the world which unfortunately, was largely destroyed during the Bam earthquake in 2003. It originally dates back to Achaemenid era and was a significant site on the silk road. This enormous citadel has been registered as a UNESCO World heritage site and covers near 180,000 square meters.
9. Rayen Castle
Rayen Castle is another great monument located 100 kilometers of Kerman province. This medieval adobe castle is similar to Bam castle and represent all the architectural elements of a deserted citadel. This extremely well-preserved castle dates back to more than 1000 years ago and although it was inhabited until 150 years ago, it is believed by some that it has origins in the pre-islamic Sassanid era.
10. Portuguese Castle
Also known as Fort of Our Lady of the Conception, this castle is one of the main attractions of Hormuz island in the south of Iran. This red stone castle is among the last survivals of Portuguese colonial rule in Persian Gulf. It was built in 1507, when Hormuz was an important maritime city and a small kingdom near the entrance to the Persian Gulf.
11. Narin Castle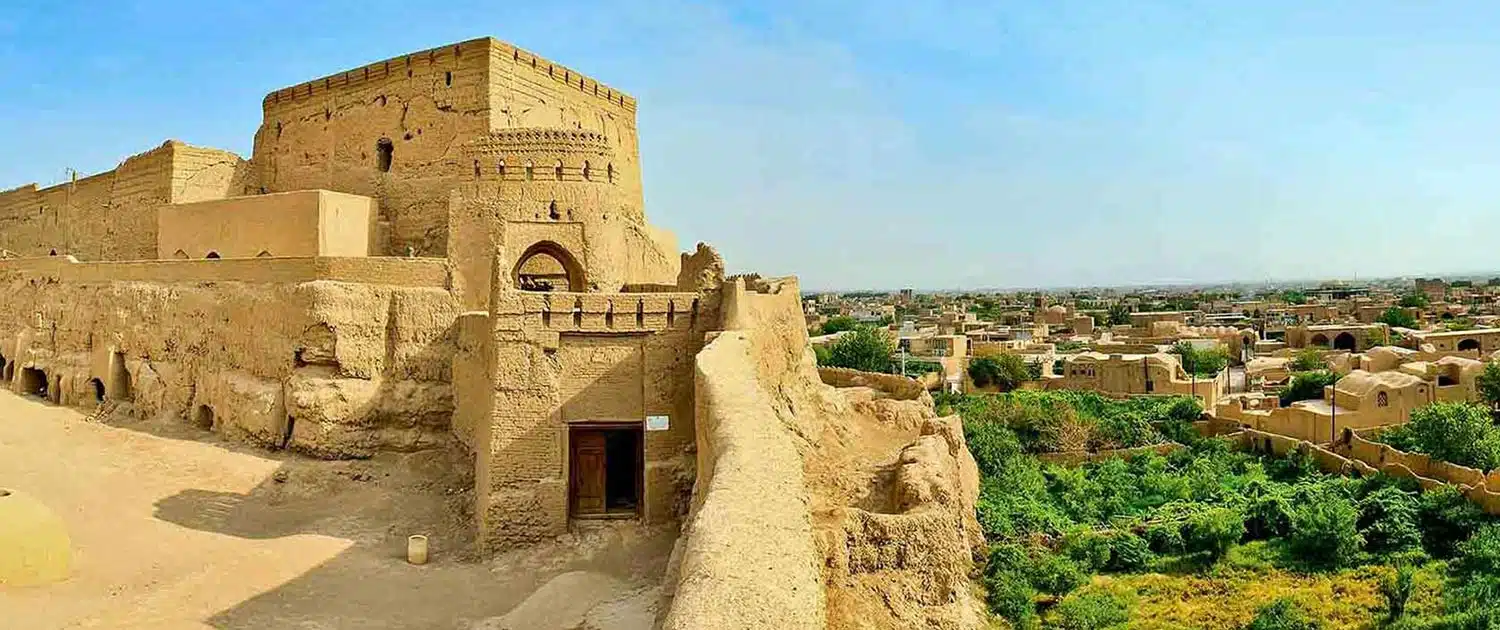 Situated in the beautiful city of Meybod in Yazd province, Narin is a mud-brick fort, dating back to Achaemenid and Sassanid dynasties. The height of the ruins of this castle reach 40 meters and it is possible to watch over 70 kilometers in every direction from the top of the roof. The castle also has a large underground chamber which was possibly a prison.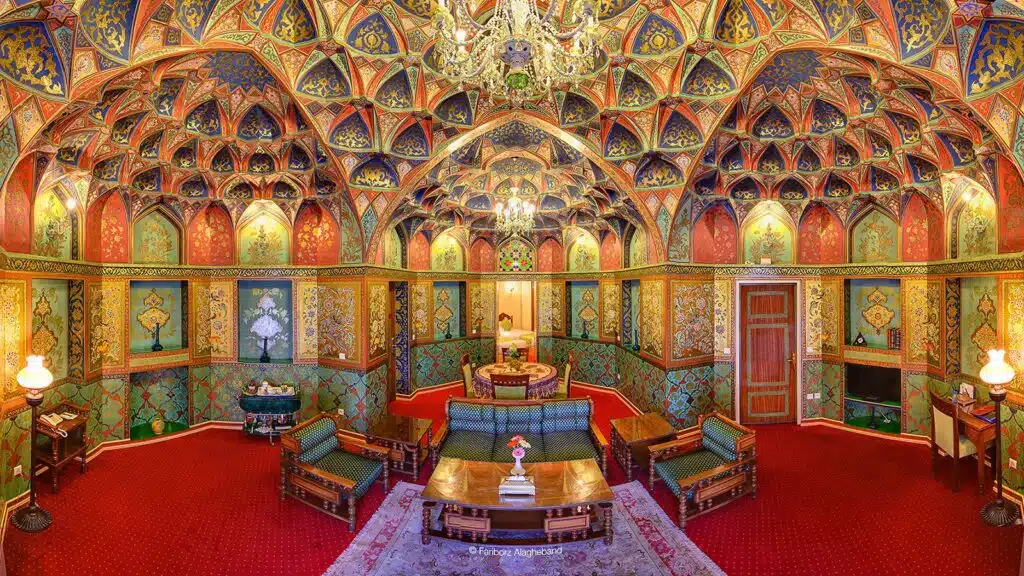 12. Arg-e Karim Khan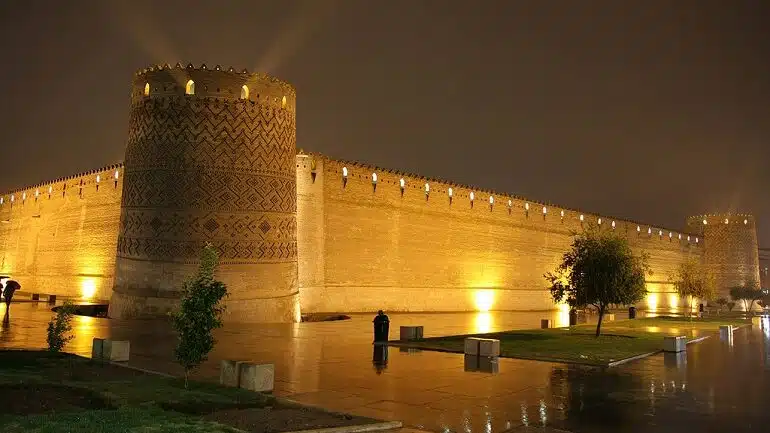 The Karim Khan Castle or Arg-E Karim Khan is a citadel located in the downtown Shiraz, southern Iran. It was built as part of a complex during the Zand dynasty and is named after Karim Khan, and served as his living quarters. The design of the citadel combines military and residential architecture, for it was the home of Karim Khan and the military center of the dynasty.
Arg-e-Karim Khan was built in 1180 AH (1766-7). Karim Khan invited the best architects and artists of the time and bought the best materials from other cities and abroad for the construction of the citadel of Karim Khan, which was quickly constructed. During the Zand dynasty it was used by the king as living quarters. During the Qajar period it was used as the governor's seat.
Read more…
Conclusion
In conclusion, Iran's castles and citadels stand as majestic testaments to the country's rich history and architectural brilliance. Each site, from the towering Alamut Castle to the intricate designs of Arg-e Bam, tells a unique story. These historical gems not only offer a glimpse into Iran's past but also provide an unforgettable experience for visitors. As you plan your next adventure, consider exploring these iconic landmarks. Discover their stories, marvel at their grandeur, and step into a world where history comes alive. For an even more seamless experience, check out OrientTrips for convenient travel arrangements and SURFIRAN for inspiring tours. Dive into the heart of Iran's heritage, and let these majestic fortresses captivate your imagination.