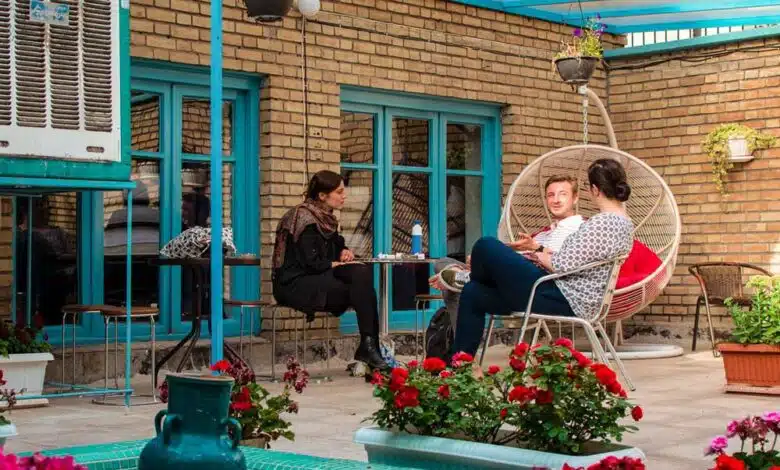 If you're traveling to Iran, you're most likely to spend a few nights in Tehran. Good news: the capital city has a large choice of hotels for all kinds of budgets.
If you don't want to spend too much, you still have many choices among hostels and budget hotels in Tehran. In this article, we share with you our favorite addresses for budget travelers.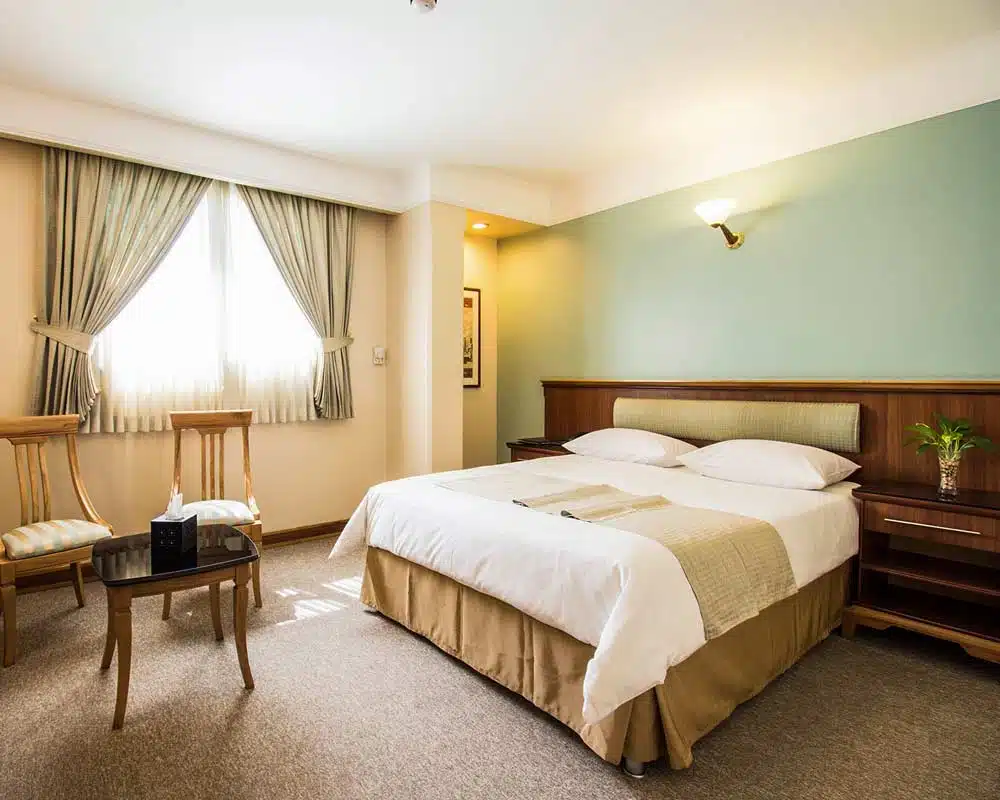 How to book hostels and budget hotels in Tehran?
Because of international sanctions, most hotels and hostels cannot take direct bookings from foreign visitors. The best option to book your accommodation in Tehran is to use the service of a local agency such as SURFIRAN that can arrange your stay in Iran's capital.
Tehran has a large choice of accommodations for all budgets, and plenty of offers for budget travelers. For budget travelers, the best choice is hostels. Prices usually starts around 10 dollars or less per night. Hostels usually have private double rooms as well as shared rooms. While a shared kitchen is not always available, the price of the night usually includes breakfast and there are cozy common spaces to share with the other guests.
The best hostels in Tehran
Because Tehran has a large choice of hostels and budget hotels, we've gathered here the best option for budget travelers. Most of them are located in the center of Tehran, which is the most convenient area to visit famous attractions.
The Haft Khan restaurant in Shiraz is a traditional and luxurious complex, built in a space with an area of ​​1400 square meters and an infrastructure of over 6000 square meters in the form of 5 restaurants and 2 coffee shops.
The name of this complex and all its floors are taken from Ferdowsi's Shahnameh. Each floor of this complex includes a special arrangement, design, and decoration related to the type of food served on that floor.
The Haft Khan restaurant complex, with a variety of more than 500 types of food, is one of the best restaurants in Shiraz, which offers a diversity of Iranian and international dishes, and provides services that suit all tastes.
Since its establishment, this complex has been registered as a tourist complex under the supervision of Fars Province Cultural Heritage, Handicrafts, and Tourism Organization continues to operate. This complex has received numerous awards and recognition.
#2, Tabatabaei Alley, Bahar Shomali St., Tehran, 1564668711
09120530663
www.instagram.com/hi_tehran_hostel/
Tehran Heritage Hostel is another very popular hostel that is located in an old mansion dating back from 1941 in the historical area of Baharestan, near the Parliament and Masoudieh Palace. This location is ideal to visit the sightseeing of the historical center, such as the Golestan Palace or the Grand Bazaar, and walking into one of Tehran's oldest neighborhoods, Oudlajan. It's also located near the metro, so you can reach other parts of the city quickly, including the domestic airport. This hostel has 17 rooms, private and dorms, over three floors. In the dorms, each bed has curtains to keep some privacy and some have en-suite bathrooms. Less usual, Tehran Heritage also has yurts in the rooftop garden and a room in its underground reservoir!
No. 22, Kamal-ol-Molk Street, Baharestan Sq, Tehran, Iran
+987132241963
https://www.instagram.com/heritage.hostel/
ZEE Hostel is located in the city center of Tehran, in the areas of Enghelab and Teatr-e Shahr which are always full of life, day and night. It's a beautifully renovated 75-year-old building, that has private rooms as well as mixed and gendered dormitories. The price for a shared room starts from around 13€, including breakfast, a shared kitchen, and free WiFi. Not only ZEE hostel is located in a lively neighborhood, but it is also a culture house, and as such, it organizes events regularly, such as live music, art performance and exhibitions, which is a great opportunity for the visitor to feel the creative vibes of the city.
No.2, Parsa Alley, Labafi Nejad st., Felestin st., Tehran, Iran.
+98 21 66469915

Rather than cozy, it's the friendly and family atmosphere of this hostel that makes its charms. Indeed, it's one of the rare hotels in the capital that can be considered a guesthouse, being family-run. That's a great way to discover Iranian hospitality, as guests have the opportunity to discuss with the family, always willing to give pieces of advice, good addresses and arrange tours. Iran Cozy Hostel offers private rooms, some with shared bathrooms, and has a large lovely private garden.
No. 11, Pars Alley, Beginning of Modares Highway, Haft-e Tir Square, Tehran, Iran
+98 933 373 0824
www.instagram.com/irancozyhostel/
The best budget hotels in Tehran
Hostels are great for young and solo travelers, that are not only traveling on budget, but also willing to share moments with other guests. If you're more into keeping your privacy and getting back to your accommodation for rest, a hotel may be the most suitable option for you. And even with a small budget, you have plenty of choice among budget hotels in Tehran with prices starting around 30-40€ per night for a double room. Here are our best picks.
Iran Markazi Hotel is among the most popular budget hotels in Tehran. Despite being a 3-star hotel, it's actually quite affordable. The hotel was first opened in 1913, under the name of Central (that is "Markazi" in Persian) and renovated in 2007. As its name shows, it's located in the city center of Tehran, in the once trendy neighborhood of Lalehzar. Its location makes it quite perfect to visit the historical areas on foot and by public transportation (metro and bus). All rooms are equipped with the usual hotel facilities (TV, WiFi, Mini Bar, etc.) and the hotel also has a restaurant and coffee shop.
near manuchehri cross roads-lalezarno st-tehran
+989177062863
www.instagram.com/markazihotel/
Eskan Forsat Hotel is a nice budget hotel located in Tehran's city center. First opened in 1971, it was entirely renovated in 2008. The hotel has 42 rooms, all equipped with necessary facilities, over 5 floors. It also has a restaurant and coffee shop, and can provide various services to travelers, such as airport transfers and money exchange. While being in the city center, Eskan Forsat Hotel is not located in the liveliest area, yet it is near Darvazeh Dowlat metro station, which has two lines, and reaches in a few minutes the crowded areas of Enghelab and Teatr-e Shahr, as well as tourist attractions such as the Golestan Palace.
No. 29, Mousavi (Forsat) st, Between Somayeh & Enghelab Ave, Tehran, Iran
021-88347385
www.instagram.com/eskanhotel.forsat/?igshid=YmMyMTA2M2Y
Like Eskan Forsat Hotel, Khayyam Hotel was built in the 70s, and later renovated in 2016. It's a classic budget hotel, that has 45 clean and large rooms, from doubles to quadruples. Located in the city center, near Mellat metro station, granting fast access to the city-center attractions.
No 3 Vaghfi Alley Navidi Alley, Amirkabir Street, Tehran 11369 Iran
02133116368
Karoon Hotel is another classic budget hotel, located on Vali Asr avenue, near the lively area of Teatr-e Shahr. Also built in the 70s, it was renovated several times since. Of modest size, the hotel has 24 rooms of different styles (modern or traditional Persian design), a 24-hour desk, and a restaurant. It's a good choice for travelers looking for a clean and comfortable hotel with a central location.
No. 363, 16 Alley, Valiasr, Qasr-e Dasht, Shiraz, Iran
02188806040