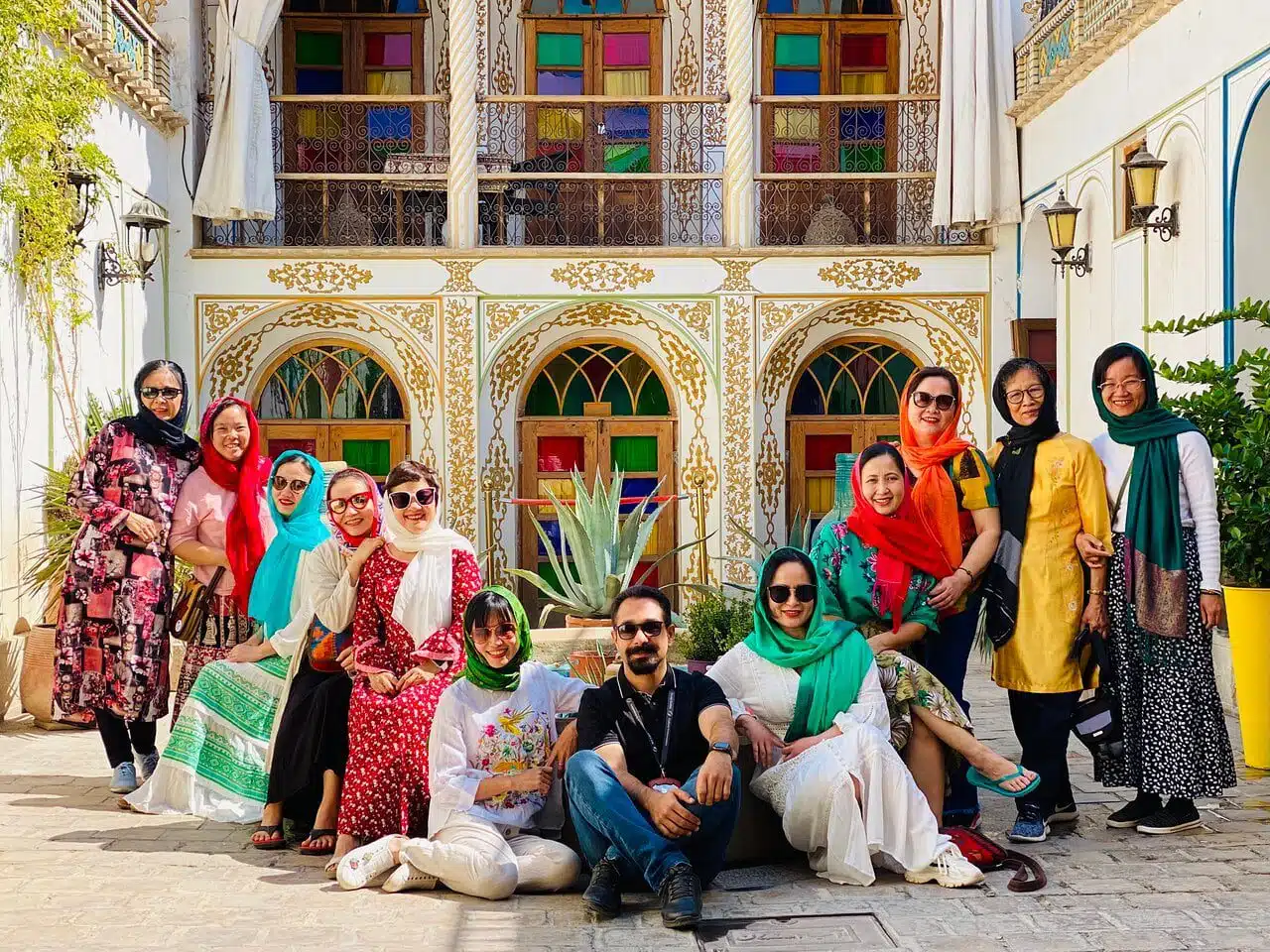 Iran is a vast country with so many things to see. Whether you're fond of history, culture, architecture, or nature, you'll find enough in each category to spend months in Iran without getting tired of it.
Iran is a vast country with so many things to see. Whether you're fond of history, culture, architecture, or nature, you'll find enough in each category to spend months in Iran without getting tired of it. Yet, we can't all afford long holidays. So, if it's your case, having a glimpse of Iran is good enough to take! And yes, even in one week you can see plenty of wonders throughout central Iran. Follow the guide!
Day 1, your arrival in Tehran
Most international flights land during the night in Tehran at Imam Khomeini International Airport (IKIA), so there are high chances you too arrive in the middle of the night. Don't forget to apply for your visa in advance, to get the authorization notice (visa grant notice) that allows you to collect your visa on arrival at the airport.
Once you have your luggage, grab a taxi and head toward your hotel in Tehran to rest for a few hours. Then, it's time to explore! For your first day in Tehran, visit the most famous historical monument of the capital: Golestan Palace. This 18th-century palace was the residence of the Qajar and Pahlavi kings.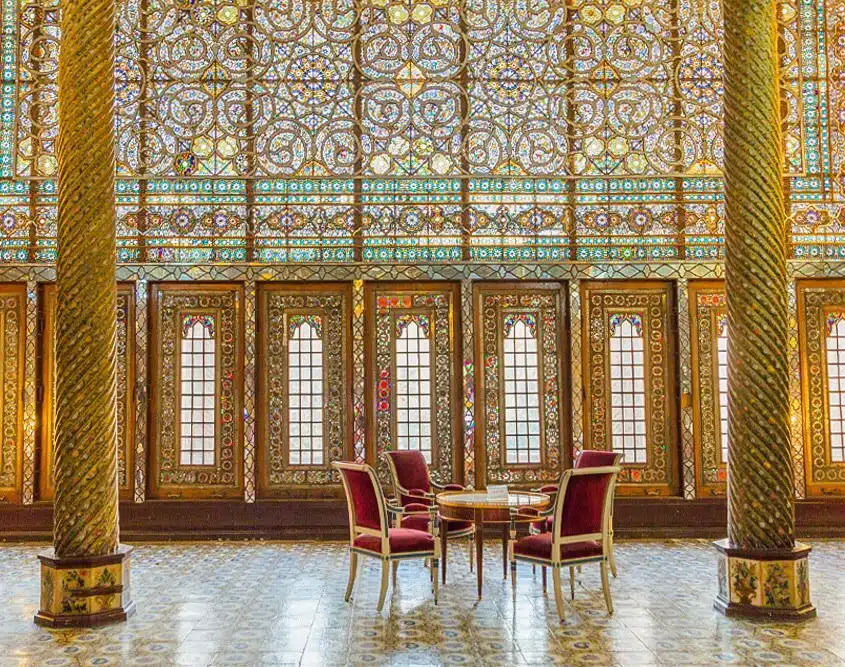 After you visit the Golestan, have a stroll in the Great Bazaar nearby. If you're hungry, take a seat at Moslem restaurant that serves traditional Iranian food. You can also have some street food on 30-Tir Street. After that, visit the National Museum of Iran as an introduction to the history of Persia and the wonders you'll see in the next few days.
Day 2, exploring north Tehran
Tehran is a huge city, that's why we recommend you focus on one area per day. So on day two, visit the north of the city, where are located the wealthiest neighborhoods. But it's not what interests us here, instead, you'll start with the local bazaar of Tajrish, quite different from the Great Bazaar.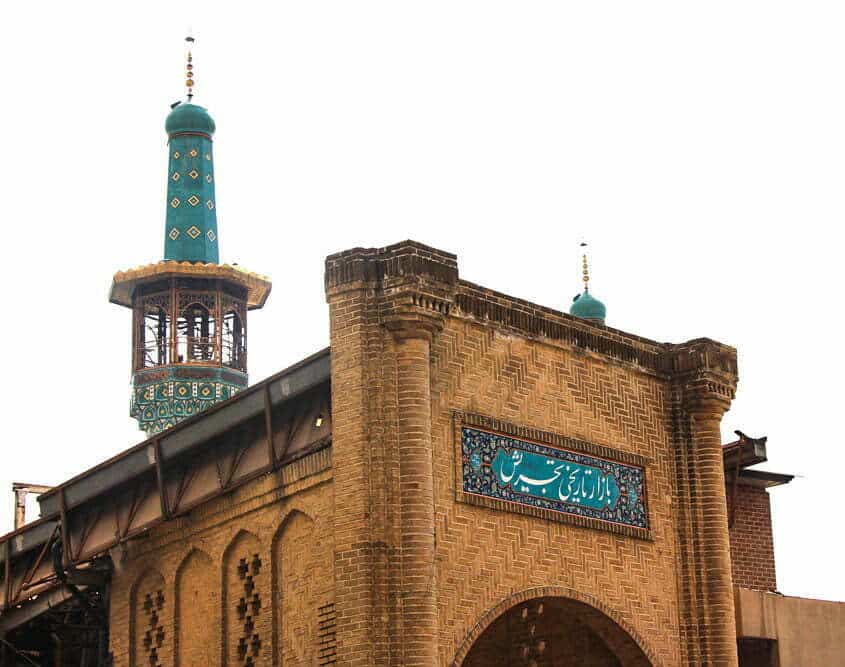 Then visit another historical palace: Sa'ad Abad. Once again, very different from the previous palace visited before, this ensemble of palaces was built by the Pahlavis. After your visit, climb toward the mountains to spend the evening in one of Tehran's most singular places: Darband. Once a village crossed by a river, Darband is now filled with cafes and restaurants where it's pleasant to spend an evening outside.
Day 3, Kashan's beautiful architecture
It's time to say goodbye to Tehran! Try to wake up early to catch a bus at Azadi station, where you can also see the iconic Azadi tower. After three hours on the road, you've arrived in a different atmosphere: Kashan. This small city is worth spending a day. The main points of interest are its historical houses. The most famous are Tabatabaei House, Abbasi House and Borujerdi House. These splendid traditional houses were built by rich merchants of the 19th century. Many other traditional houses are now reconverted into restaurants and hotels.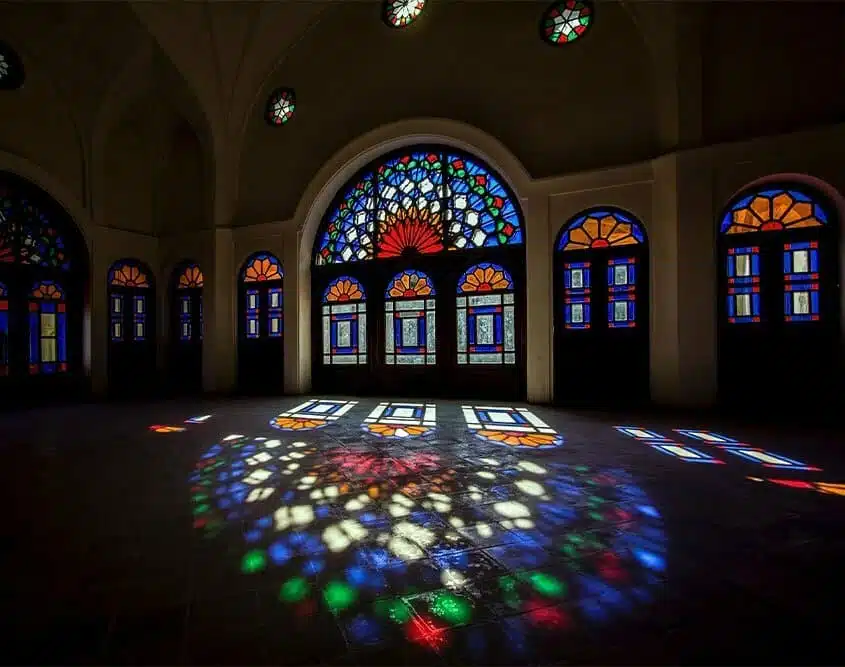 Two other main attractions you shouldn't miss are the Sultan Amir Bathhouse and Fin Garden. By visiting the first one, not only you'll see the beautiful architecture of a traditional Iranian hammam, but also have a breathtaking view over Kashan on its roof. As for the second, Fin Garden, it is one of the Persian Gardens listed by Unesco as a world heritage, so definitely worth the visit!
Day 4, Isfahan, "Half of the World"
After Kashan, it's time to discover one of Iran's most emblematic cities: Isfahan. You can reach the city with a short bus ride, in 2-3 hours. Go directly to Naqshe Jahan Square, probably Iran's most beautiful square. All monuments on the square display the finest architecture dating back mostly from the Safavid, when the city was the Persian Empire's capital.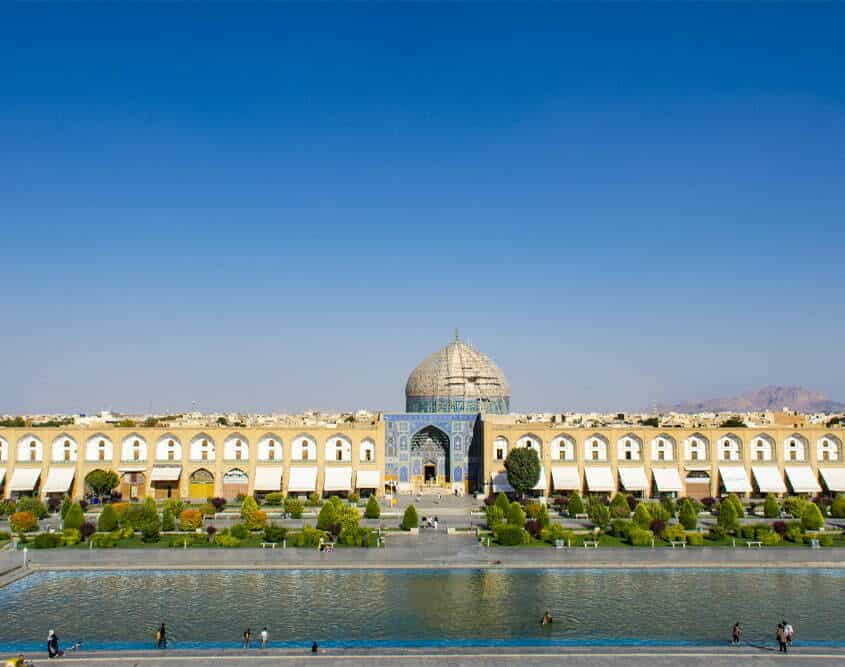 Visit the breathtaking Sheikh Lotfollah Mosque and Shah Abas (Imam) Mosque for as long as your eyes can take. Then continue your exploration of the square with a short visit to Ali Qapu palace and its famous music room. Then, enter the bazaar and simply get yourself lost between the spices, the handicrafts, and the fine carpets. Isfahan's bazaar is one of the best places to buy souvenirs, so don't refrain yourself!
Day 5, Cathedrals and bridges explorations in Isfahan
For your second day in Isfahan, start with the Chehel Sotoon Palace, a small reception palace built by the Safavi surrounded by a pretty park. Once your visit is over, continue your walk through the parks to arrive at Hasht Behesht palace which you can admire from the outside. Walking further south you'll soon reach the famous Sie-o-Se Pol bridge. It's the largest of the 11 bridges that cross the Zayandeh Rud river, with its 33 arches.
Once crossed, grab a taxi to rest your legs a bit a drive a few minutes to arrive at Jolfa. Here is the ancient Jewish neighborhood, with small paved streets now filled with nice shops and cafés. Jolfa also holds one of Isfahan's most interesting monuments: Vank Cathedral. This Armenian church dates back to the early 17th century and is covered with rich and fine frescos.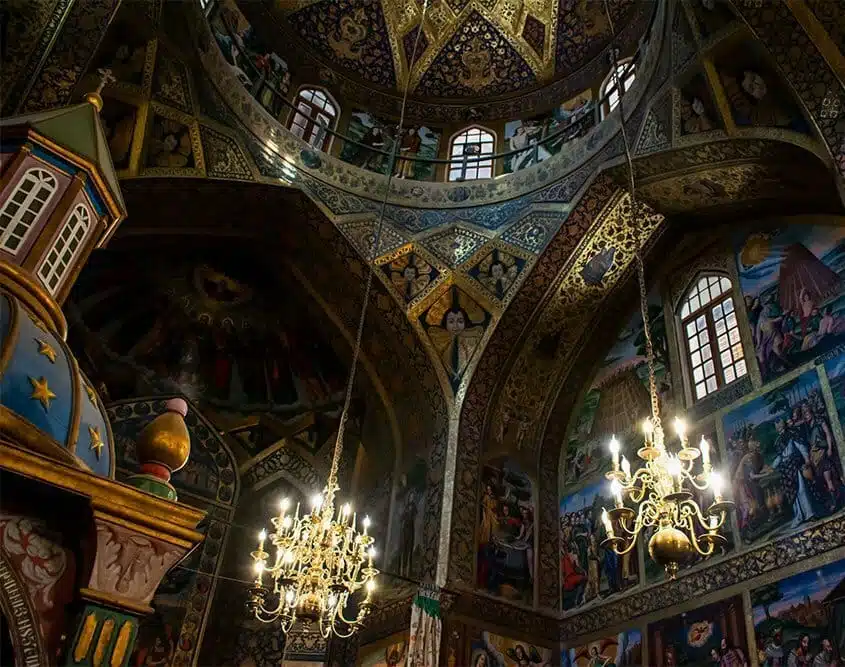 Day 6, A road trip to Shiraz
It's already time to leave Isfahan, as today you'll have a long road. You're going down south to reach Fars province's capital: Shiraz. The ride by bus should take about 8 hours of a road trip, so be sure to book a seat on a VIP bus for your comfort. If you prefer, you can also take a short one-hour flight which is operated regularly between the two cities.
Upon arrival, if you feel like tasting a little bit of the city, simply go for a walk around the Arg-e Karim Khan citadel, where people usually gather in the evenings.
Day 7, Shiraz, the city of poets and roses
Shiraz has a very different atmosphere than Isfahan. Somehow lighter and with happy-go-lucky vibes. It's a city where you want to sit, and contemplate the sky while listening to poetry. Especially during spring, when the whole city smells like orange blossoms. To best impregnate yourself with this spirit, visit the delicate Eram Garden, one of the finest examples of Persian Gardens in Iran. But also on the Tomb of Hafez, a beautiful monument where you'll have the chance to hear some of Hafez's poetry.
Yet, before dawdling in the streets, the first place you should visit on your first day in Shiraz is Nasir ol-Molk Mosque, known as the Pink Mosque. Indeed, it's with the first lights of the day through the colorful stained glass that you can best appreciate this place. Later during the day, don't forget to visit Vakil Bazaar and eventually, Shah Cheragh Shrine.
If you have a few more days
For a short duration trip, we recommend you to arrive in Tehran and leave from Shiraz international airport. It is also possible to do the trip the other way round, starting from Shiraz. If you have to come back to Tehran for your international flight, which you can do with a two-hours domestic flight, we recommend you spend the night before in Tehran to avoid a last-minute cancelation or delay of your local flight.
If you can afford it, we highly recommend you extend your trip for a few more days. In Shiraz, you can add a day to visit Iran's most important historical site: Persepolis. On that same day, you can also visit the rock reliefs of Naqshe Rostam and Cyrus the Great's Tomb, Pasargadae. You can also spend one day in Yazd, a unique adobe city listed by Unesco as a world heritage. This can be a step between Isfahan and Shiraz.