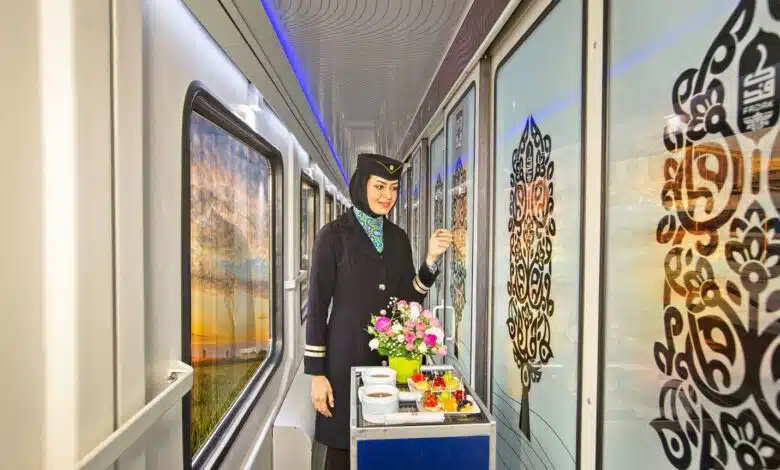 We are excited to announce that OrientTrips has introduced a new online service for booking train tickets in Iran. This feature offers travelers a convenient way to plan and secure their train travel arrangements. So whether you're at home, in the office, or on the move, our user-friendly website is your gateway to hassle-free train ticket booking.
For an authentic immersion into Iranian culture, journey through the vast landscapes by train, rather than from the isolated confines of a plane. Experience the buzz of Iranian train stations, the rhythmic chugging of the engines, and the subtle aroma of fresh Persian tea. Forget any misconceptions you might have. In an Iranian AC Sleeper or Comfort Class, your journey will be safe, refined, affordable, and comfortable. For trips like Tehran to Isfahan or Mashhad to Shiraz, you can travel overnight, center to center, potentially saving on accommodation costs. To book your Iranian train tickets online, visit OrientTrips.
Train routes & maps
Iran's railway system is comprehensive, spanning over 10,000 km, connecting major cities, trade routes, and tourist destinations.
The Iranian trains are primarily broad gauge, allowing for a spacious and comfortable experience.
To get an extensive Iranian railways route map, consider visiting the official Iranian Railways website. Always ensure to check for the most updated sources for accurate information.
How to check train times & fares
Traveling by train can be an economical choice. Opting for the railway can considerably reduce your travel expenses. The final cost of a train ticket varies based on the route, the railway company, and the type of train you choose. Some railway companies even offer the option to transport your car, and selecting this feature adds an extra fee to your travel expenses. To get the latest train ticket prices for your desired route, just visit the OrientTrips platform, input your departure point, destination, and travel date to receive a list of offers. For those on the hunt for the most affordable ticket, the "Sort by Price" feature will be your best friend.
In the realm of public transportation, the train occupies a middle ground. In Iran, air travel is often equated with luxury trips, while bus journeys are seen as more budget-friendly. Thus, train travel offers a balance between the two. Recent years have seen the introduction of five-star trains like Fadak and Zandegi to the railways, altering the standing of this mode of transport. Those who once preferred flying are now choosing these trains for their journeys, especially if they're not pressed for time.
Moreover, the attractive pricing of train tickets, when compared to flights and their cost proximity to bus fares, has led to a surge in train travelers in recent years. The advent of online train ticket purchasing and refund capabilities, first introduced by the OrientTrips website, has significantly boosted the popularity of train travel.
The most straightforward method to check train schedules and fares for popular routes is through OrientTrips. It's user-friendly and efficient.
The official Iranian Railways website provides comprehensive details on train schedules, fares, and seat availability. The site may not available outside of Iran.
Tips for checking Iranian train times
Booking a train ticket has made traveling by train more convenient than ever. For online train ticket purchases, simply visit the OrientTrips website. Then, by entering the name of your departure city, destination, and the dates of your round trip, you can view all the train options from various railway companies available for your selected route. Depending on the departure time, train facilities, and your budget, you can choose the most suitable ticket. Once you finalize your train ticket reservation and make the payment, you can receive your ticket online.
Some tips
Your reservation may not be made instantly. In this case, the website support will reserve your ticket and email it to you.
Ensure to confirm the number of nights for your journey, especially for longer trips.
Double-check if there are any stopovers or changes required for your destination.
Familiarize yourself with the different train classes and services offered. Each class provides a unique travel experience catering to different budgets and preferences.
What to Know Before You Go
Traveling by train in Iran can be a mesmerizing experience, allowing you to witness the country's varied landscapes and immerse yourself in its rich history and culture. However, to ensure a smooth journey, it's essential to be prepared. Here's a comprehensive guide for foreign travelers on what they should know before boarding a train in Iran:
Necessary Travel Documents for Foreign Travelers in Iran
Passport
Always carry your original passport with at least six months' validity. A photocopy won't suffice for identity verification on trains.
Train Ticket
Whether a physical copy or e-ticket, ensure you have it handy, as train conductors will check it against your ID.
Routes and Facilities of Iranian Trains
Passenger trains in Iran are broadly categorized into two types: Salon (Hallway) trains and Compartment trains. Depending on the capacity of each train, compartment trains consist of four or six-person cabins. The seats in these compartments can be unfolded into beds. Some compartment trains have seat compartments where the seats don't have the capability to transform into beds. The types of compartment train carriages include Ghazal Foundation, Soroush Foundation (Pars), Parastoo, Palour Sabz, Safir, Parsi, Sabz, Simorgh, Zendegi, Negin, Ghadir, and Persian Gulf.
Depending on the capacity of the salon trains, there are either three or four seats in each row. The types of carriages for these trains include Saba Bus trains and Pardis Hallway trains. In addition to suburban routes, bus trains also operate on Tehran-Mashhad-Tehran, Tehran-Qom-Tehran, Tehran-Miane-Tehran, and Tehran-Yazd-Tehran routes.
Some of the significant and popular train routes in Iran:
One of the most frequented routes, connecting the capital, Tehran, to the holy city of Mashhad.
Offers both regular and luxury train services.
Connects Tehran with Shiraz, known for its rich history and poetic legacy.
A route that links Tehran to the historic city of Isfahan, renowned for its Persian architecture and UNESCO-listed central square.
This route takes passengers from Tehran to Tabriz, a historical city known for its bazaar and other architectural wonders.
Book Tehran to Bandar Abbas train
Connecting the capital to the southern port city of Bandar Abbas on the Persian Gulf.
A journey from Tehran to the ancient desert city of Yazd, recognized for its wind catchers and Zoroastrian heritage.
Links Tehran to Kerman, a city known for its rich history, carpet weaving, and proximity to the Lut Desert.
Connects Tehran to the southwestern city of Ahvaz, capital of the Khuzestan province.
A shorter route that connects Tehran to the holy city of Qom.
Directly connects the northeastern city of Mashhad to the southeastern city of Kerman.
A popular route connecting two of Iran's most iconic cities.
Links the northwestern city of Tabriz to the northeastern pilgrimage city of Mashhad.
The Tehran-Mashhad route is the busiest railway route in the country, with trains from all railway companies transporting passengers on this route. The presence of the Imam Reza shrine in Mashhad, the hosting of various seminars and conferences, and the execution of business projects have made this route one of the most thriving railway paths. For pilgrimage trips, which are often conducted in groups or with families, the preference for taking the train is quite high. The price of a train ticket from Tehran to Mashhad varies depending on the type of train and the railway company. With options ranging from luxury trains to more economical, bus-like trains, there's a ticket suited for every kind of traveler and their specific needs.
When do bookings open?
Bookings for most Iranian long-distance trains typically open 60 days before departure.
As always, for the most up-to-date information, it's advisable to consult the official Iranian Railways website or OrientTrips.
Railway Companies in Iran
Broadly speaking, Raja Rail Transport Company, Safir, as well as Fadak Railways, are the primary providers of train services on Iranian railway lines. The subsidiaries of Safir include: Eastern Railway Foundation (Ben Rail), Joopar, Rail Tour Kosar, Rail Transport Saba, Mahtab Tour Jam (Mahtab), Passenger Trains Noor (Nooralreza), Ra'd, and Pars Larim.
Raja Company
The oldest railroad transportation company in Iran is Raja Organization. Raja Rail line Organization has been active for over 20 years in the field of creating and further developing the nation's rail fleet, and it has additionally been effective in such manner by destiny. Right now, Raja Rail Transportation Organization is one of a handful of the rail line organizations in Iran furnished with 5-star and extravagance trains. The "Zendegi" train is the best train of Raja, trailed by "Simorgh" and "Pelorus Green" trains which rank among the top notch trains of this organization. Raja is additionally the most dynamic organization in giving fast trains. The "Pardis" express train is perhaps of the best rapid train in the country.

The Fadak Train
The Fadak train is the sole kind of train worked by this organization. This company, which has now added probably the most well known, beloved, and, obviously, best trains in the country to the rail fleet, started its work by buying 200 German carriages. The objective of this organization is to foster rail administrations in extravagance classes and inside worldwide norms. Presently, the Fadak train is functional on many rail courses all through the nation, and buying tickets for it in three classes – Regular (Economy), Commercial (Business), and Fadak (Special).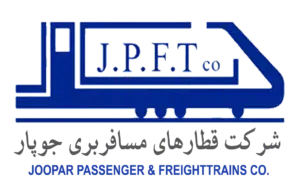 Joopar Passenger and Freight Trains Company
Joopar Organization is one more privately owned business active in the field of rail line transportation. This company started its tasks in the year 2002. At first, Joopar began its activities in the field of both cargo and passenger transport with 22 Iranian-style carriages with 6 compartments each. In 2009, the organization chose to buy 84 extra Iranian-style carriages. In 2014, the company also acquired 45 German carriages, changing it into one of the biggest traveler train organizations in Iran.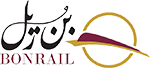 BonRail Company
Today, BonRail company has transformed into one of the prominent private railroad transportation organizations in Iran. In the year 1994, the rail fleet of BonRail was restricted to just 10 carriages; however, today the quantity of carriages under the responsibility for organization has reached 131. Presently, a critical part of the nation's rail processes are worked by this organization, and the Eastern Railways Foundation (BonRail) trains are active on many rail courses all through the country.

Noor Al Reza Railway Company
NorAlReza Railroad Company is one more of the organizations that has as of late joined the class of organizations outfitted with luxury trains. The VIP Nor train of this organization is presently quite possibly of the best train in the country. The Special Nor train is one more train of this organization that offers high-quality facilities and services. The trains of this company have acquired significant popularity because of the usage of German, Italian, and European components.