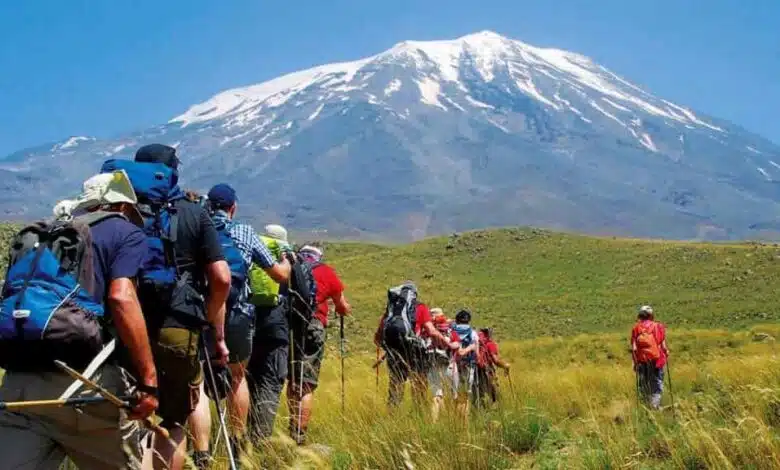 Visiting Iran is not just diving into centuries-old history and culture, it's also encountering an incredible variety of natural landscapes, from vast deserts to lush forests and high mountains. If you're into mountaineering and trekking, Iran will offer many opportunities to wander into nature and discover breathtaking sceneries. Here is our selection of Iran's most majestic mountains and top treks.
Iran's Trek: Climbing the Alborz and Zagros Ranges
Iran has two major mountain ranges, which are why it offers so many possibilities to experience epic roads and sceneries to mountain climbers and amateurs: The Alborz and Zagros ranges. Both have different climates and thus, provide a great variety in terms of fauna and flora.
The Zagros mountains stretch from the northwest part of Iran (the border with Armenia) all the way down to the Persian Gulf and then to Balouchistan, on the East. Its highest peak is Mount Dena, at 4.409 meters, in Isfahan province.
Narrower than the Zagros range, the Alborz mountains cover northern Iran, from the southern part of the Caspian Sea to the Khorassan. The highest peak is the iconic Mount Damavand, 5.610 meters, the 12th most prominent peak in the world, and second in Asia.
1. DAMAVAND
Mount Damavand is the most iconic Iranian mountain to climb. It is not only Iran's highest peak (5.610 meters) but also Asia's highest volcano. It's indeed a dormant volcano whose crater is always covered with snow. It is located on the Alborz range in the Mazandaran Province, a few hours away from Tehran.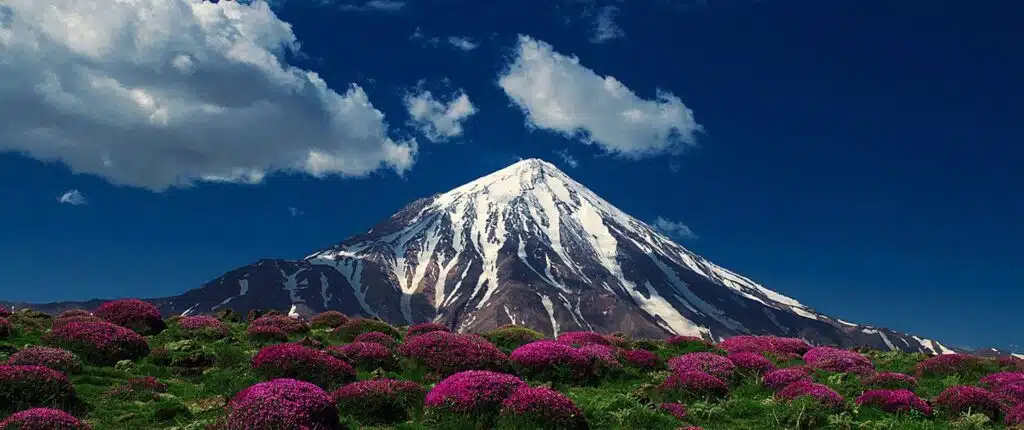 Damavand mount is the highest volcano in Asia, located in Iran. Standing at an impressive 5,610 meters, it is a popular destination for mountaineers and hikers. It holds significant cultural and historical importance in Persian mythology and is known for its stunning beauty and challenging climb.There are 16 routes that lead to Damavand's summit, with, of course, various difficulties, also increased by the season for those who choose to climb it during winter. One of these routes, Yakhan Valley, is even considered impossible to ascend. However, most climbers trek on the southern route, which is easiest to climb and offers very scenic views.
Mount Damavand has a beautiful conic shape that can be seen from the capital city when the weather is clear. For a long time, it has been a symbol of greatness and endurance, often referred to in Persian culture and poetry in particular. It is sometimes called "the roof of Iran".
What is the best time to climb Damavand?
The best time to climb Mount Damavand in Iran is during the summer months of June, July, and August. These months offer the most favorable weather conditions with mild temperatures and less snowfall. Climbing outside of this period can be more challenging due to lower temperatures, high winds, and heavy snowfall. Additionally, it is recommended to avoid the winter months as the mountain can be covered in ice and snow, making it extremely difficult and dangerous to climb.
2. ALAM KUH
After Mount Damvand, Alam Kuh is one of the favourite trekker's mountains. It is located in the Mazandaran province as well, on the Alborz range, in the region of Takthe Soleiman (a beautiful UNESCO site) and of the mystical Alamut Castle.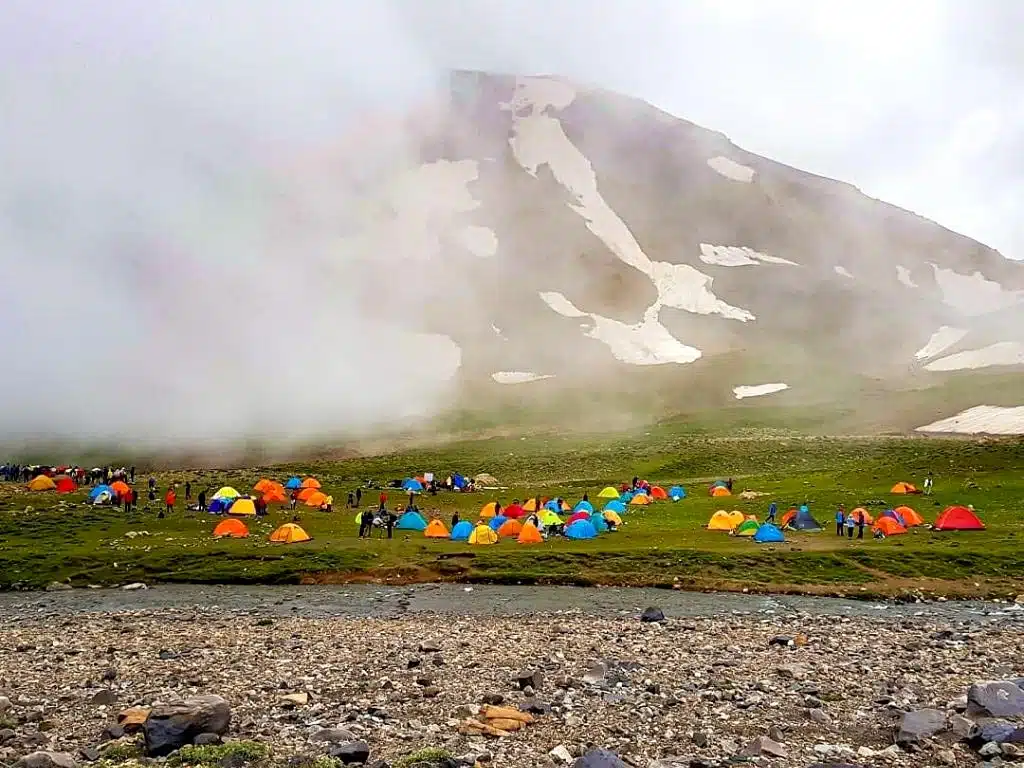 Alam Kuh is famous for being one of Iran's most challenging and technically difficult trekking routes. On the northern face is the Siah Sang route, which has won the name of "K2 of Iran", referring to the second-highest mountain in the world. Yet, there is no need to be an experienced climber to trek on the Alam Kuh. Indeed, there are many trekking routes, some of which are accessible to amateurs. One of the most popular routes is from Roodbarak, in Kerlardasht.
What is the best time to climb Alam Kuh?
The best time to climb Alam Kuh is during the summer months of July and August. During this time, the weather conditions are generally stable and the mountain is free from heavy snowfall and freezing temperatures. However, it is worth noting that weather conditions can be unpredictable in mountainous regions, so it is important to keep an eye on the local forecast and consult with experienced climbers or tour guides before planning a climb.
3. MOUNT SABALAN
Still on the Alborz range, this time further west on the Azerbaijan Province, sits Iran's third highest summit, Mount Sabalan (4811 meters). Mount Sabalan is famous for its numerous hot springs, the most famous locations being Sarein and Shirvan Dareh. Also, there is a beautiful frozen lake in the crater of this dormant volcano.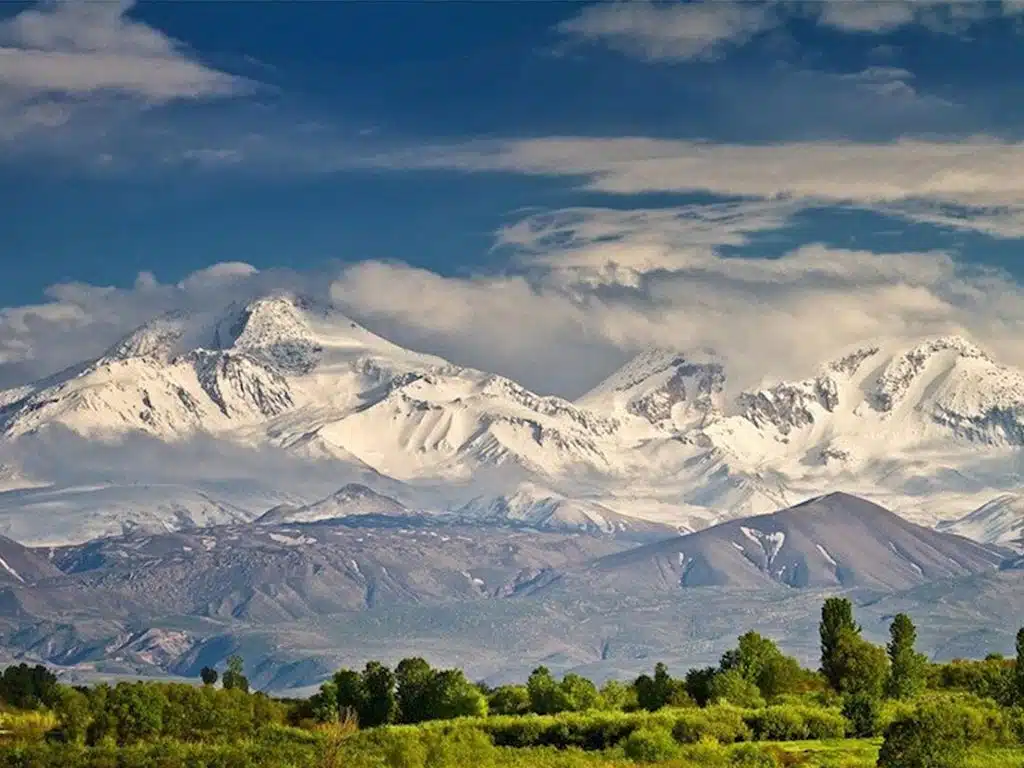 There are three main trek roads to climb Mount Sabalan but the most popular is from the northeast. Mount Sabalan is not only a high summit with great scenery, it also holds a special place in the mind of local people. Indeed, there is a Zoroastrian belief that says the prophet Zarathustra began his spiritual journey after ascending Mount Sabalan. That's why the mountain is considered sacred by locals and Zoroastrians.
What is the best time to climb Sabalan?
The best time to climb Mount Sabalan in Iran is during the summer months of June, July, and August. During this time, the weather is generally milder and more predictable, making it easier and safer to climb. Additionally, the snow cover is usually reduced during this period, allowing for better visibility and accessibility on the mountain. It is important to note that the weather conditions can still be challenging and can change rapidly, so climbers should be well-prepared and have appropriate equipment.
4. ZARDKOUH MOUTAIN
Zardkouh is one of the most popular trekking destinations on the Zagros mountain range. It is located between the Chaharmahal and Bakhtiari Province, where many nomadic tribes still migrate during summer. The highest peak is Kolochin which reaches 4.200 meters.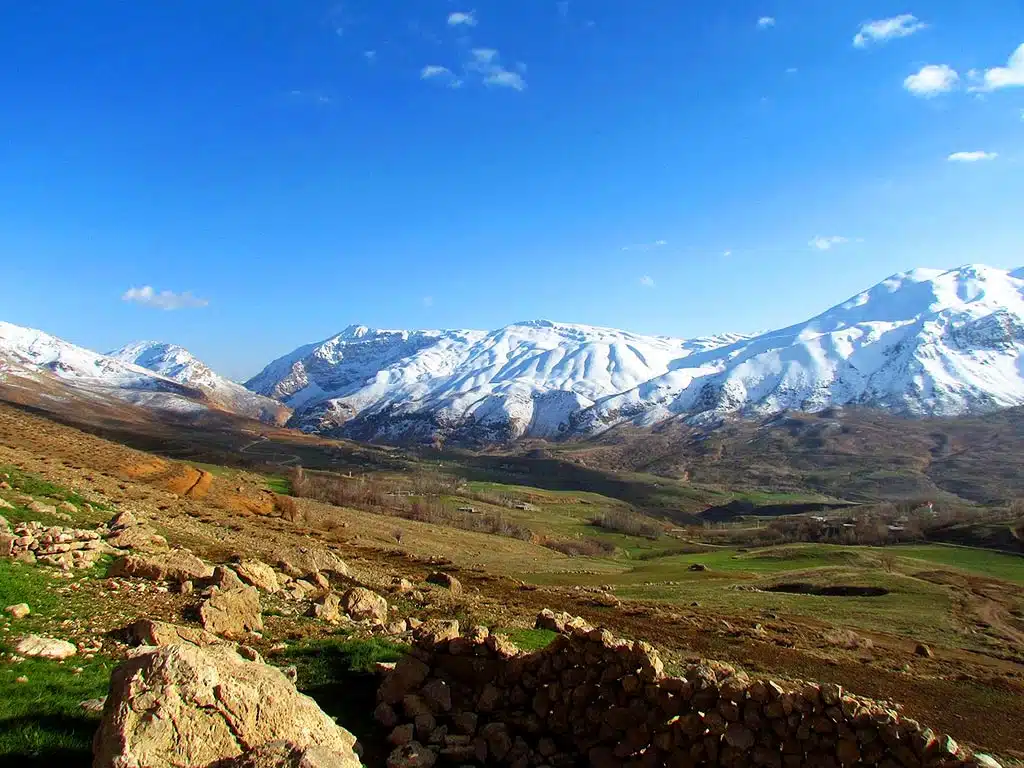 Zardkouh, whose name translates to Yellow Mountain in reference to its yellow soil, is appreciated for its vegetation of rare plants, springs, and of course, the amazing experience of the Bakhtari nomadic lifestyle.
What is the best time to climb Zard Kuh?
The best time to climb Zard Kuh is during the summer months (June to September) when the weather is generally milder and more suitable for climbing. However, it's important to note that weather conditions can change quickly in mountainous regions, so it's advisable to check local forecasts and conditions before planning your climb. Additionally, it's recommended to climb early in the day to avoid extreme temperatures and afternoon thunderstorms common in mountainous areas.
5. SIALAN MOUNTAIN
The Sialan Mountain is part of the Alborz range and is located between the provinces of Mazandaran and Qazvin, in the northwest of Iran.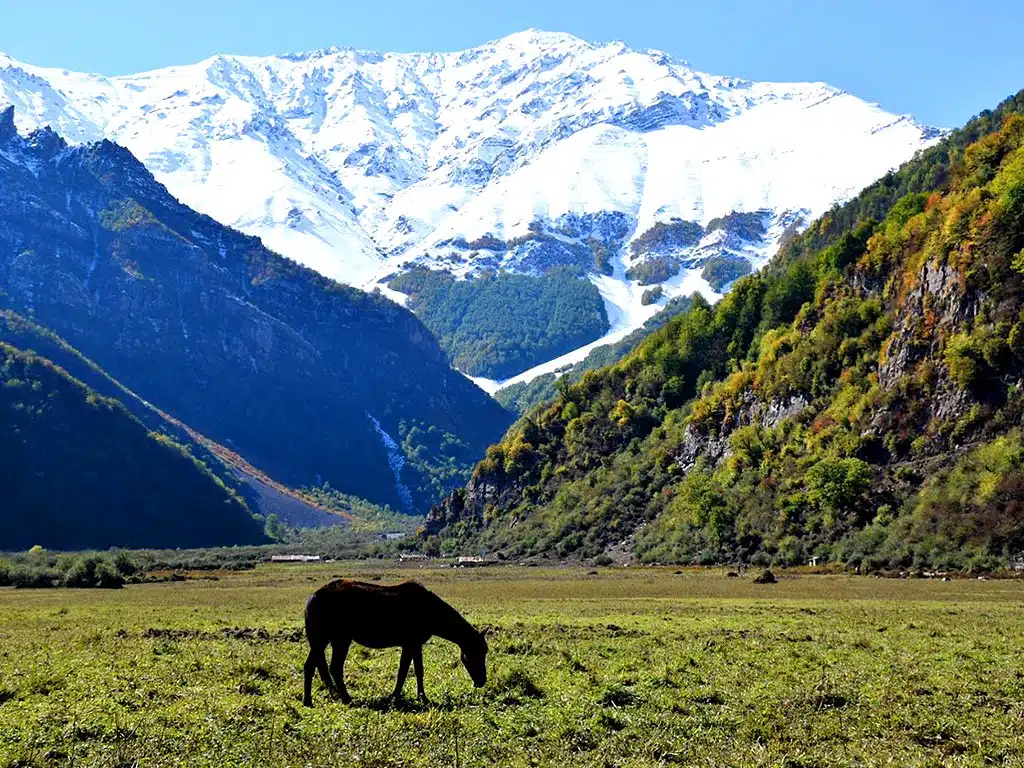 The Silan Moutain is a great trek for those who love green and lush nature. There are several routes to climb up to the top of Sialan Mountain (4.250 meters). One of the most famous is the route starting from Esel Mahalleh village: while it's also one of the longest, it is renowned for offering beautiful scenery.
What is the best time to climb Sialan Mountain?
The best time to climb Sialan Mountain would depend on various factors such as weather conditions, accessibility, and personal preferences. However, generally, the optimal time would be during the dry season, which typically falls between the months of April to October.
During this period, you can expect more stable weather conditions with fewer chances of rainfall or adverse weather events. It is advisable to research and check weather forecasts and conditions specific to the area before planning your climb. Additionally, it is always recommended to consult local authorities or experienced climbers for more accurate and recent information on the best time to climb Sialan Mountain.
6. TALESH MOUNTAINS
Stuck between the Ardabil and Gilan Provinces, are the green and lush Talesh Mountains, part of the Alborz range, that also offer many trek opportunities. This area is part of the Caspian Hyrcanian mixed forests, which is considered one of the world's oldest forests and has been registered as a UNESCO World Heritage Natural Site.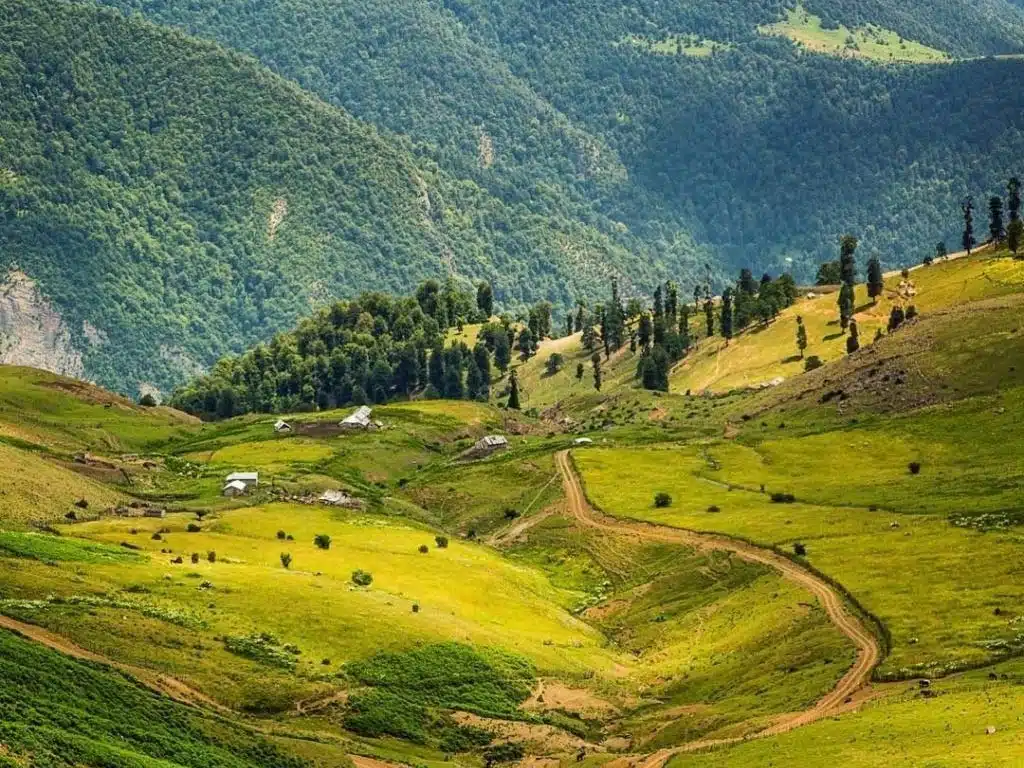 Its two peaks, Tilar and Baghro Dagh, are easy to climb and accessible to amateurs. Between forests, meadows and small remote villages, the Talysh Mountains offer a very unique trekking experience.
What is the best time to climb Talesh Mountain?
The best time to climb Talesh Mountains is during the summer months, specifically from June to September. During this period, the weather is relatively mild and the temperatures are more favorable for trekking and climbing. It is important to note that the Talesh Mountains experiences heavy snowfall during winter, making it difficult to climb, especially in higher altitudes. Additionally, it is advisable to check weather conditions and obtain necessary permits before planning a climb to ensure safety.