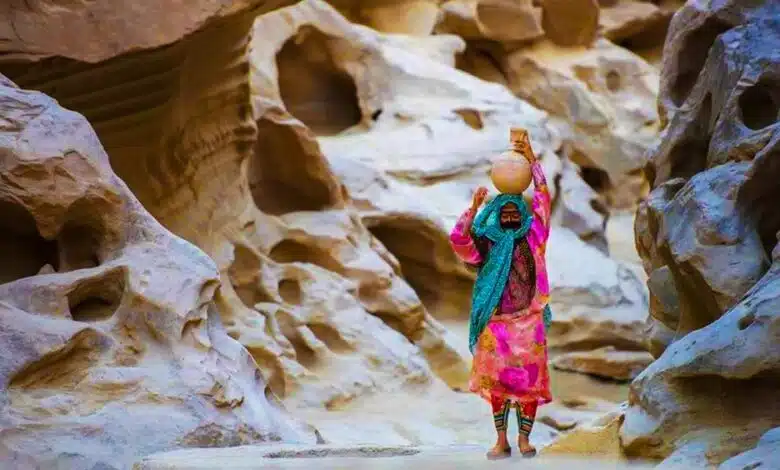 The Persian Gulf's name itself carries a sense of wonder to the traveler's mind. A mystical place, where inhabitants live with and from the sea. Here are some must-see destinations we recommend you visit all along the Persian Gulf.
The Persian Gulf is a place full of history, sometimes controversial, and generally quite famous for its large resources in crude oil and natural gas reserve. But the Persian Gulf is also a region that has a lot to offer to visitors looking for authentic and ancient culture and great nature.
From Bushehr to Bandar Abbas, the south coast of Iran that goes all along the Persian Gulf offers many great beaches preserved from mass tourism and several areas of protected Mangrove forest.
Traveling there is also discovering singular cultures, through music, food, architecture, and local traditions.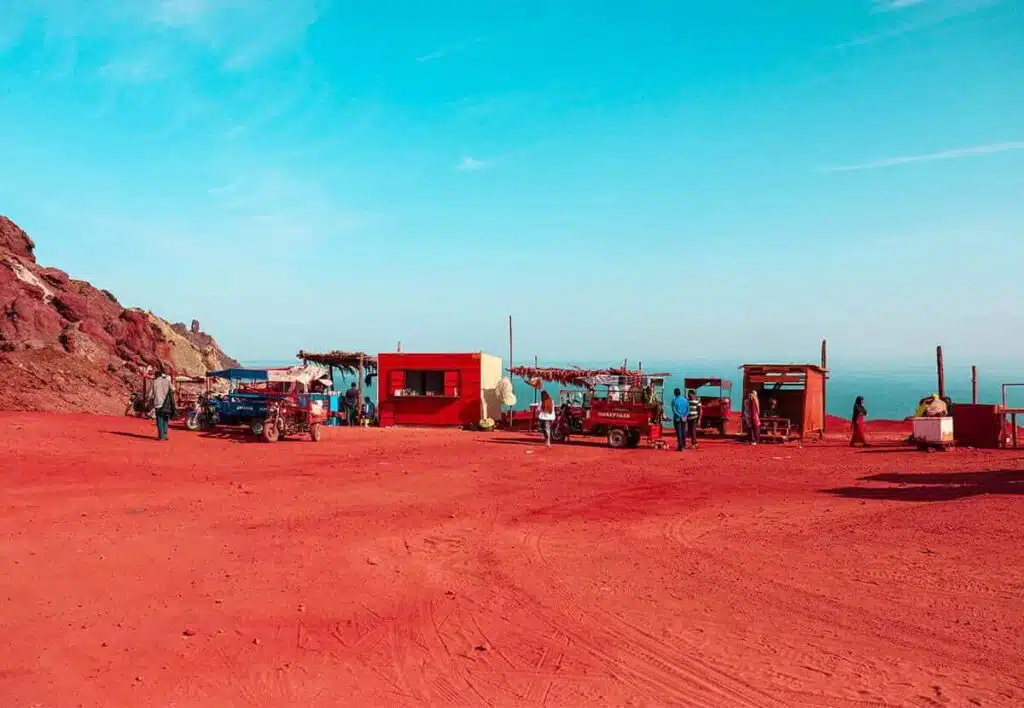 When to visit the South of Iran?
The best time to visit the south of Iran is between October and the end of April. It's highly recommended to avoid summer, as the temperature can reach 50 degrees Celsius with a high level of humidity.
On Kish and Qeshm islands, it's also recommended to avoid Nowruz if possible, which is the high season and the sights get very crowded.
Eventually, also keep an eye on Ramadan. While it may not affect much your trip to Kish or Bushehr, keep in mind that most people are fasting on Qeshm, so life is quite turned off during the day; which is great to visit sites, but harder to find food!
Bushehr
The port of Bushehr was once the most important port of Iran. Nowadays, and even though it's quite a large city, it has kept a singular and pleasant atmosphere. The historical center is particularly pretty with its old white buildings.
Besides the architecture, Bushehr has become quite modern, but there is one tradition that its inhabitants keep with enthusiasm: music. The city is famous for its music festival ("koosheh") in March.
You can plan two days to visit Bushehr. The main point of interest is the city center with its pretty narrow allows and picturesque fish market.
The seaside is also nice to hang out in, especially in the evenings. Also plan to go to the beach in Bandar-e Ganaveh. Around Bushehr, keep half a day visiting the Jashak salt domes.
Travel to/from Bushehr
Bushehr is a nice stop to add after visiting Shiraz, as there are frequent connections by flights and autobus. By road, it takes 4 to 5 hours.
There are also several flights from and to Tehran, and once a week, a flight connects Bushehr to Bandar-Abbas, where you can reach Qeshm island.
Qeshm island
To discover the culture of the Persian Gulf, the best place to visit is Qeshm island. Unlike Kish and Bushehr, people in Qeshm island have managed to preserve their traditional way of life, especially in the villages.
Locals in Qeshm still speak their own language, women and men wear traditional clothes daily, and every aspect of their life is in respect to their traditions.
People in Qeshm are Sunni Muslims (while the rest of Iran is majority Shia) and religion is an important part of their life. So, Ramadan and Eid-el Fitr are among the most important celebrations of the year.
Besides the cultural aspects, Qeshm attracts lots of visitors because the island is a Unesco Geopark. It has many unique geological sites such as the world's largest salt cave, and canyon, and naturally sculpted valleys such as the Star Valley.
From Qeshm, it's also easy to visit two smaller islands: Hormuz island, famous for its red beach, and Hengam island, a pristine island populated by numerous gazelles.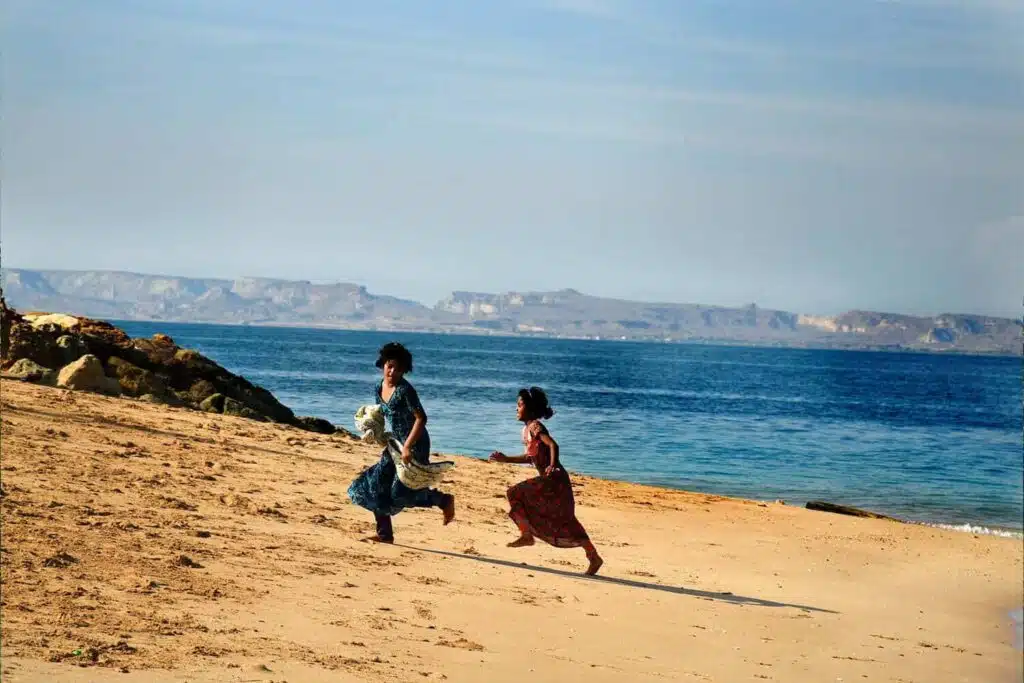 Travel to/from Qeshm, Hormuz, and Hengam islands
The easiest way to visit the islands is to go on a flight to Qeshm international airport. There are daily flights between Qeshm and Tehran, and weekly flights between Shiraz and Isfahan.
Visitors can also enter Qeshm island from Dubai, and stay one month on the island without a visa, which has four flights a week to Qeshm. Travelers can also reach Qeshm from Bandar-Abbas (which has flights to most cities of Iran), by ferries that run between 7 am to 10 pm on both ways.
Visitors to Hormuz must reach the island by ferry, from Bandar Abbas or Qeshm. Reaching Hengam is only possible by small motor boat from Kandaloo Harbour in Qeshm, with a short 5-min ride.
Kish island
Many Iranians may recommend you visit Kish island. Indeed, most of them love the modernity of the island, with its big resort hotels. The Iranian version of Dubai, somehow!
It may not be the things most western tourists expect to see in Iran, and this is precisely why it may be interesting to have a short stay there!
It shows a different aspect of Iran, and you can also reward yourself with a break by the pool of a nice fancy hotel or sunbathing at the beach (which are not mixed though).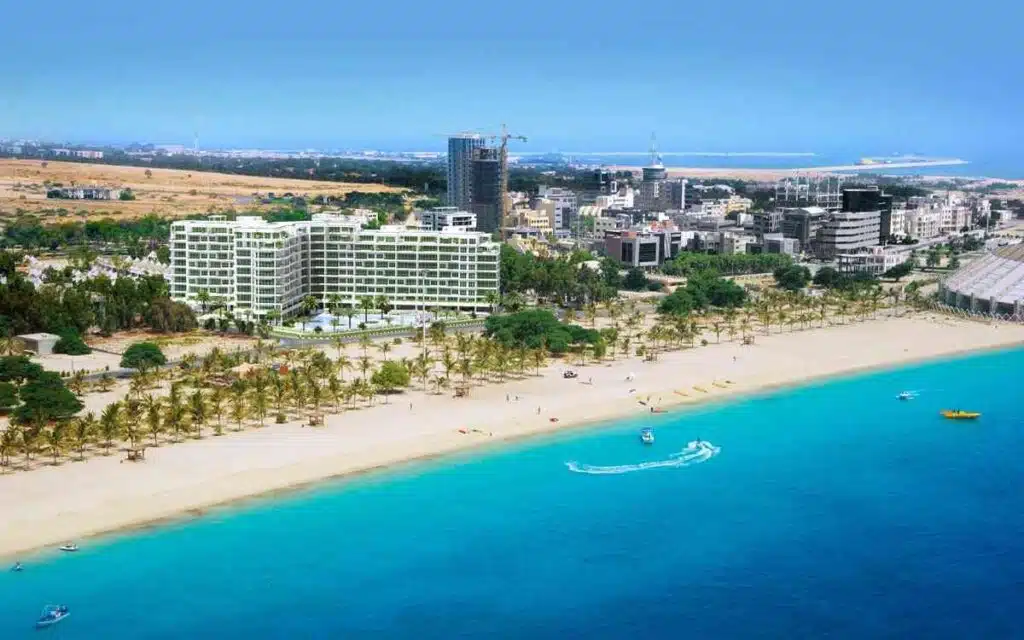 The island is rather small though, so a quick stay of one or two nights may be enough for you to get around Kish. Besides the beaches, the main sights of the island are its Greek ship, the archaeological site of Harireh, an ancient city, and Kariz, once an underground city.
Kish is also a great destination for sports, in particular watersports. There is everything you may expect: scuba diving, wakeboarding, jet skiing, parasailing, etc. Many visitors also enjoy renting a bike to ride on the flat nice bike-riding path that goes all around the island over 75 km!
Travel to/from Kish island
The best way to reach Kish island is by flight. There are daily flights with Tehran, Shiraz (except on Thursdays), Isfahan (except on Fridays), and many other cities of Iran with less frequency.
Visitors can also enter Kish from Qatar. Like Qeshm, Kish is a free zone area; visitors can stay up to 30 days without a visa.