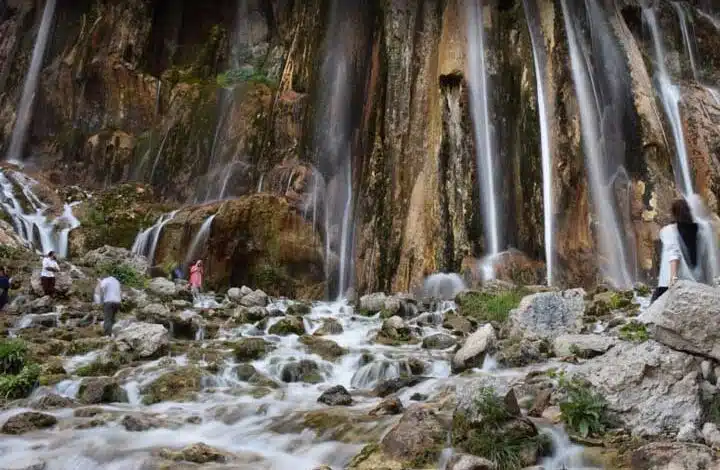 Visiting some of the most amazing waterfalls and the tremendous view of the thundering water can be a great holiday option for a hot summer day in Iran.
Waterfalls are one of the most magical creations of the nature and watching their mesmerizing views and listening to their striking sounds can be a perfect escape from stress and, the heat of course! There are numerous waterfalls in Iran in different climates and zones, which are all amazing in their own unique way. There is something truly refreshing about visiting a waterfall and thus, in this article, we will explore some of the most beautiful ones to encourage you to consider them as your next destination on your trip to Iran during the hottest days of the summer!
Margoon Waterfall
This amazing waterfall is located in Fars province in Sepidan county and can be included on your itinerary while visiting Shiraz. Margoon waterfall is more than 70 meters high and when you arrive there, you will find yourself in a paradise in the middle of a rugged mountainous, hot area! The name of the waterfall literally means snake-like. This beautiful waterfall is also included on the National Geographic's list of Iran's Most Wild and Beautiful Places.
Laton Waterfall
Located in Lavandavil, Astara County, in Gilan Province in the northwestern part of Iran, Laton waterfall is considered to be the highest waterfall of the country. This waterfall is 105 meters high and you can reach it after a long walk in a very beautiful forest. It is also a popular place for camping among nature lovers and hikers.
Bisheh Waterfall
Bisheh is one of the most famous waterfalls of Iran. Located in the land of waterfalls, Lorestan province, this astonishing natural attraction flows from the beautiful mountains of Zagros. This waterfall, which is 48 meters heigh and about 10 meters wide, is also one of the largest waterfalls of this region. As it is located near Bisheh railway station, the waterfall is easily accessible and is a very popular destination among the travelers.
Yakhi waterfall
This waterfall is quite different from the other waterfalls, as it is completely frozen! This spectacular attraction is located at an elevation of 5100 m and is situated in the southern part of Mount Damavand. Its name literally means icy, as it melts only for a few hours during the months of July and August and then, freezes again.
Shirabad Waterfall
Shirabad waterfalls are one of the main natural attractions of Golestan province, located in the middle of a beautiful forest. There are 7 waterfalls in this area and you'll reach the first one by walking for around 20 minutes in the woods. It is 25 meters high and pours into an amazing lake with a greenish-blue color. In some spots, the depth of the lake reaches more than 80 meters. If you continue your way, you'll have the chance to visit other waterfalls located in a step like structure as well, the last of which is 30 meters high.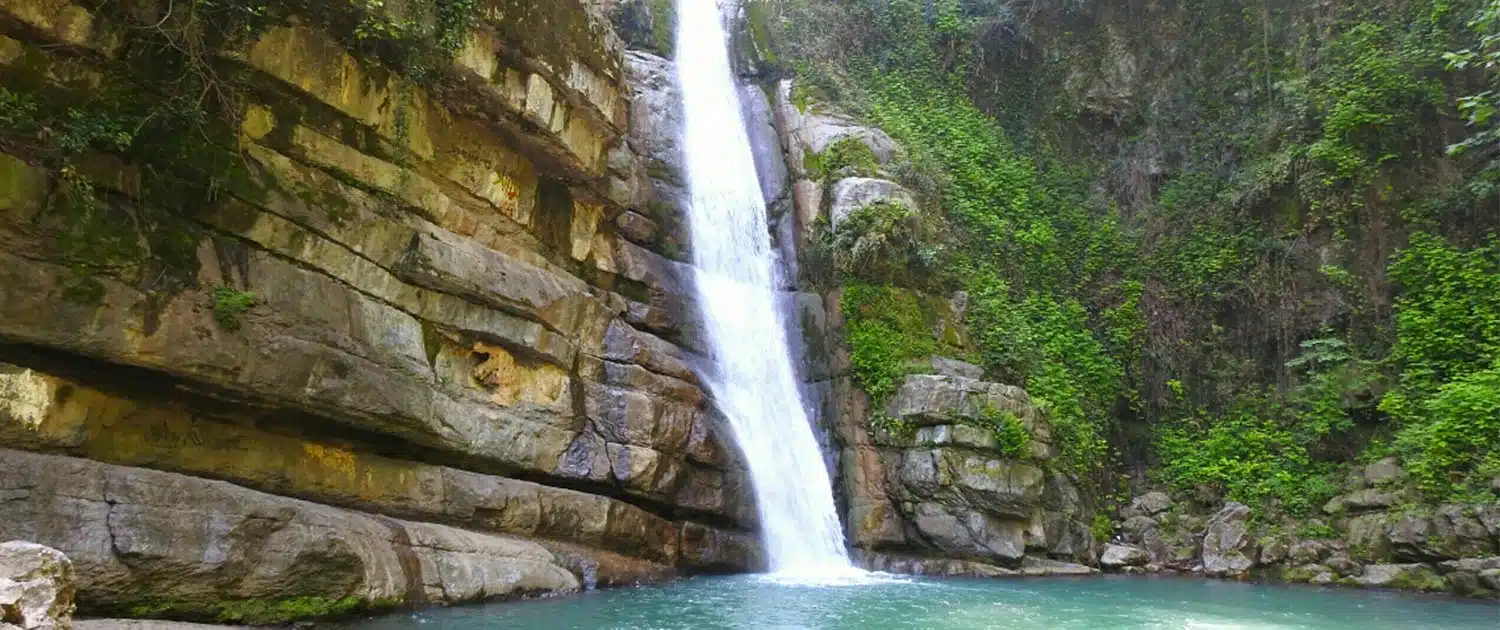 Asiab Kharabeh Waterfall
Asiab kharabeh, which literally means broken water mill, is in East Azerbaijan province near Jolfa city. If you visit the waterfall, you will immediately understand why they call it Asiab Kharabeh. The millstream falls into a canyon and creates an extended waterfall. Because of its unique characteristics, this waterfall is a very popular destination for nature explorers.
Shevy Waterfall
Also known as Tale Zang, this waterfall is one of the most beautiful waterfalls of Zagros mountain. It is located in Dezful city in Khuzestan province and is accessible via Lorestan railway station. Shevy waterfall streams from a cave and then pours down, creating a wonderful landscape. Some people consider it as the most beautiful waterfall of Iran.
Nozhian Waterfall
Nozhian is another famous waterfall in Lorestan province with a height of 95 meters, which turns it to one of the tallest waterfalls of Iran. It emanates from the forest resort of Nojian at the top of Taff mountains, where many medicinal herbs grow. To reach the waterfall, a 2-hour hike is required.
Kaboud-val Waterfall
Located in Aliabad Katoul region in Golestan province, Kaboud-val is the largest full-moss waterfall in Iran and one of the most beautiful natural attractions of Golestan. The waterfall is about 6 meters high and you need to walk about 2 kilometers in the forest to reach it.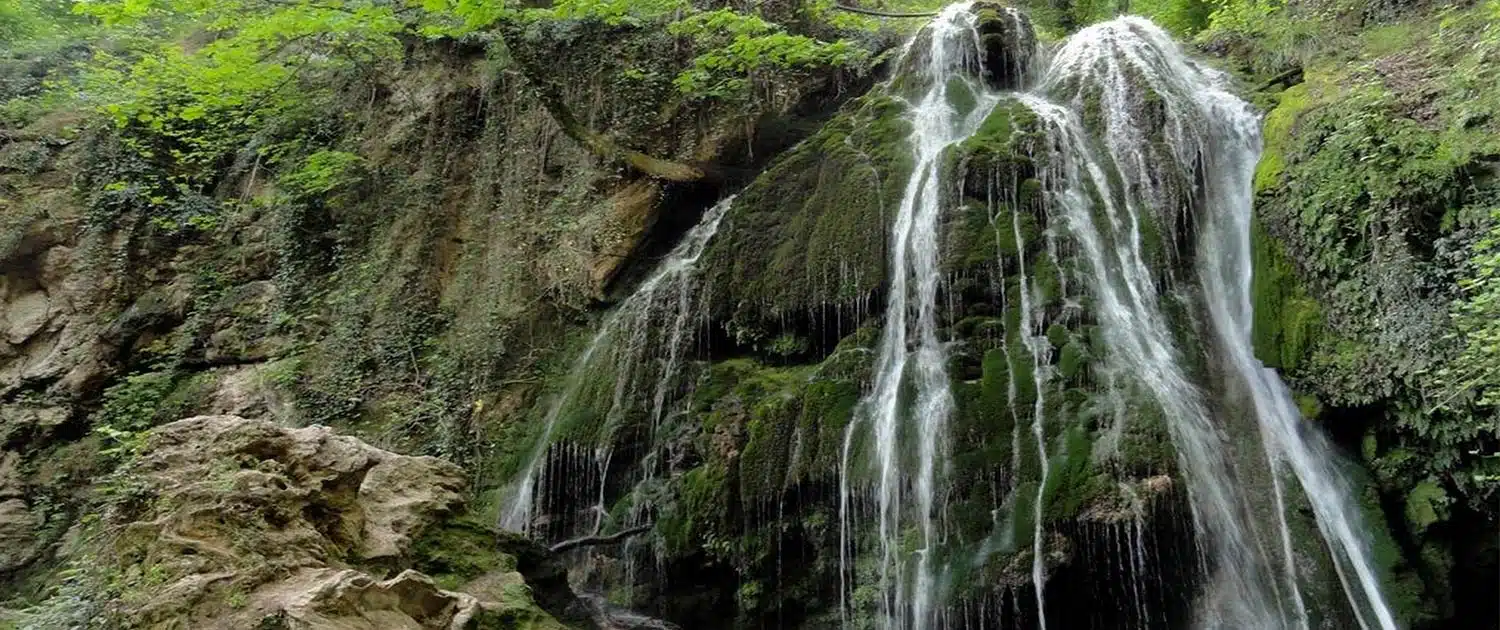 Ganjnameh Waterfall
Ganjnameh is located in Hamedan province and is home to two trilingual Achaemenid cuneiform inscriptions, which turns this site to one of the most important tourist spots of the province. Ganjnameh waterfall is in the end of the recreational area of Abbas Abad Valley in Mount Alvand and can be visited along with the inscriptions. The waterfall is 12 meters high and has created a very impressive landscape in this touristic complex.