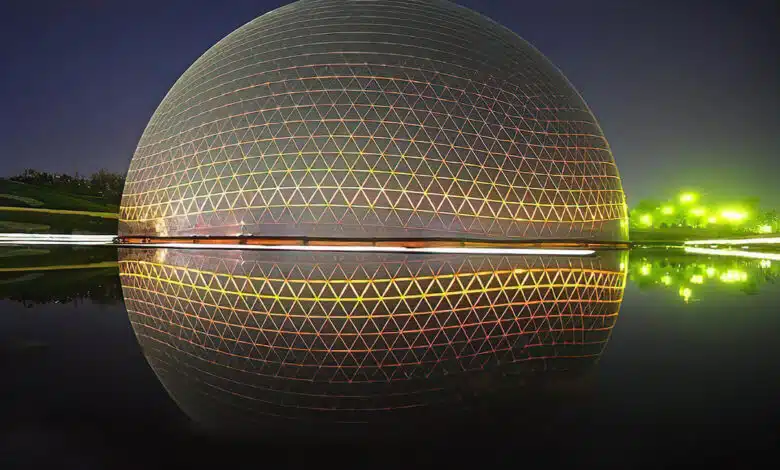 Although the city is not included as the first choice on travelers' itinerary, Tehran can actually be an attractive tourist destination. Apart from its annoying traffic and crowded streets, there are some peaceful spots like museums in Tehran where you can forget about all the chaos in the city and simply enjoy the silence and calm atmosphere there. Let's explore some of Tehran's best museums to see how they can entertain you in a city like Tehran and impact your viewpoint about Iran at the same time.
In this article, we are going to explore some of the best museums in Tehran which provide you with a clearer perspective on Iran.
1. The National Museum of Iran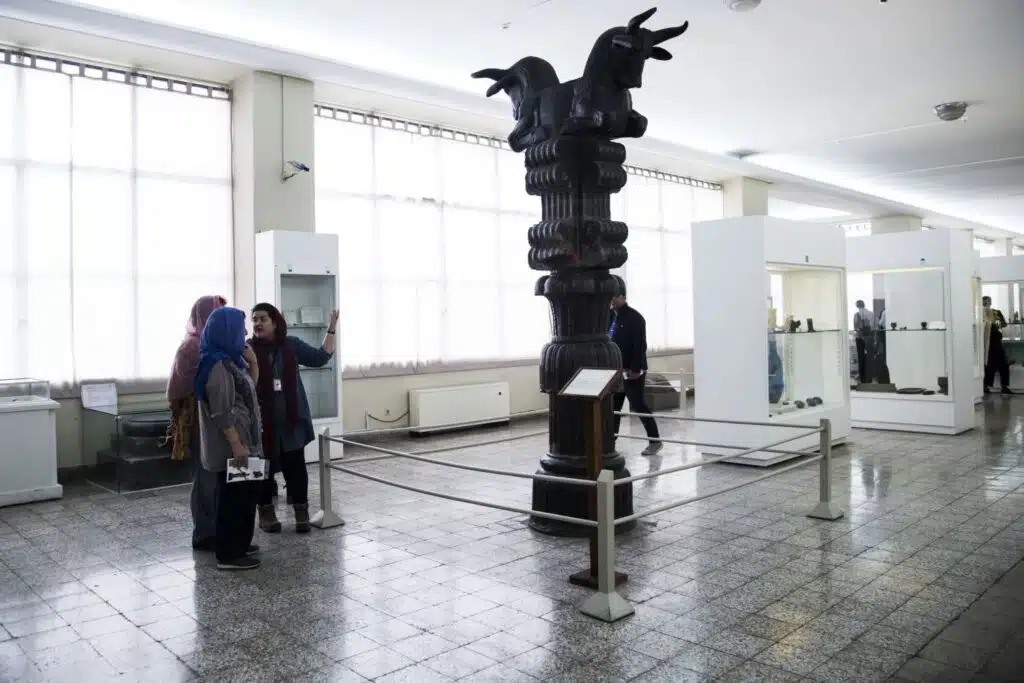 The National Museum of Iran stands as one of Tehran's finest, preserving the remnants of ancient Iranian civilizations. This museum garners international attention for showcasing the grandeur and richness of Iranian culture and history. It houses two main sections: the Ancient Museum and the Islamic Museum. Both feature priceless and unique artifacts representing various periods of Iranian history. Situated in a charming old area of Tehran, the museum transports you back to ancient Iran. Also, there's a café-restaurant outside with a good menu.
Address: Tehran, 30-Tir Street
Visiting Hours: First half of the year: 9 AM to 5:30 PM and Second half 9 AM to 4:30 PM
2. Golestan Palace and its Museum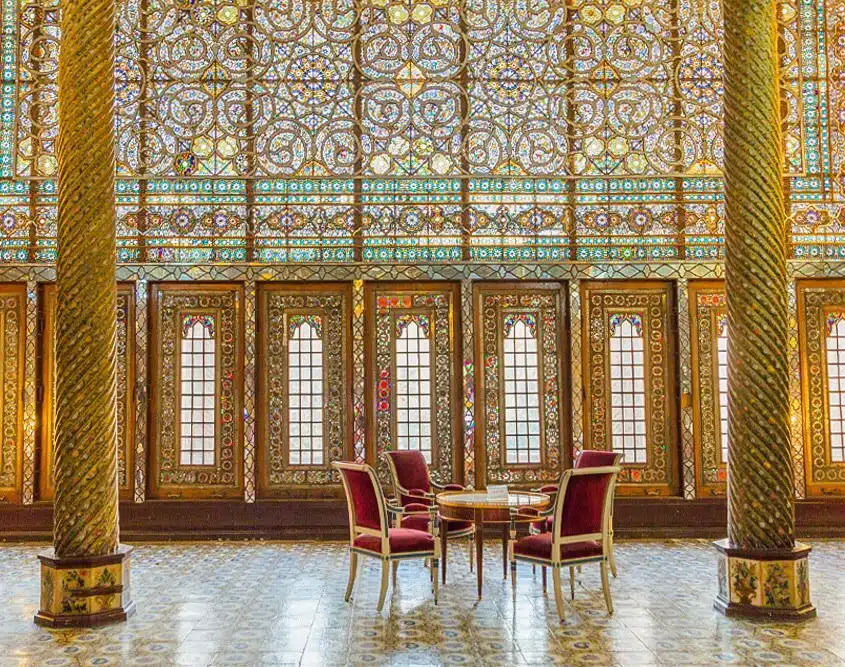 Golestan Palace, located in Arg Square, serves as a gateway to Iran's rich Qajar history. Originally built during the Safavid dynasty, the palace comprises various sections, each offering unique elements. One of the highlights is the ground floor gallery, featuring stunning Qajar-era art. Here, you'll encounter impressive pieces by Kamal-ol-Molk, an illustrious Iranian painter of that period.
However, the palace's function shifted dramatically in 1929 when Reza Shah transformed it into a prison. Now known as the Golestan Palace Museum, it sits in the remnants of the Qajar dynasty palace on Shariati Street. With 192 rooms, the prison had the capacity to hold up to 800 individuals. After the revolution, it became Tehran's first prison for non-political detainees. Closed in 2004, the site was later restored by the Cultural Heritage Organization and reemerged in 2012 as a distinctive museum in Tehran. The museum's long history also involves housing notable prisoners like Bozorg Alavi, Allameh Helli, and Ali Moradkhan Bakhtiari.
Address: Tehran, 15 Khordad Street, Arg Square
Visiting Hours: First half of the year: 9 AM to 5:30 PM and Second half 9 AM to 4:30 PM
3. Sa'dabad Palace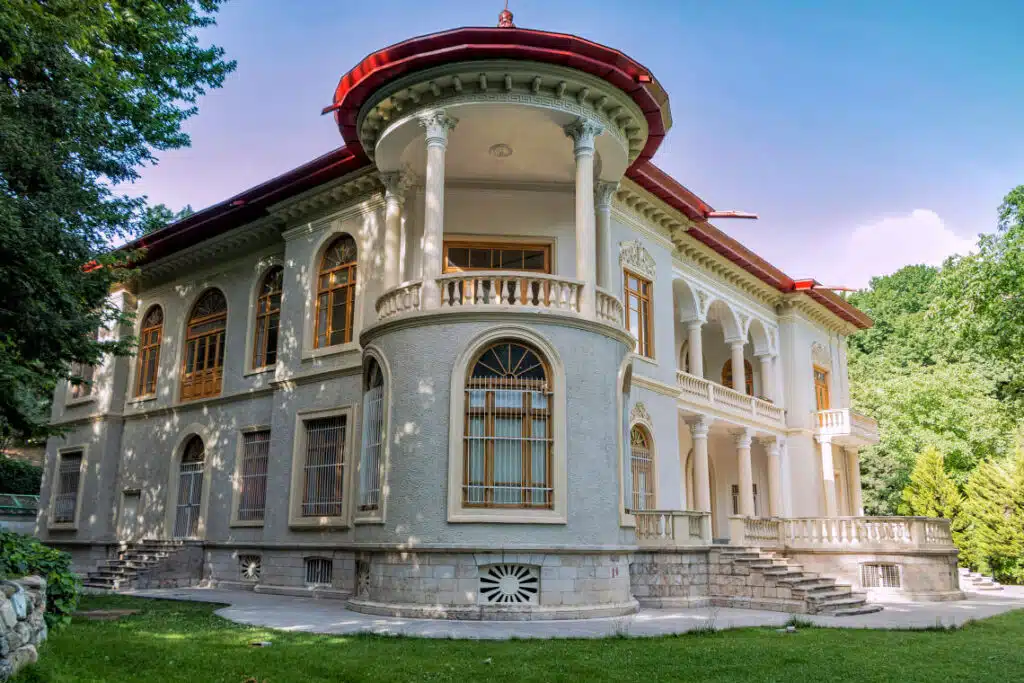 Sa'dabad Palace holds the distinction of being Iran's last royal residence. Its construction began during the Qajar era, and it later served as the dwelling for Reza Khan and Mohammad Reza Shah. After the revolution, the palace underwent a transformation and now stands as one of Tehran's esteemed museums. Near the Sa'dabad complex, another palace serves as the hosting grounds for foreign dignitaries by the Iranian Presidency.
Sa'dabad Palace: A Brief Background
The northern gardens and lands of Tehran always attracted the Qajar kings in search of summer residences. Near Darband, the idea of constructing the Sa'dabad Palace was conceived, and it soon became a political landmark in Iranian history. After the Pahlavi dynasty took over the palace, more buildings were added, each designated to a specific member of the Pahlavi family. Some of these buildings now serve administrative and diplomatic functions. Currently, the Sa'dabad Complex is home to multiple museums.
Visiting Hours: Open every day except Tuesdays and official mourning days. Open from 8:30 AM to 5:30 PM in the first half of the year and 9:00 AM to 4:30 PM in the second half.
Address: Tehran, Darband Square, northwest of Tajrish Square, at the end of Taheri Street, South Gate of the Sa'dabad Complex.
4. Niavaran Palace: A Diverse Exhibit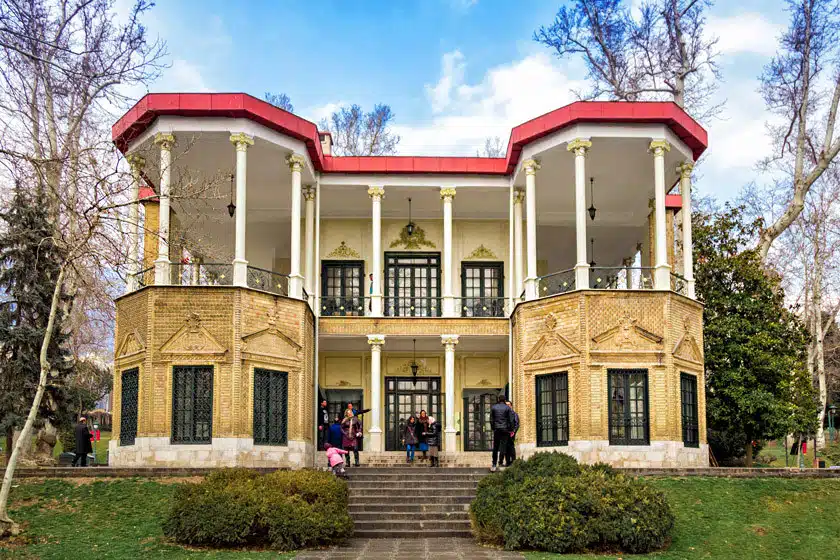 Niavaran Palace, built in 1967, showcases an array of spaces and buildings. Each holds its beauty and value, making it one of Tehran's best museums. This palace complex is a microcosm of Iranian history. Every corner displays facets of the country's history, art, and politics. Thirty years ago, the palace shifted its role to a museum and no longer sees any significant political activities.
The palace also features pools, ornate plasterwork, wooden ceilings, and exhibits of glassware.
To dive deeper into Iranian culture, art, and history, the Niavaran Palace is a must-see. Interested travelers can explore more about it in SURFIRAN's Tehran Travel Guide.
Niavaran Palace: The Backstory
During the Qajar era, the northern foothills of Tehran served as a summer retreat for the Qajar kings. About 160 years ago, a garden was built in Niavaran known as the aristocratic garden of Fath Ali Shah Qajar. The palace itself was built on a hill, surrounded by geometrically designed gardens featuring various types of trees, including plane trees. Successive kings after Fath Ali Shah have resided here, each adding new structures.
Architecture Details
Niavaran Palace follows the conventions of traditional Iranian gardens. During the Pahlavi era, Iranian artists worked on the new palace building, showcasing Iranian and Islamic architecture.
Visiting Hours: Thursdays and Fridays are open for all museums. However, every day of the week, one of the palace buildings is closed for special inspections and care.
Address: Tehran, Shahid Bahonar Square (Niavaran Square).
5. Tehran Holy Defense Museum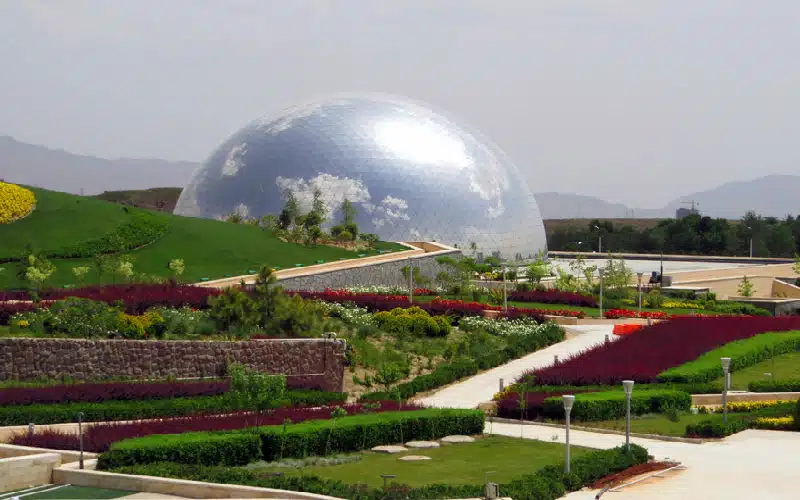 Iran-Iraq's war, which in Iran is mostly known as the 'Holy defense' or the 'Imposed war', forms a significant part of Iranian contemporary history, which has deeply influenced the lives, and visions of most people in this country.
Beside the largely-impacted Iranian modern culture by the war, which is noticeable in the great number of movies, poems, theaters and books produced each year to depict that era, signs and reminiscent of the war still outline an important part of Iranian's daily life.
Streets and squares named after the many lost lives during the war while defending the country, ceremonies and special events hold at different periods of the year as the remembrance of the war and building museums and dedicating special spaces to picture the atmosphere of those years are just a few examples of the attempts taken to create a deeper and more profound understanding of the war among the younger generation and to document the realities occurred at that period in Iran. Read more about the Holy Defense Museum.
Address: Haqqani Highway – Vanak Sq. – Tehran
Opening Hours: Tuesdays to Sundays, 9 am to 5 pm
6. National Jewelry Museum of Iran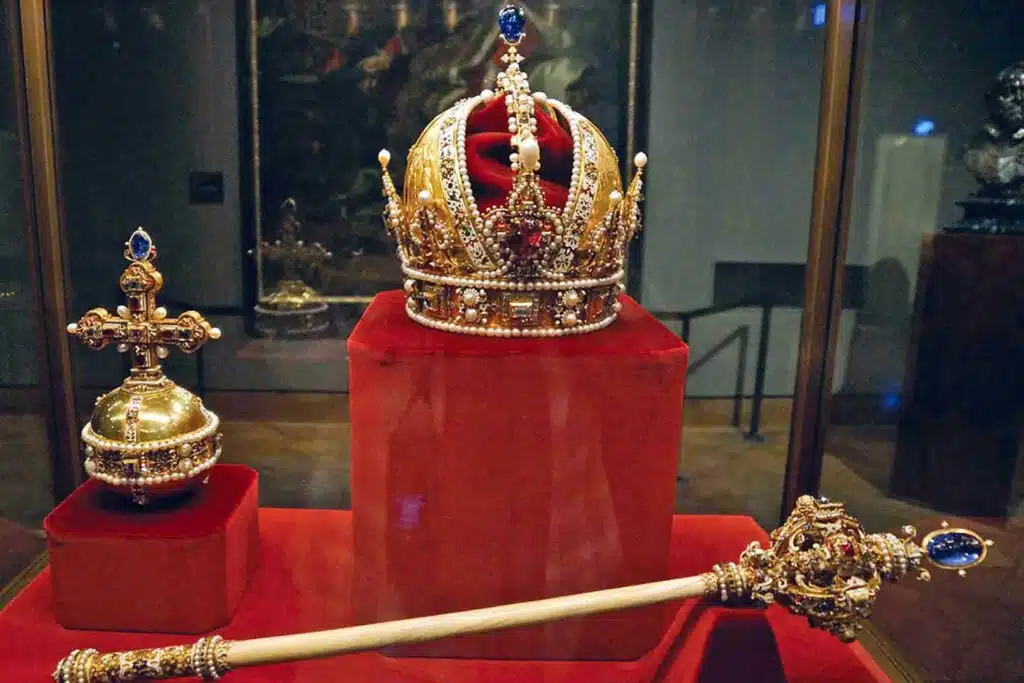 The National Jewelry Museum of Iran stands as one of Tehran's captivating museums, first opened its doors in 1953. This collection includes gems handed over to the Central Bank during the royal era. Conveniently located on Ferdowsi Street, opposite the German Embassy, this museum is a must-visit. However, take note that children under 12 years old are not allowed to enter. Alongside its exhibits, the museum also offers an outdoor café and buffet where you can relax and catch your breath. Additionally, you can safely store your belongings in the museum's cloakroom while you explore the gems.
Address: Tehran, Ferdowsi Street, Central Bank
Visiting Hours: Saturdays to Wednesdays from 14:00 to 16:30
For more information about exploring Tehran, check out this comprehensive Tehran Travel Guide.
7. Museum of Contemporary Arts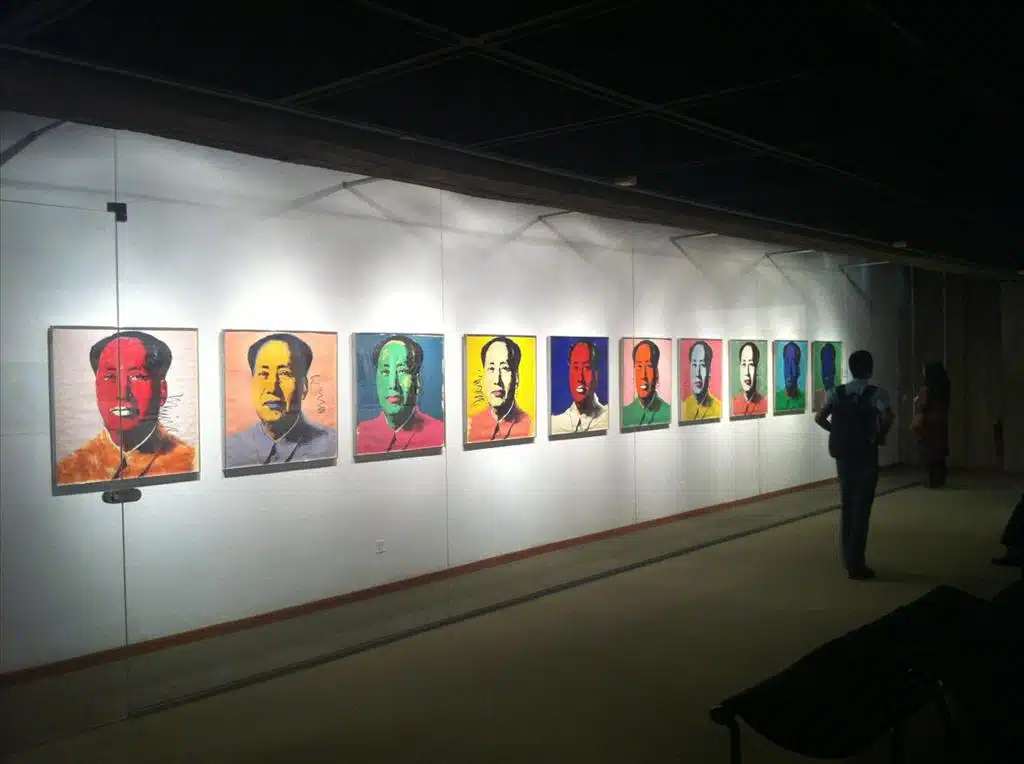 Another not-to-be-missed spot is the Museum of Contemporary Arts, established in 1977. It boasts a seamless blend of old and new architecture and exclusively showcases works by contemporary artists. Particularly busy during special events, this museum vibrates with life and artistic energy. You can find it on Kargar Shomali Street, near the Carpet Museum. If you're planning to visit, don't miss the opportunity to also check out the Carpet Museum, another one of Tehran's fascinating museums.
Visiting Hours: Open daily except on mourning days from 9:00 to 17:45, and Fridays after 14:00
Address: Kargar Shomali Street, next to Laleh Park
8. Carpet Museum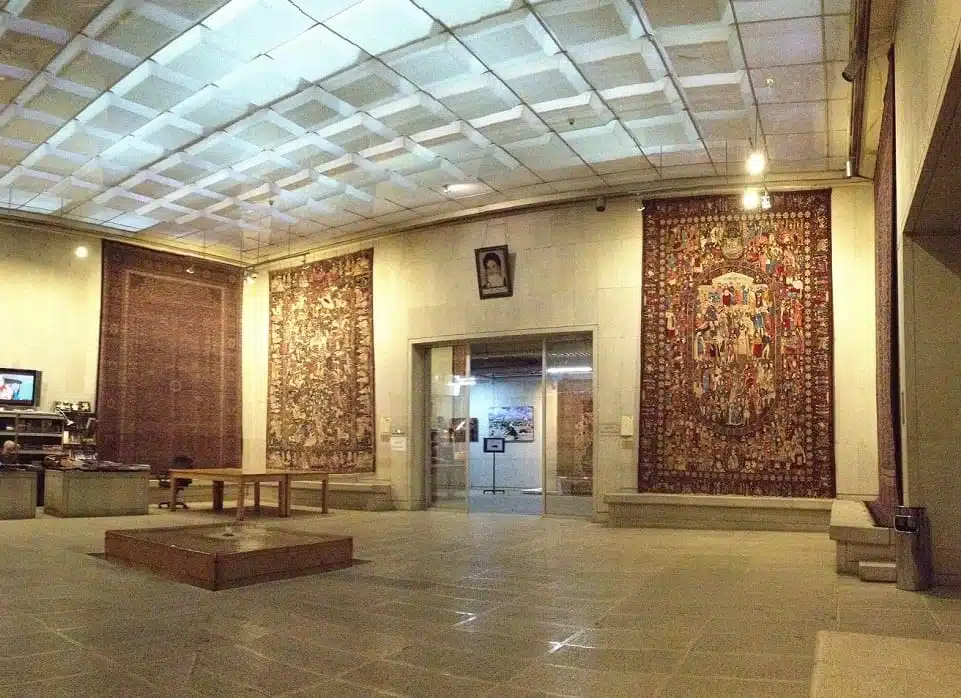 As carpets are a wonderful manifestation of Iranian art and culture, visiting Carpet Museum can give rise to a sense of appreciation for thousands of years of delicate works done by Iranian artists. The variety in colors, patterns and forms in carpets which are gathered from all over the country, is really unbelievable and can be a joyful experience if you are fond of art.
Visiting Hours: Typically open from 9 AM to 6 PM
Address: Tehran, Dr Fatemi Ave, North Kargar Street
9.Iranian Art Garden Museum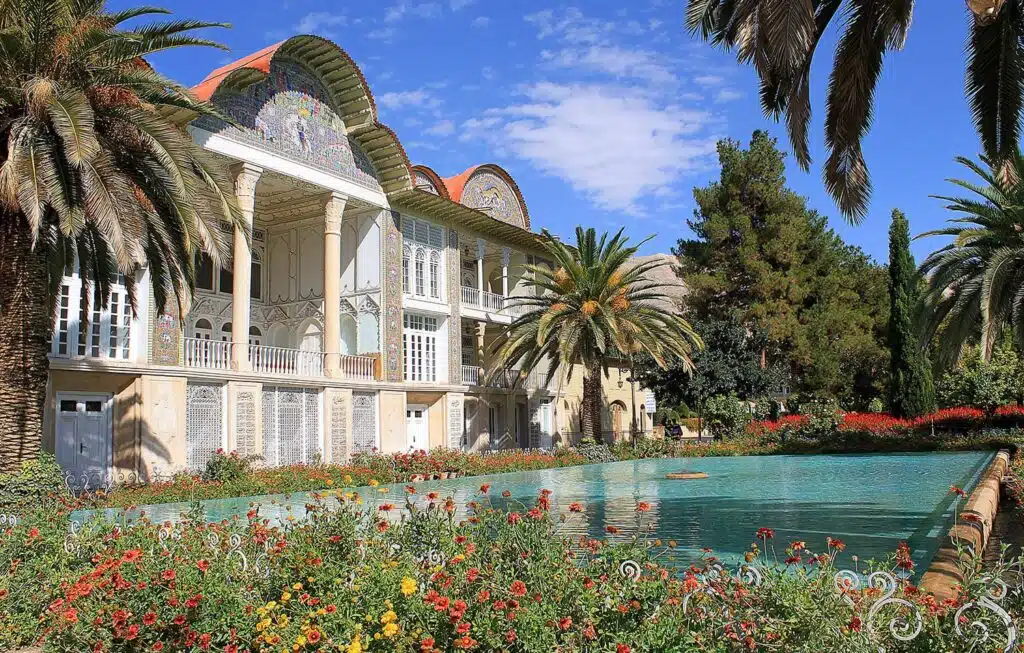 Located in an old Persian garden dating back to the Pahlavi era, the Iranian Art Garden Museum stands as a cultural gem among Tehran's museums. This multi-purpose venue incorporates art galleries, film screenings, artistic workshops, and a cultural product store. You'll find contemporary sculptures and miniature models of ancient landmarks like Hasht Behesht, Chehel Sotoun, and Gonbad Qabus.
Address: Tajrish Square, Shahid Darbandi (Maqsud Beig) Street, Dr. Hasabi Street, No. 30
Want to plan your visit?
Visiting Hours: Open daily from 9:00 AM to 9:30 PM, except during mourning days.
10. Cinema Museum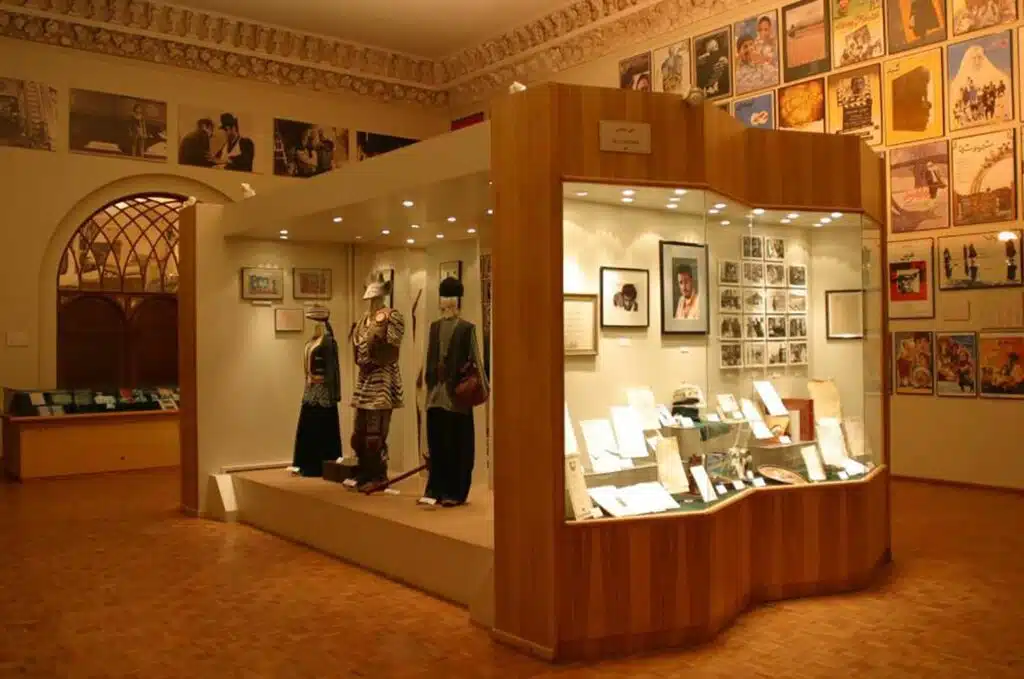 It is located in a beautiful garden named Ferdows and in a historic building which dates back to the Qajar era. The museum showcases different aspects of Iranian cinema and can easily entertain you for a few hours if you are interested in discovering this less-known aspect of Iranian culture. There are also some coffeehouses and a cinema in this complex, where you can enjoy your day after visiting the museum.
Visiting Hours: Usually open from 9 AM to 5 PM
Address: Tehran, Valiasr Ave, Bagh-e Ferdows
11. Moqaddam House and Museum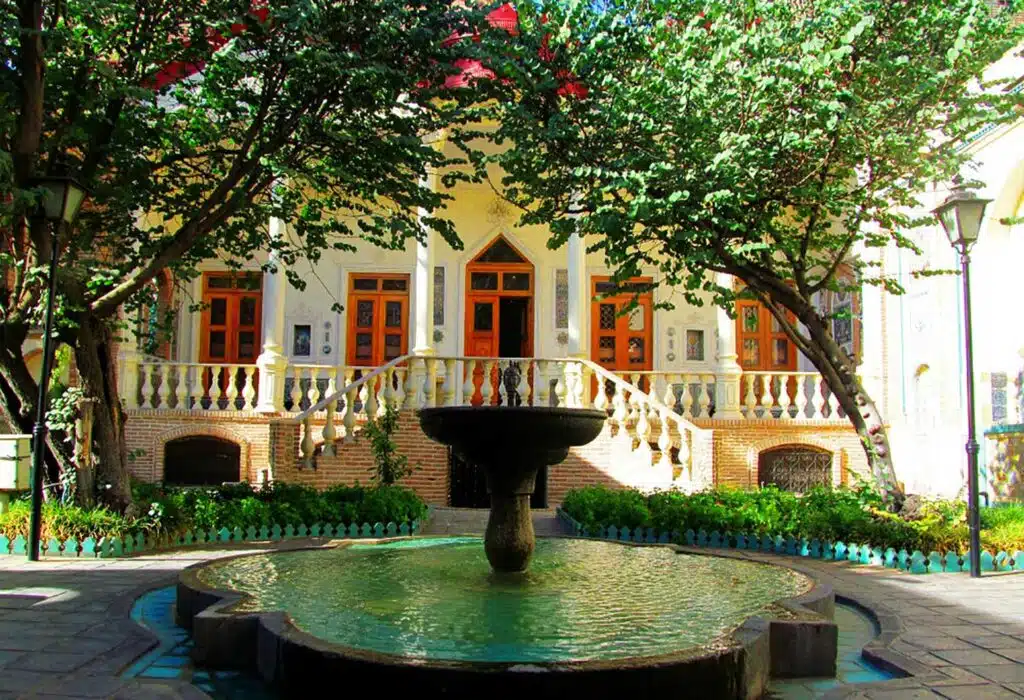 A heritage-listed residence, the Moqaddam House in Tehran belonged to Mohsen Moqaddam, a prominent Iranian archaeologist. Mohsen and his spouse collected invaluable items and showcased them in the house. Mohsen also designed the University of Tehran's emblem and bequeathed the property to the university before passing away in 1987. The museum reopened in 2009 and is now a well-known Tehran Museum.
Address: Imam Khomeini (Sepah) Street, between Sheikh Hadi and Vali-e-Asr
Ready for a Tehran tour?
Visiting Hours: Open daily except Fridays and public holidays from 9:00 AM to 4:30 PM
12. Malek National Library and Museum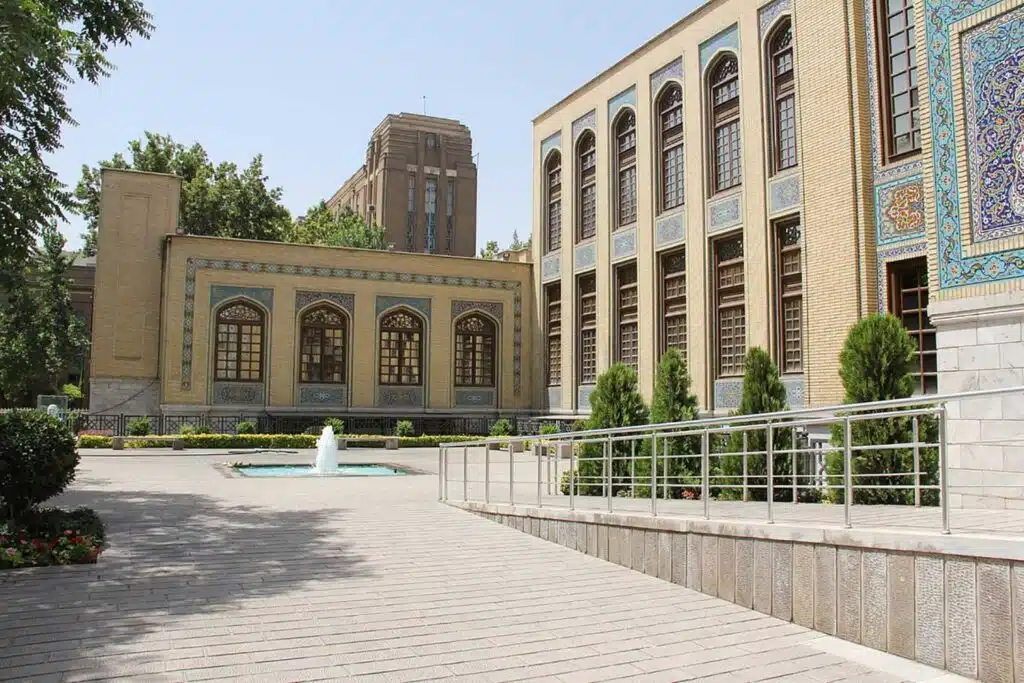 Built by Hussein Agha Malek and Astan Quds Razavi, this institution consists of a library and a museum. It boasts a collection of rare books and valuable items like coin vases, stamps, carpets, calligraphy, and metalworks. Malek Garden is also one of the endowments by Hussein Agha Malek to Astan Quds Razavi. The Malek National Library and Museum ranks among Tehran's finest museums.
Address: Imam Khomeini Street or old Sepah Street, next to the Foreign Affairs Building
Visiting Hours: Open daily except Fridays and public holidays from 8:00 AM to 4:00 PM. Thursdays until 3:00 PM
13. Iran Glass and Ceramics Museum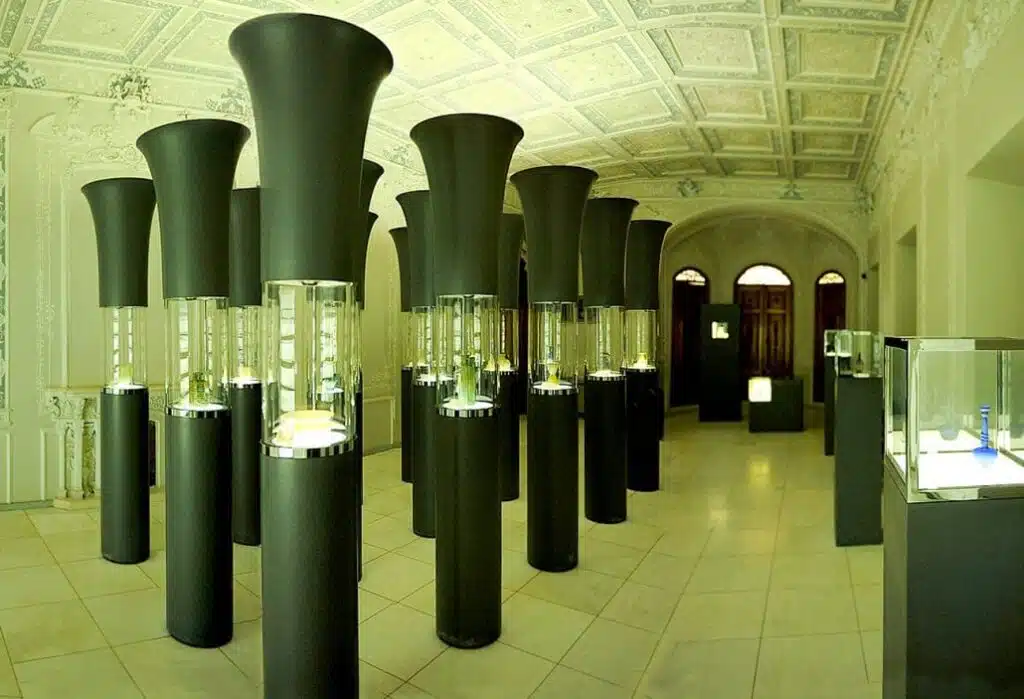 The Iran Glass and Ceramics Museum is a treasure trove for art and history enthusiasts. Located in Tehran, it occupies a 7,000-square-meter garden and has roots that go back to being the first home of Qavam al-Saltaneh and later the embassies of Egypt and Afghanistan. The building itself reflects European architecture, but Iranian artists have also left their imprint here. A renovation in 1976 involved Iranian and Austrian engineers working in collaboration.
Inside the museum, you'll discover exhibits inspired by Achaemenid columns. The collections showcase ancient glass pipes, ceramics from the 3rd and 4th centuries in Nishapur, Zarrin Fam vessels, turquoise glaze, and more. The museum also features a cultural shop, which offers a range of historical books and manuscripts on ancient and Islamic Iranian pottery.
Address: Tehran, Jomhuri Street, 30 Tir Street, No. 55
Opening Hours: Every day except Tuesdays and mourning days, 9 am to 5 pm
14. Iran National Botanical Garden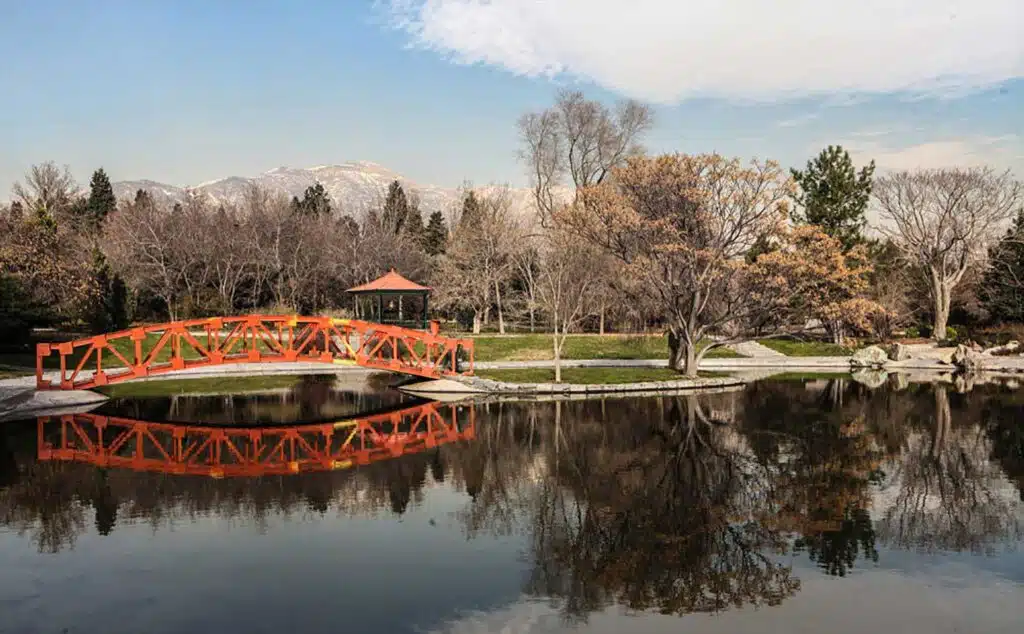 This stunning garden-museum, located in Tehran, covers a sprawling 145 hectares and sits on the Chitgar grasslands. Home to 3,000 species of plants, trees, and shrubs, it offers more than just a walk in the park. It's also an invaluable resource for researchers. Visitors will find plants from the Himalayas, China, and Japan in addition to local Iranian species. The garden includes waterfalls and lakes, adding to its appeal.
The Iran National Botanical Garden ranks as one of Tehran's best museums to visit during the Nowruz holidays. For your convenience in trip planning, check the Tehran Travel Guide.
Address: Tehran-Karaj Highway, PikanShahr exit, Azadshahr, 20-meter Sarv Azad Boulevard
Opening Hours: Saturdays to Fridays, 9 am to 5 pm
15. Music Museum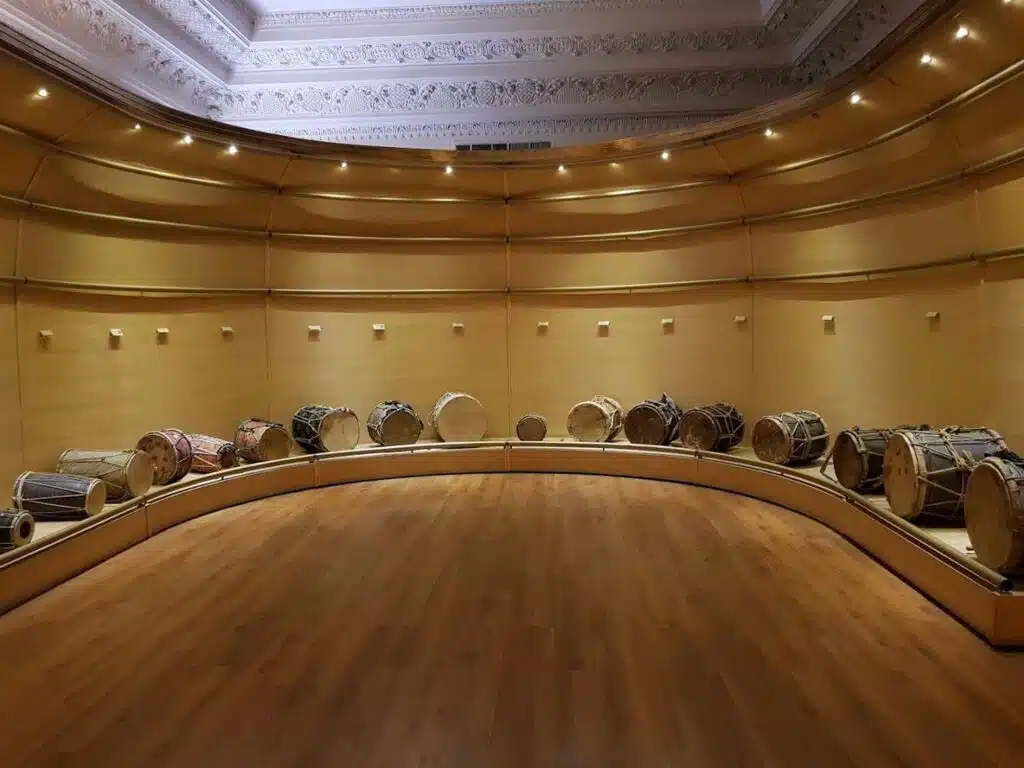 If you are interested in knowing more about Iranian traditional instruments and Iranian music culture in general, this would the perfect place for you. Located in the northern part of Tehran near Tajrish square, this museum will be a great spot for music lovers. You can also hear some samples in the museum to grasp the spirit of Iranian music.
Visiting Hours: Usually open from 9 AM to 6 PM
Address: Tehran, Tajrish neighborhood, near Tajrish Square
16. Abolhasan Saba Music Museum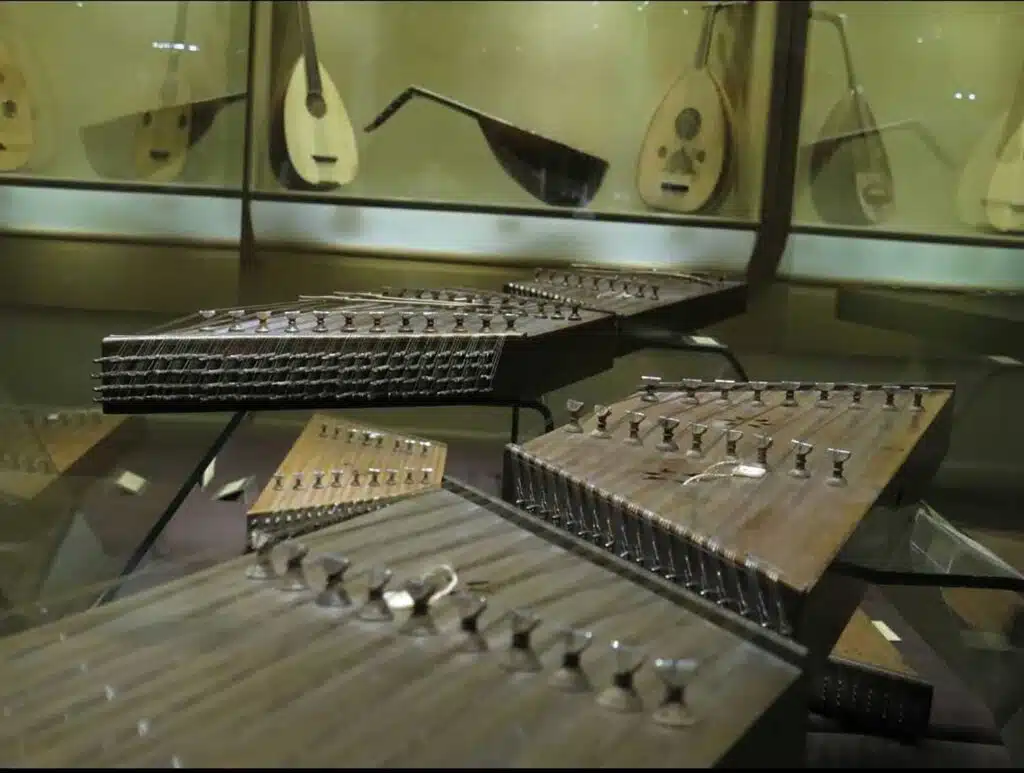 This museum stands in the home of Abolhasan Saba, one of Iran's musical giants. Here, personal artifacts and musical instruments that belonged to Saba and his wife are preserved. The house turned into a museum by the will of Saba and currently ranks as one of Tehran's most exquisite museums.
Address: Tehran, Baharestan Square, Zahir al-Islam Street, No. 90
Opening Hours: Saturdays to Wednesdays, 8:30 am to 3 pm
17. Imam Ali Museum of Religious Arts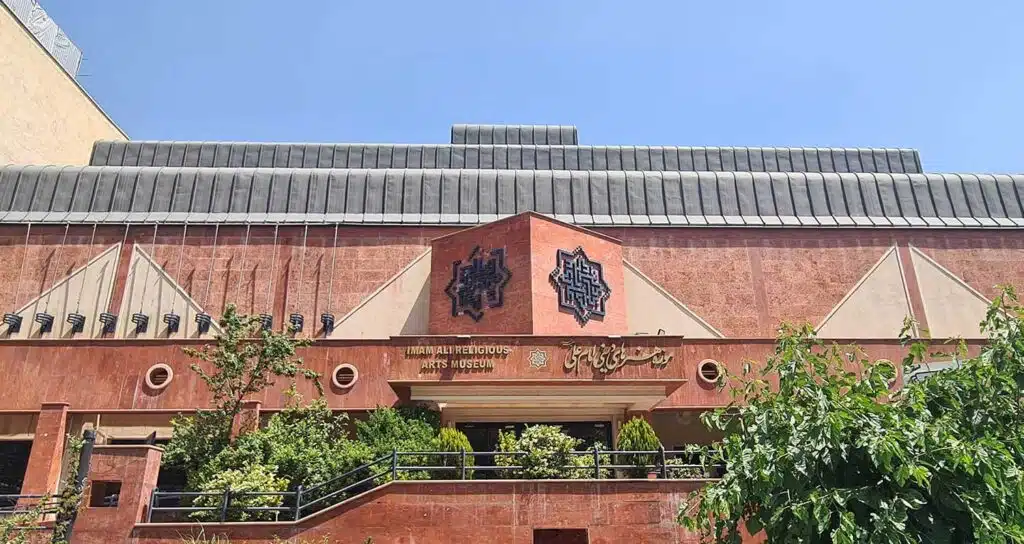 Founded in 2003, the Imam Ali Museum of Religious Arts spans an area of 2,500 square meters and has three floors. It features ancient coffee house paintings and narrated curtain paintings. The museum houses religious and historical artifacts and includes sections such as a library, hall, workshop, and café gallery.
This museum is among Tehran's newest and finest, offering a unique perspective on Iranian culture and religion.
Address: Tehran, Valiasr Street, opposite Niayesh Highway, Esfandiar Boulevard, No. 35
Opening Hours: Every day except holidays. Spring and Summer: 9 am to 7 pm. Autumn and Winter: 9 am to 6 pm
18. Museum of Historical Cars of Iran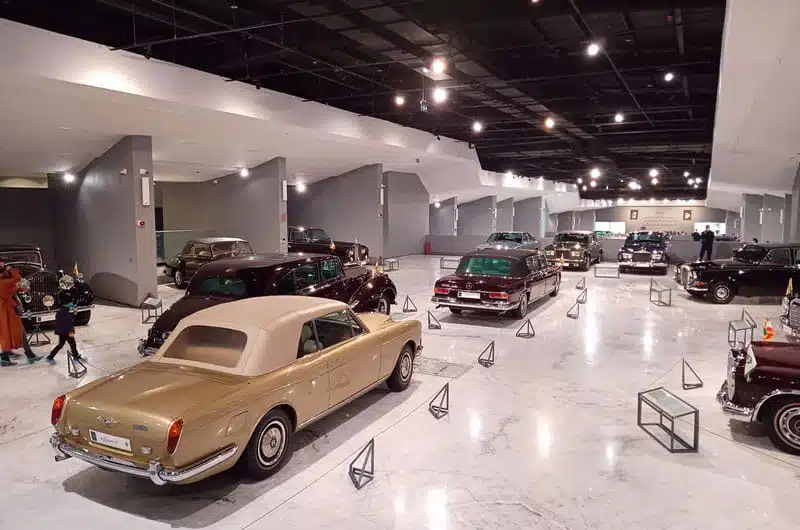 Established in 2001, the National Car Museum of Iran stands as a significant attraction in Karaj, showcasing an impressive collection of classic automobiles once belonging to Mohammad Reza Shah, the last monarch of the Pahlavi Dynasty. Visitors can admire a diverse array of vehicles, from opulent limousines and sleek sports cars to historic carriages and motorcycles, each echoing tales of Iran's royal past. A specialized restoration center, although not accessible to the public, operates on-site, ensuring these automotive treasures are meticulously maintained.
The museum's exhibit is a veritable homage to automotive excellence, with a fleet that includes the elegance of multiple Rolls-Royce models, the grandeur of Jaguar and Daimler sedans, and the racing heritage of Lamborghini sports cars. Notable pieces, such as the Rolls-Royce Phantom series and the Mercedes-Benz 500K Autobahn-Kurier, resonate with historical significance, while Queen Farah Diba's Cadillac Eldorado and the Shah's own Ford Mustang add personal touches to the collection. This trove of vehicular history not only celebrates the Shah's well-known passion for cars but also stands as a testament to a bygone era of Iranian royalty.
Address: National Car Museum of Iran, Karaj Special Rd., Tehran
Opening Hours: Saturday to Wednesday, 9:00 AM to 5:00 PM
19. Jahan Nama Museum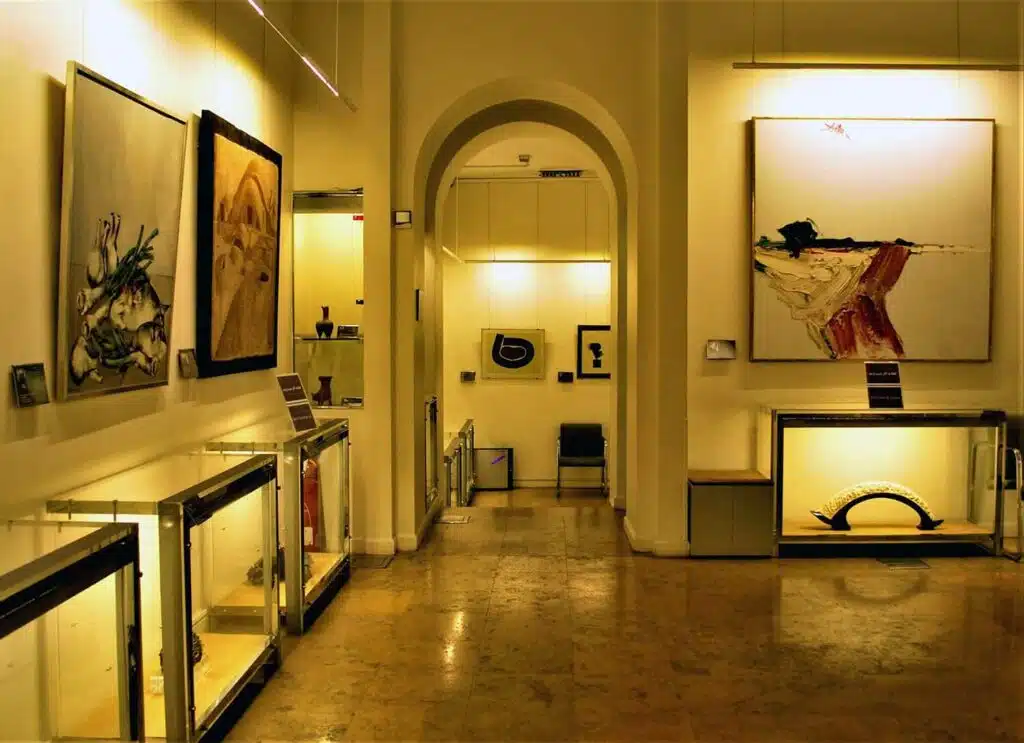 Built in 1976, Jahan Nama Museum boasts an impressive collection of donated and purchased art. After briefly closing in 1997, it reopened to exhibit both pre-Islamic art and visual arts. Here, you can marvel at ancient artifacts from Lorestan, Elam, and pre-Columbian civilizations, as well as pottery from Amlash. As one of Tehran's oldest museums, Jahan Nama houses works from both Iranian and international artists.
Iranian Artists Featured
Soheil Sohrabi, Nasser Ovissi, Faramarz Pilaram, Jafar Rouhbakhsh, Parviz Kalantari, Bahman Mohassess, Sirak Melkonian, Jazeh Tabatabai, Mash Esmaeili, and Parviz Tanavoli.
International Artists Featured
Georges Braque, Paul Gauguin, Paul Klee, Pablo Picasso, Camille Pissarro, Pierre-Auguste Renoir, Diego Giacometti, Fernand Léger, and Marc Chagall.
Address: Sahebqaraniyeh Palace, in Shahid Bahonar Square, also known as Niavaran Square.
Visiting Hours: Open from 9 AM to 5 PM every day except official holidays and days of mourning.
20. Pardisan Biodiversity Museum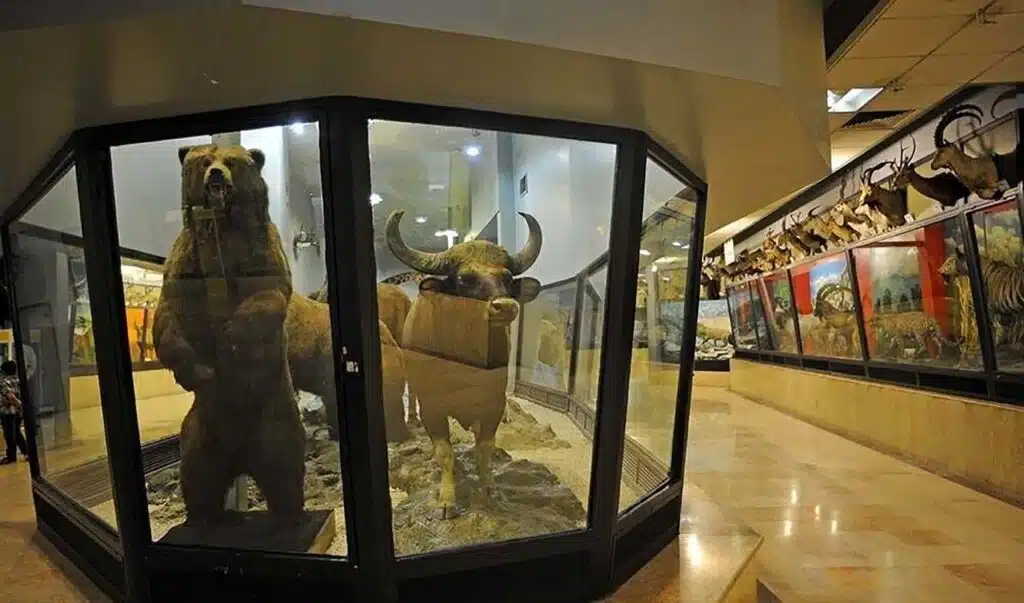 Pardisan Biodiversity Museum offers an array of plant species, animals, rocks, minerals, and fossils. Organized by continental ecosystem, this museum provides a glimpse into Iran's native wildlife and that of other continents. The educational booth for children stands out as one of the museum's most interesting sections, making it a must-visit among Tehran museums.
Address: Hemmat Highway after the Yadegar Imam Bridge, inside Pardisan Park.
Visiting Hours: Open every day except days of mourning, from 9 AM to 3 PM.
21. Reza Abbasi Museum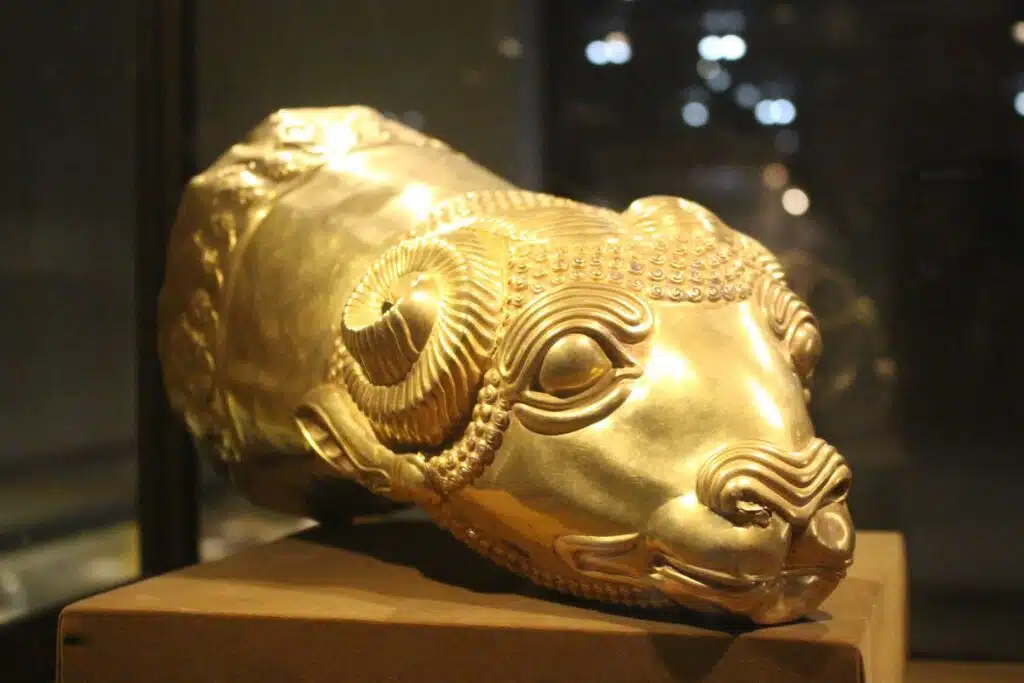 Reza Abbasi Museum is a treasure trove of furniture and home decorations, founded in 1977 by Farah Pahlavi. This museum showcases art pieces that span from the second millennium BCE to the Qajar period. Out of 50,000 artworks, only 700 are displayed to the public. The museum unfolds its historical timeline from the upper to lower floors. Open every day except Tuesdays, from 9 a.m. to 4 p.m., you can explore this museum at your leisure. The museum also features both a buffet and a restaurant with a traditional atmosphere where you can relax and enjoy delicious Iranian cuisine. It's considered one of Tehran's most artistic museums.
Phone Number: 02188513002 | 02188513003
Address: Shariati Street, Tehran, near Seyed Khandan Bridge, No. 972
22. Time Museum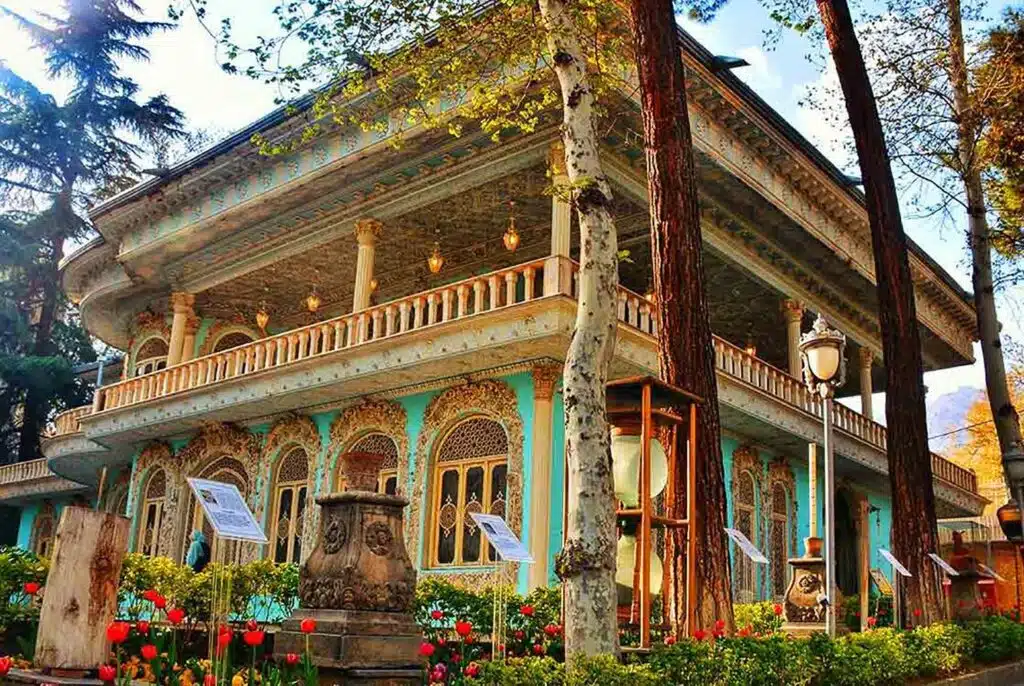 Apart from the great collection of different clocks and other instruments for measuring and displaying time, the building itself and the garden of Time Museum with a beautiful coffeehouse are great for dedicating a few hours for exploring them.
Visiting Hours: Typically open from 9 AM to 5 PM
Address: Tehran, Zaferaniyeh neighborhood, near Tajrish Square
23. Darabad Wildlife Museum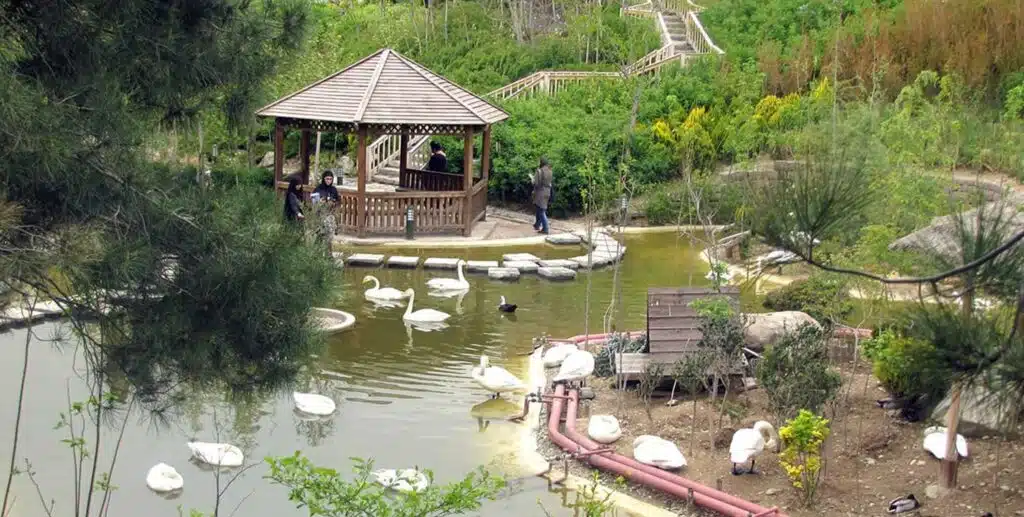 The Darabad Wildlife Museum operates in an antique palace. Established in 1993 as an educational and environmental protection center, the museum features various sections showcasing animals and birds. Additional facilities include a library, an exhibition hall, and a veterinary clinic. Known as one of Tehran's most engaging museums.
Visiting Hours: open every day (except Saturdays and mourning days) from 8 a.m. to 12 p.m. and 1:30 p.m. to 6 p.m.
Address: Niavaran Square, Darabad Street, after Ajudanieh, Museum Street
24. Iran Money Museum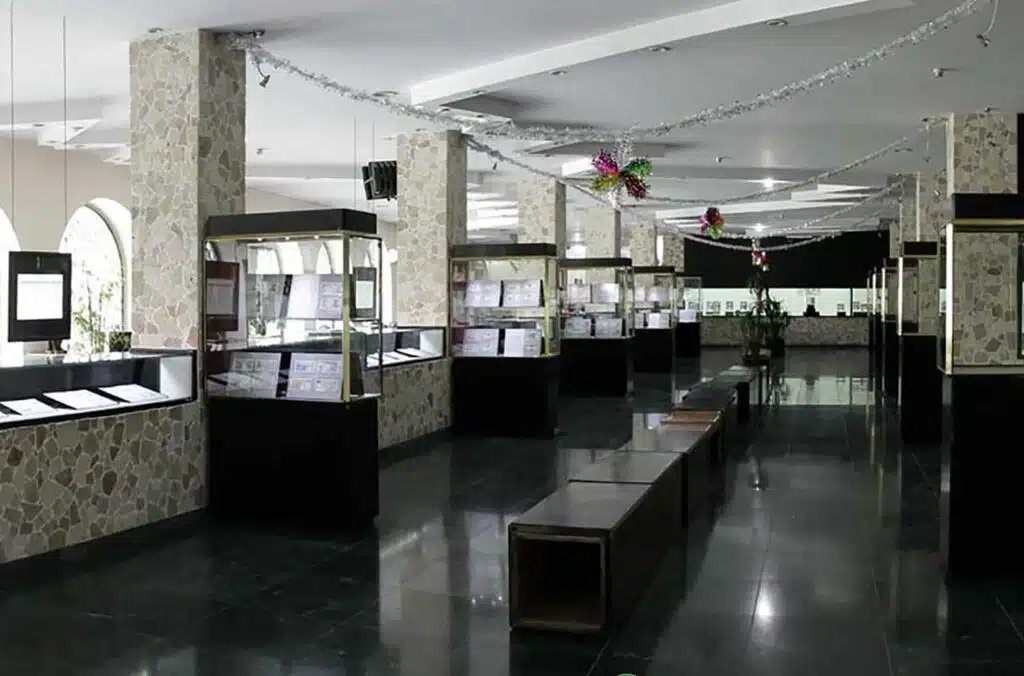 Situated in Tehran, the Iran Money Museum showcases the fascinating journey of currency in Iran, from ancient coins to contemporary banknotes. The museum building itself is a striking example of Neo-classical architecture, catching the eye with its intricate concrete details.
The exhibits take you on a chronological tour, revealing not just the evolution of currency, but also hinting at the various eras that remain less documented. Known alternatively as the Money Spectacle Museum, it ranks as one of the must-visit museums in Tehran for anyone interested in economics, history, or numismatics.
Address: Tehran, Mirdamad Boulevard
Opening Hours: Saturdays to Thursdays, 9 am to 5 pm
GET IN TOUCH
Best Iran Hotels
Wrapping Up: Tehran's Museums
Tehran boasts a plethora of museums covering diverse themes. For instance, the National Museum excels in archaeology, the Carpet Museum displays the art of Iranian carpet weaving, and the Museum of Contemporary Art in Tehran houses international artworks. In this article from the SURFIRAN tourism magazine, we've attempted to provide a concise guide to most of Tehran's museums. We hope your exploration of Tehran's museums offers an enjoyable experience.
To arrange your travel itinerary and museum visits in Tehran, check out the SURFIRAN tours for a tailored experience. For practical aspects like visas and insurance, OrientTrips has got you covered.